Automotive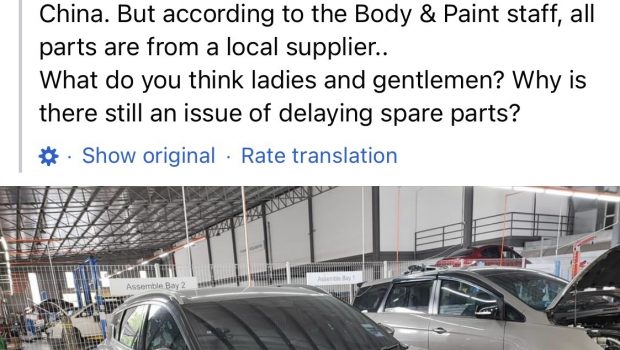 Published on February 8th, 2022 | by Hammer
0
Hi! Proton, Where Are My Spare Parts Please?
This is what many Proton owners are asking today and there is no response from their call center.
Why is Proton still having a growing after sales issue? Why is there no solution coming from China's Geely Auto who is producing most of the parts and also supplying the drivetrain and on board technology for the two popular models, the Proton X70 SUV and the Proton X50 Crossover?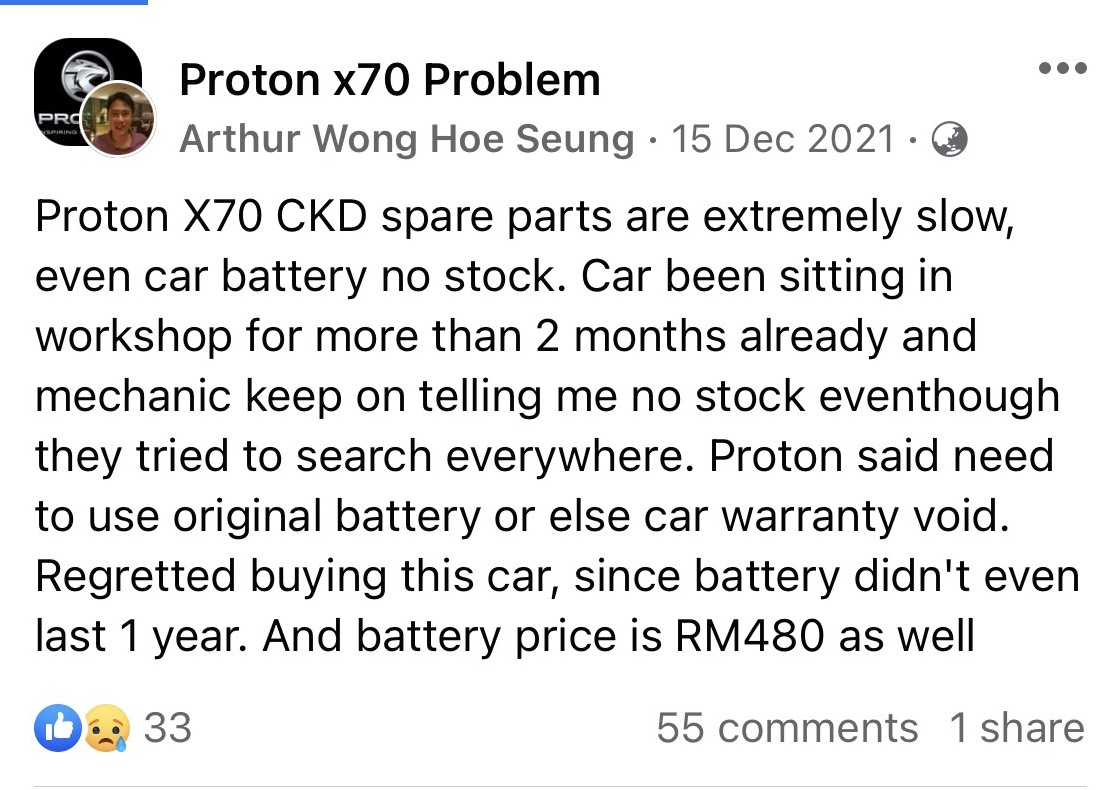 In the past 2 years we have read a rising number of complaints on various Proton X70 Facebook pages and during that time it was easy to 'mask' all delays on Covid-19.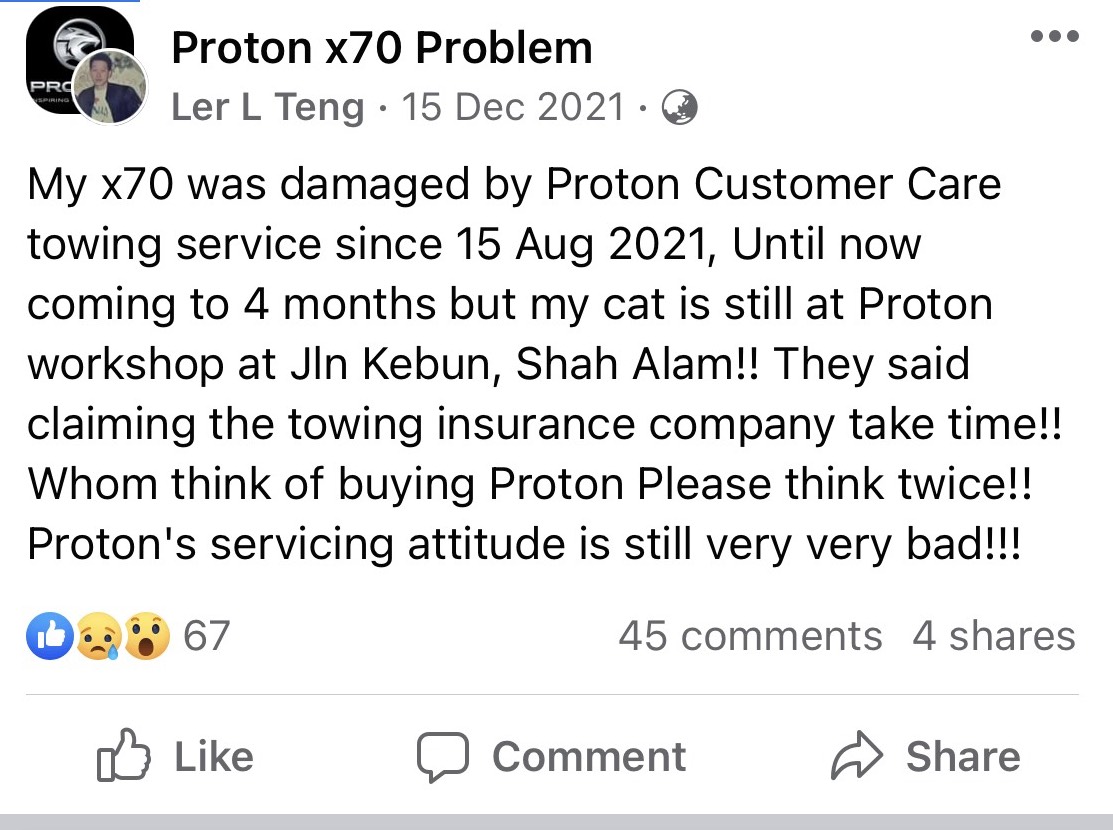 Yes, there were dozens of Proton and Geely parts vendors who were 'forced' to close their factories for Covid-19 issues and then their re-opening soon after did not assist in the supply chain process as other corresponding parts were also being delayed from other factories.
Now, it would seem that the above should ONLY affect the production of the X70 and X50 and SHOULD NOT affect the supply of spare parts for accident damaged Geely rebadged vehicles like the X70 and X50.
Over the years we have seen accident damaged cars having to wait for months for simple parts like side view mirrors, bumpers, lights, body trim and interior cabin parts. There have been cars sitting at workshops for months and owners with no 'extra' or loaner cars having to use public transport to travel.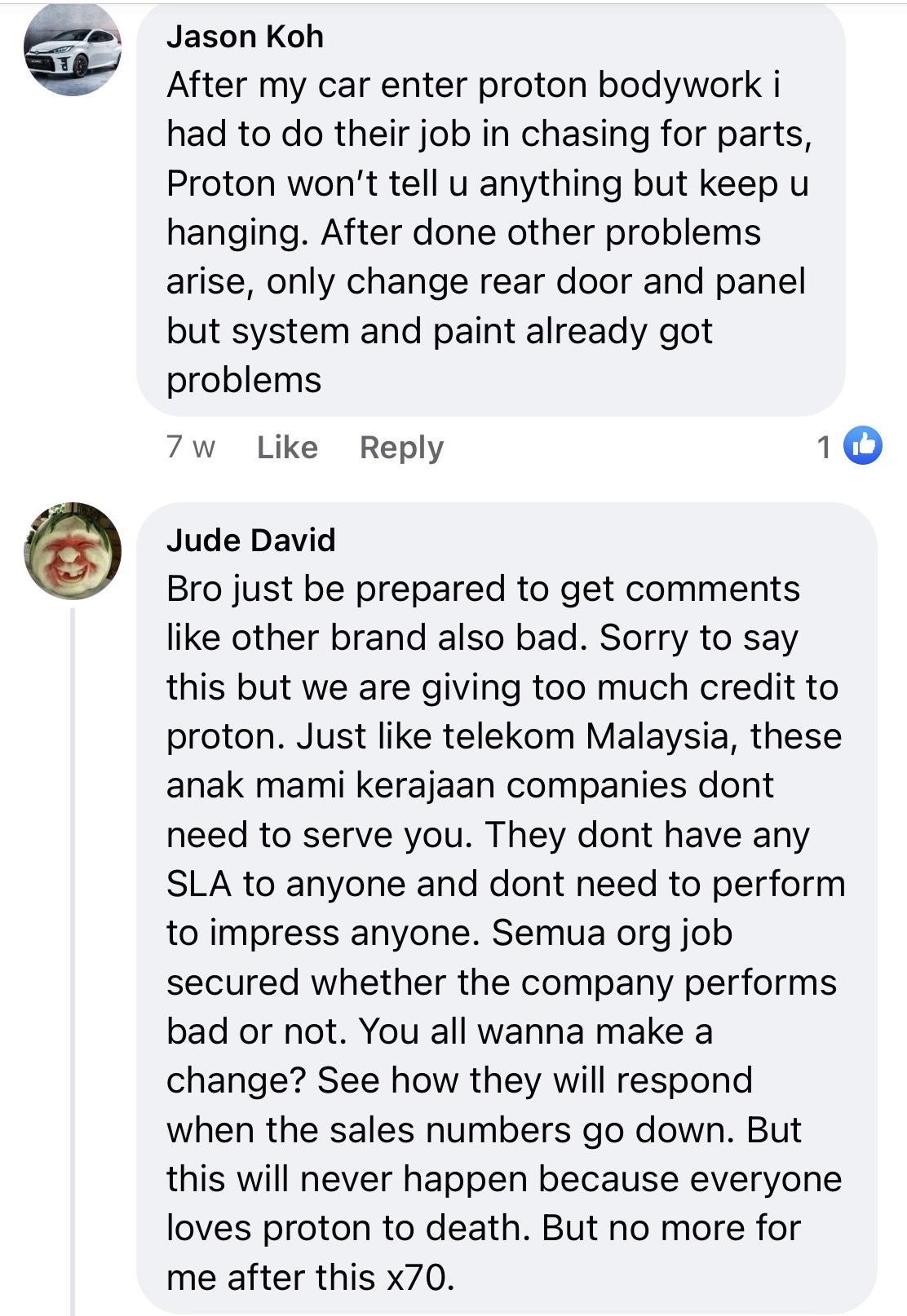 Proton management tried very hard to clear these idle accident cars and we at www.dsf.my managed to get a number of issues solved and cars were returned to their owners quickly.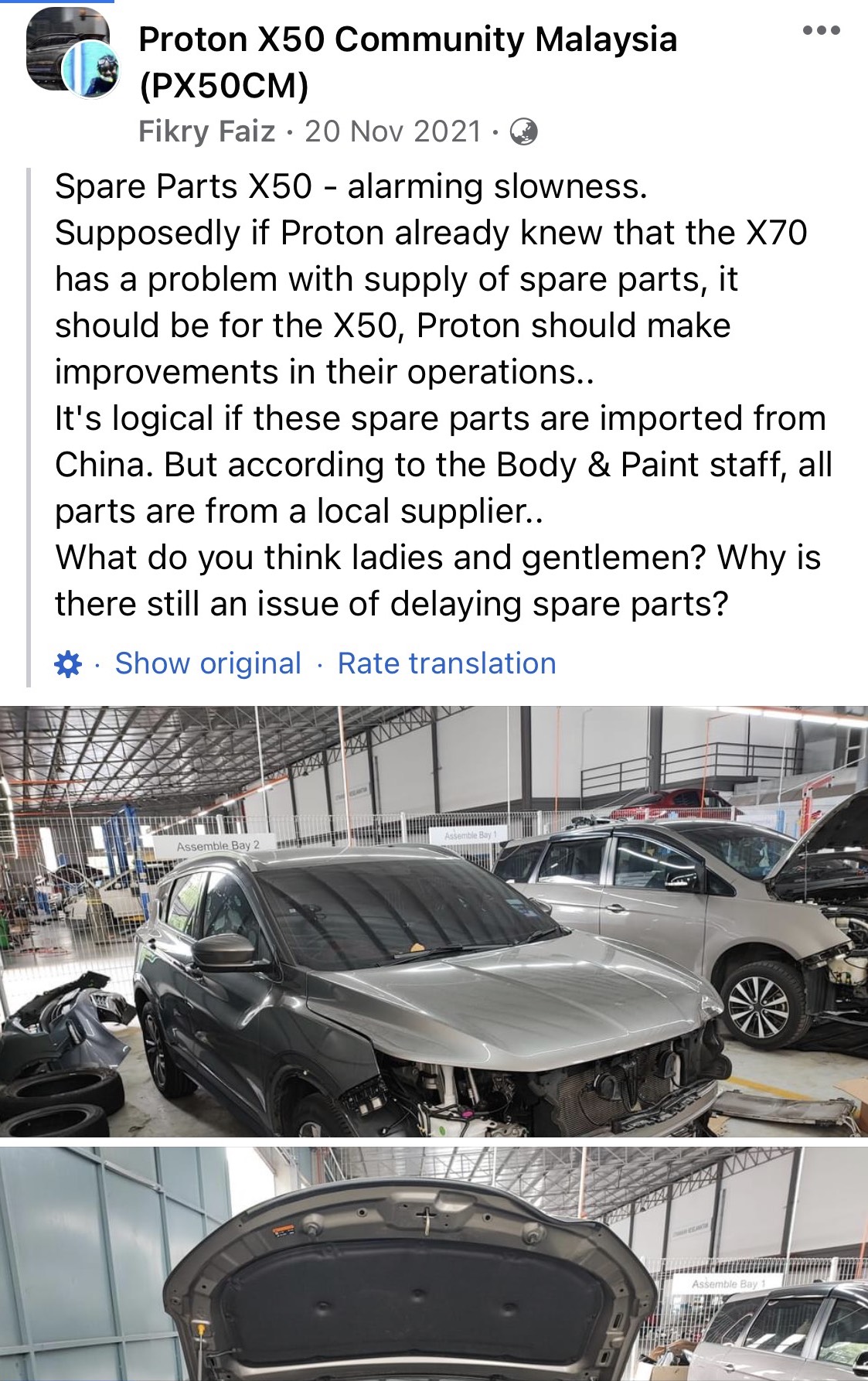 The many other owners with stranded Proton's were left waiting and till today some of them have not gotten their cars back. They still have to pay the vehicle monthly loan payments and still have to look at public transport costs.
Meanwhile we hear of some Proton X70 owners going online and ordering their much needed parts and getting them delivered to their door step and then they use private workshops to fix their cars. Will their warranty be void if found out by Proton service advisors? It should not be as these are resourceful owners who just want to drive their Proton SUV.
We have also been informed of some private spare parts suppliers in Klang Valley who have ready stock of all necessary exterior trim parts and at much lover prices (some say as much as 60 to 65 percent lower) when compared to Proton official parts pricing.
This is also true with nearly all other car brands as private spare parts suppliers are able to 'play' with import duties and have lower handling and warehousing costs. (please note that Proton X70 and X50 are re-badged Geely vehicles and so getting body and trim parts are not that difficult from Chinese parts websites).
Now, in 2022, we are getting some Proton X70 owners sharing with us issues that start from simple items for car servicing that is not available at authorized service centres nationwide.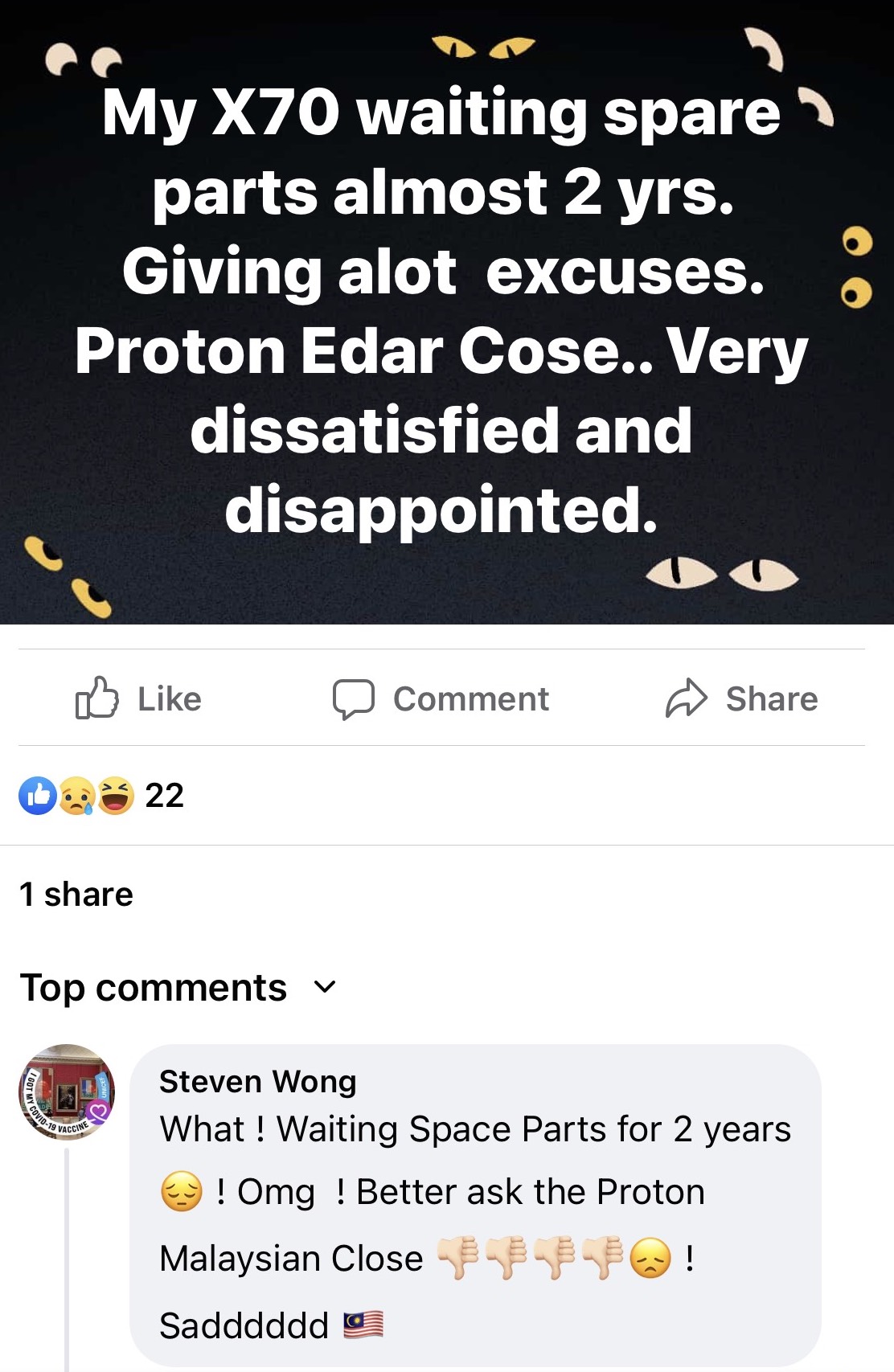 Consumables like engine lubricant, coolant, car battery (it seems that you must use the specified car battery or you will void your warranty) and filters.
In our knowledge, these above mentioned servicing items should all be made in Malaysia and easily sourced as brands like Mazda, Nissan, Honda, Perodua and more all use locally sourced parts and they seem to have no issue looking after their customers.
So, what is the real problem with Proton after sales and spares right now? Is it a human issue, a partnership issue (Geely Auto) or is it just a Proton heritage issue which comes from the good old days?
Meanwhile we see an 8 to 9 month waiting list for the Proton X50 crossover and wonder how much worse the after sales issue will become in coming years if not looked at right now.