Automotive
News
Audi A3 Sedan S Line Launched For RM331,900 In Malaysia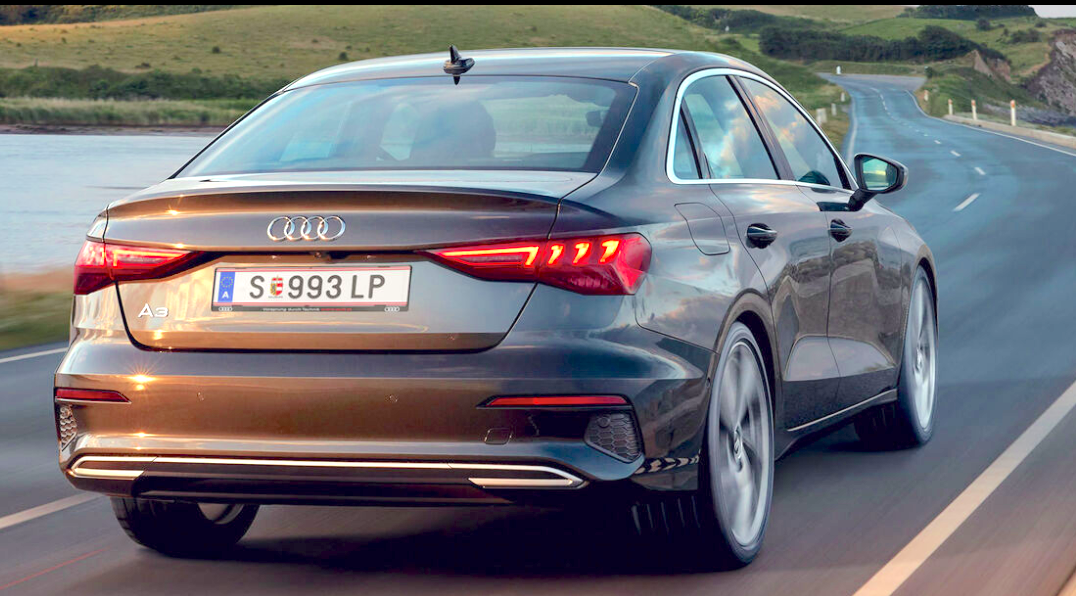 The all new Audi A3 has arrived in Malaysia, finally. Well, it has been 7 years since the last A3 sedan arrived in Malaysia. It was fully imported and came with a 1.8L turbocharged engine mated to a 7-speed S tronic gearbox.
This previous A3 sedan which was priced at RM240,888 had 180bhp and 250Nm of torque and could accelerate from 0-100km/h in an impressive 6.8 seconds.
Now comes an all new A3 sedan with 2.0L turbocharged engine mated to a 7-speed S tronic gearbox that delivers a little more power at 190PS and healthier torque at 320Nm of torque. Its asking price is much more at RM331k which is a hefty RM91,000 premium.
By the way, the 2014 Audi A3 sedan with a smaller and less spirited 1.4L TFSI engine arrived in Malaysia for just RM179,900 and it was not well received even without competition from BMW and Mercedes-Benz. Wonder why?
Well, recently, Audi Malaysia closed its doors and left the country and PHS Automotive (who also handles VW cars in Malaysia) took over distributorship of Audi in Malaysia.
Meanwhile, this latest Audi A3 Sedan combines a striking new design language with advanced technologies, and promises an even more engaging driving experience.
Inside, its beautifully executed interior which is a little more spacious than before and it seamlessly marries luxury and cutting-edge technology, with the likes of the Audi virtual cockpit, 10.1-inch MMI navigation plus touch display and Audi connect plus services as standard inclusions.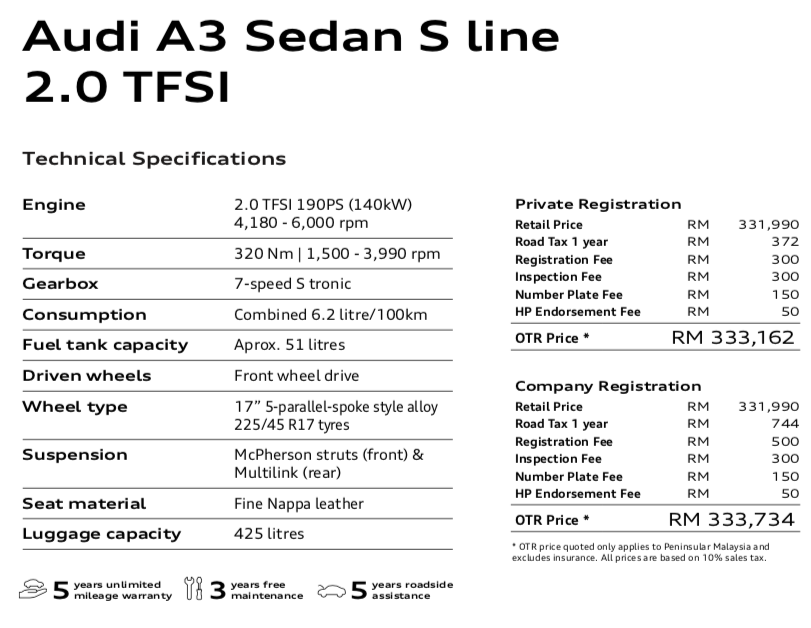 Powerful and elegant: The exterior
With a more muscular and sculpted design, the A3 Sedan generates a completely new presence. The front is dominated by a large Singleframe with honeycomb grille that is flanked by striking headlights.
The body line on the Sedan extends up to the rear bumper, which emphasises its length and gives the rear an elegant appearance. The concave surface under the broad body shoulder further accentuates the quattro blisters and the sill. This creates an intensive play of light and shadow. The roof line slopes down from the B-pillar dynamically which is just like on a coupé.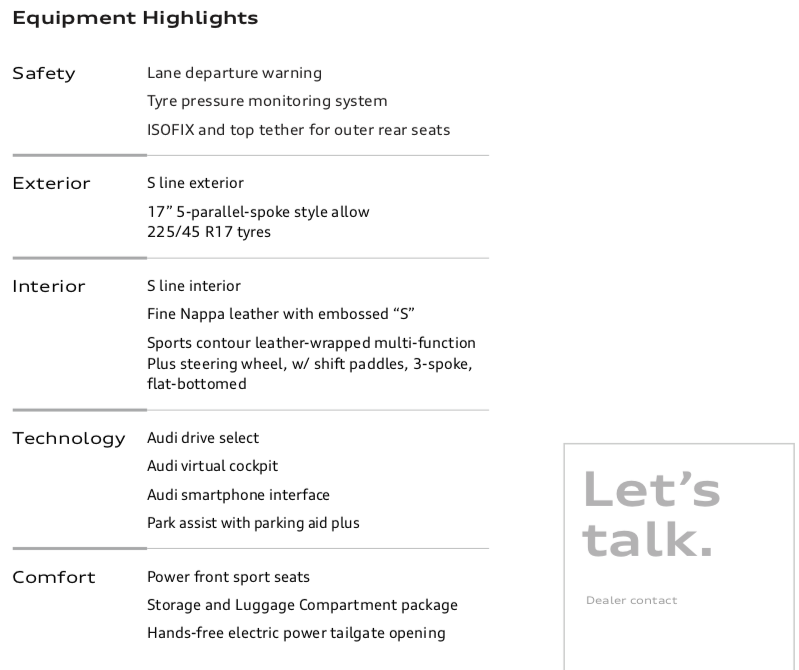 Streamlined body
Its streamlined body, paired with a higher rear end and a large diffuser contributes to reduced drag coefficient values, which in turn reduces C02 emissions and fuel.
The A3 Sedan also features controllable cooling-air inlet with two electrically actuated louvre modules behind the Singleframe. They regulate the flow of air intelligently and according to the driving situation. In addition, the panelled underbody, the exterior mirrors with improved aerodynamics, and the active brake cooling reduces air resistance.
Focused and digitalised: The Audi Virtual Cockpit
The new dashboard and centre console of the Audi A3 Sedan is intuitively designed. An overview of important information is displayed in the driver's direct field of view with the Audi virtual cockpit plus and 10.1-inch MMI touch colour display. Plus, the leather steering wheel with multi-function plus and S tronic transmission provides ease of control and great driving comfort for the driver.
Highly connected
The third-generation modular infotainment platform (MIB 3) boasts computing power ten times higher than in the predecessor model, and can connect to smartphones via the Audi smartphone interface, which integrates iOS and Android cell phones with Apple CarPlay and Android Auto.
Comfortable and dynamic at once
The suspension of the new A3 Sedan has been tuned to be sporty and harmonious, allowing for faster reaction speeds and increased precision driving, especially for those who enjoy hard cornering. All this is thanks to the central dynamic handling system that ensures optimal interaction between all the components to the transverse dynamics.
The A3 Sedan will be available in a choice of eight colours: two solid paint finish and five metallic, and one pearl effect shades.