Compact and mighty, the all-new Audi RS 3 Sedan has impressive agility and dynamic handling, with a high-power, five-cylinder engine, with acceleration from 0 to 100km/h in just 3.8 seconds. True to its RS heritage, the RS 3 boasts a widened body, RS sports exhaust system, and a cockpit display like those found in race cars, it is truly made for those seeking a constant thrill in their daily drive.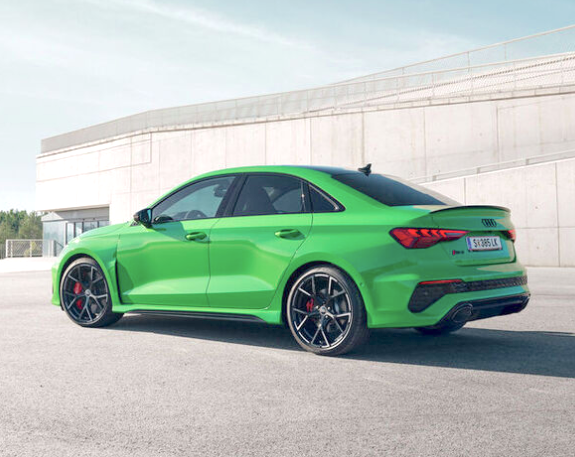 Holding the record as the fastest compact sedan at the legendary Nurburgring Nordschleife race circuit in Germany, the RS 3 Sedan is now open for pre-order in Malaysia.
The Audi RS 3 Sedan is expected to be sold between RM650,000 and RM750,000. All Audi models are offered with 3 years free maintenance, 5 years unlimited mileage warranty and 5 years roadside assistance.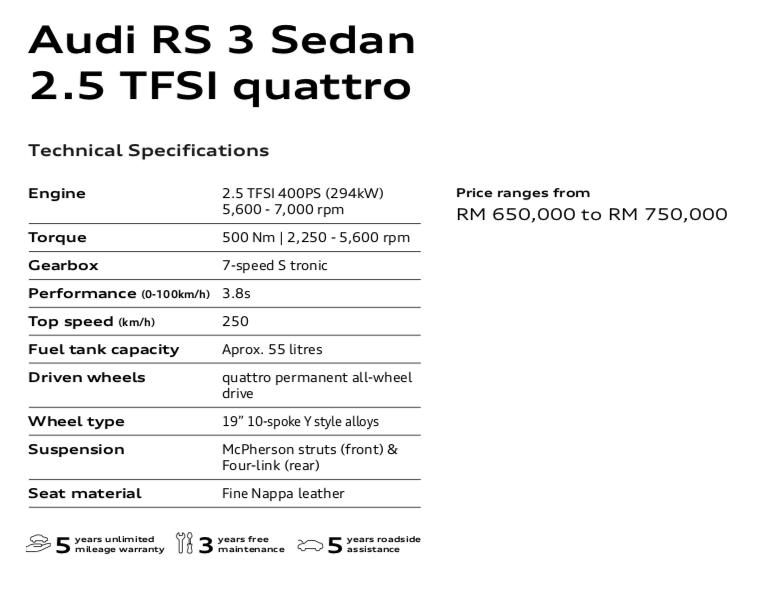 Meanwhile, some might say that this is a lot of money to pay for a compact sports sedan when the Mercedes AMG A35 4MATIC sells for RM343,888 which is almost RM310,000 lower in price. The AMG  tuned 2.0-litre four-cylinder turbo engine produces 306 horse power and a remarkable 400 Nm of torque. Combined with Mercedes-AMG specific 4MATIC all-wheel drive system, the A 35 4MATIC accelerates from 0-100 km/h in just 4.8 seconds.
Then there is the BMW 135i xDrive which has a sticker price of RM355,646 and comes with BMW's most powerful inline 4, the 2.0-litre B48A20. This motor outputs 302hp between 5,000 and 6,000 rpm and 450Nm of torque between 1,750 and 4,500 rpm. It takes just 4.8 seconds to go from 0-100km/h and has a top speed of 250km/h.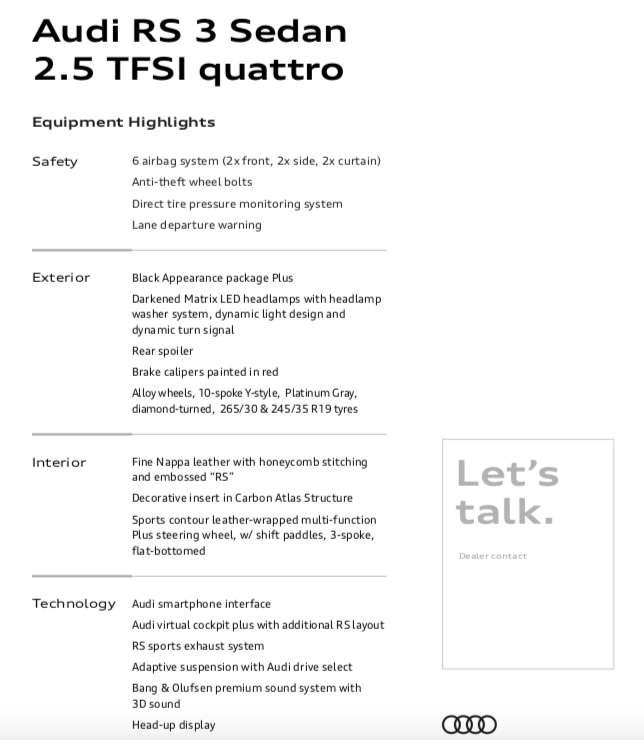 Interestingly, both the BMW and Mercedes cars have equal 4.8 seconds acceleration times which is only 1.0 seconds less than the Audi RS 3, which means you will be paying almost double the price to go 1.0 second faster and have a performance sedan that will be owned by only very rich Malaysians.
Still, we know there will be enough super rich individuals who will want this seductive looking Audi in their garage to compliment their supercars.
Bookings for the Audi RS 3 can be made at all Audi Centres at Setia Alam, Glenmarie and Juru.