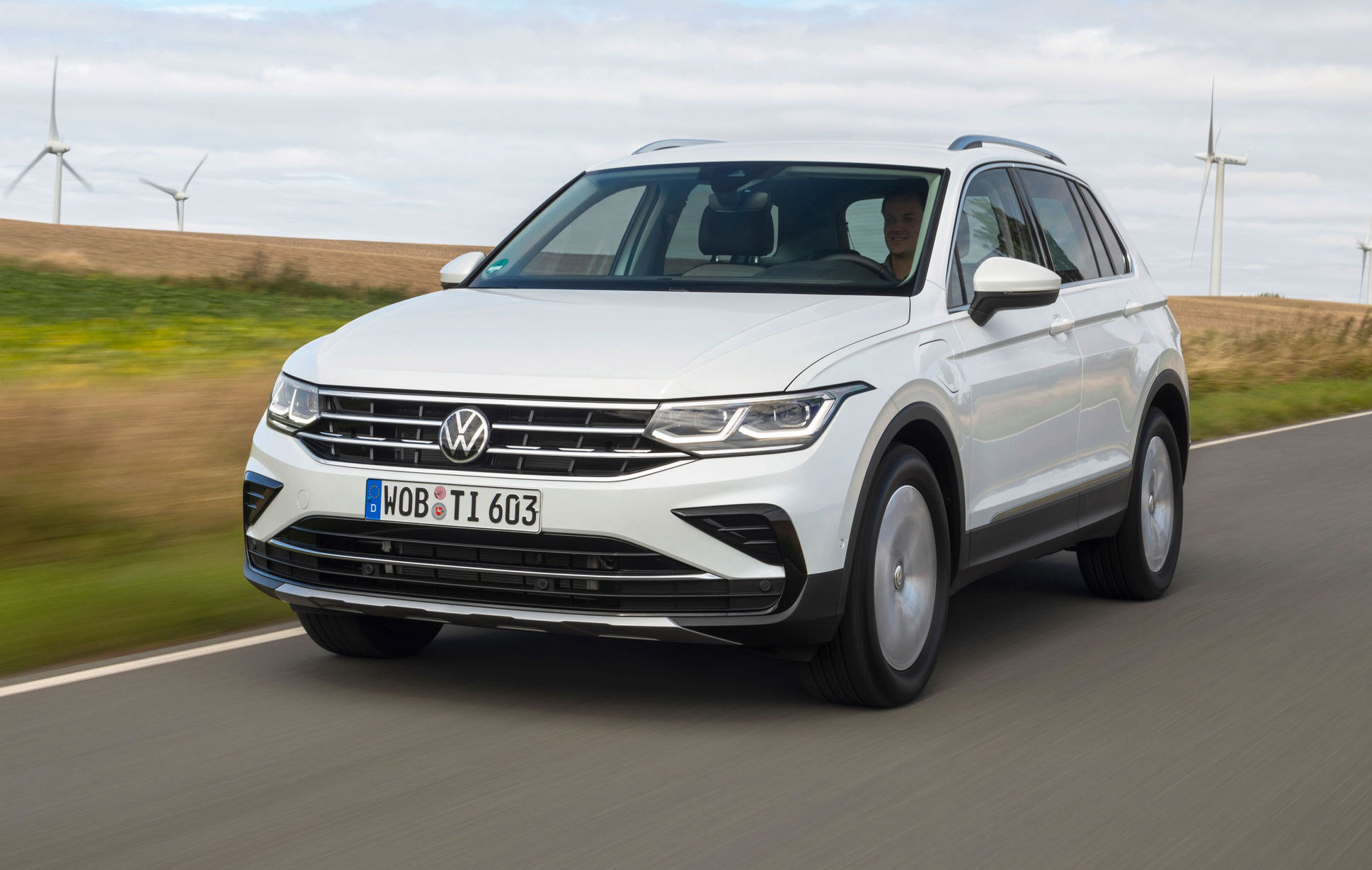 A PHEV variant of the Volkswagen Tiguan is now available in Europe with up to 50 km all-electric range. 
Europe's best-selling SUV has just gotten a little bit greener, as Volkswagen has recently announced that its Tiguan mid-sized crossover is now available with an eHybrid plug-in hybrid powertrain.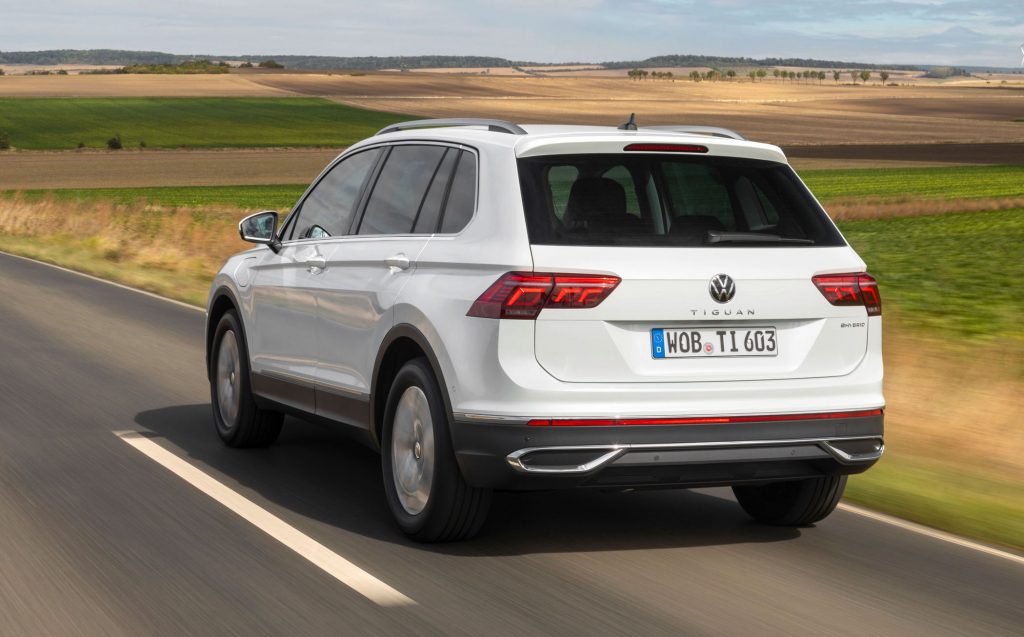 Essentially the same box of parts to be found under the skin of a Volkswagen Golf Mk8 GTE, on the internal combustion side of things, this new PHEV Tiguan features a 1.4 litre turbocharged TSI four-cylinder mated to a 6-speed DSG dual clutch transmission. Meanwhile, an 85 kW electric motor makes up the electric propulsion side of this plug-in hybrid equation, which is fed by a 13 kW battery pack located in the vehicle floor in front of the rear axle.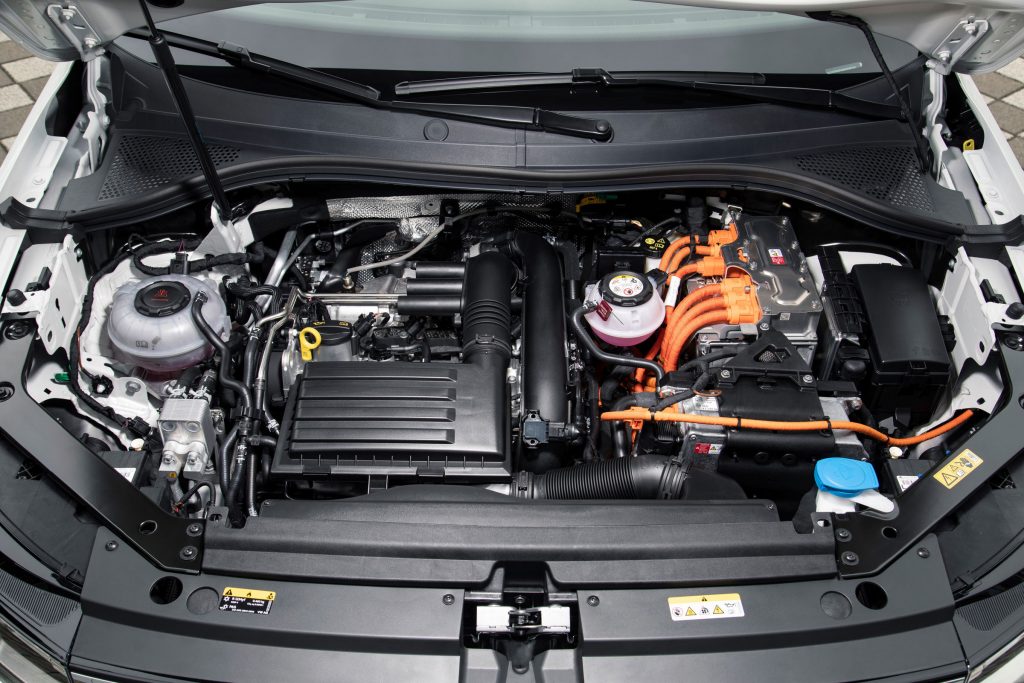 While performance is not the main attraction of this eco-friendly German SUV, the combined power and torque figures of 245 PS and 400 Nm of torque are healthy by any means. Moreover, with a claimed 0-100 km/h time of 7.5 seconds, this electrified Tiguan is in fact the second fastest variant in the model lineup, coming in just behind the newly-launched full-fat Tiguan R performance variant. 
Additionally, the Tiguan eHybrid retains a GTE drive mode mode from the Golf GTE. Thereby allowing both the petrol and electric motor to run simultaneously for driving situations that require additional oomph. Being a PHEV however, it is perhaps the green credentials of this PHEV SUV that should be the forefront. Happily on that front, this electrified Volkswagen doesn't disappoint too.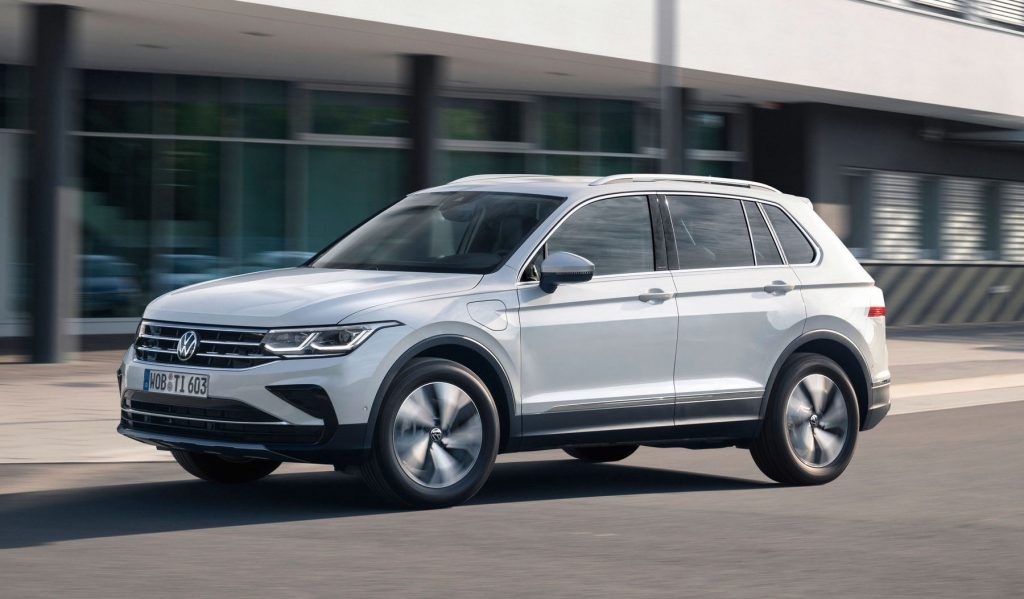 Volkswagen claims that the Tiguan eHybrid is capable of a WLTP-rated all-electric range of 50 km, and up to a speed of 130 km/h. Much like most PHEVs on the market these days too, this electrified Volkswagen will start up in all-electric mode. Provided that the outside temperature is above -10 ºC, and there is sufficient charge in the batteries that is.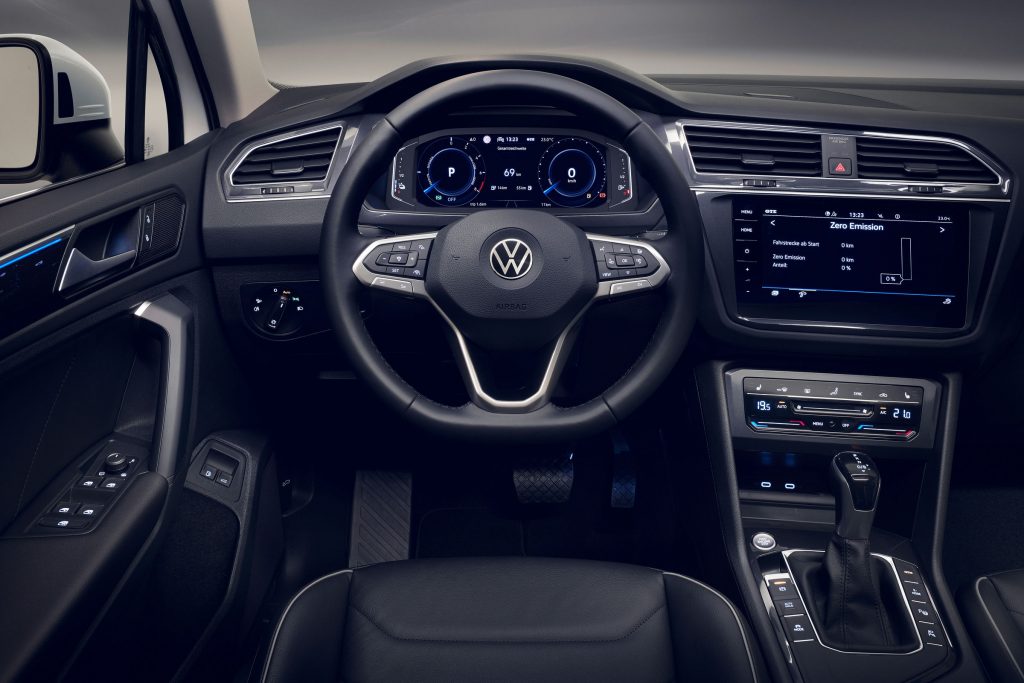 Speaking of charging, this PHEV Tiguan only charges with an AC power supply. Achieving a maximum charging capacity of 3.6 kW at a charging station or home charging station, which then drops to 2.3 kW when charging through a charger with a connector for conventional, domestic sockets.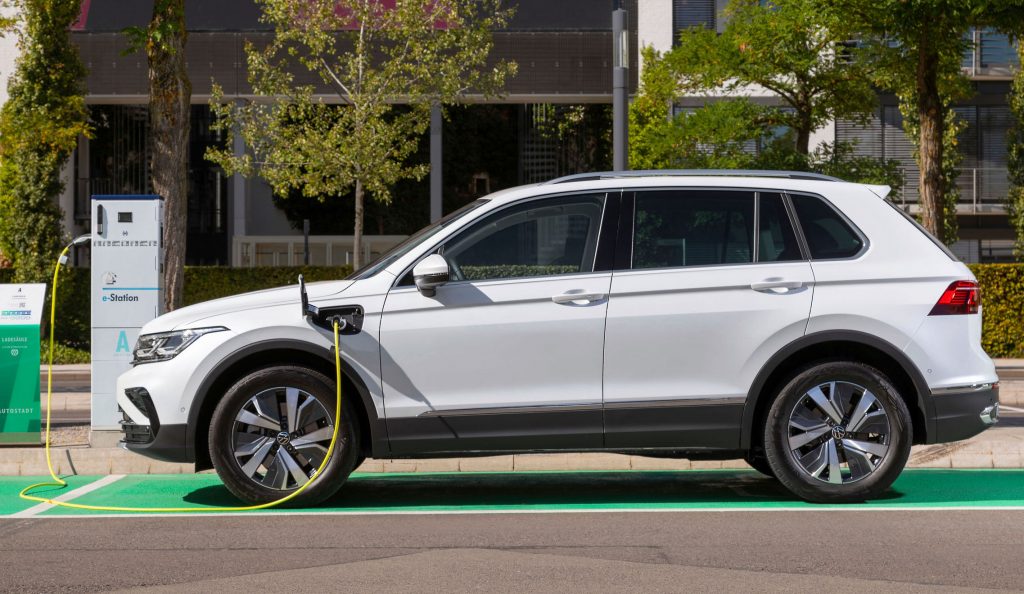 Available in three equipment packs: Life, Elegance and R-Line, prices for the Tiguan eHybrid starts at €42,413.11 (RM 210,000) in Germany. It remains to be seen however whether this, or in fact any other hybrid VW models, will ever make it to us here in Malaysia.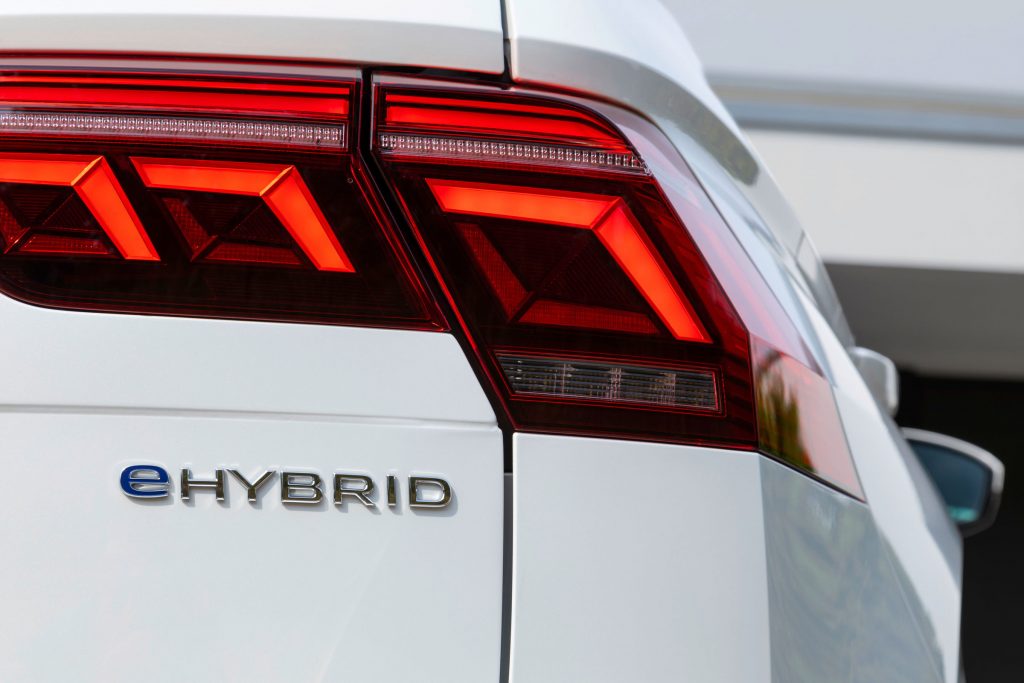 PRESS RELEASE: Volkswagen has kick-started an unprecedented electric mobility offensive and is currently launching numerous new electric and hybrid models. From now on, an electrified variant of the best-selling Tiguan is also available as part of this product offensive. An electric motor on board the new Tiguan eHybrid allows most everyday trips to be covered without generating any local emissions. Electric range: up to 50 km (WLTP). The Tiguan eHybrid is now available to configure and order. Price in Germany: starting at 42,413.11 euros.
Electric motor and TSI join forces: In Hybrid mode, the electric motor supports the 1.4-litre TSI engine and acts like an additional booster. In this mode, the Tiguan eHybrid will temporarily also cover stretches fully electrically and thus without generating any local emissions, as so-called recuperation during braking recharges the battery. Consequently, there is enough electrical energy on long journeys to switch off the TSI engine depending on the situation, or support it with additional drive output. Tiguan eHybrid drivers can manually activate GTE mode – here, electric motor and TSI engine join forces, generating particularly dynamic results. Both drive units together generate a maximum system torque of 400 newton metres.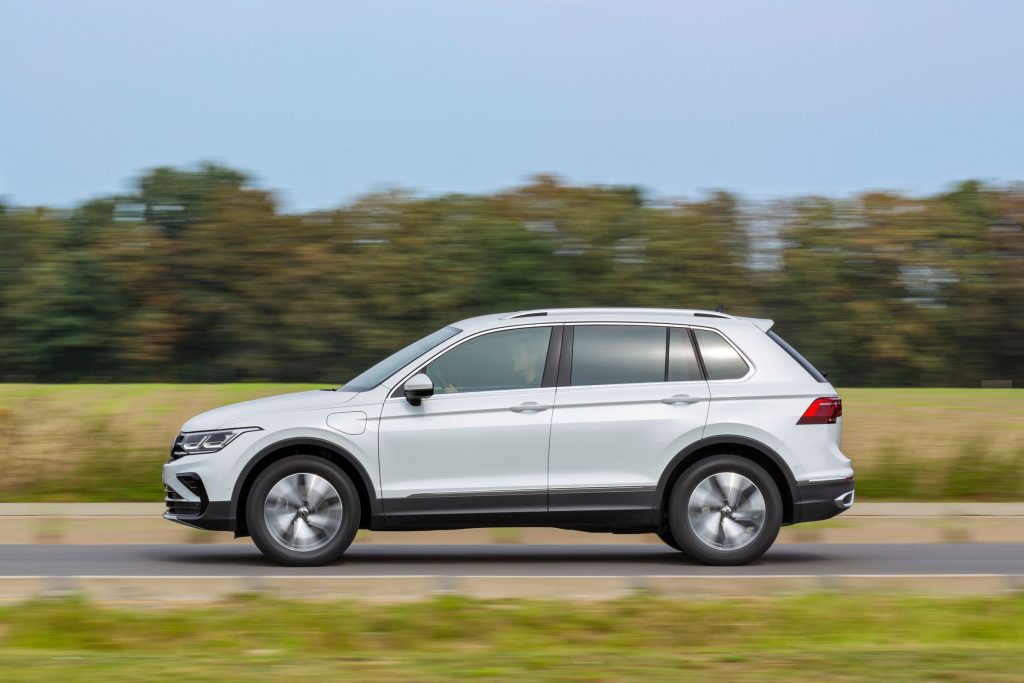 Electric start: the plug-in hybrid drive generates a system power of 180 kW (245 PS) and has been programmed so the Tiguan eHybrid can start in EV mode, provided the battery is sufficiently charged and its temperature is above -10° C.
Suitable for everyday driving – even when only electric: the Tiguan eHybrid covers up to 50 kilometres in electric mode – enough for almost all everyday trips. Assuming it is consistently charged, the Tiguan eHybrid could also be used as a fully-fledged electric vehicle for the majority of trips throughout the year. And it's extremely simple. The battery – arranged in the vehicle floor in front of the rear axle – is exclusively charged by AC. It uses a charger with a connector for conventional, domestic sockets with a maximum of 2.3 kW, or with up to 3.6 kW at a charging station or home charging station.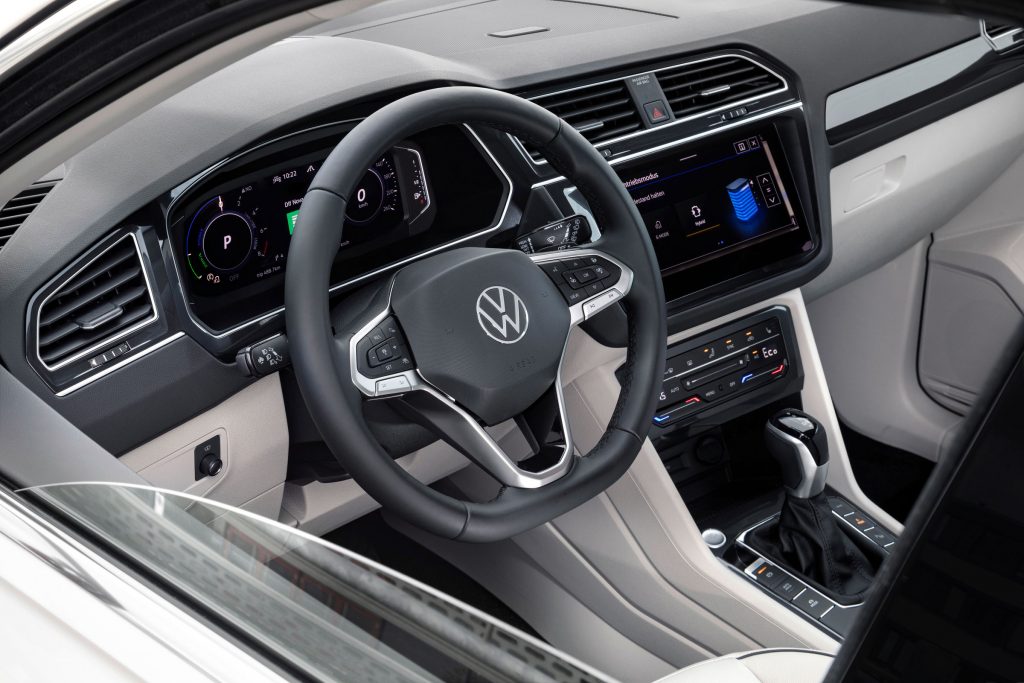 eHybrid available as Life, Elegance and R-Line: the Tiguan eHybrid is available to order as the following three equipment packs: Life, Elegance and R-Line. At a basic price of 42,413.11 euros the Life version boasts the following standard features, amongst others: Digital Cockpit (digital instruments with specific e-displays), Air Care Climatronic (three-zone automatic air conditioning) including a new and digitalised control panel, leather multifunction steering wheel with paddles for the 6-speed dual clutch gearbox, ACC (Adaptive Cruise Control), Front Assist (Autonomous Emergency Braking), Front and Rear Park Distance Control, 17-inch alloy wheels and roof rails. As a rule, all Tiguan models have also been equipped with features such as Lane Assist (lane keeping system), a mobile phone interface, rain sensor and LED headlights.
Innovative drives for lower CO2 emissions: Volkswagen is committed to the Paris Climate Agreement – with the objective of becoming a carbon-neutral company by 2050. On its "Way to Zero", Volkswagen has launched an unparalleled electric mobility offensive with new, innovative electric and hybrid models making their debut in many product lines in quick succession.