Automotive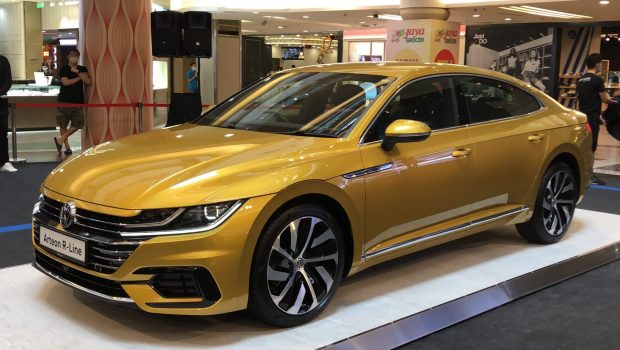 Published on August 12th, 2020 | by Joshua Chin
0
Volkswagen Arteon Fastback Finally Lands In Malaysia
It only took 3 short years between the initial announcement and launch. 
After countless teases and exhibitions, Volkswagen Malaysia's flagship four-door coupe is finally open for orders in Malaysia.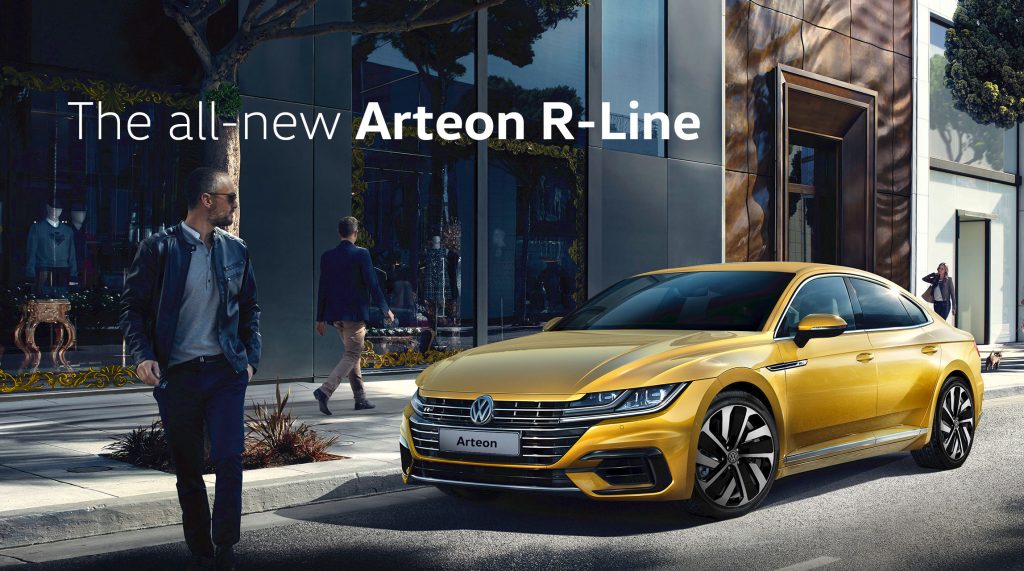 A spiritual successor to the curvaceous Passat CC, the new Volkswagen Arteon fastback follows closely to its predecessor by also being a less-practical and pricier version of the sedan on which it is based. Just goes to show you can put a price on style, RM 221,000 in fact. Or in other words, at least RM 10k more than the most expensive variant of its sedan sibling.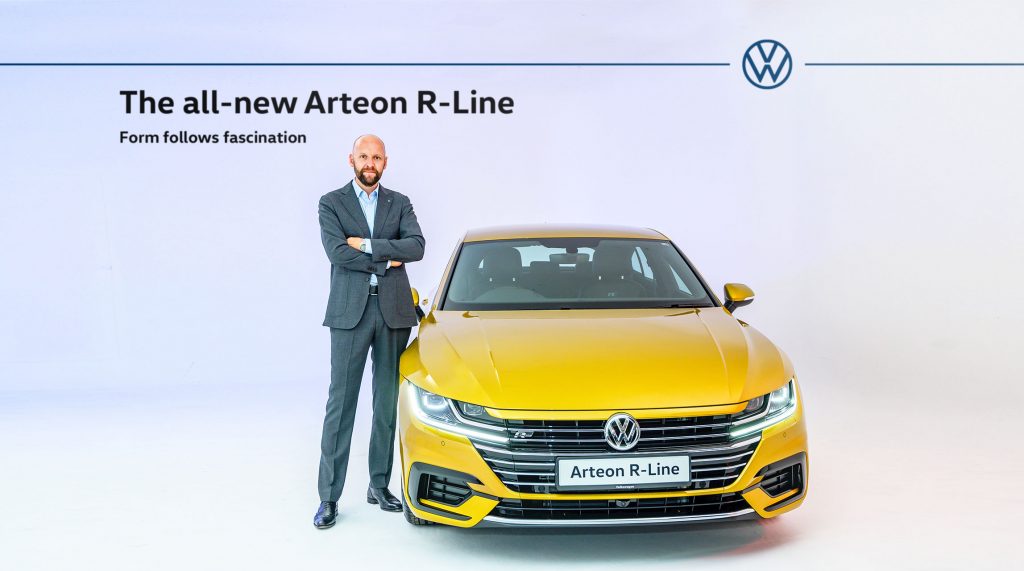 That being said, to some the Arteon's sleek, sharp body may just be enough to warrant the extra outlay. 
Adding to that, saying it is like a Passat CC however does the Arteon a disservice, as the Arteon is in fact a lift back coupe like the Audi A7. So along with the sharp new lines, a quantum leap from its curvy predecessor, the new Arteon brings with it greater practicality. The sloping roofline eats into rear headroom a bit, but lifting up the entire rear tailgate reveals a 536 litre boot space, for which VW touts to be the best in its class. The Easy Close tailgate feature just adds to the convenience of the Arteon.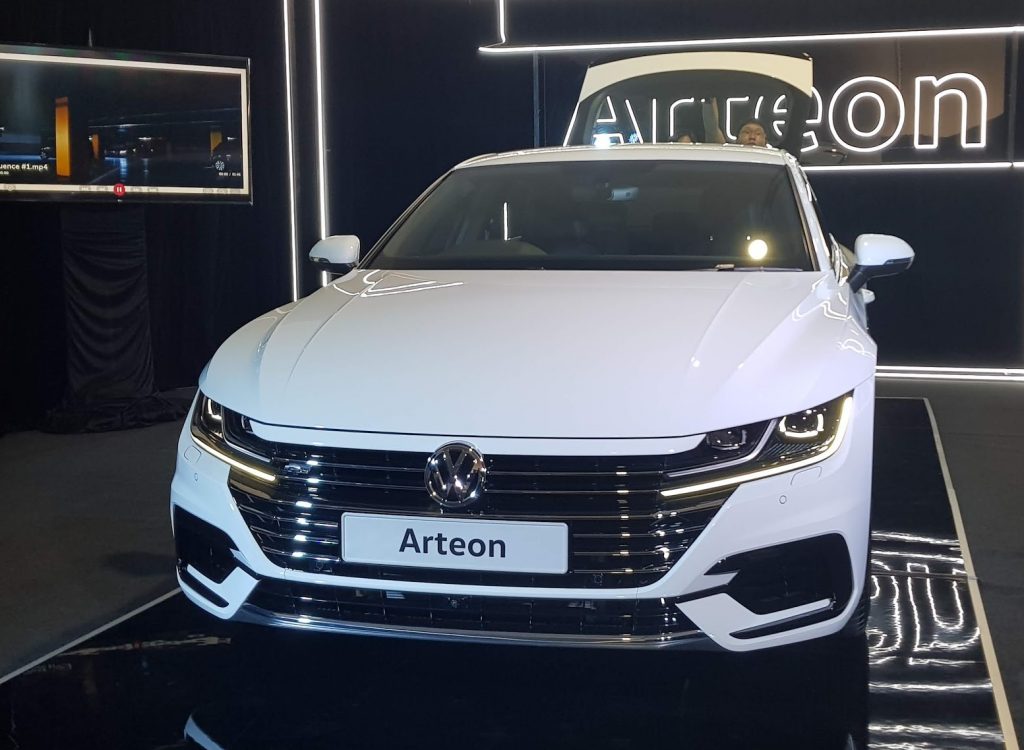 VW's flagship fastback will only available in the sole R-Line trim level, which like on all other VW models is essentially a cosmetic pack that adds sporty trinkets to the sleek body. The sharp lines of the front end are accentuated with a chrome grille with the obligatory R-line badging. LED headlights and taillights are also standard, as are the dynamic indicators within them.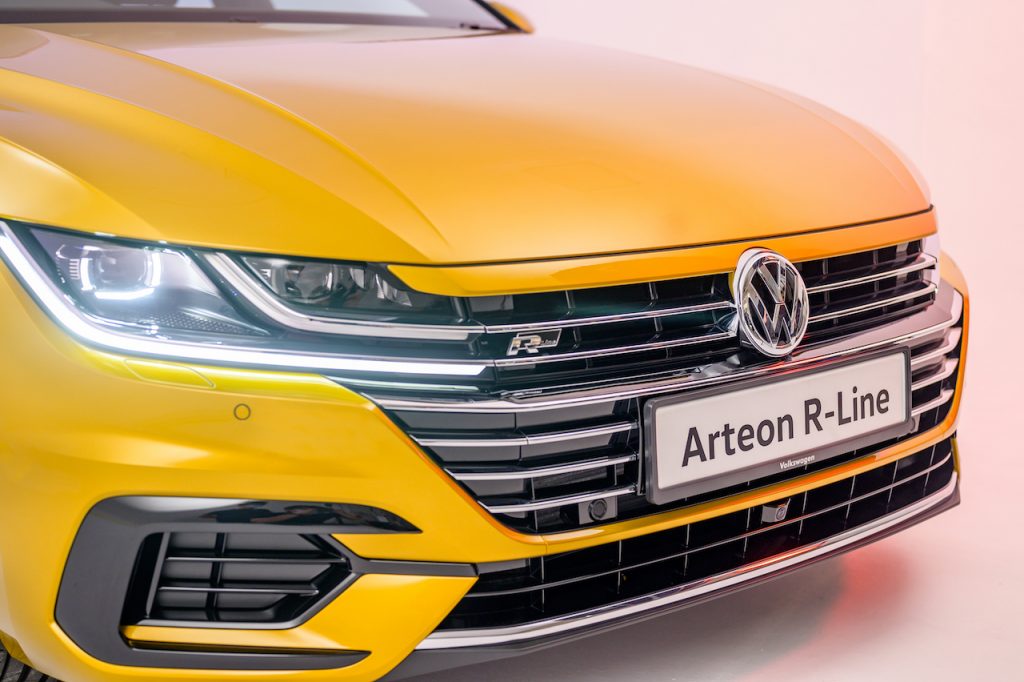 Riding on 19 inch Montevideo alloys, on the side of the Arteon are R-line badging on the front fenders, while a chrome strip runs along both pillar-less doors on either side to break up the side profile of the svelte fastback shape. One minor gripe though will be the small black rear spoiler on the boot that looks tacked on and spoils the smooth lines of this otherwise sleek (four-door) coupe. 
This is particularly contrasting against the launch example you see here, that is resplendent in Turmeric Yellow. It's just a shame most owners will probably go for a more sedate colour. Of which there are four others to choose from: Manganese Grey, Pyrite Silver, Deep Black and Oryx White Pearl. 
Under the bonnet, the Arteon uses a 2.0 TSI turbocharged engine, alá Passat. Mated to a 6-speed wet-clutch DSG gearbox, the power figures are the exact same as those you'll find in the Passat at 190 PS and 320 Nm of torque.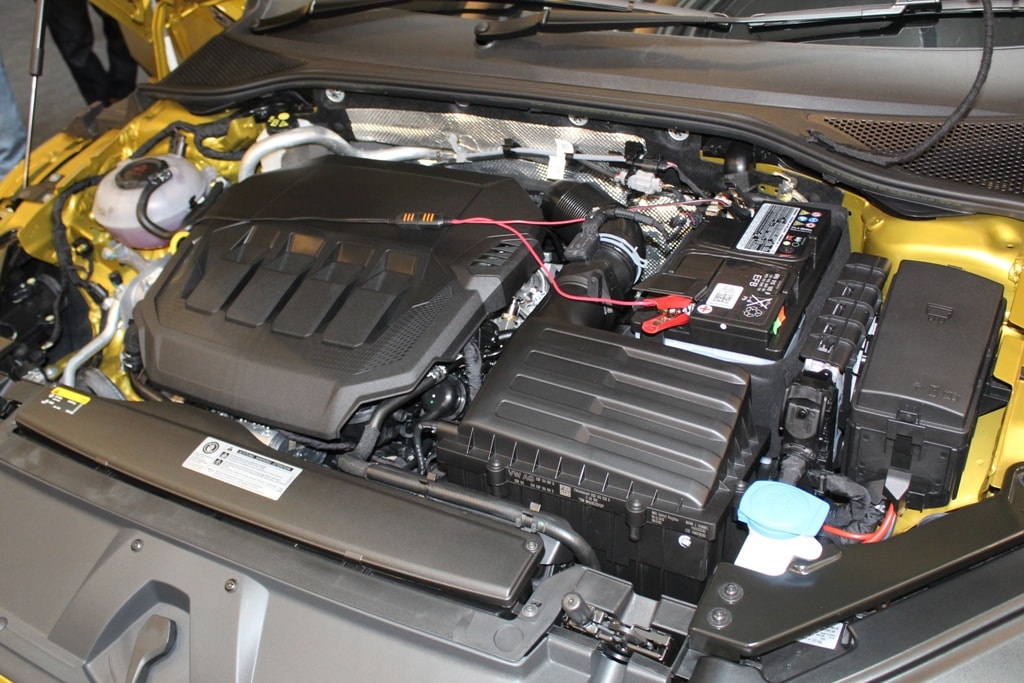 It's probably not going to set any pulses racing on the straight lines, but with it may provide sufficient enjoyment around the bends. Thanks to the Arteon coming as standard with electronic XDS differential and the Dynamic Chassis Control (DCC) with 5 driving modes to choose from: Eco, Comfort, Normal, Sport and Individual. 
On the inside, the dash design may seem familiar to anyone who owns a Passat. The same 9.2 inch Discover Pro with integrated Apple CarPlay and the crisp 11.7 inch Digital Cockpit as the seen prior in the Passat Highline is also found here in VW's flagship fastback. The 11 speaker 700 W Dynaudio sound system might also ring a bell to owners of of VW's large sedan. Even the 14 way adjustable ErgoComfort massaging driver's seat is carried over from the sedan on which it is based.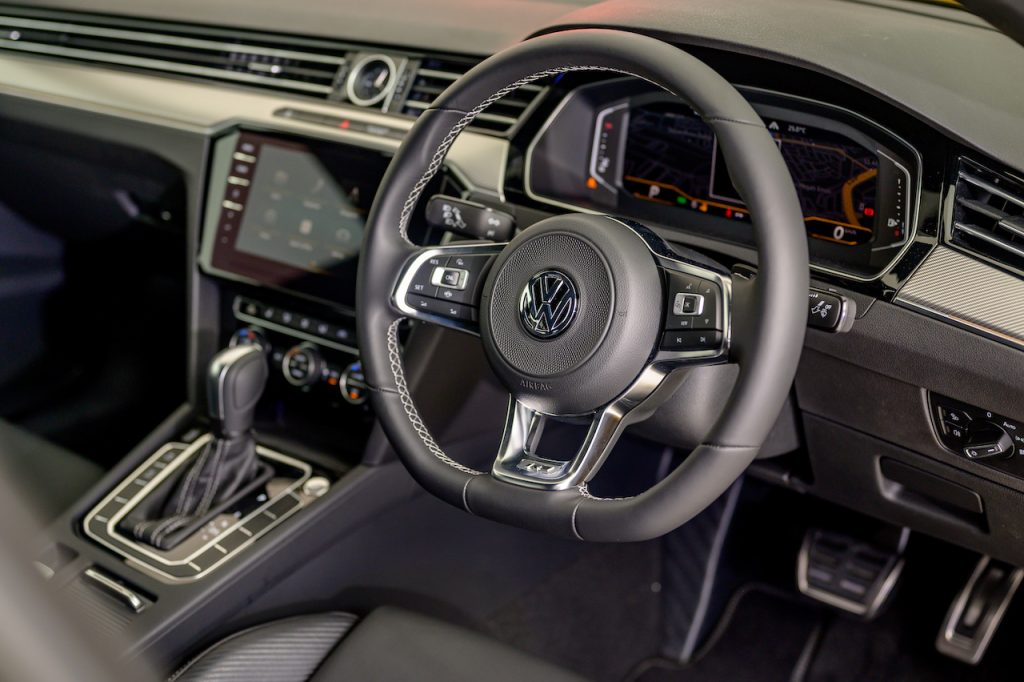 Granted, the interior of the Passat is a nice place to be. It would have just been more special for this flagship VW to have its own unique interior design. 
As for safety features, the Arteon being a luxury Euromobile comes with the pre-requisite safety aids like Electronic Stability Control (ESC), Anti-lock Braking System (ABS) and Brake Assist (BA), Hill-hold Control. In addition to that too is an industry first All Weather headlight feature. A special lighting pattern that offers wider illumination to enhance visibility depending on the weather condition.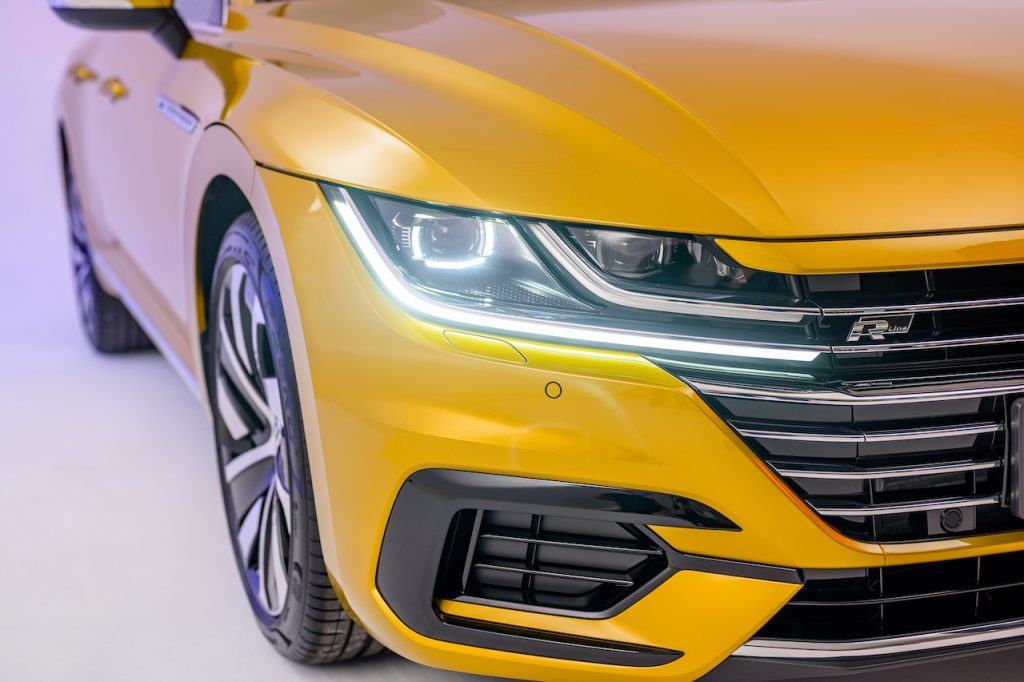 Interestingly enough though, although VW touts 'premium world class safety features' such as Post Collision Braking System and an Intelligent Crash Response System (ICRS), the autonomous emergency braking feature for the Arteon, known as manoeuvre braking, only works at speeds up to 10 km/h. 
This new locally-assembled Arteon is now available for bookings and test drive at your nearest authorised Volkswagen dealer today.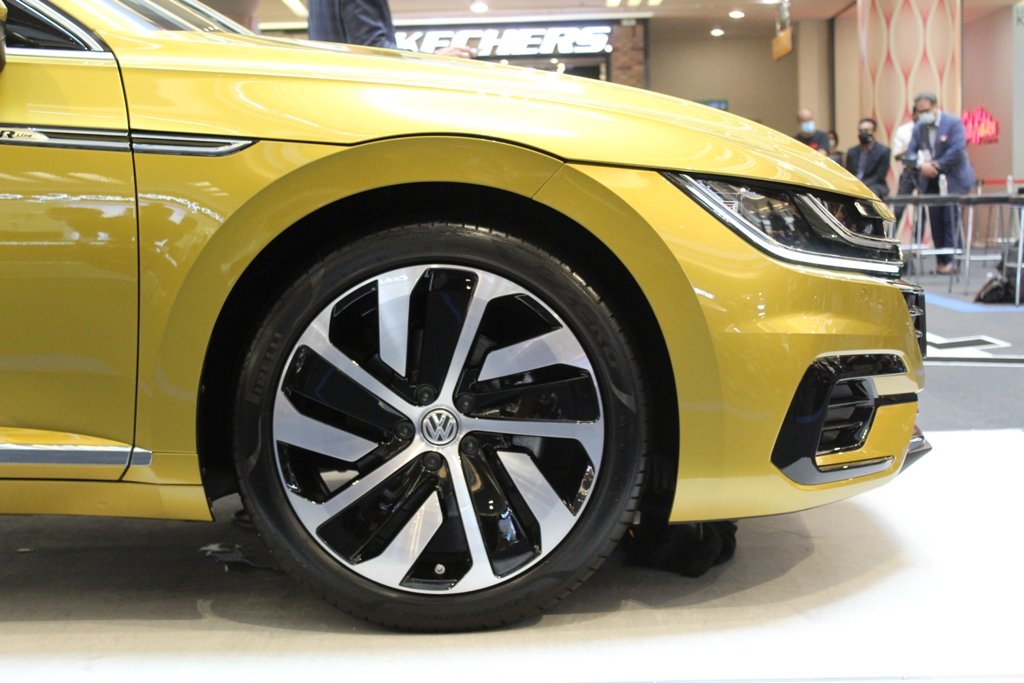 More information can be found in the press release below: 
Volkswagen Passenger Cars Malaysia (VPCM) today launched the highly-anticipated, all-new Arteon R-Line to the Malaysian public. A masterpiece on wheels, the Arteon made its global debut in 2017 is now is locally assembled at the Volkswagen plant in Pekan, Pahang. 
The five-door fastback is Volkswagen's flagship model and offers the perfect combination of avant-garde design with dynamic handling. Its name is a true reflection of its appearance – 'Art' describes the fastback's harmonious lines and emotionality, while 'eon' identifies' it as a premium Volkswagen model. 
The Arteon was designed to arouse emotions and create desirability, and paired with sporty R-Line trimmings, one is ensured a car that is visually breath taking from every angle.
The Volkswagen R-Line variants take inspiration from the Volkswagen performance R range. The R-Line range is a sporty styling package fitted onto the vehicle to give it an extra edge in creating an overall sportier look while maintaining great value. 
As an R-Line model, the Arteon's head-turning exterior is complemented with an aggressive front chrome grill with R-Line badge, LED headlights and taillights with dynamic indicators, a rugged black rear spoiler, 19" Montevideo alloy wheels, and lower chrome trimmings.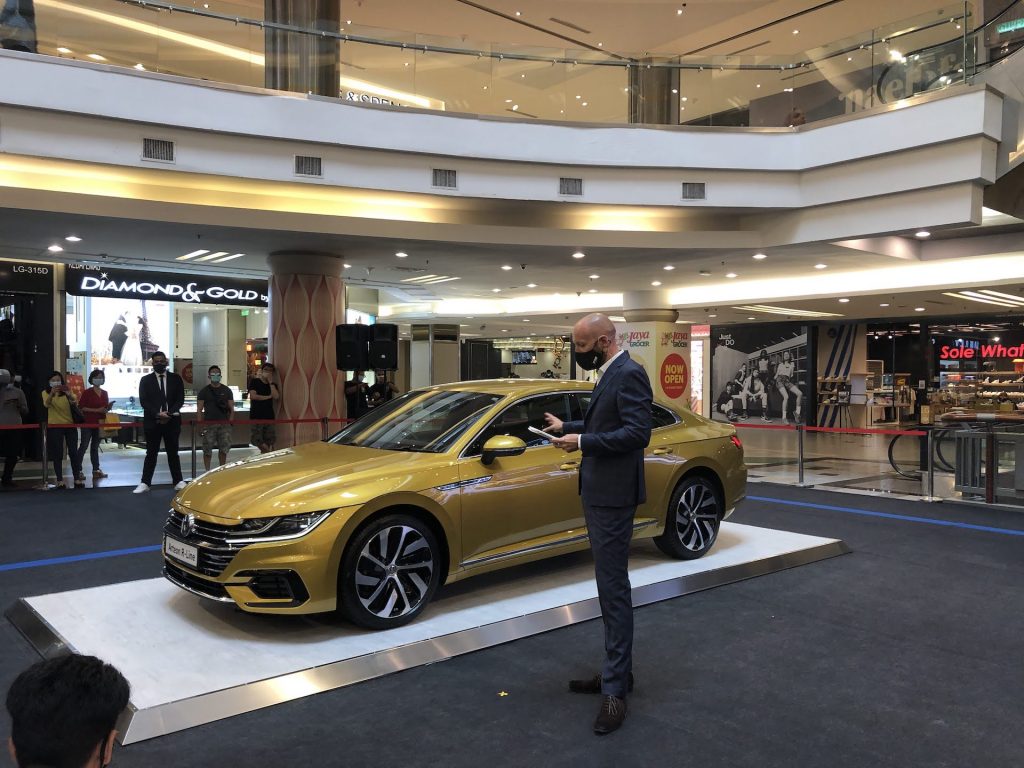 Form follows function with the Arteon R-Line. It doesn't just offer presence – but space too, with a best-in-class boot space of 563 litres, accessible with an Easy Open boot function. 
Dynamic Chassis Control (DCC) with Driving Mode Selection allows the driver to customise and select up to 15 driving style preferences and effortlessly stay connected with a personalised Digital Cockpit and wireless App-Connect Apple Car Play. Comfort is redefined as the front seats are 14-way ErgoComfort seats in Nappa carbon-style black leather with massage function. 
Other highlights include a premium Dynaudio audio system offers 11 speakers and 700-watt subwoofer, and area view camera 360°.
Erik Winter, Managing Director of VPCM was delighted to introduce the all-new Arteon R-Line to the Malaysian market. "The stunning Arteon really needs no introduction, and this is a model that Malaysians have been patiently waiting for. As our new flagship, the Arteon elevates the Volkswagen brand for us as it beautifully captures design, performance and function while offering a greater feeling of exclusivity. Having it as an R-Line model, adds sportiness even more to the heart of the Arteon." 
Bookings and test drive arrangements can be made at all authorized Volkswagen dealerships nationwide. For more information, visit www.volkswagen.com.my 
Exterior 
The Arteon R-Line's design is defined by a lower roofline, frameless doors and a rear slope that continues down to the tail, making it more aerodynamic and stylish, giving it a more upmarket appearance and clearly distinguishing it as a fastback. Both elegant and dynamic, it offers a remarkable amount of space and comfort with its coupé-like lines.
Sporting an all-LED headlight system, front headlights are equipped with Dynamic Cornering Lights while the rear taillights comes with sequential turn signals. A first, the Arteon comes with All Weather Light, a special lighting pattern that offers wider illumination to enhance visibility depending on the weather condition. 
Interior
The interior of the Arteon R-Line exudes sporty luxury. Front passengers are spoilt for comfort with a 14-way ErgoComfort seat decked in R-Line badging, while the driver is able to enjoy an additional massage function. For audiophiles, the Arteon is fitted with a Dynaudio sound system that offers a premium audio experience with its 11 speakers, 16 channel digital amplifier, one subwoofer and 700W of sheer sound luxury.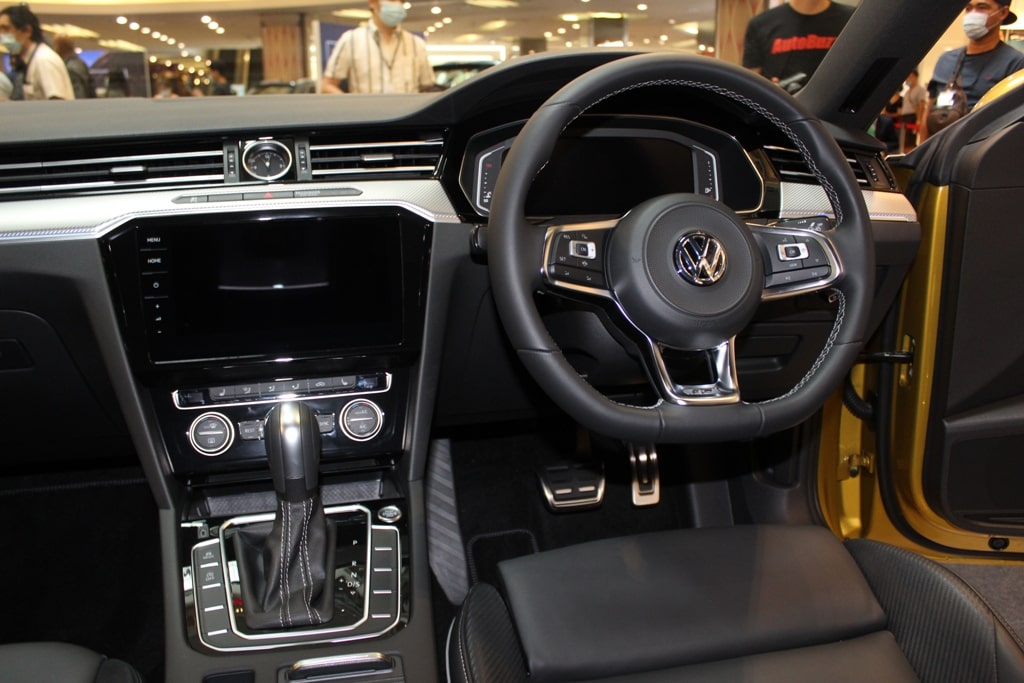 Adding to the luxurious ambience are Silver Rise aluminium inserts, Titanium Black headliner, an analog clock and 3-color ambient lighting.
Engine and Performance
The Arteon R-Line is offered with a 2.0TSI turbocharged engine and a new and improved 7-speed double wet clutch direct shift gearbox (DSG). It produces an output of 190PS and torque of 320Nm for a truly dynamic driving experience. 
For those wanting to customise their drive, the all-new Arteon R-Line comes with Dynamic Chassis Control (DCC), which offers up to 15 selectable increments and five different driving modes – Eco, Comfort, Normal, Sport and Individual. 
Connectivity 
With sharp resolution and higher clarity, the 11.7" Digital Cockpit allows drivers access to driving data with six customizable screen views and over 30 combination options, including 2D and 3D navigation and a full 100% map view. 
Connectivity at your fingertips, the 9.2" Discover Pro touchscreen infotainment system allows drivers to connect wirelessly via Apple Car Play, and available for Android Auto and Mirrorlink via a Type C USB port. The system offers voice control, gesture control and is even customizable to feature a split screen view. 
Safety 
With safety at the core of all Volkswagen models, the Arteon R-Line is packed with premium world class safety features such as Post Collision Braking System that prevents a second collision; Intelligent Crash Response System (ICRS) that takes preventive measures during a collision by cutting the fuel supply, unlocking the door and turning on the hazard lights; and Electronic Different Lock (XDS) that improves traction and reduce understeer.
Other standard safety features are Electronic Stability Control (ESC), Anti-lock Braking System (ABS) and Brake Assist (BA), Hill-hold Control, Proactive Passenger Protection System and Active Bonnet for pedestrian protection. 
The Arteon also comes with Area View 360 camera that combines the use of all four cameras to offer a complete bird's eye view. This screen is customizable and available in full or split views. 
Space and Convenience 
The Arteon R-Line's long wheelbase enables a remarkably generous interior architecture for this body form that creates a spacious feeling with plenty of headroom and legroom at all five seat positions.
Its wide-opening rear hatch is hinged at the top to provide easy access to the 563-litre luggage compartment – that is best-in-class. Additionally, the rear comes with the Easy Open function which uses sensors to electronically open the boot by detecting the driver's foot beneath the bumper. A first for Volkswagen in Malaysia, the all-new Arteon R-Line comes with Easy Close which provides a 20-second delayed closing of the boot, giving the driver freedom to remove items in the boot using both hands with ease. 
The Arteon R-Line is also equipped with Tyre Pressure Monitoring System which monitors individual tyres pressure; and manoeuvre braking that automatically applies brakes to prevent collision when it senses an object at speeds of up to 10kmph.
Colours 
Five colours are available; metallic colours are Manganese Grey, Turmeric Yellow and Pyrite Silver; and two pearl-effect colours the Deep Black and Oryx White Pearl.