Uncategorized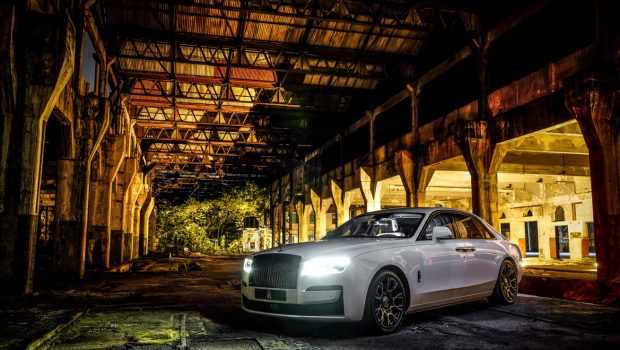 Published on March 7th, 2022 | by Aaron Fernandez
0
Rolls-Royce Black Badge Ghost lands in Malaysia
Rolls-Royce Cars Malaysia has just brought in the Black Badge Ghost. Although the Black Badge Roll-Royce's have been seeing a large popularity in the Asia Pacific, this will be the first time the Black Badge Ghost is coming to Malaysia. The luxury automaker has given the Black Badge Ghost a price of RM1.8 million before taxes.
The Black Badge Ghost has become one of the fastest-selling vehicles in Rolls-Royce's history, representing more than 3,500 buyers worldwide since its release twelve months ago. It is based on the second-generation Ghost with the drivetrain and chassis re-engineered for more power and better performance.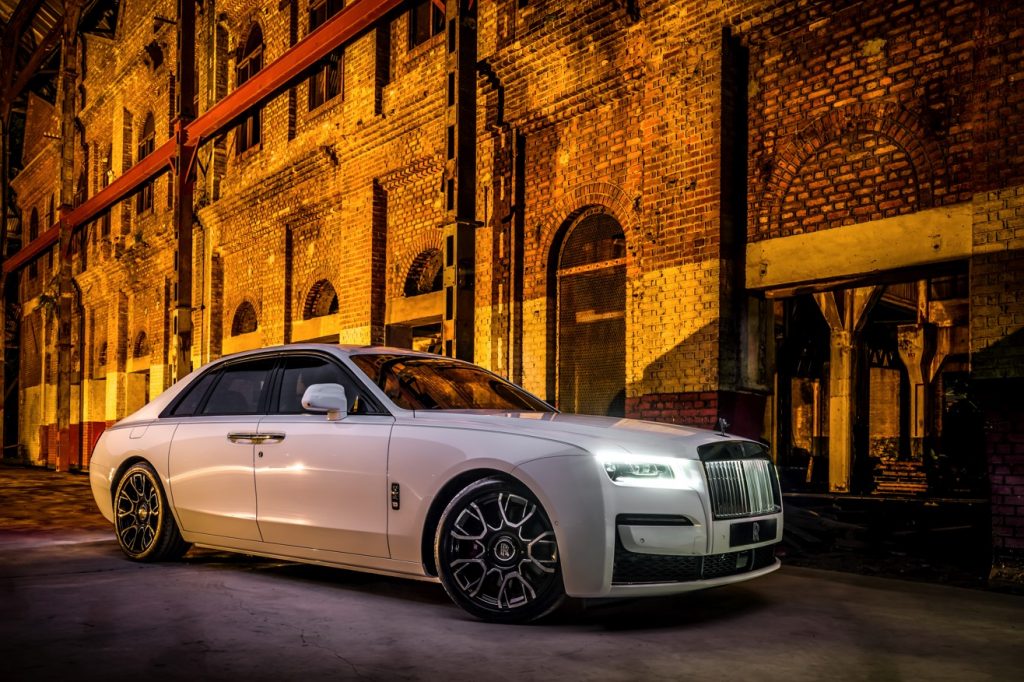 As the name suggests, the Black Badge Ghost will be available in its signature Black just like all the other Rolls-Royce Black Badges. However, Rolls-Royce have aspired to create the motor car industry's darkest black, 45kg of paint is atomized and applied to an electrostatically charged body in white before being oven dried. The motor car then receives two layers of clear coat before being hand-polished by a team of four craftsmen to produce the marque's signature high-gloss piano finish.
Lasting up to five hours, this overall operation is entirely unknown in mass production, creating an intensity simply unattainable elsewhere in the automotive industry. It is this depth of darkness that serves as the perfect canvas for clients to add a high-contrast, hand-painted Coachline, which has done much to create the Black Badge 'black and neon' aesthetic that has come to characterize this vivid family of Rolls-Royce motor cars.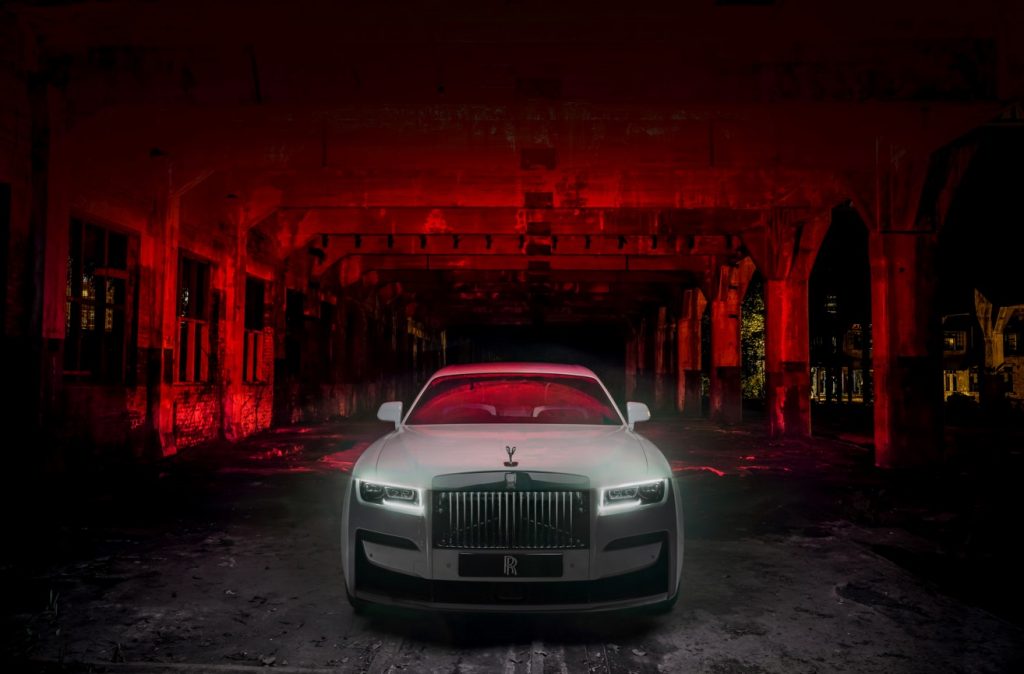 The Black Badge Ghost is offered with the iconic high-polished Spirit of Ecstasy and front Pantheon Grille. These components are not painted black but instead a specific chrome electrolyte is introduced to the traditional chrome plating process that is co-deposited on the stainless-steel substrate, darkening the finish. They are later polished to precision by hand to produce a mirror-black chrome finish.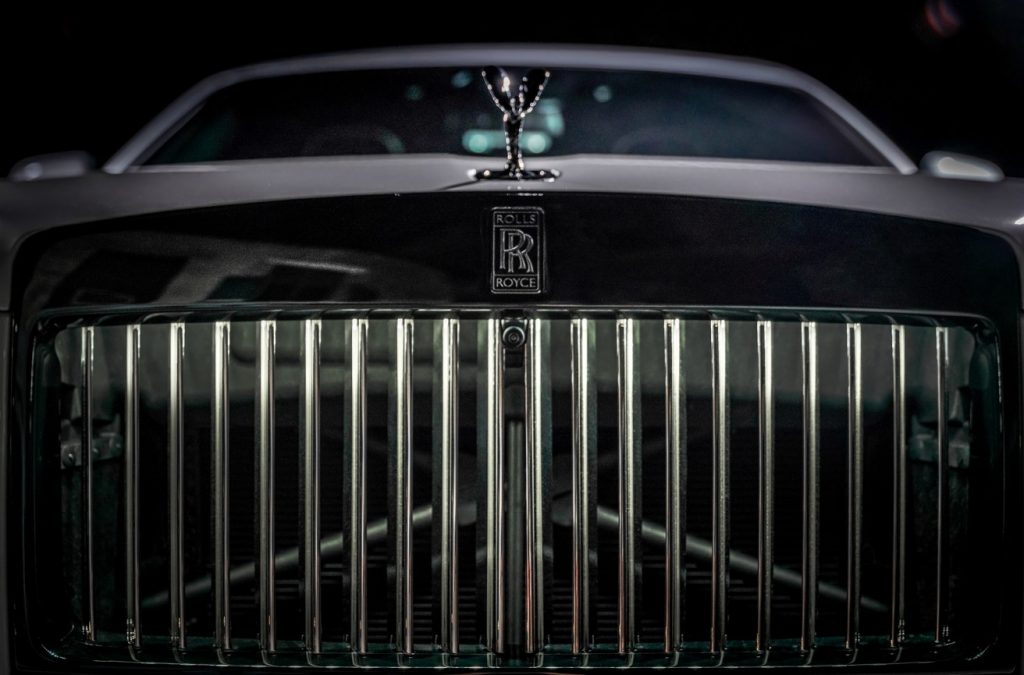 The exterior is finished with a Bespoke 21-inch composite wheelset. They are designed specifically for the Black Badge Ghost. The barrels of each wheel are made out of 22 layers of carbon fiber laid on three axes, then folded back on themselves at the outer edges of the rim, forming a total of 44 layers of carbon fiber for greater strength.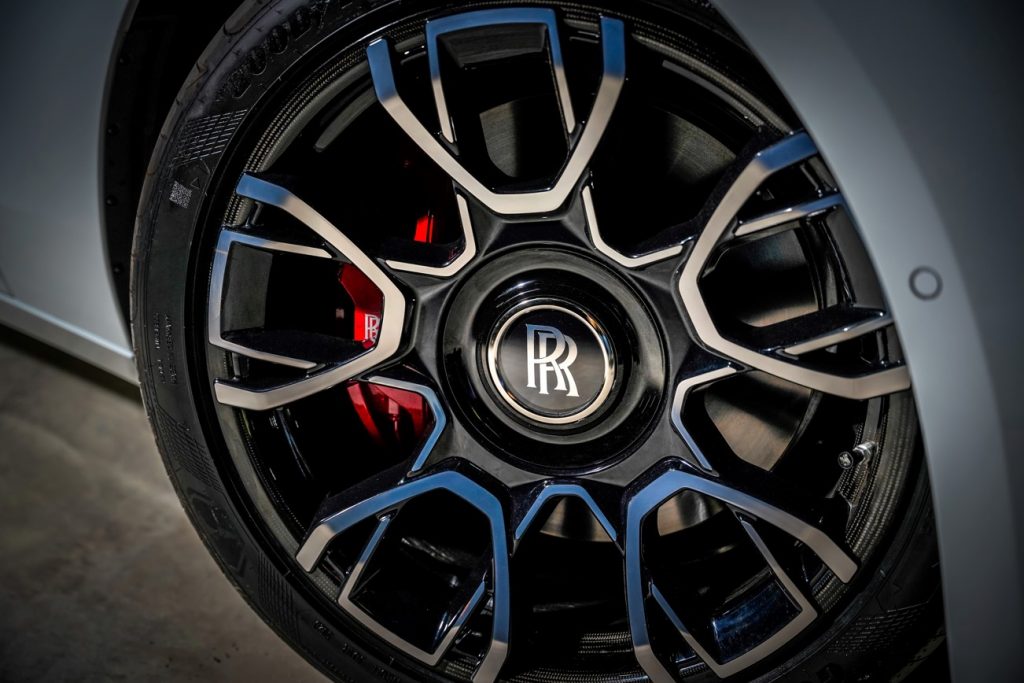 While most Black Badge Ghost buyers will be going with the signature black, Rolls-Royce are also offering 44,000 'ready-to-wear' colors for buyers of specific taste.
The inside of the Black Badge Ghost has been meticulously created and crafted with advanced luxury materials. Multiple wood layers are pressed onto the interior component substrates, using black Bolivar veneer for the uppermost base layer. This forms a dark foundation for the Technical Fiber layers that follow.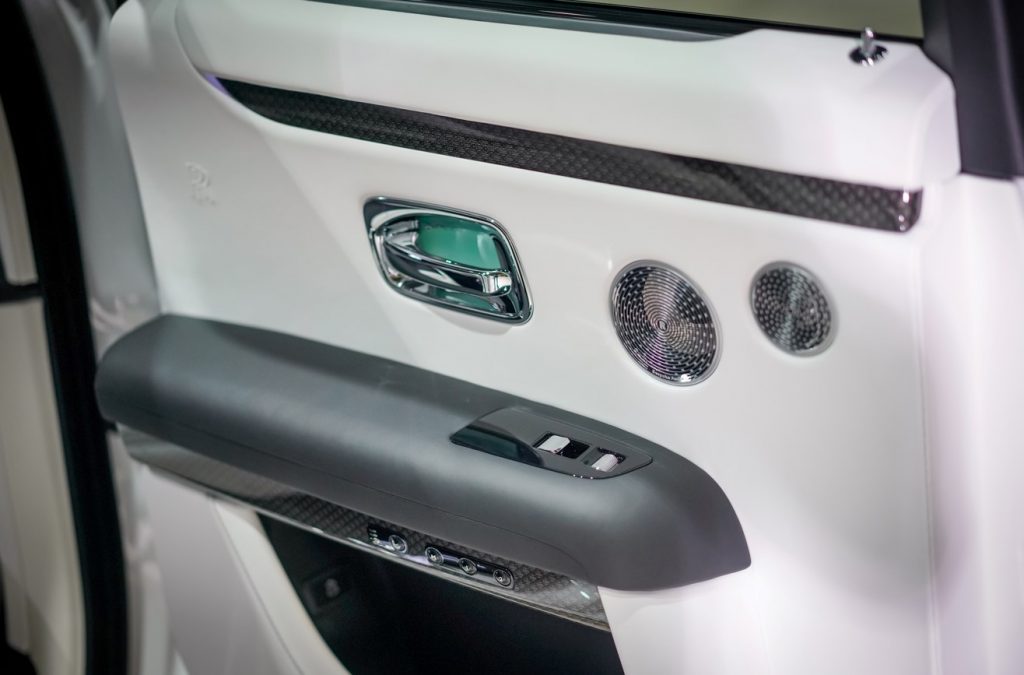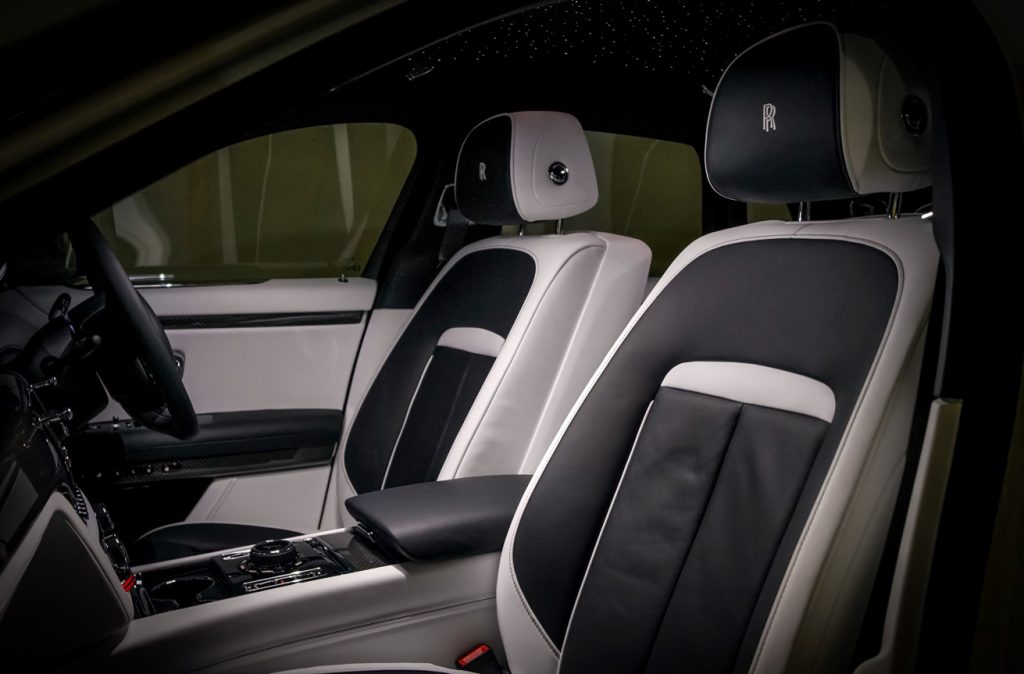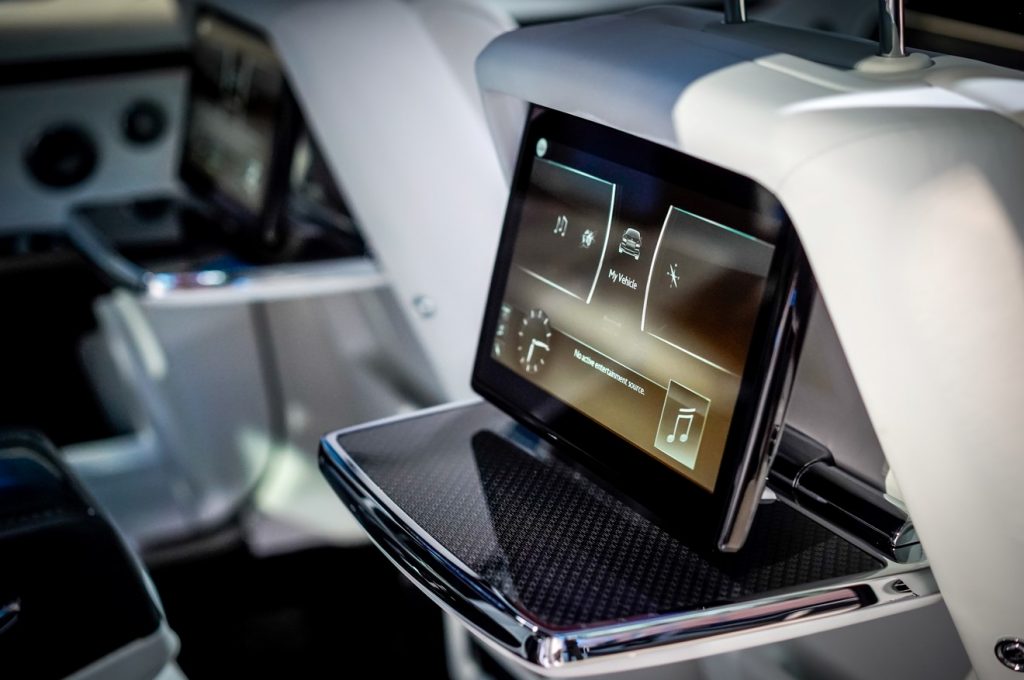 Leaves woven from resin-coated carbon and contrasting metal-coated thread laid in a diamond pattern are applied by hand to the components in perfect alignment, creating a three-dimensional effect. To secure this veneer, each component is cured for one hour under pressure at 100°C. This is then sand-blasted to create a keyed surface for six layers of lacquer, which is hand-sanded and polished before being incorporated into the motor car.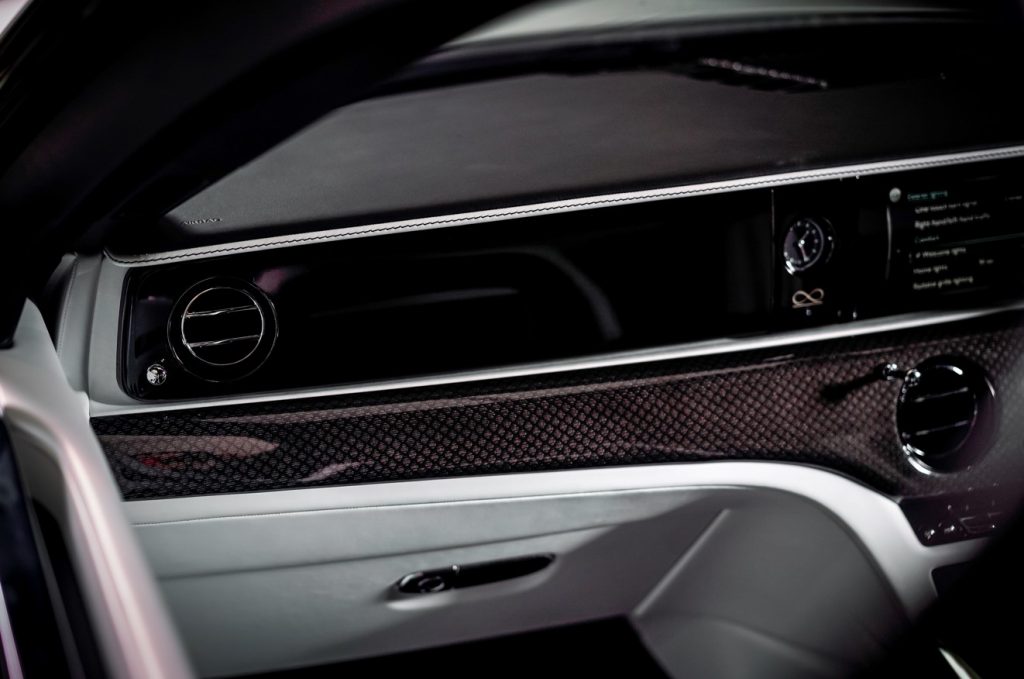 Air vents have been darkened using physical vapor deposition, which is one of the few methods of colouring metal that ensures parts will not discolour or tarnish over time or through extended use.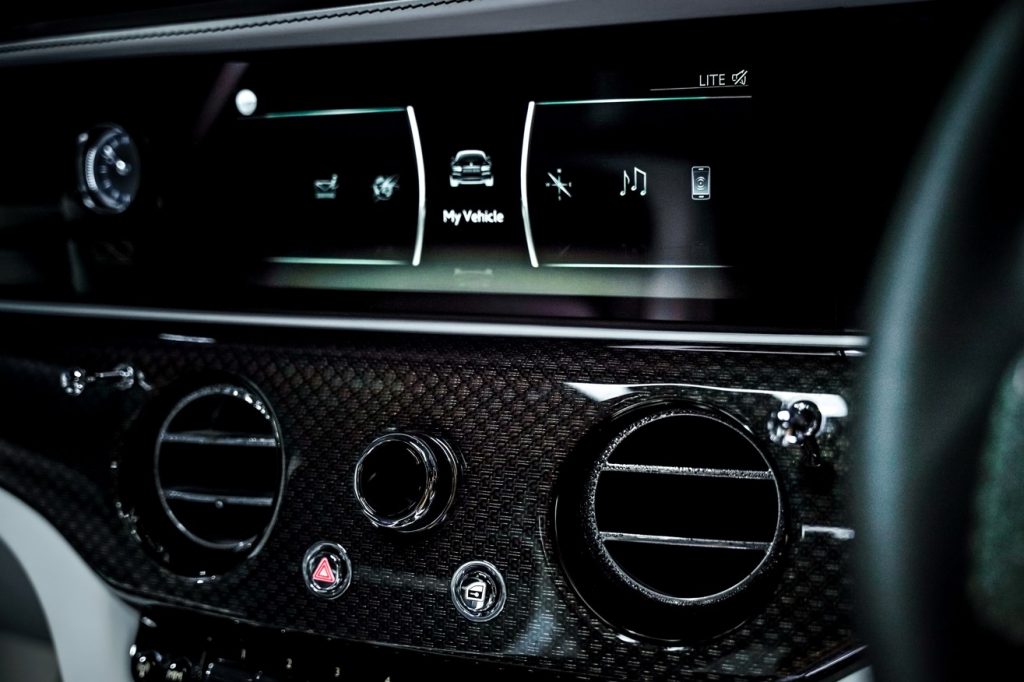 The Black Badge Ghost is powered by a twin turbocharged 6.75-liter V-12 engine. This is the same engine used on the standard Ghost, but has been upgraded to generate an extra 21kW, producing a total of 592hp. The peak torque also saw an increase of 50Nm to 900Nm. This is paired with a ZF eight-speed transmission.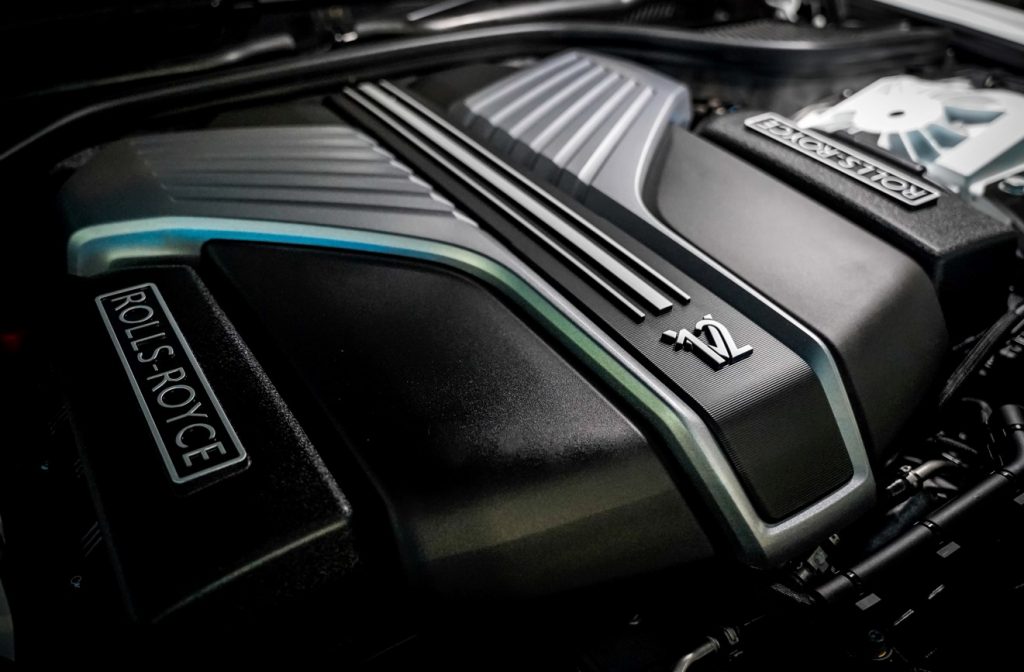 Just like all the products in the marque's Black Badge portfolio, the 'Low' button situated on the gear selection stalk unlocks Black Badge Ghost's full suite of technologies. All of the 900Nm of torque is available from just 1700rpm and, once underway in Low Mode, gearshift speeds are increased by 50% when the throttle is depressed to 90%, delivering Black Badge Ghost's abundant power reserves with dramatic immediacy.