Automotive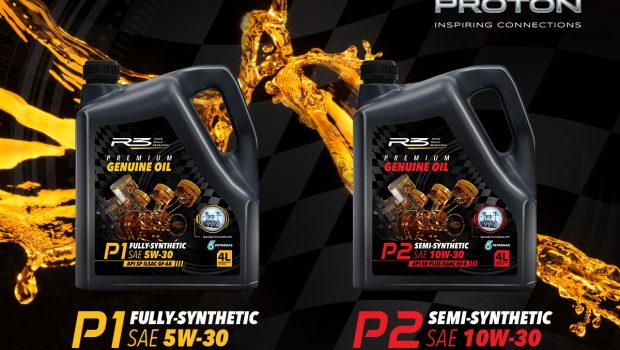 Published on January 24th, 2022 | by Aaron Fernandez
0
Proton R3 launches new range of premium oils and merchandise
Proton's motorsports arm, R3 has launched their newest range of products to expand the brand to new customers. The brand is now being marketed by Proton Global Services (PGS), a fully owned subsidiary of Proton Edar.
R3 have partnered with Petronas for the development of their range of Premium Genuine Oils that are available in both fully-synthetic and semi-synthetic forms. Both the P1 and P2 genuine oils are formulated using Petronas' latest Etro 6+ base oil, which is specifically designed to handle our country's high climate and ensure better performance for current generation of direct injection turbocharged engines.
The first of the two oils available is the P1,  is the fully-synthetic oil that is API SP certified, and is priced at RM208. The other oil is the P2, is the semi-synthetic oil with API SP certification, is priced at RM158. To celebrate the introduction of these new oils, there is an ongoing offer of RM178 and RM128 for each respective oils that lasts until 30 April 2022.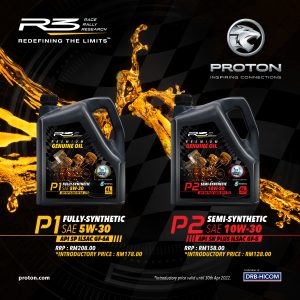 "The launch of our new R3 Premium Genuine Oil range and merchandise products is the first step in R3's rebranding journey. They will be sold to the public via our Premium Merchandise Partners in 20 locations throughout Malaysia. There will be more product launches coming up in the future, including accessories for Proton car owners, which will help us build our connections with R3 fans," said Lee Yeet Chuan, Chief Executive Officer, Proton Global Services.
There is also a new range of t-shirts and caps that are available at Premium Merchandise Partner locations for fans of the product.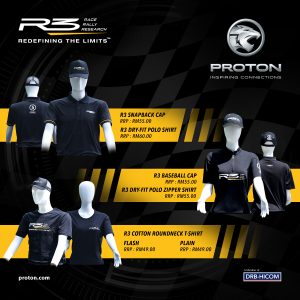 Here are the various authorized dealers available in the country. For more information please visit the official Proton Cars and Proton Motorsports Facebook pages.