Used cars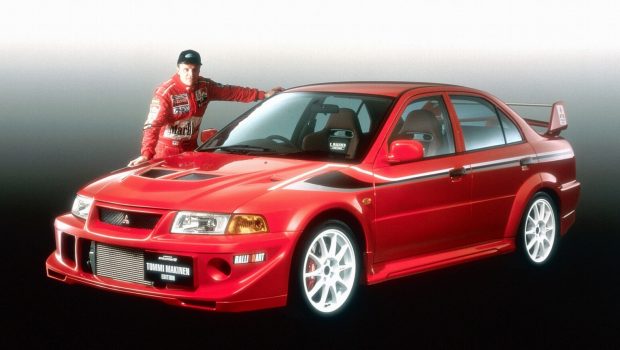 Published on December 13th, 2020 | by Joshua Chin
0
Mitsubishi Evo VI Tommi Makinen Edition Turns 21 This Year
One of the most prized Mitsubishi Evo models around has just had its 21st birthday. 
The Mitsubishi Lancer Evolution VI Tommi Makinen Edition has recently turned 21 this year. Launched in Japan on the 10th of December 1999, this special edition Lancer has since become one of the most prized Evo models in its illustrious history. 
Handily shortened to the Evo VI TME by its legion of fans, only 2,500 of these special editions were ever produced by the tri-diamond marque. Saying that, this particular Mitsubishi has nevertheless left behind a legacy far larger than its relatively minuscule production numbers, with enthusiasts from all around the world coveting this very special sporty sedan till this day.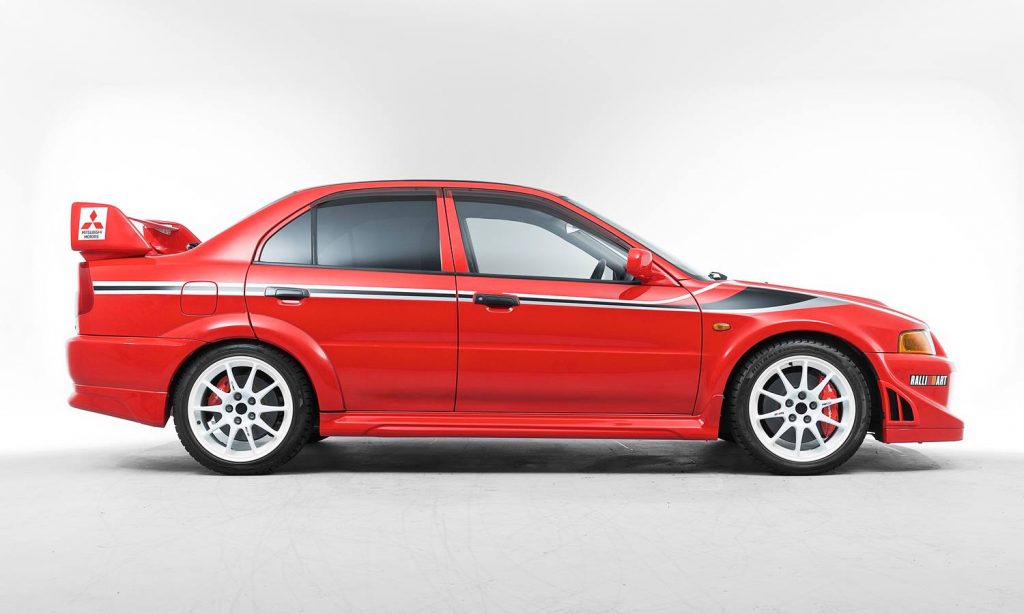 History
Much like the name suggests, this special edition of the Mitsubishi Evo was built to commemorate Finnish rally driver Tommi Makinen's rallying successes with the Japanese marque. More specifically, it was to actually to celebrate the rally ace's fourth consecutive Driver's Championship title in the 1999 World Rally Championship, having also won his three prior titles behind the wheel of a Ralliart Mitsubishi Lancer Evolution.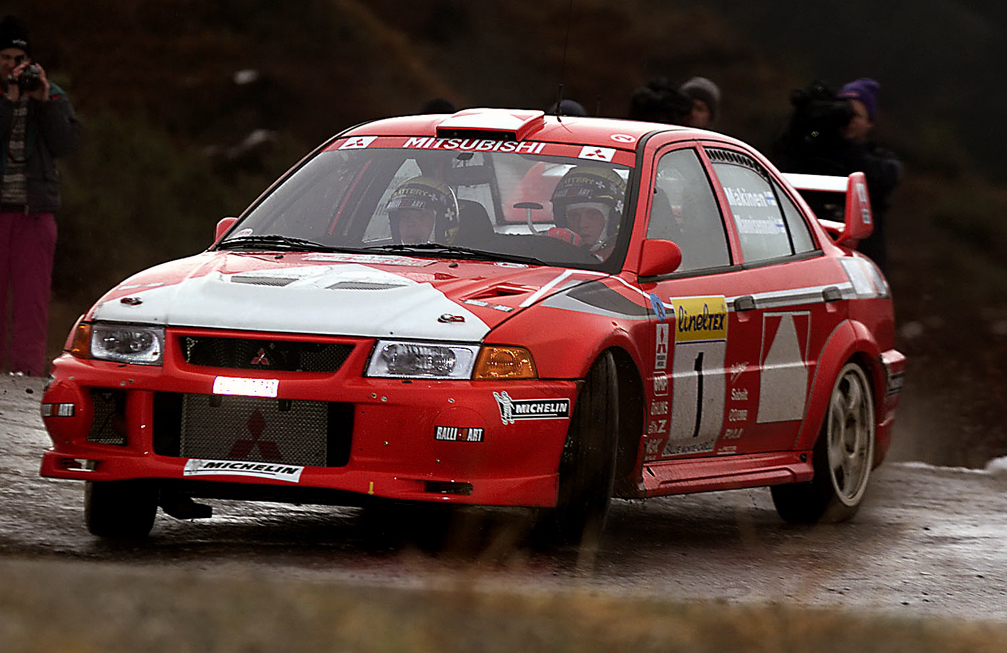 While being the definitive car that represents Mitsubishi's greatest rallying successes does contribute a large part to the haloed legacy of this rally replica, there is also another reason as to why the Evo VI TME remains a fan-favourite among the fraternity. And that stems from the add-ons that Mitsubishi has made to this special edition over the standard Evo VI of the time.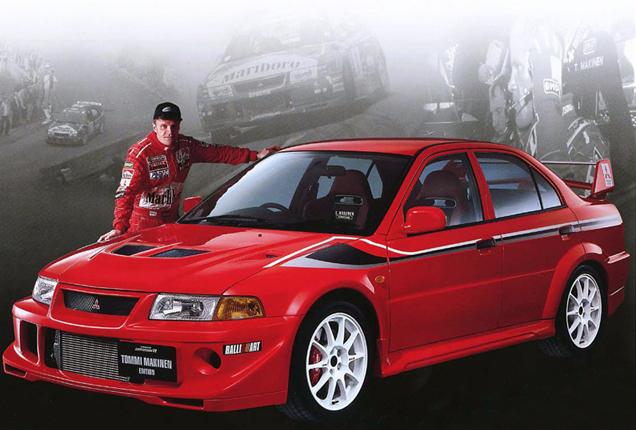 Far from just slapping some decals and calling it a day like some other special editions, Mitsubishi has actually dedicated a whole host of changes specific to the Evo TME. In fact, this particular run of commemorative Lancers were so mechanically distinct from the car on which it it based, that it is common for the Evo community to refer to these TME Evos as the Evolution 6.5. 
Performance
Kicking off with the performance enhancements, the Evo VI TME gains a new free-breathing muffler capped with a single large bore circular tailpipe. On the induction end meanwhile, the standard twin-scroll turbo turbo has been fitted with a smaller, shape-optimised titanium compressor wheel for a quicker spool-up time and to reduce turbo lag.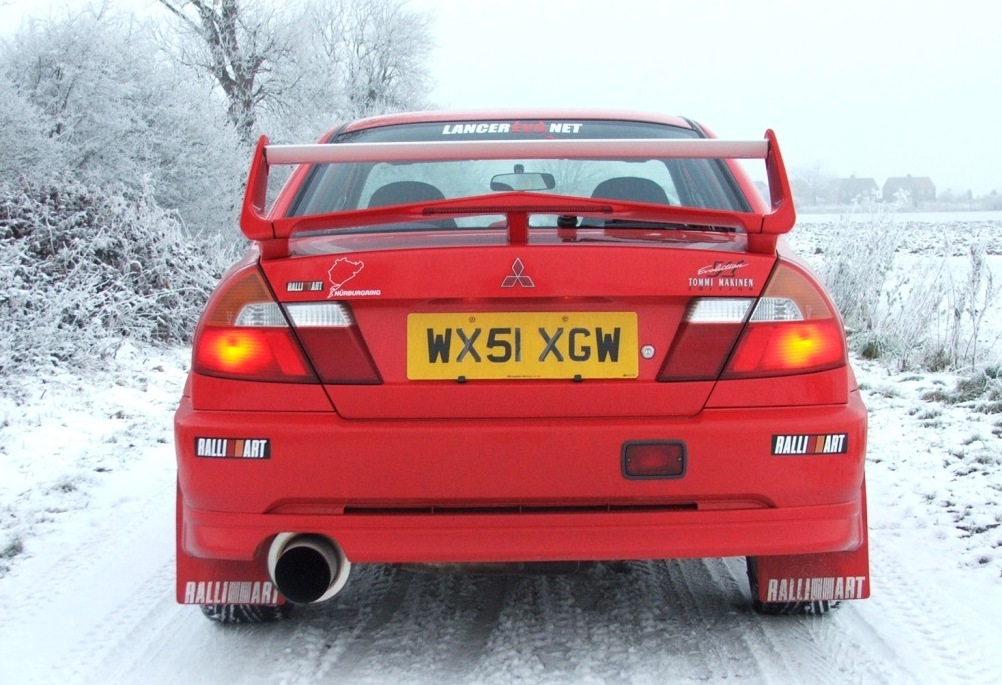 This being a Japanese performance car of the 90s though, the 2.0 litre 16-valve DOHC turbocharged four-cylinder is allegedly said to still only make '276' hp and 373 Nm of torque. Be it as it may be on what the on-paper performance specs are, this 1,365 kg Mitsubishi is still considered to be a mighty fast car, even by today's standards.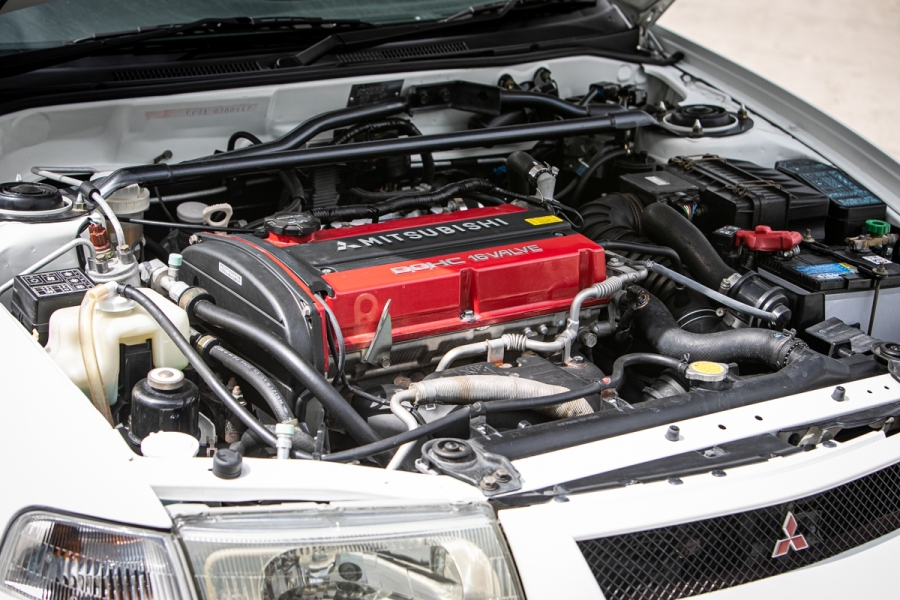 Mated to its 5-speed close-ratio manual transmission, the Evo TME still manages the 0-100 km/h sprint in a very respectable 4.5 seconds, and will pull all the way to a top speed of 240 km/h (150 mph). Moreover, this JDM sports sedan should be capable of those healthy figures in all conditions, thanks to the Evo's standard all-wheel drive system with its proprietary Active Yaw Control (AYC). 
Handling
Continuing on the handling front, all TME Evos came as standard with a 10 mm drop in its ride height. Moreover, the suspension itself on these special edition Mitsubishis were advertised to be 'Specially Tuned for Tarmac Stage'. 
Additionally, these Evo TME models were equipped quicker steering ratio than stock, as well as a standard front strut tower bar for added handling prowess. Other homages to its rallying roots worth mentioning under the skin are the baffled fuel tank, which prevent fuel surge under hard cornering, and Brembo disk brakes all round.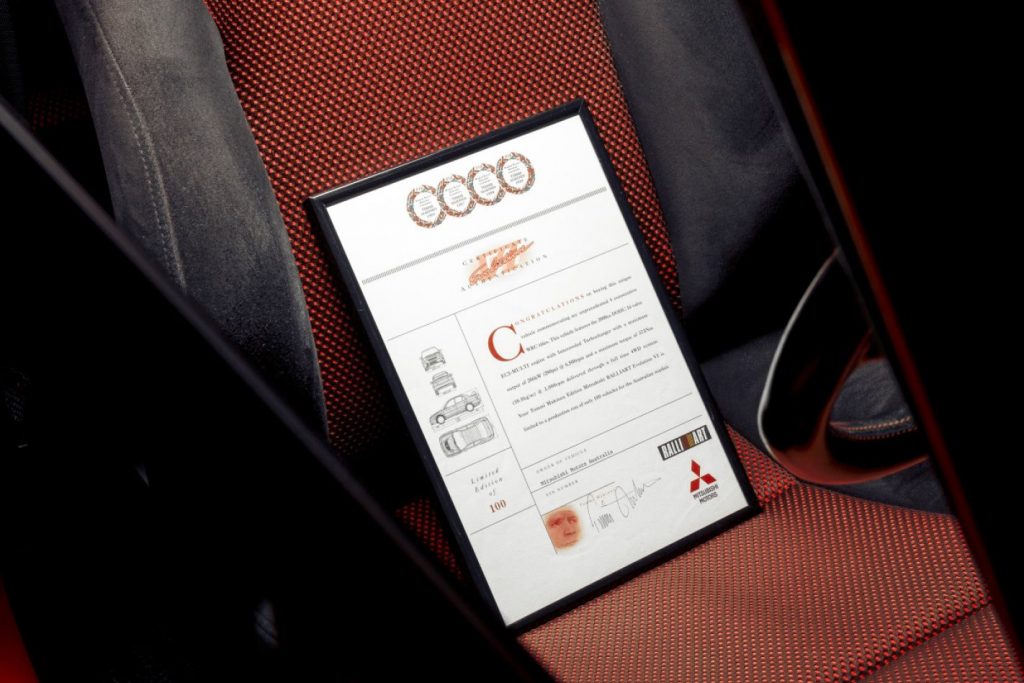 Exterior
Speaking of those brakes, they are hidden behind white powder-coated 17 inch ENKEI alloy wheels. The same design incidentally as are on Mitsubishi's WRC Group-A works rally car.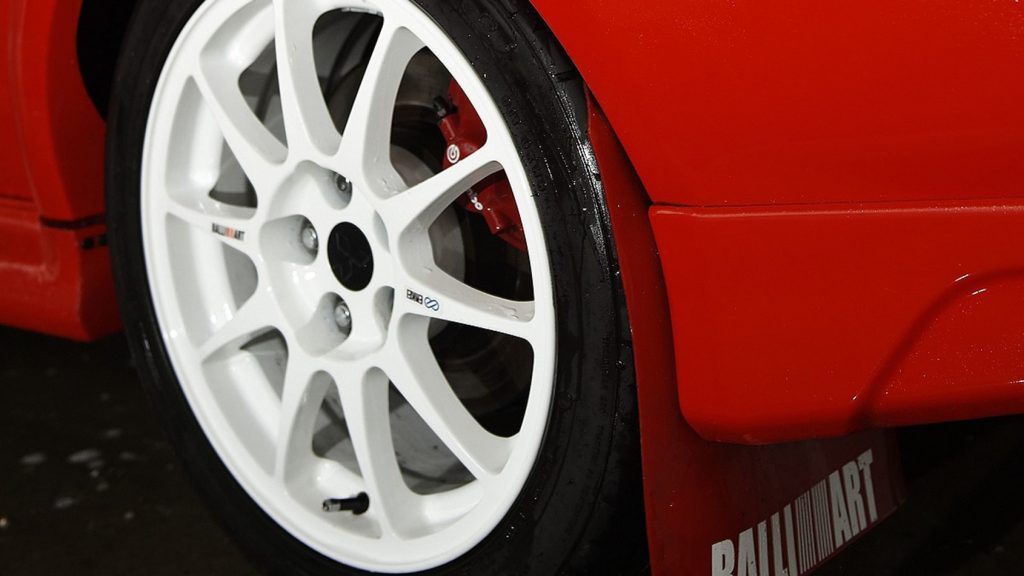 On the topic of the Group-A works car, there was also a Special Colouring Pack (SCP) available to order from new for these Evo TMEs. Essentially is an exterior sticker package, this optional detailing pack was intended to reproduce the rally car aesthetics with various graphics and other subtle changes. This detailing pack however was only available exclusively on Passion Red Evo TMEs, which was incidentally also the most popular of the five exterior colours on offer.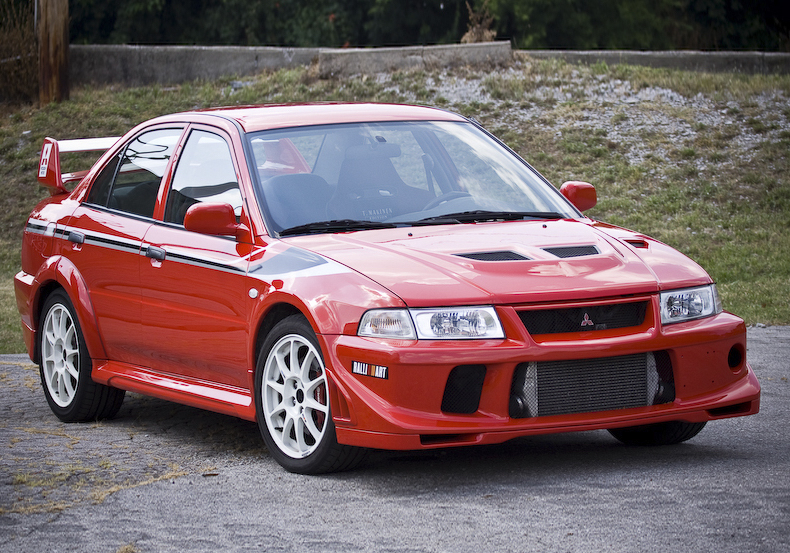 One other exterior highlight worth mentioning is the bespoke asymmetrical front bumper on these Evo TMEs. Coming integrated with its front bumper extensions, this aesthetic modification supposedly served not one, but two practical purposes as they not only fed more air to the intercooler, oil cooler, intake and brakes, but also supposedly improved aerodynamics on this road-going rally car.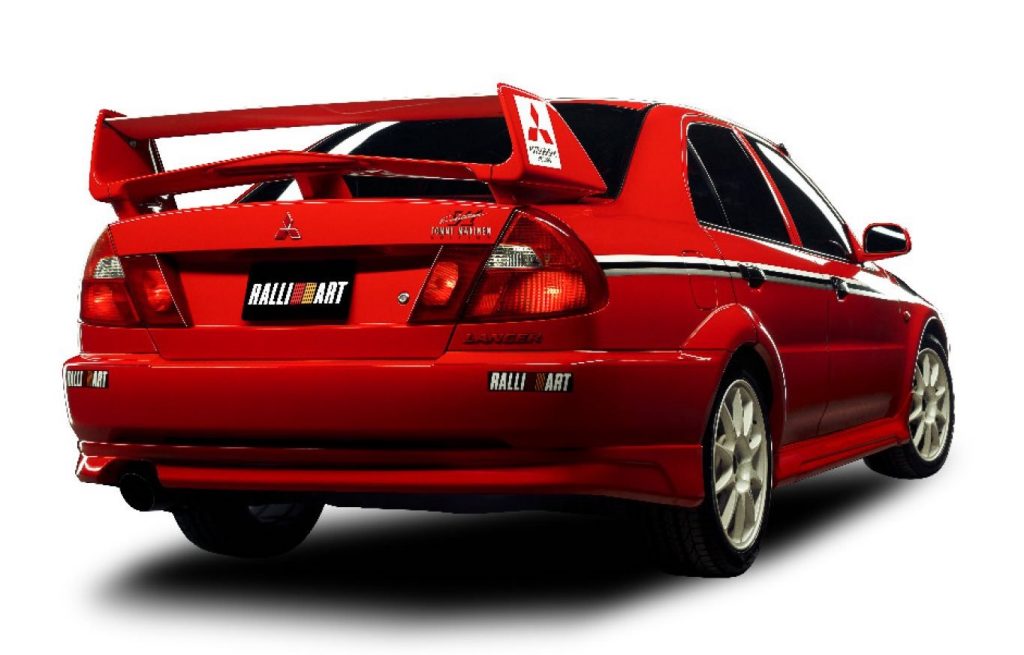 Interior
Moving on inside, hip-hugging Recaro bucket seats embroidered with the Tommi Makinen logo make an appearance within this commemorative Mitsubishi.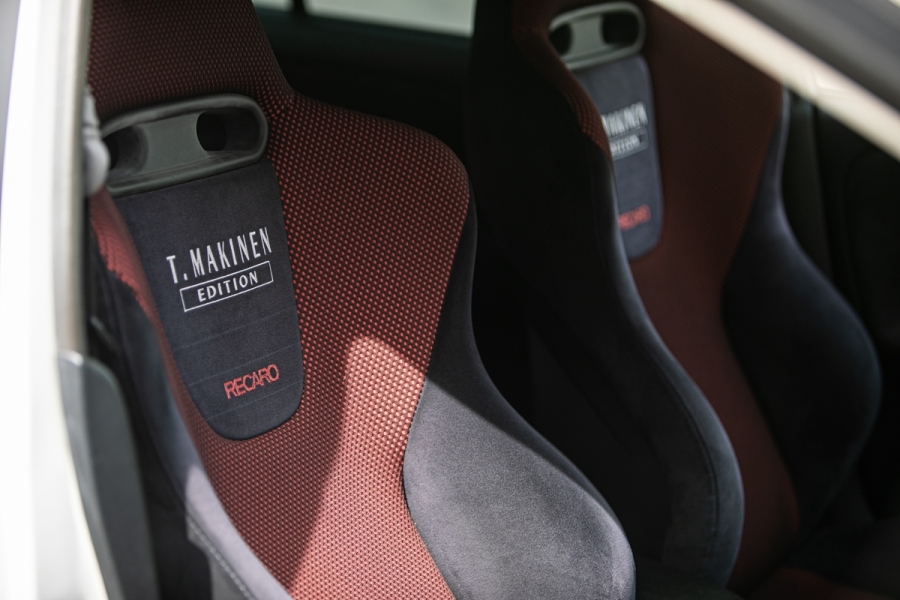 A MOMO steering wheel and gear shift stitched in red-stitch leather are also among the other interior accents found within the Evo VI TME. 
Finishing off the interior enhancements on this special edition Lancer are exclusive instrument dial faces with a 260 km/h speedometer, all of which are housed within a dashboard finished in black with red lettering.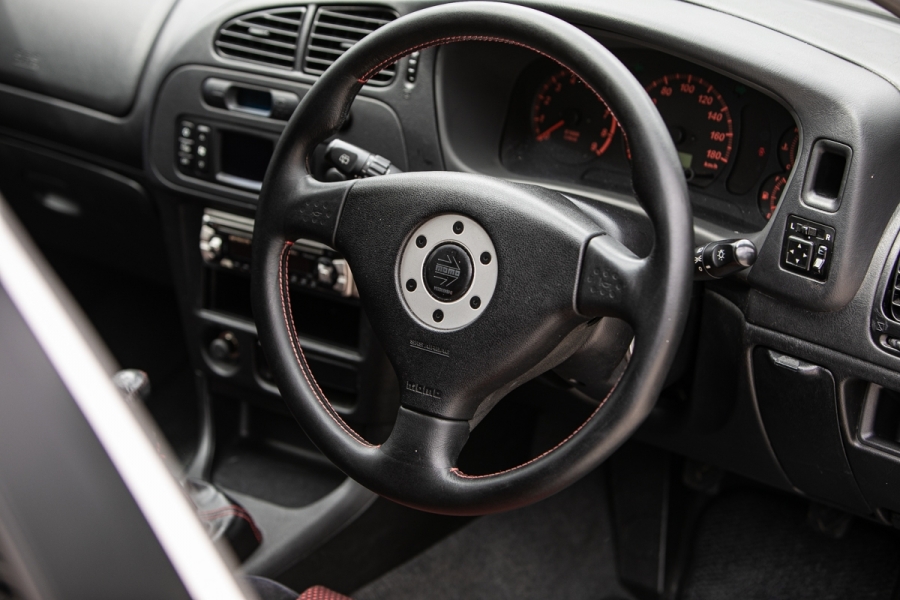 Mitsubishi Evo VI TME RS
It is worth noting at this point that this extensive list of add-ons mainly apply to only the more street-friendly GSR model. To those however interested in an even rarer, and even more hardcore Evo VI TME, the RS edition then could be up your street. 
A stripped-down factory lightweight version specifically designed for rally teams to convert to competition specification, a lot of kit from the GSR TME was left on the options list, as was some standard Evo bits like traction control, ABS, airbags and even electric windows. 
Nevertheless as allegedly only 200 of these RS spec Evo VI TMEs were ever saw the light of day, these Evo VI TME RS models are also one of the rarest Evos variants to ever be produced.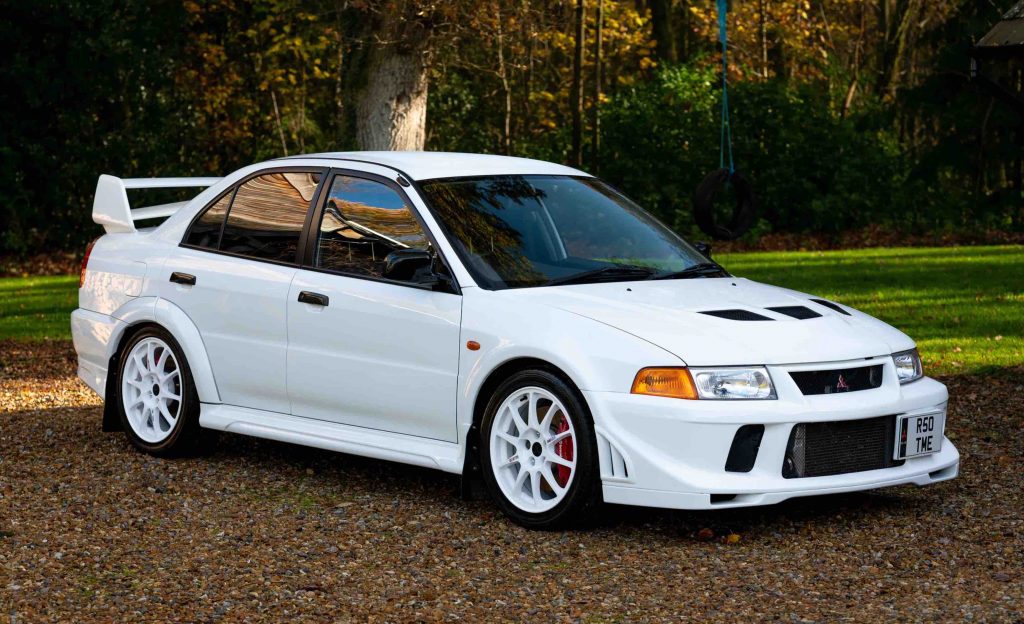 Price
Costing ¥3,278,000 (RM 128,000) for the GSR and ¥2,598,000 (RM 102,000) for the RS trim levels back in Japan when it was brand new in 1999, prices these days for these Evo TMEs still float around the same price (or even higher) as it was 21 years ago, hence reflecting its haloed status within the enthusiast community. 
A decent one these days command an asking price of around £25,000 (RM 134,000) in the UK, with prices for these going as high as £45,000 (RM 240,000) for a low-milage, mint condition example. Back in its native Japan too, used prices for these EVO TMEs are within the ballpark figure as in the UK. 
Final Thoughts
Judging from the used prices of these Evo VI TMEs, even after more than two decades, the fanaticism around this very special Mitsubishi Evo is still as lively as the day it was announced. 
While it might not be the fastest, most powerful or even the most hardcore Lancer there ever was over its 10 iterations, having the association with arguably Mitsubishi's greatest rallying success story to date probably makes this renowned homologation special and all-around rally car for the road the most legendary Evo of them all. And even if one isn't steeped in rallying folklore, one can still appreciate the many additional enhancements that are exclusive on this model.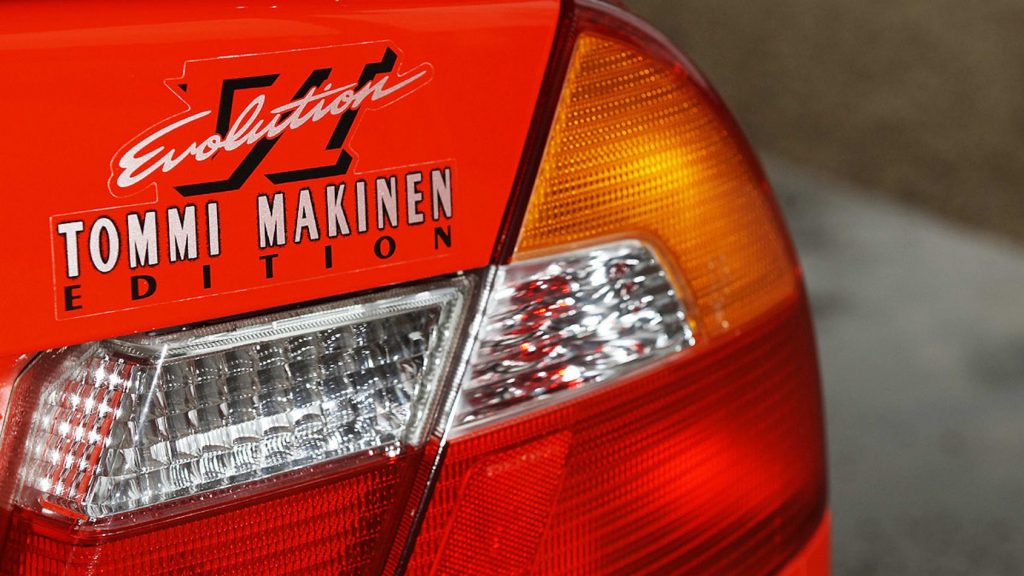 For even more information about this special edition rally car for the road, here's the original press release for the Mitsubishi Lancer Evolution VI Tommi Makinen Edition from all the way back then in 1999. 
PRESS RELEASE: Mitsubishi Motors Corporation is to launch a limited series model to commemorate rally ace Tommi Makinen's* prodigious feat of winning his fourth consecutive Drivers' Championship in this year's World Rally Championship. The LANCER Evolution VI Tommi Makinen Edition will go on sale at Galant dealerships throughout Japan on Saturday 8 January 2000 at a manufacturer's recommended retail price in Tokyo of 3,278,000 yen for the GSR and of 2,598,000 yen for the RS trim levels.
In response to this news, Tommi Makinen said, "Wow. To have a car named after yourself. That's something else. Over the years, I have made a number of suggestions for the LANCER Evolution series, stressing the importance of making it easy to control and fun to drive and ride, as well as giving it high levels of performance. The LANCER Evolution realizes a beautiful balance between all performance parameters and it really provided me with the perfect car to re-write the WRC record book. I would just like to say that anyone who buys the LANCER Evolution has made the "Right Choice".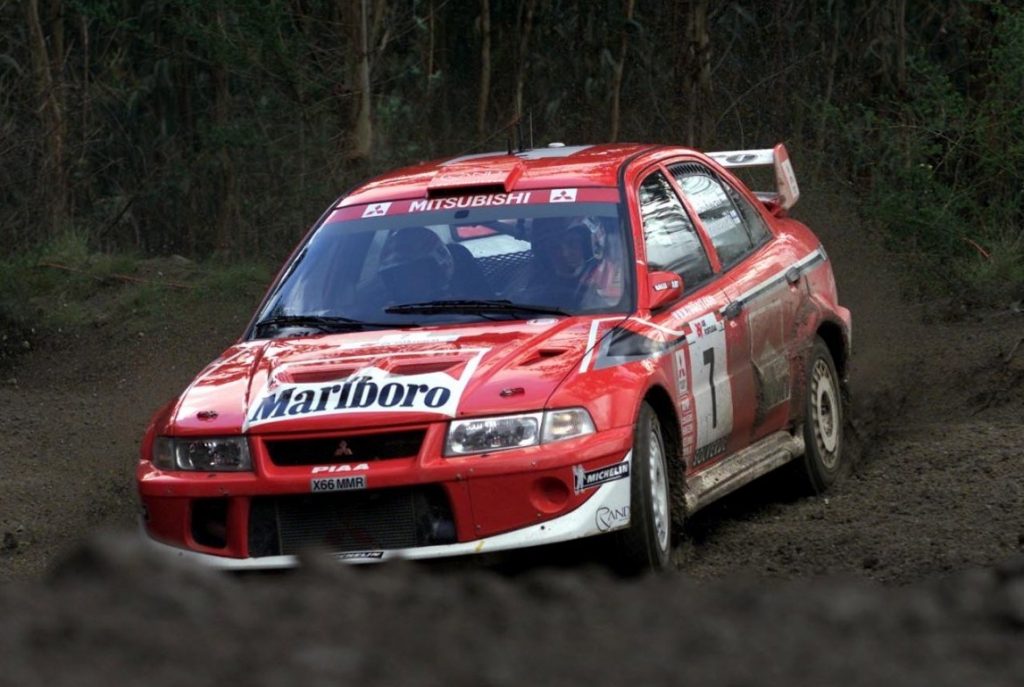 * : Born in Jyvaskyla, Finland on 24 June 1964; 35 years old. WRC debut was the 1000 Lakes Rally in 1987. Came to the fore in 1990 driving a GALANT VR-4 Group N machine to 3rd place in the FIA Cup Ranking. After joining Mitsubishi Ralliart Team in 1995, has won the WRC Driver's Championship four years in a row since 1996. His total of 19 WRC victories places him third in all-time winners. He renewed his contract with Ralliart in October and will drive LANCER Evolution Group A machine in the 2000 season when he is aiming to re-write his own record book, to make it five Drivers' Championships in row and to help Mitsubishi Ralliart to the Manufacturers Championship.
LANCER Evolution VI Tommi Makinen Edition: Principal Features
Powered by Mitsubishi's 2.0-liter 16-valve DOHC intercooler/turbocharged unit, the production LANCER Evolution VI sports sedan has been tuned and set up for optimum performance on tarmac and features interior and exterior trim reflecting a WRC motif.
Road performance
A high-response titanium turbocharger gives better low-end and mid-range torque, using a smaller, shape-optimized compressor wheel. (Standard on GSR; factory option on RS)
The tarmac suspension is tuned to give improved initial response on tarmac surfaces. (Standard on GSR; factory option on RS)
Quick-steer gear ratios, standard on the LANCER Evolution VI RS, are also standard on GSR.
A new muffler uses a single large bore circular tailpipe for improved and quieter performance.
The front strut tower bar, standard on the LANCER Evolution VI RS, is also standard on GSR.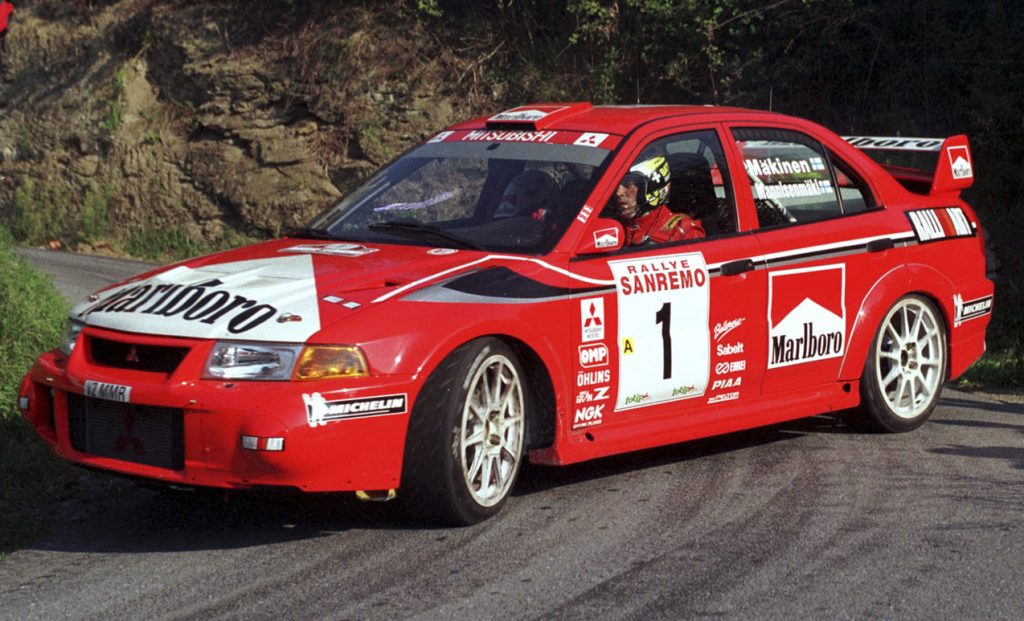 Exterior design
The front bumper features a new powerful design that improves aerodynamics and lowers air intake temperature to stabilize power output characteristics.
The front bumper extension brings further improvements to aerodynamic performance with redesigned airflow ducting.
17-inch alloy wheels share the same design as on Mitsubishi's WRC Group-A works car. (Standard on GSR; factory option on RS)
A Special Coloring Package that reproduces Mitsubishi WRC Group-A works car detailing available as option on GSR. The package comprises:
WRC stripe, Ralliart decals (on ends of front and rear bumpers), Mitsubishi 3-diamond decal on ends of rear spoiler), upper wing section of rear spoiler finished in white, rear panel garnish, body-keyed door sashes, amber front indicator lenses, door handles finished in black.
New Passion Red and Canal Blue liveries join Scotia White, Satellite Silver and Pyrenean Black to bring the choice of body colors up to five. (Special Coloring Package in Passion Red only)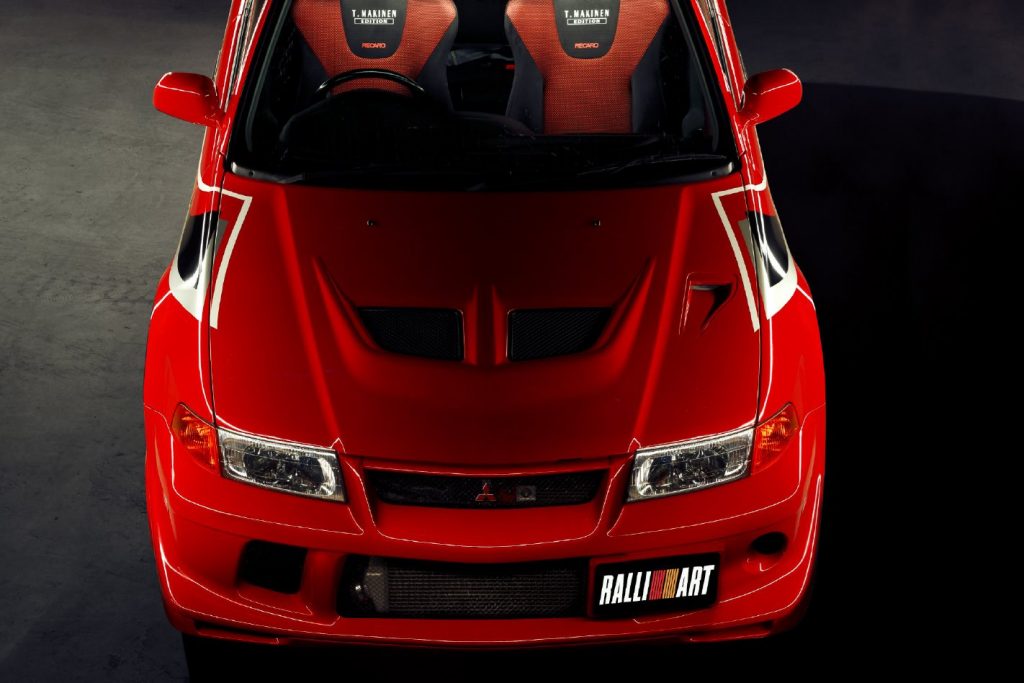 Interior design
Recaro bucket seats using red fabric / EcsaineR suede upholstery embroidered with Tommi Makinen logo are standard on GSR.
Dashboard is finished in black with red lettering. Instrument dial faces use exclusive colors.
MOMO steering wheel and gear stick knob and boot are trimmed in red-stitch leather.