Used cars
South Africa Once Had Mercedes-Made & AMG-Tuned Civics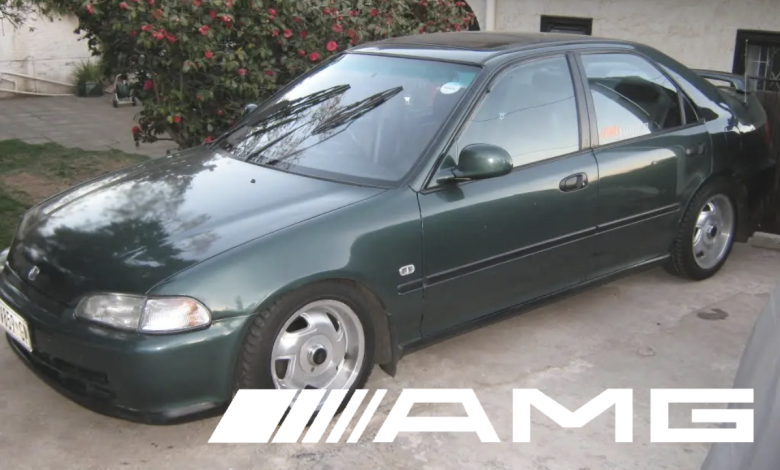 Yes, Mercedes-Benz once built Honda Civics in South Africa, with AMG tuning some of them too!
When it comes to German-Japanese partnerships, there is perhaps one that both countries would very much like everyone to forget about. But while being on the losing side of a world war is certainly something that both countries will want to parade around, there is actually another significantly less devious partnership between automakers in said two nations that has been equally swept under the rug too. 
See, back in the early 80s till the early naughties, Mercedes-Benz, of all people were not just license-building, but also selling at their dealerships too Honda Civics in South Africa. What more is that said Japanese compact sedans apparently even got not one, not two, but three variants that were breathed upon by AMG. Making it one of only 3 non-three-pointed star cars to be properly recognised as having been fettled by the tuners from Affalterbach, with the other two being the Mitsubishi Debonair and Galant, which was covered in a prior story here.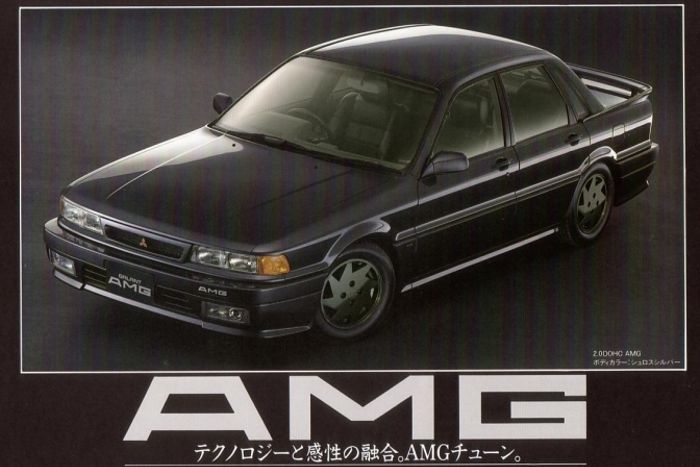 Unfortunately however, the passing of time has all but claimed the few records related to these Mercedes-built Civics, with even fewer notes available for the-now almost mythical AMG-tuned variants. In what is an unusual move by both these automakers who pride themselves in their history too, both Mercedes-Benz and Honda have also neglected the numerous attempts made by many wanting to know more about this interesting partnership. 
But while there is still much that is unknown about these rather fascinating South African Civics, this story is still nevertheless one that is too interesting to not be told. So apologies in advance for a certain amount of vagueness, but here is said tale of when Mercedes-Benz once built (and AMG once tuned) Hondas.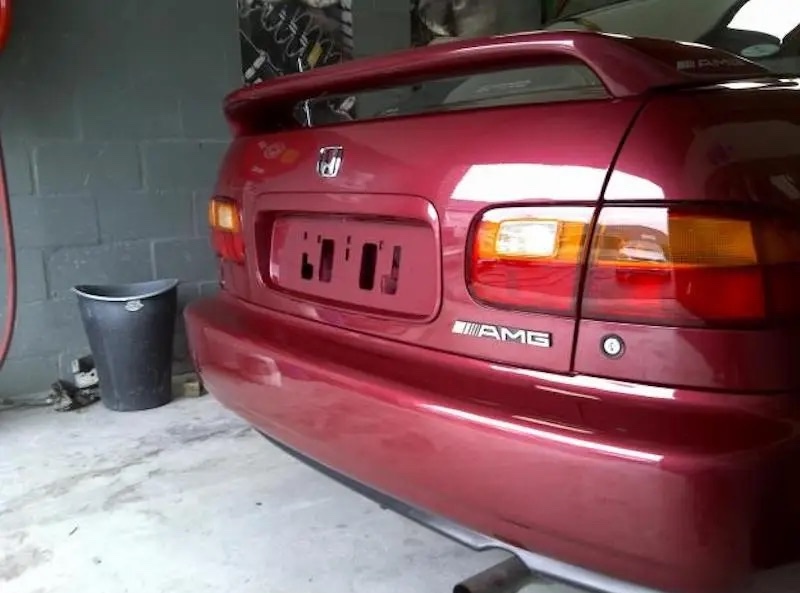 A Marriage Of Convenience
Now given that both Honda and Mercedes-Benz have declined to discuss further about this car's prior existence, one might be lead to expect for these Civics to be something that both automakers are somewhat ashamed of. And that might actually not be too far off the mark, as these Civics in the most brutal sense a bastard child born from a marriage of convenience from both parties. 
See, at the head of the 80s, Honda had wanted to gain a foothold in the thriving South African market. Its entry was however not to be easy, with the Japanese automaker not having either an established dealer network or any production facilities in the entire African continent at that time. Fortunately for Honda though, this is where Mercedes-Benz came into the picture.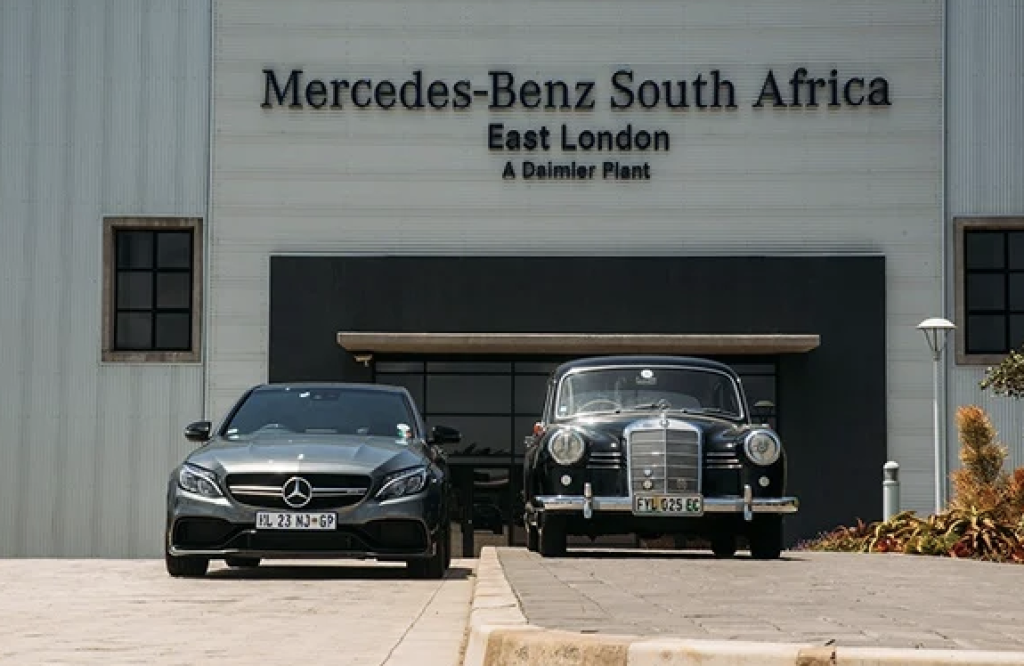 Mercedes-Benz had already been a staple within the South African auto industry during that time and had been locally producing its cars in the country since 1948. At around the same time that Honda was attempting entry into the local market however, the three-pointed star marque was actually in a bit of a bind with its model lineup. That is because they were looking for something smaller and more affordable that can slot beneath the 190 to appeal to a broader range of customers, but unfortunately the CLA and A-Class Sedan only came to be in the mid-2010s…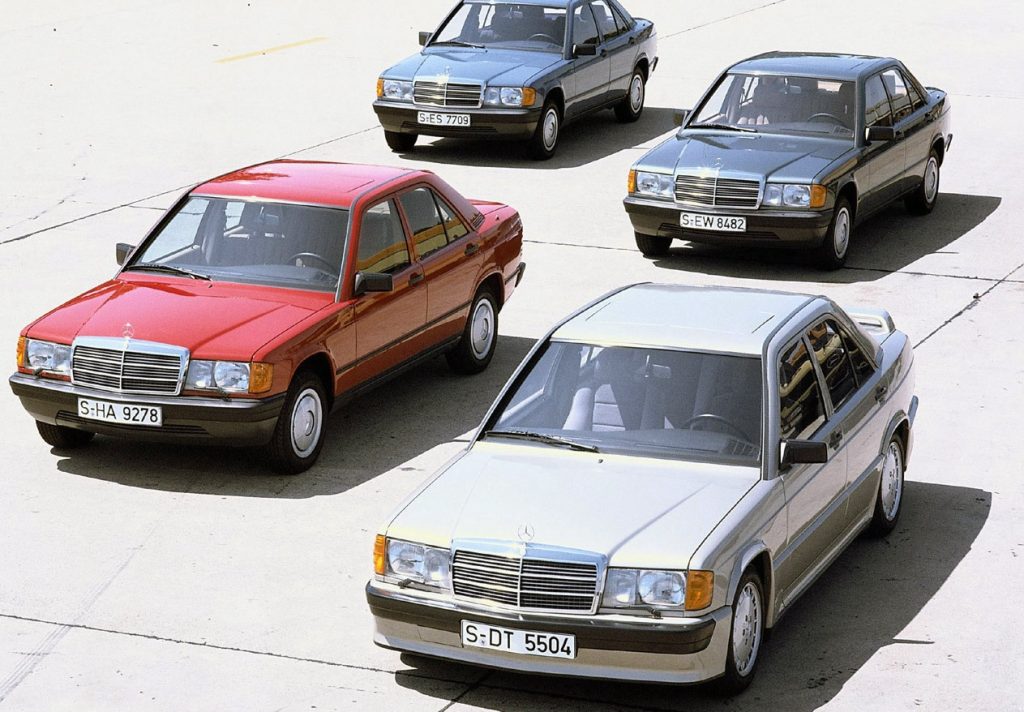 So in what is a definitional example of a marriage of convenience to solve their respective problems, a deal was soon struck between Mercedes-Benz of South Africa (MBSA) and Honda for the former to license-build the latter's Civic model in the country. A partnership which, despite the current silence, actually lasted a whopping FIVE iterations of this Japanese compact sedan, and a not-insignificant 171,100 units produced between them too.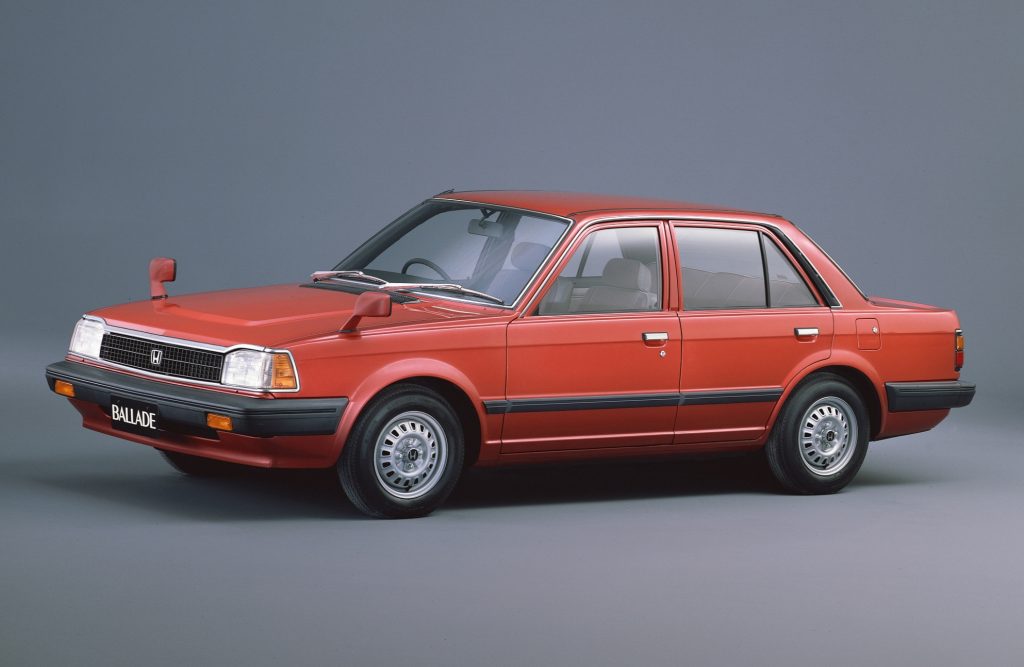 A Civic By Any Other Name
Funnily enough though, despite it looking a whole lot like a Civic, these Mercedes-built Japanese compact sedans were instead sold in South Africa under the Ballade model name. The reason for it apparently came from the Civic name sounding too ordinary, with the Ballade name instead supposedly to be more in-line with the classy image for a car being sold at three-pointed star dealerships.  
It was not just the name that was classed up though, as the entire car was also packed with features to elevate the Civic from compact sedan to junior executive mobile too. The extent of this step up towards the upper classes are unfortunately hard to come by, but the Ballades of the '90s at least were said to come with niceties such as air conditioning, power windows, velour seats, and an even a Becker hi-fi audio system as standard.
And while the exact specs may have been lost to time, a clear testament to how well this up-marketing of these Civics worked in South Africa could be construed from the fact that most Mercedes-Benz owners were said to have bought a Ballade as their second car after buying their Benzs. In fact, the classy cache of the Ballade that was offered by the three-pointed star marque technically exists to this very day too, with Honda's current reputation in South Africa still apparently being one of a marque that offers Benz-like quality at a slightly more affordable price.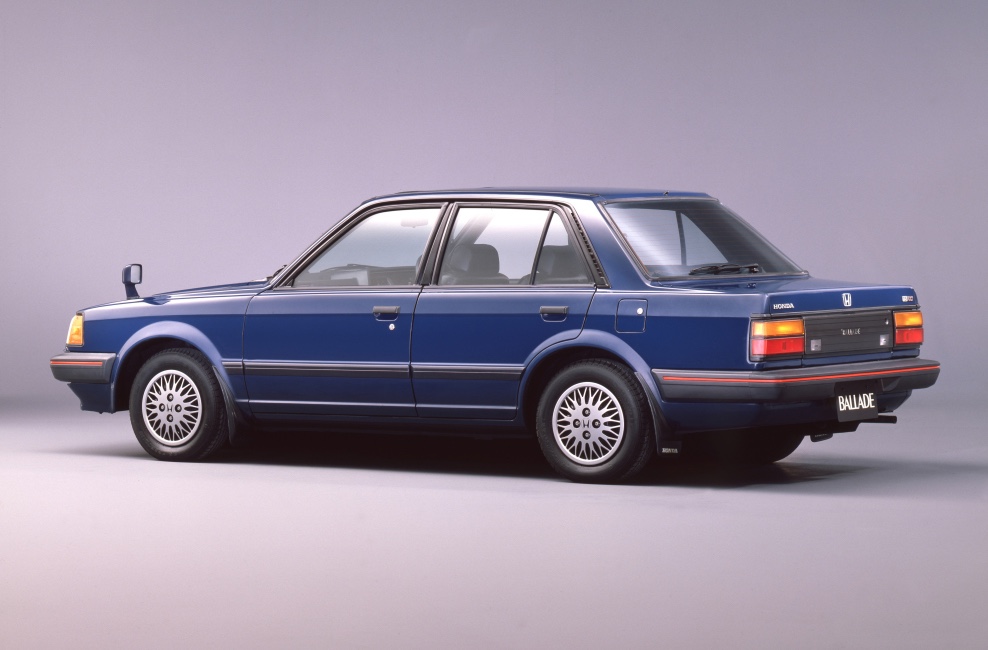 The Ballad(e) Of AMG
Though aside from quality, these Hondas were also known for their sportiness too. But just not in the traditional Type R sense, as Mercedes-Benz of South Africa also eventually went about turning up the heat on a few of these Ballades, with assistance from none other than the three-pointed star's favourite tuner — AMG.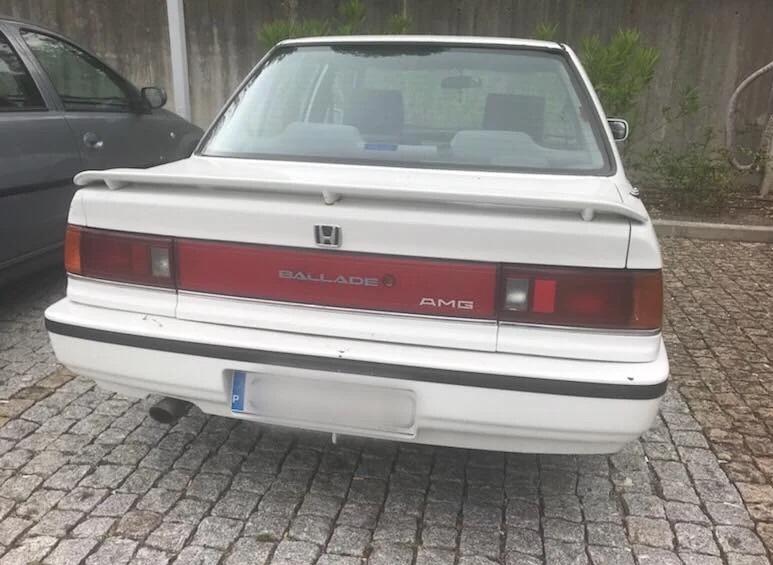 Now AMG was reportedly involved in spicing up the final three iterations of the Benz-built Ballades, which corresponds to the fourth-, fifth- and sixth-gen Civics. And for those who know their Type R history well enough, it might just now click that AMG might have beaten Honda themselves in being the first to offer a hot Civic from the showroom by some two generations.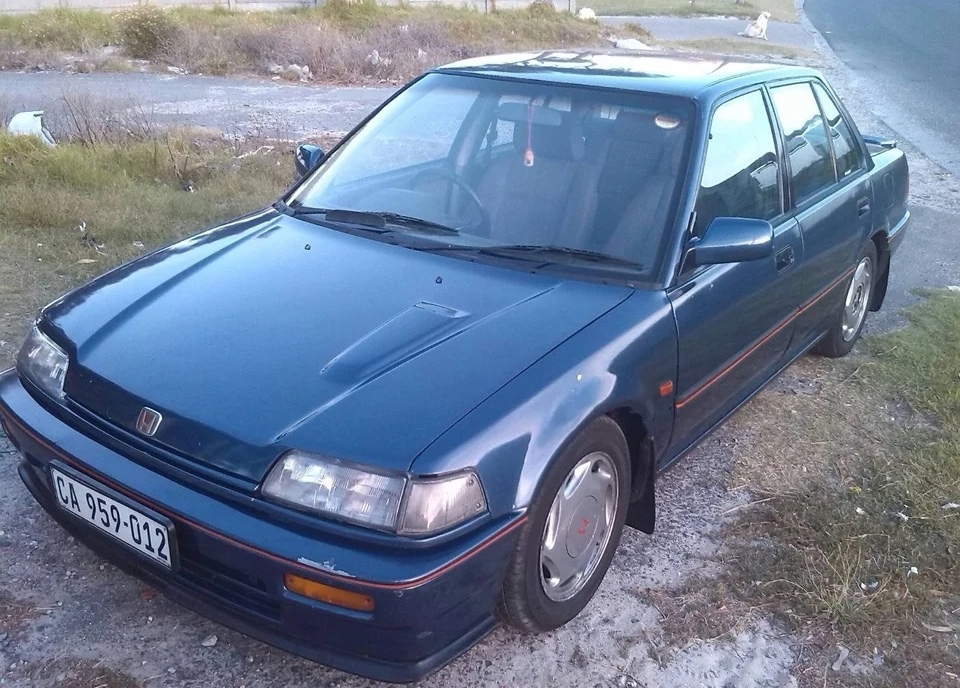 What more is that much like the A35 and A45 AMGs of today, the German tuner apparently served up not one, but typically two, hot Ballades for South African market. For the first two iterations of Ballade AMGs at least, there existed a 180i variant with a 1.8-litre B18B4 four cylinder, in addition to a 160i which came fitted with a lesser 1.6-litre engine. 
Further details on whether AMG did any tuning to said Honda engines are however unfortunately unclear. Though contemporary reporting has spoke of the fitment of a free-er flowing exhaust on these tuned Ballades, which supposedly bumped power of the 180i at least from 160 hp to 173 hp. Other modifications performed to these Ballades meanwhile apparently included the fitment of an Eibach suspension kit which lowered its ride height by 40 mm, Remotec Aluline alloy wheels, a boot spoiler and of course AMG badging.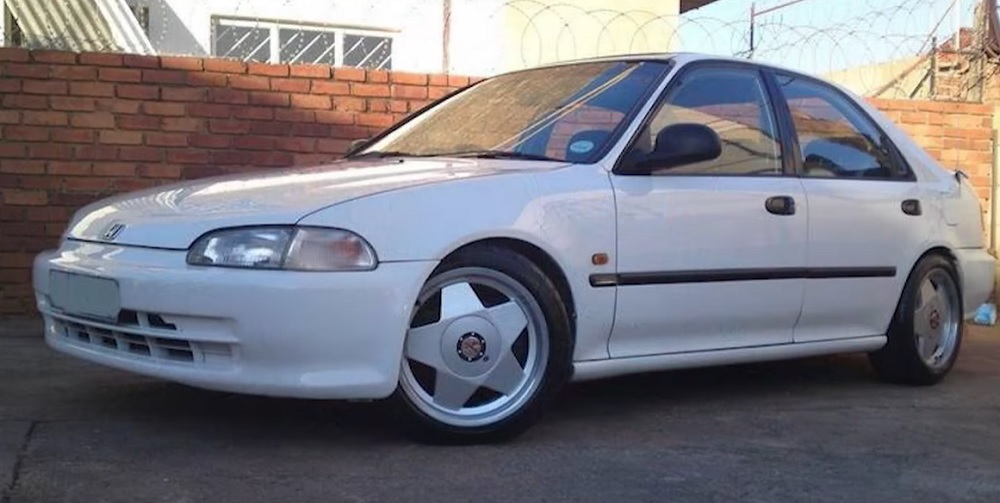 And as for the final-generation Ballades that were equivalent to the sixth-generation Civics on the other hand, a contemporaneous article shows for AMG to instead offer two stages of tuning rather than two distinct variants. The first tuning stage added lowered suspension, a choice of two styles of rims with racy Bridgestone RE71 tyres, a performance exhaust system 'similar to the Honda race cars' and a 'dynamometer-tuned' engine. The second stage then brought along with it aesthetics changes that included a front spoiler, colour-coded side-sills, white-faced instrument clusters and an aluminium gear knob.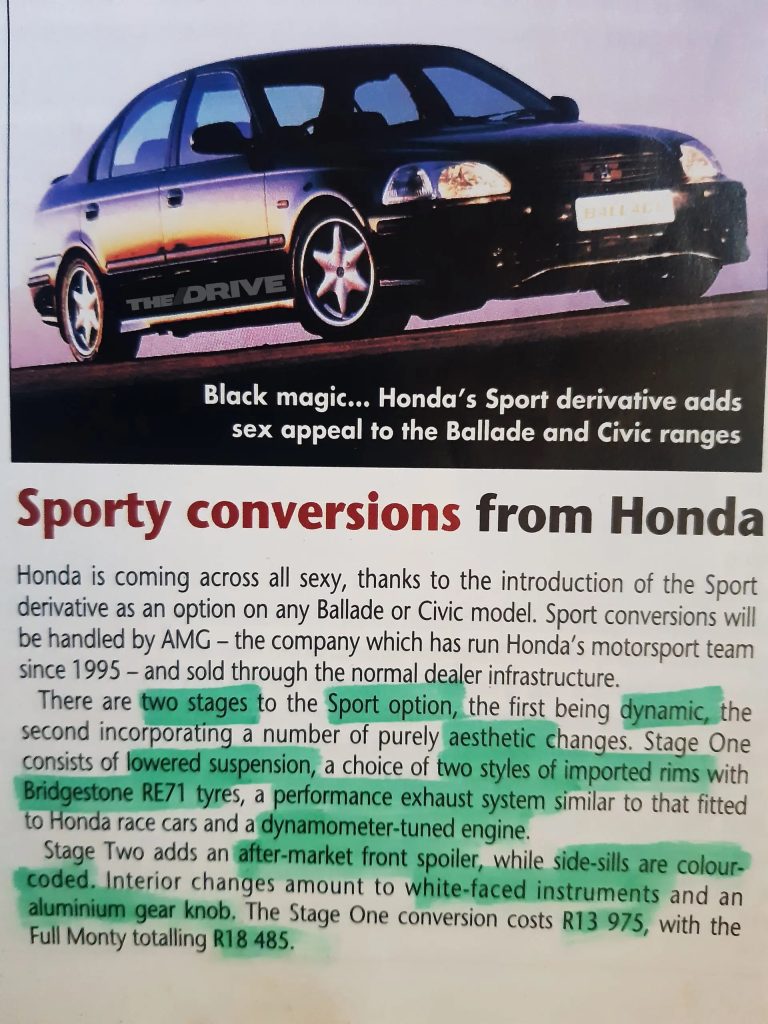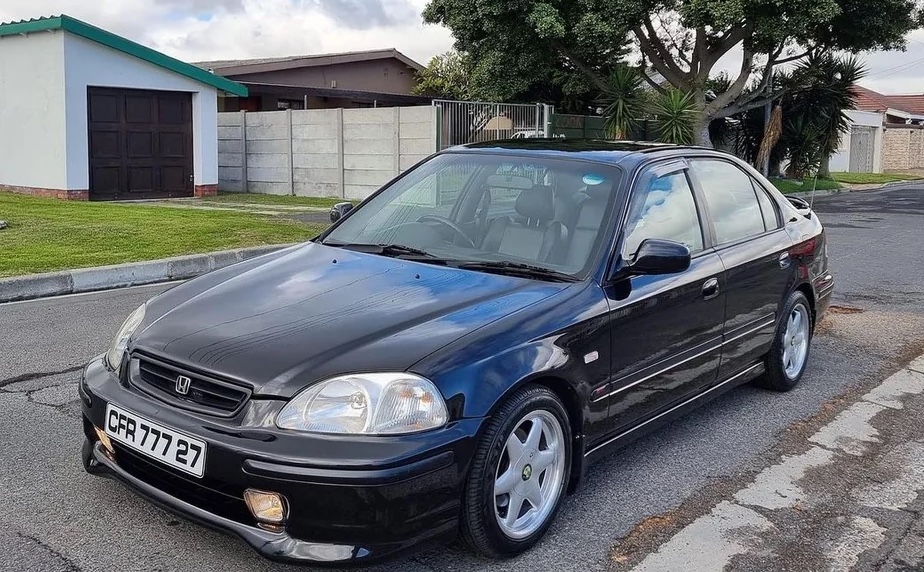 2001: An End To This Anomaly
The saga of these Benz-built Ballades came to an unceremonious end in 2000, with Honda finally entered the South African market themselves in June 2000. Funnily enough though, the Ballade name continues to remain a thing in South Africa, with the City now being the bearer of that name. Unfortunately however, there is no word yet on a potential AMG package on these new-era Ballades.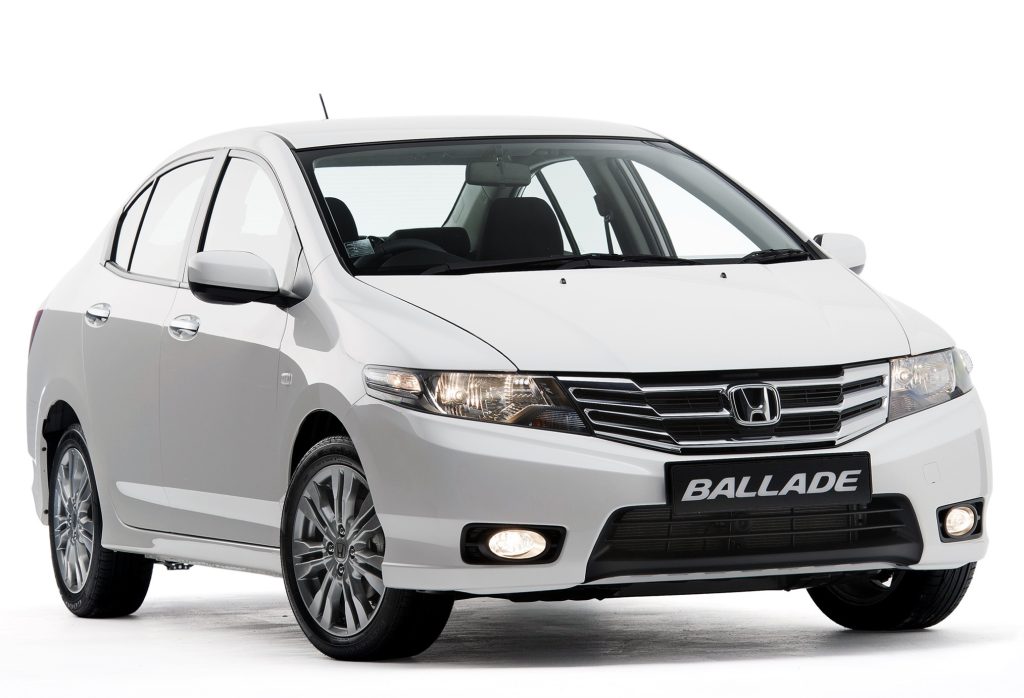 Rather curiously too, Hondas weren't the only Japanese cars that Mercedes-Benz of South Africa had produced, with Mitsubishi L200 pickups reportedly rolling off its production line as part of the first global joint venture between Daimler-Benz AG and Mitsubishi Motor Corporation from 1994. There was even a time in 2006 too when Dodges were being sold along side the premium three-point star cars, but that is certainly a story for another time…