Reviews
First Drive Impressions: Mercedes-AMG CLA 45 S 4Matic+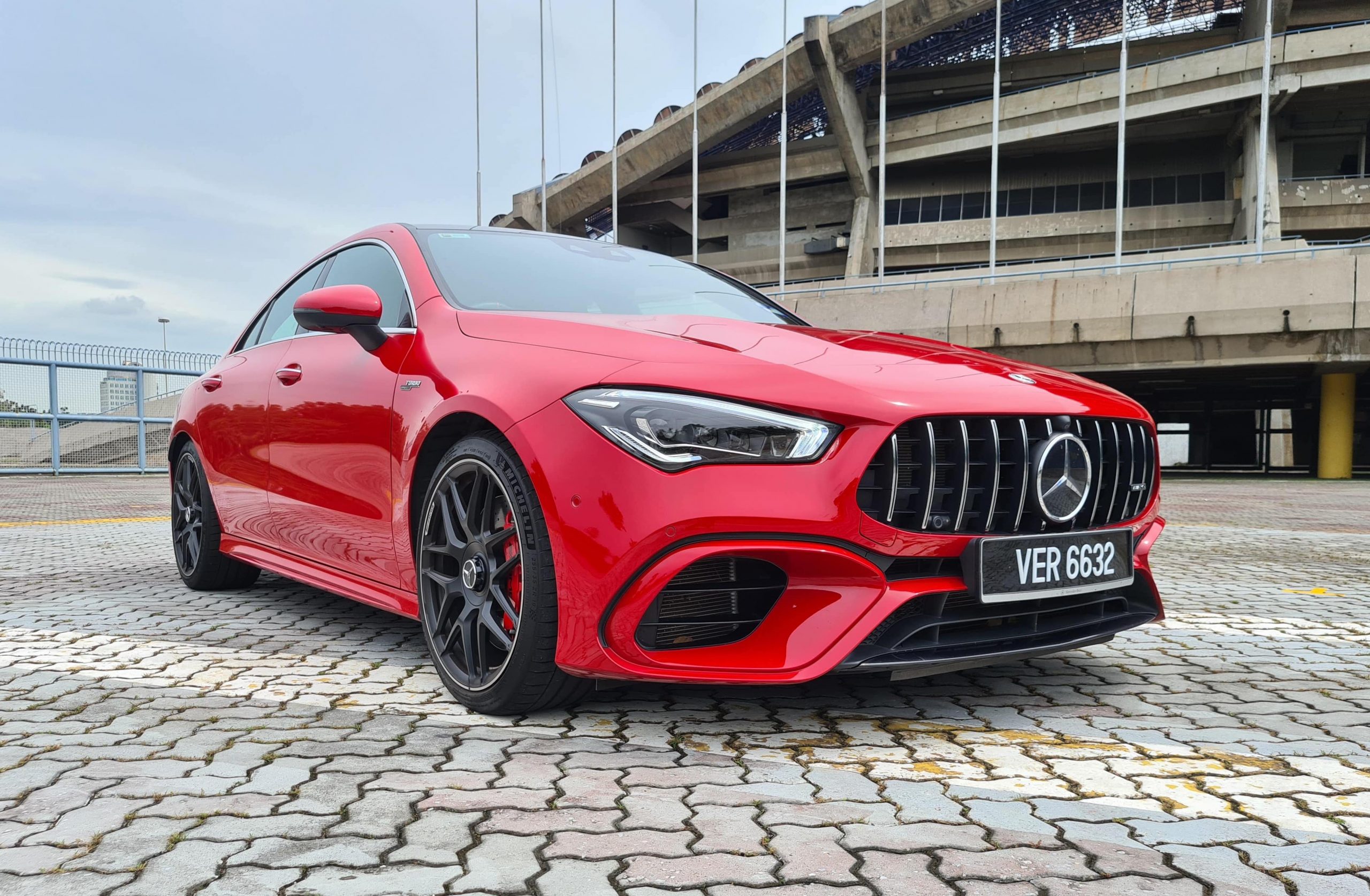 A young petrolhead's take on this small, red, AMG-badged CLA ballistic missile. 
Twas the weekend before Christmas when I had the privilege to spend some time in a Mercedes-AMG CLA 45 S 4Matic+. By the time you are reading these words however, Christmas would have long since come and gone when I give my take on this little red Merc.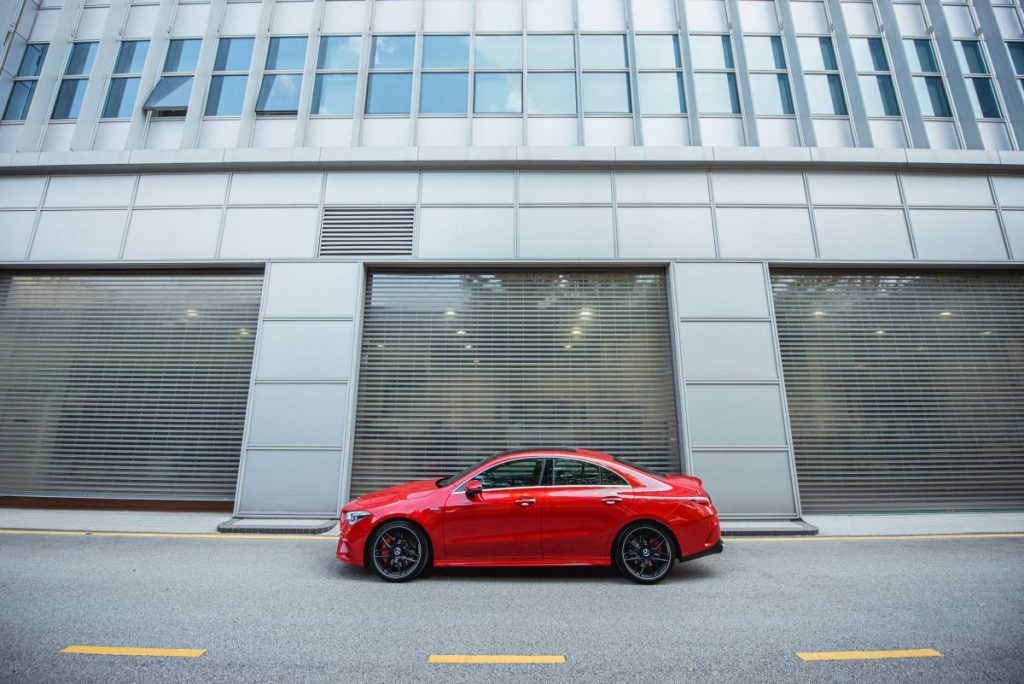 Ordinarily it is perhaps not worth mentioning that this review of what is among the latest of the hot Benzes to arrive in Malaysia are of my opinion and mine alone, as that is technically implied in the definition of a review. However it is worth reiterating this fact again because, try as I might, this particular review of this particular Mercedes will perhaps not be the most sensible/practical of critiques out there. 
After all, what can you really expect when handing the keys of a 400+ hp monster to a 20-odd year old car enthusiast?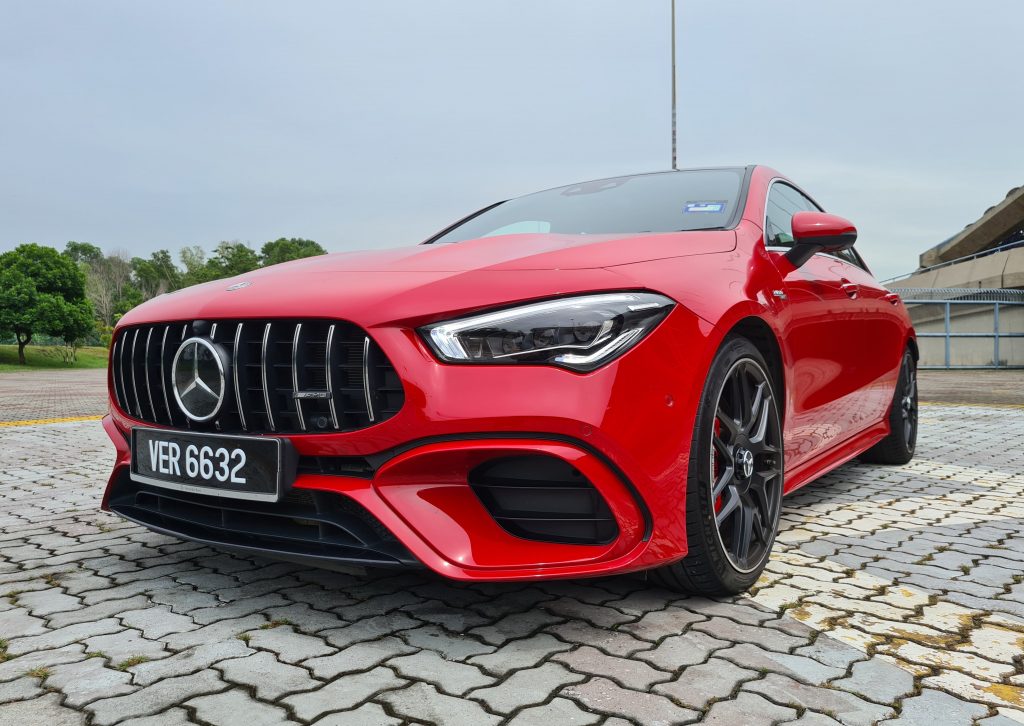 Given the circumstances then, to those looking for one of those proper reviews on the super (compact) sedan, which gives priority about fuel efficiency and other boring stats, it is perhaps best to perhaps look elsewhere, instead of reading on here. 
Having said that, for those wanting to read about the real reason as to why exactly many Malaysians would willingly shell out many hundreds of thousands of ringgit to have one of these vulgar, garish and all-too-powerful cars to be used in the congested, terribly surfaced streets of Malaysia, sit tight and enjoy some child-like excitement of what a young impressionable petrolhead has to say about this particular red rocket ship.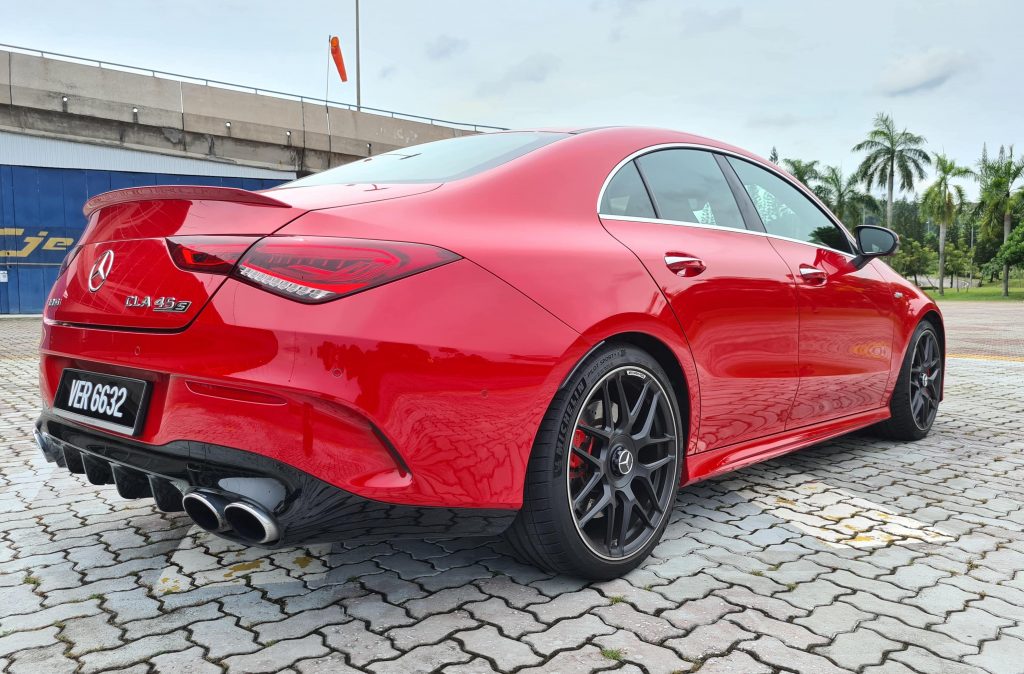 The Bad
In the interest of maintaining journalistic integrity, it is perhaps prudent to begin first with some of the gripes I have encountered with this hot, hot Merc. And interestingly enough for such a premium car, which currently retails for a whopping RM 433,802.02 (excluding sales tax), there are actually quite a few. 
This not-insignificant list of complaints starts with the seats. Despite being a spry young lad and the multitude of electrical adjustment afforded, I have had yet to find a comfy seating position in those hard sports seats up front.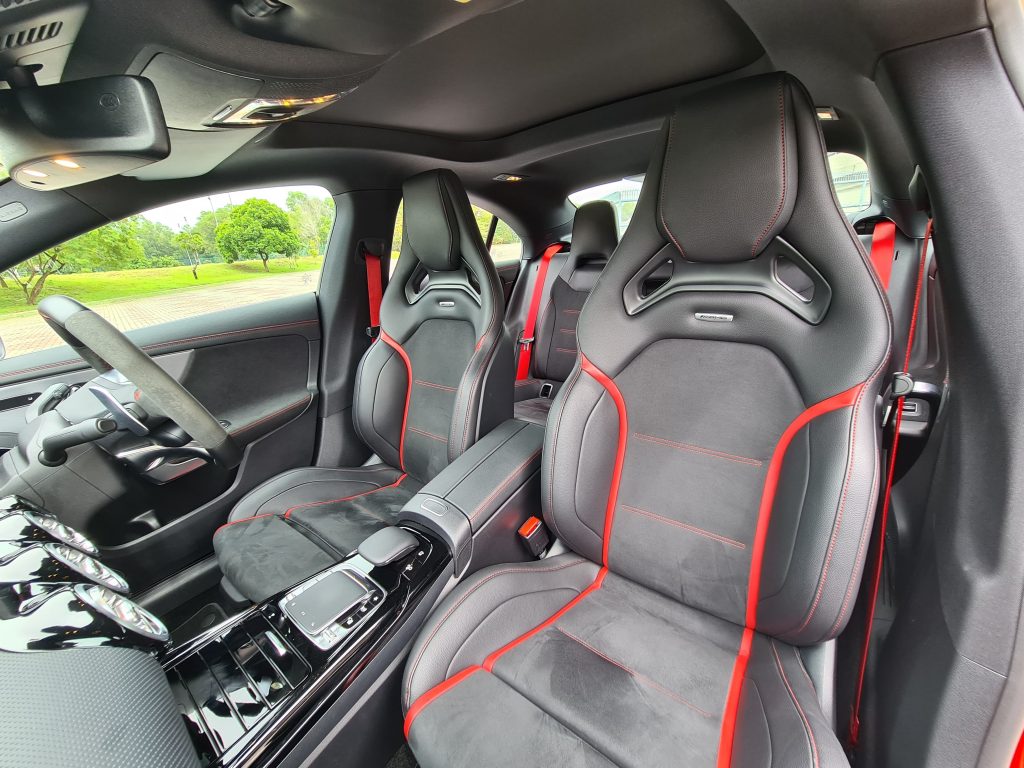 Granted, the Affalterbach-based tuning house will probably state that these AMG Performance seats enhances the racing pedigree of this performance Mercedes. And yes, a lanky, skinny dude with more bone than muscle mass might not be the best arbiter for a seat that is probably built for more well-built statures. Then again though, the number of instances you would actually need rock hard, hip-hugging seats in one's daily commute is functionally never.
Moreover, going back to the topic of the adjustment, it is also worth questioning Mercedes' decision to have the lumbar adjustment on these seats hidden deep in the infotainment menu. Why can't it instead be just some buttons instead, much like the rest of the seat adjustment?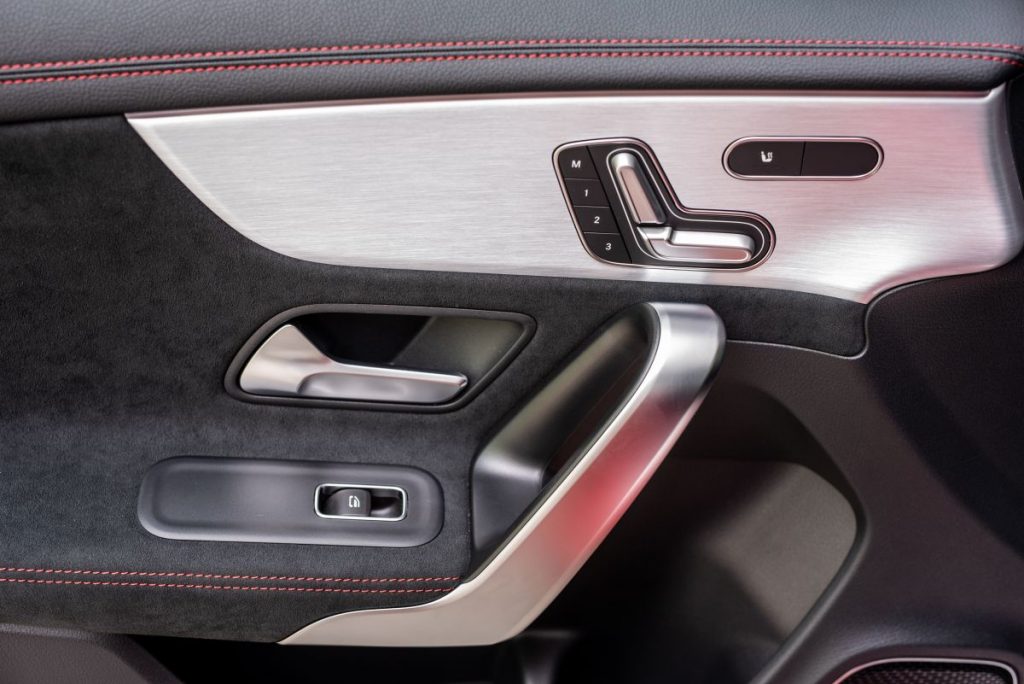 Hence, this brings me on to the topic of the Mercedes' in-car entertainment system. While many credit the latest generation of the MBUX infotainment operating system that is found in this CLA 45 AMG as being one of the best in the business, the same could not actually be said for the Burmester surround sound system.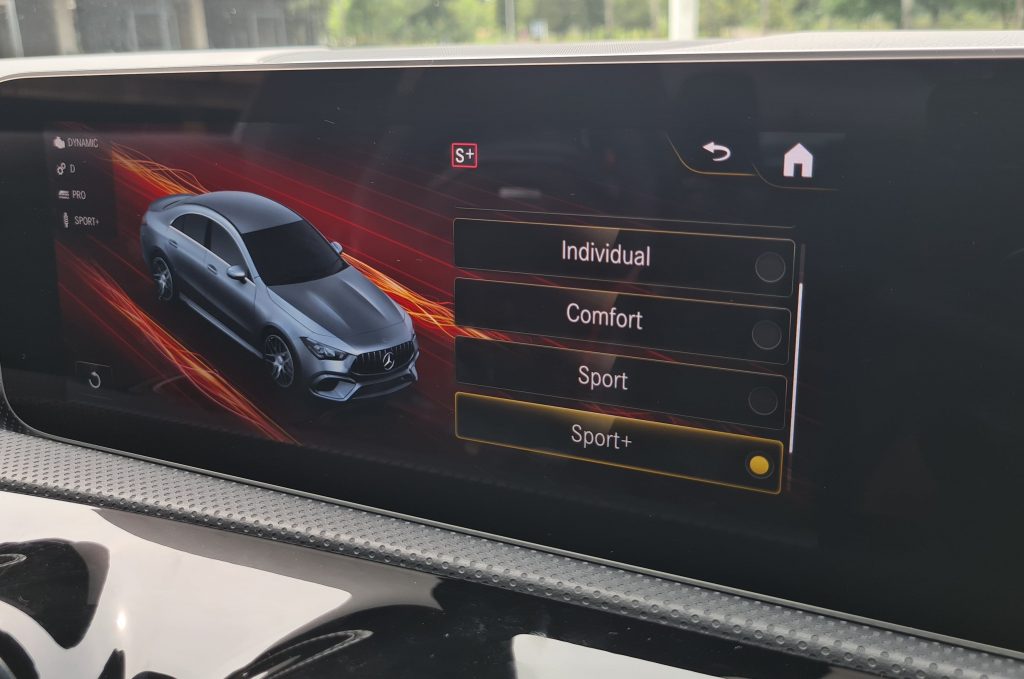 While I certainly don't profess to being an audiophile, even to the untrained ear it is clear to hear that this particular sound system was just off the mark on clarity, warmth and most notably, depth. To those who aren't sure what I'm on about, the simple fact is that despite fiddling around with the audio settings and playing from the highest quality music files on hand, the sounds emanating from these 12 premium speakers were just not up to the expectation of what is supposedly a premium car.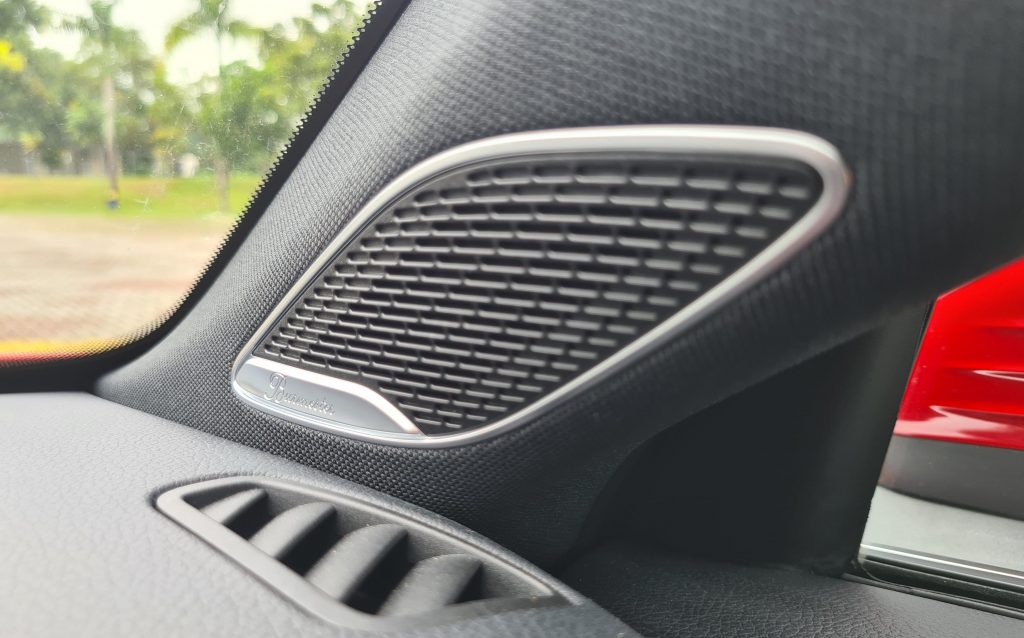 The Good
Nevertheless, putting these minor quibbles aside, there are indeed many good qualities to be found with this sporty little Mercedes. 
Starting with the styling of this new CLA. Thanks to its new sharper front end and AMG GT four-door inspired rear end, it is easy to say that this second generation car is miles sleeker than its predecessor.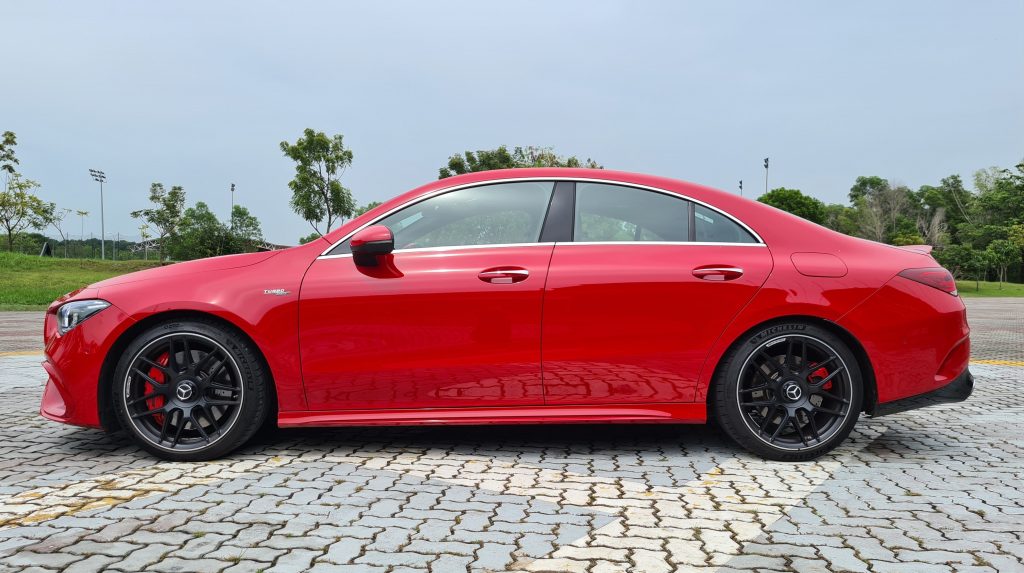 Furthermore, the AMG exterior modifications are also subtle enough to slide under the radar in most cases. Especially if paired with a more sedate colour than what I term the 'get out of my way' red of this particular car you see here. 
Then again, this particular colour does exactly what is says on the tin. Especially when sitting on the fast lane of the highway.
Stepping inside, while there are some minor complaints as mentioned above, the rest CLA 45 AMG's cabin is exudes a sporty yet premium feel. Typical of a Mercedes, even if it is a lower-wrung model indeed in its greater lineup, the interior quality is mainly faultless, with the majority of the common touch points having a premium feel to it.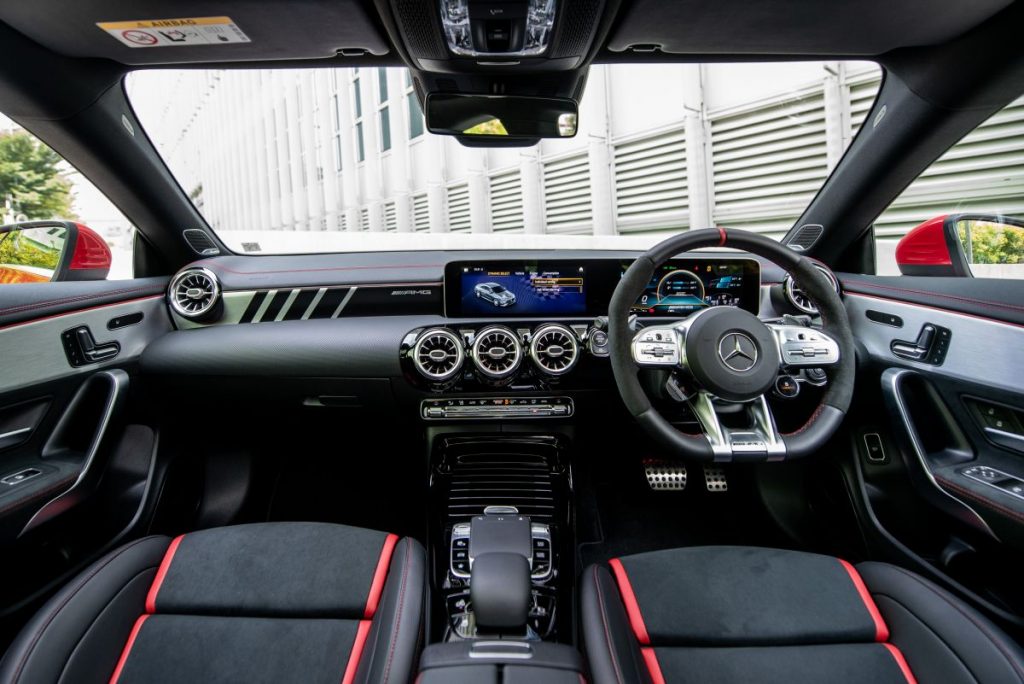 Additionally, this top-tier CLA is expectedly loaded with standard kit. These include the especially useful suite of nice-to-haves like interior ambient lighting, dual-zone automatic climate control, a wireless phone charger and the usual suite of active safety aids which features the particularly excellent radar guided cruise control that totally takes the strain out of any highway jaunts.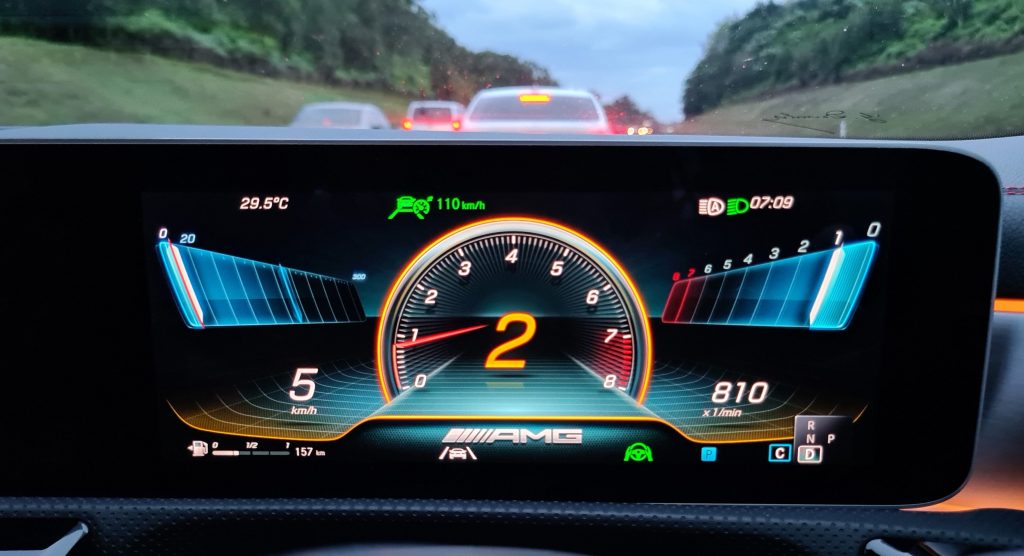 As it is a full-fat AMG car too, the cabin is filled to the brim with performance-inspired enhancements to serve as a constant reminder as to what this car is really about. The sport seats are already a testament to that point, however there are also other AMG interior enhancements like the AMG illuminated door sills, AMG decals on the dashboard and most importantly, the AMG performance multifunction steering wheel that is wrapped in both Nappa leather and Dinamica microfibre.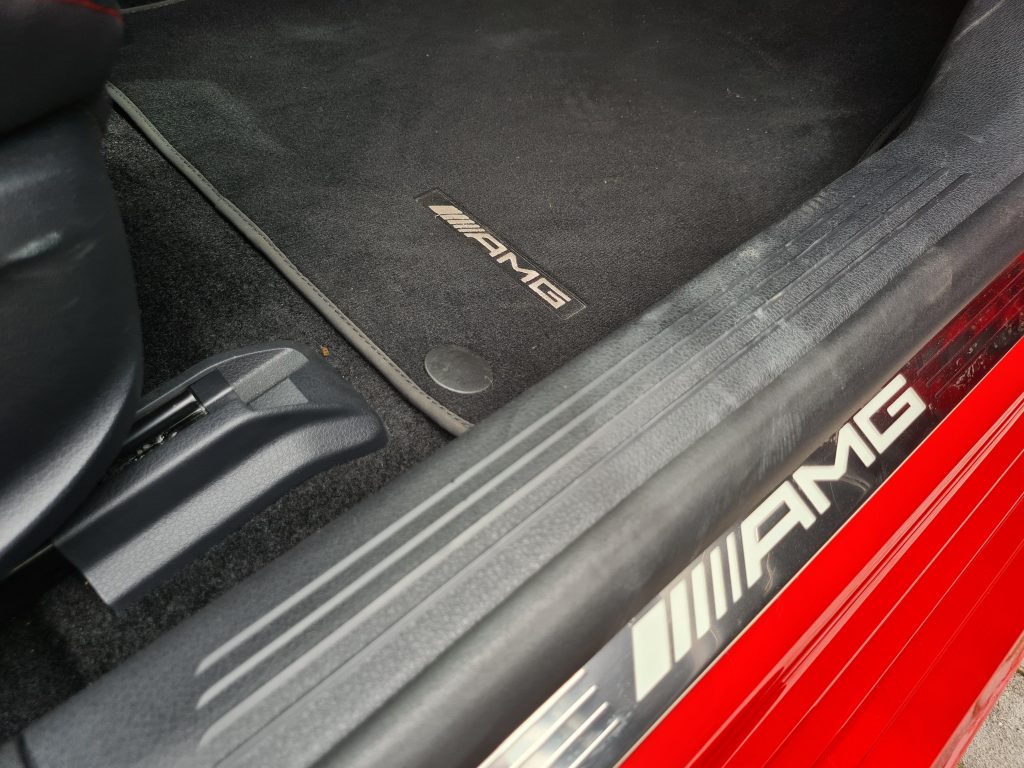 Continuing for a minute on the more sensible side of things, the practicality to be found within this compact sedan was also one of the pleasant surprises with the CLA 45 AMG. You wouldn't think that a car that can nibble at the heels of some modern day supercars would actually have enough space for four. Not to mention too featuring a surprisingly capacious boot, which was more than sufficient for the Christmas shopping.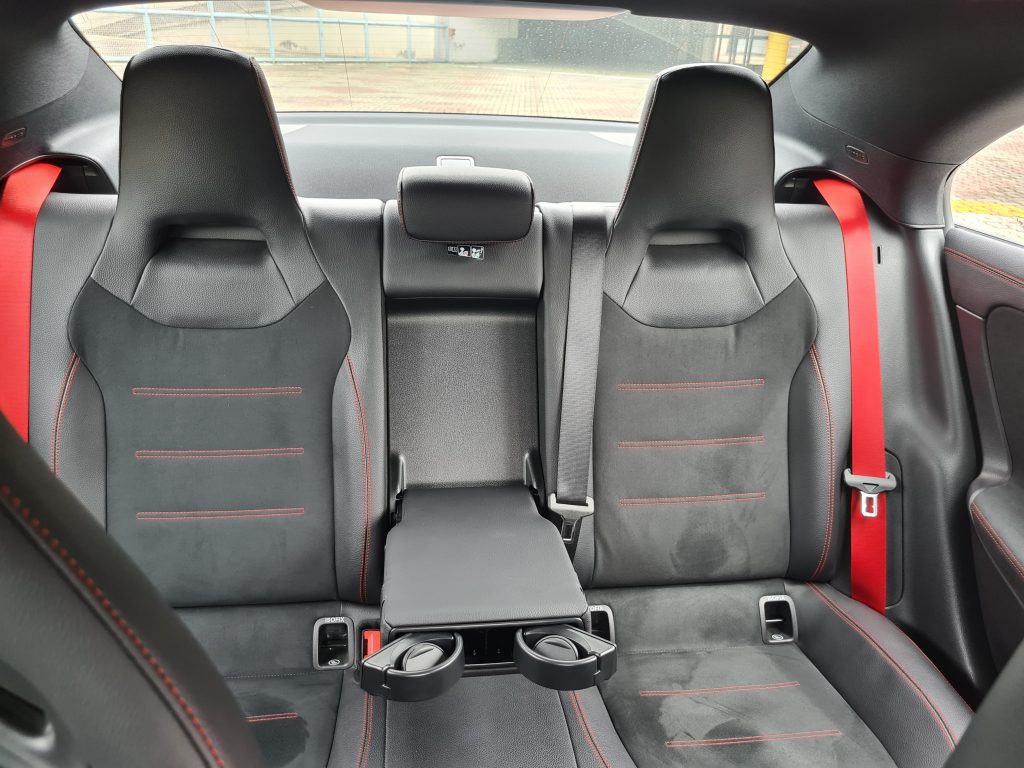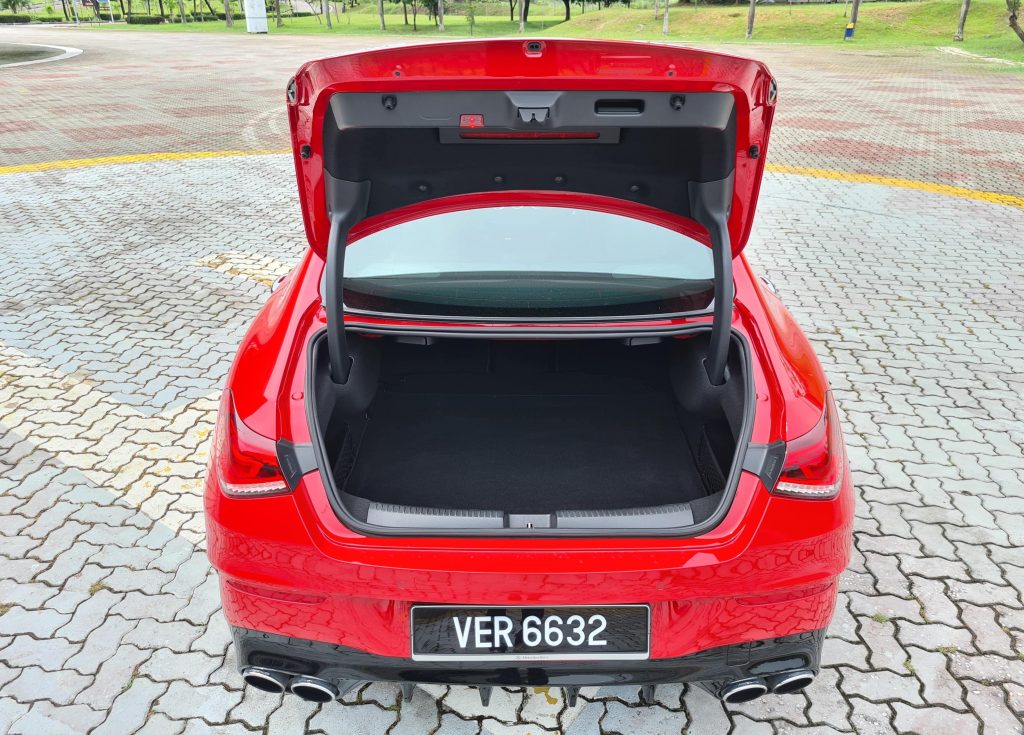 Also, many reviews have gone on record stating that the ride of these AMG Mercs are stiff and uncompromising, but I found it not to be the case. Stiff and sporty yes, however even on the worst pieces of road, the AMG Ride Control suspension was still very composed and was never really that uncompromising. 
Besides, this stiff ride does lends itself very well when say, tackling a mountain pass, or when cruising on the highway at speeds found on the higher end of the speedometer.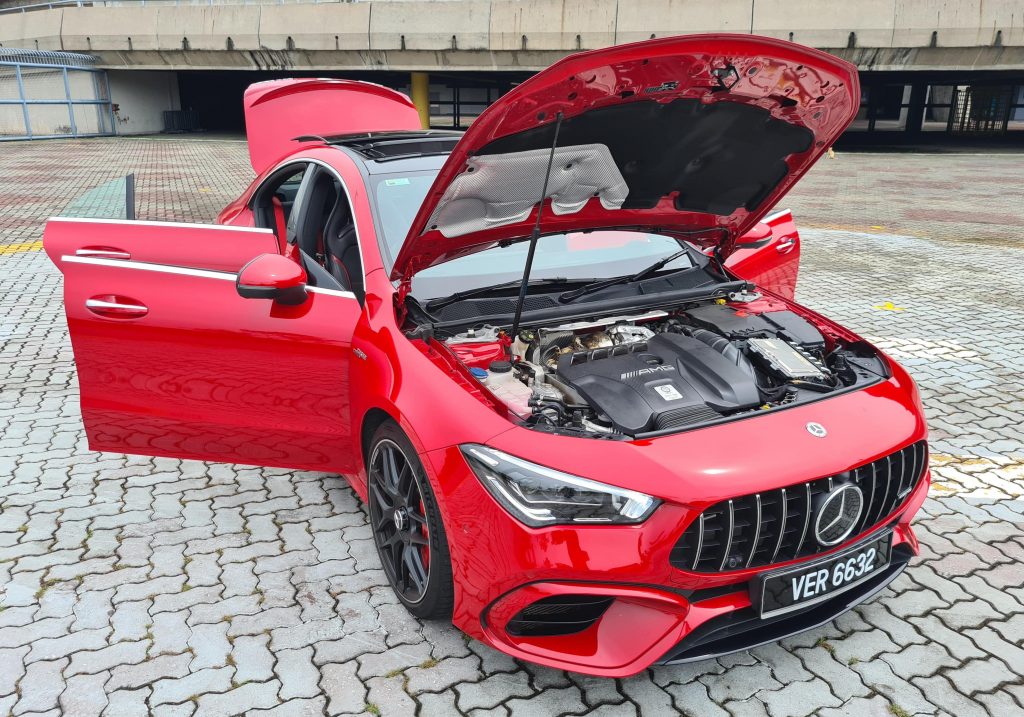 The Fantastical
Which then leads to the talk about the engine — the main reason to fall madly in love with this manic Merc.
Never mind that it guzzles fuel like an alcoholic let loose at an open bar and will most definitely be a pain to maintain in the long run, this highly-strung engineering masterpiece is undoubtably the star of the show when it comes to this little red pocket rocket.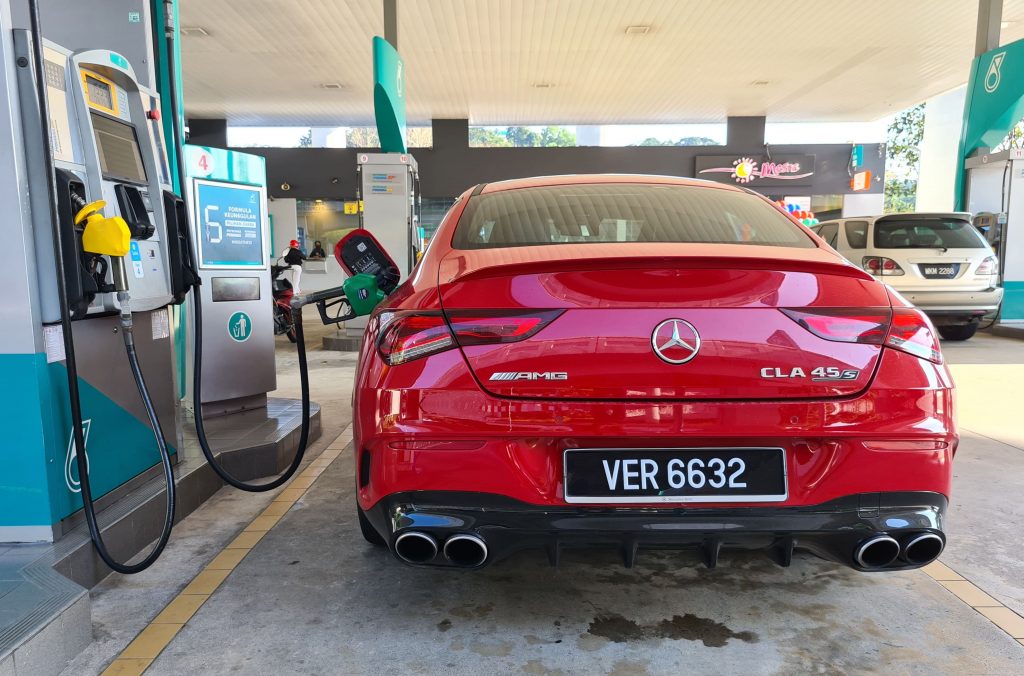 Just the stats alone on what Mercedes claims to be world's most powerful turbocharged four-cylinder series production engine is already gobsmacking enough: 421 PS (310 kW), 500 Nm of torque and a 0-100 km/h time of a mere 4.0 seconds. However, these numbers do not tell the whole story about the drama and fireworks to be felt being behind the wheel of such a blisteringly fast car.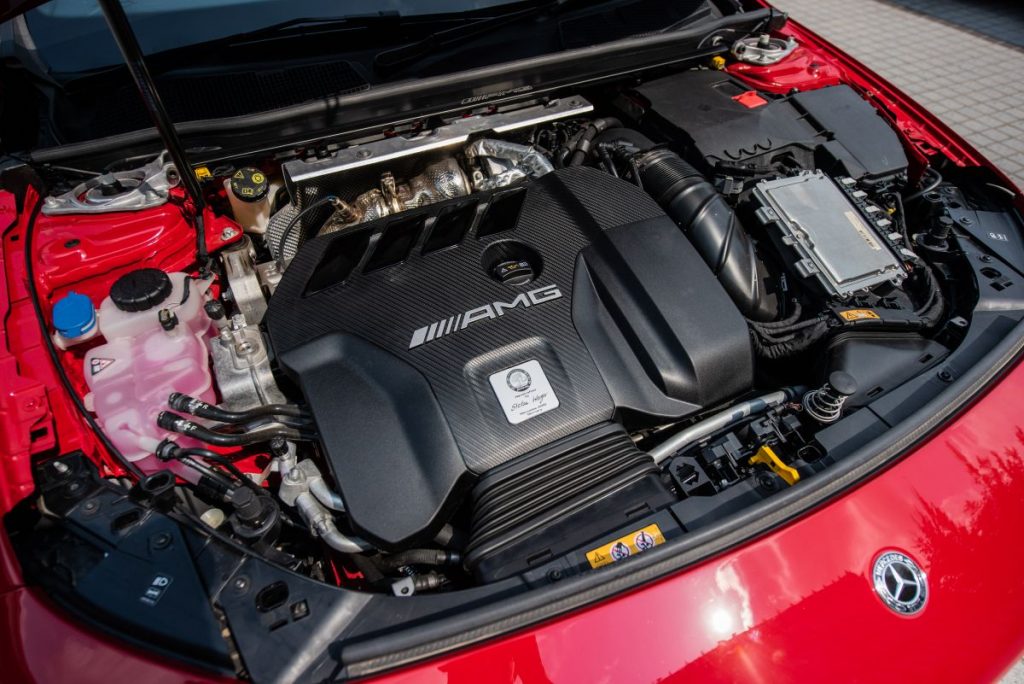 Yes, I know that there are faster and more exotic cars out there, which completely eclipses these already blistering performance stats. Saying that, I believe that the sensation of speed in cars like this CLA is just all the more surprising, as it originates from something seemingly normal.
Unlike a sports car where you are cocooned within it, this ballistic missile is just like a normal Mercedes with a normal seating position. So it therefore lulls you into a false sense of thinking that this is a normal car, until you put your foot down that is. 
Because at that precise instant, the turbo spools up and it goes into warp speed just like that. What more is that because the CLA itself is a reasonably tiny package, the sensation of speed is further amplified, which therefore makes it even more of a sensory overload that you would want to experience over, and over again.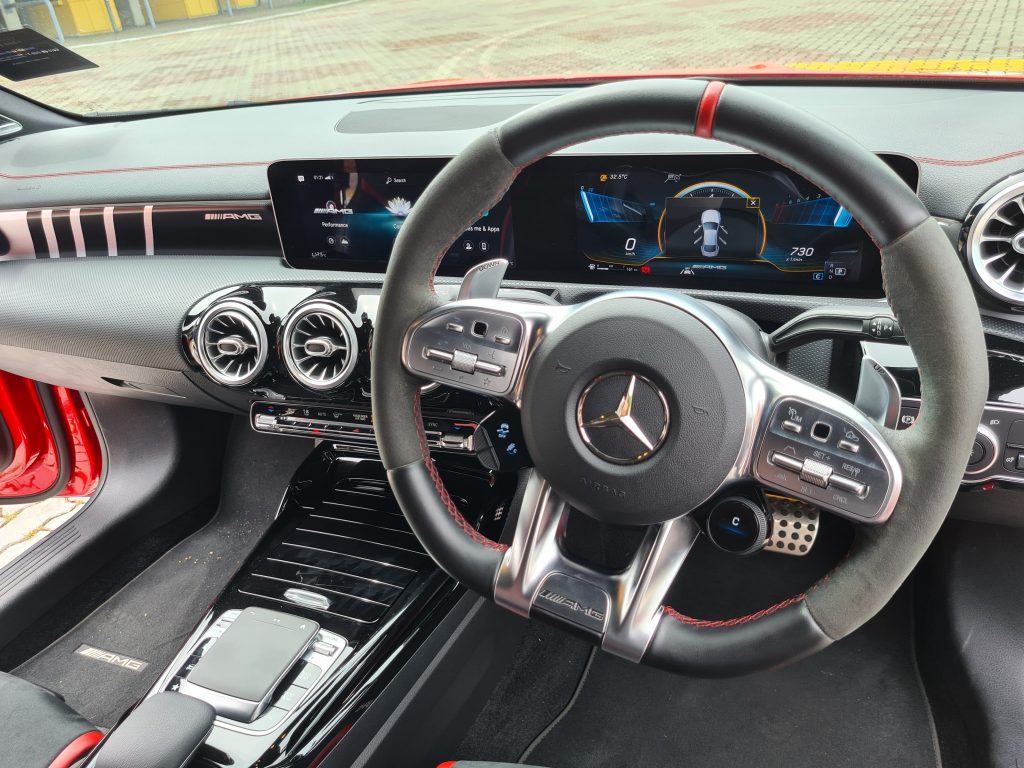 Going on a slight tangent here, it is after my time with this car that I now understand why drivers of not just AMG cars, but powerful cars in general like to boot it right out of the toll gate. That is because the sensation of acceleration is just that intoxicating. 
It is totally the inner-child dominating any sense of reason here, but honestly you can't help it when you have that much power and torque under your right foot.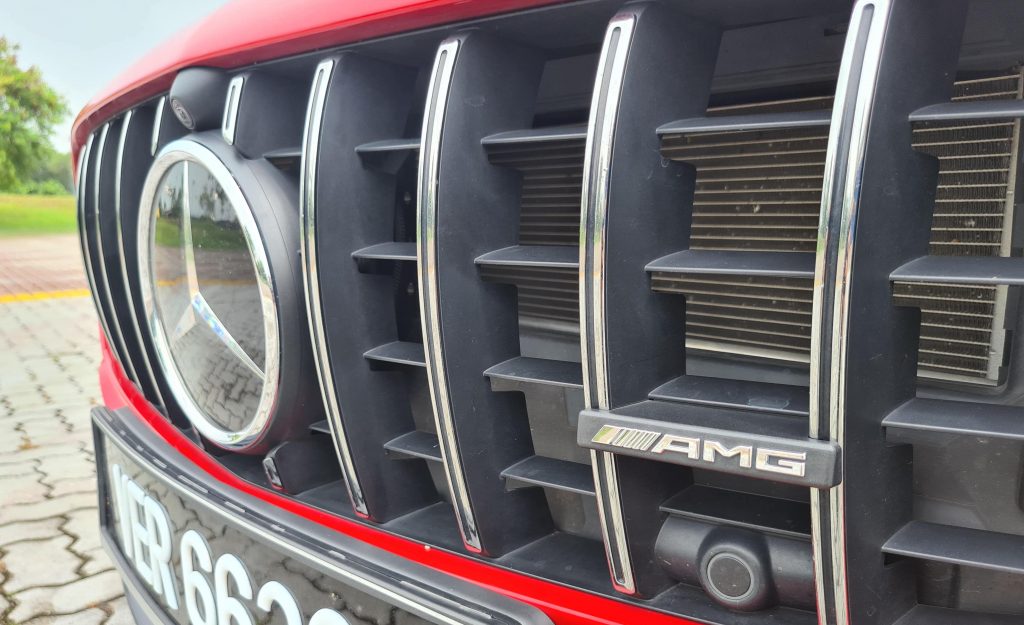 On the topic of that inner-child and his desires, the eight-speed AMG Speedshift DCT 8G dual-clutch transmission is also on hand to aid in this endeavour. It comes as no surprise that the shifts are slick and fast. There are also paddles for even more driver involvement. What is of greater interest to the 12 year old inside all of us however would probably be the pops and crackles that can be heard upon every pull of those paddles, especially when in Sport+ or Track mode.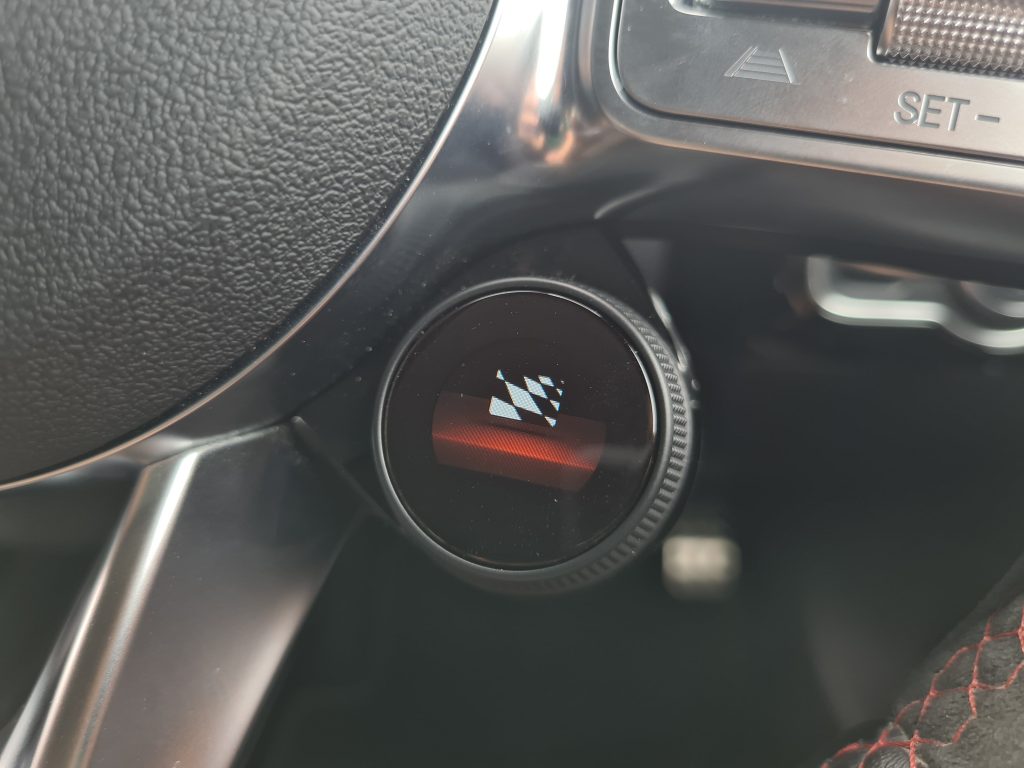 Many will be embarrassed to admit it, but from personal experience this is plenty reason enough to make the most responsible of drivers to give a few more squirts on the throttle, in even the most unnecessary of places, just to hear those farts and whistles coming from the back and the front respectively. It is just a shame then that this behaviour will therefore lead to one stomping on the brakes more frequently than intended.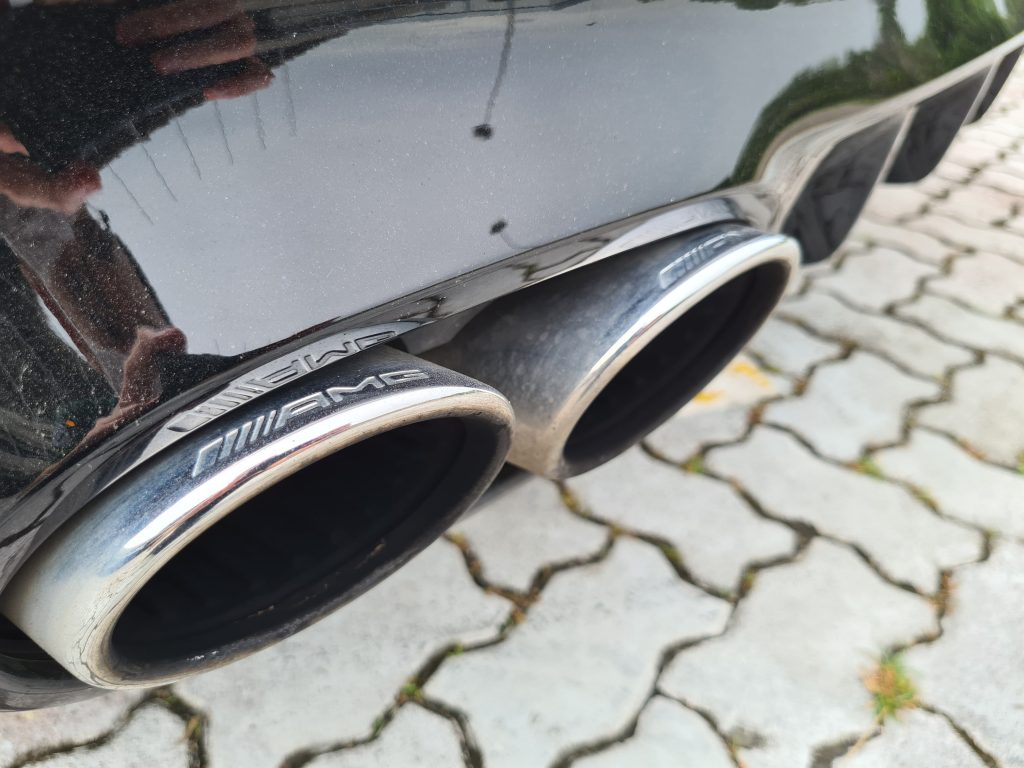 On the topic of those brakes though, that are incidentally hiding behind those 19-inch alloys wrapped in Michelin Pilot Sport 4S tyres, they do an amazing job at not only bringing this rocket ship to a halt in an amazingly short distance, but more importantly it providing the confidence to make even the most timid of drivers think that they actually provide enough stopping power to a moderately sized train. Which therefore gives the reassurance to actually lay on the gas pedal for just that little bit more and enjoy the power for just that little bit longer.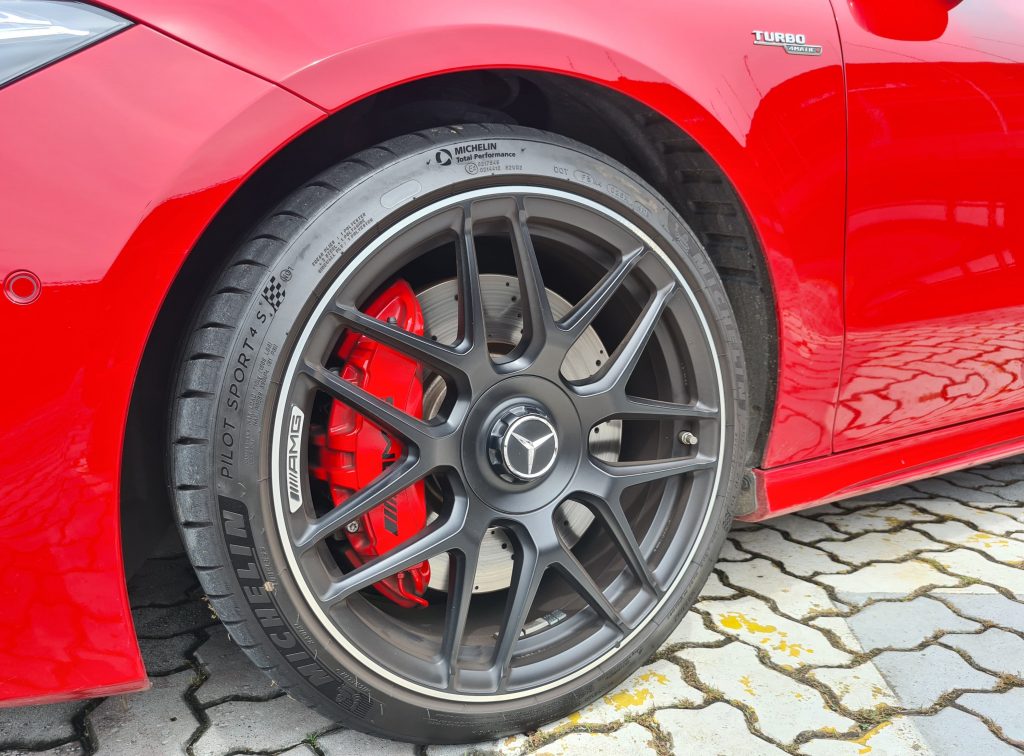 Handily too, the CLA 45 AMG is equipped with the AMG Performance 4Matic+ all-wheel drive system and AMG Torque Control. Systems that do a great job in preventing the over-exuberant driver from making a fool of himself when pushing it just a bit too hard on a windy mountain pass, or on a rainy highway.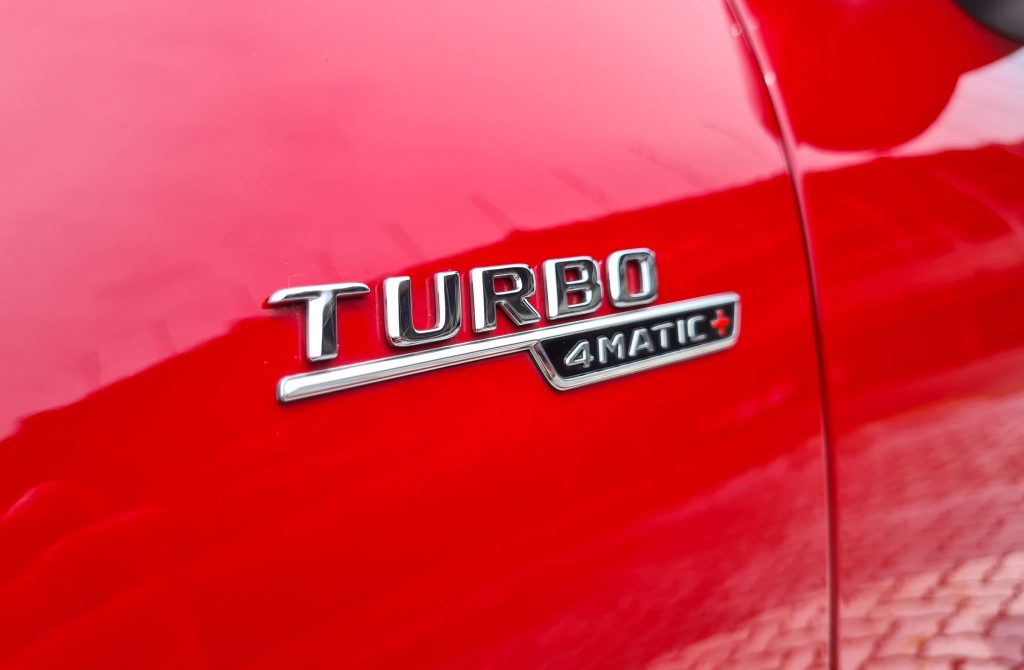 For Sale: One Left Kidney
It is a fair assessment to say that the Mercedes-AMG CLA 45 S 4Matic+ is definitely not a perfect car, with some not-insignificant gripes that might perhaps dampen the driving experience. Especially when factoring the eye-watering price you're paying.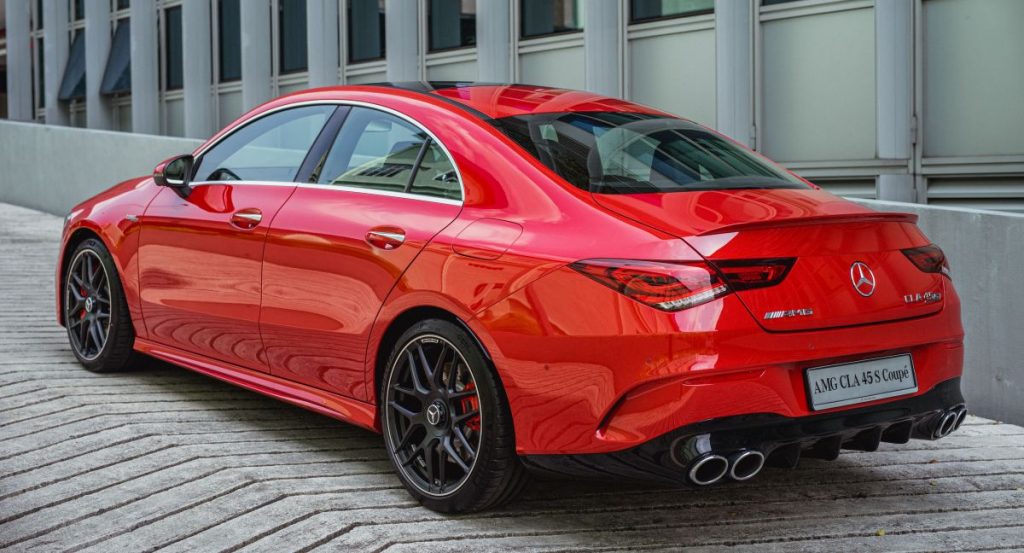 However every time you go and start it up, or perhaps give it a boot full when the opportunity arises, all these slight niggles are left behind, along with every other car on the road. 
Some will probably consider it garish, and it will definitely be considered pointless to countless others. After having it for just this short amount of time however, I for one can totally see the reason of owning one.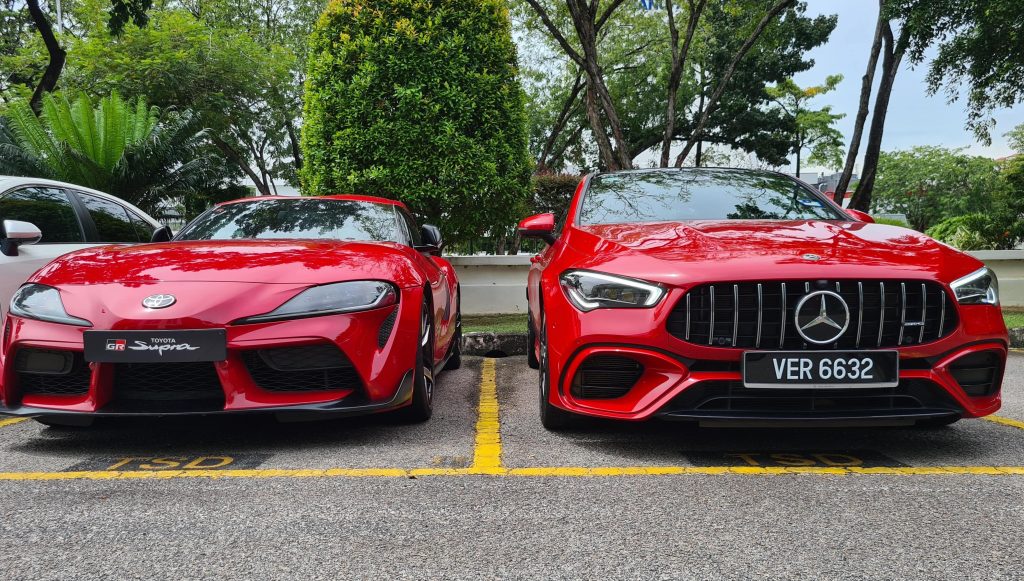 This is definitely not a car that you would buy for the using reason and sense. That is because reason would have persuaded you to leave the Mercedes-Benz showroom with something like an E-Class for the same amount of money. 
Instead, the reason you buy this sort of car is for the inner 12-year old that still lives inside all of us, and there is totally nothing wrong with that. In fact, it is this type of lunacy that makes it one of those cars that many, me included, would gladly sell a left kidney for.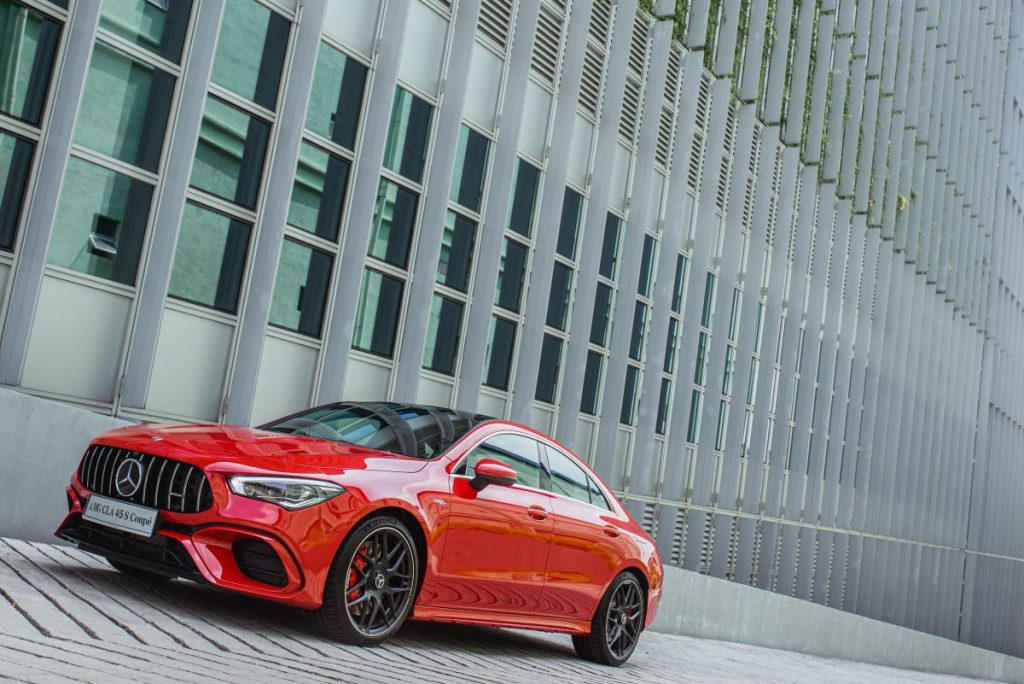 Odds and Ends
It would go amiss to not mention that this AMG Merc does have the much-hyped drift mode and other track telemetry gadgets. However I have not really utilised during my time with the car, so I shall leave the review of those gadgets to those who have took this model of Mercedes on track. In any case, while there will be some enthusiasts who will track their AMGs, when will most owners actually let their RM 400k+ cars see track time?

 

There isn't actually a simple next track button among the multitude of buttons on the steering wheel. Instead, a vague swiping gesture on the touchpad is needed to skip an unwanted tune.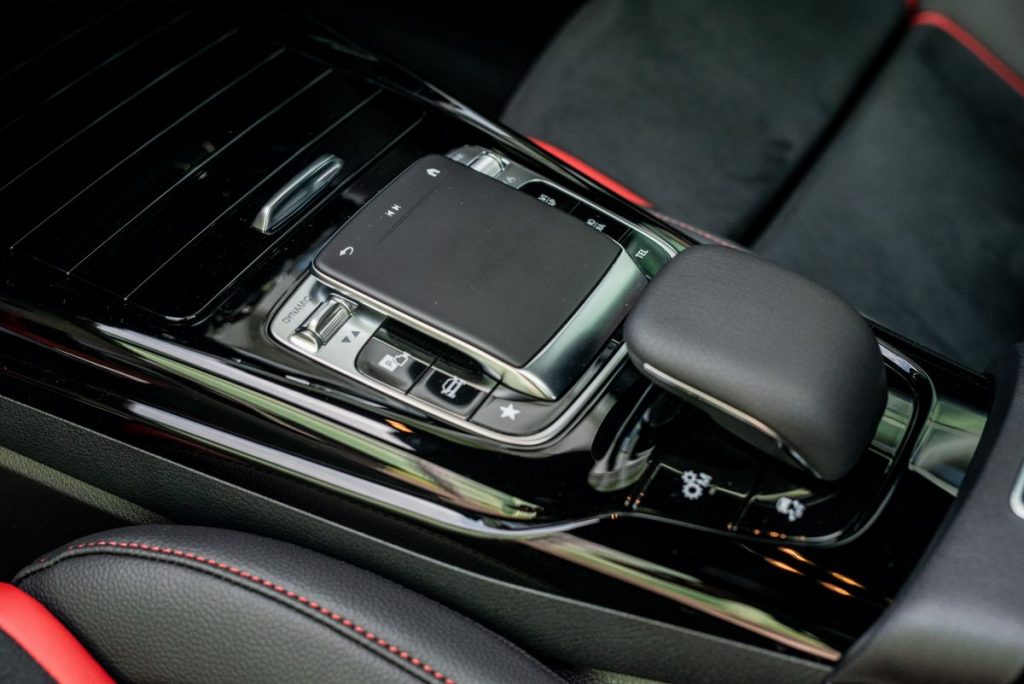 The single column stalk on the left that controls both the wipers and the indicators does take a while to get used to, but once you're familiar with it you do wonder why more cars don't have it.
While it was nice to have Android Auto and Apple CarPlay as standard, my experience with Android Auto here was a tad finicky to use. Also, it could just be me, but I couldn't for the life of me get Waze to work on the Android Auto.

 

Interestingly, the air-con recirculation setting on the CLA will switch to letting outside air in after a while. This is even when manually set to remain on all the time.

 

As nice as those red seatbelts are, the rather chunky passenger seatbelt buckle has the annoying habit of rattling against the B-pillar when not in use. A sign perhaps to share the AMG joy with more people?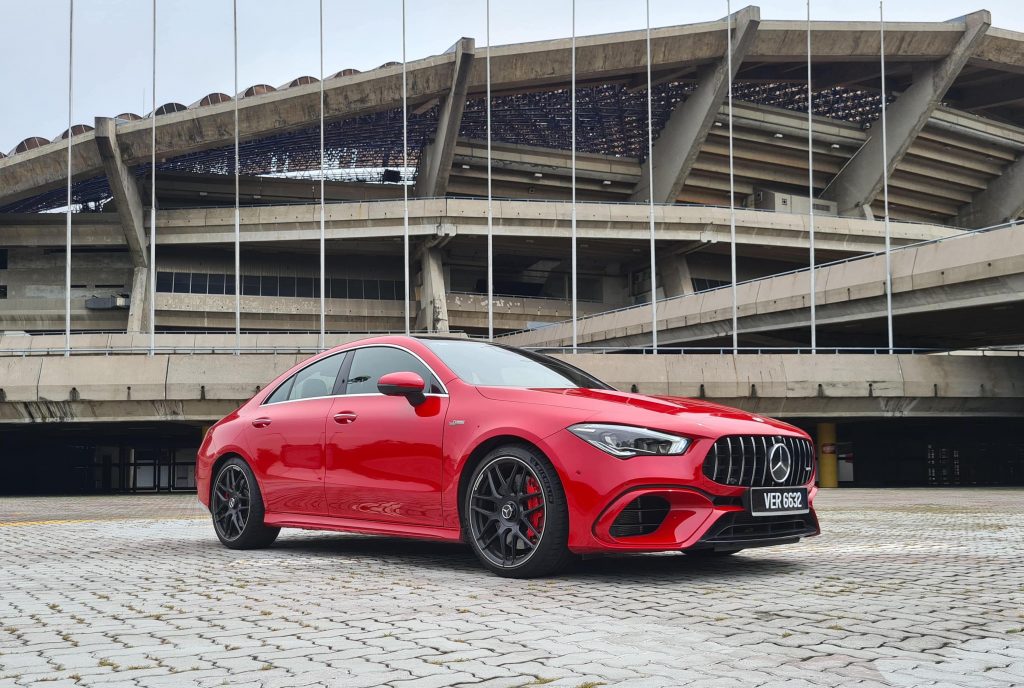 Mercedes-AMG CLA 45 S 4Matic+ Technical Specifications
Engine: M139 DOHC VVT 16-valve turbocharged four-cylinder petrol
Displacement: 1,991 cc
Transmission: 8-speed AMG Speedshift DCT 8G dual-clutch transmission
Max Power: 421 PS @ 6,750 rpm
Max Torque: 500 Nm @ 5,000 rpm
0 – 100 km/h: 4.0 seconds
Top Speed: 270 km/h 
Price: RM 433,802.02 (including sales tax exemption)