Used cars
This Toyota AE86 Is Receiving A GR Yaris Heart Transplant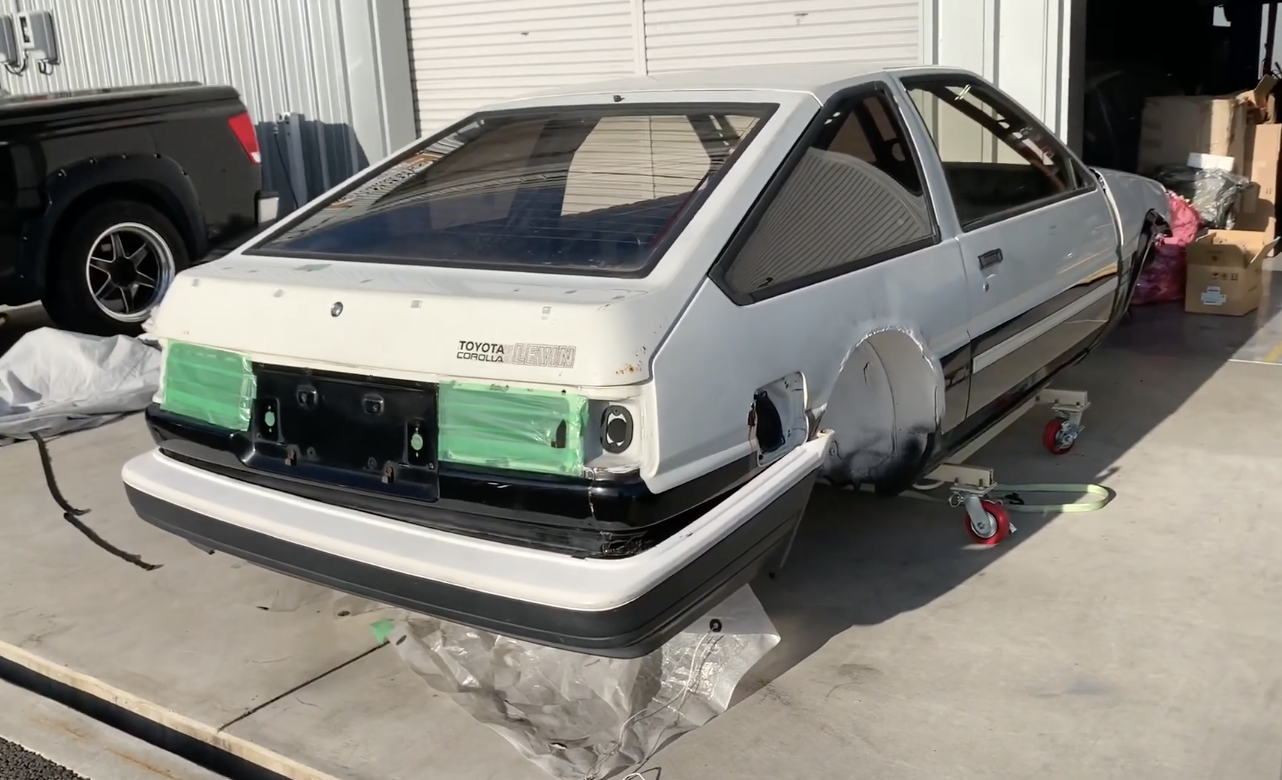 The heart of the hottest current Toyota is to be fitted within the body of an iconic old one. 
Looking at Toyota's back catalogue, you'll soon perhaps discover that the Japanese auto giant has made a rather large number of iconic engines over the years. There is the hallowed twin-turbocharged 2JZ-GTE straight six found within the A80 Supra of course, but then there are also the likes of the silky smooth 1UZ-FE Lexus V8 and the ever-tunable 4A-GE inline four. 
Moving to more recent times too, the LFA's screaming 1LR-GUE is further proof that Toyota still knows how to build a decent engine. Though there is no denying that whenever the Japanese automaker's engines are mentioned these days, it is most certainly in the context of the G16E-GTS turbocharged three-cylinder that is found within the new GR Yaris.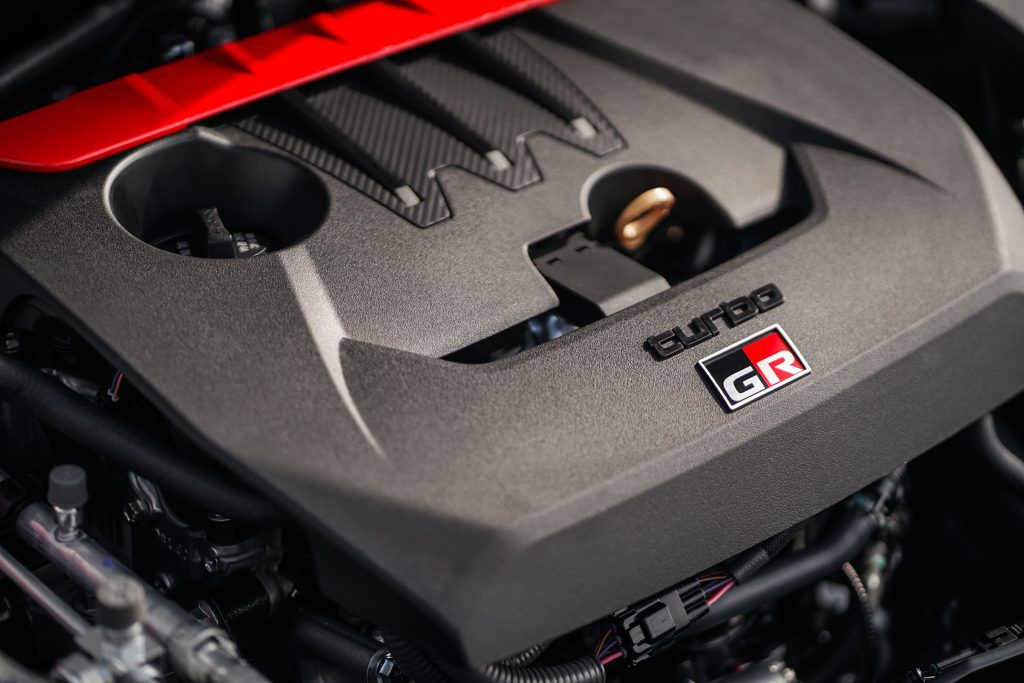 Touted to be the most powerful three-pot ever produced with a maximum of 272 PS and 370 Nm on tap, many tuners have already been lusting and scheming about transplanting this turbocharged Toyota lump into their future creations. Having said that though, no one has actually (publicly at least) put those plans into action just yet. 
No one except for Oto-san that is, as the owner of Japanese tuning shop Daddy Motor Works is currently working on a rather ambitious engine transplant project involving one of these turbocharged three-cylinders. That being slotting one of it into a Toyota AE86 Levin GT Apex.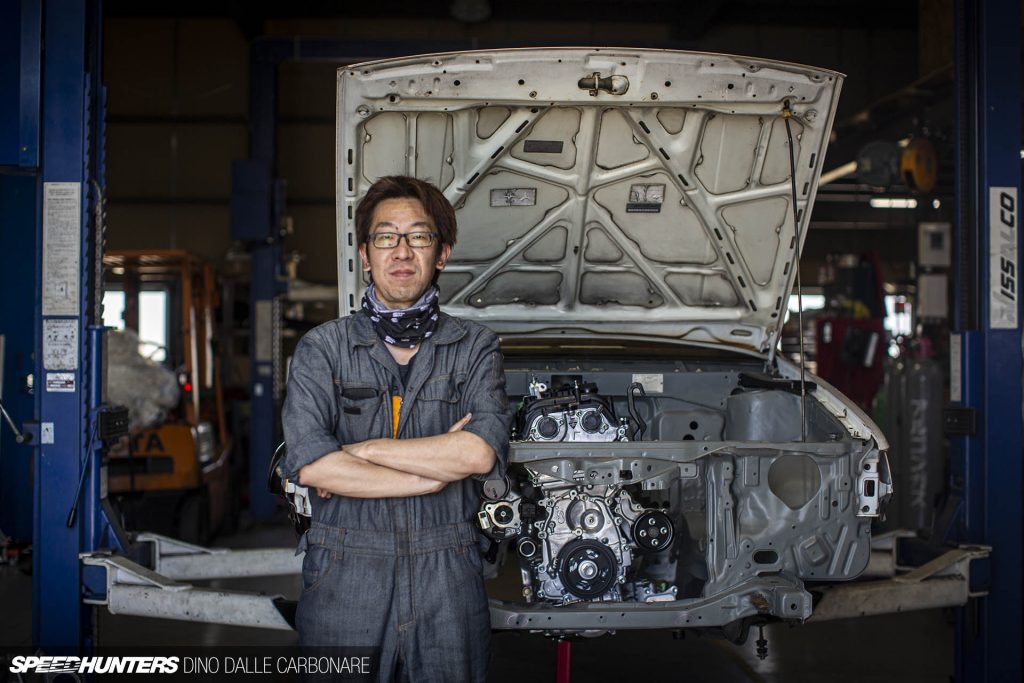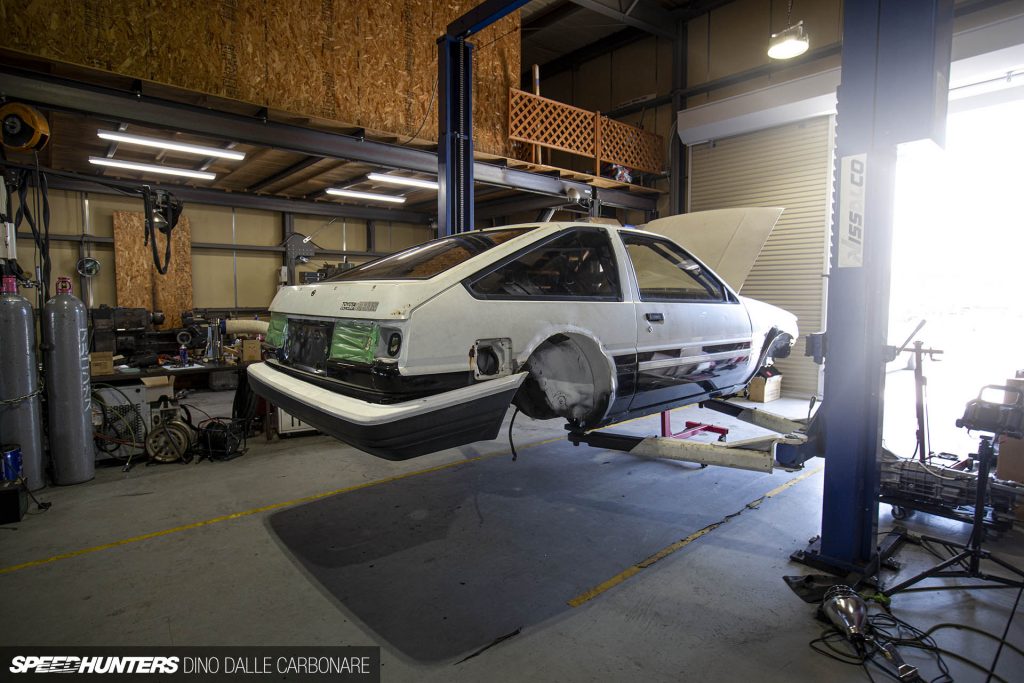 A custom fabricator by trade, Oto-san and Daddy Motor Works have been responsible for some amazing custom JDM builds for his customers over the years, as evidenced by the tricked-out Sunny mini-truck (featuring a 3.5 litre V6 out of a 350Z under the hood) and the black 240Z (with a 2JZ hidden within). This latest unconventional engine swap performed by the Nagoya-based tuners is however a personal passion project of the proprietor using his very own hachiroku drift machine.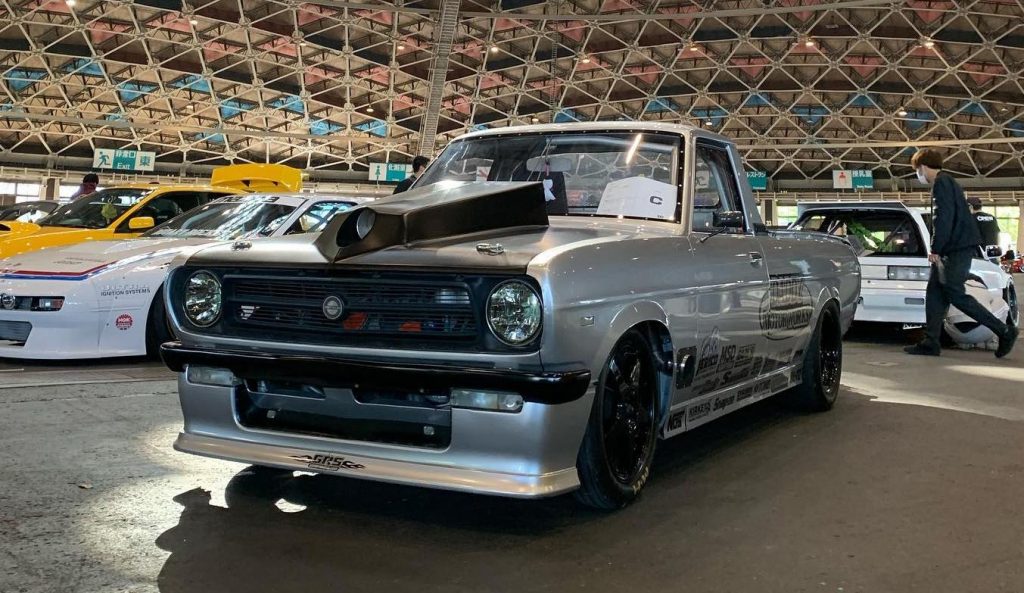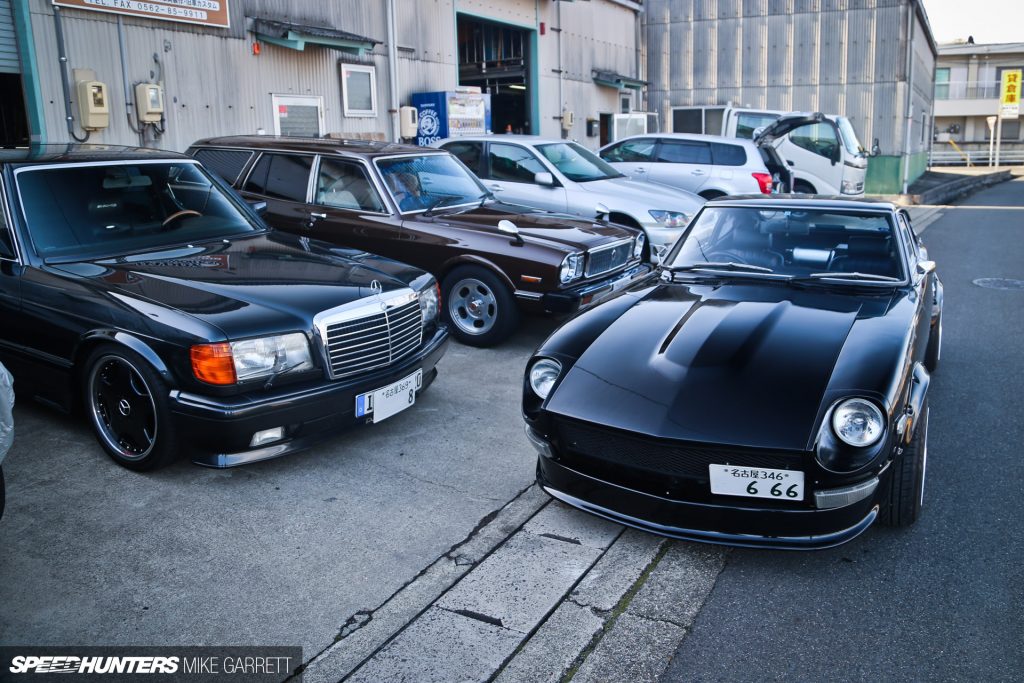 And speaking more about this ambitious engine swap itself, considering that Toyota claims to only build 25,000 units of this road-going WRC homologation specials, the act of getting hold of an engine could have typically been considered to be the hardest part of the whole build. Surprisingly though, that proves not to be the case, as a G16E-GTS long block can actually be purchased directly from the manufacturer over in Japan.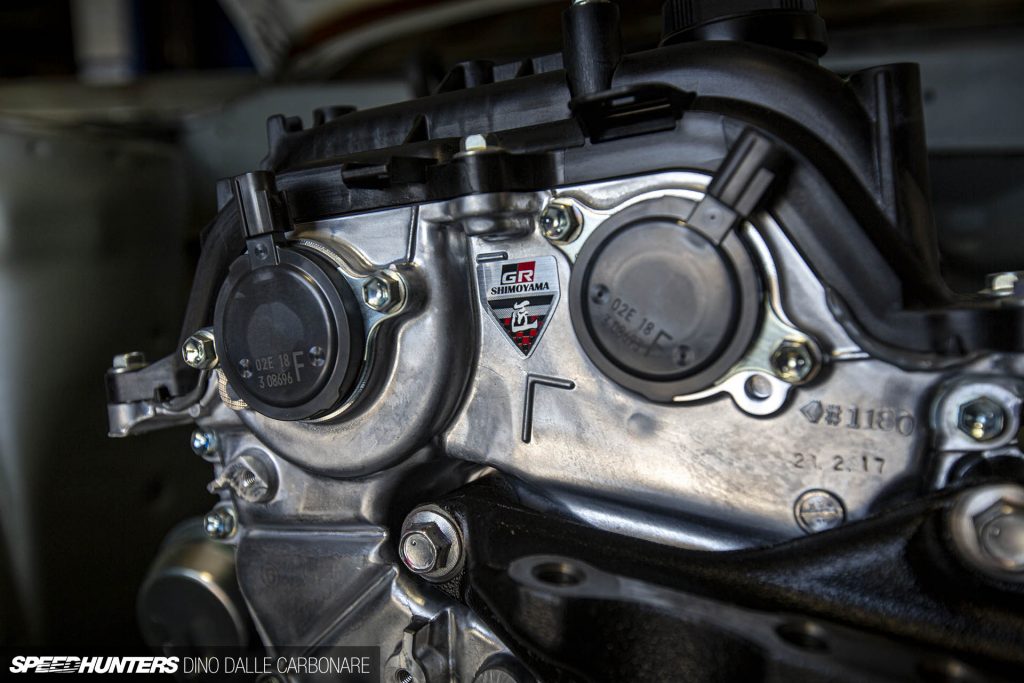 That said, it (unsurprisingly) does come with a rather steep price tag. The long block itself for instance costs the equivalent RM 27,000, and that doesn't include the single-piece exhaust manifold/turbocharger assembly which adds another RM 6,000 to the total tally.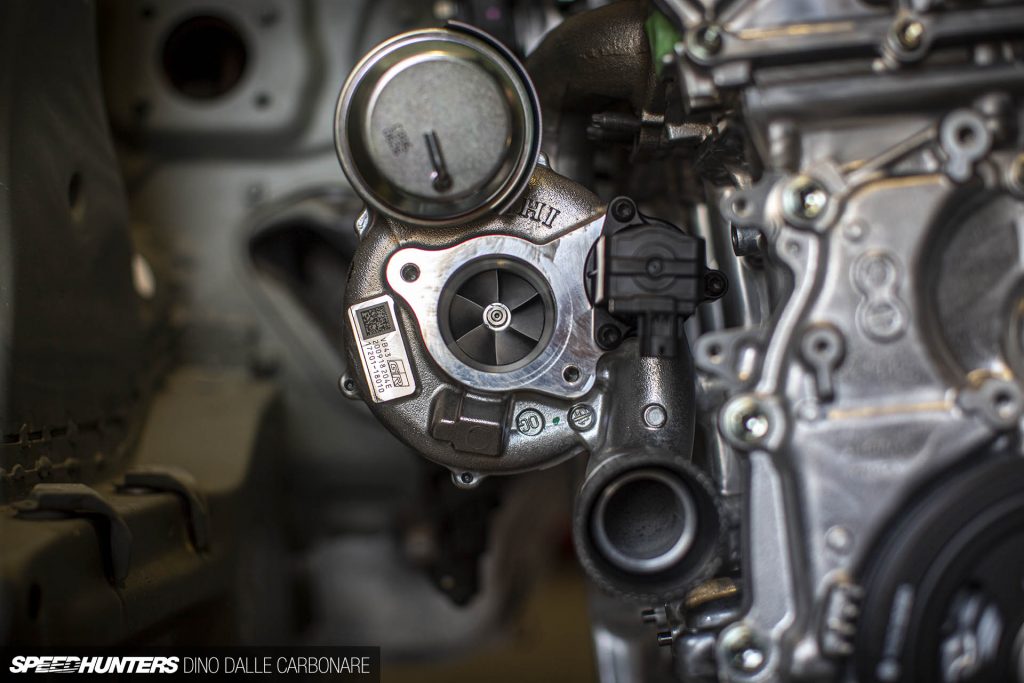 When it comes to actually fitting it within the Hachiroku meanwhile, there is also some surprising developments that one might not have foreseen. The biggest hurdle of which being the fact that the more compact three-pot from the GR Yaris is also rather significantly taller than the longer (but squatter) 4A-GE it replaces.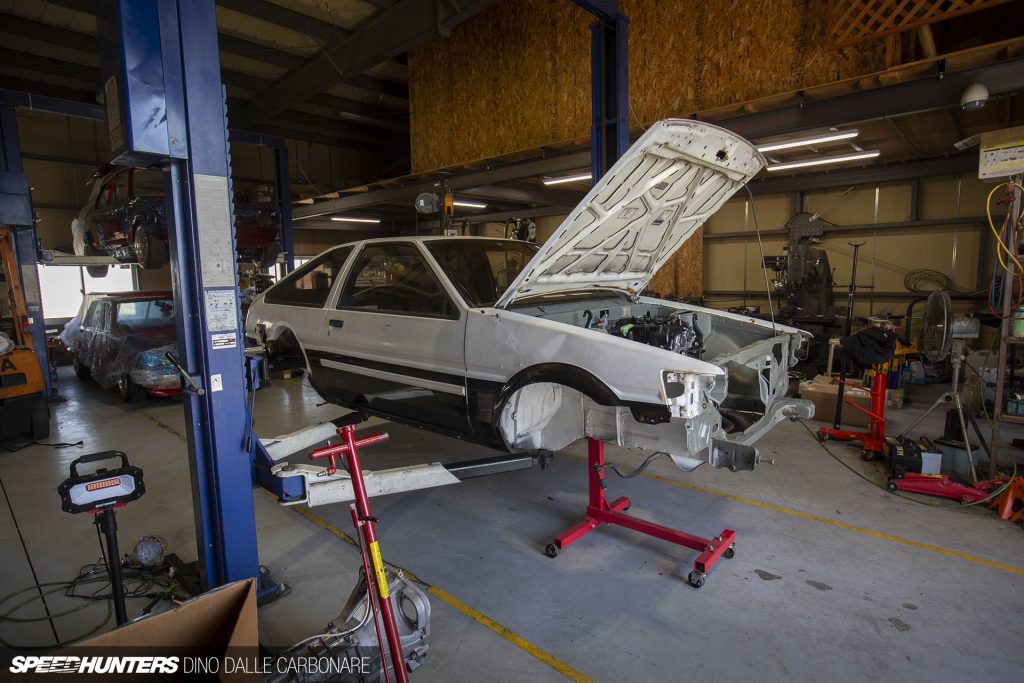 This in turn means that in its current configuration at least, the G16E-GTS will not be clearing the Levin hood in its stock form. There are nevertheless some benefits of it being such a compact unit though, as Oto-san reckons that there should be enough space within the engine bay to mount the radiator and intercooler in a V-pattern for maximum air flow going to these cooling components. 
As for making this now longitudinally-mounted three-pot work within its new home, a Link Fury X ECU with custom wiring and Bosch electronic throttle body will be responsible for making it spark up into life. Custom fabricated intakes and induction piping on the other hand will be helping it breathe better, in addition to looking cooler too, as the exhausts will be sticking straight up and out of the hood in true drift car fashion.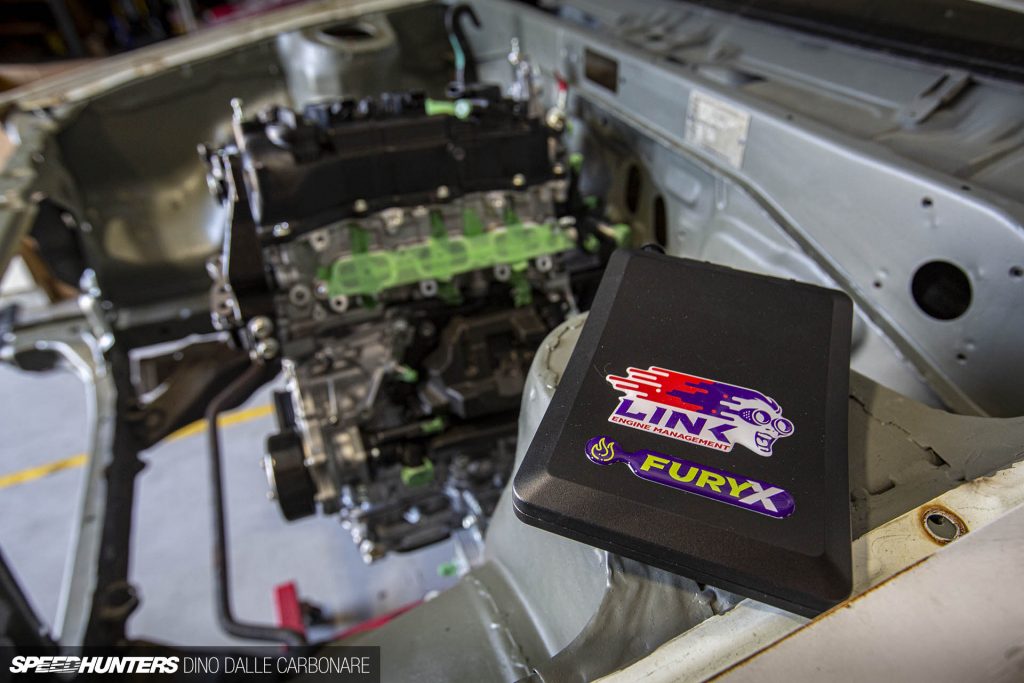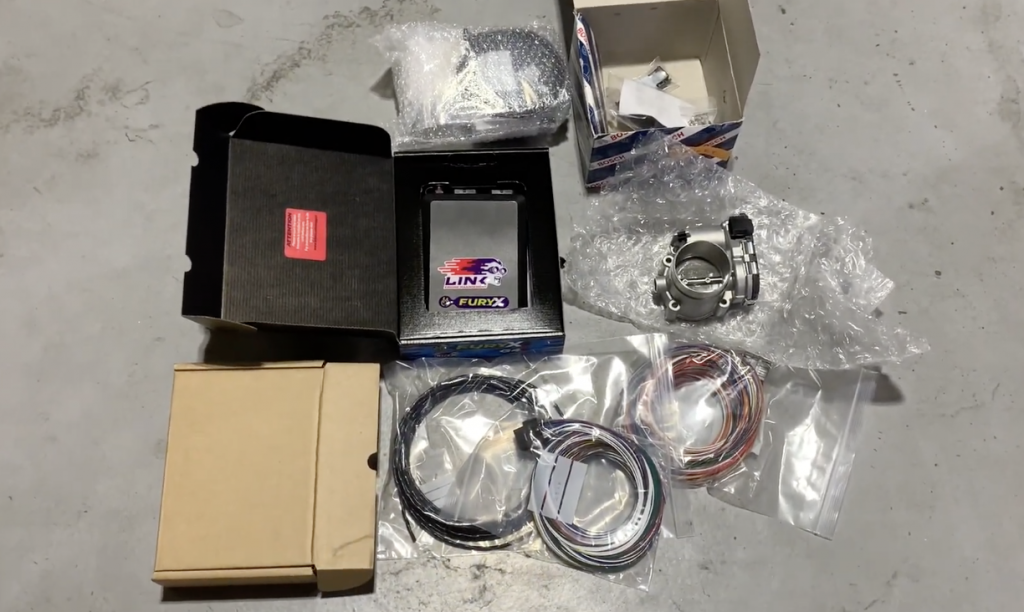 Speaking of drifting and going round corners, the stock AE86 steering rack has been ditched in favour of taken from an NA Mazda MX-5 that will be mounted ahead of the engine. Other components to featured within this modified Hachiroku that were sourced from other cars include a six-speed manual transmission taken out of a GT86, a 110 Crown rear axle with an Altezza differential, and just to round up its Toyota-ness, rear disk brakes out of an Estima.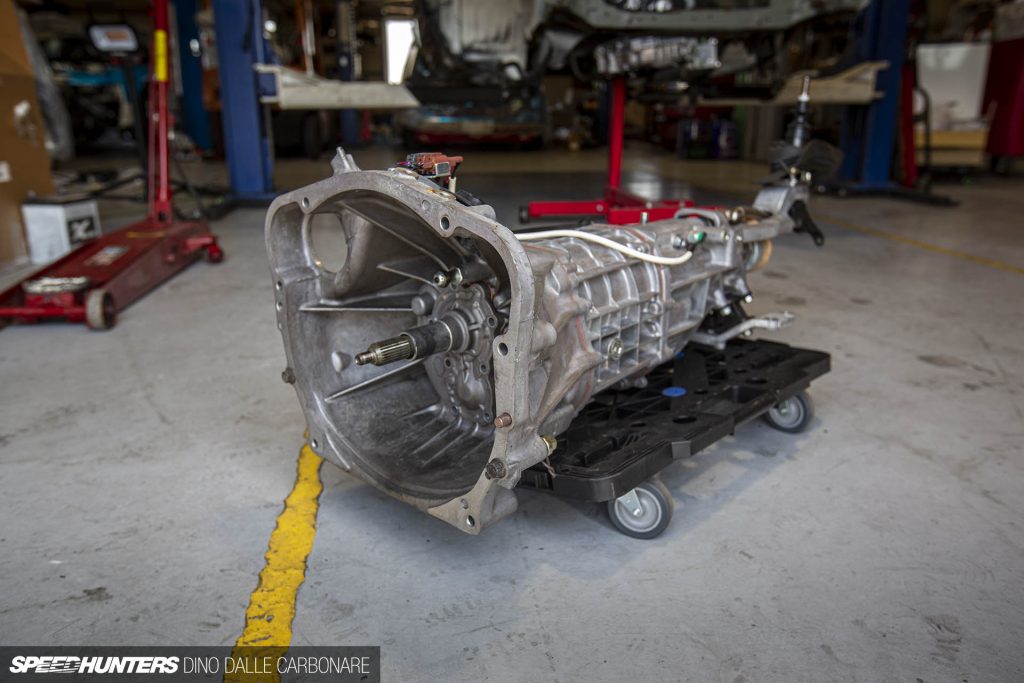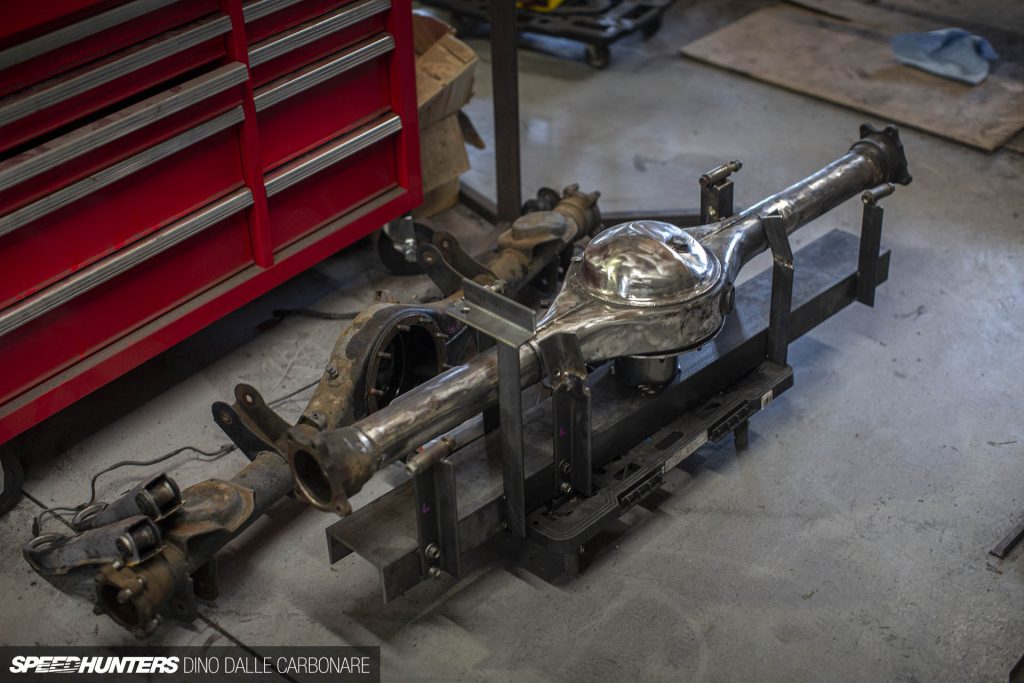 In terms of the exterior and interior, Oto-san has yet to really figure out what to do on both those fronts yet. Seeing as the bodywork of this old Toyota has seen better days however, and the fact that its new heart can't really fit under its stock hood, there is talk currently of a wide-body kit to be fitted onto the current bare shell of this particular black-and-white AE86.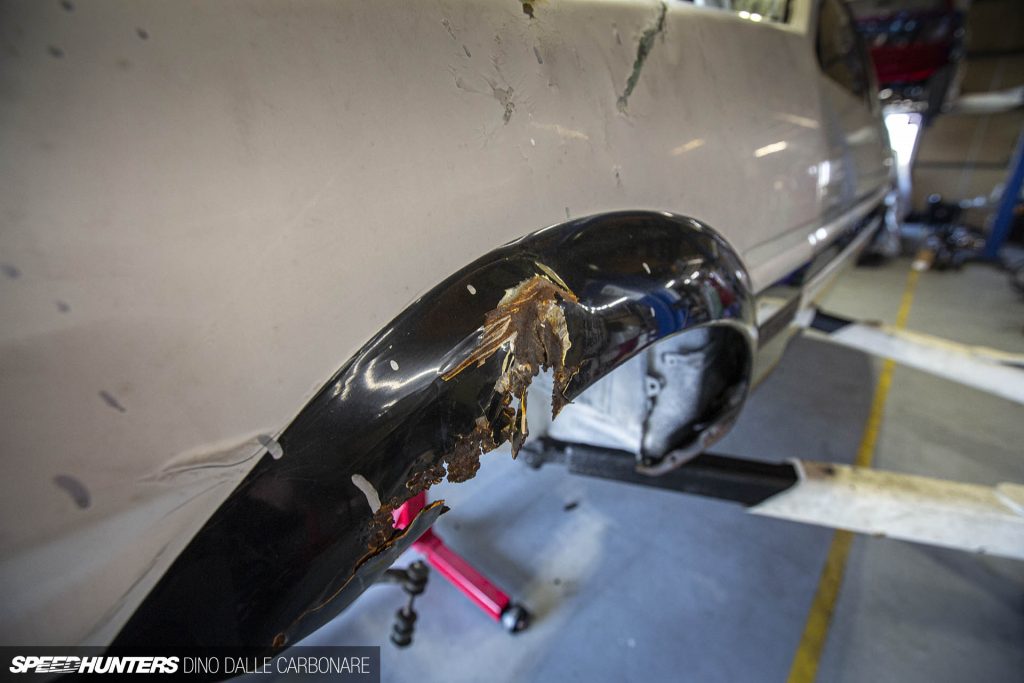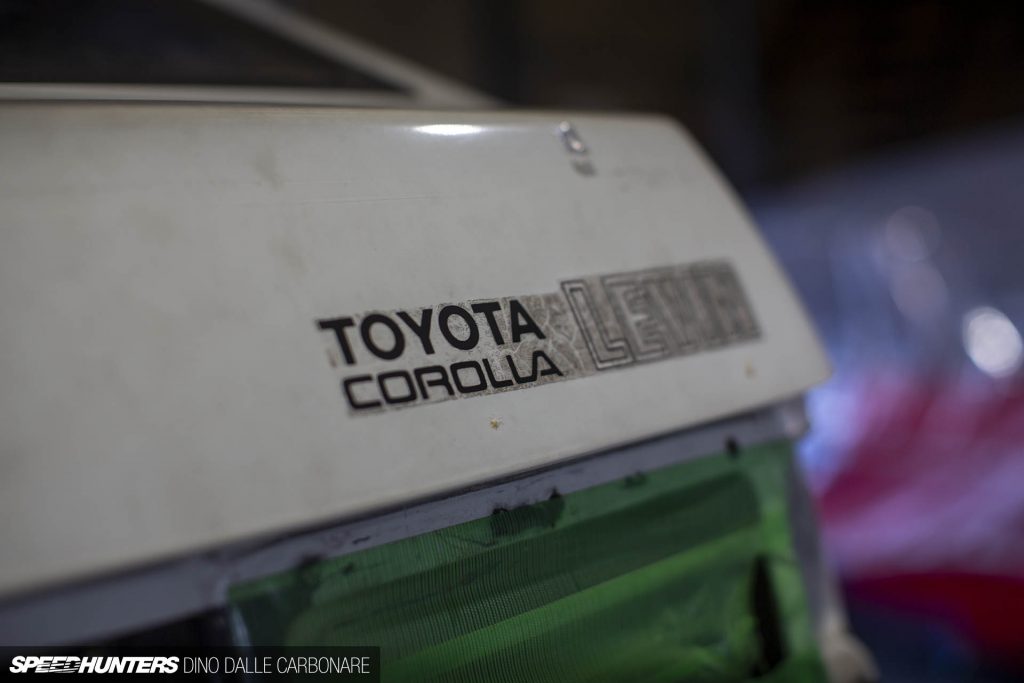 Moving on inside, its drift car nature should mean that a bare-bones basic lightweight cabin will most likely be the way to go for this AE86. Something that should further contribute to it to being an even bigger hoot to drive, especially reviewing the fact that this turbocharged three-pot is already going into a car that was supposed to be some 230 kg lighter (in stock form) than its original GR Yaris application.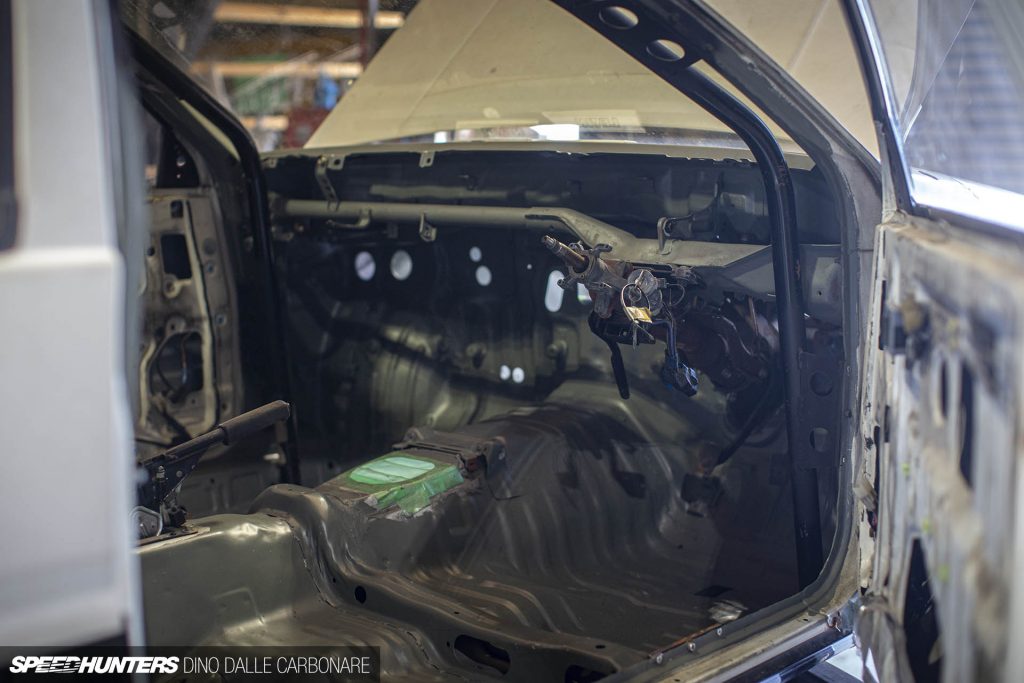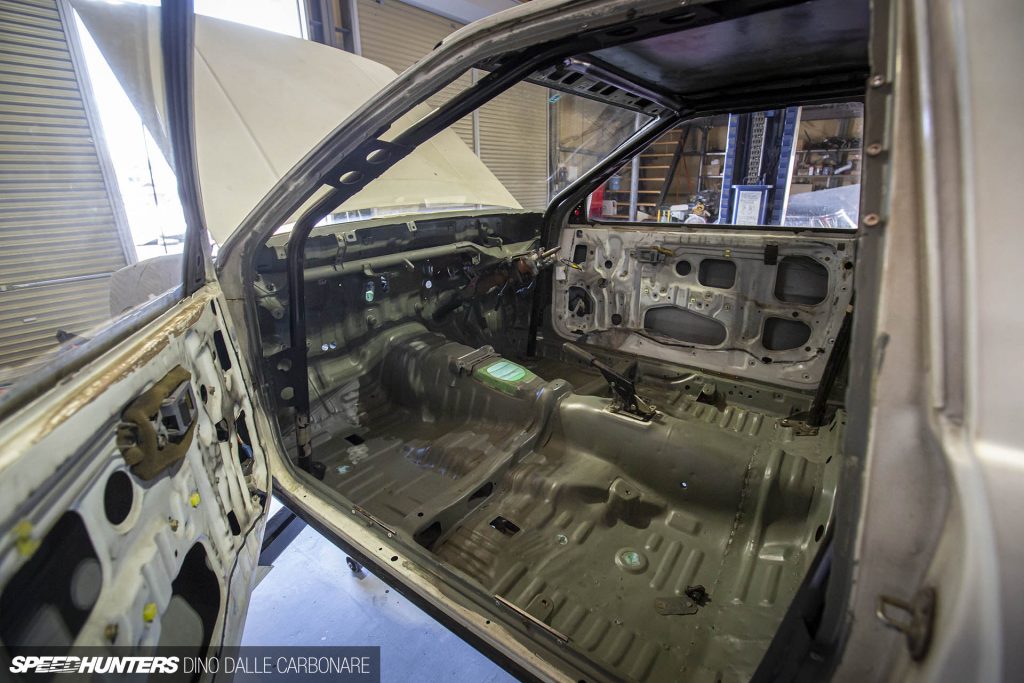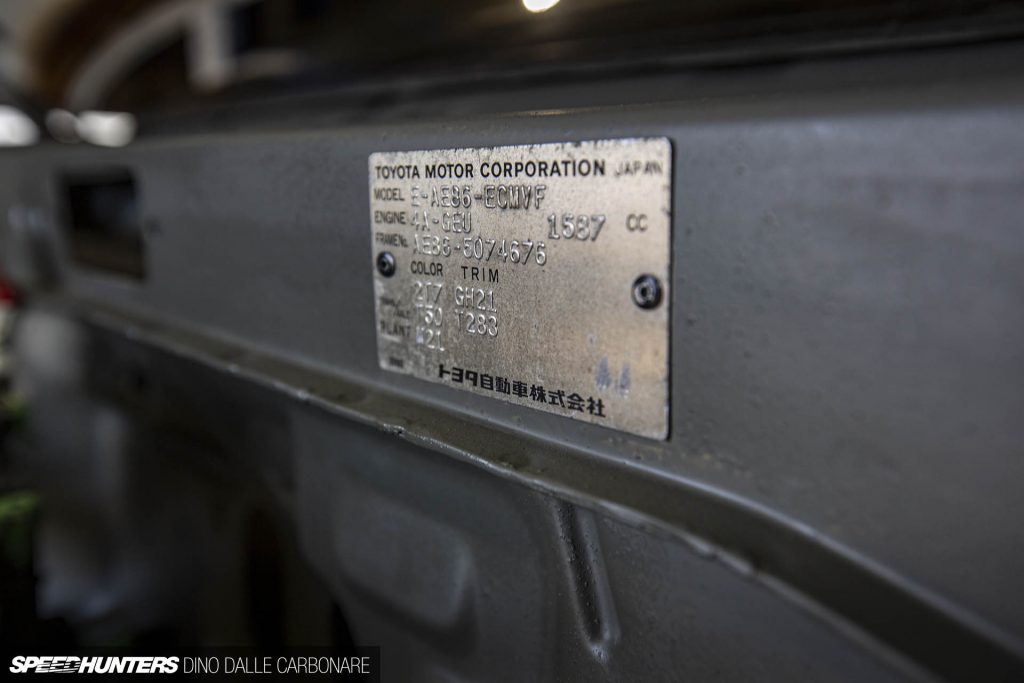 With work officially having just commenced on this ambitious engine-swap, Oto-san is amazingly also aiming for an equally ambitious timeline of just 7 months to wrap this project up. Lining it up nicely for it to debut at the 2022 Tokyo Auto Salon, if it were still to take place in the middle of January next year that is. 
Still, even if it weren't to go ahead, there is little doubt that this AE86 with its GR heart won't continue to be the talk of the town when it eventually rolls out of the door at Daddy Motor Works in a couple months time.  
Original Documentation & Photos by Dino Dalle Carbonare of Speedhunters