Automotive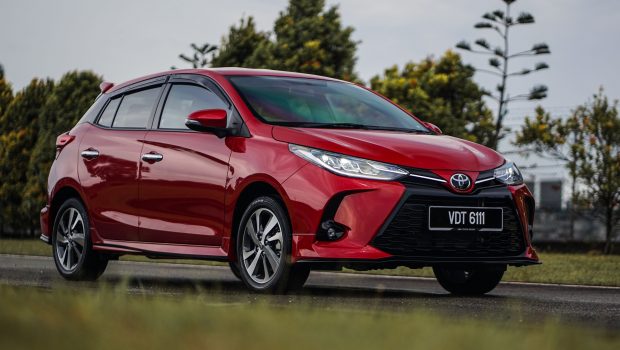 Published on November 2nd, 2020 | by Joshua Chin
0
Toyota Malaysia Teases Facelifted Yaris, Bookings Open Now
The smallest model in the local Toyota lineup gets a mild nip-and-tuck. 
Toyota has recently announced that a facelifted version of its Yaris hatchback will be arriving on our shores fairly soon. Bringing with it a slightly different face and more features, in an attempt to keep up with the rapidly shifting car market locally.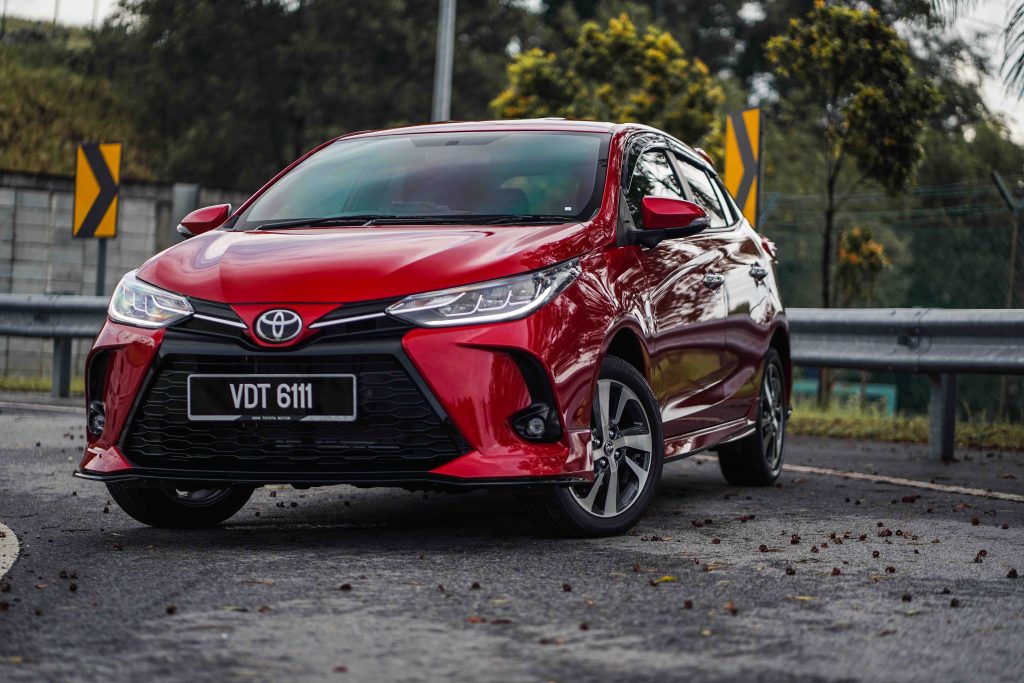 As it was just launched in April last year, the changes made to this top-selling non-national hatchback in Malaysia is mild to say the least. On the exterior aesthetic, all that is changed is the front end. 
Supposedly to emulate the frontal design of the Corolla and Camry, the Yaris gains a new front bumper, front grille, triple bezel LED headlights with follow-me home functionality and repositioned fog lights. All of which was incidentally also seen on the upcoming Vios, on which the Yaris is based. A new Platinum White Pearl exterior paint colour is also added, in addition to the Red Mica Metallic and Silver Metallic.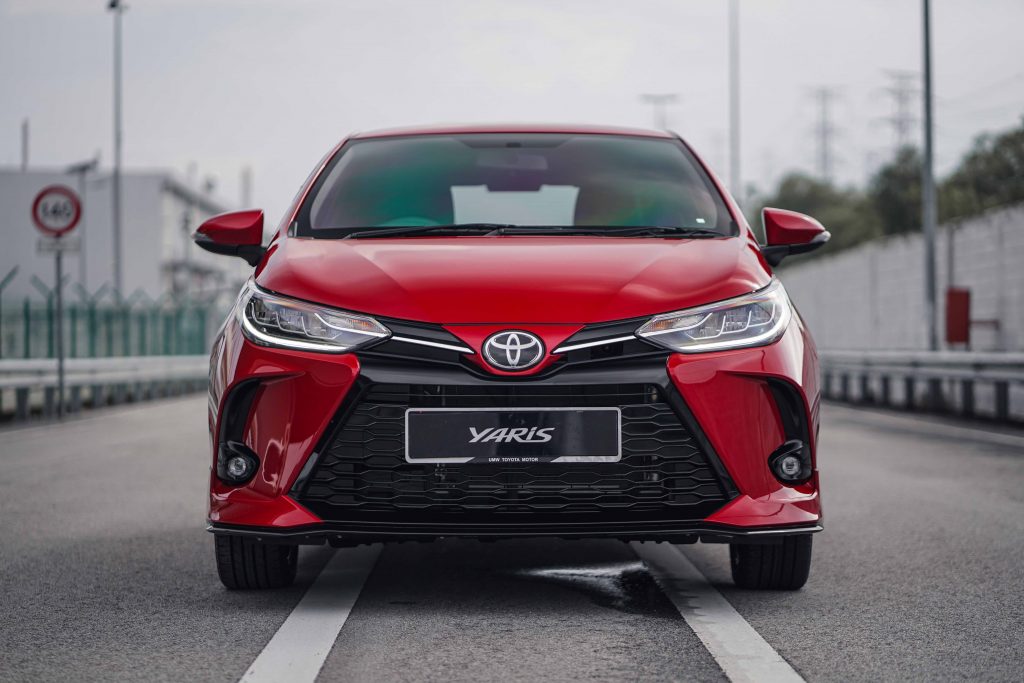 Despite the barely distinguishable exterior changes however, Toyota did make some more significant improvements on the interior of the revised Yaris. Most notable being the new 7-inch central infotainment touchscreen with integrated Android Auto and Apple CarPlay. A wireless charging pad is also standard now in this facelifted hatchback, as is Toyota's Vehicle Telematics System (VTS) on the intermediate and top-trim levels.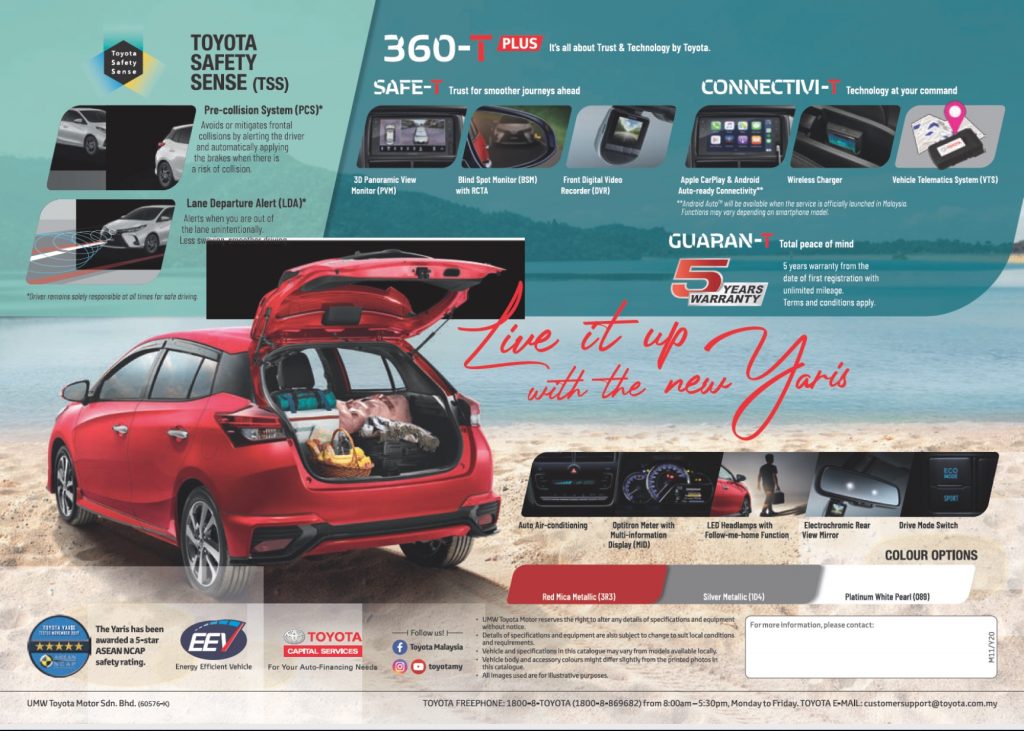 Moving onto the topic of safety, this revised Japanese hatchback now features a Pre-collision System (PCS) which alerts the driver and applies the brakes in the event of an impending collision. Lane Departure Alert (LDA) and a 360º Surround View Camera has also been added as part of the Toyota Safety Sense active safety suite, which already includes Vehicle Stability Control (VSC), Traction Control (TRC), Hill-Start Assist Control (HAC), Blind Spot Monitor with Rear Cross Traffic Alert (RCTA), Anti-Lock Braking System (ABS), Electronic Brake-force Distribution (EBD) and Brake Assist (BA), and Front as well as Rear Digital Video Recorders (DVRs).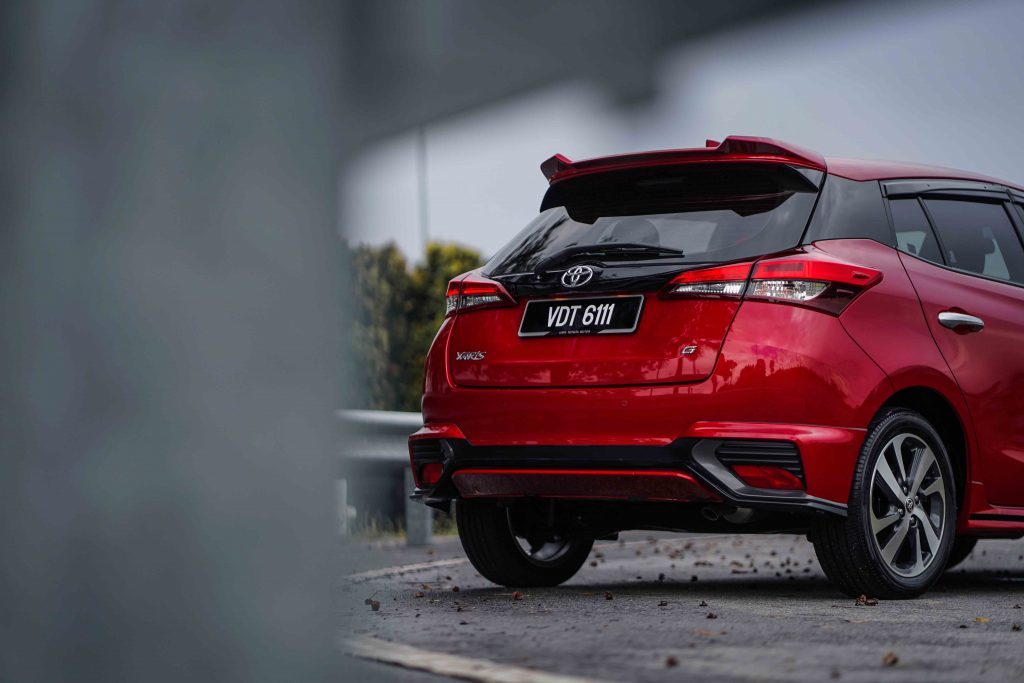 Prices for the revised Yaris is estimated to start at RM 71,688 for the base J variant, before rising up to RM 80,591 and RM 85,587 for the higher G and E variant respectively. The prices mentioned here are of course inclusive of sales tax exemption and therefore will only be valid till the end of this year. Bookings for this facelifted Yaris can now be made at all authorised Toyota dealerships from today onwards. 
The real question that should be asked here with the launch of this new Yaris is whether this mild facelift is actually enough to take on the much improved opposition that recently debut, which comes in the form of the all-new Honda City, the all-new Nissan Almera and even the all-new Proton X50? 
Unfortunately for Toyota, the answer looks to be a no for now. A mild nip-and-tuck an all-new car does not make. Then again, with its direct competitor in the form of the Honda Jazz still being based on the previous generation City. In that respect then, at least the Toyota sort of edges ahead(?)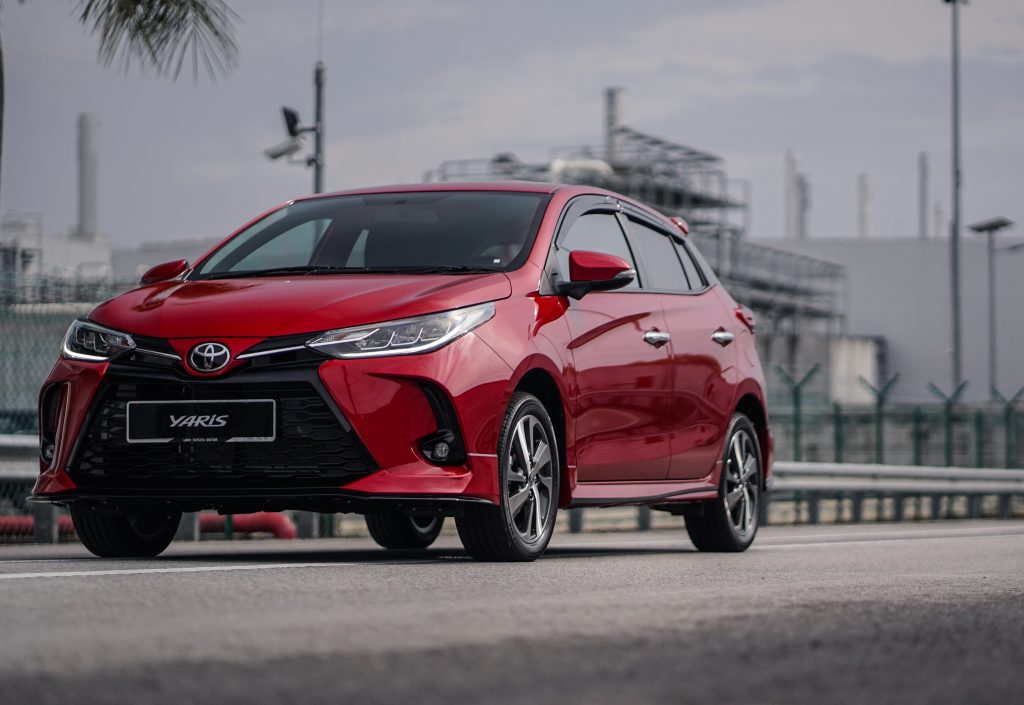 PRESS RELEASE: Restyled, reinforced safety features and equipped with raised standards of convenience and connectivity, the newly-revised Toyota Yaris projects a more dominant attitude to reaffirm its on- the-road presence and appeal with a sportier, dynamic and charismatic personality. 
Fusing sophistication with sportiness, the Yaris gain subtle enhancements for a more commanding presence, now emerging with an entirely re-profiled front end to give it a more aggressive front silhouette. 
This distinction is made by an all-new front bumper design which comes fitted with a front aerokit, front grille, triple bezel fully LED Headlights, and repositioned Fog Lights on more pronounced and carved front bumper – design cues that are strongly reminiscent of the all-new Corolla and flagship Camry. 
In addition, the newly-designed and eye-catching triple bezel headlights are also equipped with follow-me-home function for both safety and convenience, and will be available throughout the introductory, intermediate and top of the range J, E and G variants respectively. 
"The revised Yaris is built to excite and exceed standards," affirms President of UMW Toyota Motor Sdn. Bhd, Mr. Ravindran K. 
"It's about giving an already vibrant model a more dynamic and charismatic personality, and this is a strong reflection of Toyota's global commitment moving forward. We will continue to offer customers vehicles equipped with advanced safety features, unwavered reliability, performance and convenience throughout our product range, but it is equally important that these vehicles must have a strong presence and be exciting to own, experience and drive."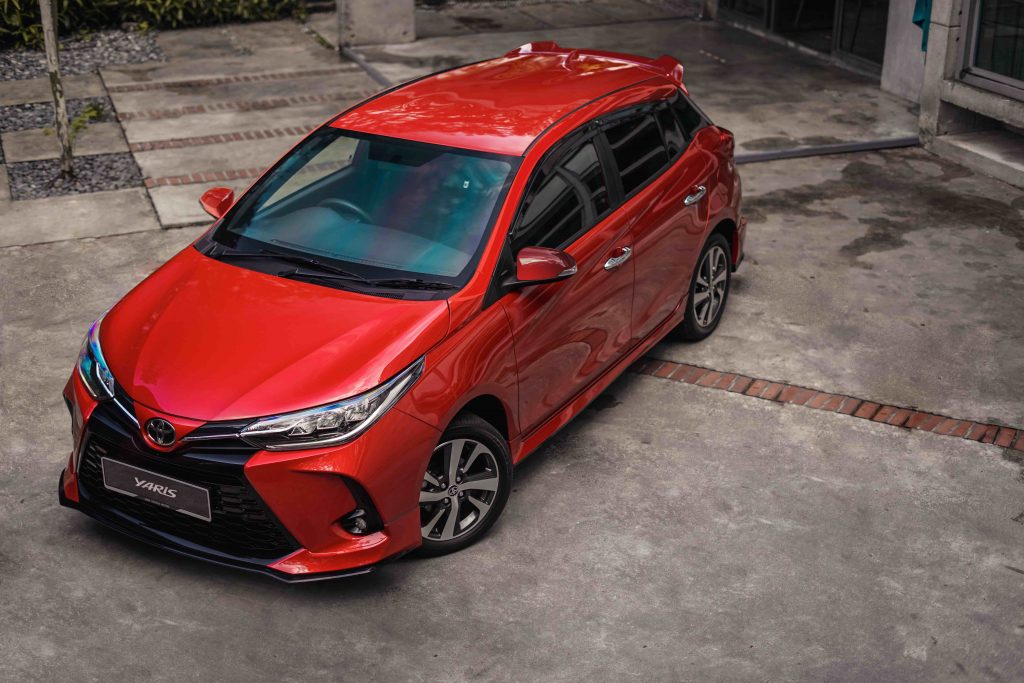 The Yaris was launched as CKD model back in April 2019, has been consistently No. 1 in Non- National hatchback segment until today. With the further enhancement of the design and features, UMW Toyota is confident that it will maintain its market leadership in this segment. 
With safety remaining a top priority for Toyota, even models like Yaris will continue to be infused with Toyota Safety Sense (TSS) features. The revised model comes equipped with a host of additional advanced safety features and now includes a pre-collision system (PCS) in which an integrated camera and radar system helps to reduce the risk of colliding with a preceding car. The system works from 15km/h able to alert the driver once it detects vehicle within the colliding 
distance and further assist to reduce the vehicle speed as additional support to the driver. A lane departure alert (LDA) helps avoiding unintended lane change through visual alert in Multi-Info Display and beeping sound to the driver. This system works at the vehicle speed of 50km/h and above and can be turned off if the driver wishes to and a 3D 360-degree panoramic view monitor giving the driver a surround and unobstructed front, rear, top, sides and three dimensional virtual views of the vehicle. 
These features complement safety systems already built-into the Yaris that includes Vehicle Stability Control (VSC), Traction Control (TRC), Hill-Start Assist Control (HAC), Blind Spot Monitor with Rear Cross Traffic Alert (RCTA), Anti-Lock Braking System (ABS), Electronic Brake-force Distribution (EBD) and Brake Assist (BA), and Front as well as Rear Digital Video Recorders (DVRs). 
For our customers' quick access and convenience to personalized favorite entertainment and navigation applications, connectivity and infotainment in the revised Yaris is topped with a 7" inch Android Auto-Ready & Apple CarPlay (AACP). Vehicle Telematics System is now made as a standard feature for Yaris (G&E variants) as part of the company's direction in expanding the Connectivity under the 360-T Plus brand experience. 
Platinum White Pearl will be a new colour offered for the Yaris. Customers however, can continue to have the choice of Red Mica Metallic and Silver Metallic. 
Available for bookings at all authorized Toyota showrooms nationwide from today, the revised Yaris is backed by a comprehensive 5-year warranty with unlimited mileage. Prices will be announced soon and customers will continue to benefit from the current waived sales tax for new and locally-assembled vehicles. Customers also will be able to perform online booking of this new model in UMW Toyota official website starting 2nd November 2020. 
For a more in depth look into this new exciting model log on to our website at toyota.com.my.