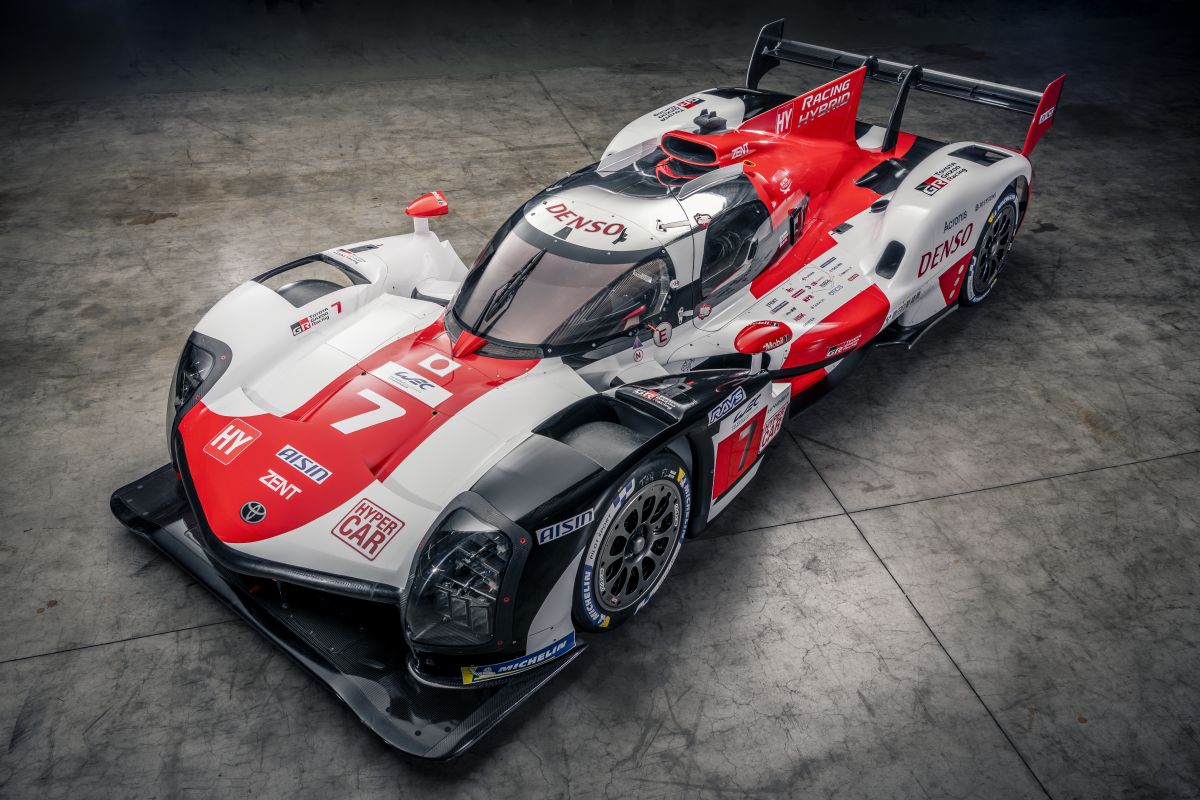 Chances are high for this Toyota to carry the championship crown again in the 2021 WEC. 
Toyota has recently revealed its 2021 FIA World Endurance Championship (WEC) challenger in the form of this GR010 Hybrid Le Mans Hypercar. A successor to the TS050 Hybrid, this new LMH-class race car is set to not only defend the Japanese automaker's 2020 championship title, but also seeks to add to a fourth Le Mans win to the Toyota trophy cabinet too. 
The big news for this next-gen race car here is that, in line with the new LMH-class regulations which stipulate that the cars need to be cheaper and simpler, this new Toyota WEC challenger loses its rear electric drive motor. Keeping only its front hybrid powertrain and gaining a starter motor and hydraulically-operated rear brakes for the 2021 season.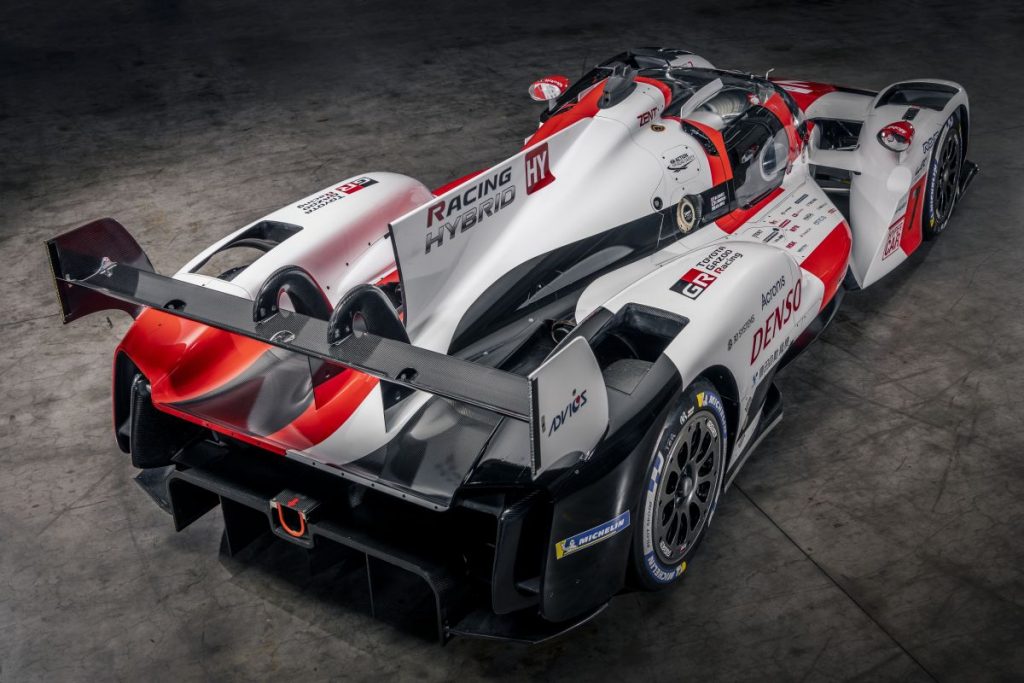 Then again, the old compact 2.4 litre V6 seen in the TS050 since 2016 has grown in size to the twin-turbocharged, direct-injection 3.5 litre V6 in the GR010. Mated to a seven-speed sequential transmission, power from this new four-wheel drive racing hybrid powertrain is capped at 680 PS, with a maximum 272 PS coming from motor generator unit alone. 
In addition to the simpler powertrain design, which is incidentally now 32% less powerful than the TS050, thanks to the simpler regs too, the GR010 also gains in both size and weight over its predecessor. According to Toyota, the new 2021 WEC challenger is 250 mm longer, 100 mm wider, 100 mm higher and most notably, 132 kg heavier than the LMP1-H class car that it replaces.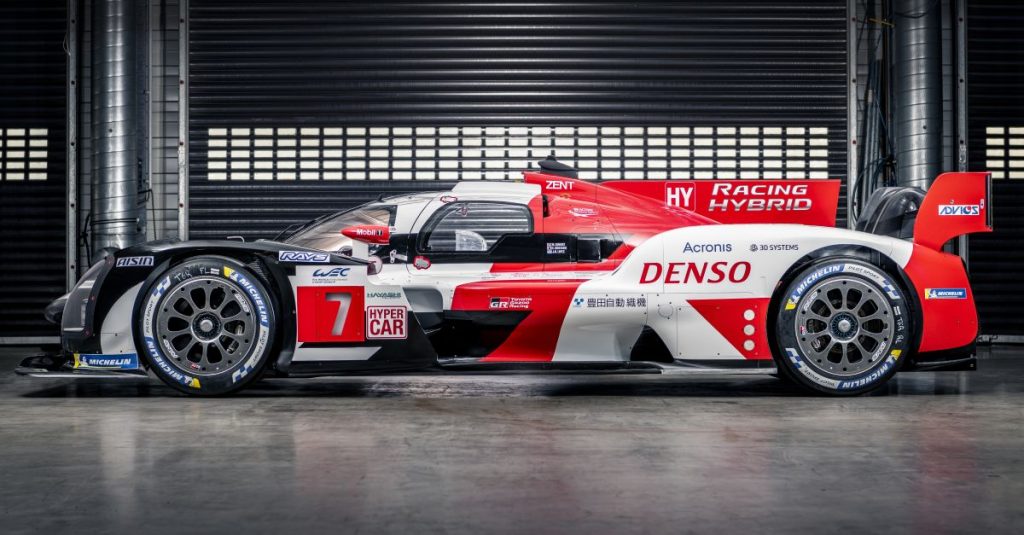 Nevertheless, while it may not be breaking any lap records set by the tech-fest TS050 (Toyota reckons it will be 10 seconds slower around the Circuit de la Sarthe of Le Mans fame), fans should be able to expect some closer racing in this upcoming season of WEC. This is especially true with more teams that are to compete in this new top class of endurance racing in 2021.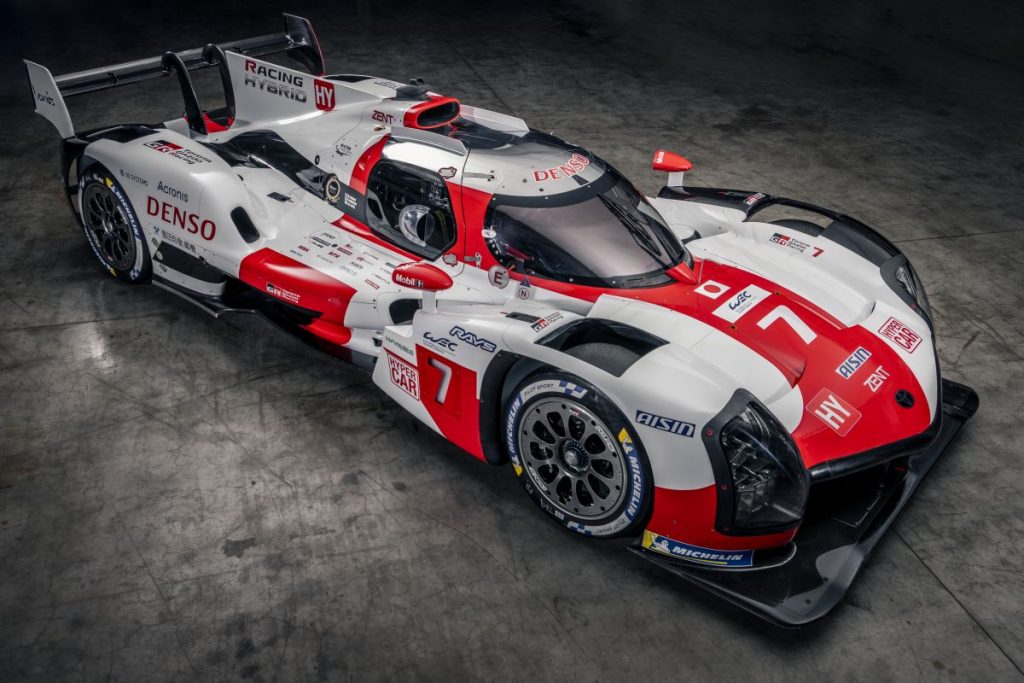 Continuing on the topic of closer racing , the new LMH rulebook also stipulates a single aerodynamic configuration, with only one adjustable aerodynamic device being allowed. This means that GR010 will compete in the same specification at both high and low downforce circuits, with only an adjustable rear wing modifying its aerodynamic characteristics.
As for the driver's that are to pilot this newly liveried red, white and black GR010 in 2021, they remain the same crew from the year prior. Reigning WEC champions Kamui Kobayashi, Mike Conway and Jose Maria Lopez will once again drive for Toyota's #7 entry, 2020 Le Mans winners Sebastien Buemi, Kazuki Nakajima and Brendon Hartley meanwhile will race the #8 GR010. Mercedes Formula E driver Nyck de Vries will also continue as test and reserve driver for the team.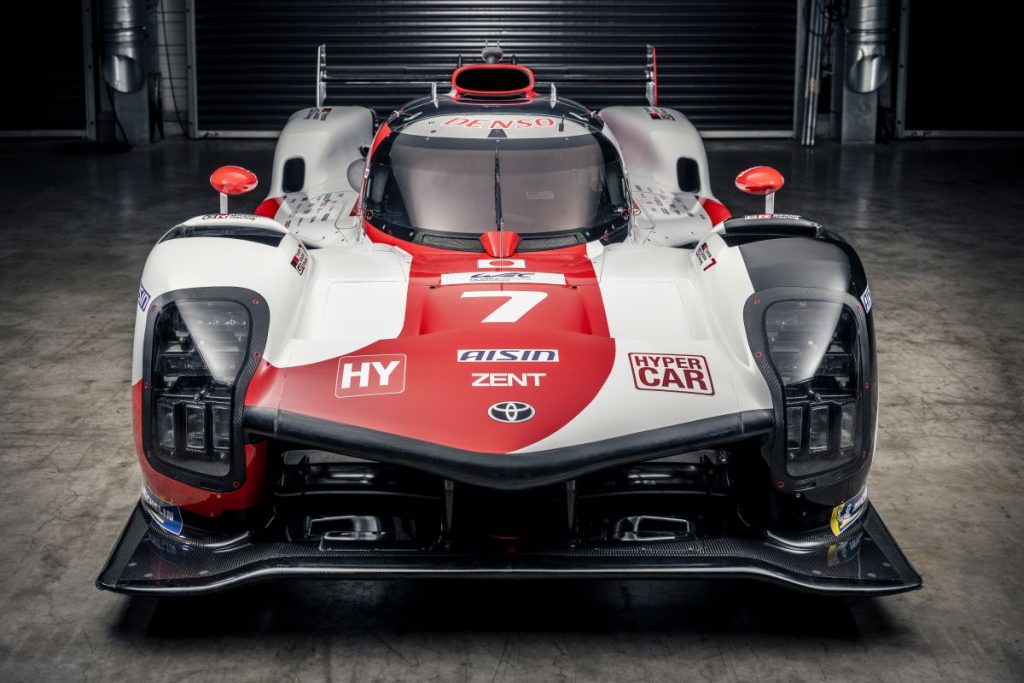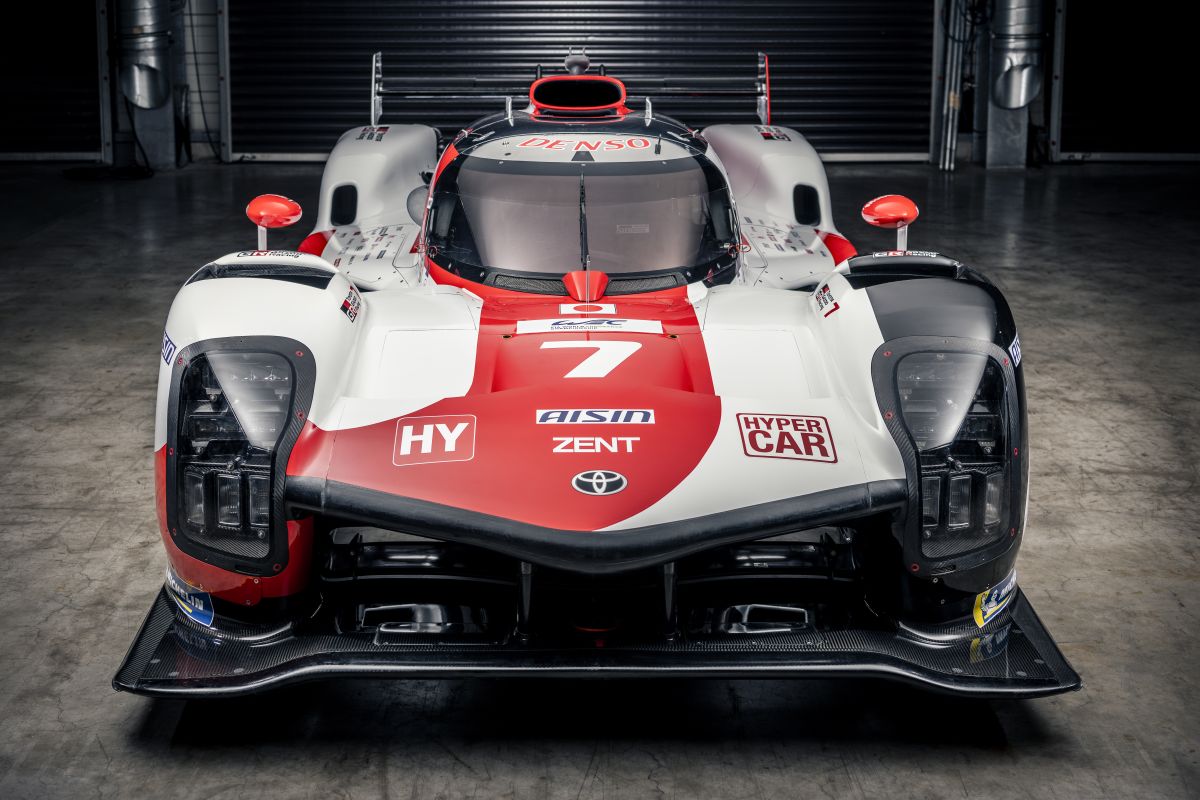 The 2021 WEC is set to kick off at the 1000 Miles of Sebring on the 19th of March, before carrying onto the 6 Hours of Spa-Francorchamps on the 1st of May and the Le Mans 24 Hours on the 12th and 13th of June. Following that, the 18th of July sees the championship return to Monza, before heading to Fuji on the 26th of September, and finally ending at Bahrain on the 20th of November. 
More nerdy information regarding this next-gen Toyota WEC contender can be found in the press release below.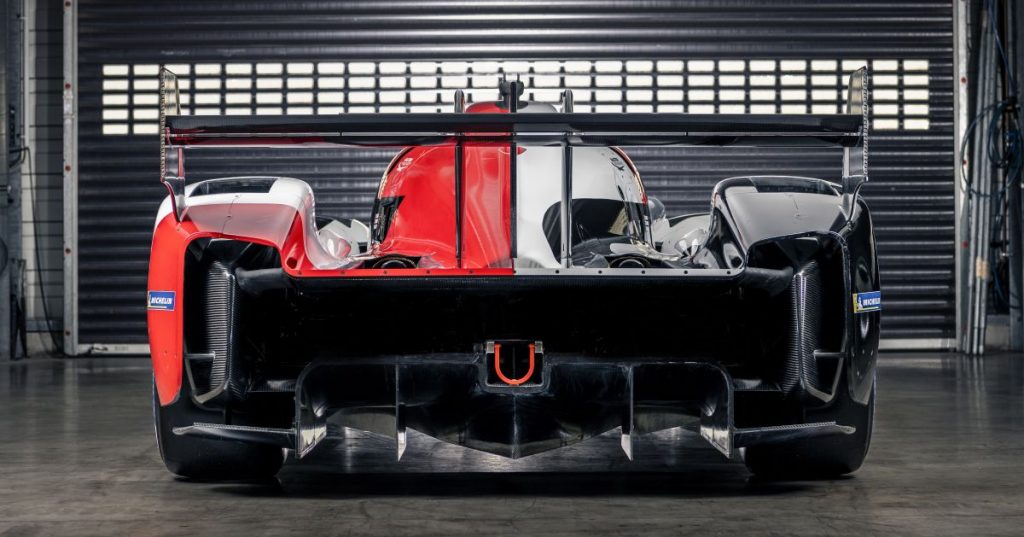 PRESS RELEASE: TOYOTA GAZOO Racing begins a new era of endurance racing with the launch of its all-new GR010 HYBRID Le Mans Hypercar, which will compete in the 2021 FIA World Endurance Championship (WEC).
The reigning World Champions and three-time Le Mans winners will defend those titles against new manufacturer competitors using a racing version of the upcoming hypercar road car, featuring powertrain technology developed in the TS050 HYBRID and highlighted via new Racing Hybrid branding.
The GR010 HYBRID is a prototype racer developed over the last 18 months in partnership by engineers at the team's headquarters in Cologne, Germany and the electric hybrid powertrain experts at Higashi-Fuji in Japan.
The GR010 HYBRID incorporates a powerful four-wheel drive racing hybrid powertrain, with a 3.5litre V6 twin turbo engine, providing 680PS to the rear wheels and combining with a 272PS motor generator unit, developed by AISIN AW and DENSO, on the front axle. Total output is capped at 500kW (680PS), meaning the GR010 HYBRID's sophisticated electronics reduce engine power according to the amount of hybrid boost deployed.
The striking new look of the racing prototype reflects the appearance of its inspiration, the GR Super Sport hypercar which made its public debut during a demonstration run and ceremonial trophy return at the 2020 Le Mans 24 Hours and is currently in development. To mark this new era for TOYOTA GAZOO Racing, a new livery includes the iconic GR lettering to indicate the strong link between race and road cars.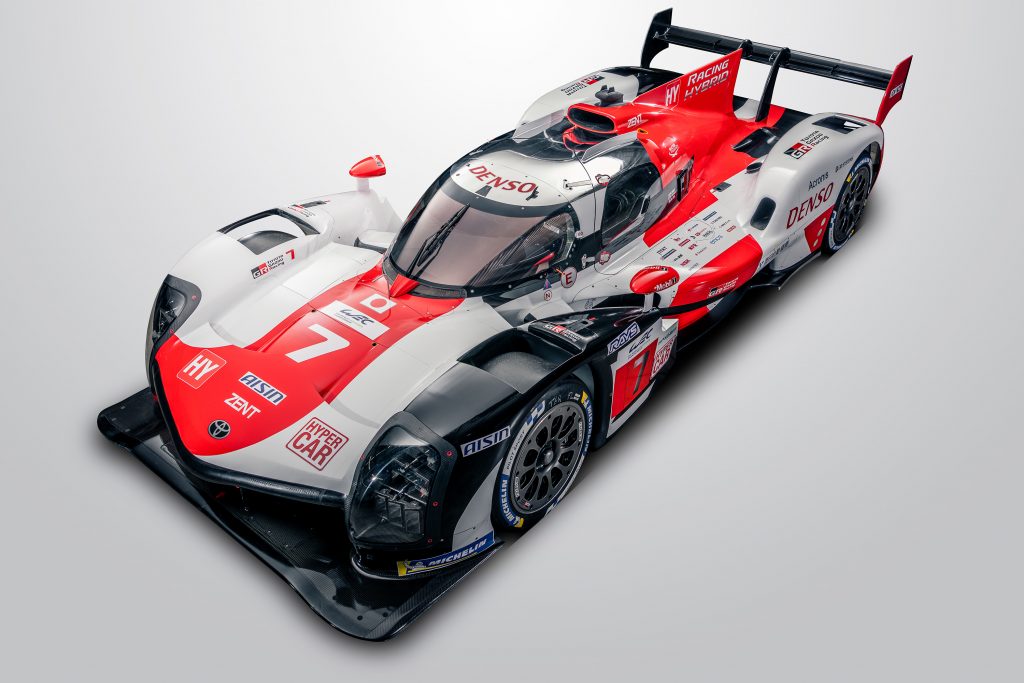 TOYOTA GAZOO Racing enters its ninth season in WEC with the same driver line-up which brought Le Mans and World Championship glory to the team in the 2019-2020 campaign. Newly-crowned World Champions Mike Conway, Kamui Kobayashi and José María López will drive the #7 GR010 HYBRID while Sébastien Buemi, Kazuki Nakajima and Brendon Hartley race with the #8 car. Nyck de Vries continues in his role as test and reserve driver.
They have already started an intense programme of developing the GR010 HYBRID, with two three-day tests already completed as the team adapts to new regulations which are a significant shift in terms of performance and philosophy.
As part of a cost-cutting initiative incorporated in the regulations, the new GR010 HYBRID is 162kg heavier and with 32% less power than its TS050 HYBRID predecessor, with Le Mans lap times expected to be around 10secs slower. It also has bigger dimensions; it is 250mm longer, 100mm wider and 100mm higher.
For the first time since the beginning of its WEC project, TOYOTA GAZOO Racing will participate without a rear motor generator unit (MGU), with the single permitted MGU located on the front axle. This means a starter motor must be fitted on the GR010 HYBRID while fully hydraulic rear brakes are also required.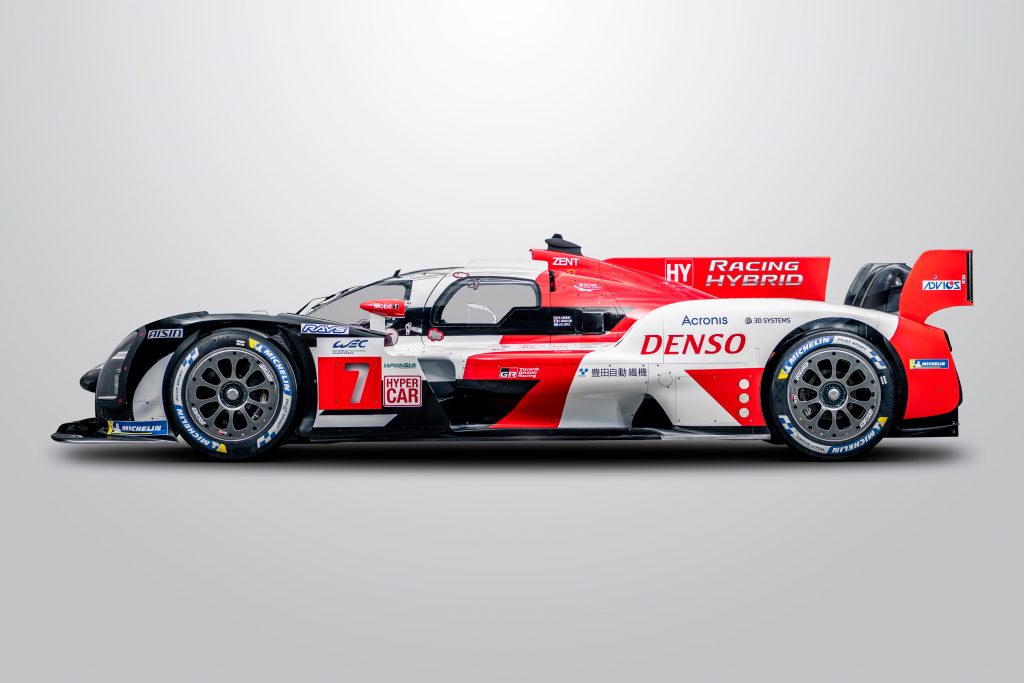 The GR010 HYBRID features state-of-the-art aerodynamics, optimised for efficiency, and developed using powerful Computational Fluid Dynamics software and wind tunnel testing. The new technical regulations permit only a single homologated bodywork package, with only one adjustable aerodynamic device. The GR010 HYBRID will therefore compete in the same specification at both low and high downforce circuits, with an adjustable rear wing modifying the aerodynamic characteristics.
For the first time, the top class of WEC and Le Mans will feature a balance of performance, meaning organisers will modify the performance of each car on a race-by-race basis, regulating energy usage and weight, targeting identical performance potential from each Le Mans Hypercar. That should ensure close racing between TOYOTA GAZOO Racing and its hypercar competitors Scuderia Cameron Glickenhaus and ByKolles Racing, as well as Alpine, which will present an additional challenge with its LMP1 car.
Those battles will be fought over six races on three continents, beginning with the 1000 Miles of Sebring on 19 March prior to the 6 Hours of Spa-Francorchamps (1 May) and the season highlight, the Le Mans 24 Hours on 12-13 June. The first World Championship endurance race in Monza since 1992 takes place on 18 July before trips to Fuji Speedway (26 September) and Bahrain (20 November), all of which are six-hour contests.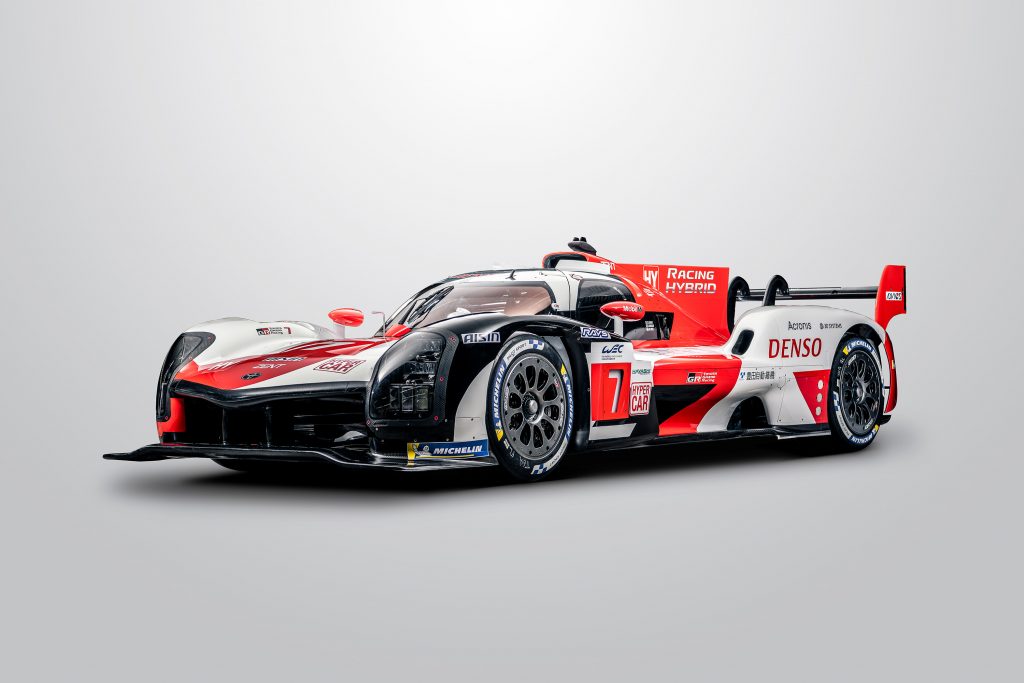 Hisatake Murata, Team President:
"It is a fascinating time for endurance racing, with the new Le Mans Hypercar class, and also for TOYOTA GAZOO Racing, with the launch of the GR010 HYBRID. This car represents our next generation of racing hybrid. During our LMP1 era, since 2012, we worked tirelessly to improve and strengthen our hybrid technology for racing. We set new standards with the TS050 HYBRID and our first loop of racing hybrid development is complete; this technology will be available to our future customers soon. Now the second stage will begin. Through our WEC participation, we will refine our racing hybrid powertrain in the GR010 HYBRID, enhance our understanding of hypercar technology and continually develop our staff. We do this with one clear goal: to deliver more exciting sportscars to our customers in the future. The GR010 HYBRID is a preview of our road-going cars and what we learn on the WEC race tracks will directly benefit our customers. For this reason, we are delighted to welcome new competitors to the top category of WEC; a tough fight on the track will inspire us to continuously improve and push the limits for better."
Rob Leupen, Team Director:
"It has been a tremendous effort from the team in Higashi-Fuji and Cologne, as well as our suppliers and partners, to develop and produce this new car, despite the difficult global circumstances, and we are all looking forward to show it to the world. The Le Mans Hypercar category represents a new era, with a different philosophy and new competitors; we are looking forward to this challenge. Balance of performance is something we have not experienced before in WEC but we know from our other projects that it puts the emphasis on fast drivers, perfect operations and optimal strategy. Over our nine years in WEC we have achieved a lot, but are not complacent. We always challenge ourselves to improve our technology and our processes to continuously perform better. So we have been working intensively and will continue to do so in the remaining tests before our long-awaited race debut with the GR010 HYBRID in Sebring. We look forward to finally showing our new car to the fans and being part of this new, exciting era."
Pascal Vasselon, Technical Director:
"The new regulations are designed to showcase road-relevant technology in WEC whilst also delivering a top-level, attractive spectacle. We are looking forward to welcoming new competitors and being part of an exciting future for endurance racing with our GR010 HYBRID. The new Le Mans Hypercar regulations mean the GR010 HYBRID is a completely new car, designed to a different philosophy. A major difference is the architecture of the hybrid system; we will have one kinetic energy recovery system and brake-by-wire, on the front axle. This means we had to install a starter motor and fully hydraulic rear brakes for the first time in our WEC project. Following the regulations, our car will have one bodywork specification to handle all circuits, so we needed to provide a wider working window for this car. These are just examples; there have been many such differences and challenges to address during development, so it has been an interesting engineering challenge. Now we are all looking forward to continuing our testing programme and finally seeing our new car compete; I think it will be worth the wait."
John Litjens, Project Leader Chassis:
"The biggest difference between the GR010 HYBRID and its predecessor is in terms of the aerodynamics. In the past, the regulations limited what was allowed in many areas but under the Le Mans Hypercar rules, all cars have to be within certain performance windows in terms of downforce and drag, but there is more freedom allowed for the bodywork shapes and concepts. You can see the result of this freedom very clearly on the GR010 HYBRID. There is a similar principle on the powertrain side as well, with a given power curve but a lot of freedom in terms of configuration. The biggest change for us here was to move to only a front motor generator unit after five years with hybrid on both the front and rear axles. The packaging for the hybrid system was more challenging on this car because of updated safety standards. Additionally, the combustion engine is a more powerful on the GR010 HYBRID compared to the TS050 HYBRID. So it is a very different car both in appearance and in how it sounds."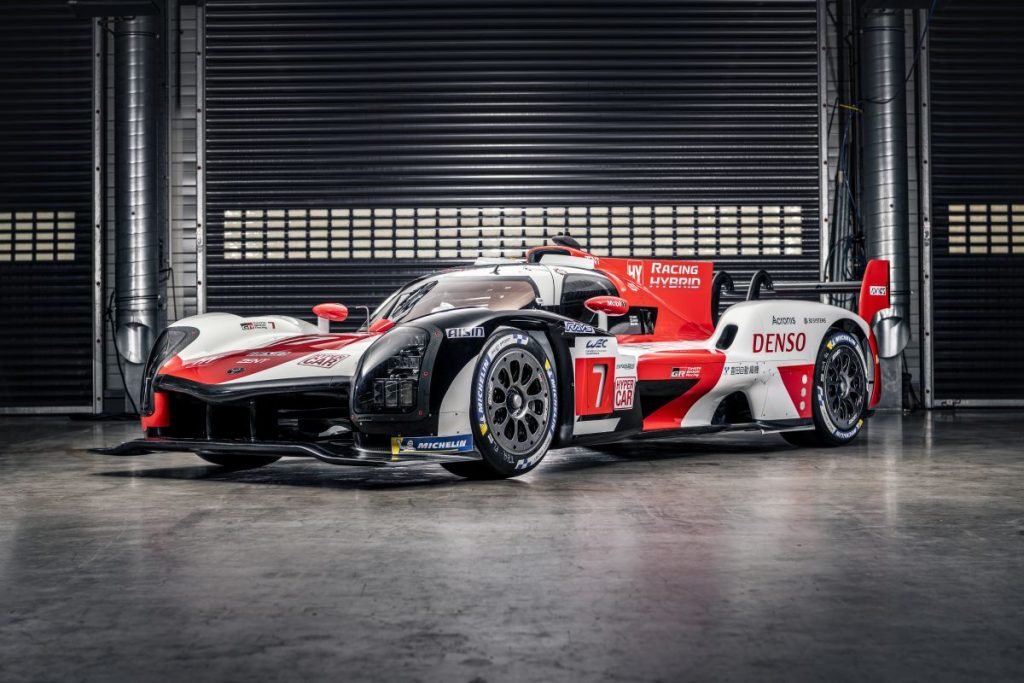 Mike Conway (GR010 HYBRID #7):
"Everyone is excited to see the GR010 HYBRID racing for the first time. It's always cool to drive a race car for the first time and a nice challenge to get used to all the small differences. I have been surprised how good the car feels after just a few days testing; I already feel at home in it. It is a fantastic experience to be part of racing developments which will be translated into future road cars. The whole team is motivated by that and looking forward to show the car to the fans this season. To start the new season as World Champion is cool; it gives all three of us on #7 a nice boost. But it's one thing to win a title and another to retain it. The goal is to win the championship again and also get the big one; Le Mans."
Kamui Kobayashi (GR010 HYBRID #7):
"This is a challenging new project. We are racing in the same championship but with a different type of car and against new competitors; it's always fun to be at the beginning of such a story. I really like the concept of hypercar and the GR010 HYBRID; it's great to be part of a project to bring Le Mans performance into a road car. The objectives and the requirements don't change. We are racing to win and as drivers we have to be fast and consistent, even more so considering the balance of performance; we cannot make mistakes. Personally, my number one target this year is to win Le Mans after such bad luck in the last few years. All the mechanics and engineers on car #7 deserve to win Le Mans."
José María López (GR010 HYBRID #7):
"I love to drive this kind of car; the GR010 HYBRID is a new friend for us and we have all really enjoyed the first tests. I am sure the fans will be very impressed with the way these new Le Mans Hypercars sound and look; the lines are really cool and the V6 engine makes a fantastic sound. The drivers and engineers have had to adapt to the different characteristics, particularly the weight and the different way the hybrid is deployed. The GR010 HYBRID has the same spirit as the TS050 HYBRID but you can feel it is developed to different regulations. We are in a process of adapting; the first target is Sebring but we will never stop learning and improving throughout the season."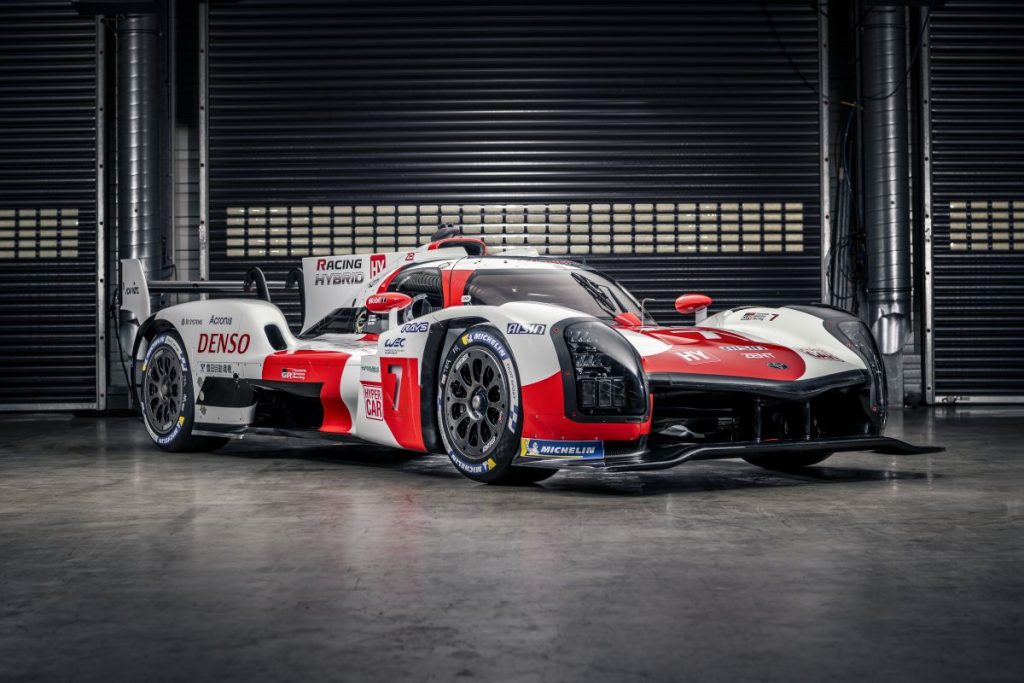 Sébastien Buemi (GR010 HYBRID #8):
"We have been waiting for this new era for a long time and finally we get to compete with our hypercar; I think it will be amazing. I am really pleased with the GR010 HYBRID; it feels like a very good car and it looks stunning. Actually, I was not expecting to be as fun to drive as it is; I thought it would feel like a GT car. But we learned a lot during our LMP1 era and we used that knowledge to improve the new car, so it feels like a prototype and I really enjoy driving such a fast car. We are getting ready for the first race of the season when we want to fight for the win right from the start. It was great to succeed in LMP1 but now we want to do the same in the Le Mans Hypercar era."
Kazuki Nakajima (GR010 HYBRID #8):
"It is really exciting to be part of this new WEC generation, which is quite different to what we had before in terms of the technology and the approach to racing. As a driver it is a special experience to race a new car for the first time and to experience the different sensations behind the wheel. The car looks great and it will be spectacular to watch when it is racing flat-out. I think the racing will be closer than ever this season; everyone in the Le Mans Hypercar class will be pushing to win which is good for drivers and fans. We need a different approach but the goal won't change and the target for this season is always clear. We want to win Le Mans for a fourth time for TOYOTA GAZOO Racing and the World Championship."
Brendon Hartley (GR010 HYBRID #8):
"Fans are going to be pleasantly surprised with the GR010 HYBRID; it looks like a mix of an LMP1 and a road car. Endurance racing has always been a proving ground for new technology and now it is even more road car relevant; the GR010 HYBRID previews a car which the end user will experience on the road. It's great to drive too, particularly with the hybrid four-wheel-drive which is a nice sensation from a driver's perspective. The big difference is the extra weight and a bit less horsepower and downforce, but it's still just as much fun to drive as the TS050 HYBRID. We have a fun challenge ahead of us to extend the TOYOTA GAZOO Racing legacy at Le Mans and in WEC by continuing our winning run."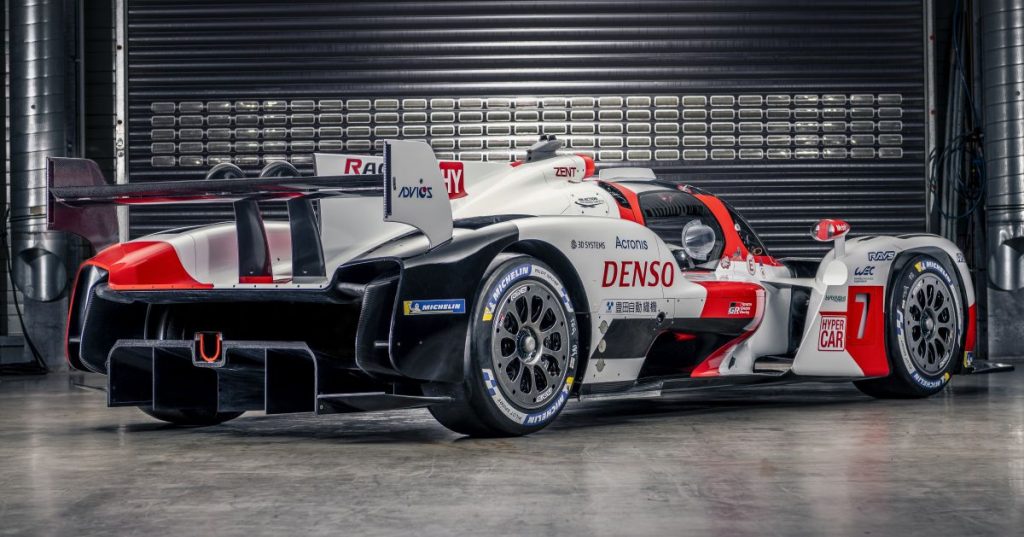 Technical Specifications
GR010 HYBRID Technical Specifications
Bodywork
Carbon fibre composite
Gearbox
Transversal with 7 gears sequential
Driveshafts
Constant velocity tripod plunge-joint driveshafts
Clutch
Multidisc
Differential
Mechanical locking differential
Suspension
Independent front and rear double wishbone, pushrod-system
Springs
Torsion bars
Anti roll bars
Front and rear
Steering
Hydraulically assisted
Brakes
Akebono mono-block alloy callipers with carbon ventilated discs
Rims
RAYS magnesium alloy, 13 x 18 inch
Tyres
Michelin radial (31/71-18)
Length
4900 mm
Width
2000 mm
Height
1150 mm
Weight
1040kg
Fuel capacity
90 litres
Engine
V6 direct injection twin-turbo
Valves
4 per cylinder
Engine capacity
3.5 Litre
Fuel
Petrol
Engine power
500 kW / 680PS
Hybrid power
200 kW / 272PS
Battery
High-powered TOYOTA lithium-ion battery
Front motor/Inverter
AISIN AW / DENSO