Automotive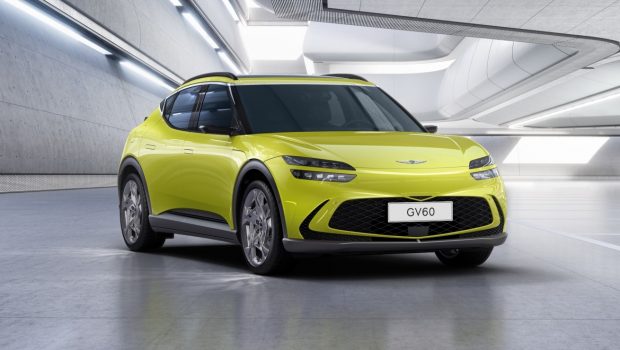 Published on August 19th, 2021 | by Joshua Chin
0
Genesis GV60 Is An Upmarket Twin To The Hyundai IONIQ 5
There are some reservations however as to how exactly this new Genesis GV60 looks. 
When Hyundai and Kia both came out with crossovers based on the South Korean auto conglomerate's new E-GMP dedicated architecture, it was perhaps reasonably expected for Genesis to do the same. And that is exactly what they have done recently, in the form of the newly unveiled GV60. 
Genesis' first all-electric crossover and second EV model after the imaginatively-named Electrified G80, hints of it being related to the IONIQ 5 and EV6 are really not all that hard to see. The GV60 shares the same clamshell bonnet design as the Hyundai for instance, whereas its curving roofline is similar to that on the Kia.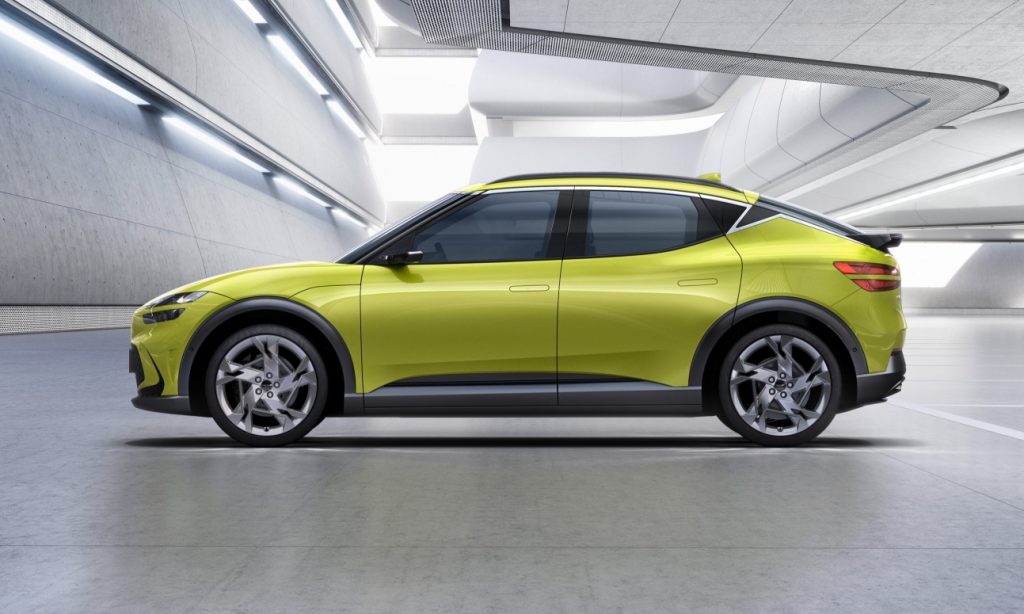 Having said that however, there could be the argument that both its supposedly less-premium siblings are perhaps slightly better off in the exterior aesthetics department than this latest Genesis. That is because the GV60 hasn't really fared all too well in the court of initial public opinion, with some even summing up its 'Athletic Elegance' design as being akin to a blobby Kona with a gaping mouth. 
Then again though, there are nevertheless some neat touches to be found on the GV60 that are well worth highlighting. These include a sleek rear spoiler round its rear as well as a new Genesis wing emblem featuring unique Guilloché pattern on its nose, not to mention too a rather snazzy set of alloy wheels hidden beneath those chunky plastic arches and an interesting notch design on its chrome roof line that accentuates its curvaceous haunches along its side.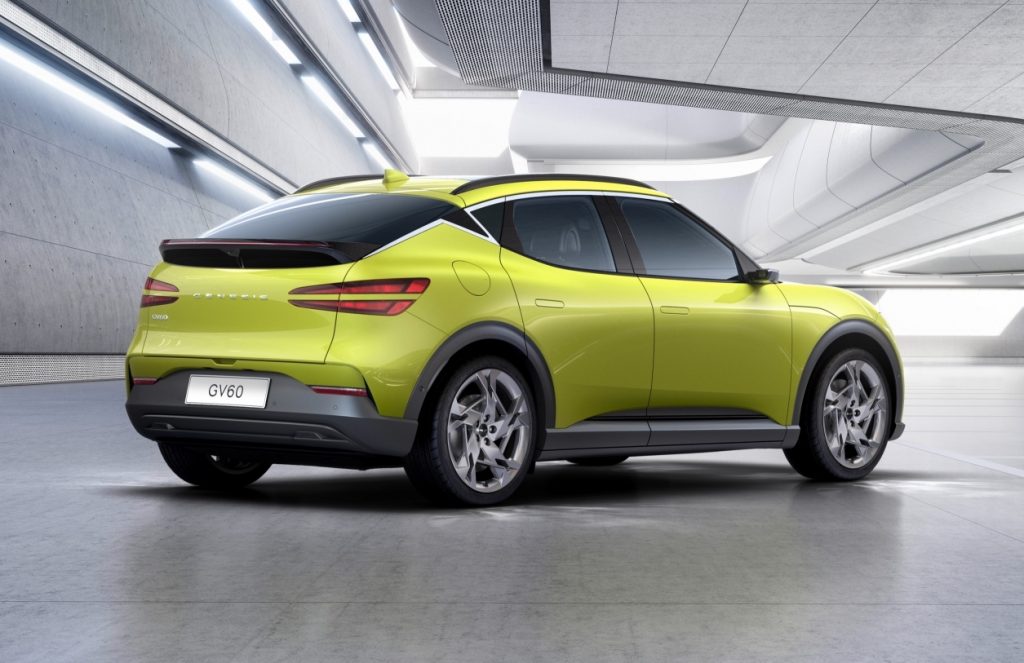 The GV60 also comes as standard with electric door handles that pop out automatically when occupants approach, in addition to a pair of cameras on thin stalks replacing traditional wing mirrors. Feeds of which are projected into screens mounted on the door tops within its plushly appointed cabin.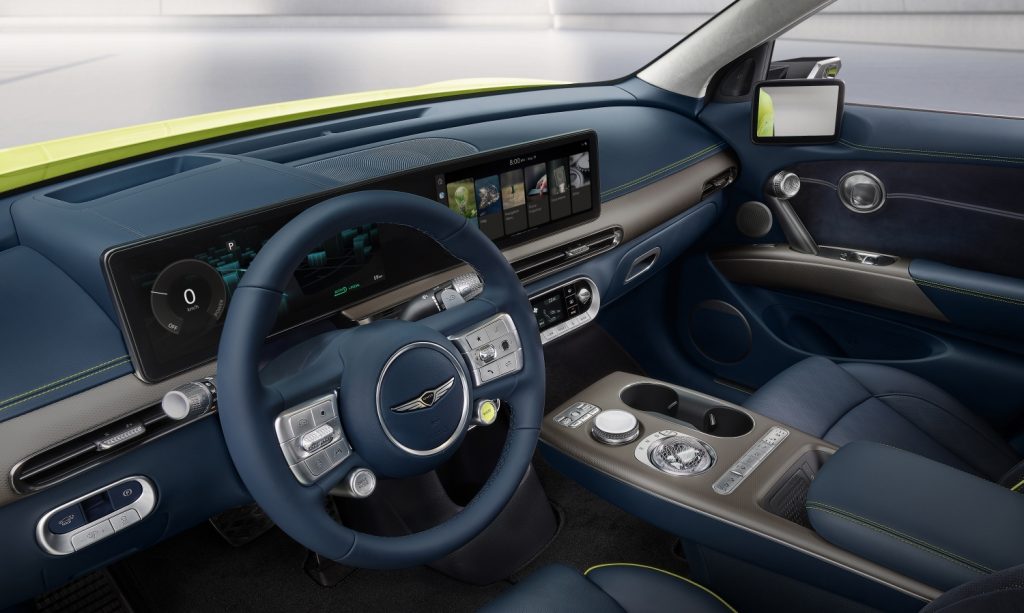 Those cameras however are not the most intriguing feature to be found within the GV60, as that honour instead goes to what Genesis dubs the Crystal Sphere shift knob. The centrepiece within its floating centre console, this unique design touch is apparently meant to provide ambient lighting when the car is turned off, and rotates to present its shift-by-wire gear selection when ready to drive, in order to create an 'indoor atmosphere of futuristic mobility'. 
Aside from those two interesting interior tech toys though, the rest of the GV60's cabin design is pretty much the standard Genesis fare. Coming complete with the usual twin-spoke steering wheel and twin-screen infotainment layout as previously seen on its prior models, which is then topped off by an interesting shade of blue leather upholstery that is further jazzed up by lime-green contrast stitching.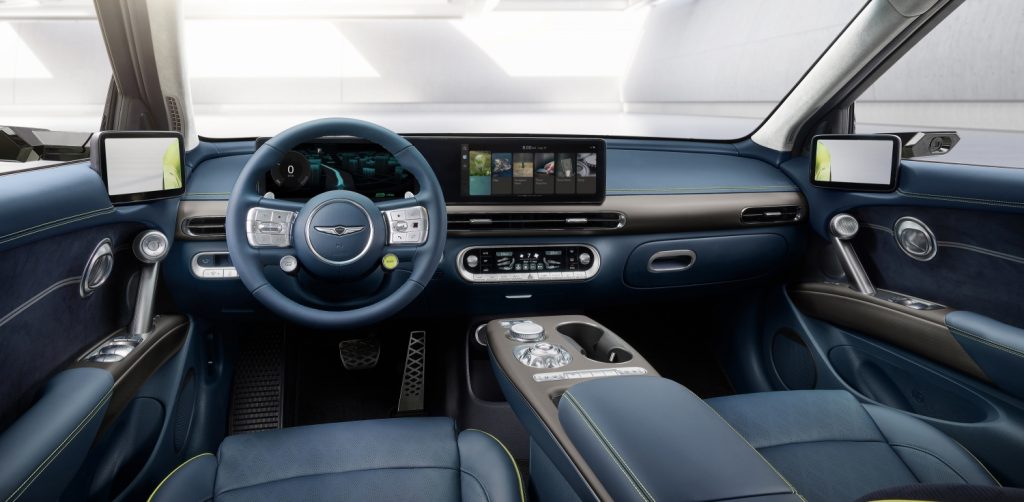 Moving onto its powertrain details meanwhile, Genesis is unfortunately still mum on this topic to date. Seeing that it shares the same E-GMP underpinnings as the aforementioned Hyundai and Kia however, it is reasonable to expect for a single or dual motor setup that is hooked up to either a 58.0 to 77.4 kWh under-floor battery pack in the GV60, which could therefore equate to power figures of between 168 and 430 kW, and a WLTP-rated range of between 470 km and 510 km on a single charge depending on trim selected.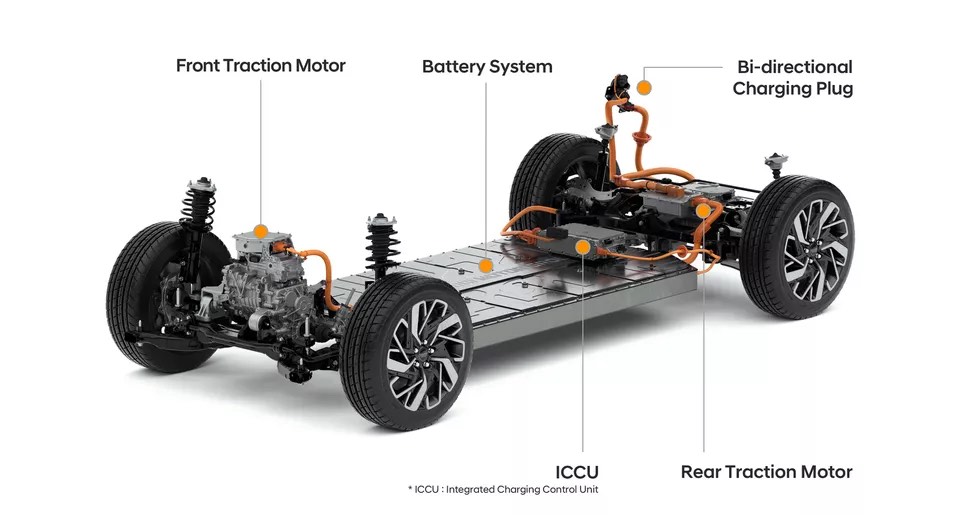 Naturally too, the GV60 will more than likely come as standard with an 800 V ultra-fast charging capabilities. A comprehensive suite of active driver aids should also be on the cards, along with the innovative Vehicle-to-Load (V2L) feature that turns this Genesis into a mobile battery pack. 
Prices for the GV60 has yet to be announced yet, with more information on that only coming closer to when it goes on sale over in North America next year. This all-electric Genesis will also be one of three EVs to be launched by the brand in Europe, but there has not been any word yet of it ever making its way to this part of the world here.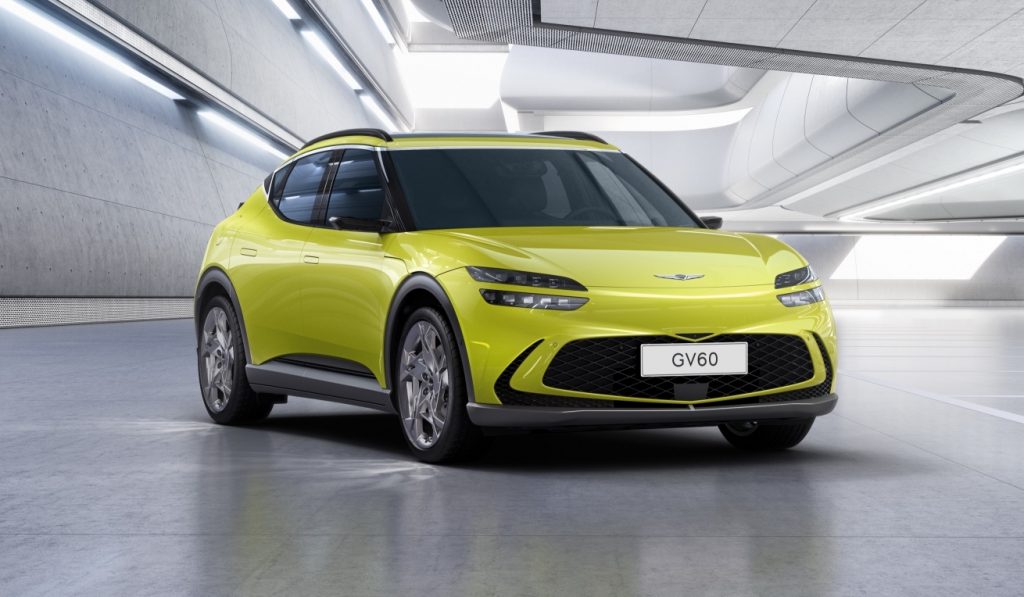 PRESS RELEASE: Today, Genesis revealed exterior and interior images of GV60, the brand's first electric vehicle based on the dedicated EV platform known as E-GMP (Electric-Global Modular Platform), marking the brand's first move towards electrification.
GV60's exterior design highlights its high-performance image along with a dynamic and smooth appearance. Genesis delivers its signature design for GV60's body, bringing the sleek silhouette drivers have come to expect from the brand.
The front of GV60 features a design optimized exclusively for the electric vehicle. The distinct Two-Line Quad Lamps add character to a refined and voluminous body. A wider and more athletic Crest Grille has been placed below the Quad Lamps to emphasize the dynamic performance of the vehicle and to increase the cooling efficiency of the high-voltage batteries in the underbody.
GV60 will see a new wing emblem applied to the grille, with thickness of the emblem reduced by nearly 80 percent from previous models. It features the same unique Guilloché pattern often seen in luxury watches, representing a culmination of Genesis' analog sensitivities with high-tech innovations to create truly luxurious driving experiences.
In addition, Genesis has opted for a 'Clamshell Hood' for the first time, a single panel which combines the hood and fenders, creating a sleek impression for the EV model by removing lines between the parts.
When viewed from the side, GV60 reveals the smooth and dynamic profile of a high-performance coupe. A simple yet sharp silhouette running from the front hood to the rear spoiler completes a more progressive character.
The chrome line flowing from the windshield to the top of the Daylight Opening (DLO) extends to a C pillar-garnish design that embodies the image of 'electric', adding a distinctive characteristic to the EV model. Meanwhile, an electric door handle enhances a strikingly futuristic image by automatically popping up when you approach the car.
At the rear, Two Line rear combination lamps take on a dynamic shape and flow seamlessly with the voluminous three-dimensional body. The rear also features a fixed rear wing spoiler to accent a coupe-shaped roof, adding to the image of dynamic high-performance.
Shoulder volume is emphasized in the rear fender to create a low and wide profile and further accentuate the image of high-performance by combining it with technical functions such as various sensors and taillights.
The interior design of GV60 takes on Genesis' design ethos of the 'Beauty of White Space,' while seeking to create a spacious and comfortable interior. At the same time, it has embodied differentiated style with its floating architecture and unique details.
The most noticeable feature in GV60's interior design is the Crystal Sphere, a sphere-shaped Shift By Wire (SBW) that intuitively informs drivers when the vehicle is ready to drive.
The Crystal Sphere is one of the most compelling design elements of the GV60. When the vehicle is turned off, the Crystal Sphere provides ambient lighting, adding to the aesthetic of the driving experience. When you're ready to drive, the sphere rotates and the SBW appears, creating an indoor atmosphere of futuristic mobility.
The floating console, where the Crystal Sphere is located, looks as if it is hovering in the air, working with other unique features such as the slim cockpit and flat floor to provide passengers with a maximum level of openness.
The dashboard inside GV60 is designed in a wide and slim shape to augment the pleasant interior, emphasizing a high-tech atmosphere with a wide-screen integrated indicator (cclC, connected car Integrated Cockpit) that connects with the instrument cluster and AVNT (audio, video, navigation, telecommunication).
GV60 has also epitomized the uniformity of interior design by applying circular details to the Crystal Sphere, horn cover, door handles, and side mirror controllers.
More details including specifications on performance and technology will be announced in the coming months. GV60's North American deliveries are expected to begin in 2022.