Automotive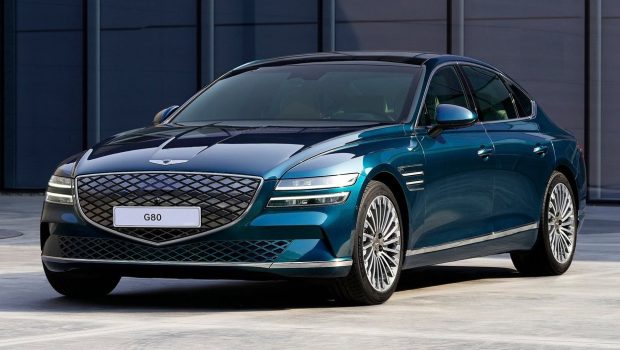 Published on April 20th, 2021 | by Joshua Chin
0
Genesis Unveils First Full EV With The Electrified G80
Not the most imaginative of names, but the Electrified G80 does checks all the right EV and luxury boxes. 
Seeing how both Hyundai (or more specifically IONIQ) and Kia have both recently launched radical new EVs that have been the talk of the town, hopes were high for Genesis to do the same too. Instead of something totally wild though, the luxury arm of the South Korean auto conglomerate has decided to adopt a safer route and debut an electrified version of its current G80 sedan as its first-ever all-electric production offering. 
Dubbed rather unimaginatively as the Electrified G80, this all-electric variant looks nearly identical to its fuel-burning counterpart. With only the closed off diamond-shaped front grille and slightly different bumpers both front and rear (sans exhaust pipes) being the major giveaway that this luxury sedan has zero tailpipe emissions.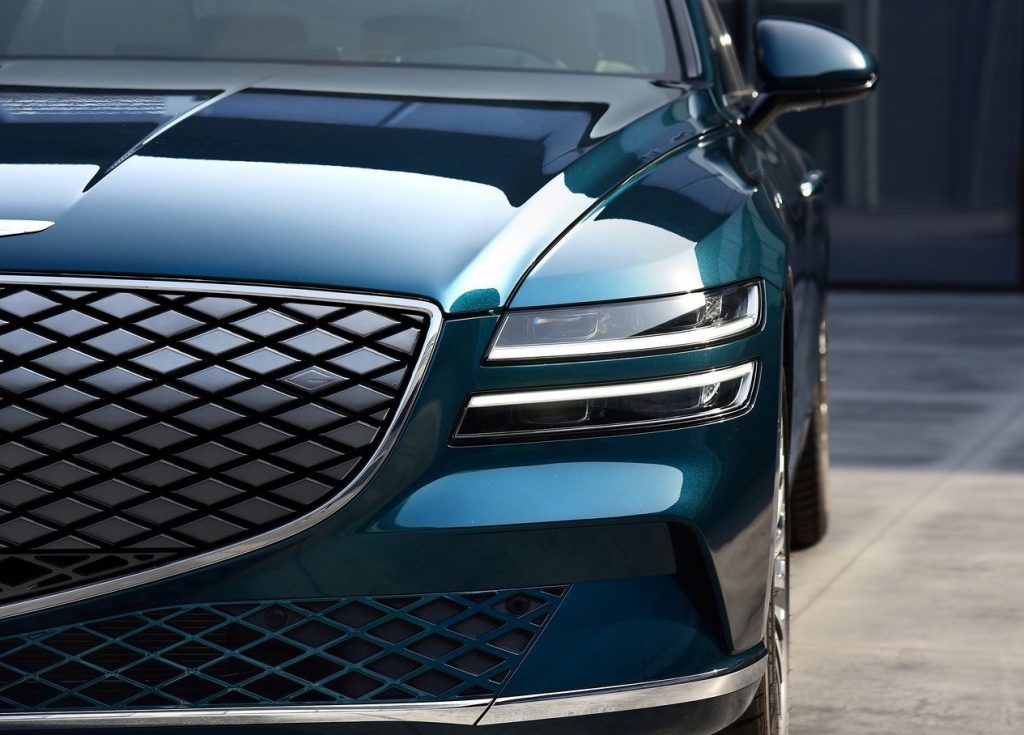 On the inside too, there is little to distinguish this EV from its combustion-engined stablemates. Though Genesis would like to highlight that the cabin is comprised of various sustainably sourced materials, such as leather made with natural dyes as well as environment-friendly, recycled PET fabrics and wood.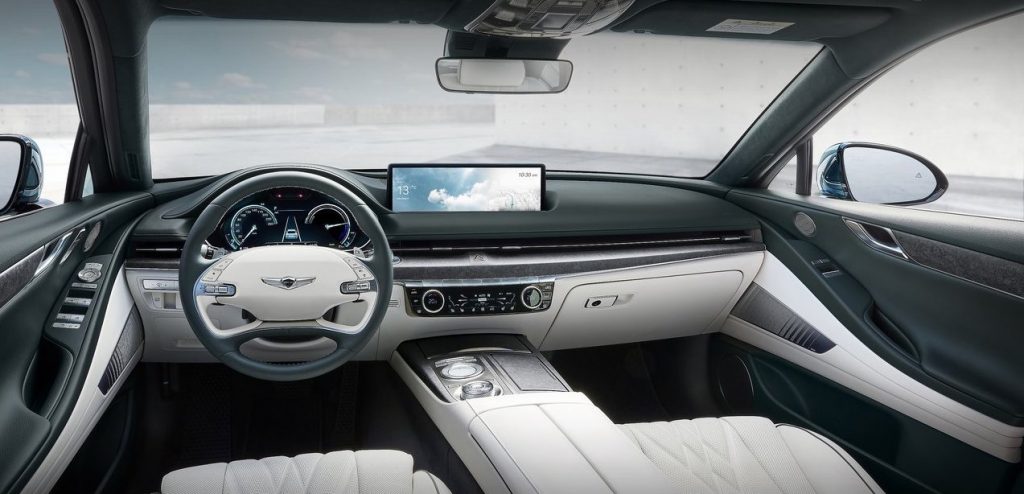 Now at this point then, it may seem that Genesis wasn't really putting all that much effort into its first electrification attempt. Though that simply isn't the case, as all the hard work instead has been done under the skin of the Electrified G80 to make it into a rather compelling alternative for those seeking an all-electric luxury sedan.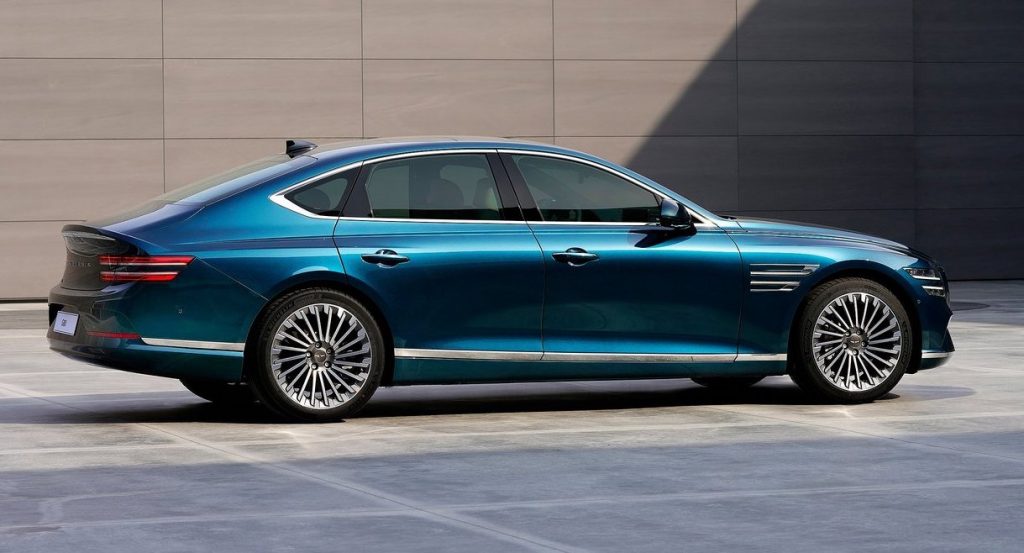 Kicking off with what drives the Electrified G80 first, a pair of motors each situated on an axle sends a combined 365 hp and 700 Nm of torque evenly to all four wheels. Thereby resulting in a rather impressive century sprint time of just 4.9 seconds for this Genesis EV. 
As for what powers these twin motors meanwhile, it is fed by a lithium ion battery pack (of an unspecified capacity) that nevertheless supposedly grants a range upwards of 500 km on a single charge based on the NEDC cycle. Charging from 10% to 80% will also supposedly take just 22 minutes with a 350 kW ultra-rapid charger, courtesy of its 400/800V multi rapid charging architecture.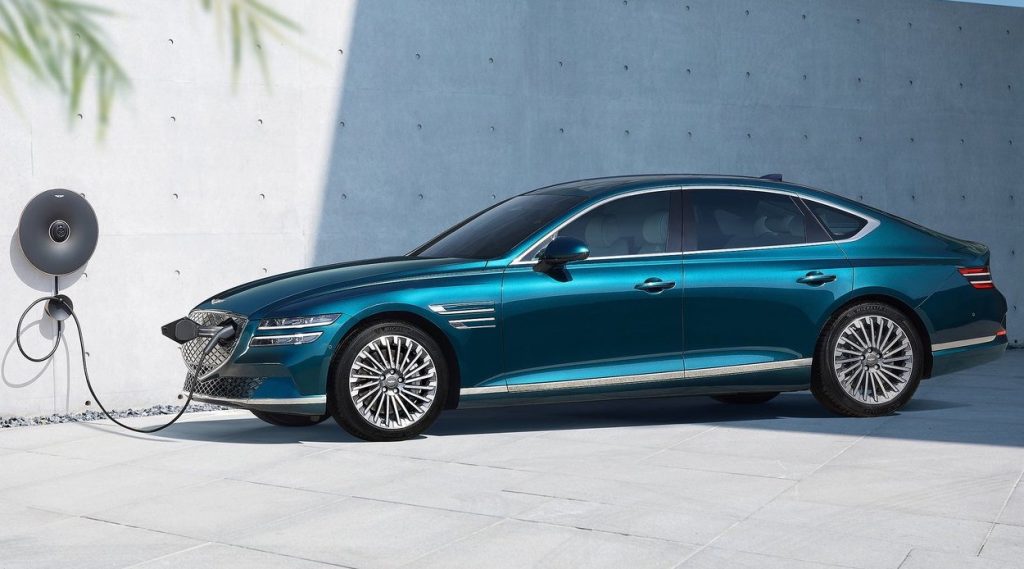 Continuing on the topic of charging, the Electrified G80 comes as standard too with the Hyundai Motor Group's Vehicle to Load (V2L) feature that enables the charging of personal electrical devices through the car. The more innovative electrification feature found on this Genesis EV though is its Disconnector Actuator System (DAS) that can automatically connect or disconnect the motor and drive shaft based on various driving conditions. Essentially switching seamlessly between rear and all wheel drive in order to reduce unnecessary power loss and increase efficiency. 
Speaking of innovation, the Electrified G80 also adds Active Noise Control-Road (ANC-R). A world-first noise-reduction feature that premiered in the GV80 SUV, the system supposedly reduces the noise level within the cabin by measuring and analysing road noises using four sensors and six microphones inside the vehicle and creating sounds at the opposite phase to counteract it.
Genesis has yet to reveal the price of the Electrified G80, or when even it will be officially arrive in dealerships. It is however officially known that this all-electric South Korean luxury sedan will only come in Matira Blue or a Dark Green two-tone exterior hue.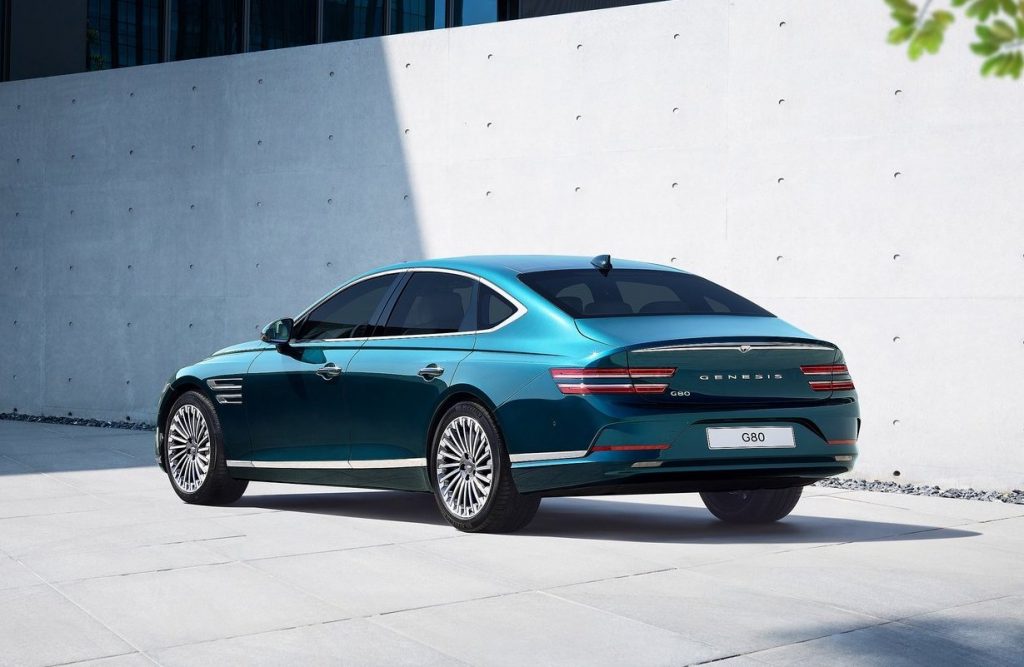 PRESS RELEASE: Today, Genesis officially introduced its first-ever EV model, the Electrified G80, to the global market at the 2021 Shanghai International Automobile Industry Exhibition (Auto Shanghai 2021).
"Today is very special because it represents a variety of firsts for the Genesis brand, not only because this is Genesis' very first appearance at Auto Shanghai, but also as the first time we are unveiling a new product outside of Korea," said Jay Chang, Global Head of the Genesis brand. "The Electrified G80, the perfect balance of athleticism and elegance, marks the beginning of our journey into the EV market, representing Genesis in the era of electrification."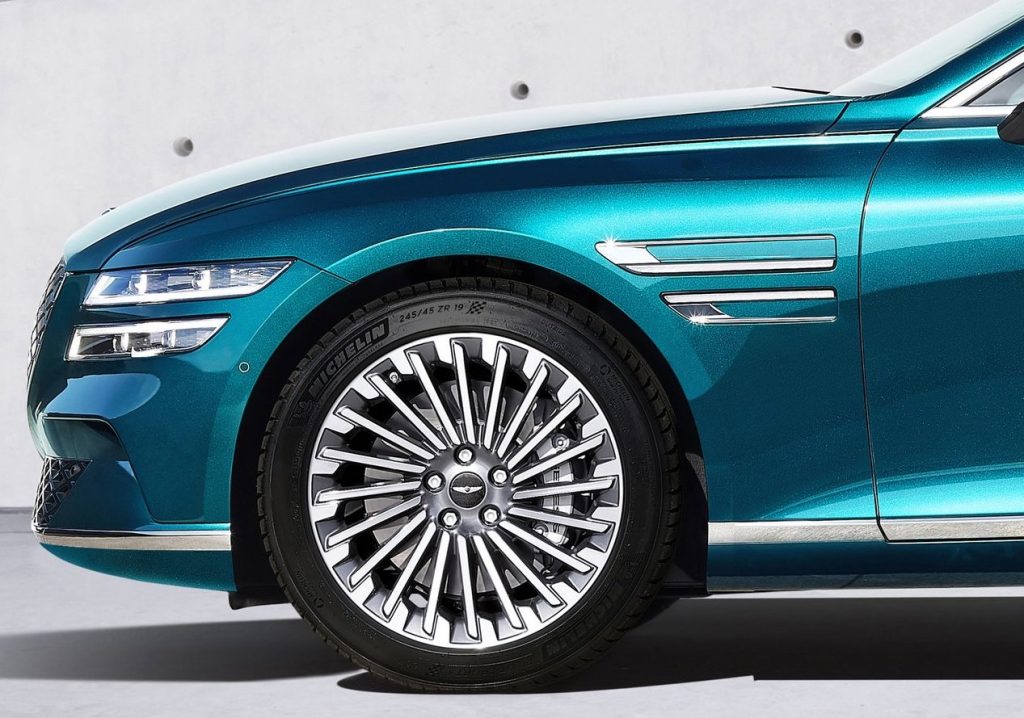 Genesis' First EV Model: Electrified G80
The Electrified G80 is Genesis' first EV model, presenting a new standard for electric sedans. It builds on the heritage of the G80 with its perfect balance of Athletic Elegance, while offering customers an alternative electric powertrain, using the latest technologies to deliver high levels of performance and convenience.
G80, which sits at the core of the Genesis sedan lineup, represents the perfect balance of Athletic Elegance and offers a sophisticated driving experience. The Electrified G80 not only boasts the kind of smooth and stable driving experience that only an electric vehicle can provide, but also offers powerful and dynamic performance.
The Electrified G80 delivers exceptional range and convenience for customers. Based on the NEDC standard, the estimated maximum range per charge is more than 500km (Based on the Korean EV certification system, the company estimated number is 427 km. Range may vary based on region.). 350kW rapid charging enables the battery to charge from 10% to 80% in just 22 minutes.
The Electrified G80 comes standard with all-wheel drive (AWD), creating powerful performance. This allows customers to enjoy dynamic driving, accelerating from 0 to 60 mph just in 4.9 seconds (based on results from Genesis R&D Center testing in sport mode).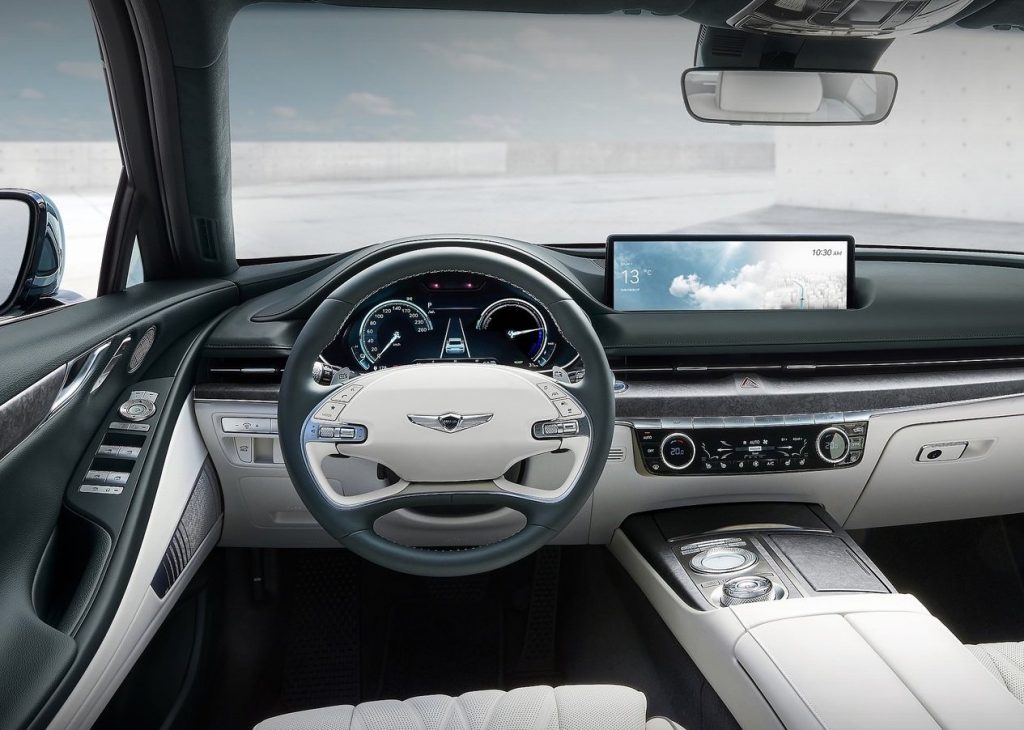 The Disconnector Actuator System (DAS) can also connect or disconnect motor and drive shaft based on different driving conditions, enabling the vehicle to switch between RWD and AWD to reduce unnecessary power loss and increase efficiency. The Electrified G80's efficiency is 4.3 km/kWh when equipped with 19-inch wheels.
The G80 offers a 400/800V multi rapid charging system, allowing customers to use various charging infrastructures. Its driving motor and inverter are able to boost the level of voltage from 400V up to 800V, which is more optimized level for the system, providing a more stable charge. Thanks to this, customers can use a 800V rapid charging system with no need for an additional converter, and also a 400V charger.
The Electrified G80 also provides a V2L (Vehicle to Load) feature that enables customers to use electric power of 3.6 kW, which is higher than the level of average household, making it possible to use electric appliances outside the vehicle with ease.
Ensuring that the Electrified G80's driving experience would be as quiet and comfortable as possible, Genesis equipped the vehicle with Active Noise Control-Road, a world-first noise-reduction feature available in the GV80 SUV. It reduces the level of noise significantly by measuring and analyzing road noises and creating soundwaves of the opposite frequency simultaneously. Electronic Control Suspension with Road Preview, the adaptive suspension system that can be controlled by information supplied through the front-facing camera, also helps to create an optimal, smooth driving experience.
The design inherits G80's design character: 'Athletic Elegance' and 'Beauty of White Space' for the exterior and interior, as well we various elements that differentiate electric sedans.
The Genesis signature Crest Grille evolves into an aerodynamic crest featuring an inverted G-Matrix pattern that emphasizes the Electrified G80's mission for sustainability. The charging door is located in the grille's upper right corner, and is invisible when closed. Inside the charging door, the Two Lines chrome design has also been applied, highlighting its design identity and consistency.
The Electrified G80 features the latest technologies, especially in the area of sustainability. Genesis sourced various natural or recycled materials for its interior such as leather with natural dyes for the seats, console, and rear seat armrest, eco-friendly natural wood trim with recycled wood, and environment-friendly, recycled PET fabrics.
Electrification is one of the key strategies for Genesis as it aims to design and provide new experiences for customers with electric models. Genesis initiates its EV portfolio with the Electrified G80 and will continue to drive innovation in this area with additional EV models to come.
More information on the arrival of the Electrified G80 in the United States and Canada will be shared later this year, including further details about North American specifications.