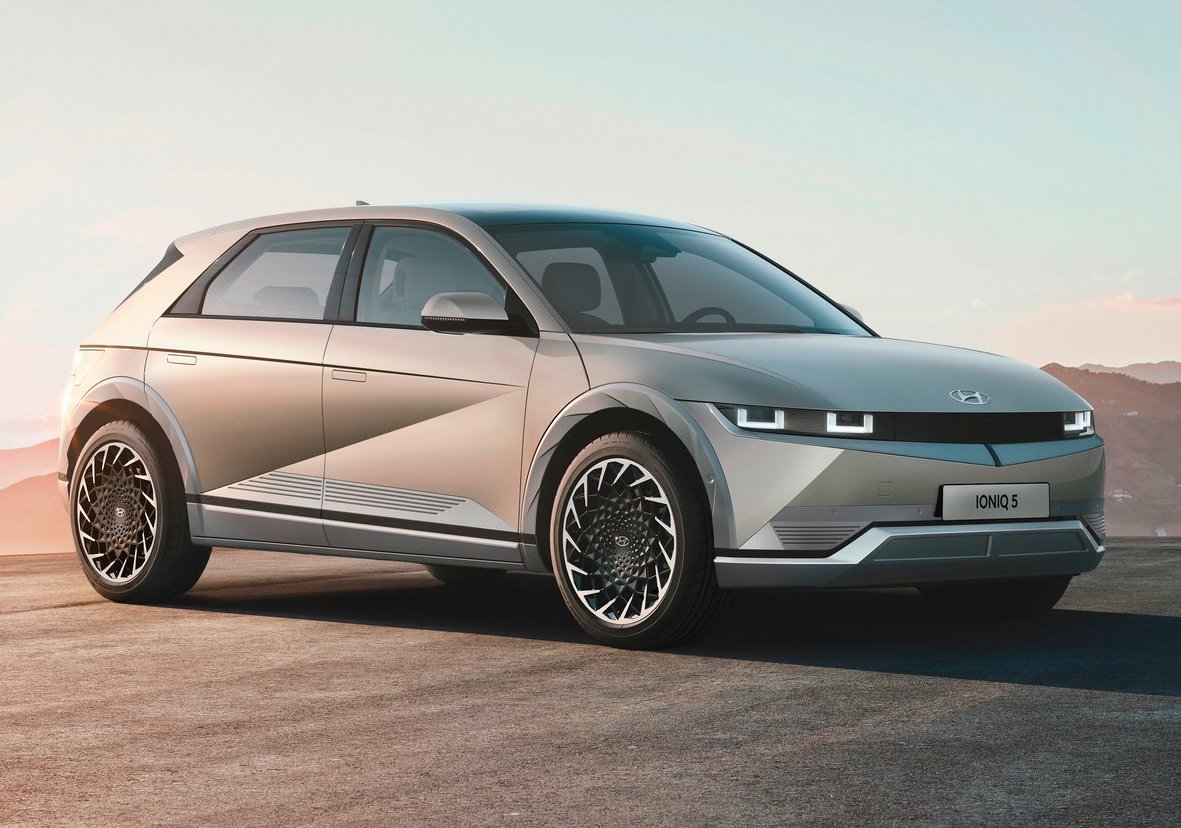 The IONIQ 5 makes it into production with its concept car looks and innovative EV tech. 
After countless teasers, leaks and hype surrounding its imminent arrival, Hyundai has recently finally revealed its much-anticipated IONIQ 5 EV. 
The first model in the Hyundai's fledgling battery IONIQ EV sub-brand, the South Korean automaker has boldly claimed during its virtual launch that this new IONIQ 5 supposedly 'sets the benchmark to redefine the electric mobility lifestyle with sustainable and innovative features'. And looking at it (and its specs), it is hard not to agree with Hyundai on that one.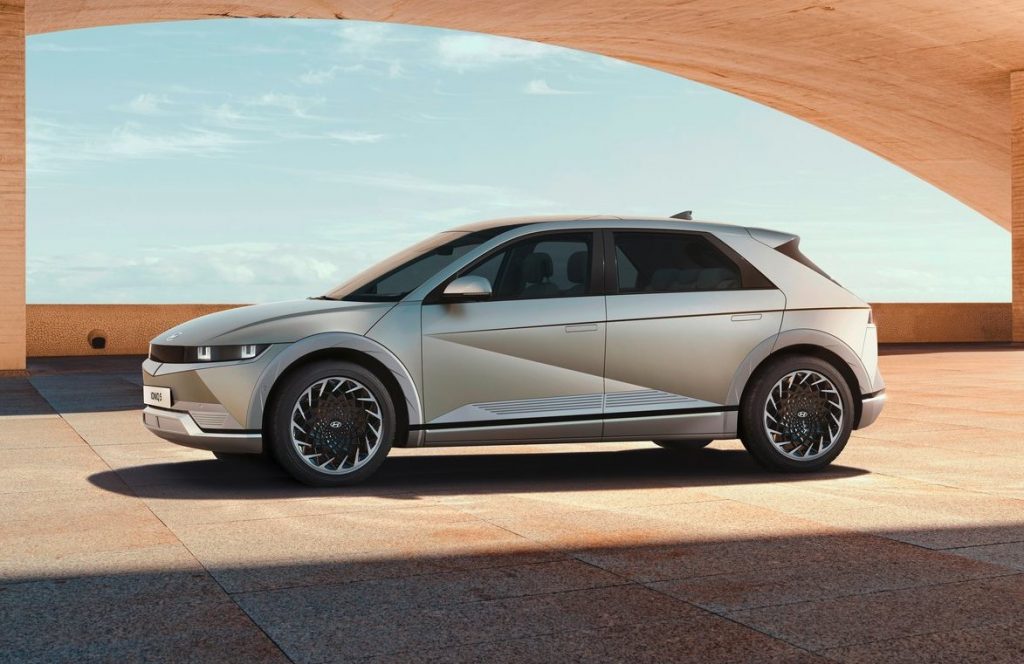 Kicking things off with the design of this new IONIQ 5 first, the exterior aesthetic of this new all-electric mid-sized CUV is a near identical copy to the Hyundai 45 concept that was first shown at the Frankfurt Auto Show in 2019. Complete with its smooth yet stubby V-shaped front bumper, as well as its quad Parametric Pixel LED headlights that are housed within slim black panel just above it.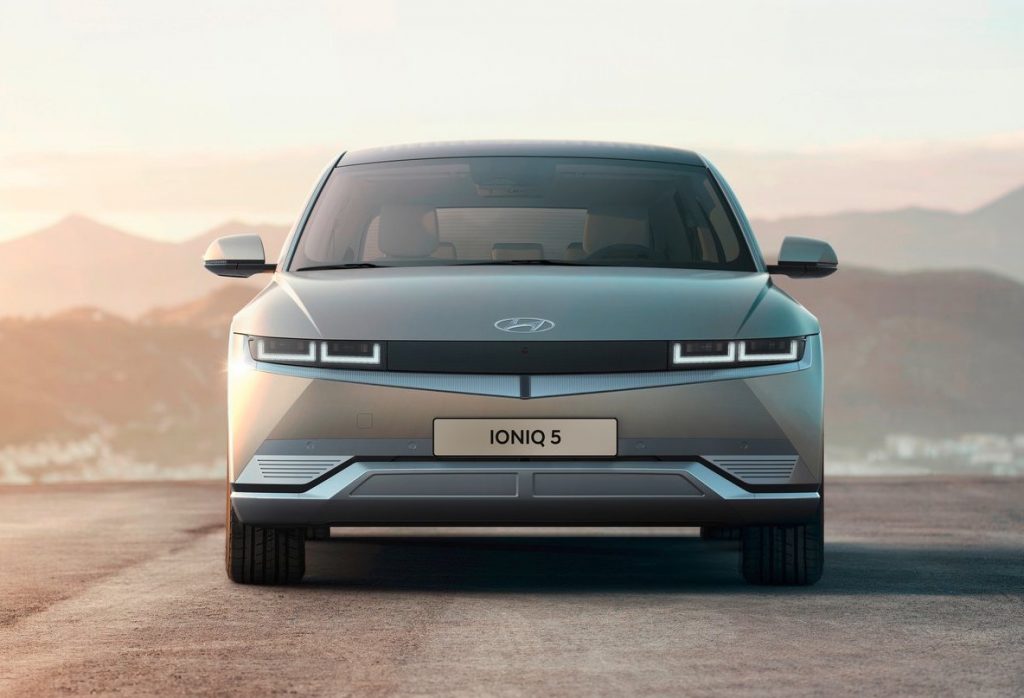 Moving further upwards still, the IONIQ 5 will feature a full-width clamshell bonnet. The first of its kind to be fitted any Hyundai, it serves the purpose of minimising panel gaps and thus improving aerodynamic efficiency. On the topic of aerodynamic efficiency, within the creased wheel arches of this EV are hilariously huge aero-optimised 20-inch alloy wheels, which are incidentally the largest rims to ever be fitted to any Hyundai electric car too.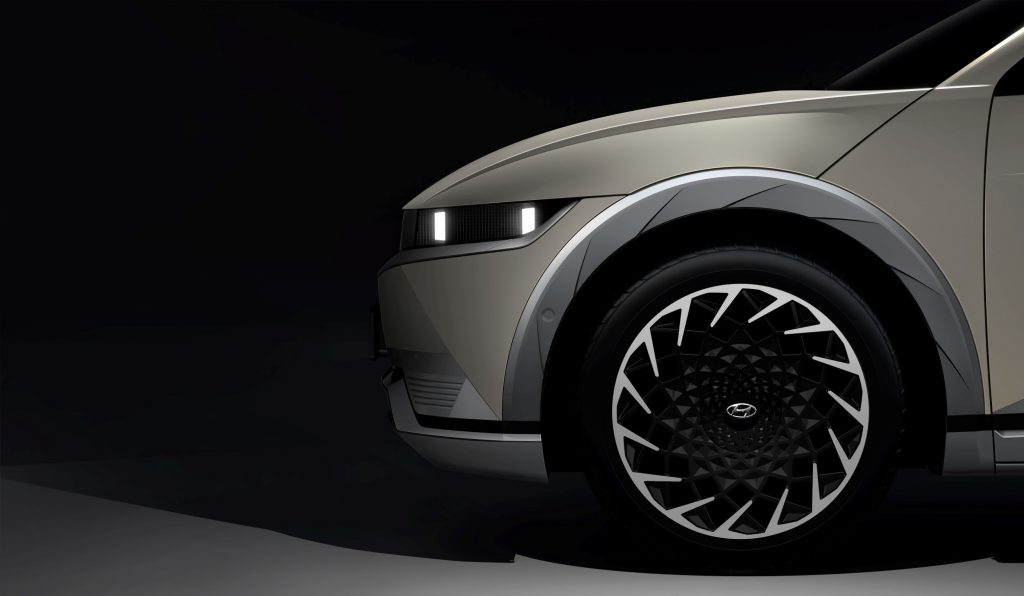 Continuing round the side of the IONIQ 5, auto retractable flush fitting door handles make an appearance on its angular and highly creased side profile of this new E-CUV. The rear end aesthetic of this new Hyundai EV meanwhile mimics that of the front with the same V-shaped bumper design, albeit featuring pixel-like LED tail lights this time and proto-futuristic slatted rear reflectors that flank the number plate on either side down below.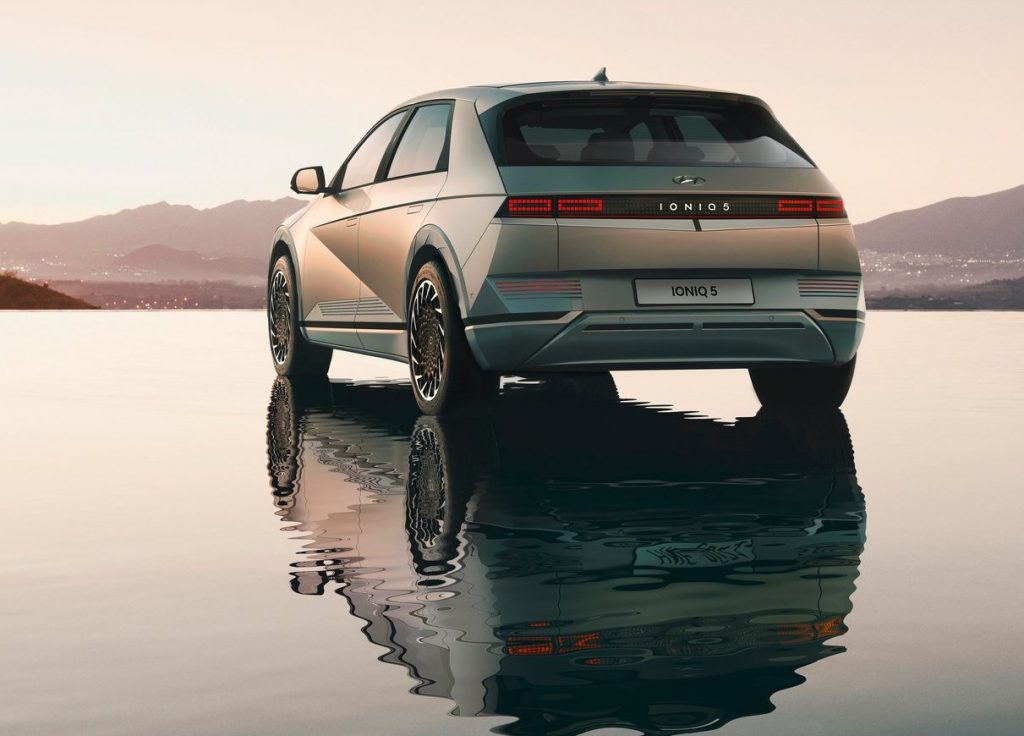 Now while the exterior design might lead some to think that the IONIQ 5 is perhaps more of a typical 5-door hatchback in size, this is nevertheless a misconception as it is in fact dimensionally similar to that of a Tucson. A car that the IONIQ 5 supposedly shares its 'Parametric Dynamic' design direction with.
That aside, what this therefore translates to for this new EV is an impressively vast interior, which is made even more impressive courtesy of the plethora of ingenious tech featured within.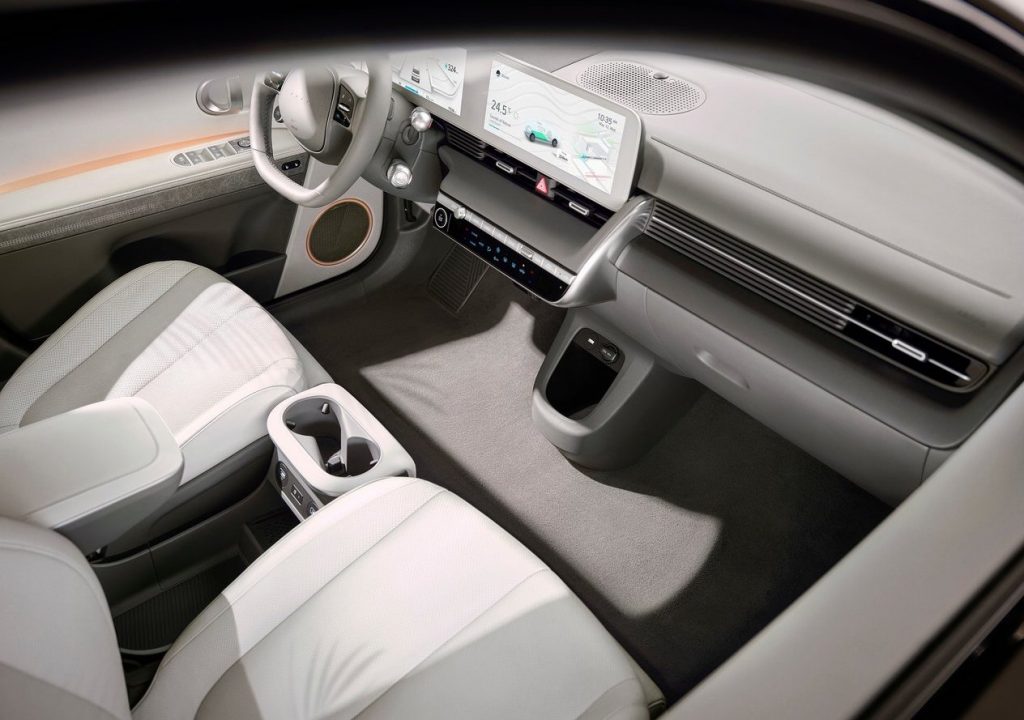 Among the tech features grabbing the headlines is the Hyundai's first Augmented Reality Head-Up Display (AR HUD) that supposedly turns the IONIQ 5's windscreen into a massive display screen. As for the actual display screens within the cabin on the other hand, this South Korean E-CUV comes with what is now the industry standard of a 12-inch central infotainment touchscreen and an equally large hood-less digital instrument cluster for that cleaner, sleeker interior design.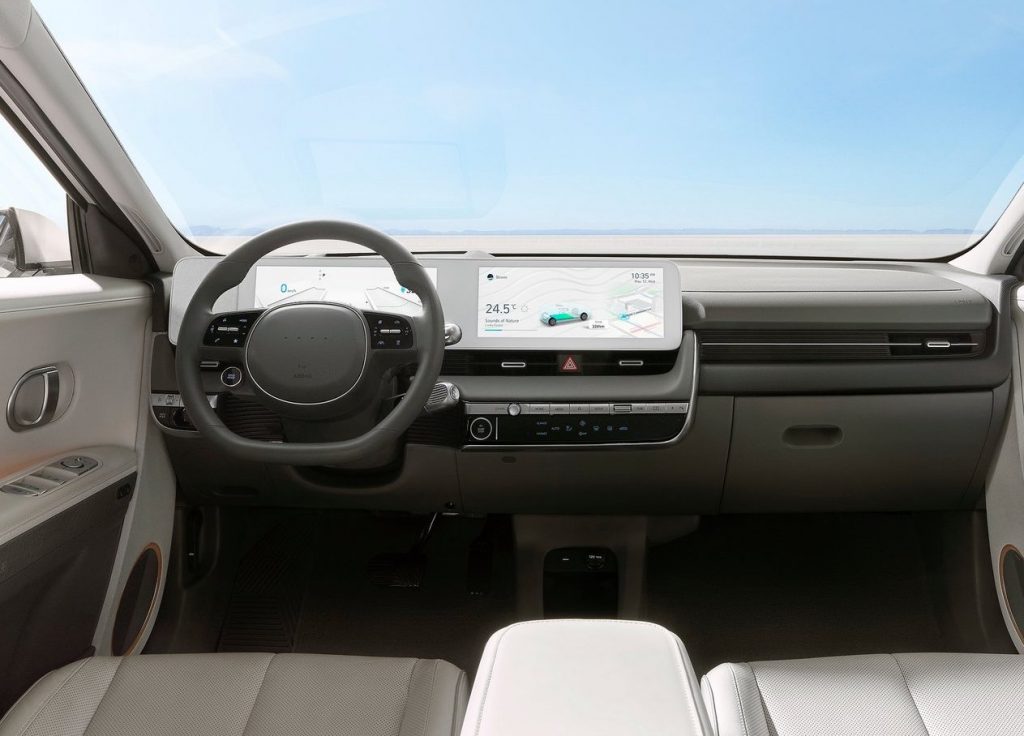 On the topic of a cleaner interior, the IONIQ 5 proudly touts its eco roots by featuring sustainably sourced materials for many of the interior components. That is not to say that the interior is more eco than luxurious however, especially considering that the standard front seats (with built-in leg rests) supposedly can electrically recline by some 30º to an almost lounge chair-like position.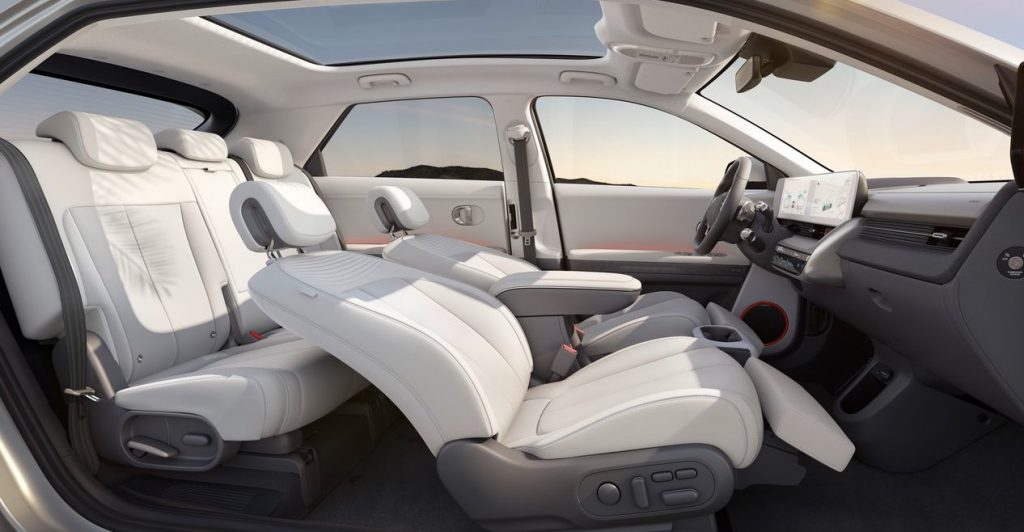 Speaking of lounge-like interior, Hyundai has actually designed the cabin of the IONIQ 5 around a 'Living Space' concept. The most evident embodiment of which comes in the form of what automaker terms as the 'Universal Island': a moveable centre console that can slide back as much as 140 mm and contains cupholders, a 15 W wireless charging pad and USB ports. 
For further electrical charging needs, the IONIQ 5 also features a proper electric socket under the rear seats, as well as similar one in the its charging port, that can supply up to 3.6 kW of power to top up nearly any electrical device while on the go. A function which is made possible courtesy of Hyundai's innovative Vehicle-to-Load (V2L) feature, which essentially turns the IONIQ 5 into a mobile battery pack on wheels.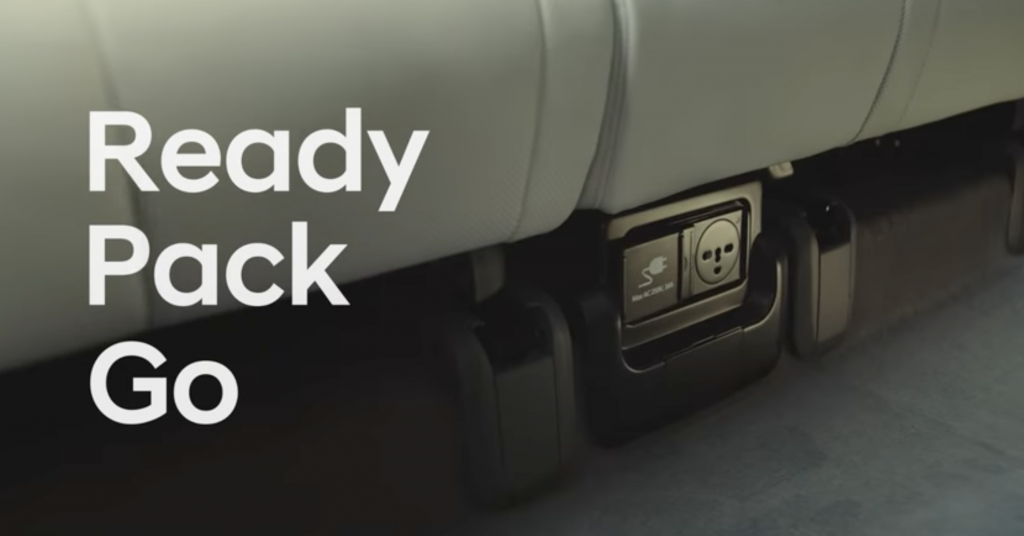 While on the subject of batteries then, it is worth delving a little bit deeper into technical specs of this IONIQ 5. Based on Hyundai's new E-GMP all-electric platform, this E-CUV will be available in either a single motor or dual-motor layout with the option of a smaller 58 kWh or a larger 72.6 kWh floor-mounted battery pack.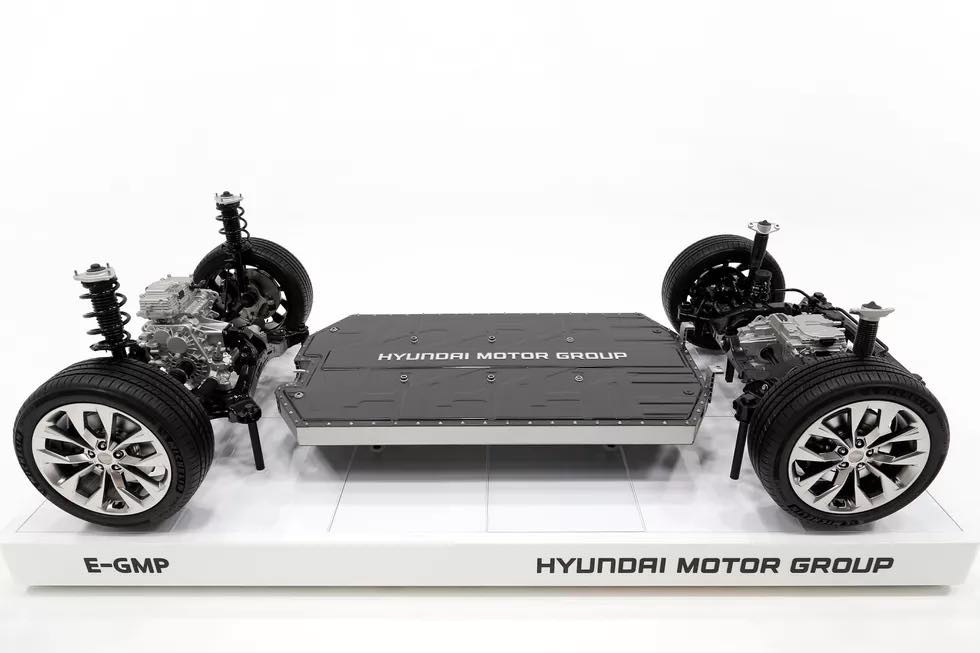 At time of writing, performance stats have only been released for the top-of-the-line dual motor variant powered by the 72.6 kWh battery pack, which is capable of the century sprint in a healthy 5.2 seconds courtesy to a combined power and torque output of 225 kW and 605 Nm. Nevertheless, Hyundai has claimed that all IONIQ 5 variants will be capable of a a top speed of 185 km/h, as well as WLTP-rated all-electric range of 470-480 km. 
As for topping up those batteries, the IONIQ 5 is equipped with the world's first multi-charging system that enables it to support both support both 400 V and 800 V charging infrastructures. Plug it into a 350 kW rapid charger therefore, and this new EV can charge from 10% to 80% in just lightning fast 18 minutes, with it only needing five minutes to attain an extra 100 km of range too.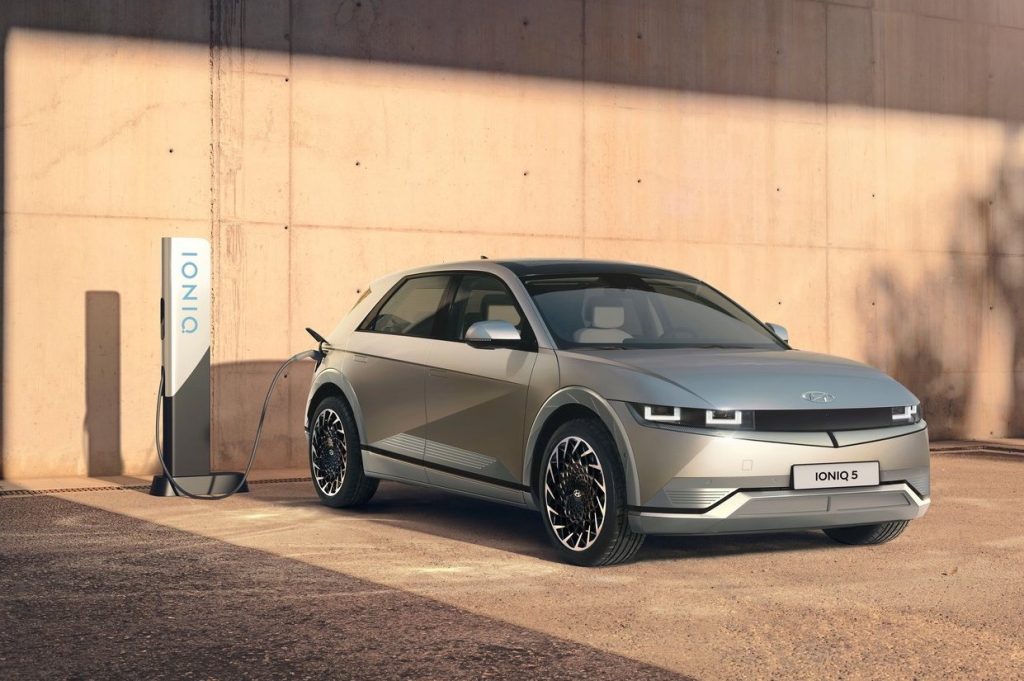 Available with Hyundai's next generation SmartSense suite of active driver aids, not to mention other worthwhile touches like a solar roof, the new IONIQ 5 will debut in selected regions sometime within the next few months. Unfortunately though, the chances of this futuristic-looking EV making its way over here is slim to none. 
PRESS RELEASE: Hyundai Motor Company today launched the IONIQ 5 midsize CUV during a virtual world premiere event. As the first model in Hyundai's new IONIQ brand dedicated to battery electric vehicles (BEV), IONIQ 5 sets the benchmark to redefine the electric mobility lifestyle with sustainable and innovative features.
IONIQ 5 is built upon Hyundai Motor Group's dedicated BEV architecture called Electric-Global Modular Platform (E-GMP), enabling it to have unique proportions on an elongated wheelbase. With E-GMP, IONIQ 5 offers innovative interior design with eco-friendly materials in many touchpoints, strong performance mated with ultra-fast charging and a Vehicle-to-Load (V2L) function as well as advanced connectivity and driver assistance features that will offer the ultimate in-car experience while ensuring safety.
"IONIQ 5 will accommodate lifestyles without limits, proactively caring for customers' needs throughout their journey," said Thomas Schemera, Executive Vice President and Global Chief Marketing Officer. "It is truly the first electric vehicle to provide a new experience with its innovative use of interior space and advanced technologies."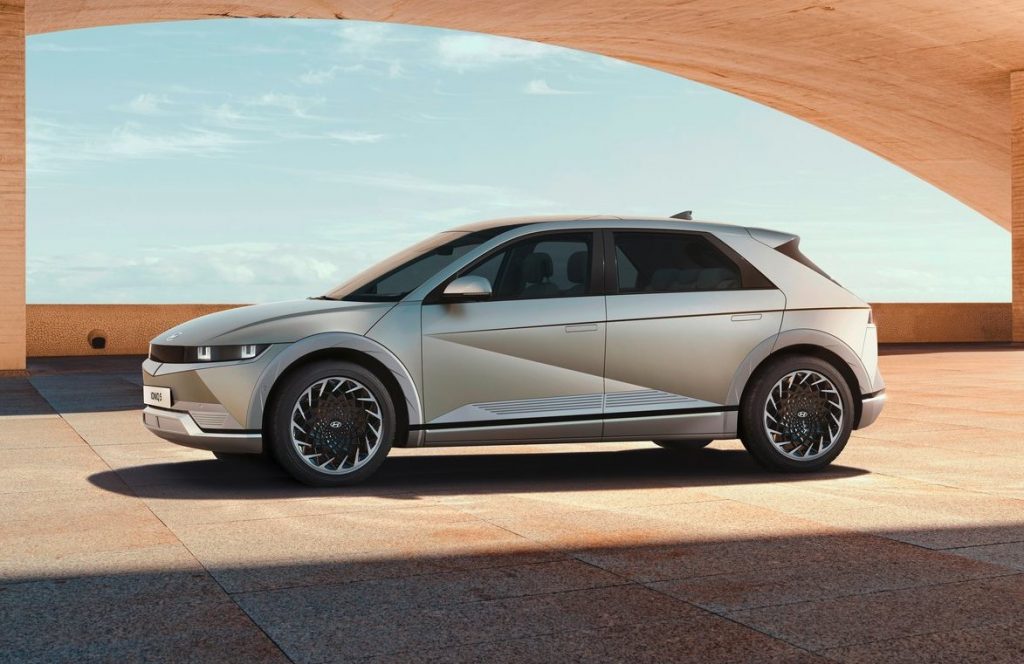 Heralding a new era for EV design
IONIQ 5's progressive design represents a departure from past norms, exploring a new design freedom offered by a dedicated BEV platform. By evoking the daring attitude of Hyundai Pony, the company's first production car, IONIQ 5 highlights Hyundai's 45-year journey to become a part of customer's lifestyles, creating a common thread from past to present and future. This is the redefinition of timeless design, a theme that will expand as the IONIQ lineup grows.
IONIQ 5's unique exterior design is characterized by the Pony-inspired profile over a 3,000-mm wheelbase. This extended wheelbase requires a more sophisticated approach to translate this new proportion into a contemporary EV typology.
The front of the car is equipped with Hyundai's first clamshell hood that minimizes panel gaps for optimal aerodynamics. The front bumper is defined by an eye-catching V-shape incorporating distinctive daytime running lights (DRLs) that provide an unmistakable light signature unique to IONIQ 5. These small pixel-like clusters also appear at the rear of the vehicle.
On the sides, auto flush door handles provide clean surface styling and enhanced aerodynamic efficiency. The front and rear forms of the vehicle merge together at its doors, offering another example of Hyundai's 'Parametric Dynamics' design first seen on the all-new Tucson. The strong C-pillar shape, inspired by Hyundai's '45' EV concept, gives IONIQ 5 a commanding presence clearly identifiable from a distance.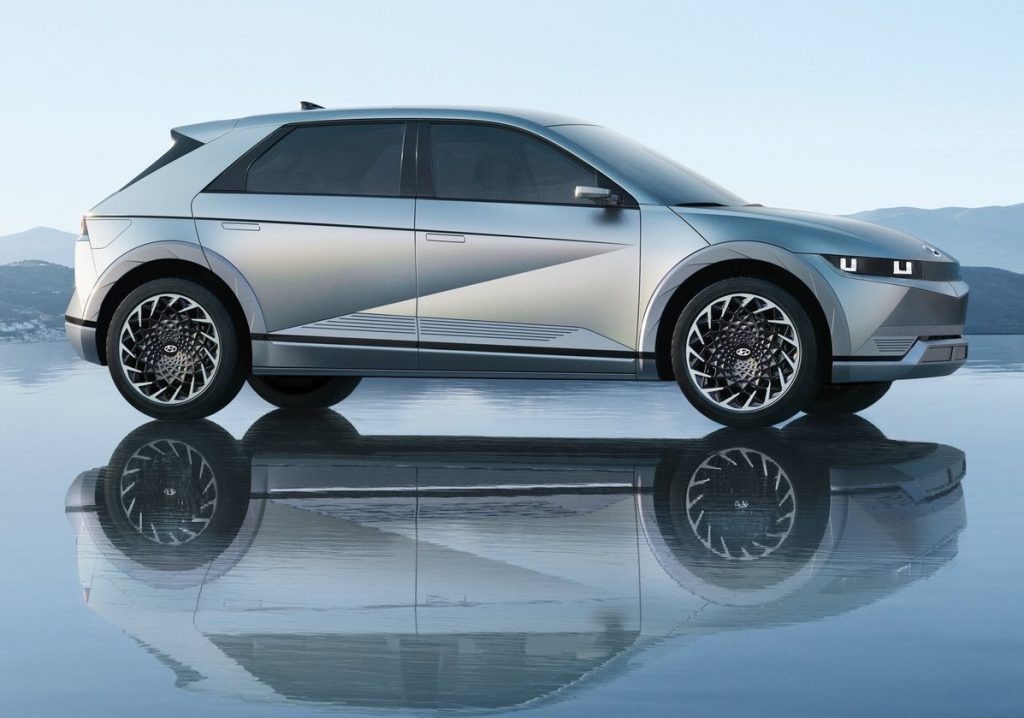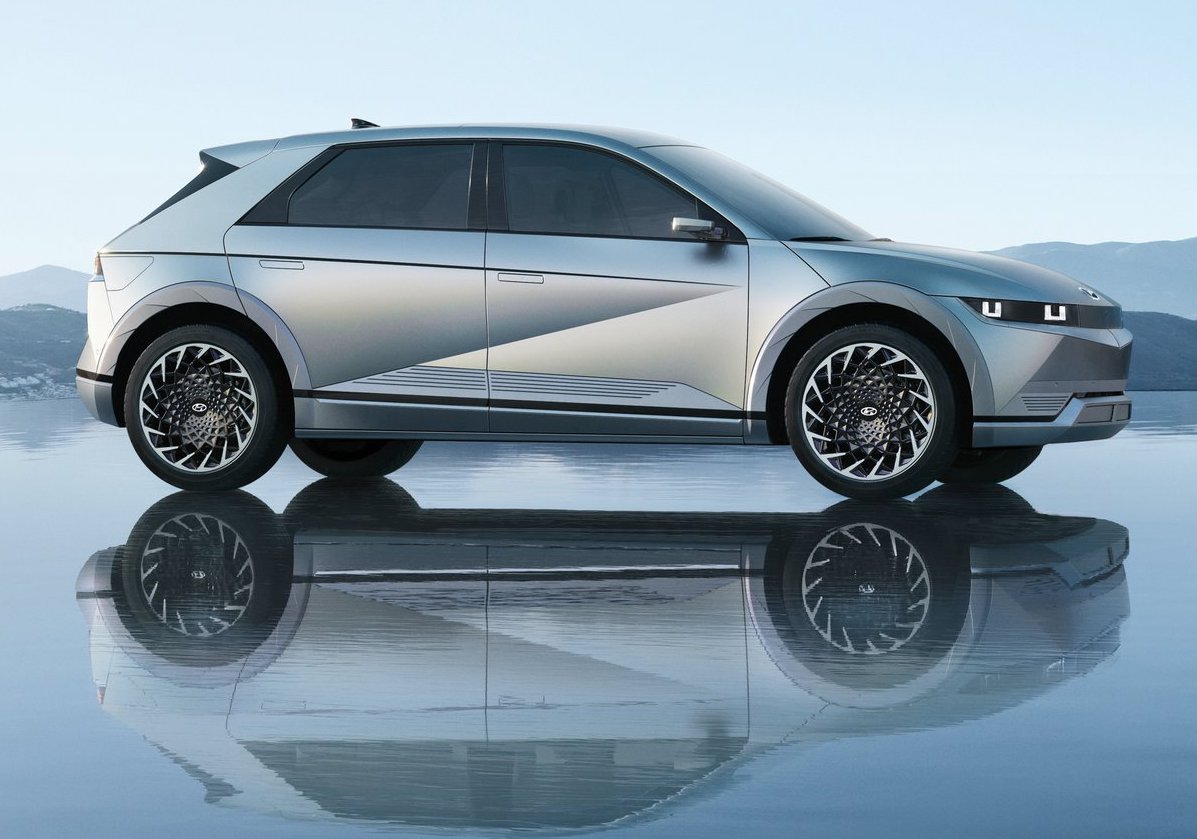 Aero-optimized wheels further echo the Parametric Pixel design theme and are offered in a super-sized 20-inch diameter, the largest rims ever fitted to a Hyundai EV. These complete IONIQ 5's perfected proportions, optimized for Hyundai's E-GMP.
"A new mobility experience for the next generation—this was the mission from the first day we began this project, to look ahead towards the horizon, but stay fundamentally Hyundai," said SangYup Lee, Senior Vice President and Head of Hyundai Global Design Center. "IONIQ 5 is the new definition of timeless, providing a common thread linking our past to the present and future."
The 'Living Space' theme runs throughout the interior, most notably embodied by the Universal Island, a moveable center console that can slide back as much as 140 mm. Universal Island, along with the flat floor where the batteries are stored, allows more freedom of movement inside the vehicle.
IONIQ 5 is also equipped with electronically adjustable front seats. The seats recline to the optimum angle, offering a weightless feeling for the occupant. Hyundai reduced the thickness of the front seats by 30 percent, providing more space for those seated in the second row.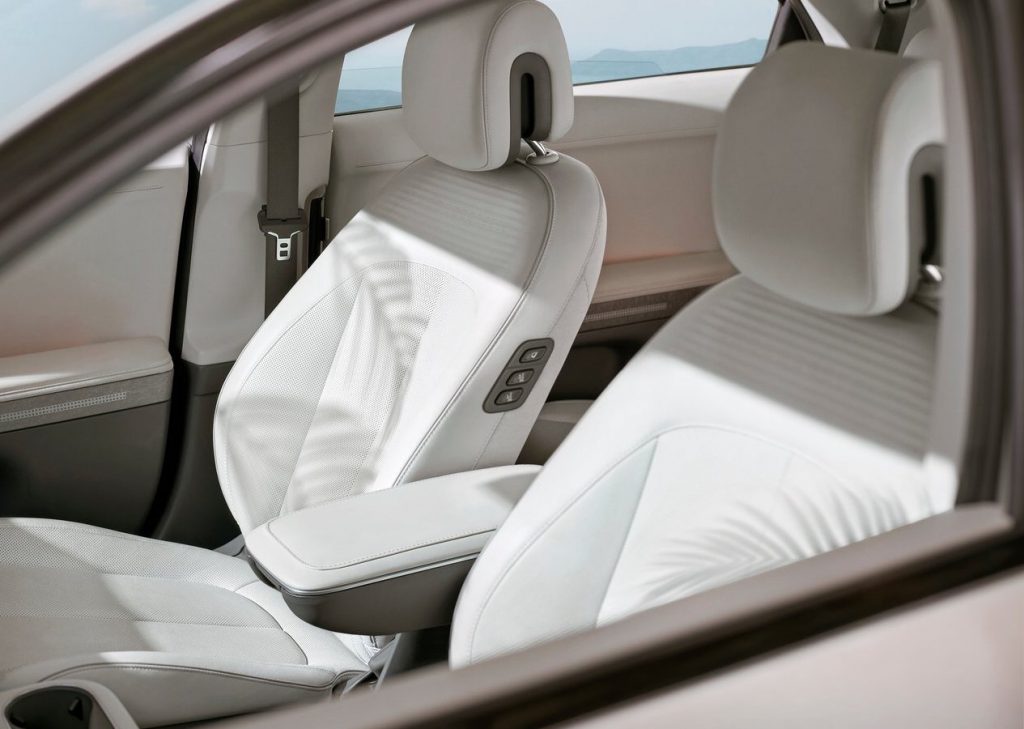 Many of its interior touchpoints — seats, headliner, door trim, floor and armrest — use eco-friendly, sustainably sourced materials, such as recycled PET bottles, plant-based (bio PET) yarns and natural wool yarns, eco-processed leather with plant-based extracts, and bio paint with plant extracts.
Customers can choose from nine exterior colors, including five nature-inspired hues exclusive to IONIQ 5. The interior has three color options.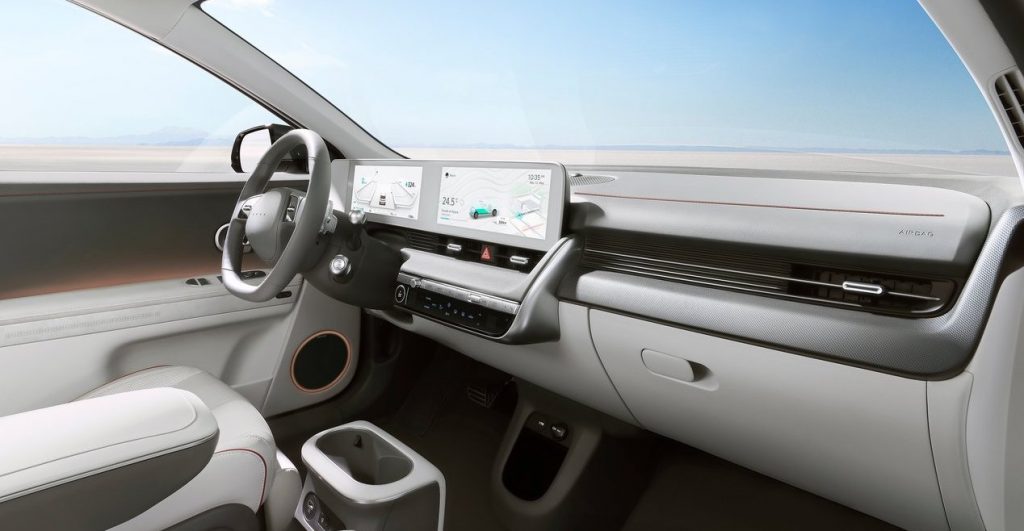 A range of power electric systems to suit every customer
IONIQ 5 is available with a range of power electric (PE) configurations to fit the mobility needs of every customer, with no compromises on performance. Customers can select from two battery pack options, either 58 kWh or 72.6 kWh, and two electric motor layouts, either with a rear motor only or with both front and rear motors. All PE variations provide outstanding range and deliver a top speed of 185 km/h.
At the top of the electric motor lineup is an all-wheel drive (AWD) option paired with the 72.6-kWh battery, producing a combined power output of 225-kWh and 605 Nm of torque. This PE configuration can go from 0 km/h to 100 km/h in 5.2 seconds.
When equipped with two-wheel drive (2WD) and 72.6-kWh battery, IONIQ 5's maximum driving range on a single charge will be around 470~480 km, according to the Worldwide Harmonized Light Vehicle Test Procedure (WLTP) standard.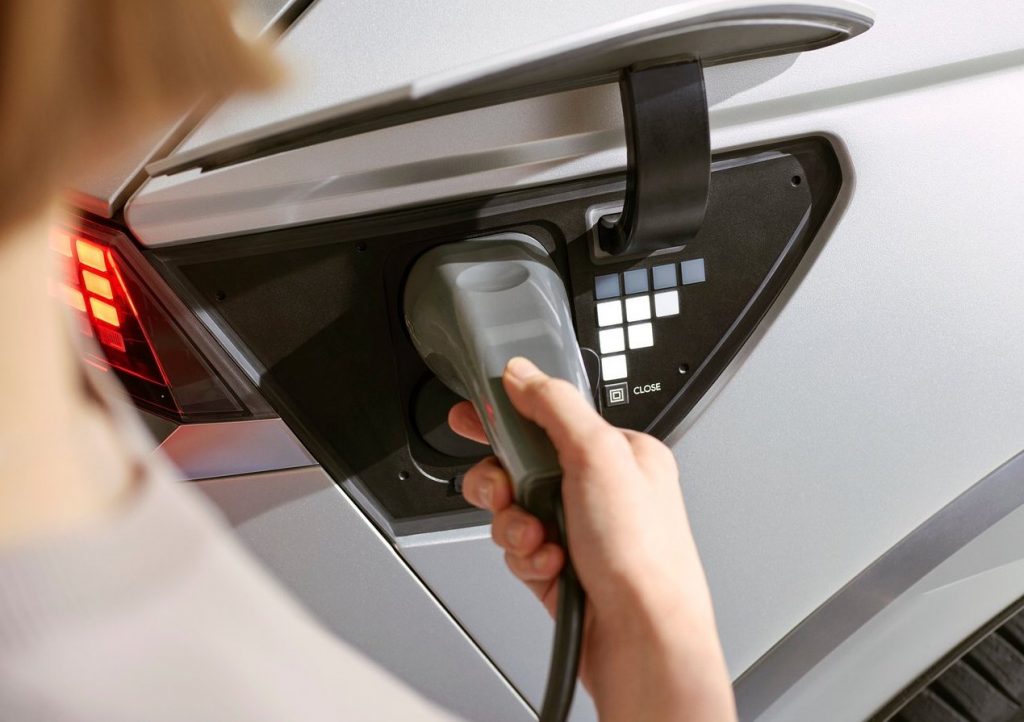 Ultra-fast battery charging along with innovative Vehicle-to-Load (V2L) function
IONIQ 5's E-GMP can support both 400-V and 800-V charging infrastructures. The platform offers 800-V charging capability as standard, along with 400-V charging, without the need for additional components or adapters. The multi-charging system is a world's first patented technology that operates the motor and inverter to boost 400 V to 800 V for stable charging compatibility.
With a 350-kW charger, IONIQ 5 can charge from 10 percent to 80 percent in just 18 minutes. IONIQ 5 users only need to charge the vehicle for five minutes to get 100 km of range, according to WLTP.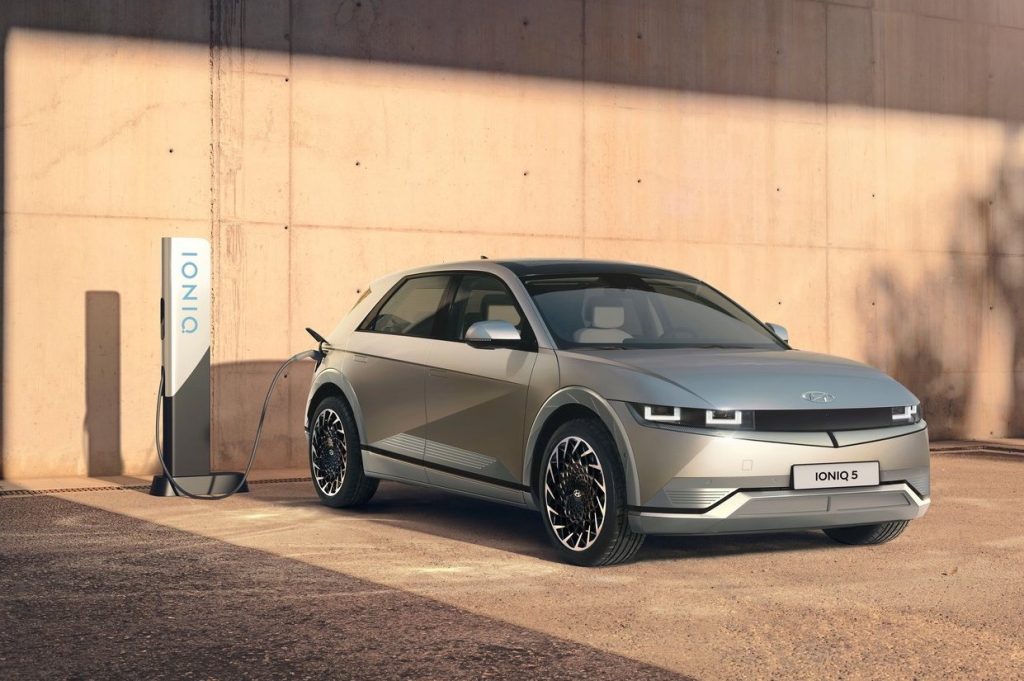 IONIQ 5 also provides an innovative V2L function, which allows customers to freely use or charge any electric devices, such as electric bicycles, scooters or camping equipment, serving as a charger on wheels.
The V2L function can supply up to 3.6 kW of power. The V2L port is located under the second-row seats, and it can be activated when a vehicle is on. Another V2L port is located at the charging port on the vehicle exterior. Using a converter, customers can charge high-power electric equipment. The outside port provides power even when the vehicle is turned off.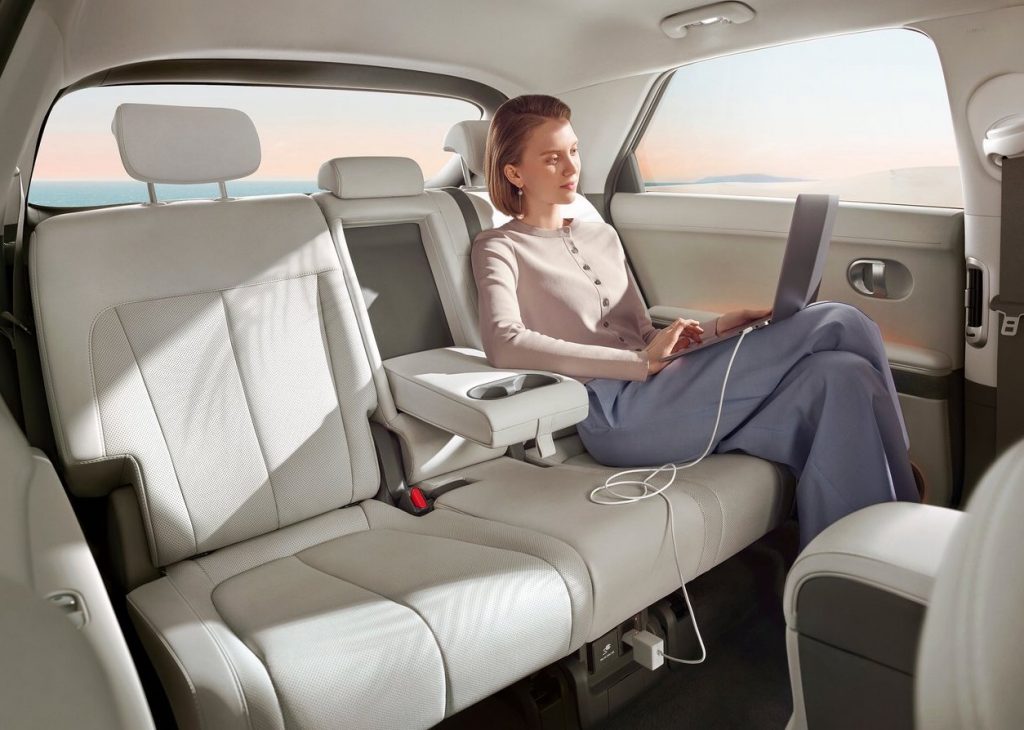 Innovative connectivity and driver assistance for safety and convenience
IONIQ 5 seamlessly integrates advanced technologies for an enhanced digital user experience. The wide, configurable, dual cockpit features a 12-inch, full-touch infotainment screen and hoodless 12-inch digital gauge cluster that can be customized to meet customers' needs.
For the first time in Hyundai, IONIQ 5 features an Augmented Reality Head-Up Display (AR HUD), essentially turning the windshield into a display screen.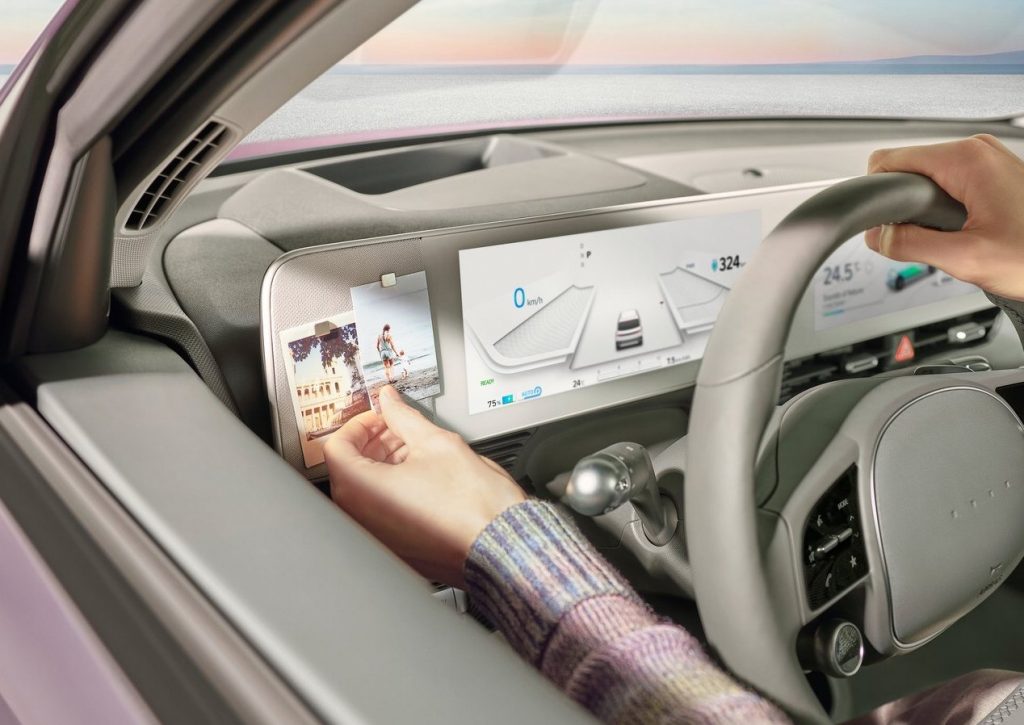 IONIQ 5 is also equipped with the next level of Hyundai SmartSense, advanced driver assistance system, ensuring the highest levels of safety and convenience on the road. IONIQ 5 is the first Hyundai model to offer Highway Driving Assist 2 (HDA 2). Other driving assistance systems include Forward Collision-Avoidance Assist (FCA), Blind-Spot Collision-Avoidance Assist (BCA), Intelligent Speed Limit Assist (ISLA), Driver Attention Warning (DAW), High Beam Assist (HBA), and more.
IONIQ 5 will be available in selected regions starting in the first half of 2021.