Automotive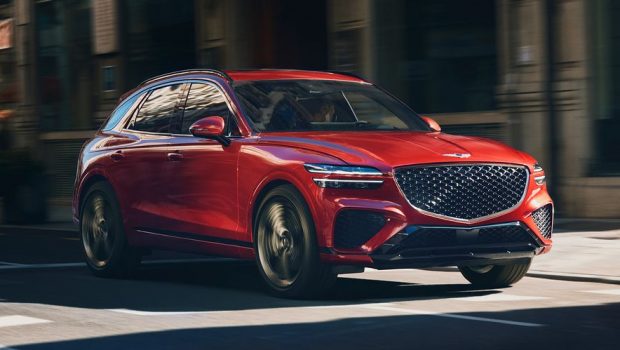 Published on December 8th, 2020 | by Joshua Chin
0
Genesis GV70 Makes Global Debut Online Today
This swanky new luxury mid-sized SUV from Genesis is set to arrive in 2021. 
After months of teasers, previews and sneak peeks, Genesis has recently officially pulled the covers off its latest GV70 luxury mid-sized SUV. To sit beneath the full-sized GV80 SUV, this new addition to the South Korean automaker's lineup is set to arrive in America by early 2021.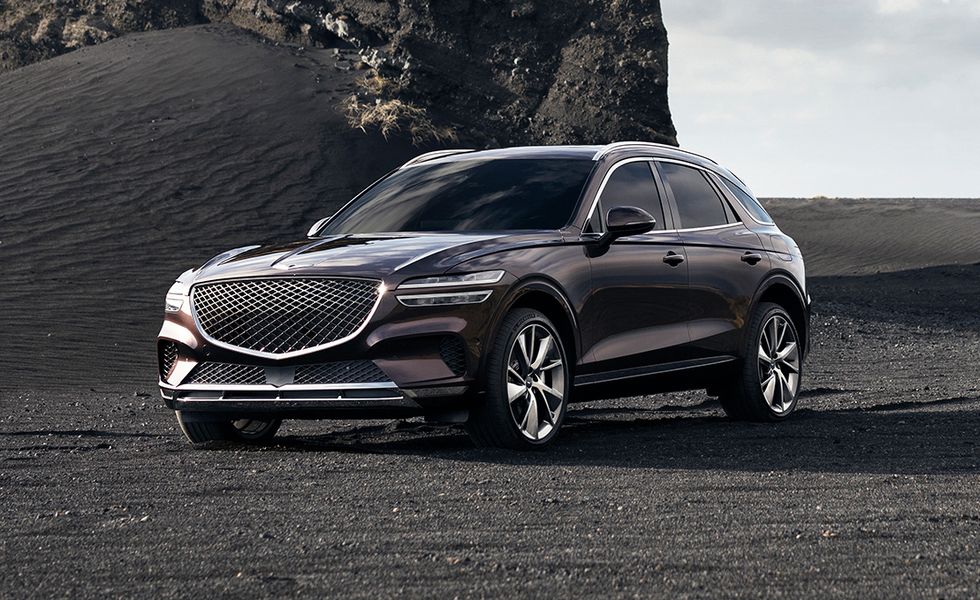 Having already previewed the exterior and interior at a prior launch event a couple of months ago, the official launch today focuses much more on what lies under the skin of this swanky South Korean luxury SUV. The main highlight of which is the powertrain details and the extensive list of technologies featured within.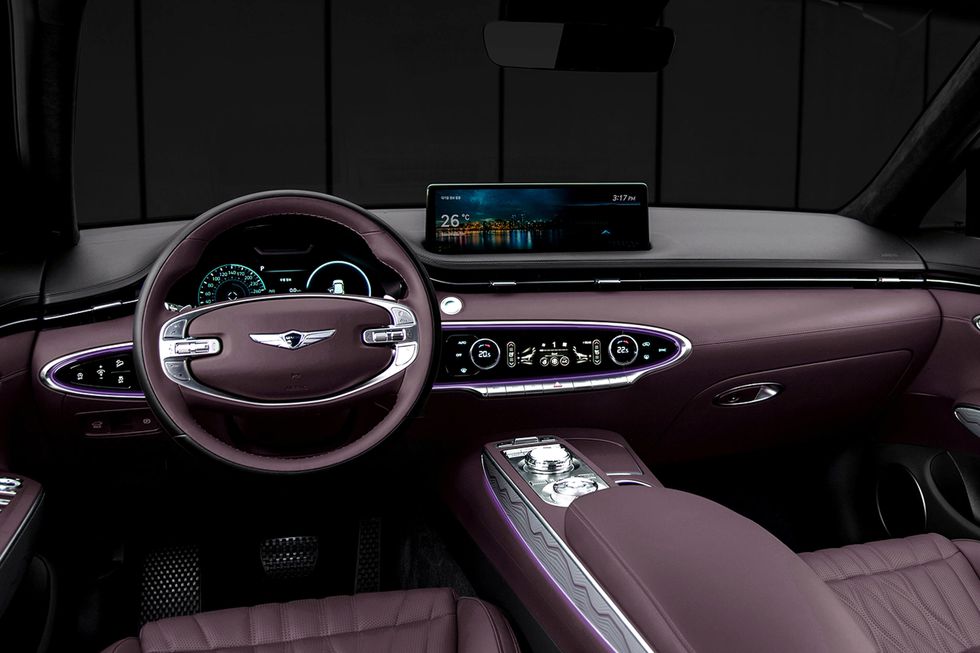 Starting off with what is under the hood of GV70, Genesis has confirmed that a pair of petrol engines and a single diesel engine will be made available in this luxury SUV. Starting off with the petrol motors, a 2.5 litre turbocharged four cylinder will make an appearance alongside a 3.5 litre twin-turbo V6. 
The same Smartstream T-GDi engines that is currently seen in its GV80 big brother, the smaller four-pot is rated at 304 PS and 422 Nm of torque, while the larger V6 is said to output 380 PS and 530 Nm of torque. No performance figures is yet published for the lower powered petrol engine, though the V6 is said to propel the GV70 to 100 km/h from a standstill in a healthy 5.1 seconds.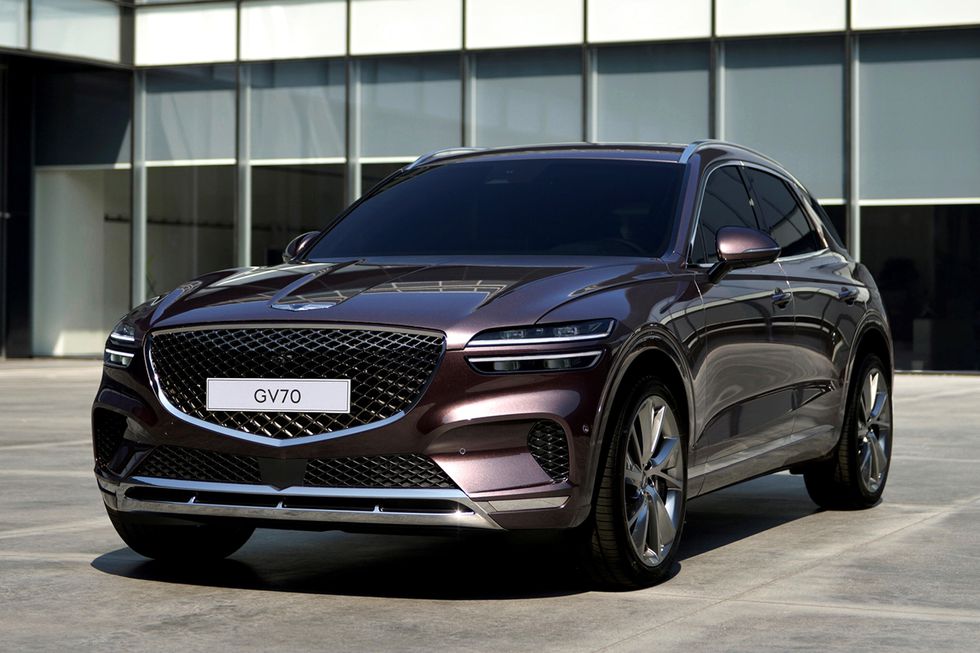 As for the oil-burner in the range, the diesel-powered GV70s are to feature yet another borrowed engine from the Genesis range. This time in the form of the 2.2 litre Smartstream turbodiesel four-cylinder that recently debut in the new G80 luxury sedan. Power and torque figures for this oil-burner are claimed to be 210 PS and 441 Nm respectively. 
Regardless of power plant, all engines are to be paired to an 8-speed shift-by-wire automatic transmission that drives either just the rear wheels or all four wheels for the four-cylinders variants. The sporty V6-engined GV70s on the other hand are only to be available with four wheel drive.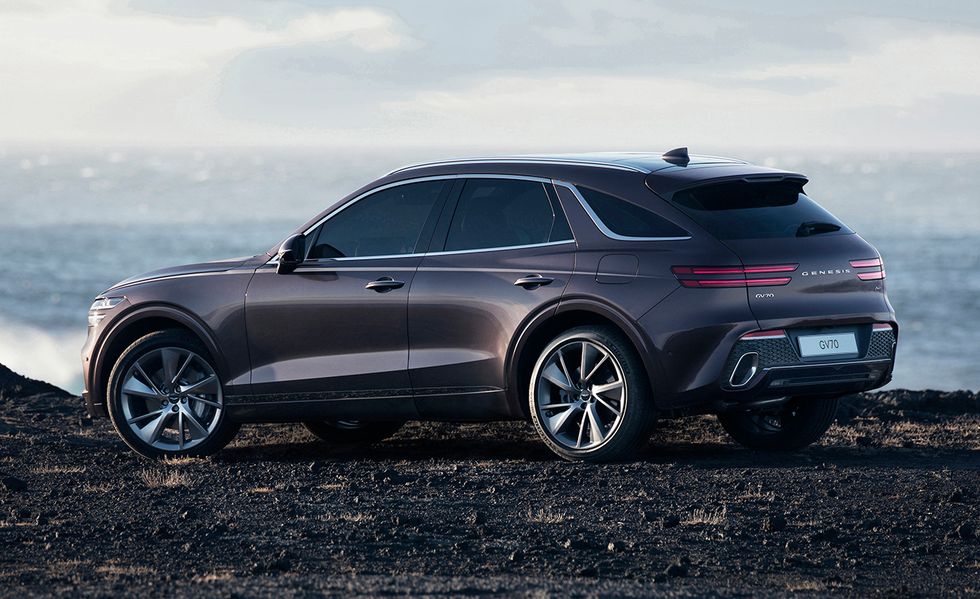 Speaking of sportiness, available too on select GV70 variants is a Sport Package. Sport Package-equipped GV70s can be distinguished by larger 21-inch alloy wheels, in addition to dark chrome trim on the exterior and a larger diameter exhaust tips. A sports steering wheel and lashings of carbon fibre meanwhile is the extent of the interior enhancements with the Sport Package.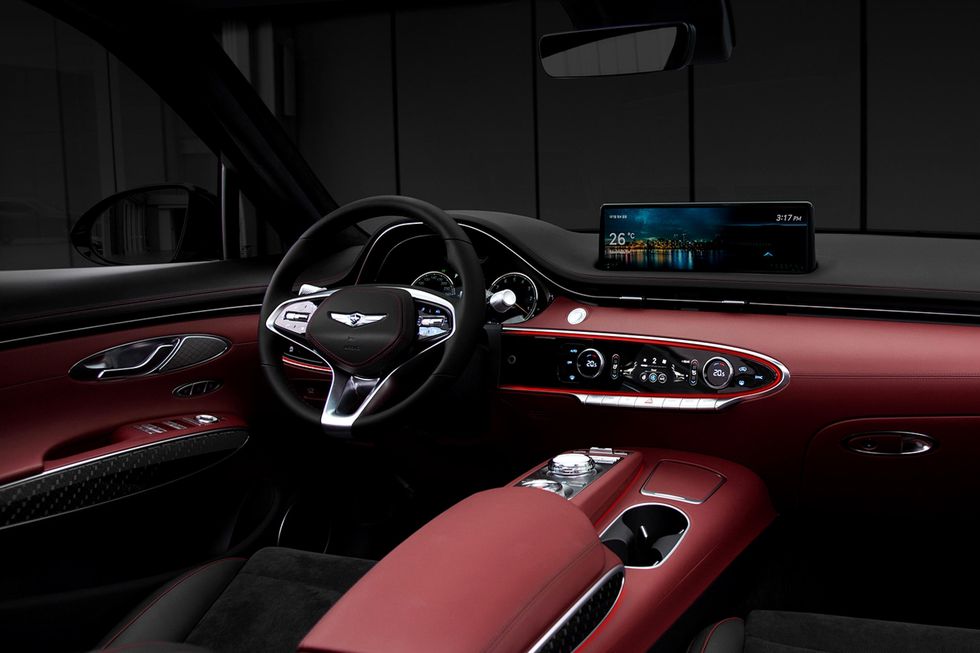 That said, it is not just exterior and interior enhancements as the Sport Package also features some performance enhancements under the skin. Chief among which is the inclusion of launch control and an electronic limited-slip differential. Things that are not normally found in a mid-sized luxury SUV.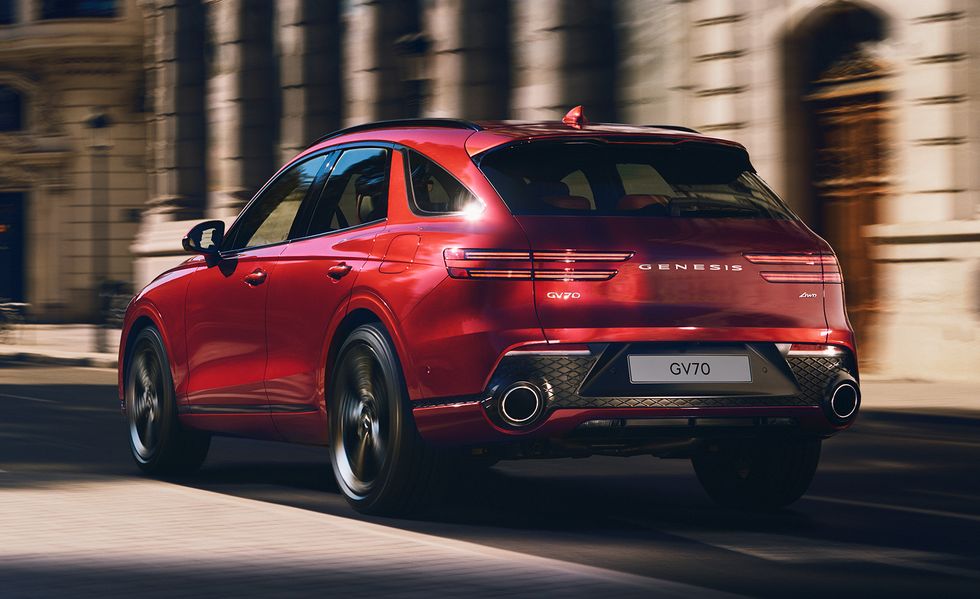 Aside from that, the Sport Package also adds a Sport Plus mode to the drive mode selector, which typically only contains four modes: Eco, Comfort, Custom, Sport. On the topic of the drive mode selector, GV70 variants equipped with four wheel drive are to come with a Multi Terrain Control mode in addition to the other aforementioned drive modes. 
Moving on to the topic of technology, the headline features on this tech-laden SUV are perhaps its fingerprint authentication system as well as its sensor-based Advanced ROA (Rear Occupant Alert). A whole host of active driver aids are naturally also available on the GV70, which includes Highway Driving Assist II (HDA II), Intelligent Speed Limit Assist (ISLA), Navigation-based Smart Cruise Control (NSCC) and Driver Attention Warning (DAW).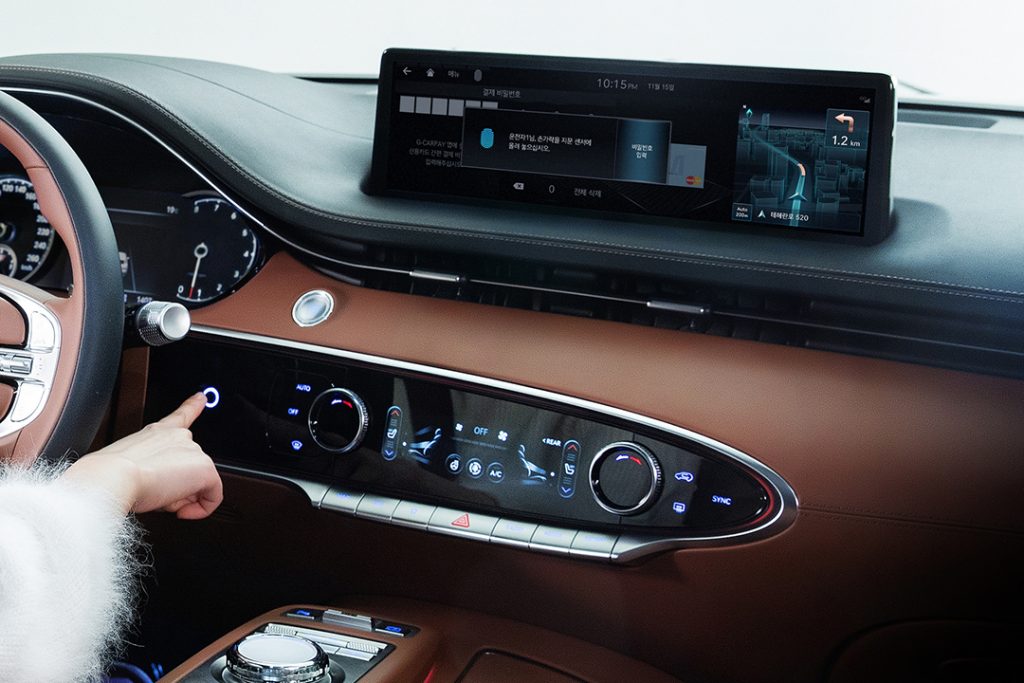 Much like any other new car too, two high resolution screens are to be found within the cabin of this premium SUV. One of which is a 12.3 inch digital instrument cluster, and the other being an even larger 14.3 inch central infotainment touchscreen which sits within a simplistic yet elegant dash layout.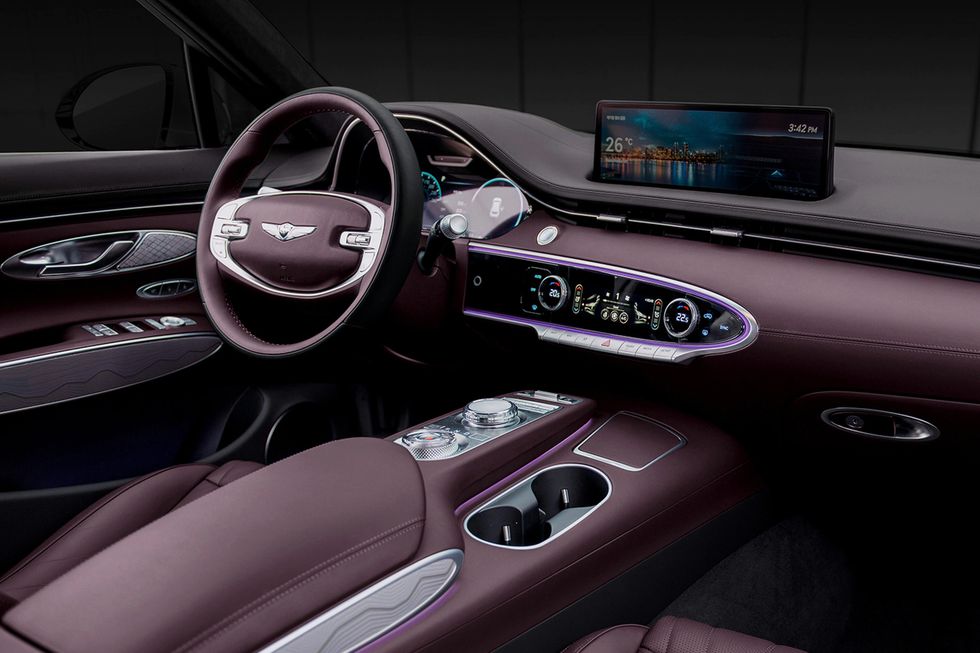 To be available with a wide selection of exterior and interior colour combinations when it eventually arrives in select markets early next year, it remains to be seen whether this tech-laden premium South Korean SUV will make its way to Malaysia. More to the point though, even if it does make it here, will there actually be any buyers for such a car here?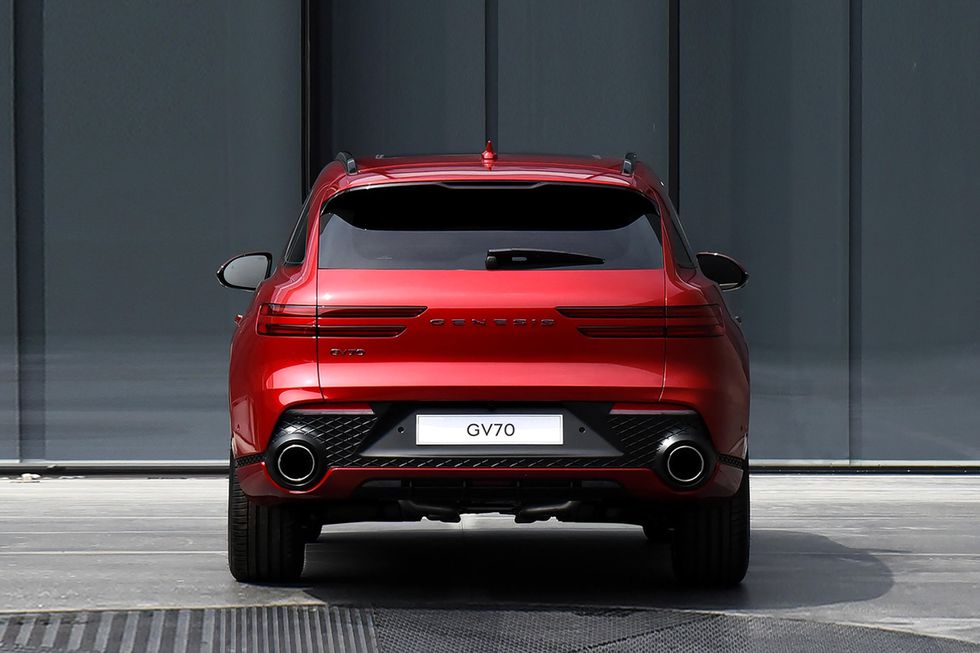 PRESS RELEASE: Today, Genesis launched GV70, a dynamic SUV, representing the fifth model and second SUV in the Genesis lineup. The debut was conducted via worldwide broadcast of its cinematic launch film entitled "GV70: A Travelogue".
"Genesis has been striving to build a strong product lineup complemented by a curated purchase and ownership experience, focusing on design, product development, service, all centered on our customers' lifestyles," said Jay Chang, Global Head of the Genesis brand. "With the debut of GV70 today, Genesis will continue to provide models aimed at connoisseurs around the globe, delivering a tailored mobility experience based on our customer-centric philosophy."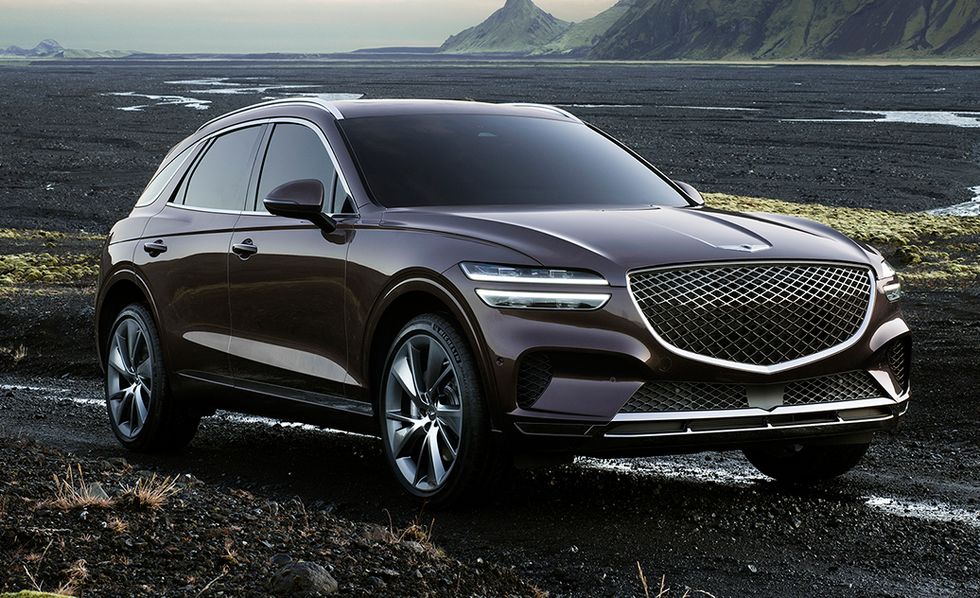 Dynamic Exterior Design Builds on Genesis' Unique Philosophy
Genesis completed GV70's design that not only is dynamic but also meets practical needs of SUV consumers based on various design elements including the signature Crest Grille and the Quad Lamps, representing the Genesis wing emblem.
The front of GV70 displays an aggressive image as the Crest Grille is set lower than the headlamps while its twin-lined Quad Lamps add a sense of speed and dynamism. Moreover, the skid plate placed underneath the bumpers has been extended to the flank, reinforcing the image of a sporty SUV.
The hallmark of the GV70's side profile is its emphasis on a dynamic expression created by a dramatic contrast of its rear fender with the arching Parabolic Line that begins at the top of Quad Lamps and runs across the body. The sleek and elegant coupe-like roofline, along with the dropping chrome line to the C-pillar, accentuates the sporty characteristics.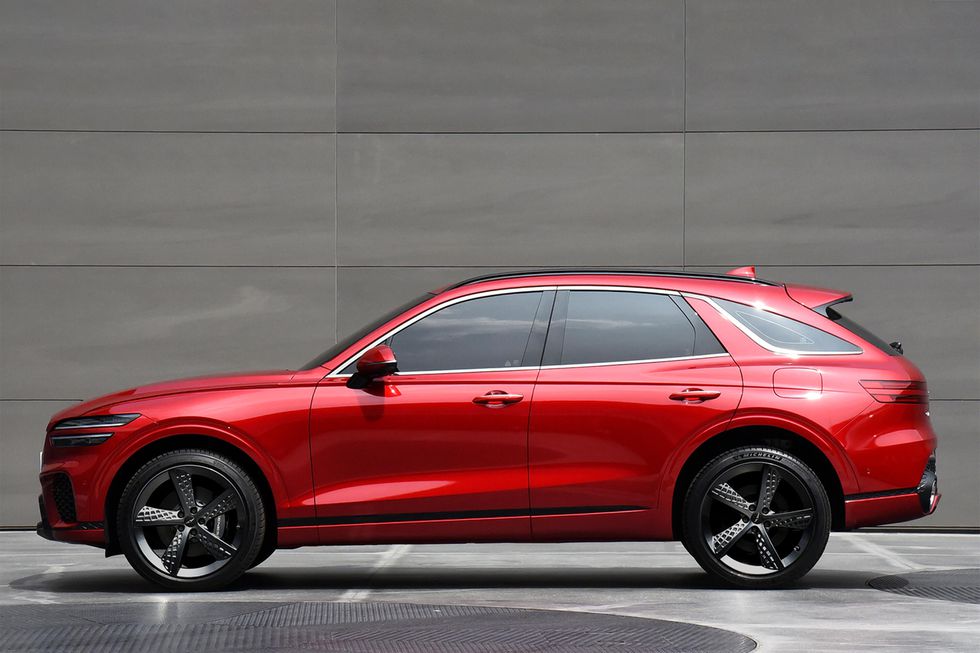 Interior Design Harmonizing the 'Beauty of White Space' and a Sporty Image
The interior design of the GV70 is based on a layout that draws out simple shapes and emotional volume to its fullest in order to harmonize the characteristics of the elegant Korean architectural philosophy, the 'Beauty of White Space', and a sporty image.
In particular, the sporty interior design inspired by the aerodynamic sections of aircraft wings, visualizes rich volume by applying uniquely elliptical elements as the main interior theme. A new type of mood lamp highlights the GV70's unique character by emphasizing the overall interior design.
The slim air vent and the thin chrome line cutting through to the doors surround the driver to expand the impression of wide and neat space. It maximizes driving comfort with an ergonomic design, while minimizing the number of buttons on the center fascia and applying the Liquid Crystal Display (LCD) touch display.
The center console creates a driver-centric layout that helps maximize the sporty driving emotion. Also, the application of the new dial type Shift by Wire (SBW) system, which is akin to a meticulously refined jewel, presents a delicate balance between simplicity and flamboyance.
In addition, the door garnish was also designed based on an elliptical profile, the main design theme, and the armrest expresses the dynamic impression of the emotion of the seam between an aircraft's body and wing.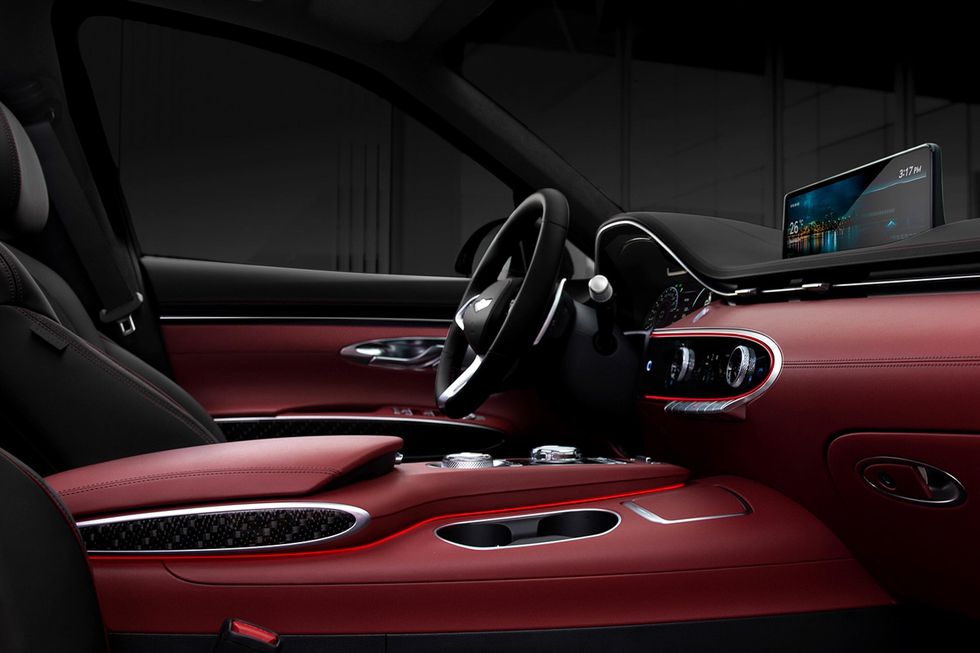 Enhancing the Emotion of Driving through the GV70 Sport Package
The optional Sport Package offers an eye-catching and differentiated design that further enhances the dynamic nature of GV70.
The exterior design of the GV70 Sport Package presents a sporty and dynamic image with a strong blackout bezel, three-dimensional pattern of dark chrome garnished grille mesh design, exclusive bumper design, large circular exhaust tips, a body-colored diffuser and exclusive wheels. The interior design of the GV70 Sport Package also emphasizes dynamic elements with unique interior colors, a bespoke steering wheel, and carbon fiber details on the console and door as options.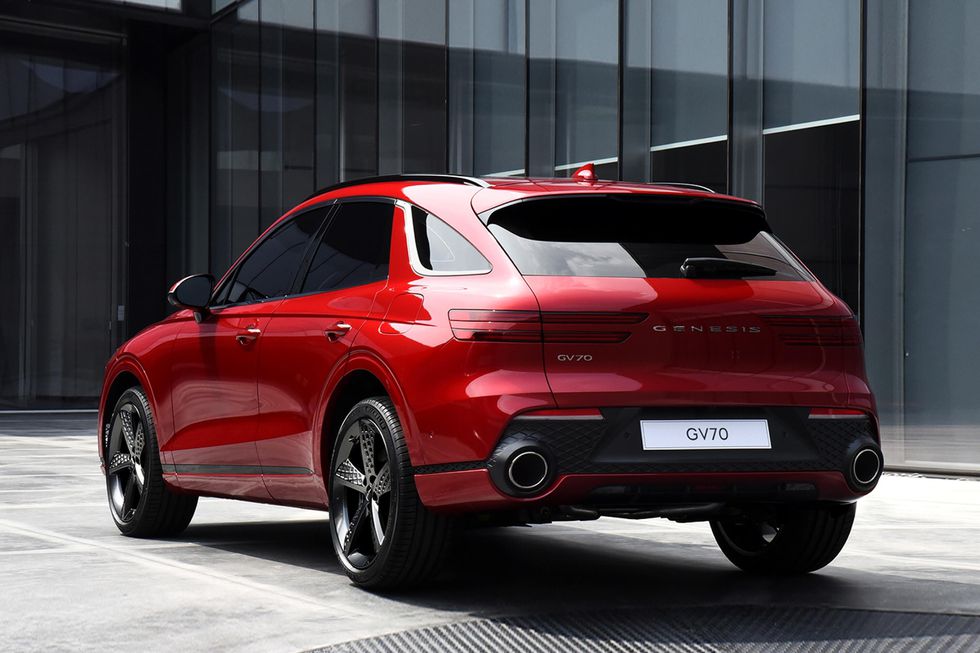 Color and Materials Focusing on a Youthful and Sporty Design
The colors of GV70 focused on a young, refined, and sporty design give customers an extensive choice of color combination, along with various interior materials.
Three new paint colors include Mauna Red, Barossa Burgundy Metallic, and Barossa Burgundy Matte.
GV70 will offer consumers a plethora of interior color combinations curated to their taste, including a unique Ocean Waves/Pine Grove two-tone look and a Gray/Velvet Burgundy two-tone option.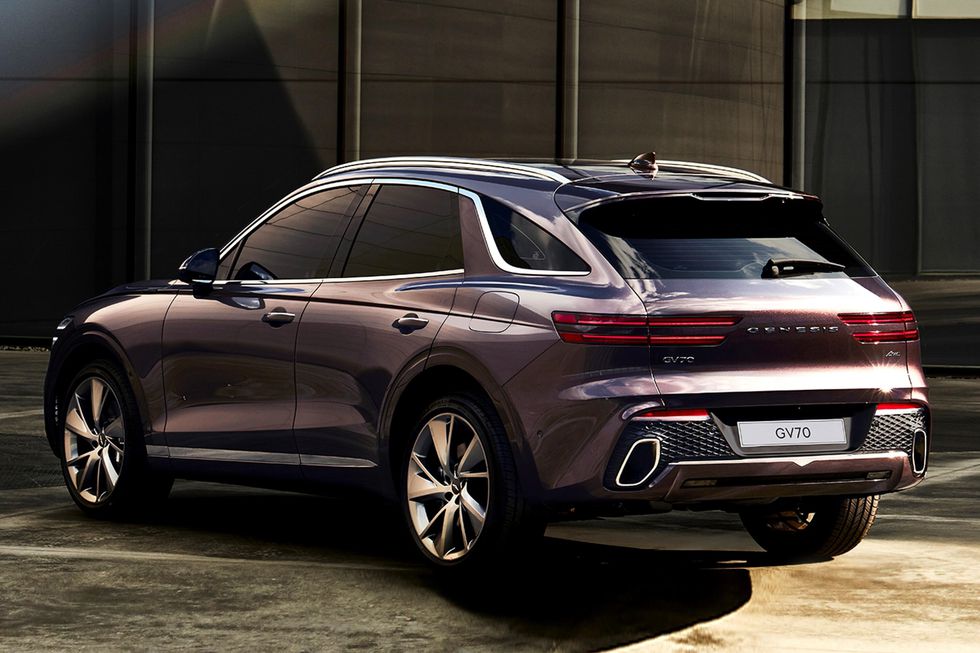 Powerful Performance and Balanced Driving
GV70 offers an optimal fun-to-drive experience with its powerful performance fit for a rear-wheel drive-based SUV.
GV70 will be offered in the United States with a 2.5-liter turbocharged four-cylinder engine, as well as an optional 3.5-liter twin-turbocharged V6 power plant.
GV70 will offer a total of four drive modes including eco, comfort, sport, and custom modes for dynamic driving in various road conditions. The Sport Package is also equipped with an additional Sport Plus mode.
GV70's fun-to-drive nature is enabled by an enhanced body frame structure accomplished by increasing the ultrahigh tensile steel plates and expanding hot stamping steel plates. GV70's performance is enhanced by reducing weight with lightweight technologies such as application of aluminum materials to the hood and tailgate.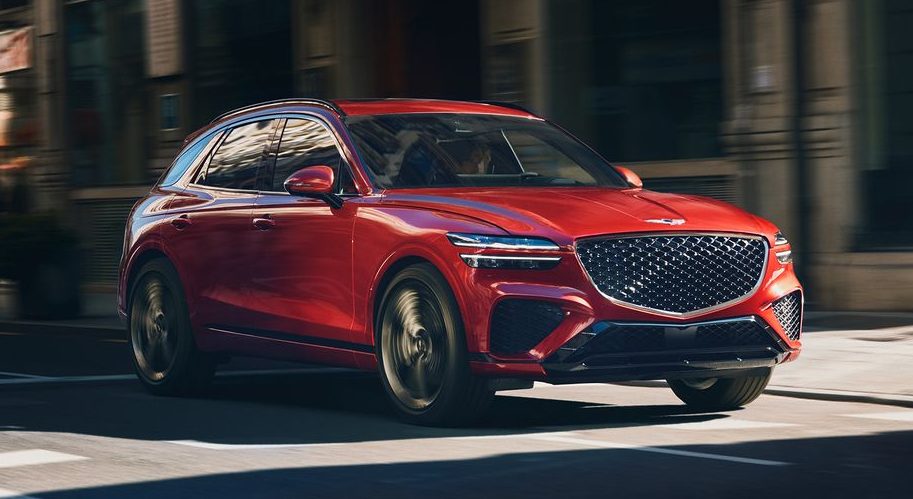 Safety as a Priority: Leveraging the Latest Technologies
Genesis applied a wide range of new technologies that can protect passengers from hazards inside and outside the vehicle, including advanced autonomous driving assistance features based on proactive safety, demonstrating the brand's strong commitment to safety.
Highway Driving Assist II (HDA II) enables a comfortable driving experience on the highway, controlling the steering wheel when changing lanes and actively responding to close-range low-speed cut-ins. The lane change assist system is improved from earlier models and it will attempt to change lanes in certain conditions simply by activating the turn signal.
Intelligent Speed Limit Assist (ISLA) is a safety feature that controls the vehicle speed based on the local speed limit, and even models without a navigation system installed can use this feature based on traffic sign information recognized by the front vehicle camera.
Navigation-based Smart Cruise Control (NSCC) is a convenience feature ensuring safe speed on the highway with its navigation system, reducing speed when in a curve.
Forward Collision-Avoidance Assist (FCA) analyzes a potential collision by helping the driver to automatically stop if there is a potential collision at junctions with oncoming vehicles from the left and right side, or a pedestrian on the edge of the road.
Blind-Spot Collision-Avoidance Assist (BCA) helps prevent drivers from crashing into cars coming laterally from the rear when changing lanes or leaving a parallel parking space.
Driver Attention Warning (DAW) warns drivers to keep their eyes on the road. Forward Attention Warning (FAW) calls the driver's attention with acoustic warning sounds and pop-up notifications when fatigue or forward-looking neglect is detected by a forward-looking camera.
New Convenience and Security Technologies
GV70 applies state-of-the-art infotainment and the latest technologies of a connected vehicle.
All-new technologies featured in GV70 include a fingerprint authentication system as well as Advanced ROA (Rear Occupant Alert) based on radar sensors.
GV70 is the first vehicle to feature radar-based Advanced Rear Occupant Alert (Advanced ROA) technology, which is much more sophisticated than traditional ultrasonic sensors. The system uses sensors mounted inside the vehicle to detect passengers in the rear seat and alerts the driver of their presence in multiple phases. Not only are GV70's radar sensors capable of sensing when passengers in the rear move their limbs, but they can also detect small respiratory movements near the passenger's chest, enabling GV70 to alert drivers in cases when a child or sleeping infant has been left in their seat.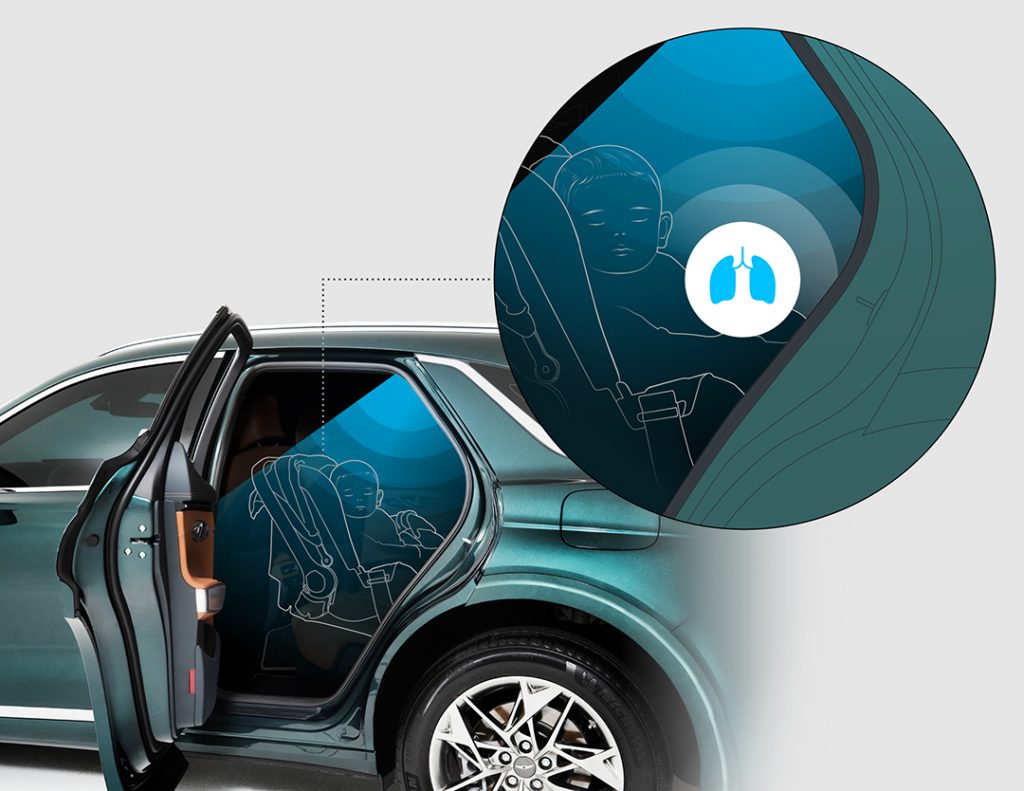 The first-ever GV70 is expected to arrive in the United States in calendar year 2021. More details will be available closer to launch.