Used cars
Despite High Sales Volume Carsome Is Not Profitable, Why
Carsome is still not seeing any profits but the spending spree continues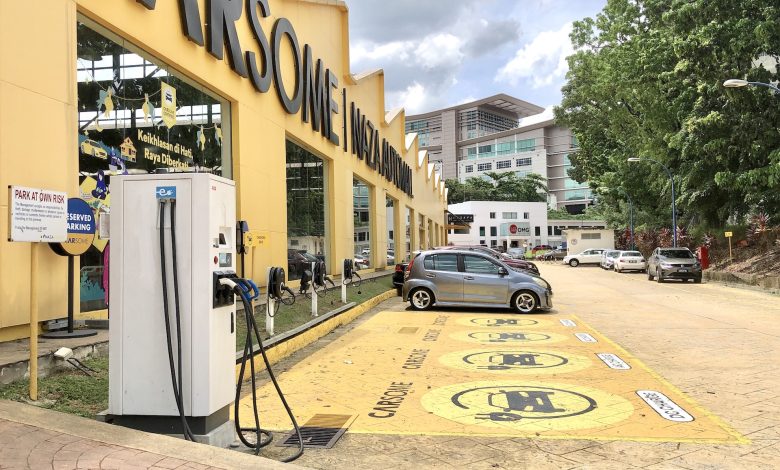 In the last few years they have become one of the main 'go to places' to sell cars and also buy cars. Why? Well, it is transparent, easy and very accommodating for the many Malaysians who know very little about transacting a used car.
Their inspection centers are bright clean and easy to get information. Their showrooms are big with plenty of choices and there are polite sales people to assist.
Best of all, their used car selling prices remain very competitive against traditional used car dealers. However, in recent months, their used car purchase valuations have dropped, dropped to even lower than some traditional used car dealers, but like with 'GRAB' people get used to them and will continue to use them despite unfavourable prices.
But all this comes at a cost, a very high cost and this is why Carsome is still very much in the RED! Yes, after years in business, they are still not making any money and instead getting bailout after bailout.
So, the funds are diminishing fast, the sales discounts are getting more frequent and salaries have been cut. Can they see a profit?
Well, we decided to do some research and here below is what we found in their financials.
Despite Carsome CEO and co-founder Eric's recent radio interview in Apr 2023 assuring that break-even is "a couple of months from now", insiders and industry participants have painted a completely different picture which is more like deep losses, significant cash burn and just months away from possible closure unless another cash bailout appears.
https://technode.global/2023/04/20/breakeven-is-near-for-carsome-says-ceo-eric-cheng/
As a result, Carsome management is said to be desperately seeking additional funds currently to avoid the inevitable despite record amount of funds raised in 2021, which is just 2 years ago.
Other Regional Used Car Websites Suffering As Well
Meanwhile, there are a number of used car players that have either exited or scaled down their used car business ambitions in South East Asia despite spending huge amounts on marketing, purchase subsidies, incentives and business expansion (like what Carsome has been doing to gain market share and trust).
Interestingly, the above all benefits the used car buyer and seller who get superb deals whilst traditional used car dealers get squeezed out of the market place.
Interestingly, Carsome has tried to establish itself in Singapore by buying a traditional used car dealer as well, which is CarTimes Automobile Pte Ltd (CarTimes). Starting operations in 2001, they grew fast and wide but as the years followed they failed to file regular accounts with ACRA (only 2004, 2006 and 2017 available when it should be yearly), which will generally attract fines. If it wanted to disrupt traditional used car dealers, why did Carsome buy 51 percent of CarTimes Automobile Pte Ltd (CarTimes) in March 2022?
So, is it a sustainable business practice? Well, there are some other online car dealers that have closed shop in recent years using the same formula and here below we share the titles.
Only weeks ago on March 2023, Cars24 exited Indonesia. https://www.bqprime.com/business/cars24-exits-saudi-arabia-indonesia-says-deeper-focus-needed
Then there was the Moladin lay-offs (which is a used-car website like Carsome based in Indonesia) which happened in February 2023.  https://www.techinasia.com/indonesias-moladin-lays-360-workers
In January 2023, OLX Auto did a large down-sizing of 300 staff (30 percent of its workforce) and was looking for a buyer to take over its classifieds business which is very similar to www.mudah.my.   https://www.dealstreetasia.com/stories/olx-group-downsizes-indonesia-office-auto-unit-said-to-be-up-for-sale-327067
And so we have seen how Carsome dismissed 10 percent of its staff in September 2022 and had the rest take a pay cut with the senior management willing to forgo salaries completely (this can only mean that they were already over-paid from the start)  https://www.techinasia.com/carsome-lay-10-staff-execs-forgo-salaries
Record Amount Of Funding Raised In 2021
Based on the cash flow statement from Carsome's 2021 audited report, Carsome raised USD319.5 million from issuance of convertible notes and USD98.4 million from redeemable convertible preferred shares (RCPS) in 2021. The convertible notes bear a 5 percent interest rate maturing on 31 December 2024.
Carsome also drew down loans from venture debt providers worth USD50.2 million.
In total, Carsome raised a record USD468.1 million in funding in 2021. This is an astronomical RM2.2 billion (assuming USD to MYR exchange rate of 4.6X).
In addition, Carsome raised another USD27 million (RM124 million) in 2020. So, where has all the money gone?
Fast Cash Burn In A Year
2021 revenues was USD655.9 million with Gross Profit after deducting cost of vehicles sold was USD35.9 million (gross profit margin of 5.5 percent).
As also reported in TechInAsia, the gross profit does not even cover operating costs. Employment benefits, advertising and marketing expenses and other operating expenses totaled USD101.3 million. There are other "non-cashflow" related losses, with a full year 2021 net loss of USD138 million (RM638 million).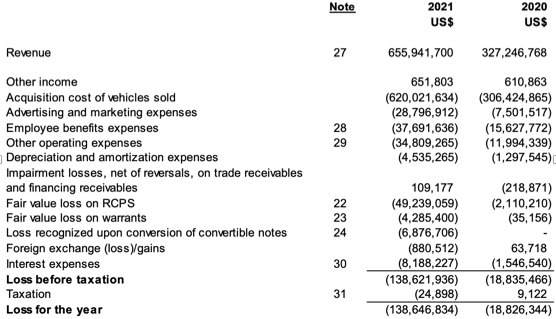 Unsurprisingly, "cash used in operating activities" was negative USD114 million (which is about RM524 million) in 2021 alone. This implies a 9X increase in operating burn.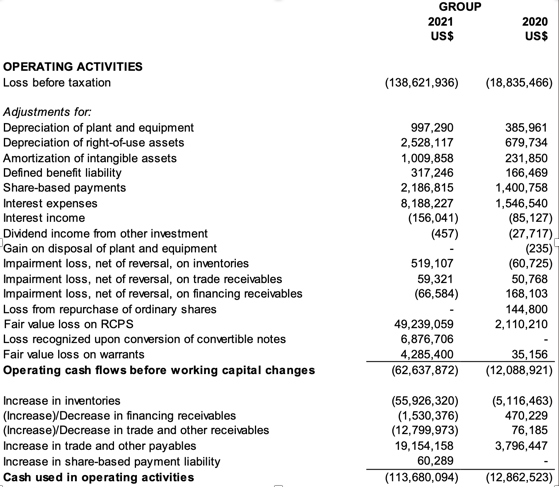 Following the fundraising in 2021, Carsome accelerated its spending in 2022 to boost its growth despite low "single-digit gross profit margin". This is why it was expected that operating expenditures, particularly employment and marketing expenses, to have gone up.
Please also remember that Carsome featured Eric Cantona in their 2022 marketing campaign. Eric Cantona's fees alone was said to be a few million USD, excluding media buy and production costs which is a move that was criticized by our netizens.
Carsome CEO Eric himself said the costs of the Cantona campaign came up to "not more than 20 percent" of total marketing budget, which was USD28.7 million for FY2021, so we are looking at a possible cost of up to USD5.7 million.
Assuming the same operating cash-burn of USD10 million per month as in 2021, this equates to at least USD120 million in annual operating cash-burn. But, operating expenditure very well could have gone up in 2022, so actual burn in 2022 could be much higher.
Working capital needs will most likely also have gone up as retail requires more inventory and retail inventory turnover days are typically much longer.
Deeply Negative EBITDA
Earnings before interest, tax, depreciation and amortization (or EBITDA) is one of the most widely used measures of a company's financial health and ability to generate cash.
According to the 2021 audited report, 2020 EBITDA was negative USD12 million.
Based on at least two forecasts that we saw during Carsome's fundraise, 2021 EBITDA was projected to be between negative USD19 million and negative USD28 million. The actual 2021 EBITDA losses increased 5 times to approximately negative USD63 million compared to 2020. This was a big miss on projections.
2022 EBITDA was projected to be between positive USD5m and USD127 million, from two different investor materials. The wide range in 2022 EBITDA forecasts itself was a bit suspicious and should have sounded alarm bells.
Carsome announced in September 2022 a so-called group-wide accelerated profitability plan which includes job cuts of 10 percent of the staff which we shared the news in September 2022 to achieve its target of positive EBITDA "within the next few quarters".
This is a silent admission that EBITDA remains negative. We are now in the 3rd quarter since that announcement. Is EBITDA now positive? If not, how many more quarters before breaking even?
We estimate that 2022 EBITDA to have exceeded negative USD100 million (which is about a whopping RM440 million). We were told that EBITDA was negative triple digit USD millions, but we are not relying on this as a basis of our estimates.
Carsome recently disclosed that revenues have surged to USD1.5 billion (which is a crazy high RM6.9 billion) in 2022.  Why can't a company operating at that scale be EBITDA positive and profitable, when small and mid-sized dealers are? Investors opinions were varied but one investor which request anonymity said it was probably because subsidies were used to drive growth which results in negative contribution margins.
Acquiring Sinking Ships
Interestingly, in the middle of last year (2022) Carsome acquired two financially suffering automotive news and used car portals, Wapcar and Carlist and both these websites are now being used to promote Carsome's used car business more than anything else as all other established automotive websites are NOT sharing their public relations news at all.
Did you know that by the middle of 2022, it became clear that Malaysia's 'supposed' first tech unicorn, Carsome was going to delay its public listing plans.
So, has the unicorn lost its 'alicorn' after 8 years? What will the 26 investors do tomorrow? Will Carsome get their 13th round of funding to keep this used car platform afloat until a 14th round of funding is needed?