Used cars
Carsome Offering To Double Up Your Car Value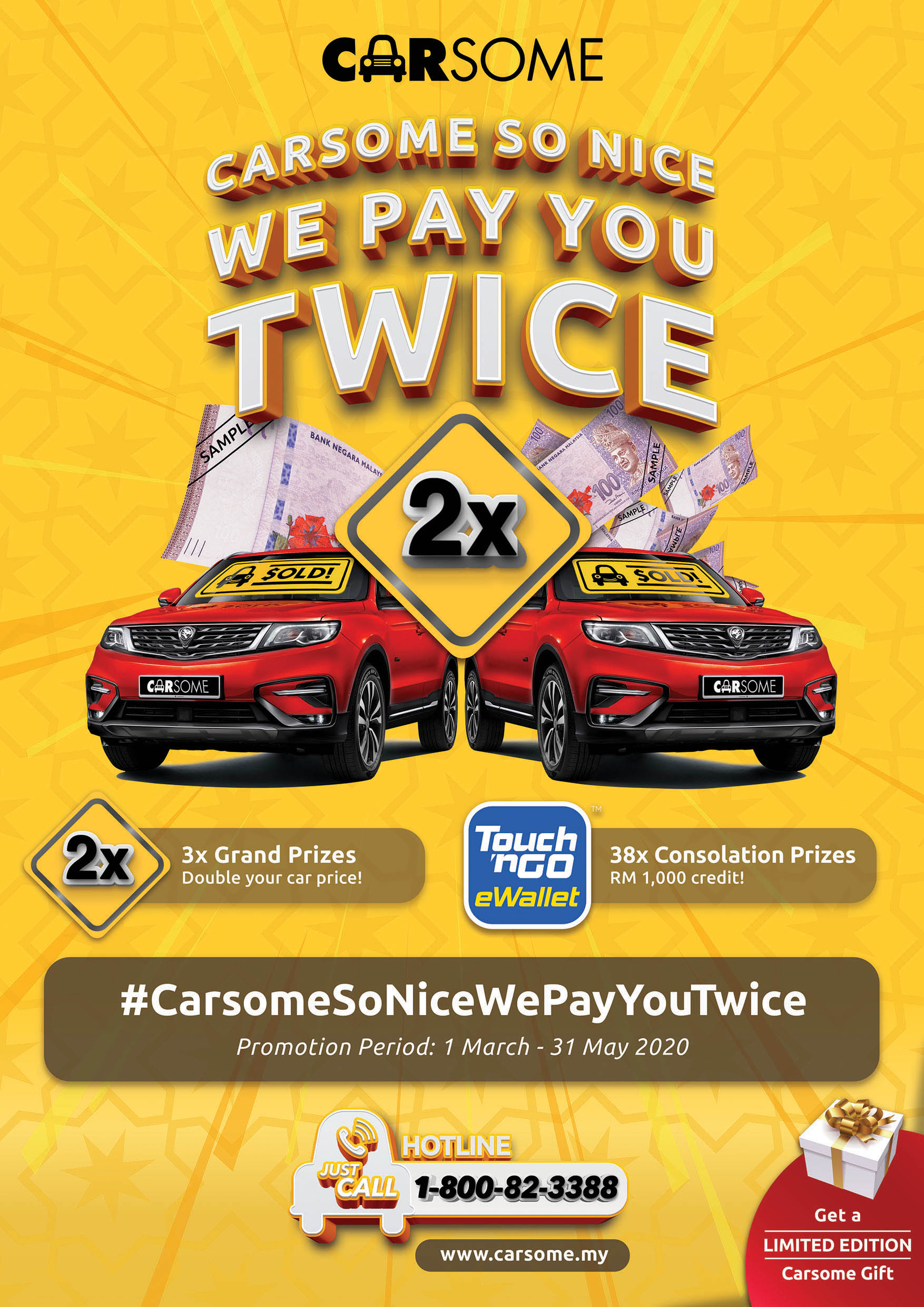 As the Malaysian and also global used vehicle market hits a huge slowdown and factors around buying a used vehicle gets even more difficult, online car trading websites are trying to give away more to entice sellers and buyers to use their website.
The angel investors who have invested heavily will now be less than patient to get their investments back and the race is on to see who survives. Meanwhile, car consumers should take advantage and use what makes sense to them to sell or buy a used car during this market slowdown.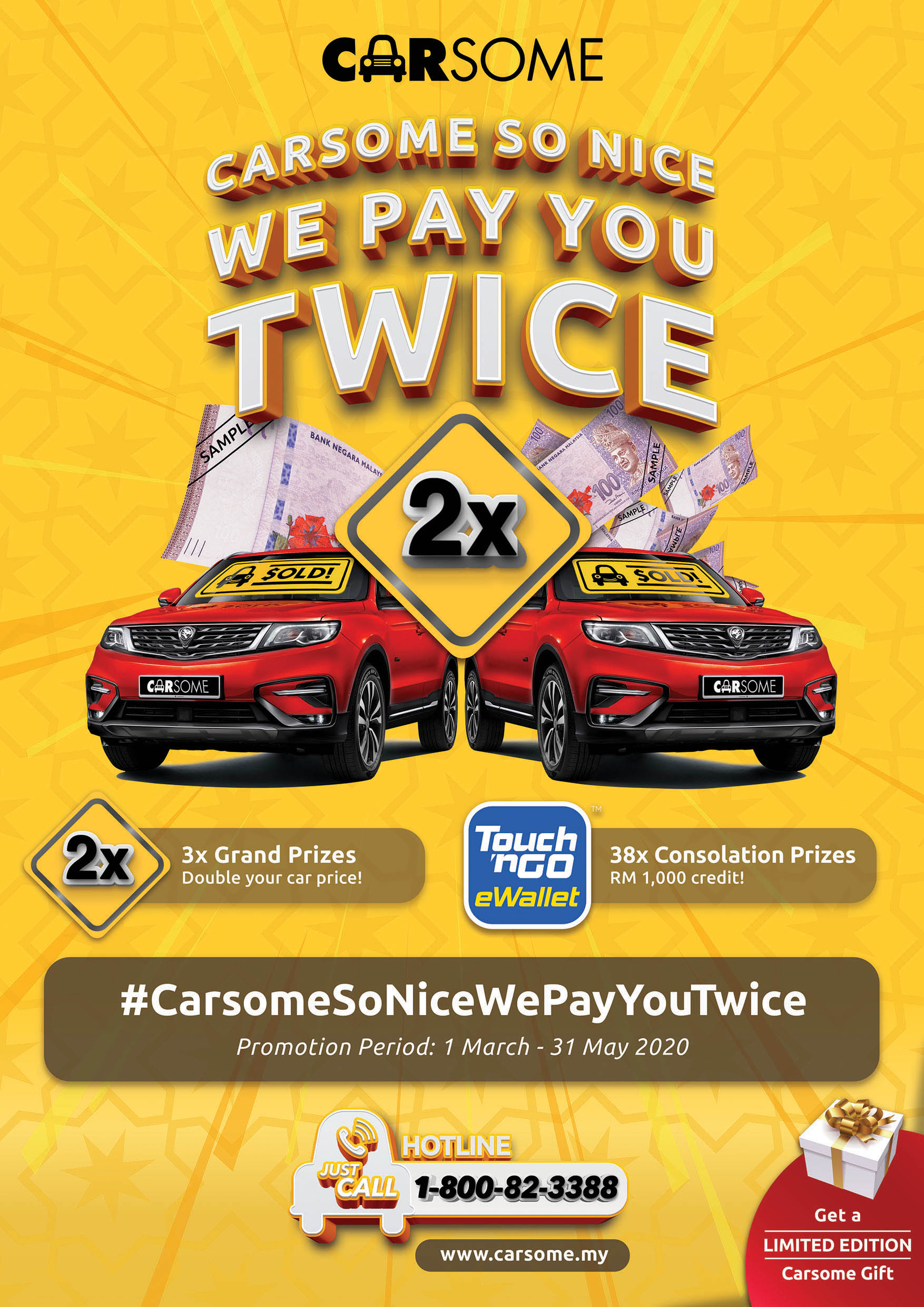 Press Release: Carsome, one of Malaysia's used car trading platforms is giving away exclusive cash rewards to its users to celebrate its 5th year anniversary, and usher in the festive spirit of Hari Raya 2020. They are pleased to announce their Double Raya Promotion for Malaysians!
From 1st March to 31st May 2020, a grand prize winner will be selected every month for three months to receive the equal value of their car's selling price for another time i.e. if the selected winner sold their 1-year old Land Rover Range Rover Velar to Carsome for RM410,000, they will receive an additional RM410,000. In addition, thirty-eight consolation prizes totalling up to RM38,000 worth of Touch 'n Go eWallet credit are also up for grabs for participants.
To participate in this Double Raya promotion, users just need to sell their car to Carsome and then submit a simple review in Carsome's social media page at the end of the sales transaction. Every user will also receive a limited edition Carsome gift for every car sold to Carsome during this promotion period. More details on how to participate are in Annex A.
ANNEX A | Promotion details
So Bagus! How do I enter the promotion?
Book a FREE inspection with Carsome by calling the HOTLINE at 1800-82-3388 or via www.carsome.my
Interested users can schedule a free car valuation at any of Carsome's certified inspection centres across Malaysia.
Attend the booking appointment at the selected Carsome's inspection centre
Carsome's professional and friendly inspectors will inspect the car and provide a fair price on the spot.
Proceed to sell directly to Carsome or opt for bidding
You can choose to sell your car to Carsome or put it up for bidding to all used car dealers in Carsome's network.
Complete the sales and transfer process
Paperwork will be managed by Carsome, and payment is made to the user via an online bank transfer instantly as part of the hassle-free and fast service provided by Carsome
Should you be the lucky grand prize winner, the offer's value will be paid again via online bank transfer into your account
Submit a review on Carsome Malaysia's Facebook page
Enter with your car plate number with the hashtag, #CarsomeSoNiceWePayYouTwice
You are done! Good luck!
Successful users will receive one automatic entry for every car sold on Carsome during the promotion period.
All grand prize winners will be announced monthly via Facebook and contacted privately
This promotion is open to all private car owners only, excluding company-owned vehicles, used car dealers, reconditioned car importers or trade-in customers referred by sales agents. All 38 consolation prizes will be given away after the end of the promotion period.