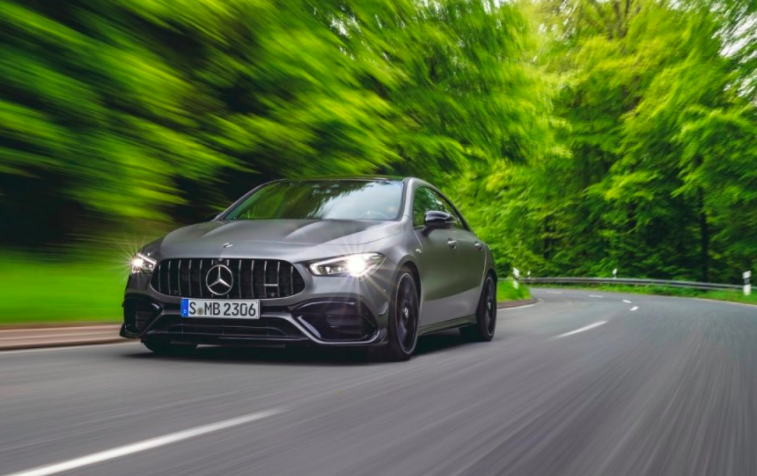 This CLA 45 S 4MATIC+ arrives in Malaysia at the wrong economic time. Clever in so many ways, fast beyond understanding and designed to excite, this compact sedan will have many admirers in the showrooms but very few buyers as Covid-19 continues to move the economy downwards.
Not many business owners will be able to get financing for this CLA 45 S and even worse, those who still might have some decent credit rating might hold back their purchase to keep their credit score healthy for a possible business bailout loan in the coming months.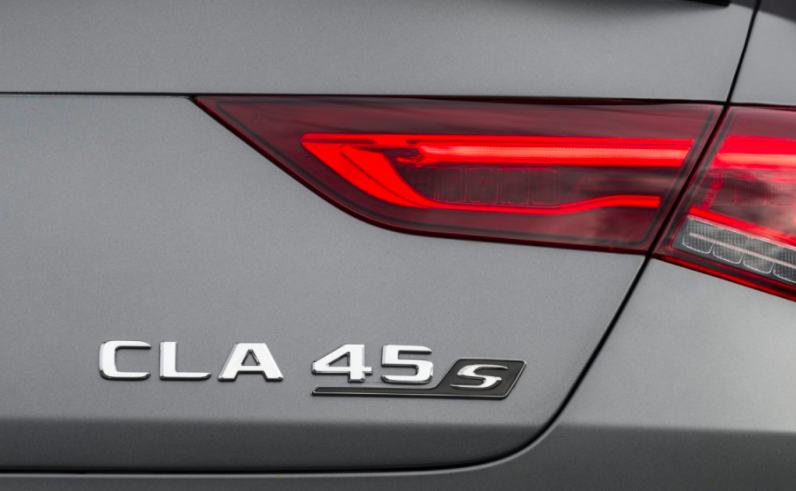 You don't even have to drive it to sense the difference. You merely need to look: It's there in the AMG-specific grille with vertical louvers. It's there in the pronounced nose, in the slim, contoured headlamps, and in its lower, wider stance. It's there in the jet-inspired air inlets. The CLA's new design elegantly communicates a readiness to shred.
But its new design is about far more than aesthetics. AMG engineers have restlessly pored over every detail, ensuring that each tweak makes the AMG CLA 45 more responsive, more aerodynamic, and more thrilling to drive. Take the body itself: It's been extensively reinforced to provide maximum stability, allowing for greater steering precision. From front splitter to air vents to high-mounted mirrors, the AMG CLA 45's aggressive style is grounded in a push to deliver the finest driving dynamics.
Nowhere is that more apparent than under the hood: The CLA's new, handcrafted 4-cylinder engine is uniquely powerful, generating 382 horsepower and 354 lb-ft of torque, while achieving 60 mph in just 4.1 seconds. It, too, has been thought through relentlessly, with elements like the turbocharger and exhaust manifold repositioned for greater aerodynamics and performance. It's paired with a new AMG SPEEDSHIFT DCT 8-Speed transmission that delivers millisecond-precise shifting.
With the incorporation of the new Mercedes-Benz User Experience (MBUX) operating system, the pleasure of driving the AMG CLA 45 only increases. It's part of an interior cabin experience that puts the driver firmly in control, even as it surrounds and supports with superior materials and striking visual details.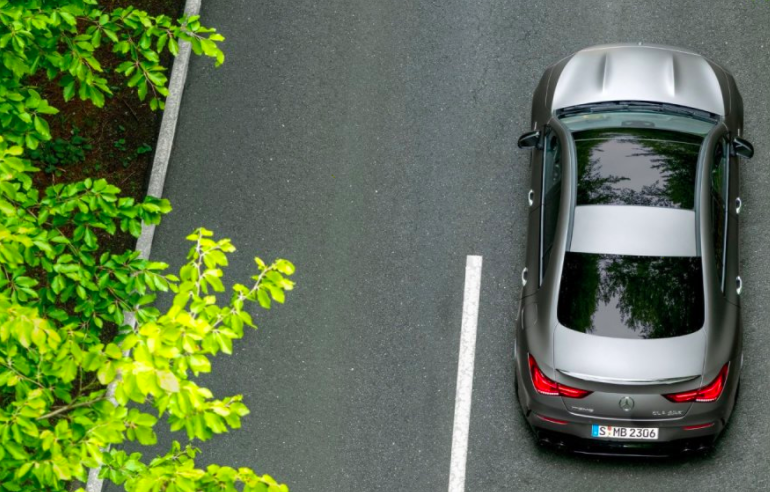 Built to win
With an output of up to 310 kW (421 hp), the completely newly developed 2.0-litre engine is the world's most powerful turbocharged four-cylinder manufactured for series production. Mercedes-AMG has bettered the output of the preceding engine by 30 kW (40 hp). Maximum torque has also increased from 475 to up to 500 newton metres. With an output per litre of up to 155 kW (211 hp), the new Mercedes-AMG high-performance turbo engine even ranks ahead of many well-known super-sports car engines. The new, highly efficient powerpack is produced on an innovative production line in Affalterbach, on the "One Man, One Engine" principle.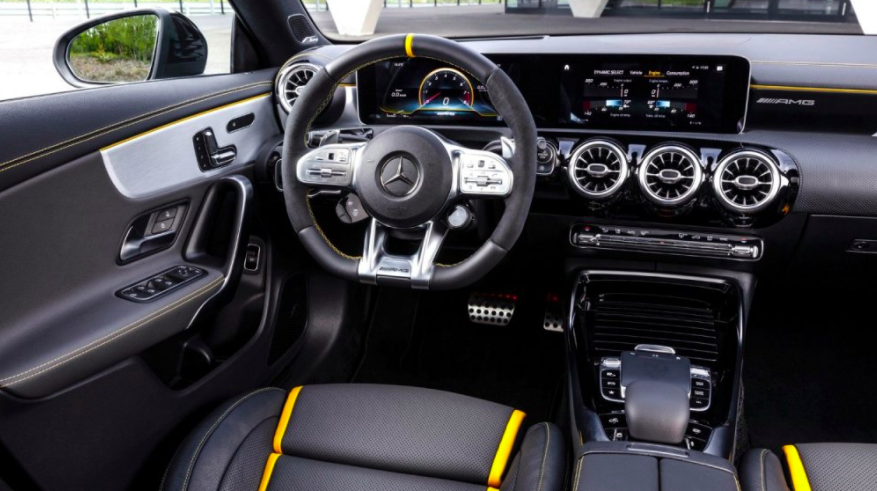 The M 139 engine: Power your wildest desires
The noticeable change of the M 139 engine is the reversed mounting position of the engine whereby the exhaust manifold and turbocharger are now located at the rear whereas, the intake system is now at the front. This results to several advantages, particularly in terms of aerodynamics. The modified position allows for a flat, more aerodynamic front design while concurrently optimising the air flow in the engine compartment. The 'cutaway' exhibit shows what makes the M 139 a true high-performance engine.
To reduce friction between the pistons and cylinders, the linings are coated using patented NANOSLIDE technology. This gives the linings a mirror-like surface for minimal friction, is twice as hard as conventional grey cast-iron liners and therefore makes them much more durable. NANOSLIDE was developed by Daimler AG, and is protected by more than 90 patent families and more than 40 patents. This coating was first used in AMG's M 156 V8 engine, has enhanced other AMG engines for many years and can also be found in the Formula 1 engine of Mercedes AMG Petronas Motorsport.
AMG Performance 4MATIC+ all-wheel drive with AMG TORQUE CONTROL
The extremely dynamic driving experience in a completely new dimension is greatly assisted by the fully variable all-wheel drive. The secret is AMG TORQUE CONTROL in the new rear axle differential: This has two electronically controlled multidisc clutches, each of which is connected to a rear axle drive shaft. In this way the drive power can not only be completely variably distributed between the front and rear wheels, but also selectively between the left and right rear wheel. This means that depending on the driving mode and situation, the drive torque can be separately distributed to both rear wheels.
The result is consistently optimum traction, even in adverse road conditions and during extreme cornering manoeuvres, for example on the racetrack. Furthermore, this sophisticated solution allows Drift mode (standard in the S-models, included in the optional AMG DYNAMIC PLUS package for the basic models), which makes "powersliding" possible for even more driving pleasure.
Drift mode can be called up in the "RACE" driving mode using the shift paddles, provided that ESP® is deactivated and the transmission is in manual mode.
The 8-speed AMG SPEEDSHIFT DCT 8G dual-clutch transmission likewise contributes to the agile and dynamic character. In fact, the gear ratios have been configured so that the driver experiences very spontaneous acceleration in all speed ranges, combined with fast shifting and optimum connections when shifting up. Anyone who prefers to change gear for themselves can select the manual transmission mode in every drive program. As a feature of the AMG DYNAMIC SELECT driving modes, the new 45 models have AMG DYNAMICS. This integrated vehicle dynamics control extends the stabilising functions of ESP® with agility-enhancing intervention in the all-wheel control, steering characteristics and additional ESP® functions.