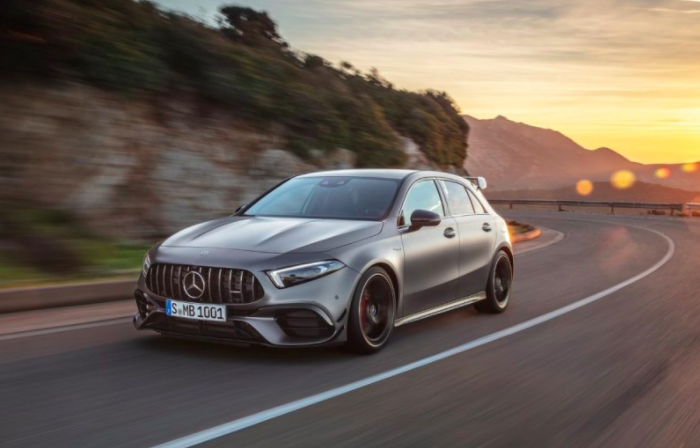 With a 0-100km/h time of just 3.9 seconds, this compact hot hatch from Mercedes-Benz will not only excite the driver but leave them excited at every corner with its precision built AMG 4MATIC+ drive system. The question of course is how many Malaysians are capable of buying this highly desirable sports hatchback right now as Covid-19 ravages our population and also our economy.
The many business owners or SME owners who were Mercedes-Benz Malaysia's biggest client base is not seeing a huge slowdown in business and even worse, losses are piling up for many.
For the few who are able to stay profitable, and they do exists even in this climate, the decision to buy a weekend 'toy' car like this Benz will be put aside until the economy slides back up. Showing up in a new weekend toy in the next few months will be frowned by employees who have been given a sever pay cut, or even worse, those who have been asked to take no pay leave.
Still, the very rich are probably making even more money right now and there might just be enough of them in Malaysia to take up the 2020 stock allocation.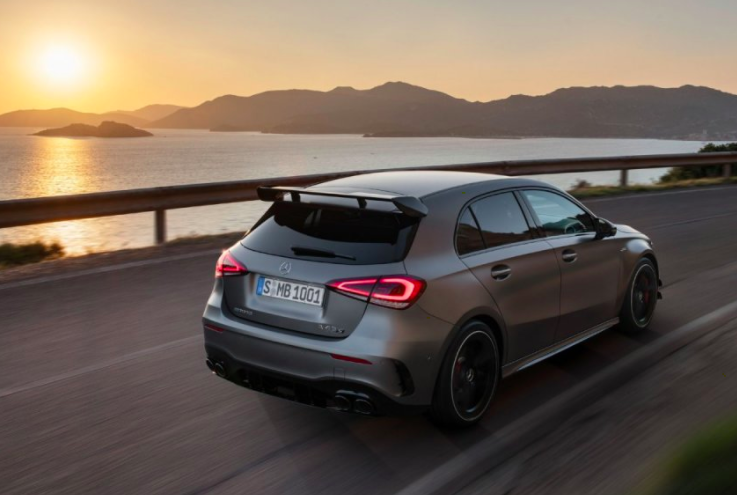 Outstanding performance, the ultimate driving dynamics, expressive design ‑ the new Mercedes-AMG compact A 45 S 4MATIC+ reassert its leading position in its segment.
This completely newly developed 2.0-litre engine is the world's most powerful turbocharged four-cylinder engine manufactured for series production.
The new Mercedes-AMG A 45 S 4MATIC+ is even more distinctive than their predecessors. Transpire with the outstanding performance, the ultimate driving dynamics and expressive design while setting numerous of new and pre-eminent standards.
Built to win
With an output of up to 421 hp, the completely newly developed 2.0-litre engine is the world's most powerful turbocharged four-cylinder manufactured for series production. Mercedes-AMG has bettered the output of the preceding engine by 40 hp. Maximum torque has also increased from 475 to up to 500 newton metres. With an output per litre of up to 211 hp, the new Mercedes-AMG high-performance turbo engine even ranks ahead of many well-known super-sports car engines. The new, highly efficient powerpack is produced on an innovative production line in Affalterbach, on the "One Man, One Engine" principle.
The sprint from zero to 100 km/h in record time: the A 45 S 4MATIC+ requires only 3.9 seconds and is capable of up to 270 km/h.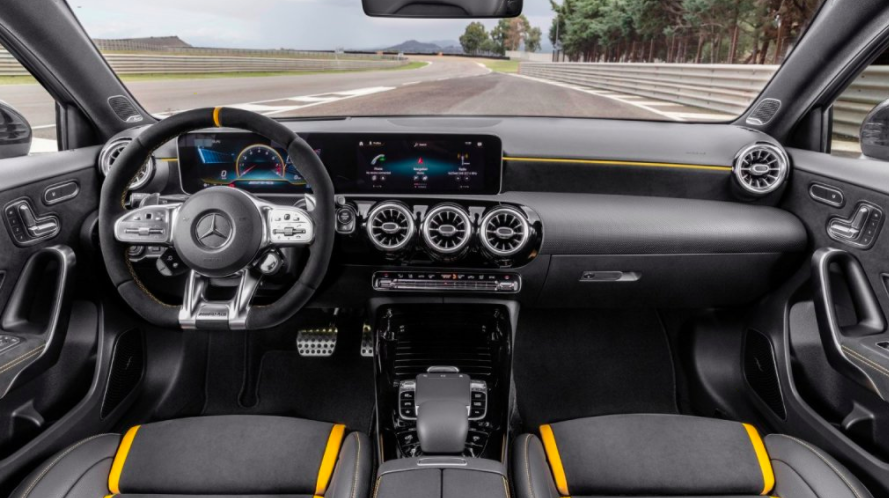 The M 139 engine: Power your wildest desires
The noticeable change of the M 139 engine is the reversed mounting position of the engine whereby the exhaust manifold and turbocharger are now located at the rear whereas, the intake system is now at the front. This results to several advantages, particularly in terms of aerodynamics. The modified position allows for a flat, more aerodynamic front design while concurrently optimising the air flow in the engine compartment. The 'cutaway' exhibit shows what makes the M 139 a true high-performance engine.
To reduce friction between the pistons and cylinders, the linings are coated using patented NANOSLIDE technology. This gives the linings a mirror-like surface for minimal friction, is twice as hard as conventional grey cast-iron liners and therefore makes them much more durable. NANOSLIDE was developed by Daimler AG, and is protected by more than 90 patent families and more than 40 patents. This coating was first used in AMG's M 156 V8 engine, has enhanced other AMG engines for many years and can also be found in the Formula 1 engine of Mercedes AMG Petronas Motorsport.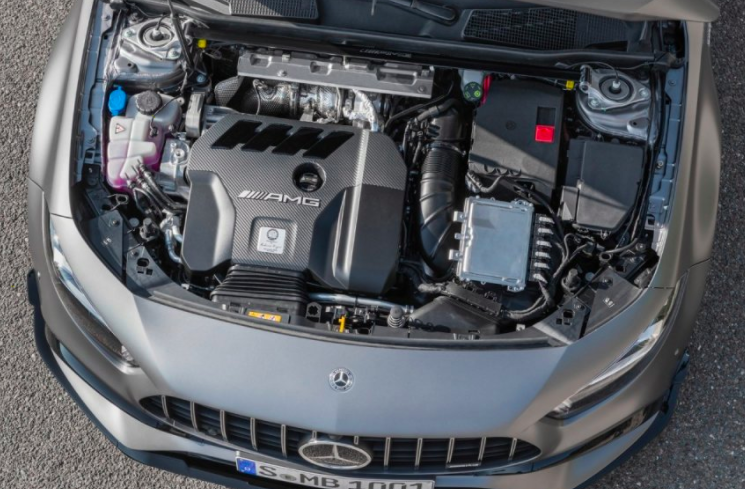 AMG Performance 4MATIC+ all-wheel drive with AMG TORQUE CONTROL
The extremely dynamic driving experience in a completely new dimension is greatly assisted by the fully variable all-wheel drive. The secret is AMG TORQUE CONTROL in the new rear axle differential: This has two electronically controlled multidisc clutches, each of which is connected to a rear axle drive shaft. In this way the drive power can not only be completely variably distributed between the front and rear wheels, but also selectively between the left and right rear wheel. This means that depending on the driving mode and situation, the drive torque can be separately distributed to both rear wheels.
The result is consistently optimum traction, even in adverse road conditions and during extreme cornering manoeuvres, for example on the racetrack. Furthermore, this sophisticated solution allows Drift mode (standard in the S-models, included in the optional AMG DYNAMIC PLUS package for the basic models), which makes "powersliding" possible for even more driving pleasure.
Drift mode can be called up in the "RACE" driving mode using the shift paddles, provided that ESP® is deactivated and the transmission is in manual mode.
The 8-speed AMG SPEEDSHIFT DCT 8G dual-clutch transmission likewise contributes to the agile and dynamic character. In fact, the gear ratios have been configured so that the driver experiences very spontaneous acceleration in all speed ranges, combined with fast shifting and optimum connections when shifting up. Anyone who prefers to change gear for themselves can select the manual transmission mode in every drive program. As a feature of the AMG DYNAMIC SELECT driving modes, the new 45 models have AMG DYNAMICS. This integrated vehicle dynamics control extends the stabilising functions of ESP® with agility-enhancing intervention in the all-wheel control, steering characteristics and additional ESP® functions.