Reviews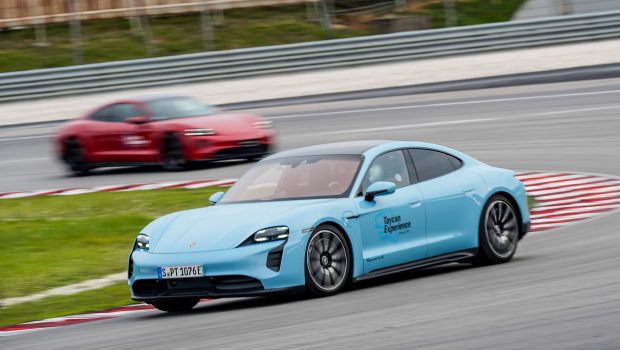 Published on April 28th, 2021 | by Joshua Chin
0
On Track Impressions: Porsche Taycan
Popping one's EV cherry with the Porsche Taycan on track sets a high bar for other EVs to come. 
For anyone who has been even vaguely in touch with the auto world over the past couple of years, you might have heard of the Porsche Taycan — the German automaker's first EV that was set to rival the Tesla Model S.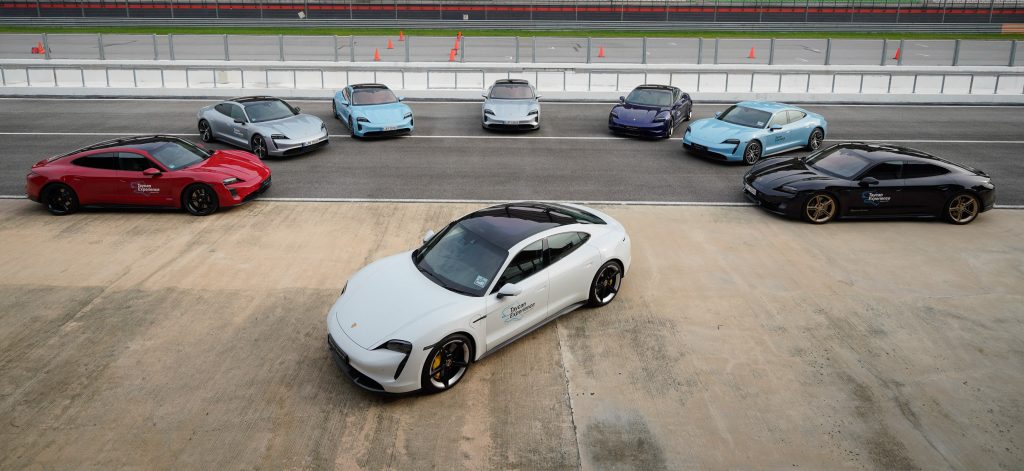 As for those auto enthusiasts meanwhile who are more familiar with this all-electric Stuggart stallion, you might then recall the many claims from its maker of the Taycan as being a true performance Porsche when it was first unveiled. Claims that were backed up by the its staggeringly impressive performance figures, which eventually culminated in a Nurburgring lap time that caused Tesla themselves to scramble with their tri-motor Plaid version of the Model S in order to wrest that EV record back. 
While these facts and figures do paint quite an adequate picture of how amazing this all-electric Porsche is, how does the Taycan actually feel like from behind the wheel? Well thanks to the generous people at Sime Darby Auto Performance (SDAP), below are just some of the thoughts from an impressionable 20-odd year old lad who had the rather awesome chance recently of popping his EV cherry on track in Sepang with one of the most critically acclaimed electric cars to date.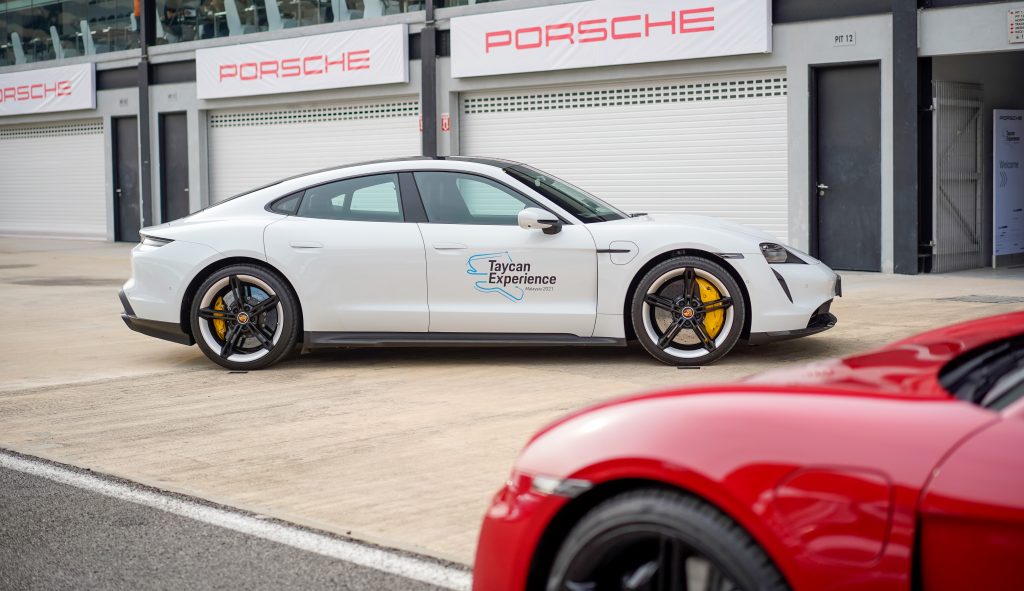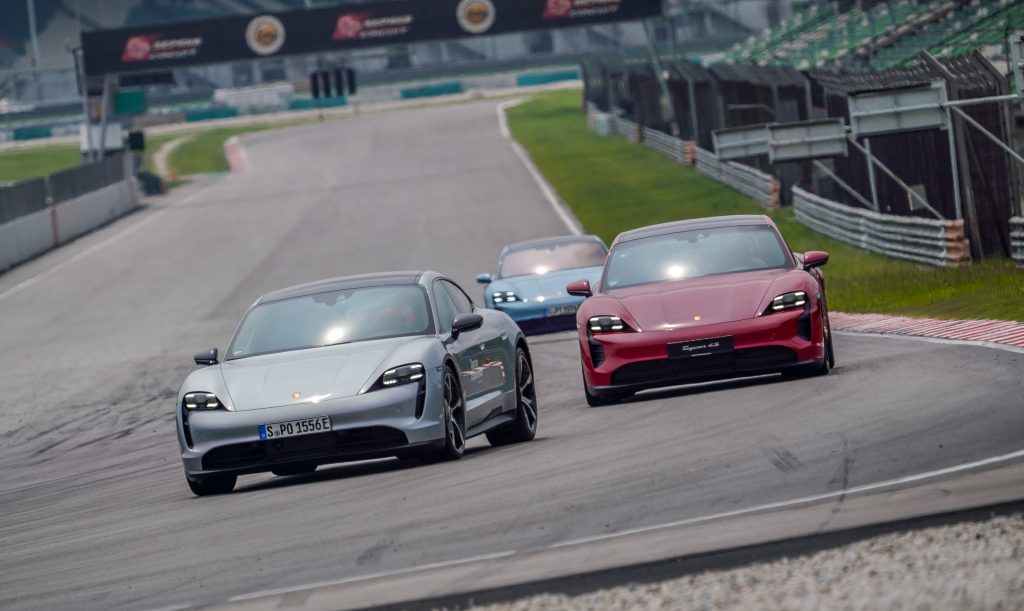 Acceleration & Speed
When mentioning the Taycan, the one thing that headlines it is undoubtably its acceleration and speed. The headline 0-100km/h time of a supercar rivalling 2.8 seconds (for the turbo S variant at least) sure sounds impressive on paper, videos of people getting pushed back into their seats on YouTube looks great too, but how does it really feel like in real life?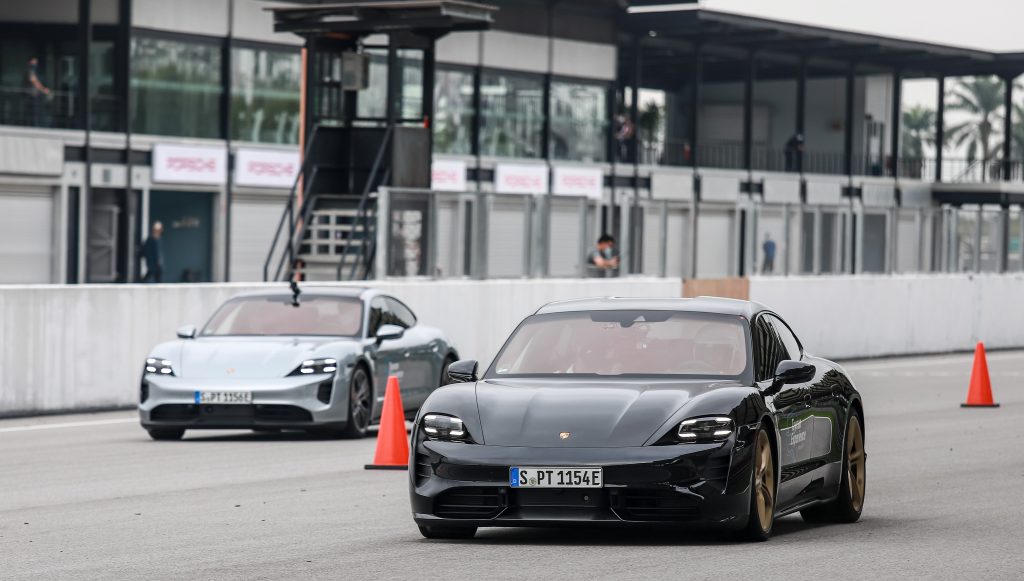 Having had a good few full throttle launches in the slightly slower Turbo variant of the Taycan (0-100 km/h in 3.2 seconds), the best description I had managed come up with to convey its ferocious acceleration in words is by simply comparing it to the sensation felt when on a roller coaster as it whooshes down. 
That is because the full sensation of the accelerative forces are only actually truly felt only a split second or so after stomping on the (figuratively) loud pedal, as that is the time the body takes to react to the fact that you are now far from where you were mere moments ago. Not to mention that you're well and truly above the legal speed limit.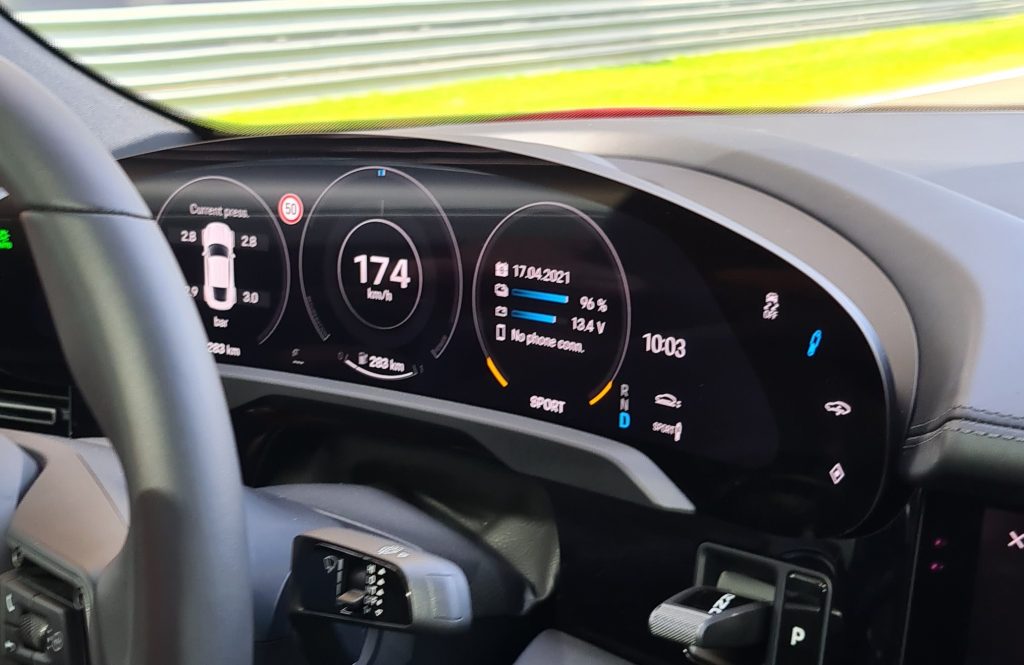 Such is perhaps typical of all EVs too, but the immediateness of its power delivery (with maximum torque from 0 rpm) definitely is a (welcome) thing that certainly needs to be gotten used to. Especially when stepping out of what would now seemingly feel like a rather pedestrian petrol-powered car.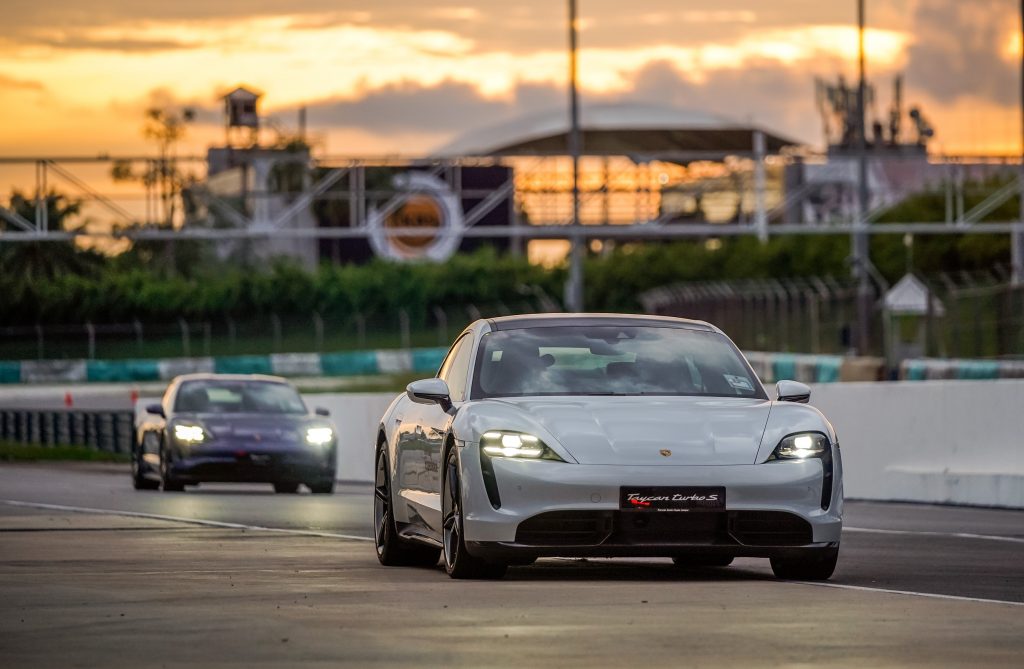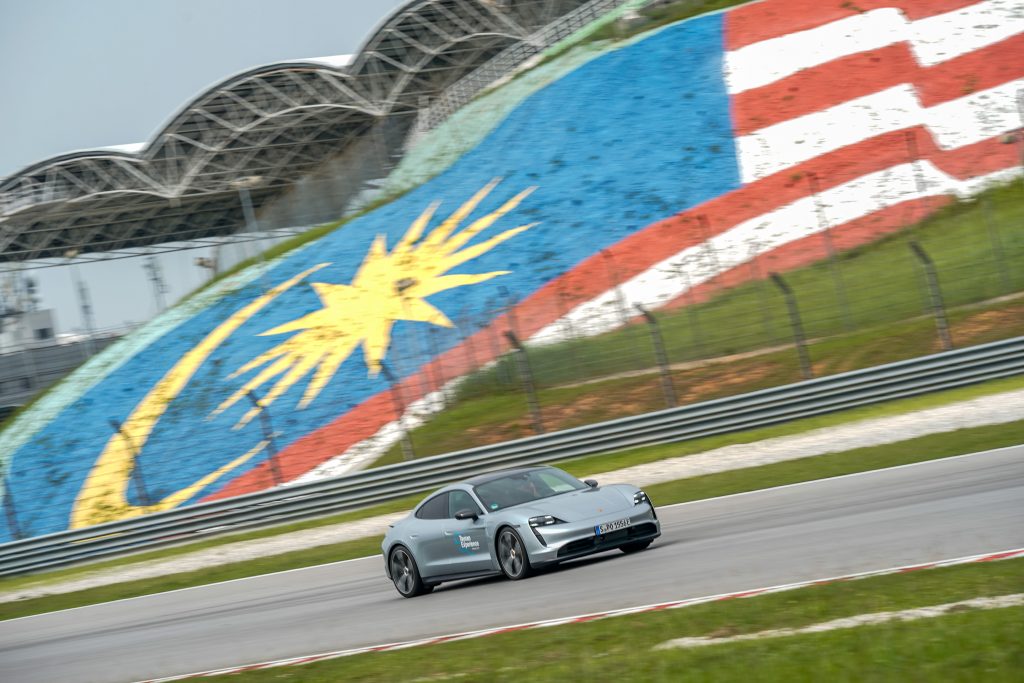 Ride & Handling
What also does need some getting used to is the noise, or more precisely the lack thereof, even at high speed when barreling round the Sepang circuit in the Taycan. In fact, it was such a refined experience that my co-driver and I were able to conduct a whisper conversation while out on track, leading us both to conclude that this is what it must feel to rag a Rolls-Royce on track.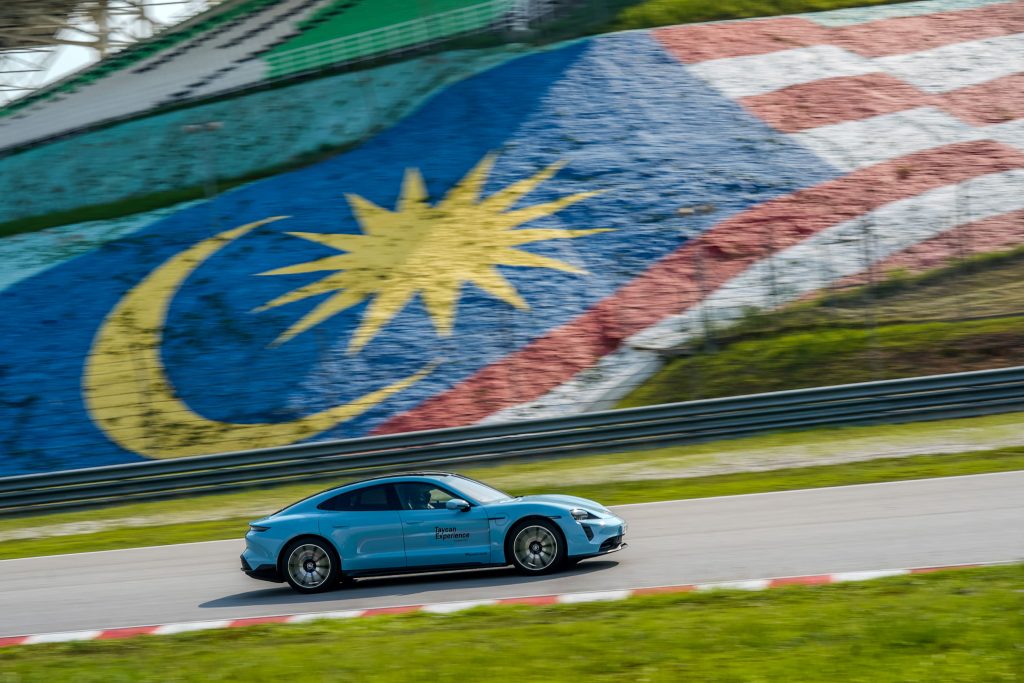 This conclusion however was arrived at not just down to the Taycan's stellar refinement only, but also partly due to the way it behaved when the road ahead gets twisty. That is because all the good work done by the Porsche engineers, this all-electric Stuggart stallion still undoubtably feels like the 2.4 tonne car that it is when going round a bend. 
Now this is not to say that the Taycan is a bad handling car, far from it in fact. It is just that even with all the fancy tech like active anti-roll bars, three-chamber air suspension and active rear wheel steering (which enables an incredibly tight turning radius), there is nevertheless still the lingering sense that this Porsche is trying (and on occasion struggling) to bend the laws of physics to its will when tackling the twistier portions of the track.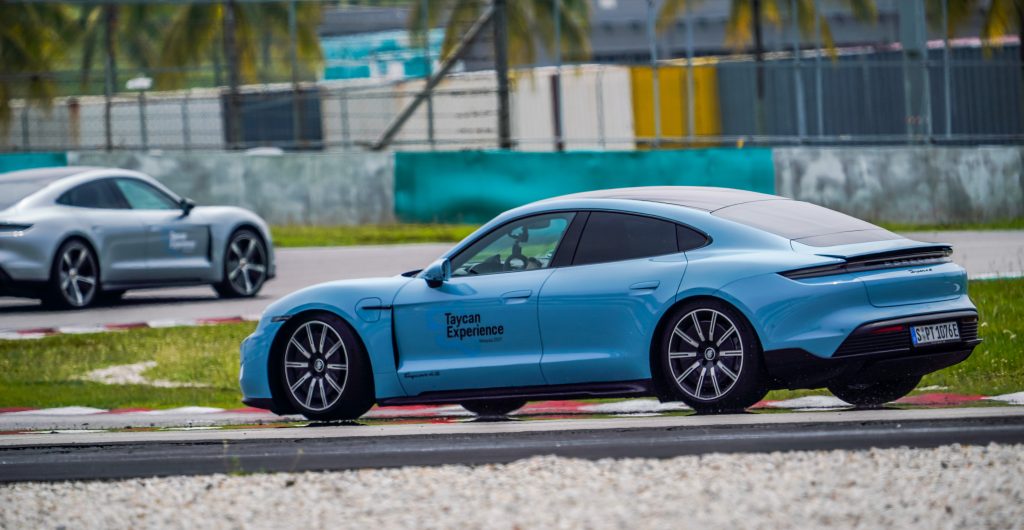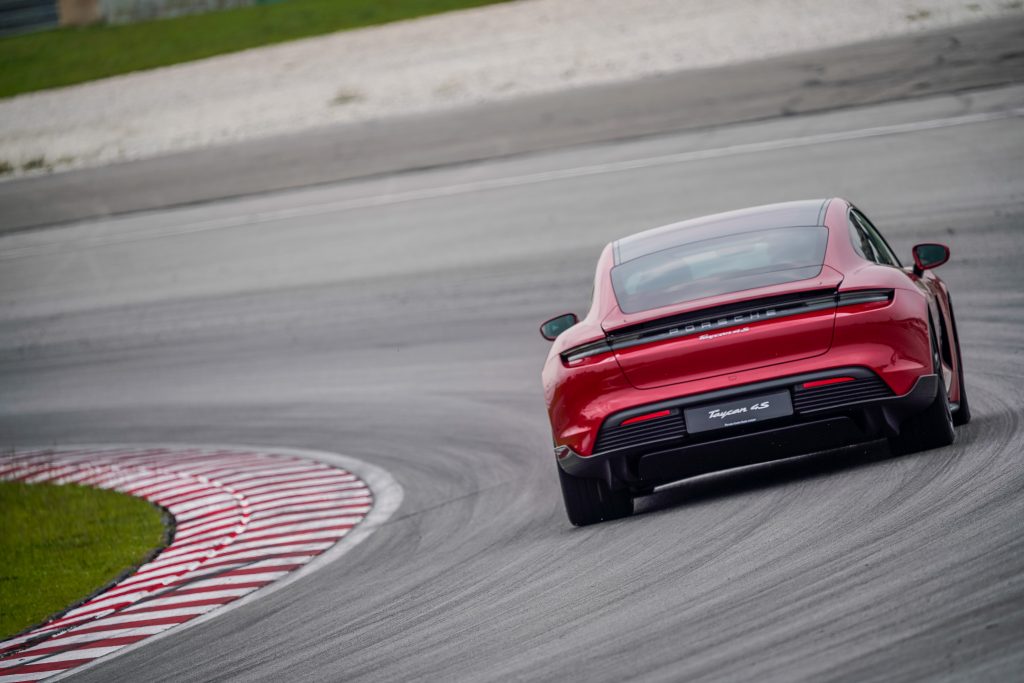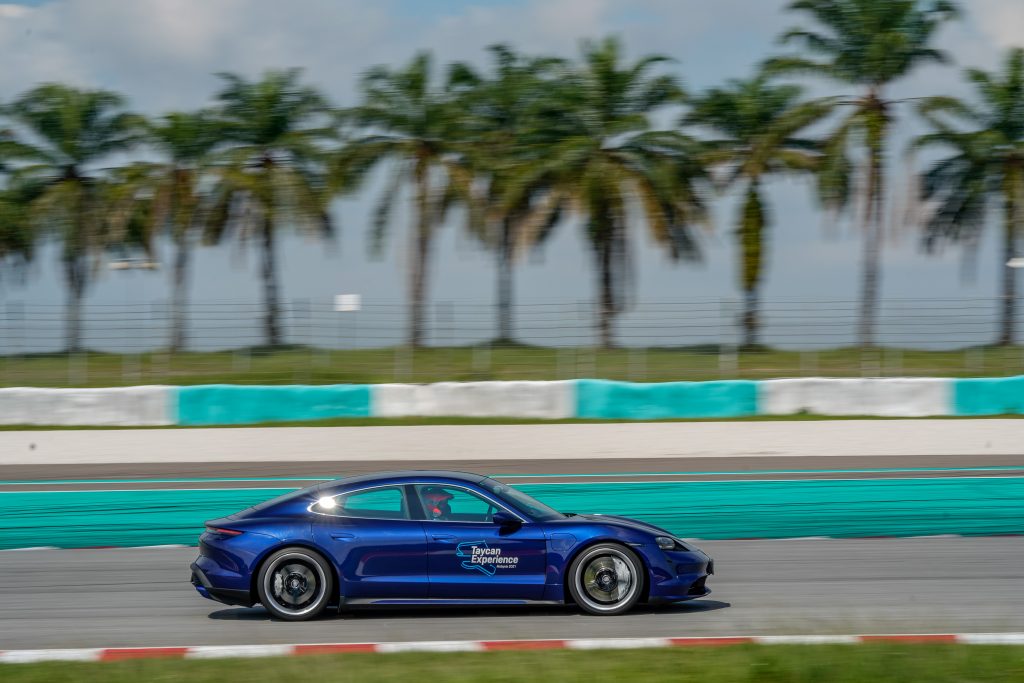 Braking
That said, Porsche has amazingly done a much better job at bending the laws of physics and inertia when it comes to bringing this all-electric behemoth to a complete halt. Part of this amazing stopping capabilities have got to do with the massive brakes (featuring 10-piston calipers up front and four on the back), though most of the heavy lifting actually falls on the shoulders of the regenerative braking done by the electric motors.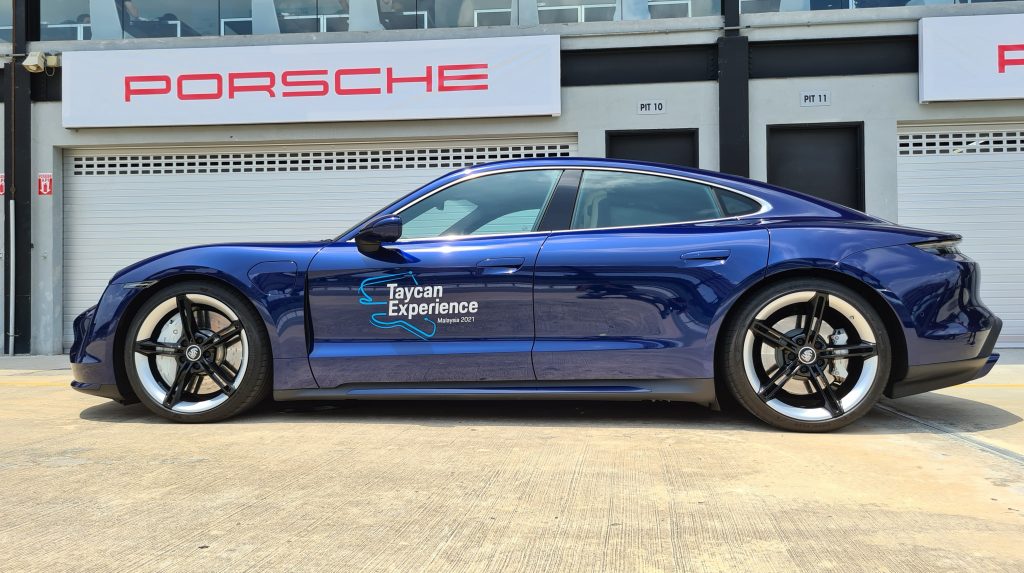 It has to be said too that Porsche also done a rather stellar job on the brake feel for the Taycan. Managing the not insignificant task of seamlessly blur the lines between the two forms of stopping (regen and friction) potentials, in order to produce a natural and linear brake feel that gives the driver confidence to just stomp on the anchors when needed to.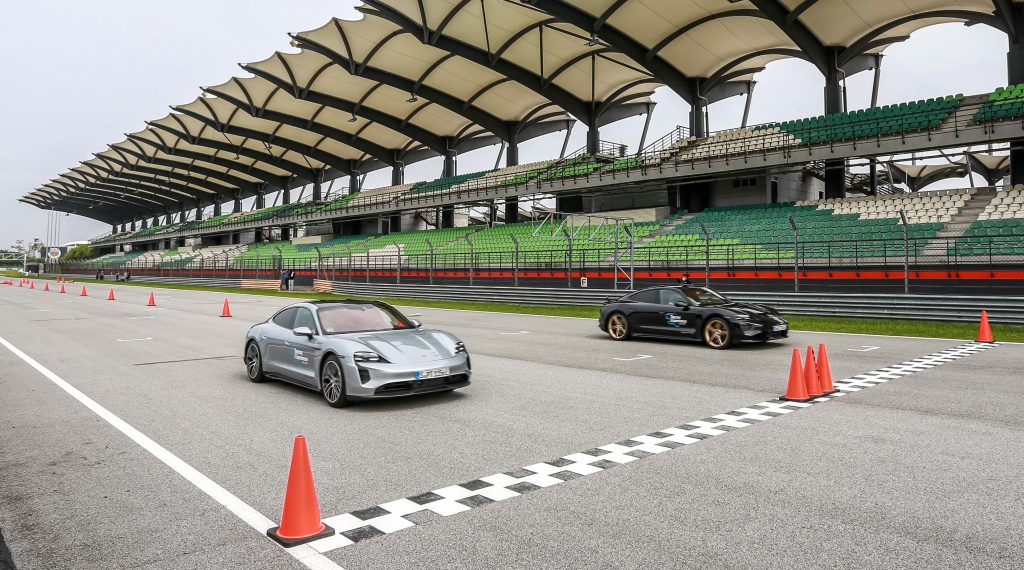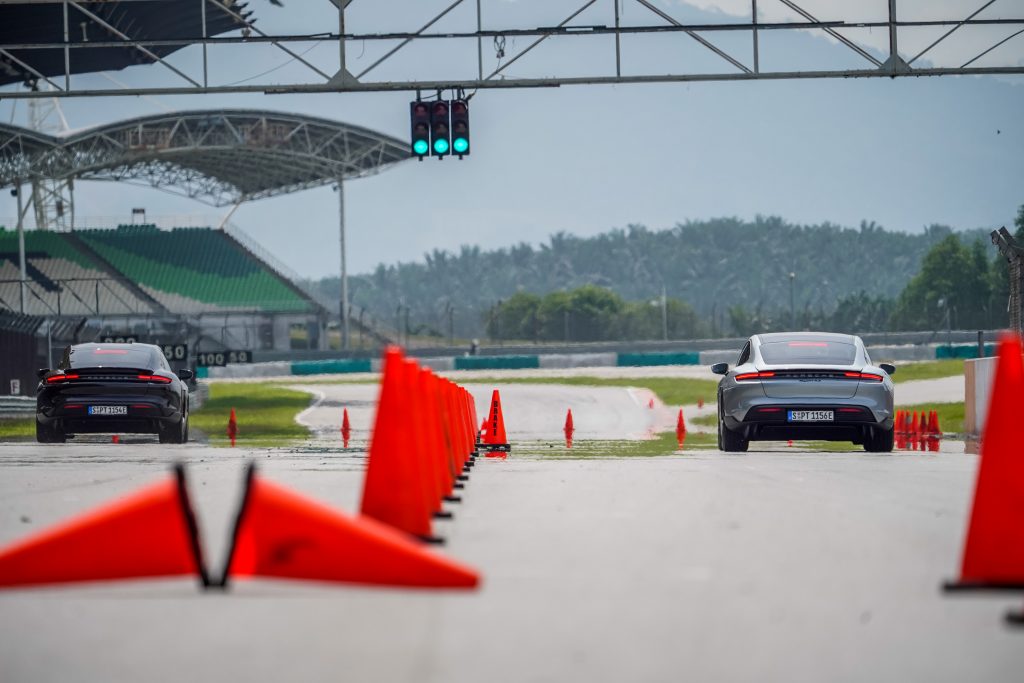 Odds and Ends
Just to bring a modicum of practicality into the mix over here, there are just a couple of the more practical aspects of the Taycan that were worth highlighting. Like the rather neat fact that this four-door Porsche does have a decently-sized rear passenger compartment, with rear seats that were surprisingly able to nicely accommodate person(s) of a lankier stature despite what its swoopy roofline would suggest.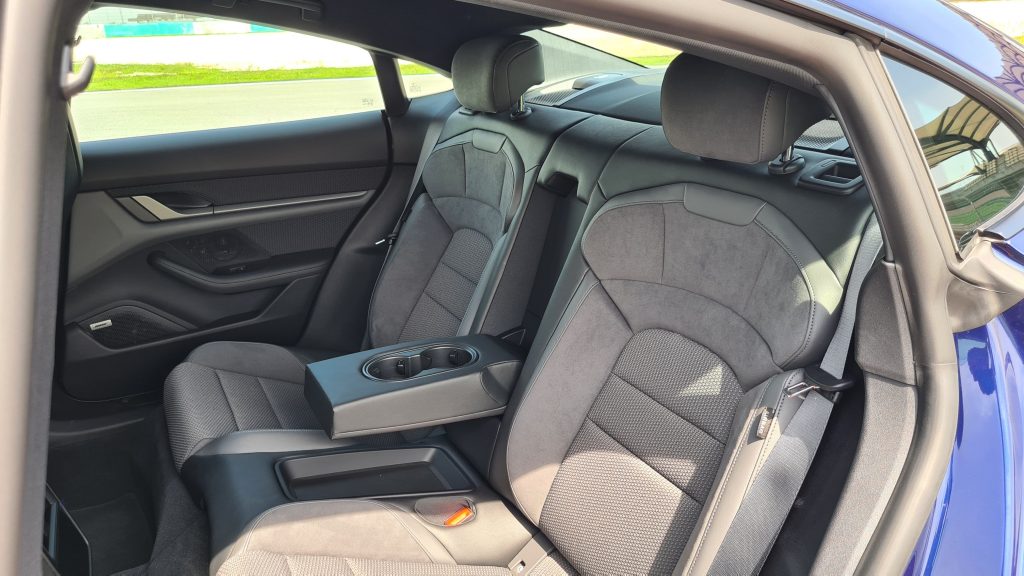 Cargo space within the Taycan is not an issue too thanks to what is surprisingly decently-sized frunk. Opening it however (rather infuriatingly) requires fiddling around with the central touchscreen on the centre console, and there is also a typical fiddly hood latch to contend with once the bonnet is popped up.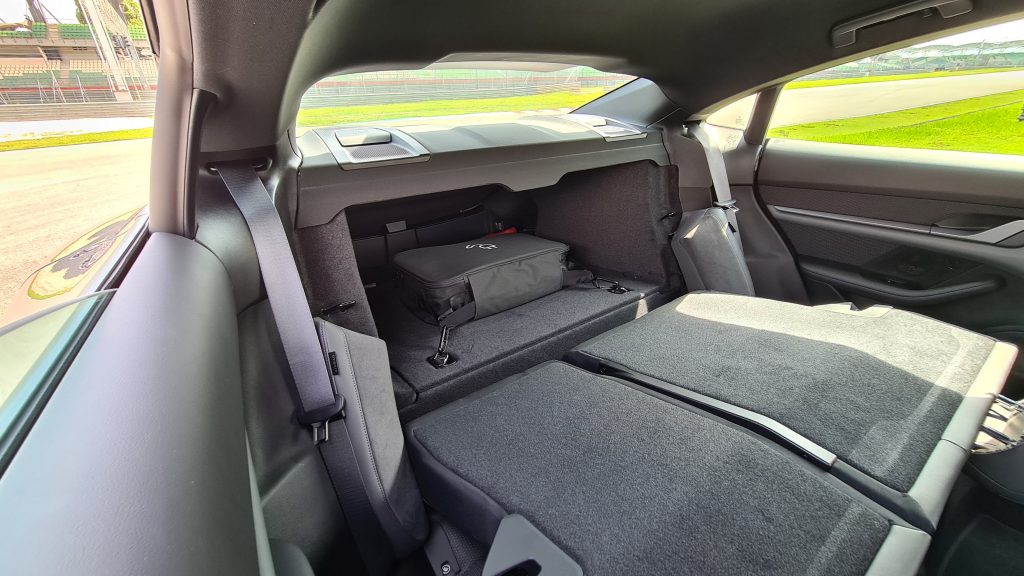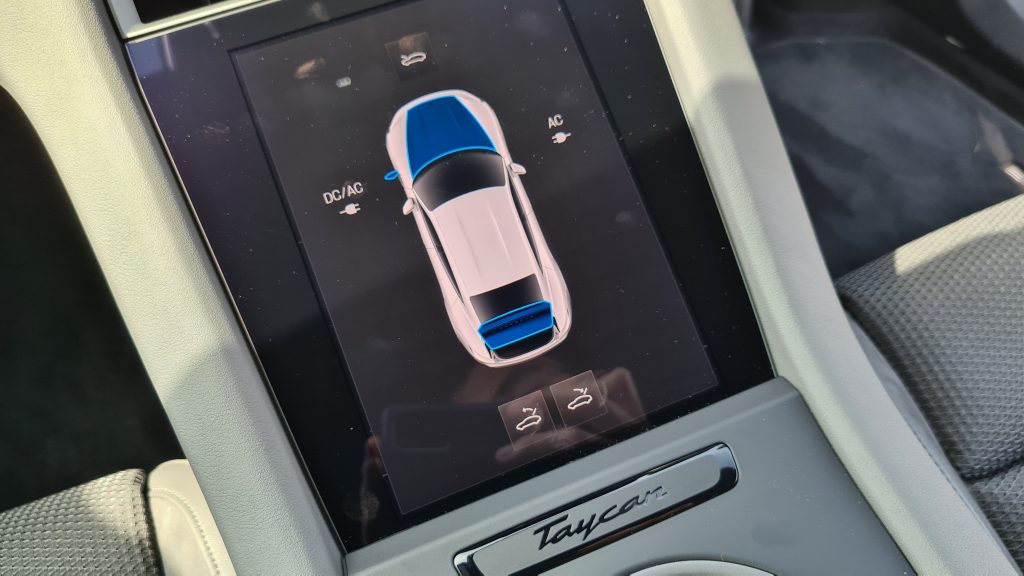 Continuing on the topic of tech, the Taycan isn't actually a completely silent machine as alluded to prior, because there is actually a synthesised sound is pumped into the cabin through the speakers when Sport or Sport Plus mode is selected. Sounding a bit like the cross between the noise of a space ship when going into warp drive and a Porsche flat six, this (optional) sound effect does pair surprisingly well with the overall futuristic vibe of this all-electric Porsche.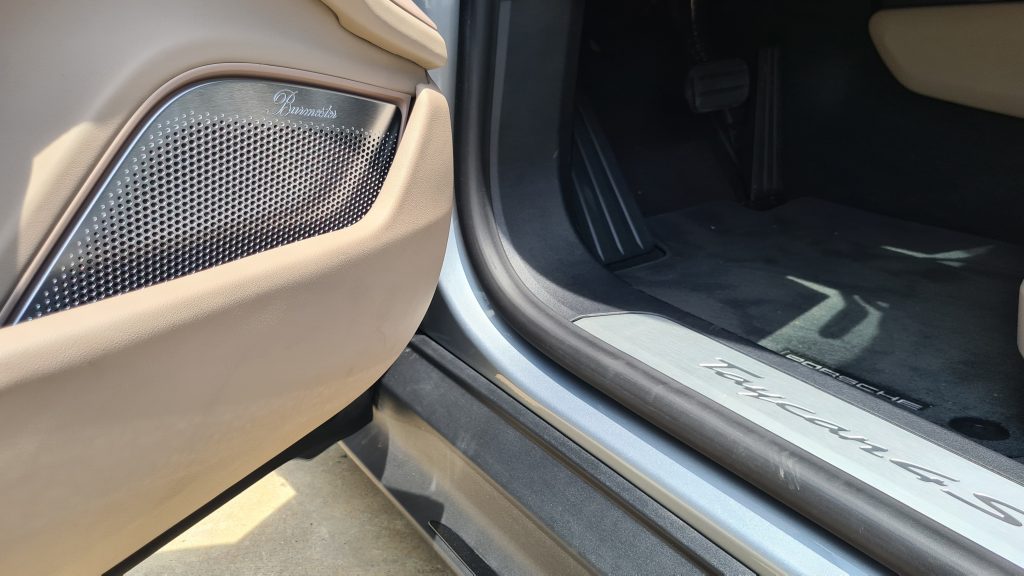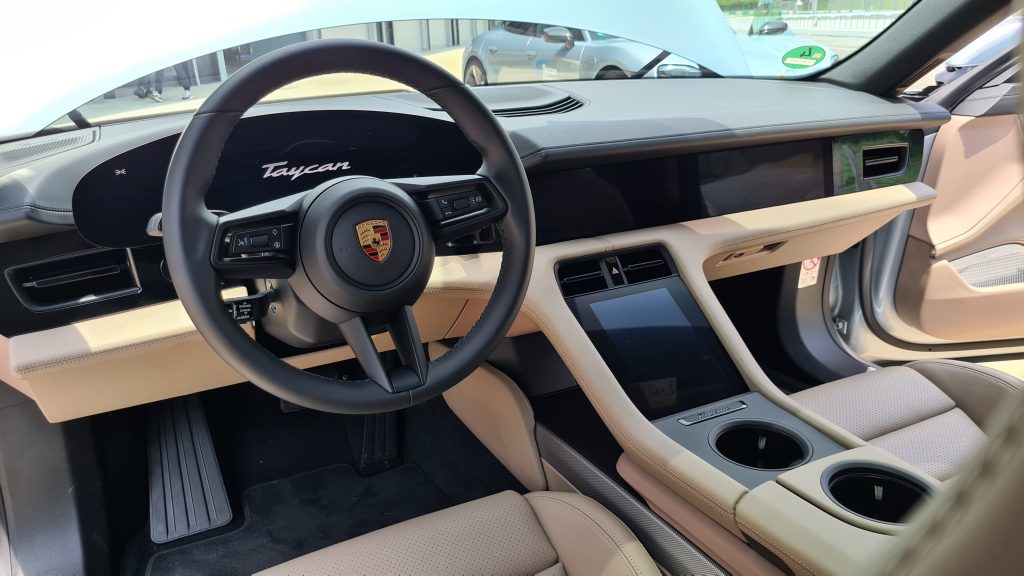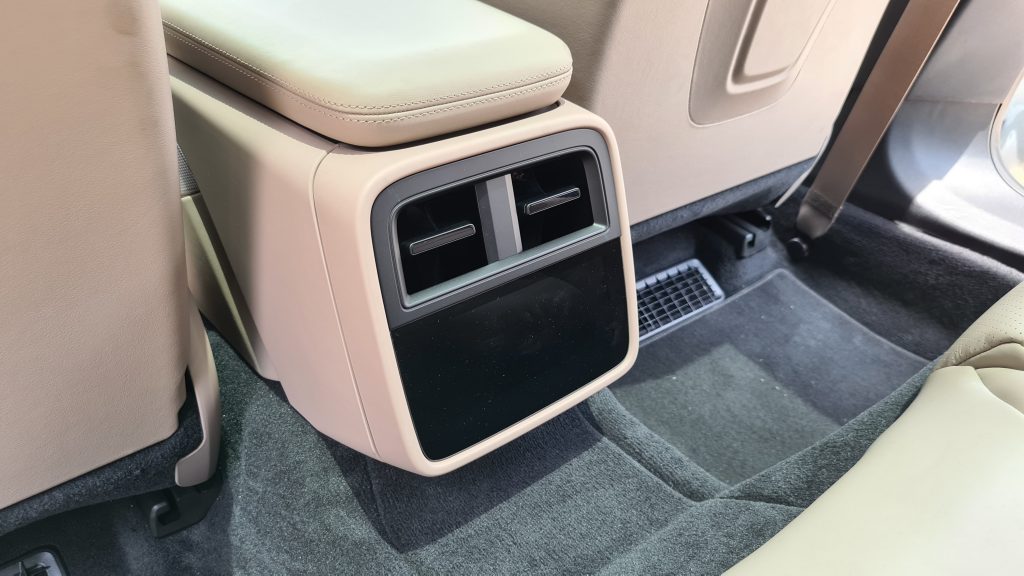 And one last interesting tech thing on the Taycan, the start/stop button actually features the on/off symbol. A nice touch for what is in essence the power button to an electrical device.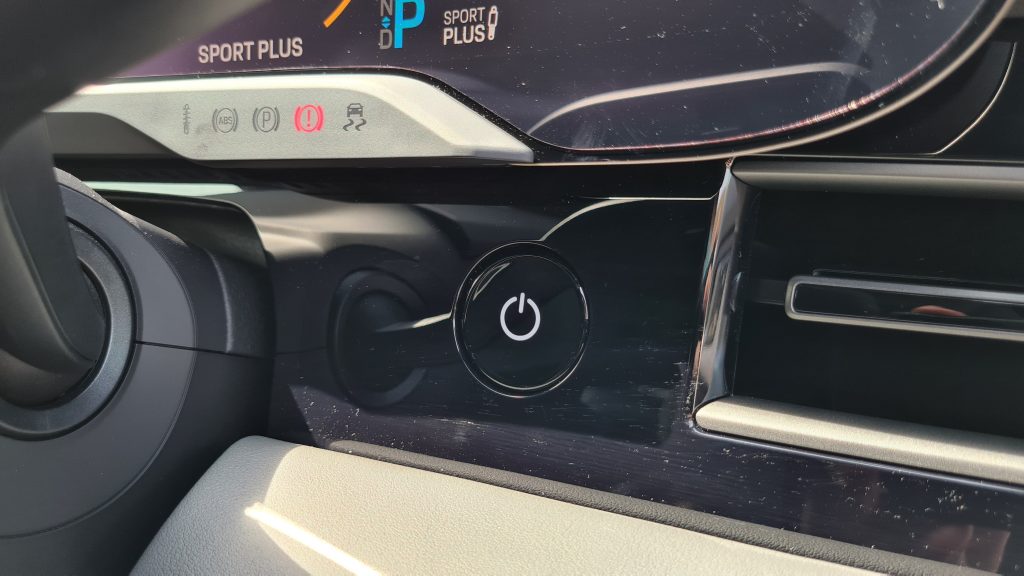 Spec By Spec Summary 
Porsche Taycan Turbo (with Performance Battery Plus)
Max Power: 460 kW/625 PS (500 kW/680 PS on Overboost)
Max Torque: 850 Nm
0-100 km/h: 3.2 seconds
0-200 km/h: 10.6 seconds
Top Speed: 260 km/h
Combined Range (WLTP): 450 km
Price: RM 963,297 
The one to buy if: considering a brand-new Panamera. This all-electric alternative that costs roughly the same as the petrol-powered Porsche, but is is faster, greener and oh so much cooler at the present moment.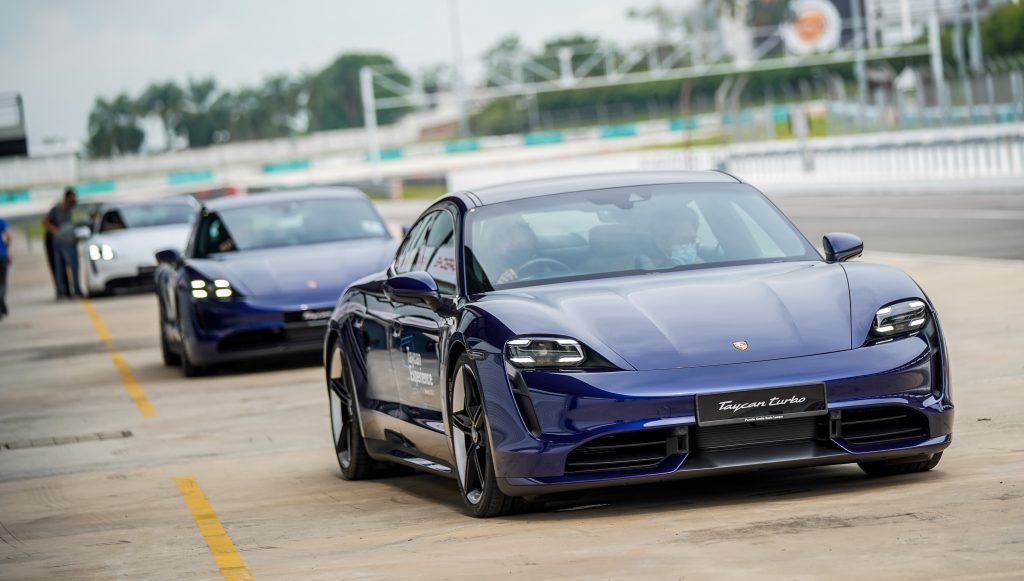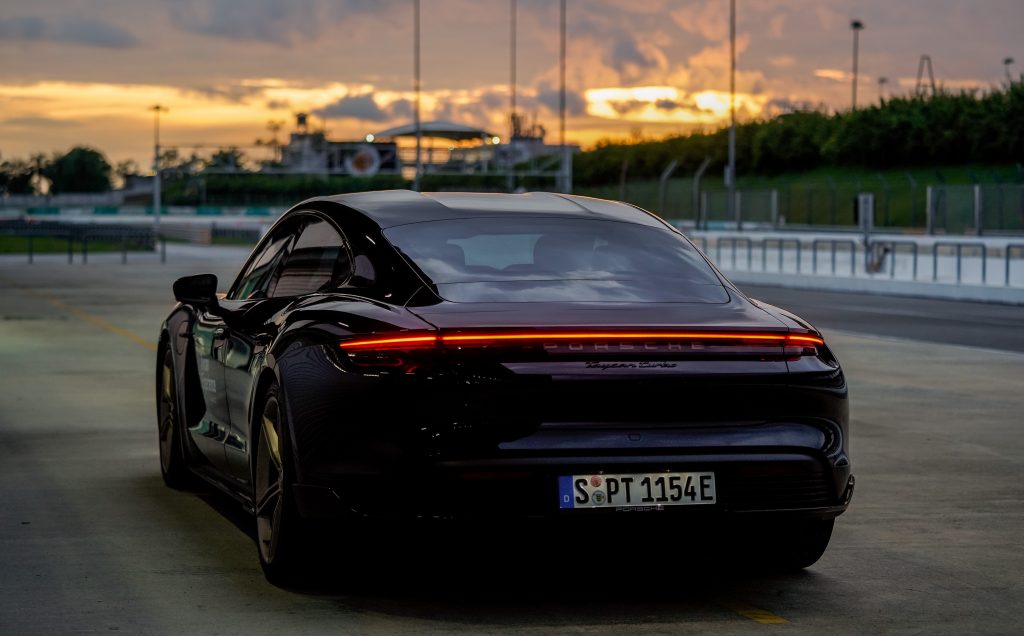 Porsche Taycan 4S (with Performance Battery Plus)
Max Power: 360 kW/490 PS (420 kW/571 PS on Overboost)
Max Torque: 650 Nm
0-100 km/h: 4.0 seconds
0-200 km/h: 12.9 seconds
Top Speed: 250 km/h
Combined Range (WLTP): 463 km
Price: RM 699,986
The one to buy if: wanting the goldilocks Taycan variant. Still offers 90% of the accelerative thrills on offer with the Turbo trim level, but at 75% of the price.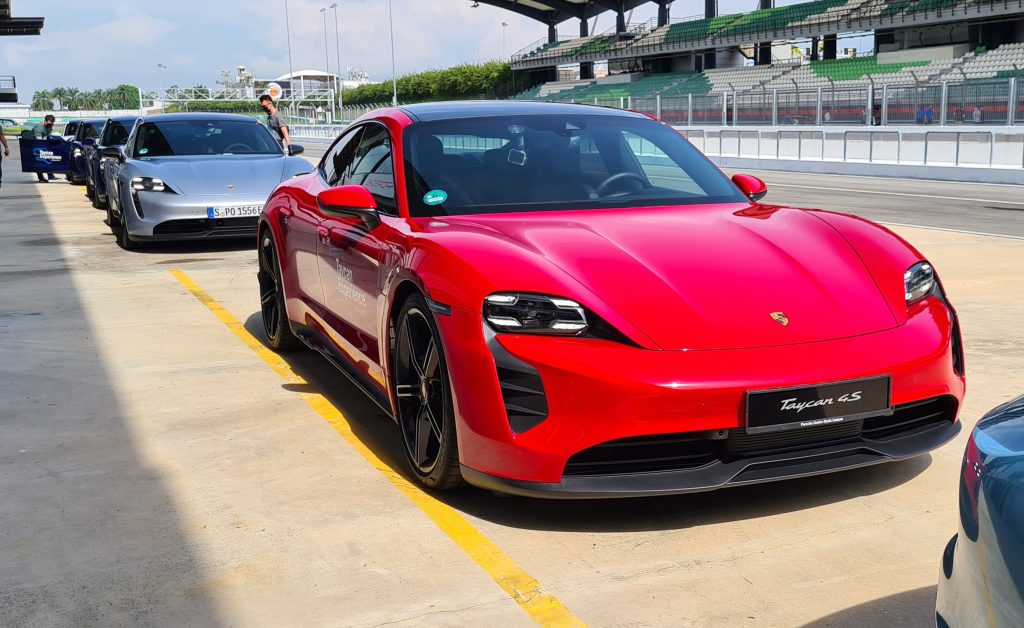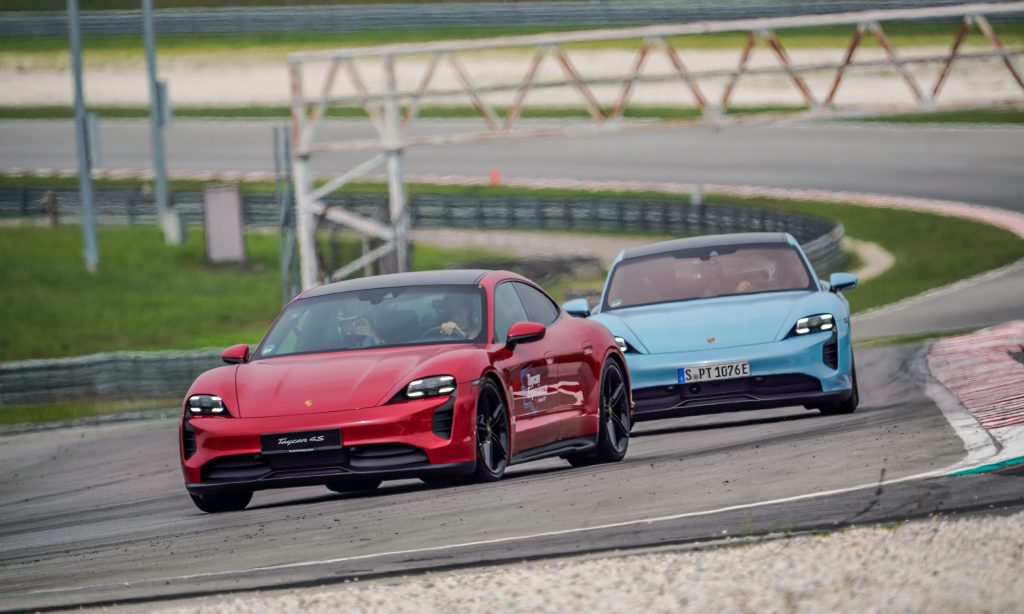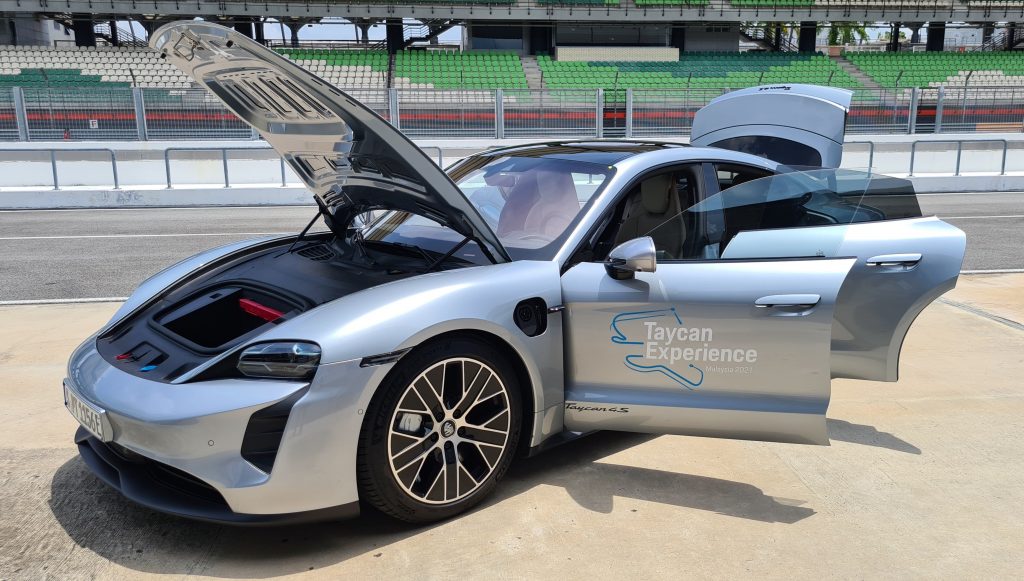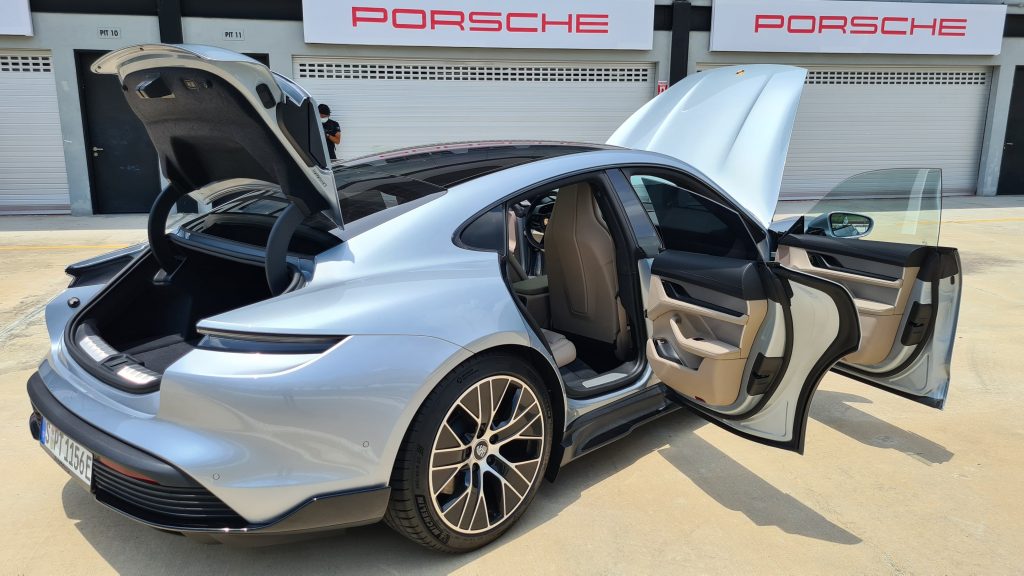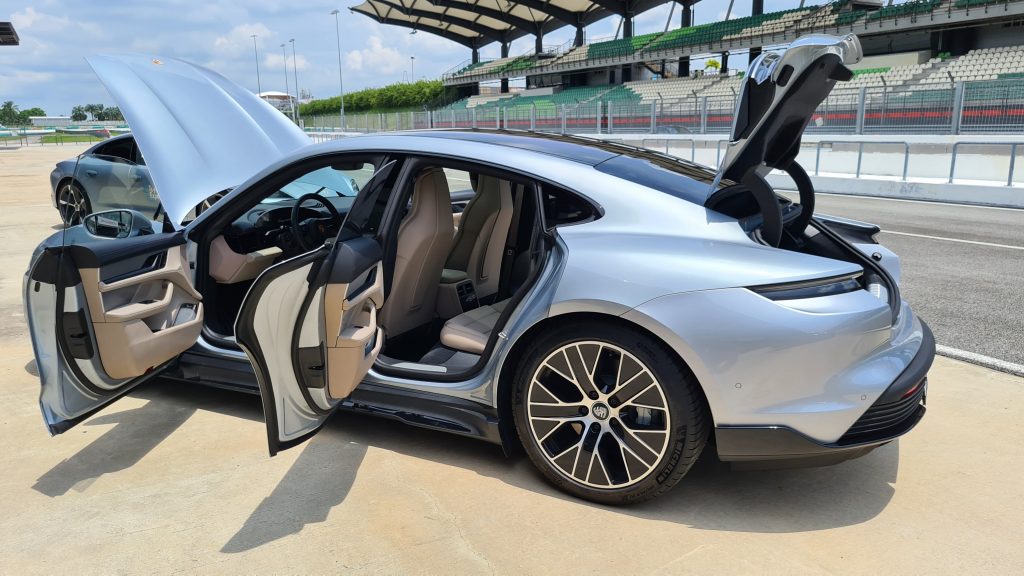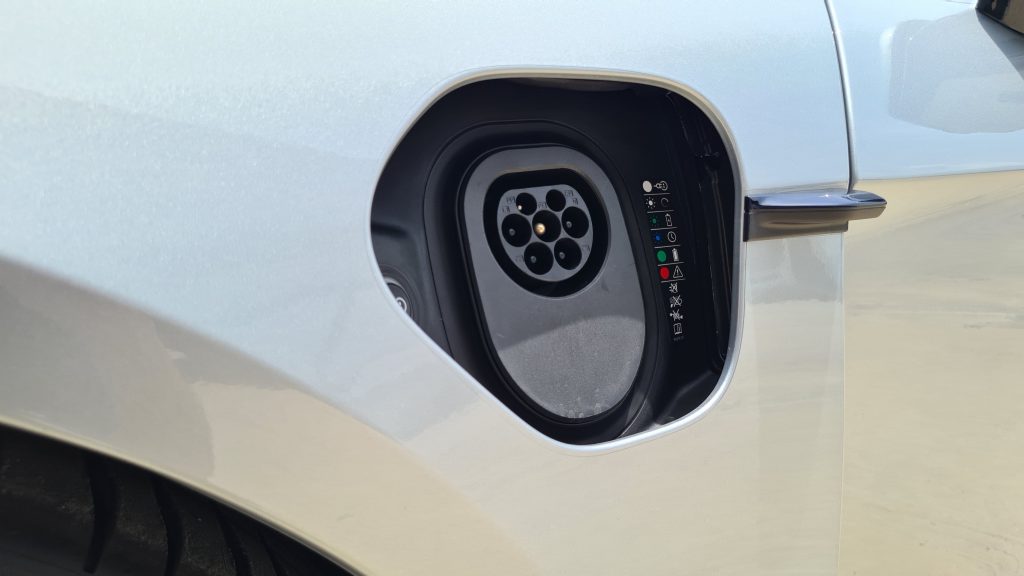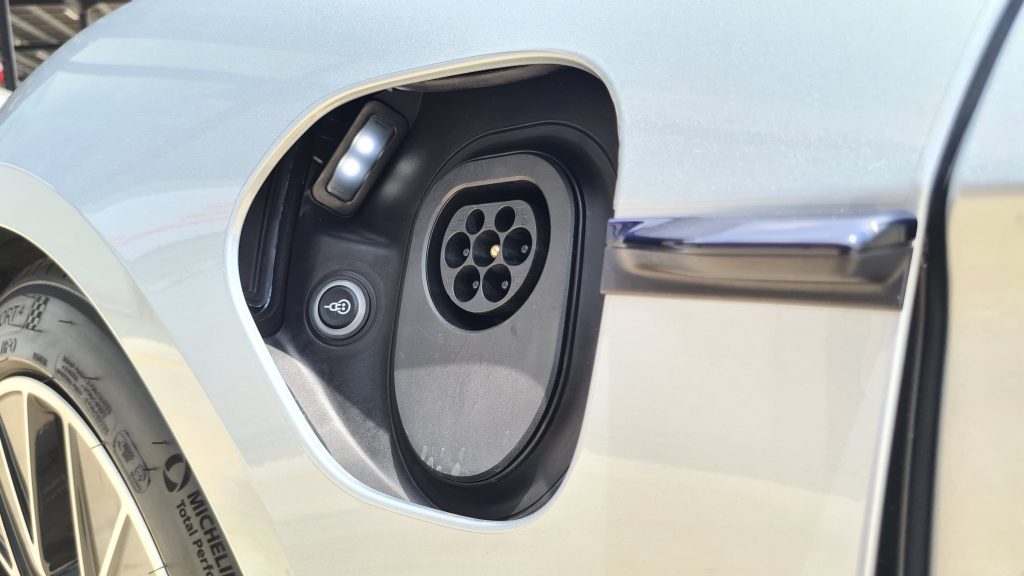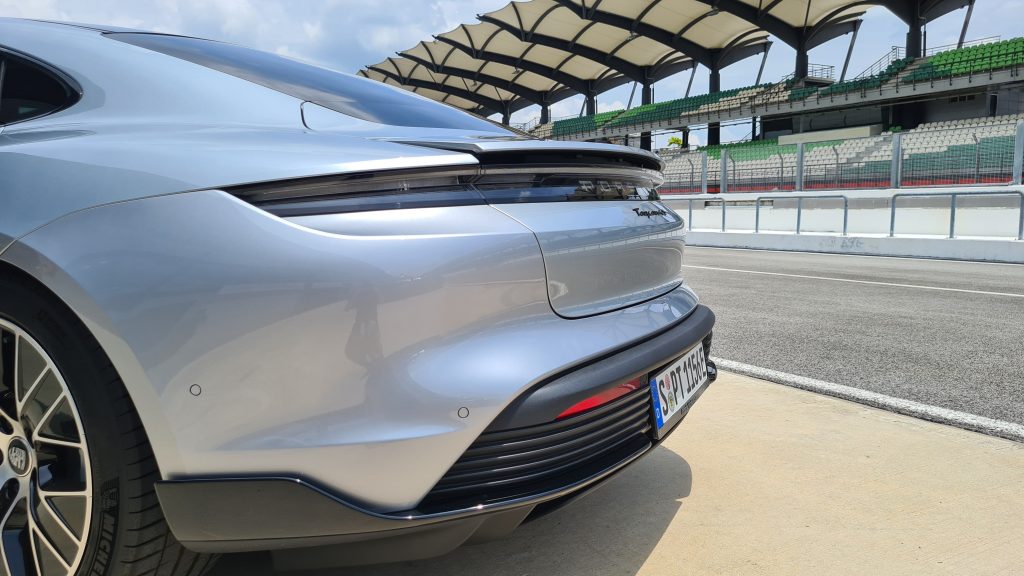 Porsche Taycan (with Performance Battery Plus)
Max Power: 280 kW/380 PS (350 kW/476 PS on Overboost)
Max Torque: 357 Nm
0-100 km/h: 5.4 seconds
0-200 km/h: 17.6 seconds
Top Speed: 230 km/h
Combined Range (WLTP): 484 km
Price: RM 584,561
The one to buy if: desiring what is perhaps the best Taycan on the market at the moment. Despite only featuring a single rear motor round the back, it is still rather flippin' quick. Weighing considerably less than its dual-motor counterparts too, it is currently the most nimble Taycan variant out there.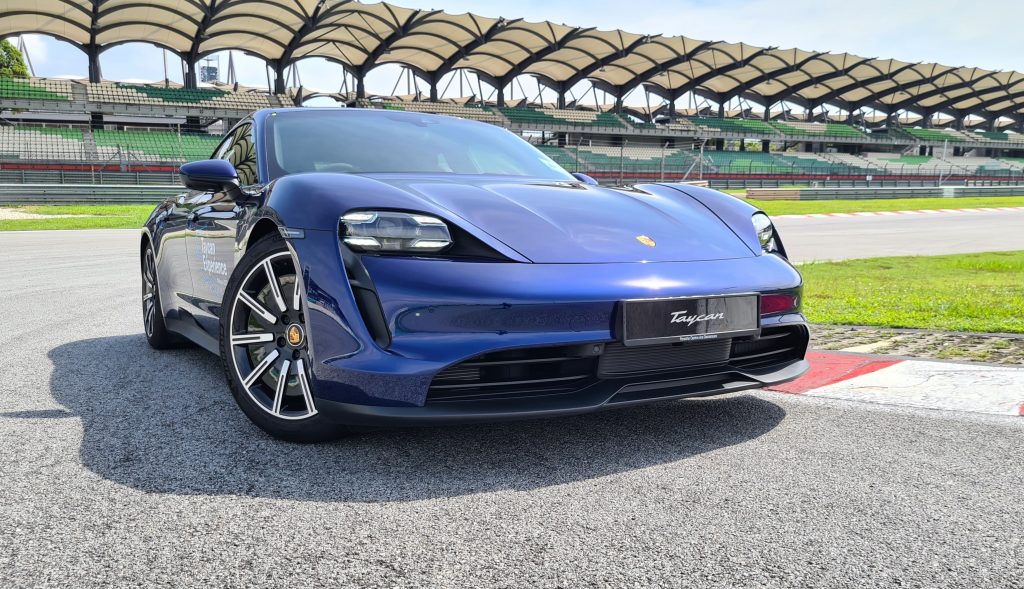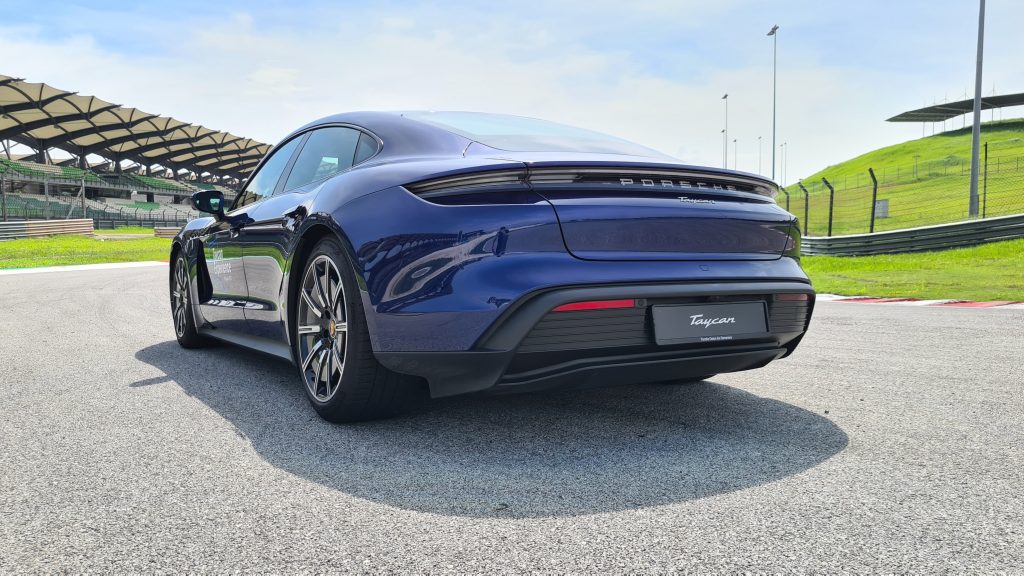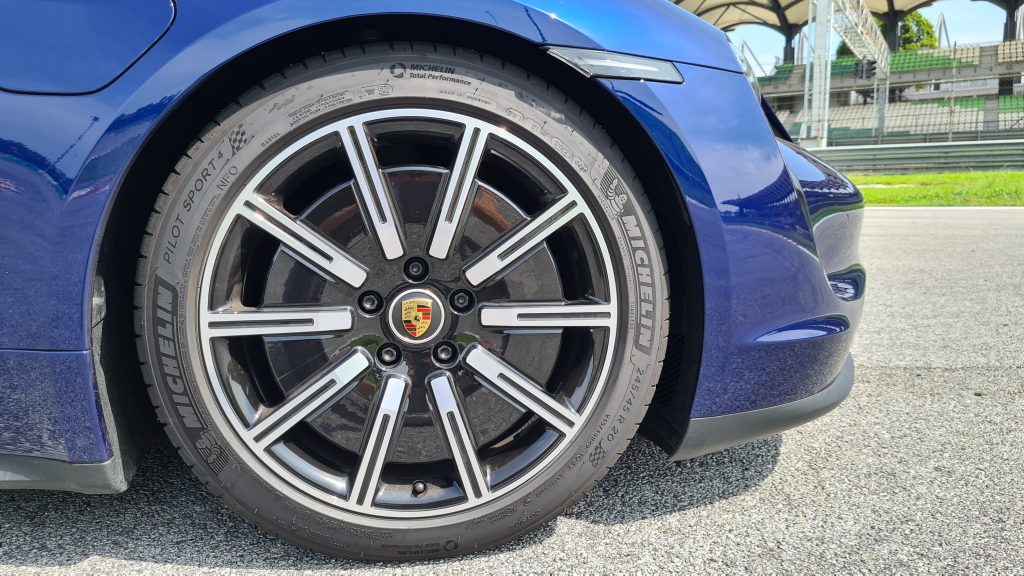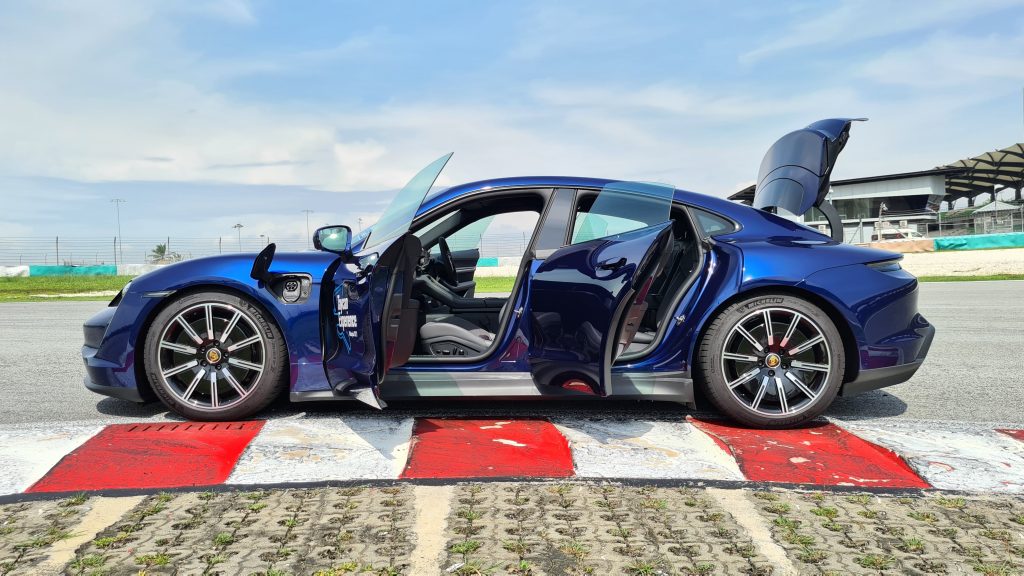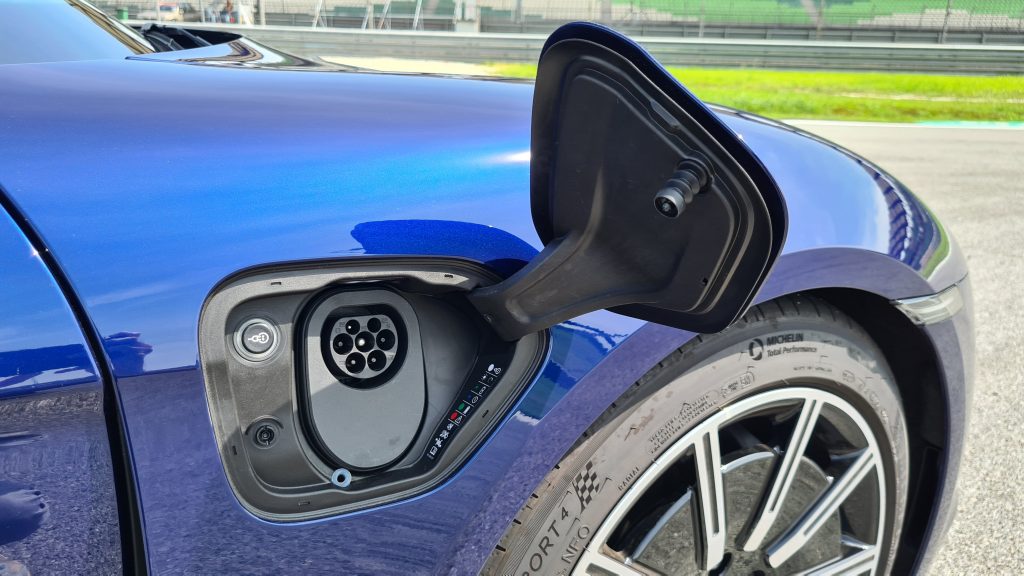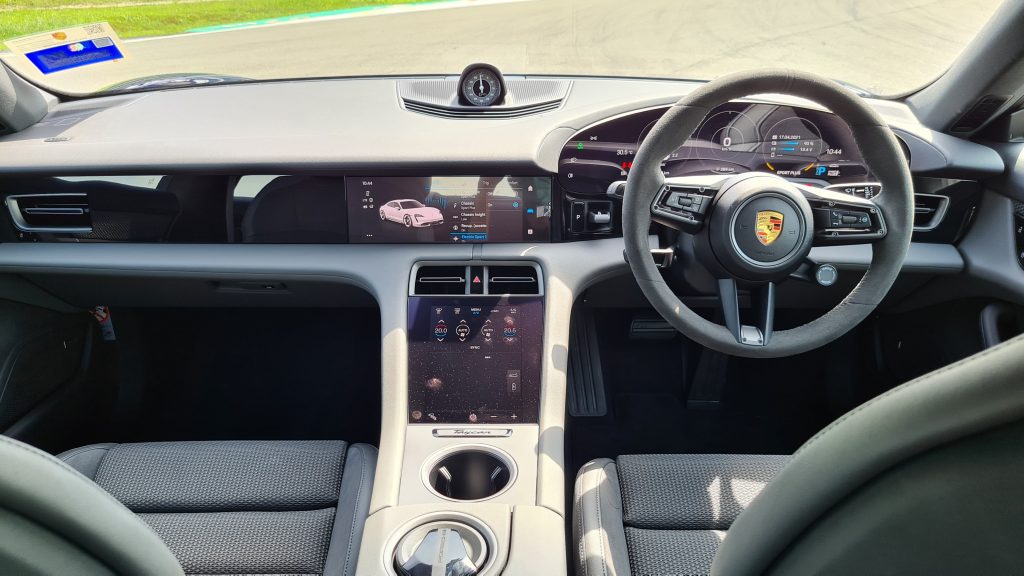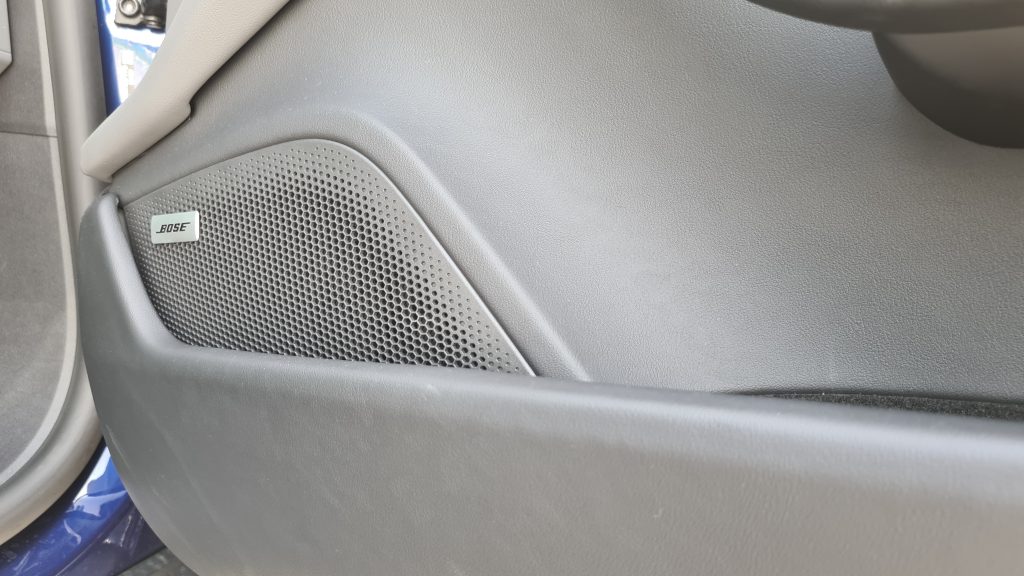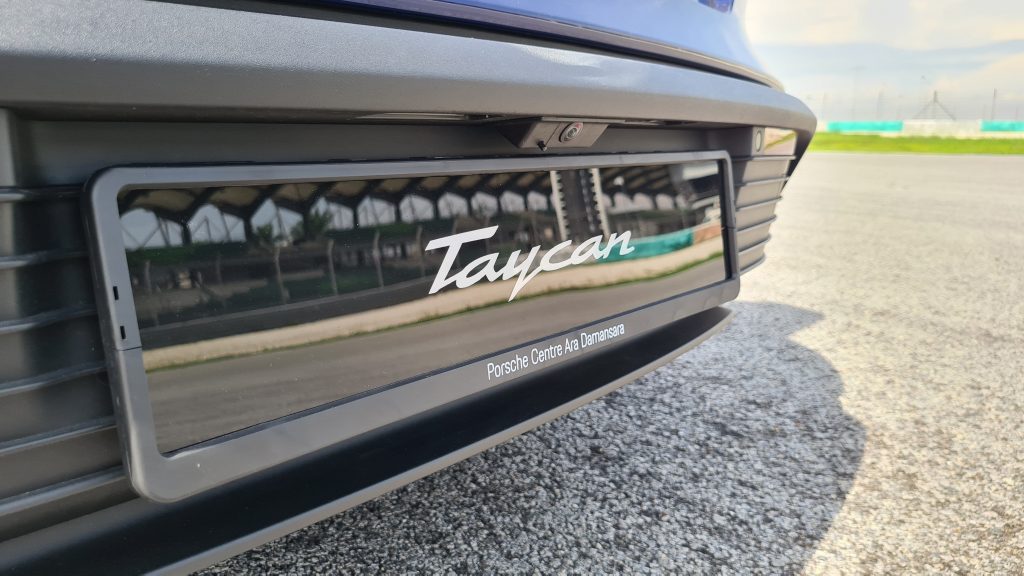 Just more images from the Taycan Experience event: