Automotive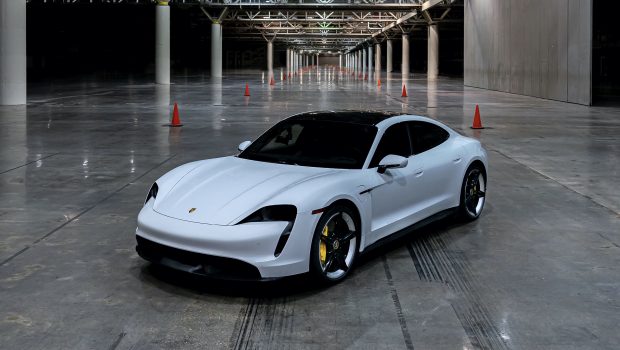 Published on February 11th, 2021 | by Joshua Chin
0
Porsche Taycan Sets New Indoor Land Speed Record
A Taycan Turbo S now holds the fastest speed achieved by a vehicle indoors at 165.1 km/h. 
Ever since its debut a year and a bit ago, the Porsche Taycan has been scooping up records left, right and centre. 
It wasn't all too long ago that the Taycan has scooped 13 new EV endurance records. In the department of drifting too, a rear wheel drive variant of this all-electric four-door super sedan has set the record for the longest EV drift to date. 
This latest record to be added to the Taycan's ever-growing list however is also perhaps the one that is most in its wheelhouse. That is because this blisteringly fast electric Porsche has recently set the Guinness World Record for the fastest speed achieved by a vehicle indoors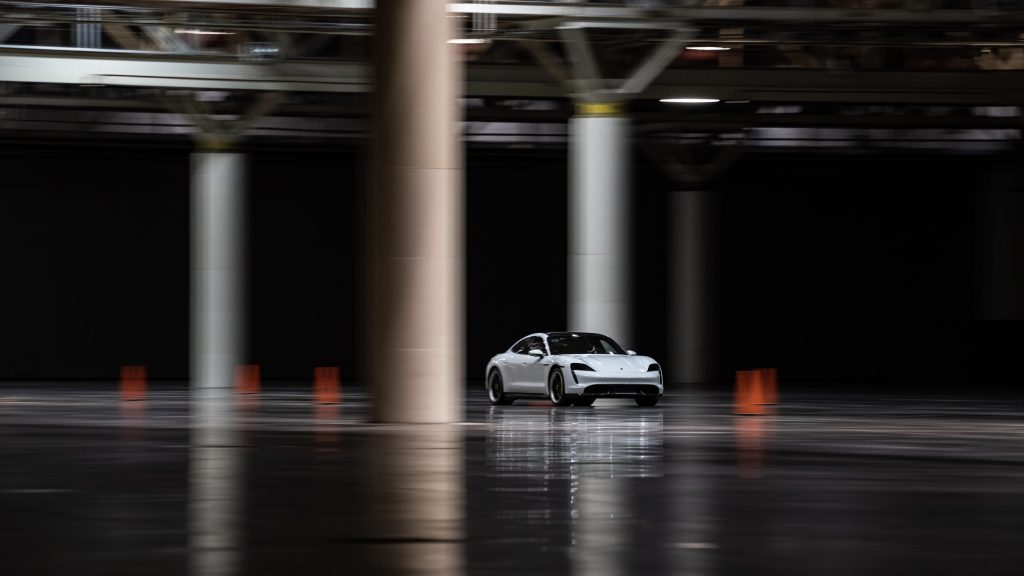 A record that was previously held for 7 long years by Finnish rally driver Mikko Hirvonen driving a Speed Car XTRM Crosskart to 138 km/h, American racing driver Leh Keen has since managed to rewrite the record books behind the wheel of a Taycan Turbo S. Setting the new indoor land speed record to now be at 165.1 km/h.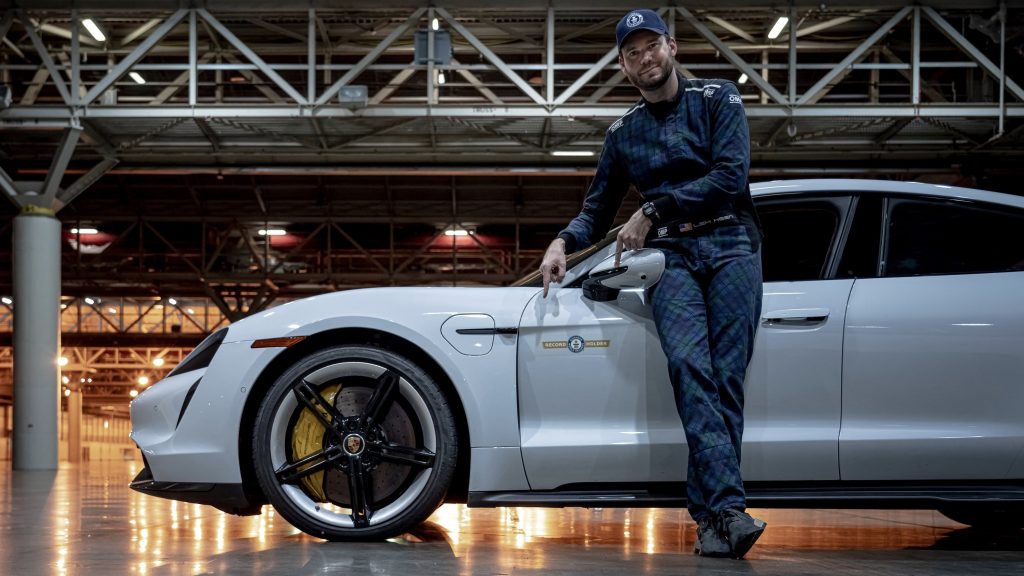 Coming in at over just a million square feet in capacity and touted to feature the largest contagious exhibit hall in the United States, the Ernest N. Morial Convention Centre in New Orleans where the record was set looked to be the perfect place for this record breaking attempt. Then again though, there were also a few complications with using this massive indoor arena.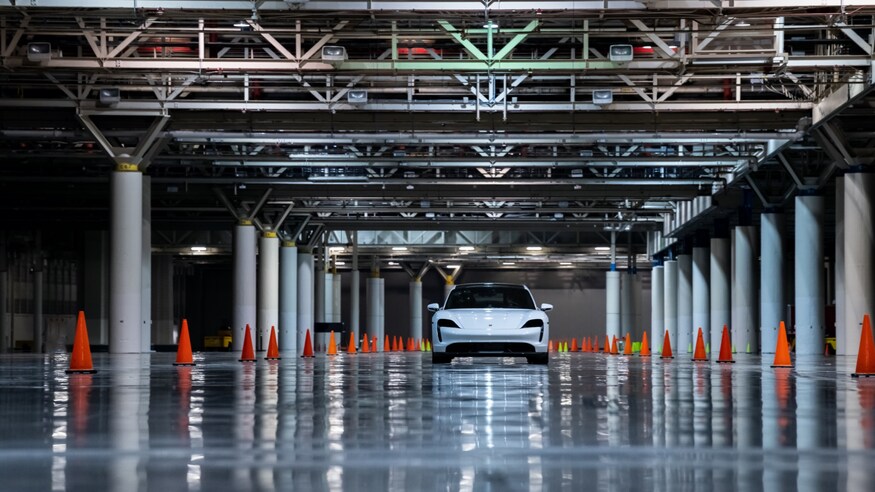 Chief among which was the polished concrete surface of the exhibition hall made driving on it akin to driving on ice, especially at the speeds required to break the record. Hearing Keen put it, the unpredictably slick surface in combination to the prospect of facing a solid, hard wall at the end of it made even this massive space feel very small.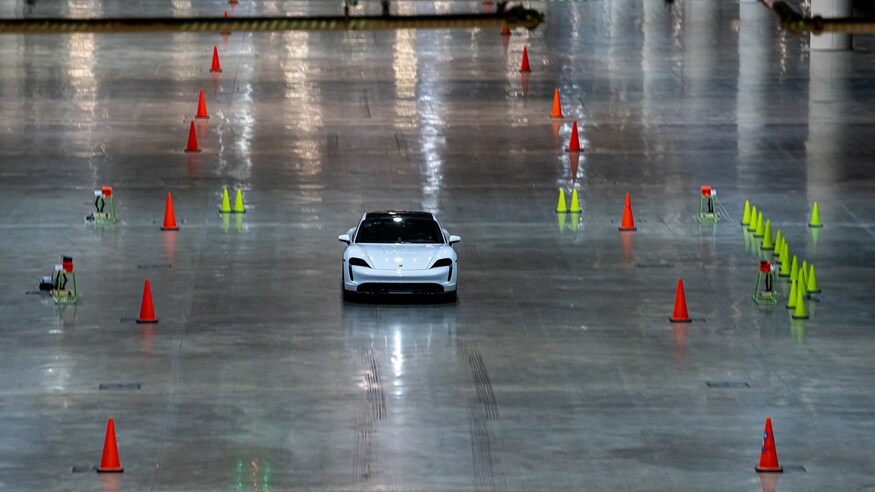 Nevertheless, thanks mainly to the 750 hp Turbo S Taycan's astonishing acceleration, which is capable of rocketing the EV from 0-100 km/h in just 2.8 seconds, as well its beefy carbon ceramic brakes and some pre-warmed tyres, it actually transformed this daunting record-breaking task into something that was surprisingly easy to perform. 
In fact, after some cursory exploratory runs, all it took was actually one full-on run with the Taycan to clinch this new record. With launch control activated, it was reported that the all-wheel drive Turbo S just hooked up on the slippery surface and the record was already in the bag before Keen even noticed it.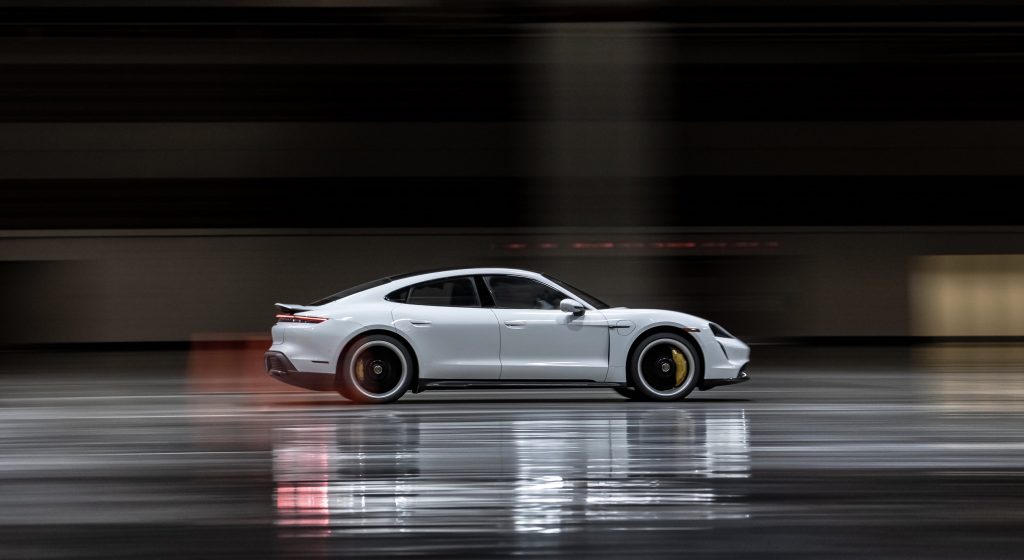 Granted, considering the fact that EVs are already well known for its back-breaking acceleration, this record shouldn't have come as a surprise to anyone. Having said that though, credit where it is due to Porsche for once again demonstrating the impressive capabilities of its first all-electric model. 
The question now is would any other EV manufacturer would try to step up and one up the silent Stuggart stallion? It is not all too far fetched in thinking that any one of these upcoming all-electric hypercars with thousands of hp should have the capabilities to lap this record up easily. Therefore there is a reasonable case for saying that this record that was just set here might not last as long as the 7 year period of the last one.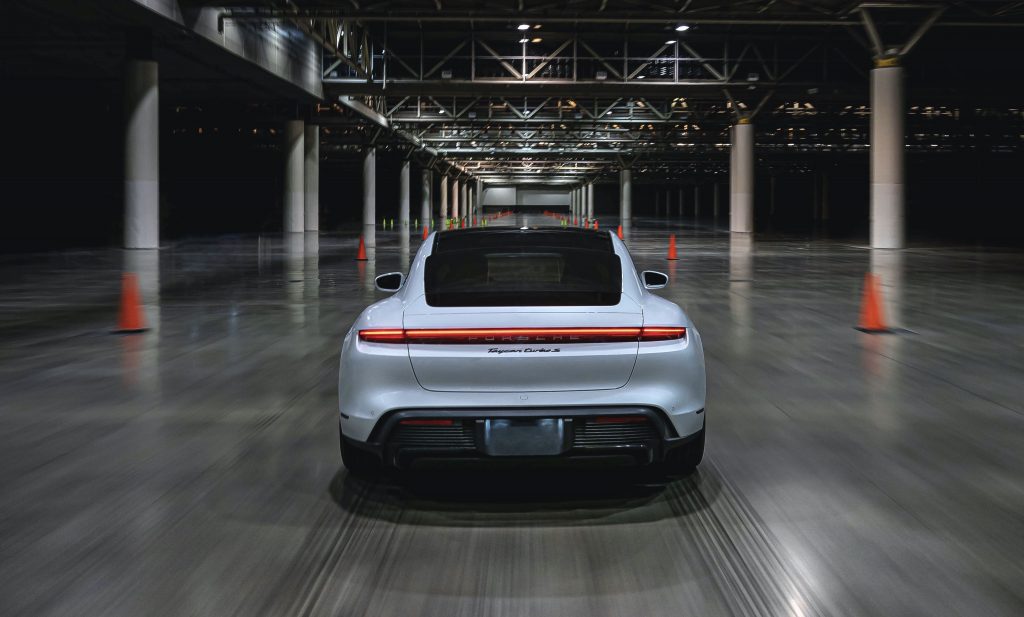 PRESS RELEASE: Even when circumstances mean that being indoors is the safe and, at times, unexciting option, racer Leh Keen recently found a way to make being inside considerably less boring.
There's a Guinness World Records title for the fastest speed by a vehicle indoors – and, until recently, it stood at 138.4 km/h. The rules – strictly enforced by Guinness World Records – are daunting. Keen had to start his record attempt and finish it at a standstill, all within the space of the building – there could be no run up, no safety net, no doors open and therefore no escape route. For good reasons, therefore, the record has stood for seven years. 
Nevertheless, Keen proceeded enthusiastically with his planning. He required a car that was surefooted in challenging conditions, a vehicle that's among the hardest accelerating and, crucially, hardest decelerating cars on sale today and that he would trust his life with in order to break the record safely. The car that met this criteria was the all-electric Taycan Turbo S, with all-wheel drive to maximise grip, powerful carbon ceramic brakes and the ability to accelerate to 100 km/h from a standstill in just 2.8 seconds.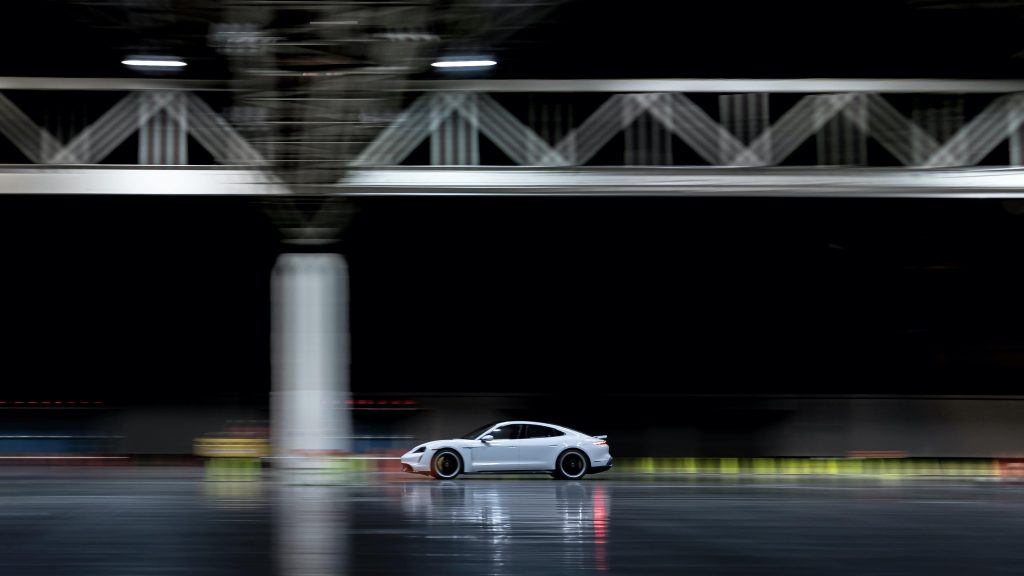 Selecting the right building was just as challenging. Enter the Ernest N. Morial Convention Centre in New Orleans, Louisiana. At just over one million square feet, the convention centre boasts the largest contiguous exhibit hall in the United States, ideal for the distance it provided. However, like many other indoor facilities, the polished concrete surface replicated ice when being driven over at speed.
"I didn't really appreciate the scale of the record attempt until my first exploratory run. The surface is so unpredictable, so slick, that you have to have complete trust in your car. It truly was like ice – and you're accelerating flat out, facing a really hard wall at the end. Suddenly, even in a massive space like the one we had, it seems very small," said Keen after his record attempt. "I could feel the Taycan's systems figuring it out, working so hard to keep me heading straight – it was such an impressive feat. To accelerate so hard on such an erratic surface was incredible. Not for a moment did a doubt I could do it."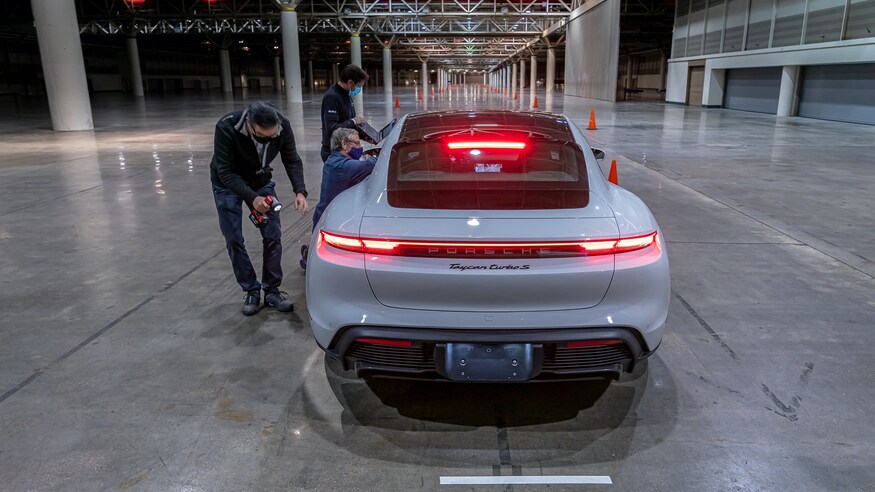 Keen's strategy was to build up slowly, with low speed exploratory runs. The stock road tyres were preheated as a precaution. When it came to the record attempt, one run was all it took. "I did take a moment on the starting line – knowing I was going to have to go as fast as I could, and stop again, all before reaching the wall I was facing. It got my attention. I used the car's launch control and the Taycan just hooked up – the sensation of speed indoors, even in such a big space, is enormous – that wall rushed up fast. I was gentle on the brakes in the end – the Taycan's brakes were more than up to the job. Of course, I didn't look down at my speed so it came as a surprise and a relief that I'd beaten the record, and by such a margin. It was a rush! I'm thankful to Porsche for trusting my abilities and for their preparations and encouragement – 165,1 km/h inside a building. What was I thinking?" 
Info
The Guinness World Records title for the fastest speed achieved by a vehicle indoors was confirmed by independent adjudicators as 165,1 km/h – set by Leh Keen at the New Orleans Convention Centre in a Porsche Taycan Turbo S.