Automotive
VW Golf R Gets Akrapovič And Drift Mode From RM330k
Volkswagen Passenger Cars Malaysia (VPCM) has previewed the locally assembled Golf R from RM330,000 to RM350,000.
This version of the Golf R first arrived in Malaysia in February 2022 and was priced at RM356k. It was powered by a 2.0TSI 4-cylinder turbocharged petrol engine that produced 320PS and 400Nm of torque. This power was sent to all four wheels (4MOTION) via a 7-speed dual-clutch transmission (DSG).
Seven months after its launch, we got to test drive it in early September 2022 and it was a rewarding drive.
Now, just months later, here comes a local assembled Golf R, but with added extras to tempt buyers away from the very popular GR Corolla that is priced at RM355k.
The "R-Rated" Golf R is introduced with the "R Performance Package" as standard, with features that include titanium Akrapovič exhaust, "Drift" and "Special" modes, a new rear spoiler and 19-inch Estoril alloy wheels.
The exhaust, now seven kilograms lighter, is designed by leading exhaust company Akrapovič.
Known for their high-performance, premium exhaust systems, the brand is synonymous with the most outstanding Volkswagen models, including the Golf R and GTI.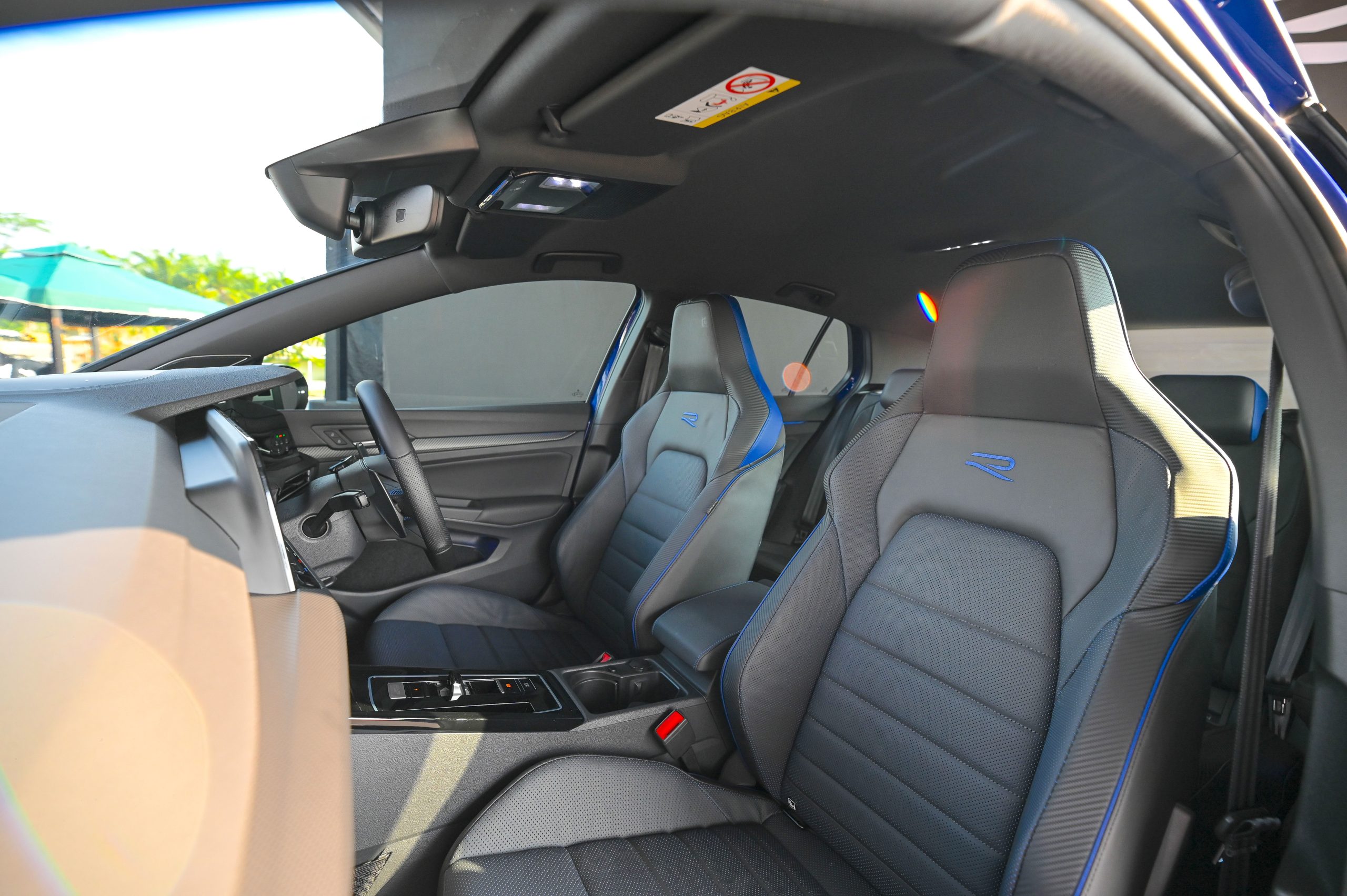 Another exciting update in the Golf R are the "Drift" and "Special" modes, accessible through the "R" button located on the sporty, flat-bottomed steering wheel.
When activated, Drift Mode turns off Electronic Stability Control (ESC) and shifts the evenly distributed torque to the rear, transforming the hatchback by injecting even more excitement to the driving experience.
While "Drift" mode is perfect for sliding action, the "Special" mode is best experienced on back and country roads, where suspension is adjusted for optimum contact on the tarmac.
Specifically designed for the Nürburgring-Nordschleife, this mode gives the car a set-up that meets the distinctive requirements of what is probably the most demanding racetrack in the world.
Other additional new features include a Head-Up Display (HUD) that is projected to the windscreen, wireless smartphone charging and automatic high beam assist.
Under the hood, this local assembled Golf R remains powered by a 2.0TSI turbocharged engine, pushing out 320PS and 400Nm of torque. Gearshifts are incredibly quick thanks to a 7-speed DSG transmission, while stability and traction is maintained via its 4MOTION all-wheel drive system with performance torque vectoring. A century sprint is completed in just 4.8 seconds.
Safety in the new Golf R is supported by the IQ.DRIVE technology, offering a suite of features such as Travel Assist with Adaptive Cruise Control (ACC), Side Assist, Front Assist, Lane Assist and Emergency Assist.
The new Golf R is available in three colour options – the signature Lapiz Blue, Deep Black and Pure White.