Reviews
Toyota GR Corolla Test Drive Review In Malaysia
This GR Corolla comes hot on the heels of the sold out GR Yaris
Thank you Toyota engineers for designing this GR Corolla hot hatch that looks better than the GR Yaris. Yes, we are not a fan of the way the GR Yaris looks.
However, the GR Yaris is a real 'hoot' to drive and provides 'bags' of driving fun. But when you park it and walk away, there is no reason to turn back and admire its looks. Now, with the GR Corolla, we turned back twice every single time we parked it and noticed others also admiring its looks.
With flared arches, deep front spoiler, side skirts to match and the most attractive rear end since the Toyota Supra, this is gorgeous looking Toyota. Even more handsome than the GT86.
There is no doubt that the 'team' behind the development of the GR Corolla are very passionate about motorsports and also design.
So, who are the immediate competitors? Well the rivals in Malaysia include the VW Golf R at RM389k which can sprint from 0 to 100km/h in just 4.8 seconds, on its way to a top track speed of 249km/h, the Renault Megane RS which costs RM326k and can sprint from 0 to 100 km/h in 5.7 seconds, BMW M135i which is priced at RM356k and takes just 4.8 seconds to make the century sprint and maxes out at a top speed of 250km/h and the RM343k Mercedes-AMG A35 which does the 0-100km/h sprint in also 4.8 seconds.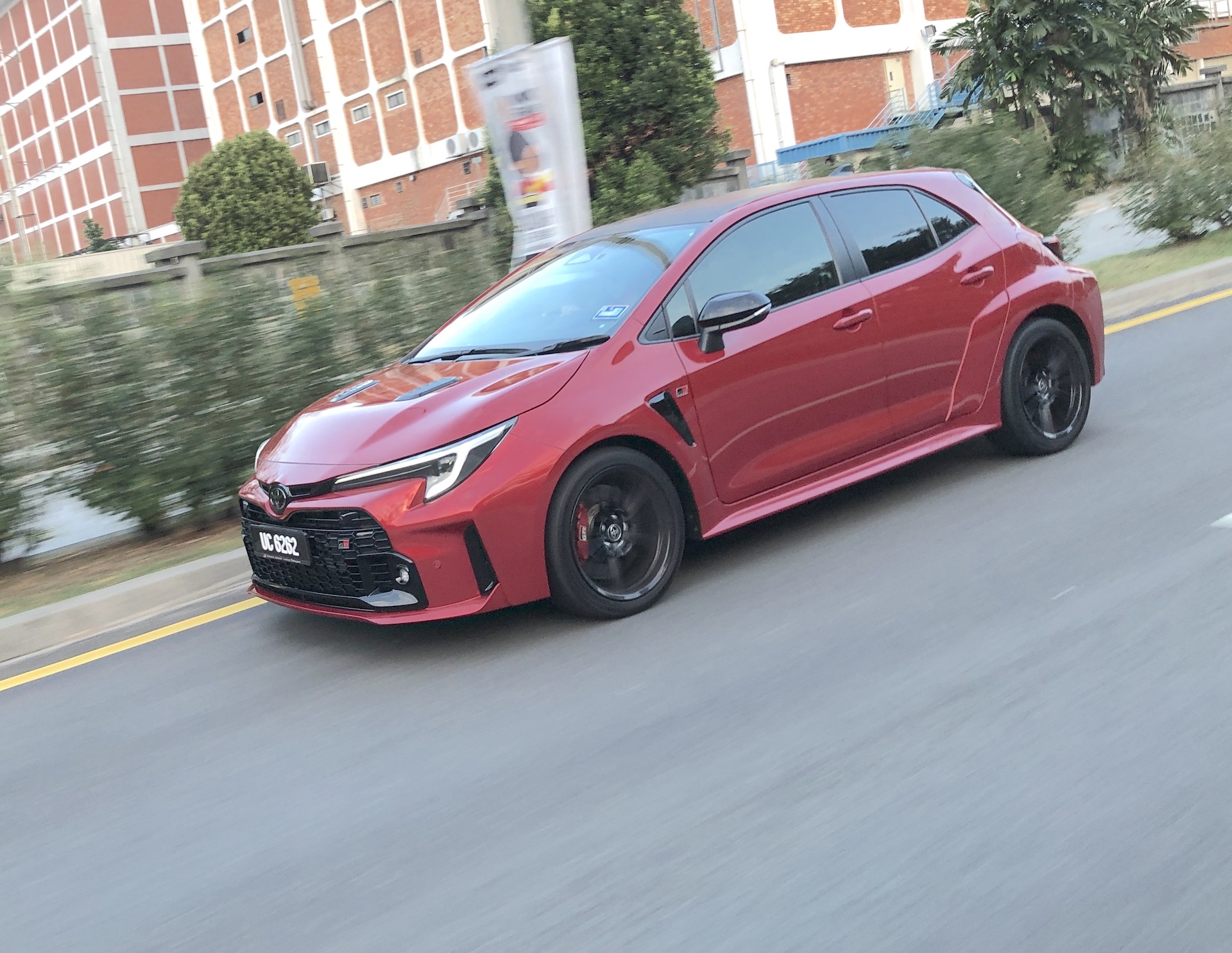 Now, this GR Corolla which has a price tag of RM355k is powered by a 1.6L turbocharged 3-cylinder engine (Yes! Only 3 cylinders) that delivers 300PS and 370Nm of torque which provides for a 0-100km/h acceleration time of 5.3 seconds. This is just 0.4 seconds faster that the Renault Megane and about 0.5 seconds less than the German made rivals.
Don't worry, we have not forgotten about the Honda Civic Type R. It is just that, the Type R is sold out and the new model is not targeted to arrive this year as there is currently a 2 year waiting list in Japan. Sigh!
Yes, there are electric cars at much lower prices that can deliver similar acceleration, but even my 70-year-old auntie is ready to slam the EV pedal for that electric car acceleration.
In a GR Corolla or its rivals, 'auntie' might struggle to get 11 seconds. And that's one of the big differences with a petrol powered engine mated to a manual gearbox.
But, and here is the big 'BUT', this GR Corolla is more engaging and communicates with the driver that knows how to extract the 3-cylinder power using the 6-speed manual gearbox better as it is designed ready for 'track' abuse.
Yes, it also is a good daily city commuter car and will 'scare' drivers of the above-mentioned rival cars when pushed hard. Why? Because under the hood is a 1.6L turbocharged 3-cylinder engine.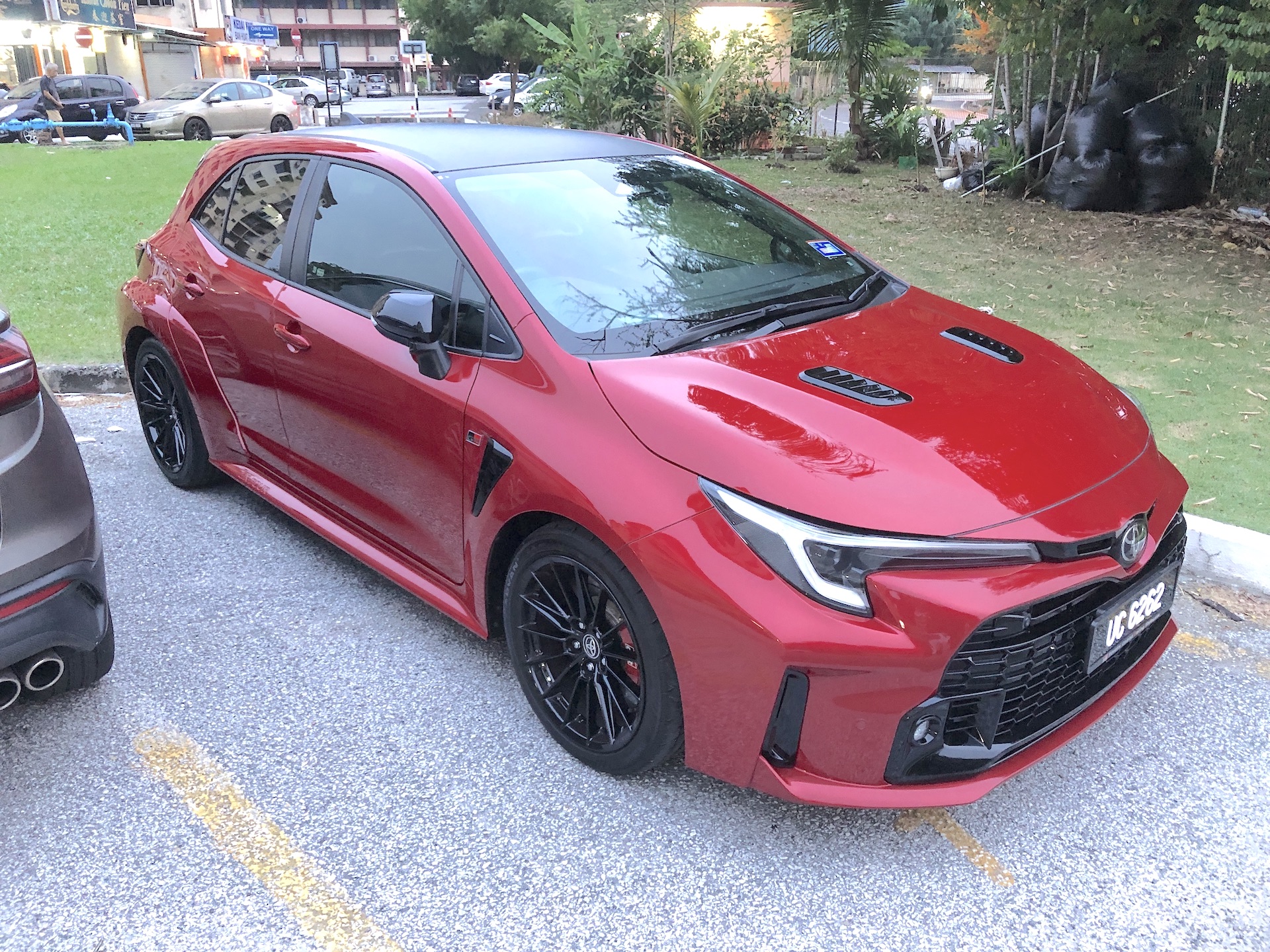 After a few days with this GR, it is clear that the GR team has delivered a hot hatch with great previse steering feel and weight. A slick manual gearshift. Intoxicating power delivery across the engine range. Very firm and weighty brakes and despite its low wide tires, a very composed ride with their well tuned GR suspension. Plus, you get a high quality cabin and great front seat comfort.
Now, if only Toyota ad GR would be nice enough to mass produce this exact hatchback in every way (cabin materials, seats, bodykit, wheels and all) with a simple 1.8L 4-cylinder normal aspirated engine mated to a 5-speed manual gearbox and price it around RM140k or so for middle class Malaysians to buy.
Toyota GR Corolla Specifications
Engine: D-4ST Inline 3-Cylinder DOHC Turbo
Capacity: 1,618cc
Gearbox: 6-Speed Manual with iMT
Max power: 300PS @ 6,500rpm
Max torque: 370Nm @ 3,000-5,500rpm
Top Speed: 230km/h
0-100km/h Acceleration: 5.3 seconds
Price: RM355,000