Automotive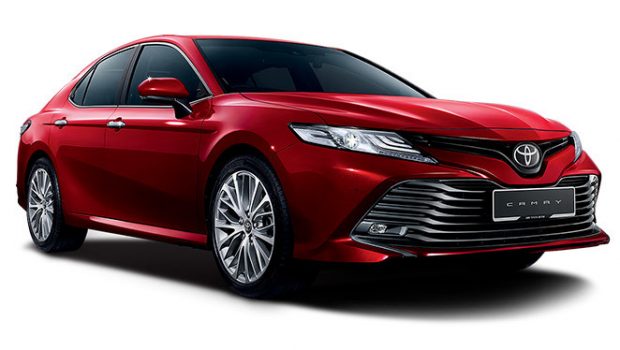 Published on July 4th, 2020 | by Joshua Chin
0
Toyota Online E-Commerce Store On Lazada And Shopee
It is a growing trend to see car manufacturers embracing the wonders of E-Commerce and it is getting more awareness in Malaysia.
First beginning with Volkswagen, it is now time for Toyota to dip it's toes into the ever-growing online retail market. 
The Japanese auto giant has opened online stores in both Lazada and Shopee, two of Malaysia's most popular e-commerce platforms. These flagship Toyota online stores on both LazMall and Shopee Mall enables customers to book their desired Toyota vehicles with deposits as low as RM250. Open 24/7, these reservation deposits is treated like any item in your online store cart, and can be paid for using the usual online shopping payment methods, that includes payment by credit card or electronic bank transfers. 

Once booking has been made however, customers will still have to continue the purchase process at their nearest authorised dealership. 
To commemorate the opening of the Toyota Flagship Stores, the Japanese car maker is offering reduced booking fees, cash back, free accessories and a mystery gift to those who order their Toyotas online. Exclusive online-only deals are also offered to customers who book a Toyota Innova, Toyota Harrier and Toyota Hilux through this novel method. 

Customers seeking a good deal may be interested in the online-exclusive stock clearance promotions on 2019 model Toyotas. One such deal is customers looking to book a 2019 Toyota Fortuner online are entitled to RM14,000 cash back along with free accessories worth RM2,670. Furthermore, a 5 year free maintenance package with RM 5,000 is thrown in to sweeten the deal.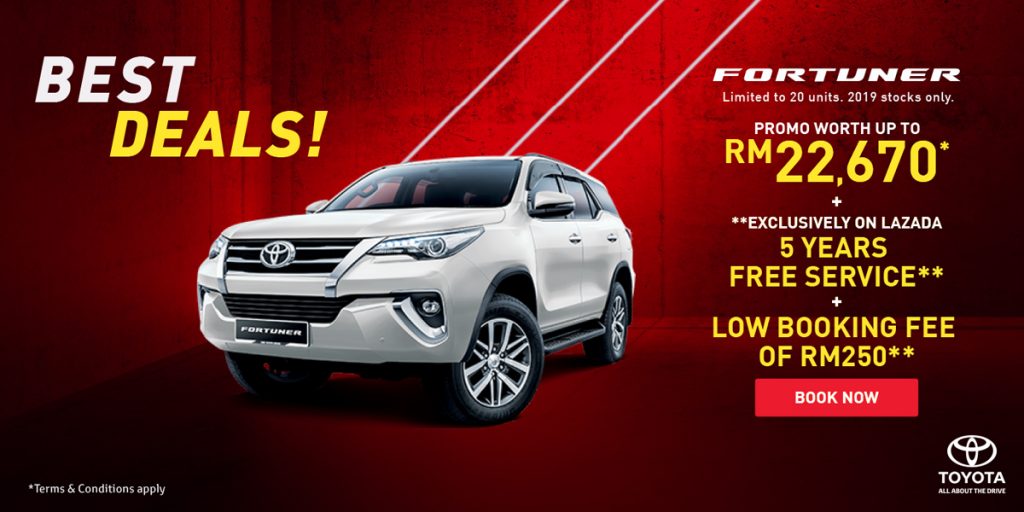 With some Malaysians still wary of going out more than absolutely necessary due to the ongoing pandemic, this may be the way forward for car makers to tempt buyers into new cars without heading for the showrooms. This online car-buying process may seem daunting at first, but chat support is offered at selected times to guide you through the process of buying your Toyota online, making this as easy as going to the showrooms. 
More information is found in the press release below: 
Online shopping has been growing in popularity over the past few years and with the COVID-19 pandemic, its growth has accelerated. Consumers can get almost anything online nowadays and now, the list includes Toyota vehicles.
UMW Toyota Motor (UMWT) has opened online stores at two of Malaysia's popular e-commerce platforms – Lazada and Shopee – where car-buyers can find special deals on selected Toyota models. Being online, the Toyota Malaysia Flagship Stores are open 24/7 so they can be visited at any time of the day, making it convenient for shoppers.
Booking fees at the Toyota Malaysia Flagship Stores can be as low as RM250 and payment can be made the same way as purchasing other goods online, ie by credit card or electronic fund transfers from banks.
The booking fee starts the purchase process which will be followed up by personal attention from a Sales Advisor at the nearest authorized Toyota dealership to the customer. Chat support is also available at the online stores (Monday – Friday, 9:30am – 5:30pm) for customers who may have queries.
There will be promotions (*for selected 2019 stocks only) at the online stores from time to time with exclusive money-saving offers. For example, there is currently a special promotion available for the Toyota Fortuner SUV (limited stocks) worth RM22, 760 and it comes with 5 years of free scheduled maintenance (terms and conditions apply). 
There are other exclusive deals for the Toyota Innova, Toyota Harrier and Toyota Hilux (limited stocks) as well. The deals are available only for online bookings at the Toyota Flagship Stores on both Lazmall and Shopee Mall.