Automotive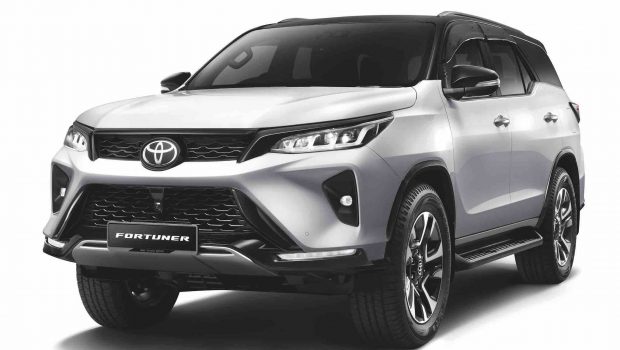 Published on February 3rd, 2021 | by Joshua Chin
0
Facelifted Toyota Fortuner Officially Launched In Malaysia
A mildly revised Fortuner is officially available for purchase at Toyota dealerships nationwide. 
Nearly a full month after announcing that the order books for the facelifted Fortuner has been opened, it has finally come the time for Toyota to officially launch this mildly updated SUV model over here.
As reported prior, this updated Fortuner will be available in two trim levels, 2.8 VRZ 4×4 A/T and 2.7 SRZ 4×4 A/T. The former having replaced the prior 2.4 VRZ variant as the current range topping trim.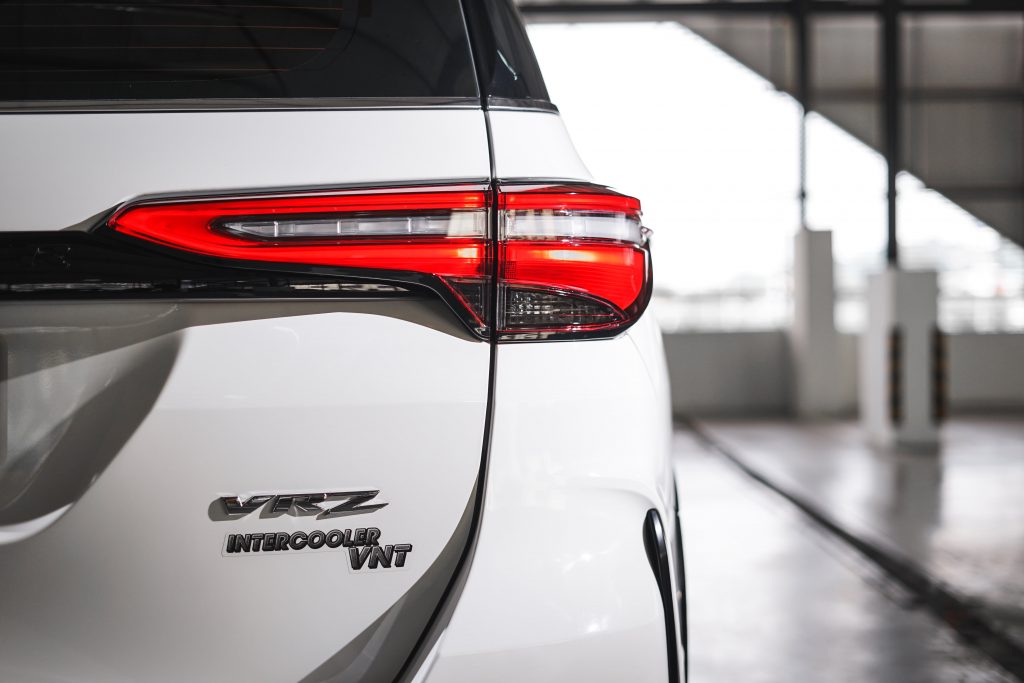 Much like the name of the 2.8 VRZ Fortuner would suggest, under the hood of this particular new Toyota SUV variant is a 2.8 litre turbodiesel four-cylinder which is incidentally rated at 204 PS and 500 Nm of torque. The same updated 1GD-FTV unit that is found in the revised Hilux, this also four-cylinder features an array of tech electronically-controlled common rail injection system, a Variable Flow Control (VFC) Power Steering system and a pre-EGR cooler in a bid to improve the fuel economy of this large truck-based SUV. 
While the top-tier 2.8 VRZ gets a new engine, the lower-spec 2.7 SRZ meanwhile carries over the same 166 PS/245 Nm 2.7 litre turbocharged petrol four-cylinder from pre-facelift counterpart. Engines aside though, both variants of the facelifted Fortuner retains its a six speed automatic transmission, part-time selectable 4×4 functionality, and comes with an Auto Limited Slip Differential (LSD) as standard.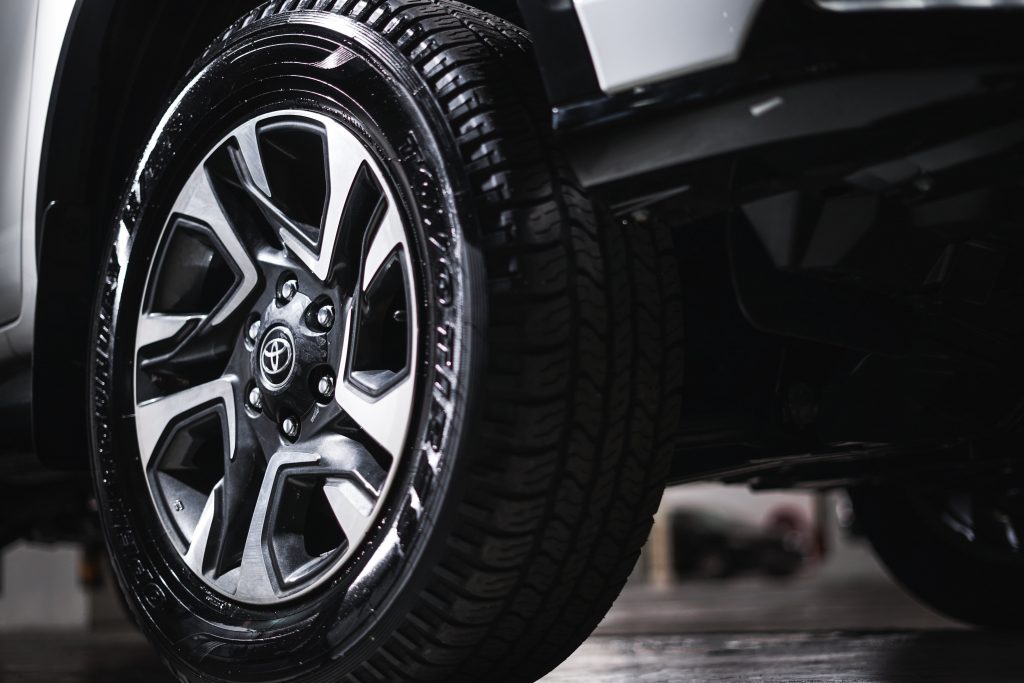 Moving outside, the updated Fortuner gains some sharper front and rear bumpers, a new front grille and redesigned 18-inch alloy wheels. New LED headlights are also included in the list of updates, with quad LED headlights found on the 2.8 VRZ and only bi-beam LED headlights for the 2.7 SRZ.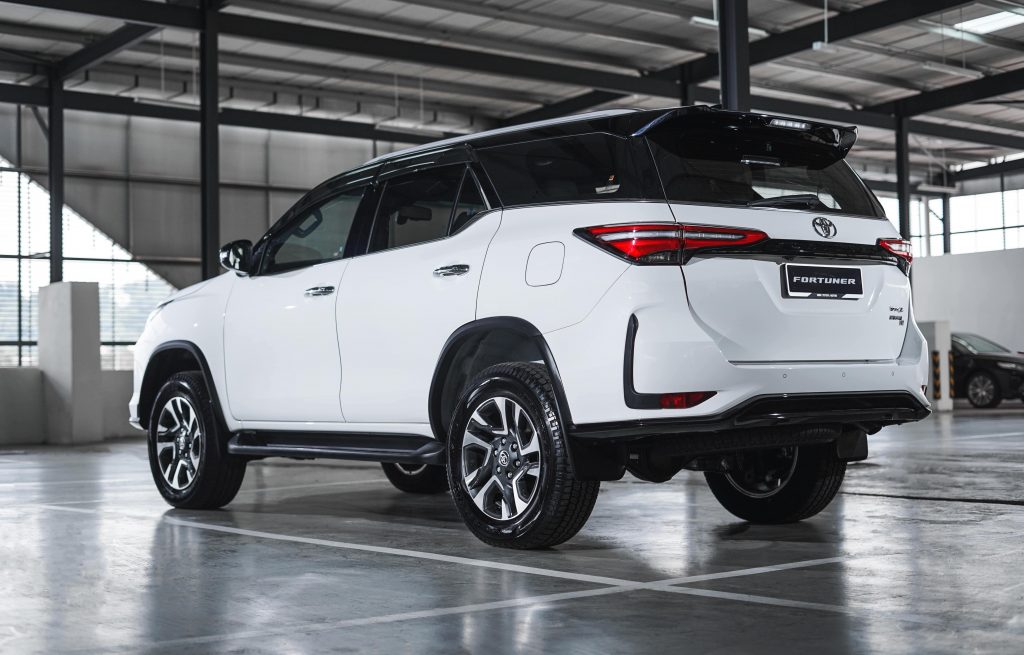 Additional exterior changes afforded to the more expensive 2.8 VRZ trim level includes the black finish on its roof, A-pillars, wing mirrors and roof mounted rear spoiler. A new shiny front skid plate too is featured on this higher-end variant.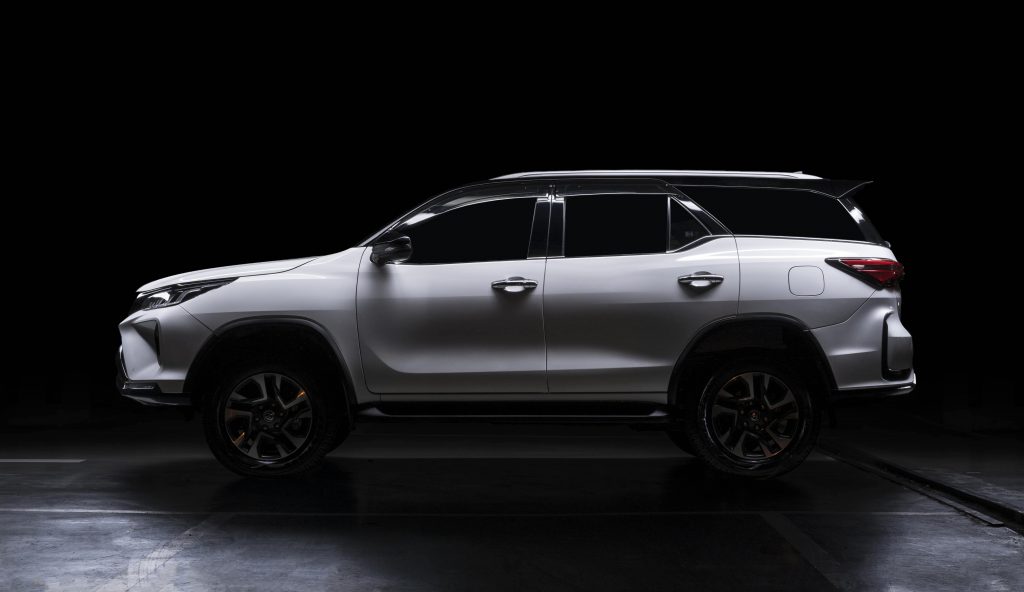 Stepping inside, the new design and colour of the leather upholstery is perhaps the biggest change within the facelifted Fortuner's cabin. Aside from that, the interior add-ons with this updated model includes electrochromic rearview mirror, power-adjustable seat for the front passenger, a revised instrument panel with an updated Multi Information Display (MID) as well as LED interior lights (not to mention interior ambient lighting for the 2.8 VRZ variant).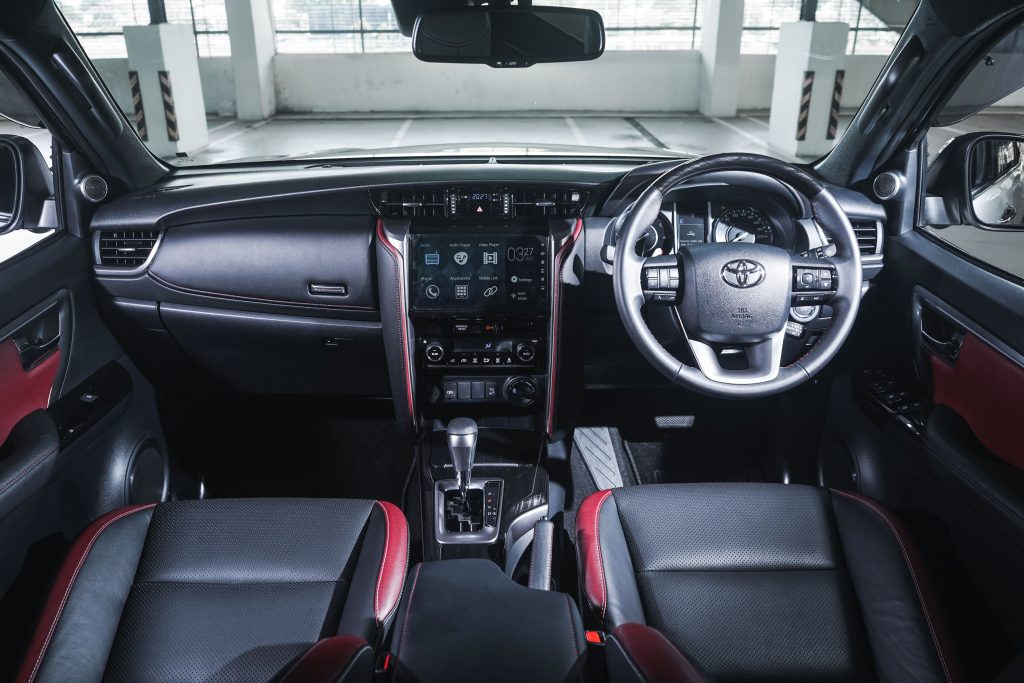 To add to that, Toyota is currently offering a list of dealer-install options to add-on to one's new Fortuner. These include a wireless charger, a kick sensor powered tailgate, a roof-mounted monitor and rear digital video recorder.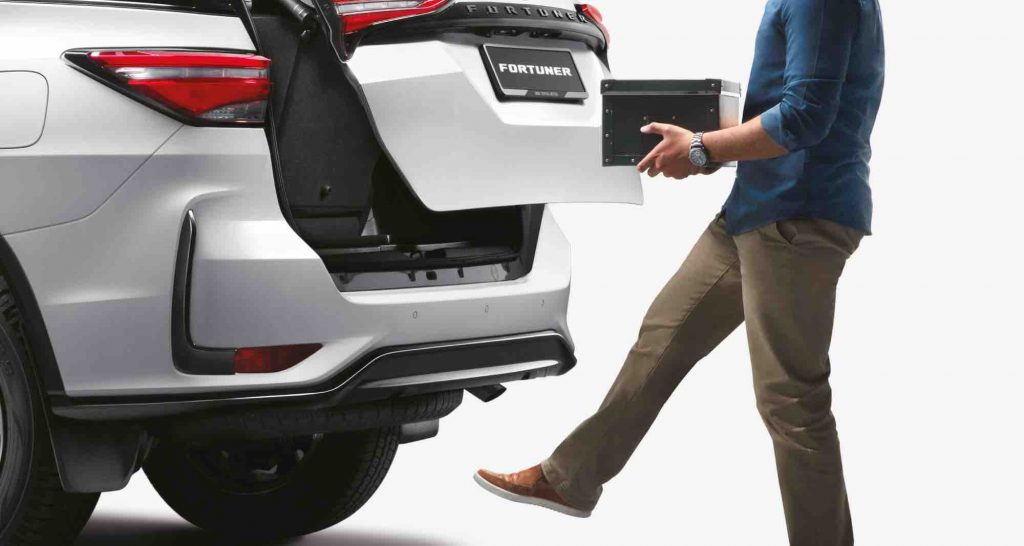 On the safety front, only the top-spec Fortuner features the Toyota Safety Sense (TSS) suite of active safety features, which consists of Pre collision System (PCS), Lane Departure Alert (LDA) and Dynamic Radar Cruise Control (DRCC) and Yaw Assist Function. Both variants however feature the usual suite of passive safety features and 7 SRS airbags as standard. 
Backed by a five-year unlimited milage warranty on both variants, the new Fortuner 2.8 VRZ 4×4 A/T costs RM 203,183.00, whereas the 2.7 SRZ 4×4 A/T is priced at RM172,244.00. It is worth noting that as these Toyotas are classified as SUVs, unlike its Hilux brethren then, the prices stated here are inclusive of the sales tax exemption.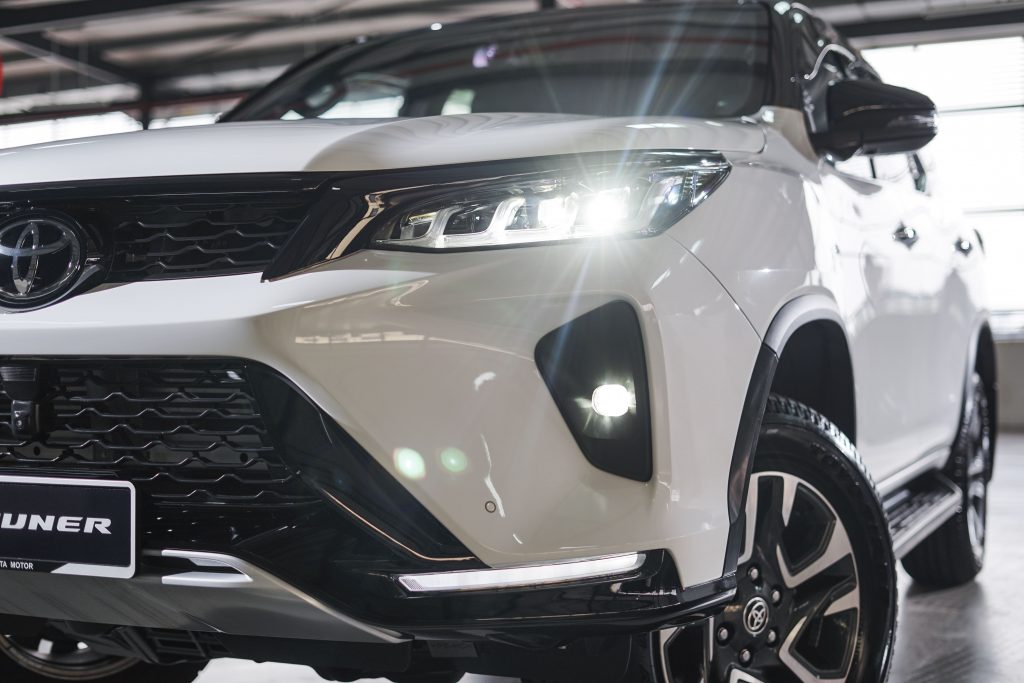 PRESS RELEASE: UMW Toyota Motor has started sales of the new 2021 Toyota Fortuner with styling, performance and safety updates, while retaining all the strong attributes that make it a popular SUV nationwide. 
Two variants are available with the following prices: 
TOYOTA FORTUNER 2.8 VRZ with a 2.8-litre turbodiesel engine and 6-speed automatic transmission, 4×4 – from RM203,183

 

TOYOTA FORTUNER 2.7 SRZ with a 2.7-litre petrol engine and 6-speed automatic transmission, 4×4 – from RM172,244

 
The Fortuner 2.8 VRZ 4×4 A/T is a new variant which replaces the Fortuner 2.4 VRZ offered previously. A new body colour – Bronze Mica Metallic – with a Black Roof is available exclusively for this new variant which is the flagship of the range. The Black Roof is also available with the Super White II exterior colour only for this variant.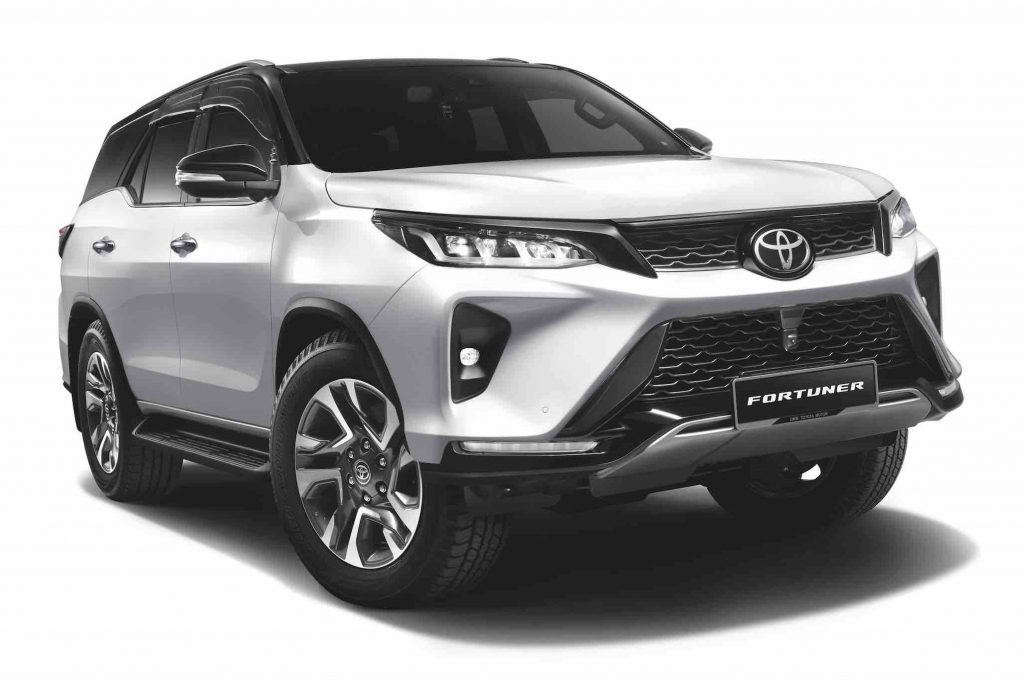 The SUV range gains a more dynamic frontal appearance with the new Fortuner 2.8 VRZ having Quad LED headlamps that flank a mesh-type front grille. The other lighting units have also been restyled while the front and rear bumpers have a new design. The Skid Plate below the front end is also new, emphasizing the ruggedness of the Fortuner. 
Giving the Fortuner 2.8 VRZ additional distinctiveness, the roof, A-pillars, wing mirrors and roof- mounted rear spoiler are finished in black. Additionally, the corner mouldings are specially shaped for aerodynamic benefits. Though a rugged SUV, it still has looks which are eye-catching in an urban environment. Both the 2.8 VRZ and 2.7 SRZ variants are fitted with 18-inch alloy wheels that have a new design as well.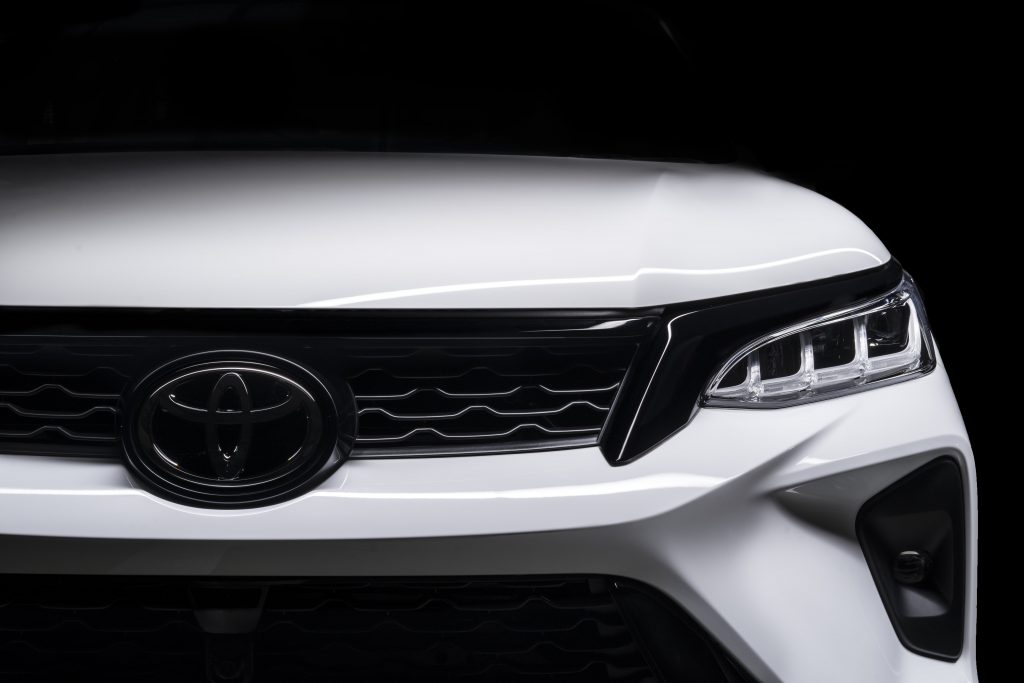 Like the exterior styling, the interior of the Fortuner, with 3 rows of seats, also has a modern premium design and feel. The Fortuner 2.8 VRZ interior has trim with a new design and colour while the seat upholstery also has a new design. The new instrument panel features a revised Multi Information Display (MID) opening animation. Ambient illumination is provided to add a touch of class at night, while the key cover has been redesigned.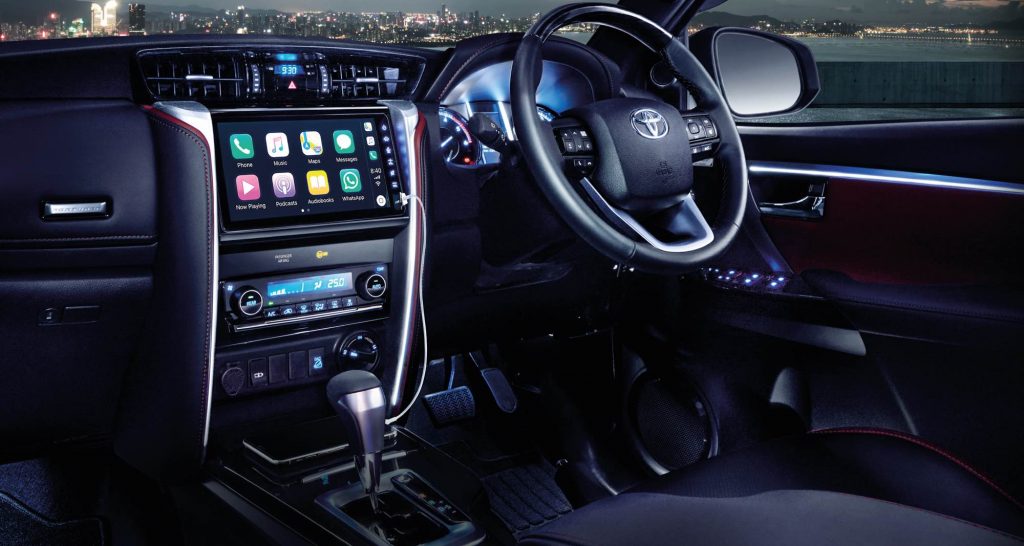 For added comfort and convenience, the new Fortuner 2.8 VRZ and 2.7 SRZ have been fitted with LED Interior Lamps, Electrochromic Rearview Mirror (to eliminate dazzle) and the driver and front passenger can now easily adjust the seat with 8-way powered controls. USB charging ports are also available for powering or recharging personal electronic devices.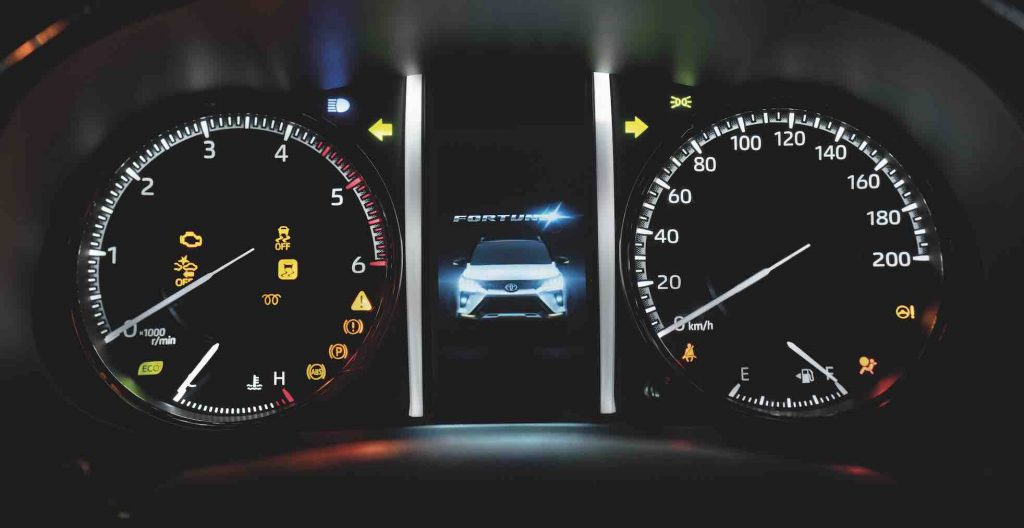 Flexible seating arrangements provide maximum seating capacity when needed. All three rows are available to accommodate seven adults in comfort. Alternatively, the second and third rows can be folded to provide a longer floor length and more cargo volume.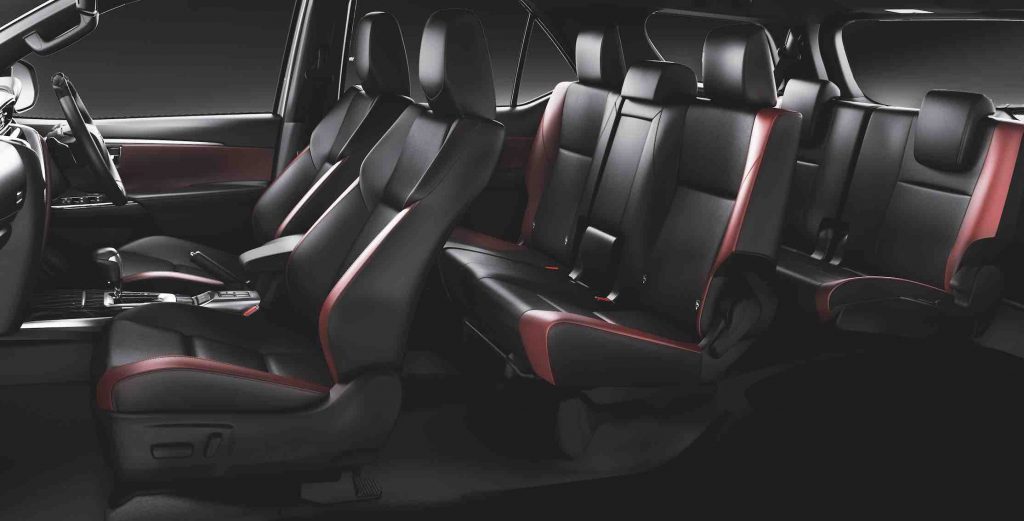 The proven Toyota powertrains are maintained with the availability of the new 1GD-FTV 4-cylinder common-rail diesel engine. This features a heavy-duty variable nozzle turbocharger and Intercooler. The muscular 2.8-litre engine produces maximum power of 204 PS at 3,000-3,400 rpm and 500 Nm of torque from 1,600 rpm to 2,800 rpm. 
A balance shaft reduces vibrations and lowers noise levels while high efficiency is achieved with the electronically-controlled common rail injection system that can deliver fuel at a maximum pressure of up to 250 MPa. 
The Fortuner also comes with Variable Flow Control (VFC) Power Steering, which helps to improve fuel economy by reducing the power steering pump consumption torque. Toyota's engineers have enhanced the steering feeling to achieve natural handling that matches the speed. For the Fortuner 2.8 VRZ, there is also a SPORT mode which enhances the power steering for responsiveness. 
The part-time 4×4 drivetrain provides for maximum capability on all surfaces, from smooth highway to muddy jungle tracks. With the shift on-the-fly capability, the driver does not have to stop the vehicle to engage 4×4, which can be selected by simply turning a rotary knob.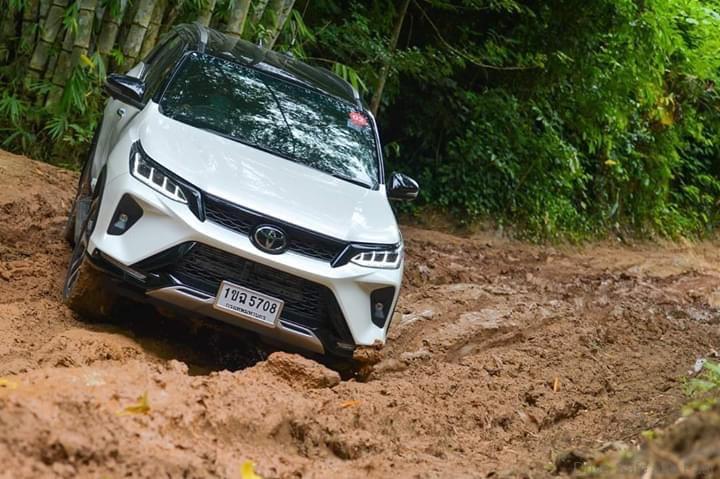 For stability enhancement, the drivetrain has Active Traction Control (A-TRC). New for 2021 in the Fortuner 2.8 VRZ and 2.7 SRZ is an Auto Limited Slip Differential (LSD). This is very useful in the most difficult conditions and uses the traction control system to control braking when one of the rear wheels start to spin. It allows engine power to be maintained and power is directed to the wheel with better traction. 
The Fortuner comes with comprehensive safety equipment to help the driver avoid an accident, as well as a structural design that can reduce injuries during accidents. Now, in line with Toyota's efforts to reduce road accidents, the latest model comes with Toyota Safety Sense (TSS). This is an integrated suite of active safety systems which make use of a camera and radar to monitor and detect other vehicles, and to take appropriate action to prevent an accident.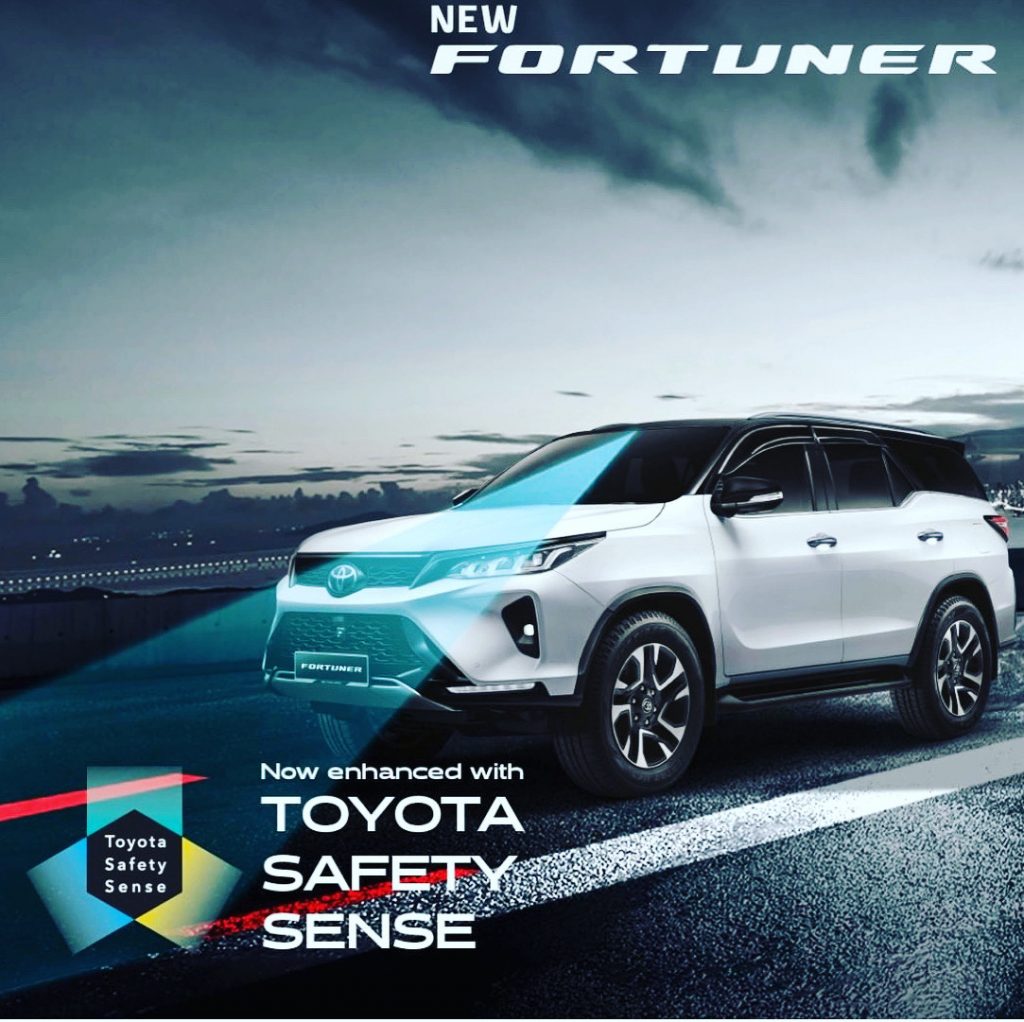 TSS, though available in many Toyota models today, has different elements and for the latest Fortuner, it comes with Pre collision System (PCS), Lane Departure Alert (LDA) and Dynamic Radar Cruise Control (DRCC) and Yaw Assist Function. 
Unlike the TSS in passenger vehicles, the system in the Fortuner (as well as Hilux) has a Yaw Assist Function. This activates when lane departure is detected, and additional braking force applied to the inner wheels to direct the vehicle back into the proper lane position. The systems are also calibrated taking into account the usage conditions. 
At the time of purchases, customers can also include options such as Wireless Charger (new), Kick Sensor Powered Rear Door (new), Roof-mounted Monitor and Rear Digital Video Recorder.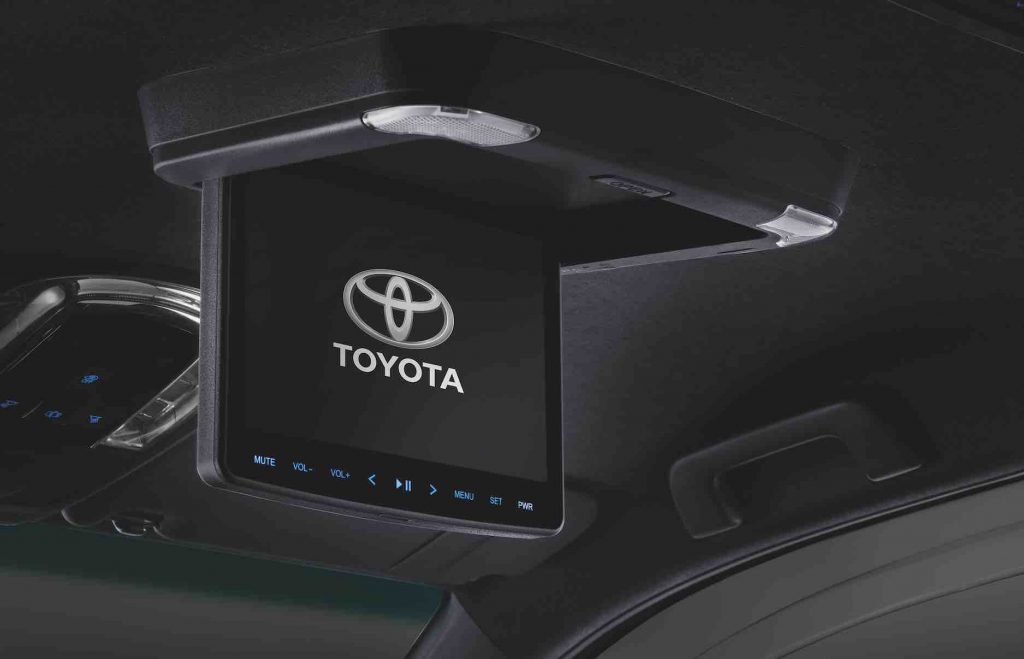 As with most of the models offered by UMW Toyota Motor, the new Fortuner range comes with a 5- year/unlimited mileage warranty, subject to conditions stated in the Owner's Handbook. This will be welcome by owners who clock high mileage each year as they can enjoy peace of mind for the full 5- year period. Besides, customers will also be able to enjoy longer oil change intervals for the turbodiesel engine with a Revised Service Package. The interval is extended to 10,000 kms or 6 months (whichever comes first), from the previous requirement of 5,000 kms/3 months. As with all models distributed by UMW Toyota Motor, aftersales support is readily available throughout the country.