Automotive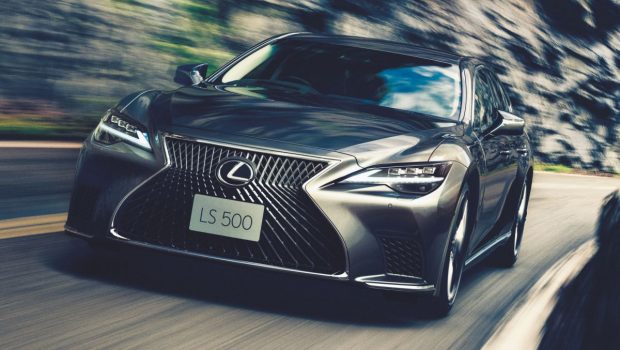 Published on February 2nd, 2021 | by Joshua Chin
0
Lexus LS500 Facelift Now Open For Bookings Locally
These new million-ringgit Lexus luxury sedans will arrive in Malaysia sometime in May 2021. 
Nearly a year after its official global unveiling, Lexus Malaysia has recently announced that the facelifted LS 500 will finally be making its local debut over here. Set to arrive in May, the order books have also just been opened for anyone out there who wishes to get a jump on these million-plus ringgit Japanese luxury sedans. 
Much like its pre-facelift predecessor, the updated Lexus sedans will again be fully imported from Japan in two trim uber-luxurious trim levels. The first of which is the 'base'-spec LS 500 Luxury that costs RM 1,023,629.00, while the other variant is the RM RM 1,304,768.00 LS 500 Executive Kiriko. Both prices stated here are with sales tax exemption, but without insurance included.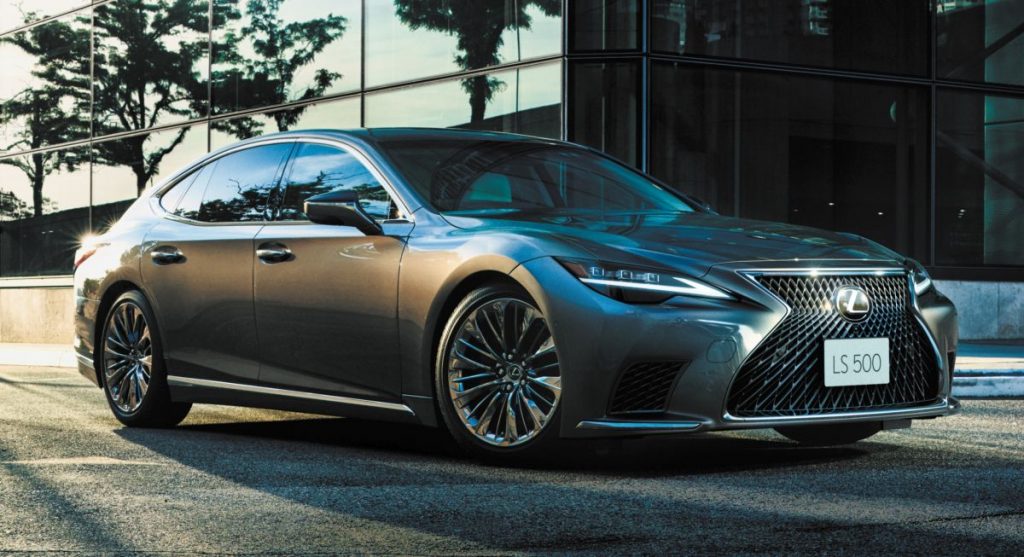 As for the updates that were made to this mildly enhanced Lexus, the premium Japanese automaker has focused more on minor incremental improvements to up the refinement in this facelifted LS. Having said that, the biggest change will perhaps be the new 12.3-inch central touchscreen (with integrated Android Auto, Apple CarPlay and built-in navigation) which replaces the old-style haptic touchpad controlled infotainment system found previously.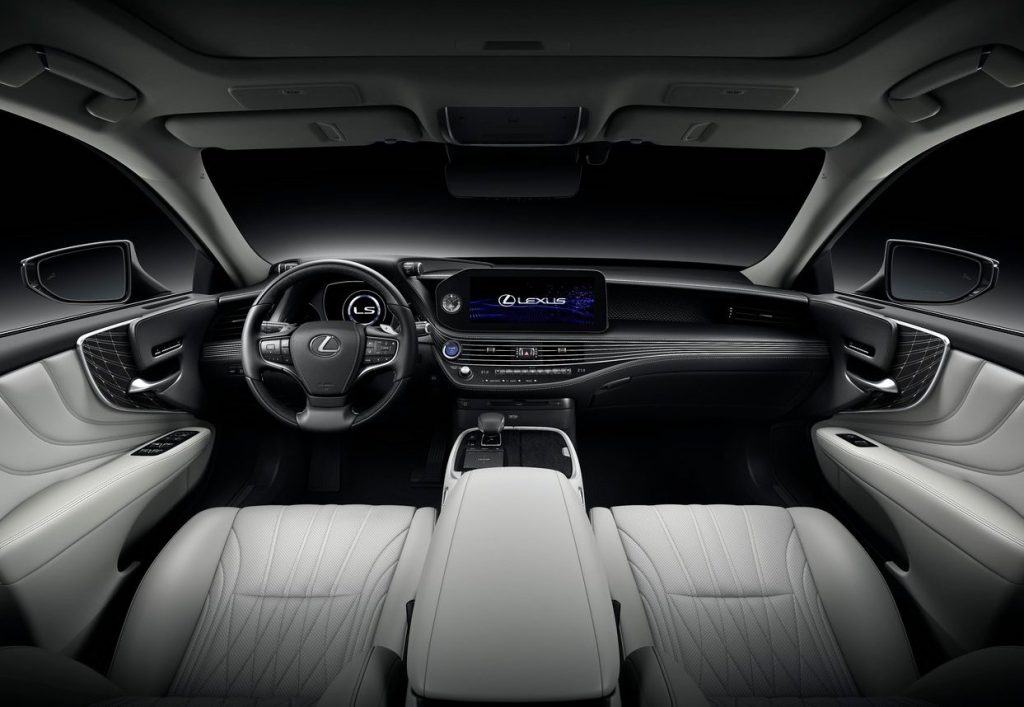 Continuing on the topic of the interior, the standard equipment within the Lexus LS includes semi-aniline leather upholstery, four-zone climate control, 28-way power adjustable front seats with heating and ventilation and 18-way rear seats, a digital instrument cluster, a head-up display and other typical accoutrements found in a luxury sedan. The LS 500 Luxury also affords a couple of new interior colour schemes in the form of Chateau (beige), Hazel (brown) and the normal, boring black. 
That said, the Executive Kiriko trim is where the interior add-ons are really at, as this black or crimson/black cabin features Kiriko Glass ornamentation and hand-folded pleats on the door trim, rear seats with ottoman and massage functions, a 23-speaker Mark Levinson Reference Surround Sound System and dual rear 11.6-inch LCD screens. There is even a rear cooler box available in this variant, which does however rob 40 litres from the 480 litre boot space of the normal LS.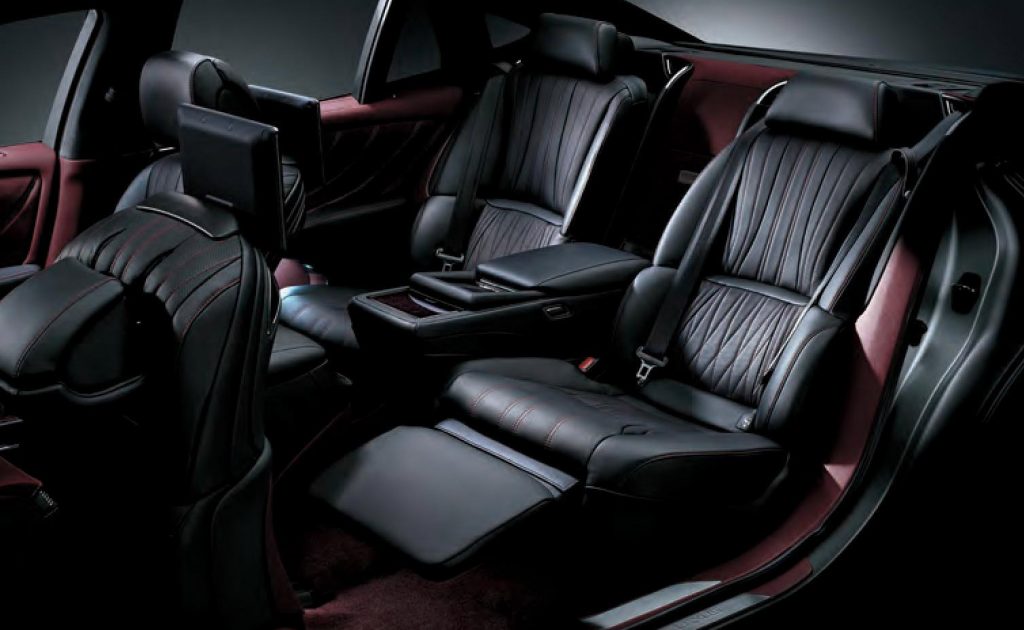 Moving onto the outside of the facelifted LS, the updated Lexus brings with it a revised front bumper and a reworked spindle grille with a dark metallic finish. Both of which are flanked by new triple-beam LED projector headlights that feature a BladeScan Adaptive High-beam System (AHS), L-shaped DRLs and sequential turn signals.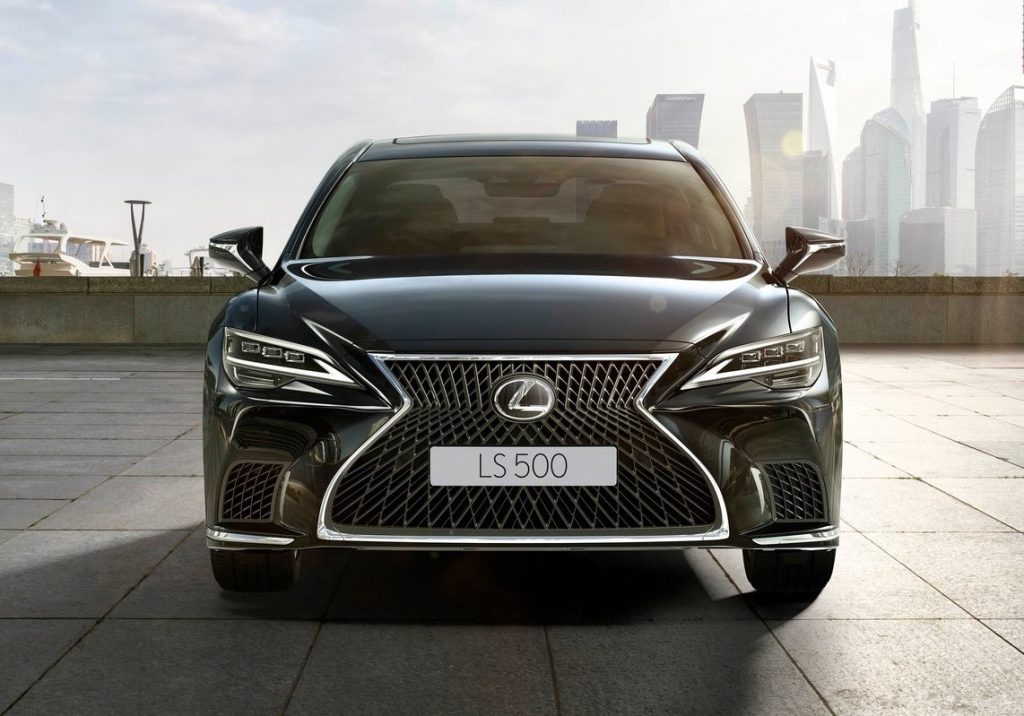 Completing this exterior facelift are the new 20-inch alloy wheels wrapped in new run-flat tyres. Finished in Hyper Chrome metallic and featuring a noise-reducing design (thanks to resonator holes incorporated within the wheel), these new wheels should complement the revised Adaptive Variable Suspension (AVS) and air suspension systems to provide an even more refined ride quality in this new Lexus luxury sedan.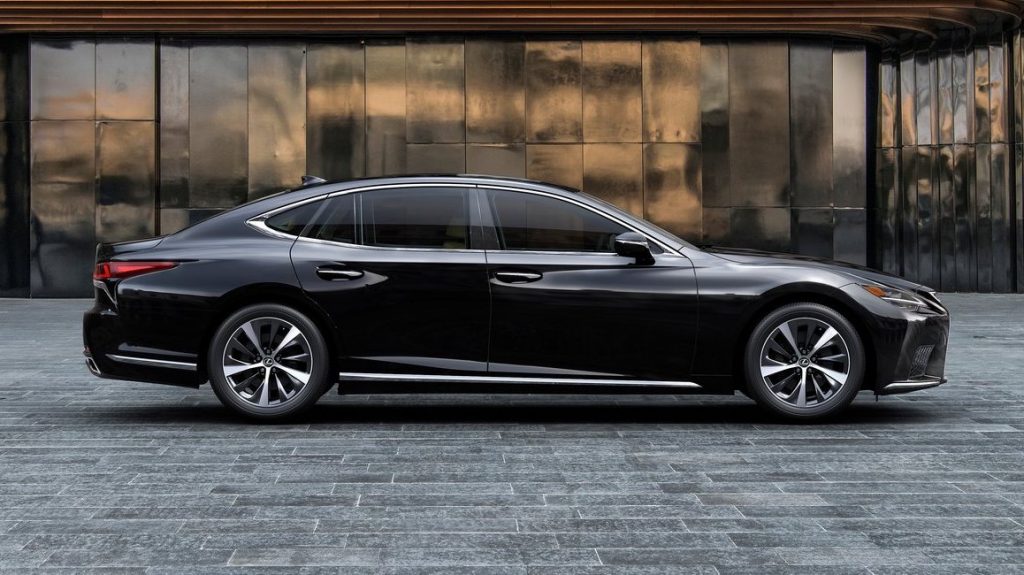 Under the bonnet meanwhile, both variants of the LS 500 are powered by an updated Dynamic Force 3.5 litre twin-turbocharged V6 that outputs a decent 421 PS and 600 Nm of torque. Mated to a 10-speed automatic transmission that drives the rear wheels, this luxury sedan is able to set a hot hatch-rivalling 5 second 0-100 km/h time and sprint all the way to an electronically limited 250 km/h.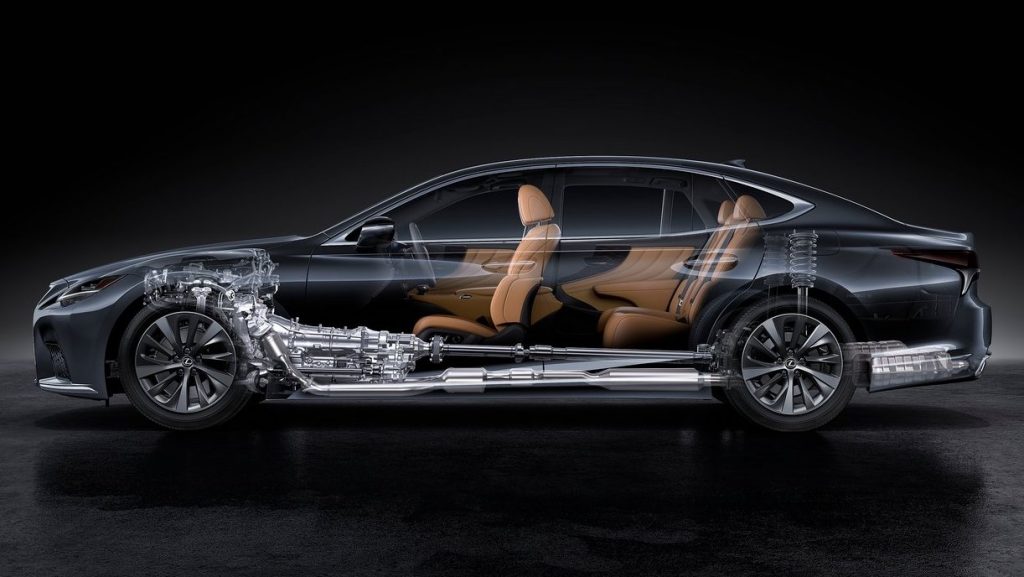 Coming standard with the Lexus Safety Systems+, both variants of the facelifted LS500 gains a pedestrian and bicycle detection for the Pre-Collision System (PCS) sensors. A new Parking Support Brake (PKSB) function and a new Active Assist for the seat belt is included in the mix too, as is the 12 standard SRS airbags.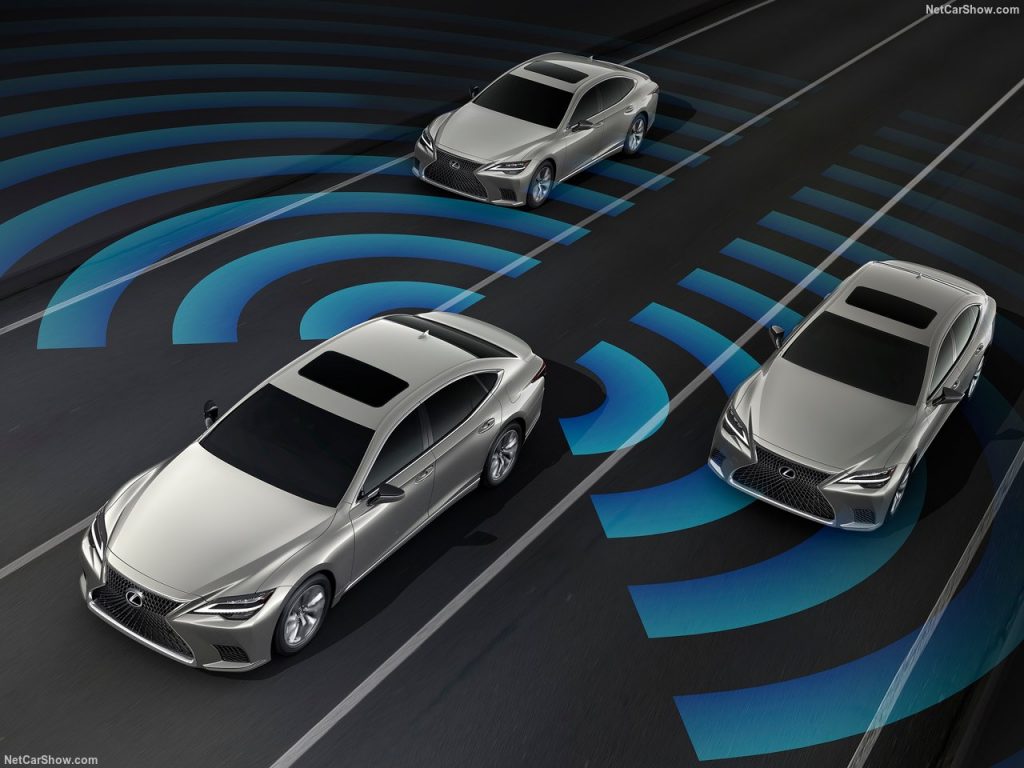 More information regarding the Lexus LS facelift can be found in the press release below. 
PRESS RELEASE: The Lexus LS400 made its debut in 1989 and marked the entry of the Lexus brand into the crowded automobile market. Not only did its supreme engineering, craftsmanship and refinement serve notice to the establishment, it signalled Lexus' intention to change the way luxury vehicles moved us. 
As the flagship of the brand, the first Lexus LS certainly made waves with its amazing blend of superior engineering, Japanese craftsmanship and high tech electronics resulting in cars that ran with clockwork precision while delivering luxurious comfort and performance. 
The Lexus LS continuously transformed, innovating to stay on top of the game and throughout all five generations it has stayed true to its core of bringing the absolute pinnacle of automotive experiences to drivers and passengers alike. 
"The Lexus LS range is truly the breed standard that has remained at the pinnacle of luxury motoring since the very first model. Each feature and detail is crafted to elevate the experience of the driver and passenger. The 2021 Lexus LS500 continues that legacy by bringing new levels of refinement and safety to discerning owners," said President of Lexus Malaysia Mr Ravindran K. 
The two variants – the LS 500 Luxury, and LS 500 Executive Kiriko boast a meticulous artisanship to its construction through Lexus Takumi craftsmanship and driven by the concept of Omotenashi. 
Offering a sleek and elegant sillhouette, the new Lexus LS500 features revised styling cues that further accentuate the flagship model's design. These include a redesigned front bumper, headlamps and sub radiator grille that offer a refreshed form along with improved functionality. The intricately-formed characteristic spindle grille has also been changed to a dark metallic finish further affording the Lexus LS500 a formal and elegant appearance. 
A new front bumper incorporates the new Ultra Slim 3-beam LED Projector headlamp design. The new lamps feature a distinctive L-shaped DRL and BladeScanTM type Adaptive High-beam System while the sharp-looking sequential signal lamps add that touch of distinctiveness. The new headlamps not only intensify the look of the car but also provides a wider illumination area along with smoother and finer light distribution control. 
The new model sits on 20-inch alloy wheels that feature a noise-reducing design thanks to resonator holes incorporated into the wheels. Finished in Hyper Chrome Metallic, the wheels come with new run flat tyres that are optimized with reinforced sidewalls to further improve ride comfort. In terms of colour options, the new Lexus LS 500s are now available in two new colours – Iridium Silver and Sonic Iridium. 
One of the core characteristics of the Lexus LS has always been its dynamic handling and performance. Defined by the Lexus GA-L platform which provides optimised weight distribution and lower centre of gravity, the new Lexus LS 500 is undoubtedly the brand's most capable flagship sedan to date. 
By employing an Air Suspension featuring Adaptive Variable Suspension and revised stablizers and suspension bounds stoppers, the new model is defined by excellent vehicle stability, agility, and sharp handling. The advanced suspension system is tuned to offer exceptional ride comfort on city streets but adapts and controls roll when the steering wheel is turned, giving the Lexus LS500 a plush ride whilst maintaining excellent composure and balance. is It also comes with Access Mode Control that will raise the vehicle when stopped allowing for easier ingress and egress. 
Nestled under the bonnet is an improved 3.5L V6 Twin Turbo Engine which features newly developed pistons and an improved variable valve control design that help realize low emissions and quiet operation, particularly when the engine is cold. 
In addition to its improved comfort and driveability, the new 3.5L V35A-FTS Engine also boasts a total output of 415hp along with a peak torque of 600Nm. The 0-100kmh sprint is registered at 5.0 seconds with a top speed electronically limited to 250kmh. The driver can also tailor and customise the powertrain responses via the Eco, Comfort, Normal, Custom, Sport S or Sport S+ modes. 
Inside, the new LS 500 has been afforded improvements intended to elevate passenger and driver comfort. Semi-aniline leather seats and ornamentation developed by Takumi craftsmen give the LS 500 a premium atmosphere worthy of a flagship model. 
To cater to the discerning tastes, the new LS 500 Luxury is offered in a new Chateau as well as Hazel interior colour scheme. The Executive Kiriko model on the other hand features Kiriko Glass ornamentation and hand- folded pleats on the door trim, which illustrates the brand's 'Innovative elegance through Japanese craftsmanship' approach. 
The model features class-leading rear seat room as well as boot space of 480 litres. The LS 500 Executive Kiriko offers 440 litres of cargo space as it comes with the added benefit of a rear cooler box. Standard features include front 28-way power adjustable front seats – the highest number of adjustments in class along with power- adjustable rear seats. The Executive Kiriko variant also features rear seats with ottoman and massage functions. Seats in both variants are equipped with heater and ventilation. 
Taking user experiences to the next level, the new Lexus LS 500 is equipped with a new high definition 12.3-inch multimedia touchscreen that enhances smart connectivity and functionality. The new interface is integrated with Apple CarPlay and Android Auto and features an in-built Lexus navigation system. The new touch screen display has also been moved 121.5 mm closer to the occupants to enhance operability. 
To fully enjoy the ride, the LS 500 Executive Kiriko variant features a 23-speaker Mark Levinson Reference Surround Sound System to afford concert hall sound reproduction. With dual 11.6-inch LCD screens in the rear with Blu Ray Disc, SD Card, WiFi (for Miracast) and DLNA (Digital Living Network Alliance) and HDMI input, every journey can be filled with your choice of entertainment. All controls have also been consolidated into the Rear Multi Operation Panel for greater convenience. 
Both variants of the 2021 Lexus LS500 feature 12 SRS airbags as well as Lexus Safety System+ as standard. This suite of advanced safety systems is designed to improve preventive safety performance through driver alerts and semi-autonomous driving assists while driver aids have been further improved to provide additional safety and confidence on the open road. 
The Pre-Collision System (PCS) sensors are now employed to include pedestrian and bicycle detection. In the event of a possible collision the PCS will alert the driver and activate pre-collision braking if required. Also standard are Dynamic Radar Cruise Control (DRCC) with Stop & Go Function, Lane Tracing Assist (LTA), Blind Spot Monitor (BSM) and Rear Cross Traffic Alert (RCTA). 
The 2021 Lexus LS500 also features a new Parking Support Brake (PKSB) function which can detect static objects such as walls or guard rails or moving objects using the sonar wave sensors. Additionally, a new Active Assist for the seat belt increases the effect of the pretensioner by winding up the seatbelt using a motor if the vehicle detects a high possibility of collision. 
"As the brand flagship, the Lexus LS500 offers an inspiring look at Japanese ingenuity and craftsmanship, fusing traditional and futuristic designs into a showcase on wheels. It continues to impress with its level of refinement, impeccable craftsmanship and superior engineering that can be admired every time its doors are opened," said Deputy Chairman of Lexus Malaysia Mr Akio Takeyama. 
Both the Lexus LS 500 Luxury and LS 500 Executive Kiriko are open for booking now at all six Lexus Malaysia Showrooms nationwide with prices starting at RM1,023,629.00 for the LS 500 Luxury and RM1,304,768.00 for the LS 500 Executive Kiriko on the road with the sales tax exemption but without insurance. Early purchasers who book now will receive their new flagship rides in May 2021.