Automotive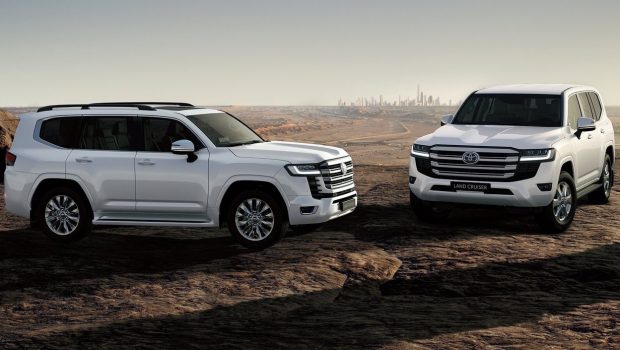 Published on June 10th, 2021 | by Joshua Chin
0
Toyota Premieres The All-New 300 Series Land Cruiser
This next-gen Land Cruiser has shed some weight and gained a twin-turbo V6.
Some 14 years after the 200 Series first made its debut back in 2007, Toyota has finally revealed its successor with the recent global premiere of the all-new 300 Series Land Cruiser. Though still retaining much the same silhouette and dimensions as its iconic predecessors, this next iteration of the 4×4 icon has nevertheless been radically redesigned underneath to make it even better on road and off it too.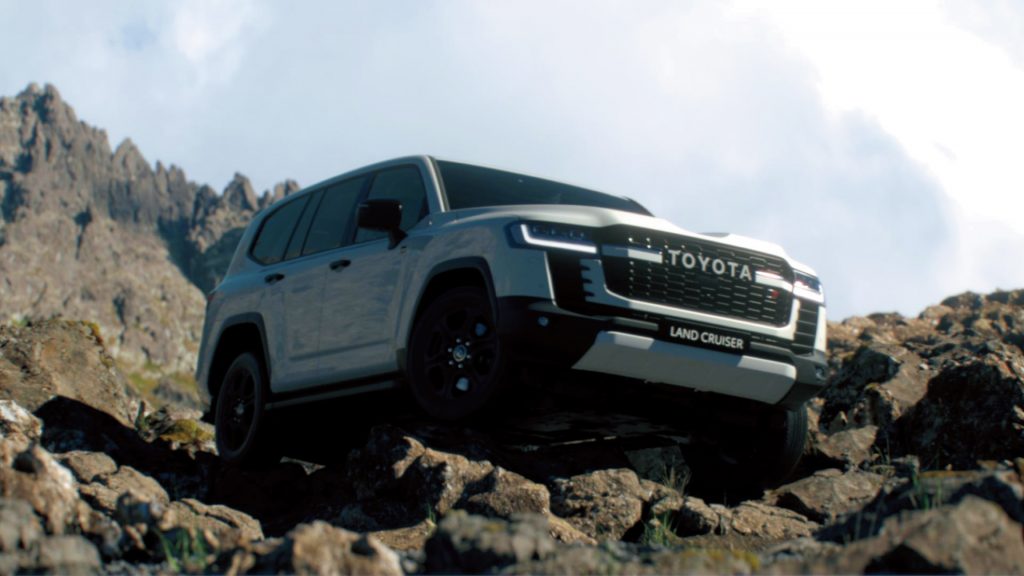 Kicking things off with discussions of its chassis first, the 300 Series marks the debut of Toyota's new TNGA-F platform. Still very much a ladder frame design 'to protect the Land Cruiser's essence', this all-new architecture is however much more rigid and has a lower centre of gravity as compared to its predecessors.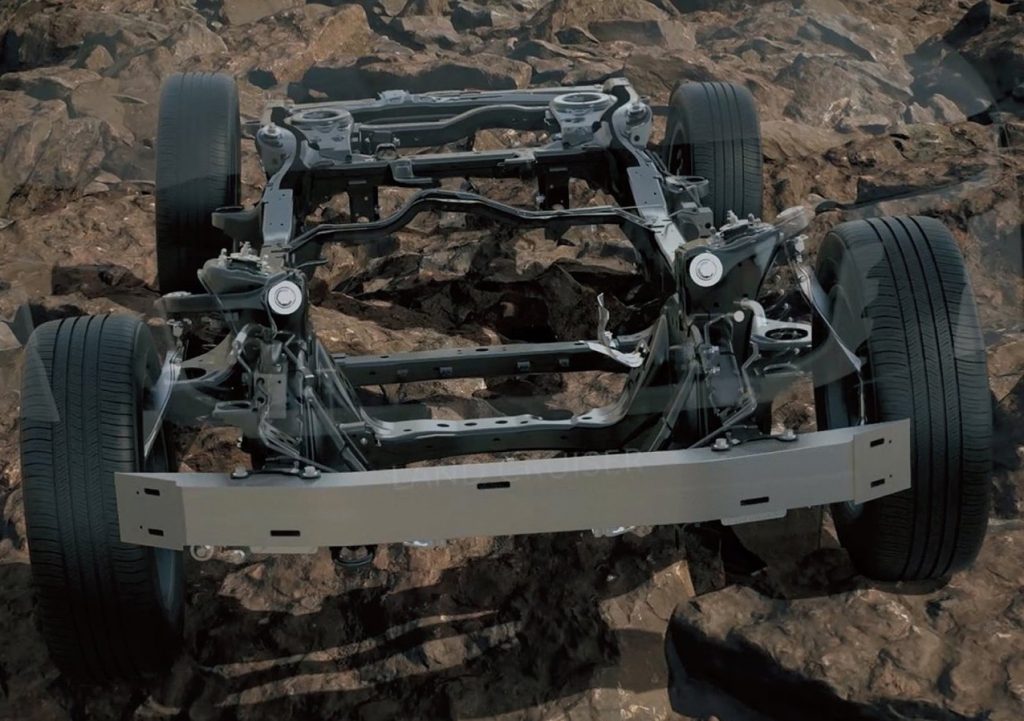 Its new underpinnings is also significantly lighter than what is to be found on the outgoing model, thereby contributing a large part to the overall 200 kg weight savings of the 300 Series over the Land Cruiser 200. Then again, some of the weight loss can also be attributed to the loss of two cylinders under its large hood.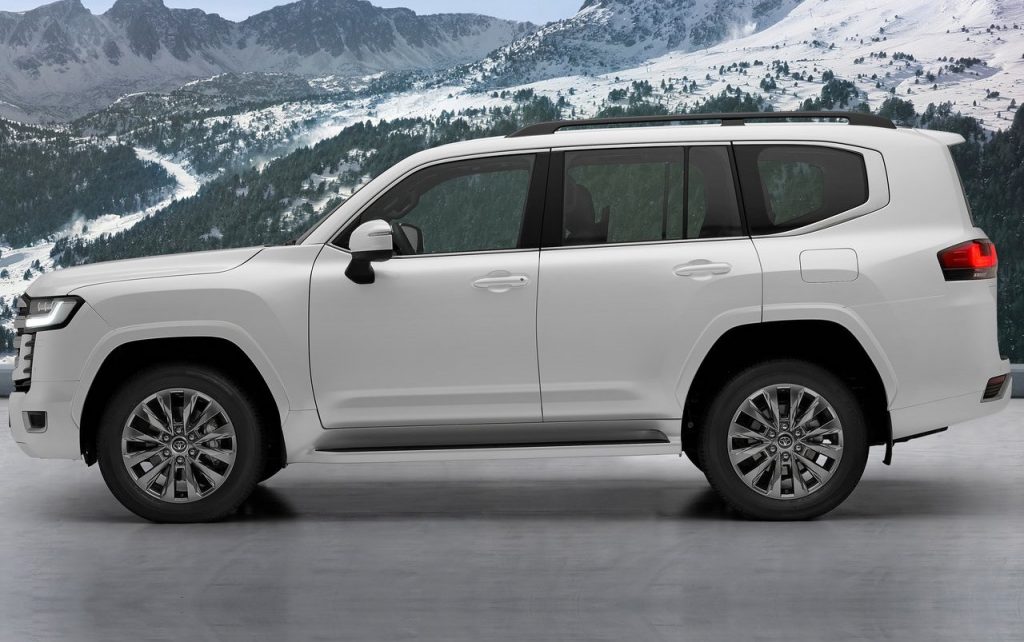 Gone is the naturally-aspirated V8 that are synonymous with Land Cruisers of old, and in its place instead this time round in the 300 Series are a pair of newly-developed twin-turbocharged V6 power plants mated to 10-speed automatic transmissions. The first of which is a 3.5-litre petrol drinker that pumps out 415 PS and 650 Nm of torque, while the other is a 3.3-litre oil-burner with 309 PS and 700 Nm of torque on tap.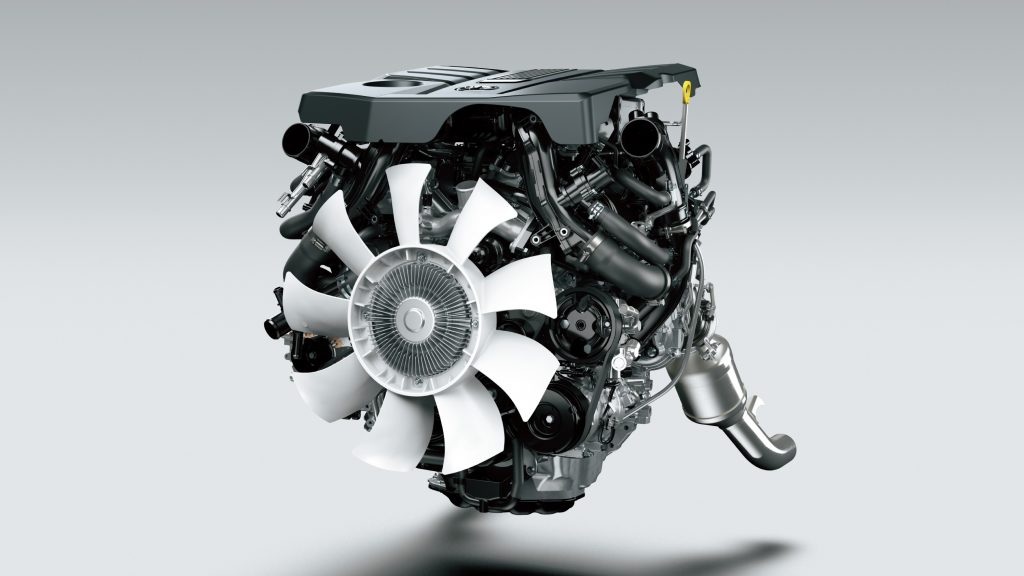 Now continuing on the topic of new tech to be found on the 300 Series, this all-new Land Cruiser also features a world-first Electronic Kinetic Dynamic Suspension System (E-KDSS) that promises to improve on-road and off-road dynamics. In the quest for further off-road performance gains too, Toyota has added a more advanced Multi-Terrain Select system that incorporates Deep Snow and Auto mode, as well as a Multi-Terrain Monitor — that gives the driver a real-time view of the road surface beneath — to the existing arsenal of standard four-wheel drive and its three diff locks (front, centre and rear).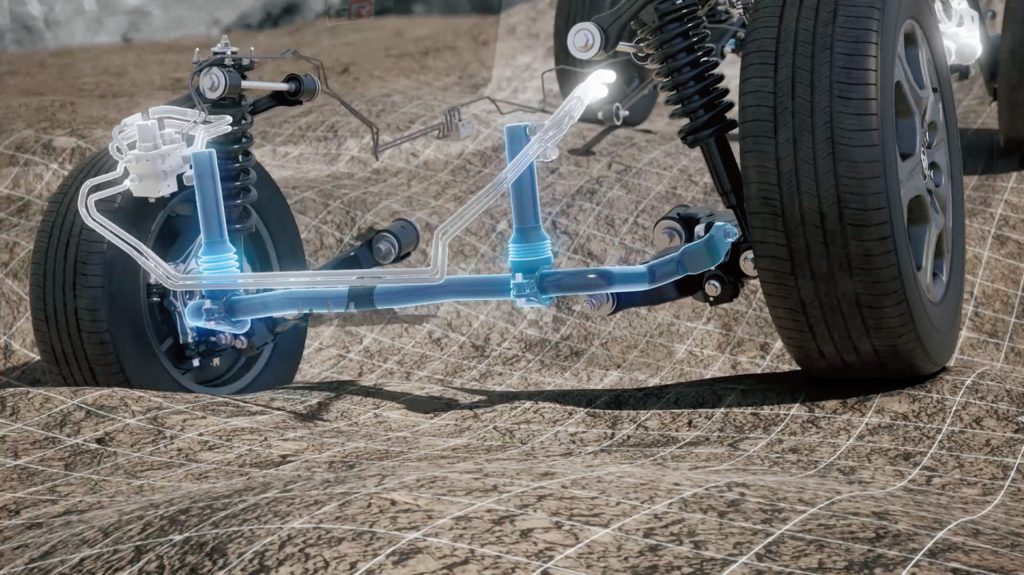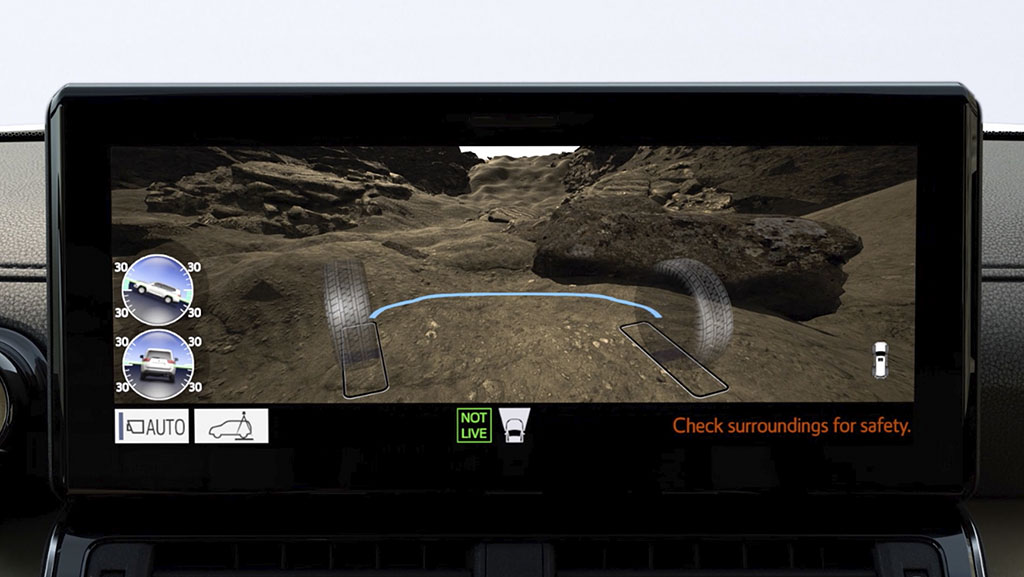 Moving on meanwhile to more on-road centric tech add-ons, the cabin of the 300 Series Land Cruiser has been radically redesigned to centre around a floating central infotainment touchscreen of either 9.0-inch or 12.3-inch in size. Other luxury accoutrements to be found within this 7-seat Toyota SUV includes a wireless charging pad, Apple CarPlay and Android Auto integration, heated and ventilated front seats, a powered tailgate, an air ioniser and even a fingerprint authentication system.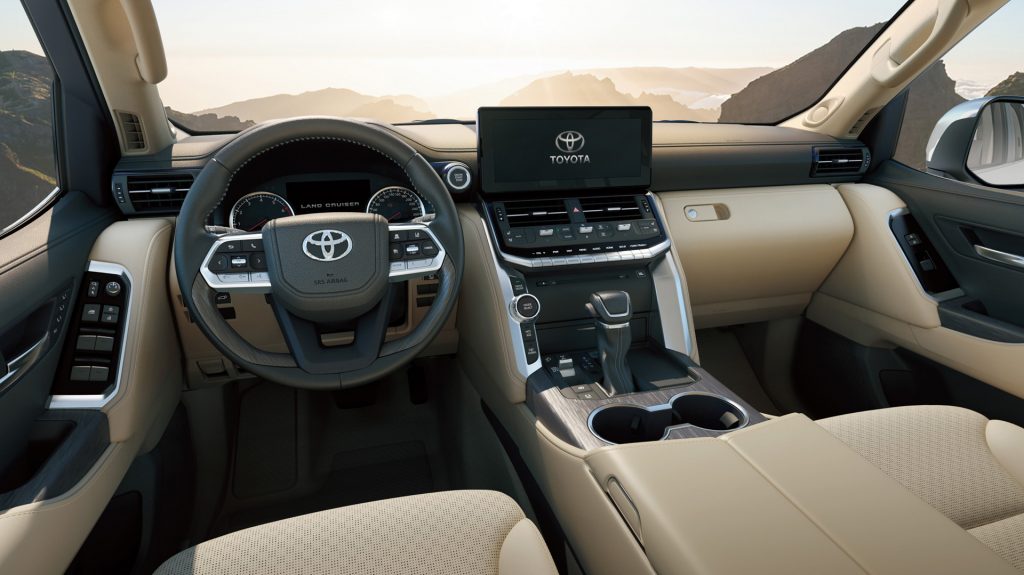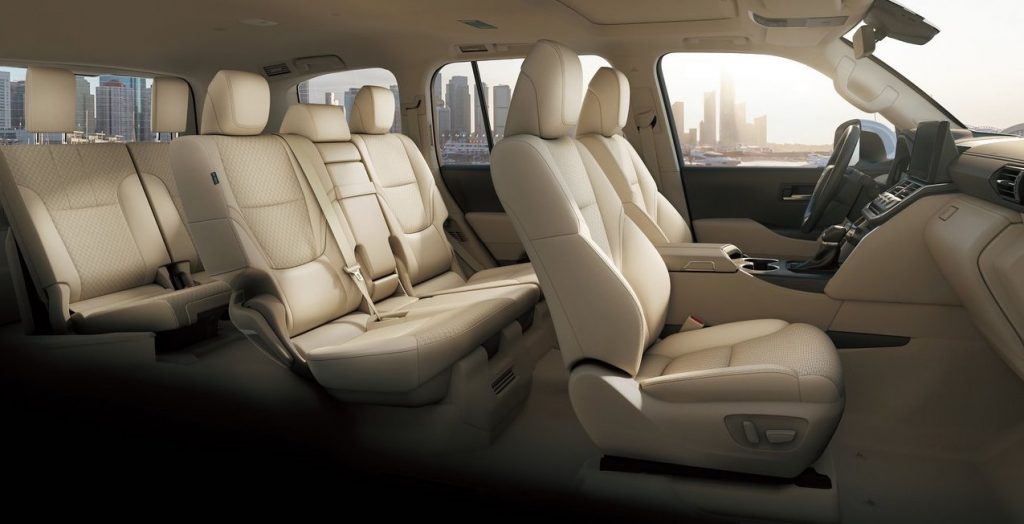 Toyota Safety Sense 2.0 also makes an appearance in this latest Land Cruiser. Bringing with it not just a 360º camera, adaptive cruise control, lane-keeping assist, and adaptive high beam to this large SUV, but a Pre-Collision System with pedestrian and cyclist detection and a Parking Support Brake system too.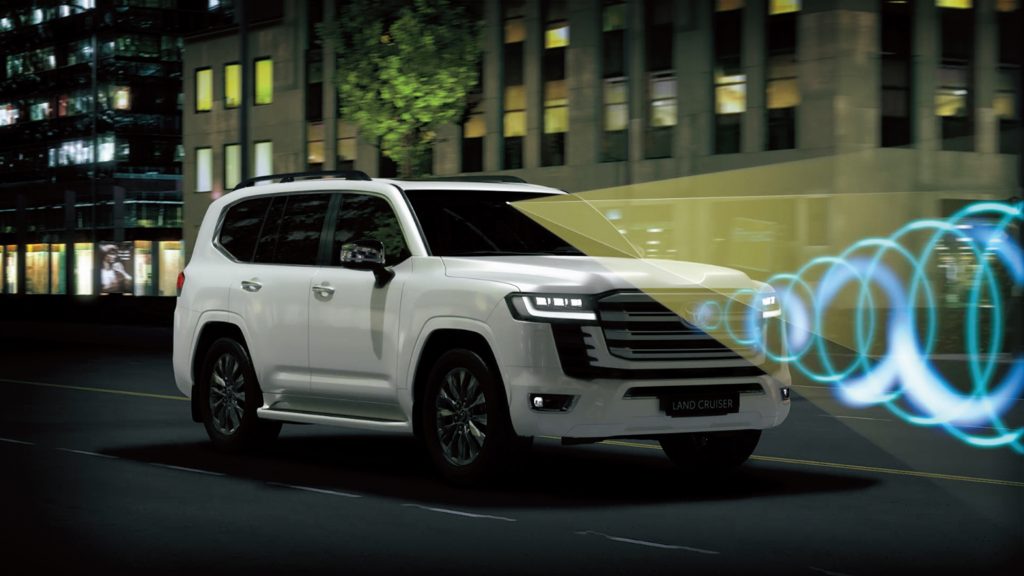 Despite all these fancy gadgets however, the 300 Series Land Cruiser still features a plethora of old-school knobs and buttons within the cabin to operate it all. That is apparently because Toyota wishes to keep things intuitive and easy to reach while on and off-road.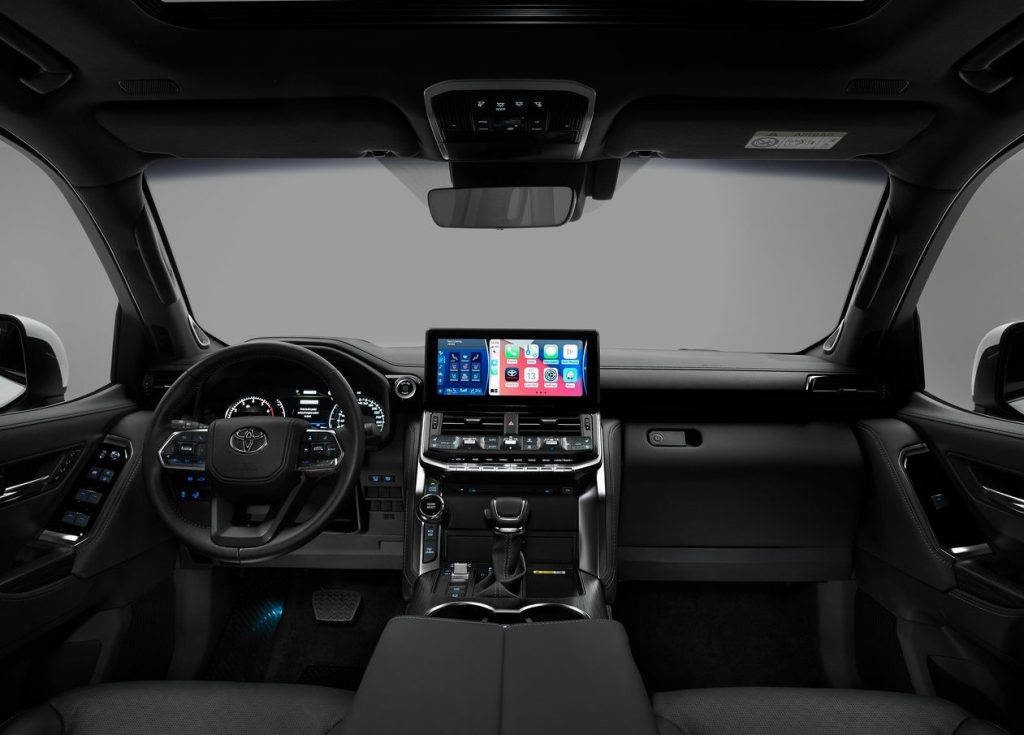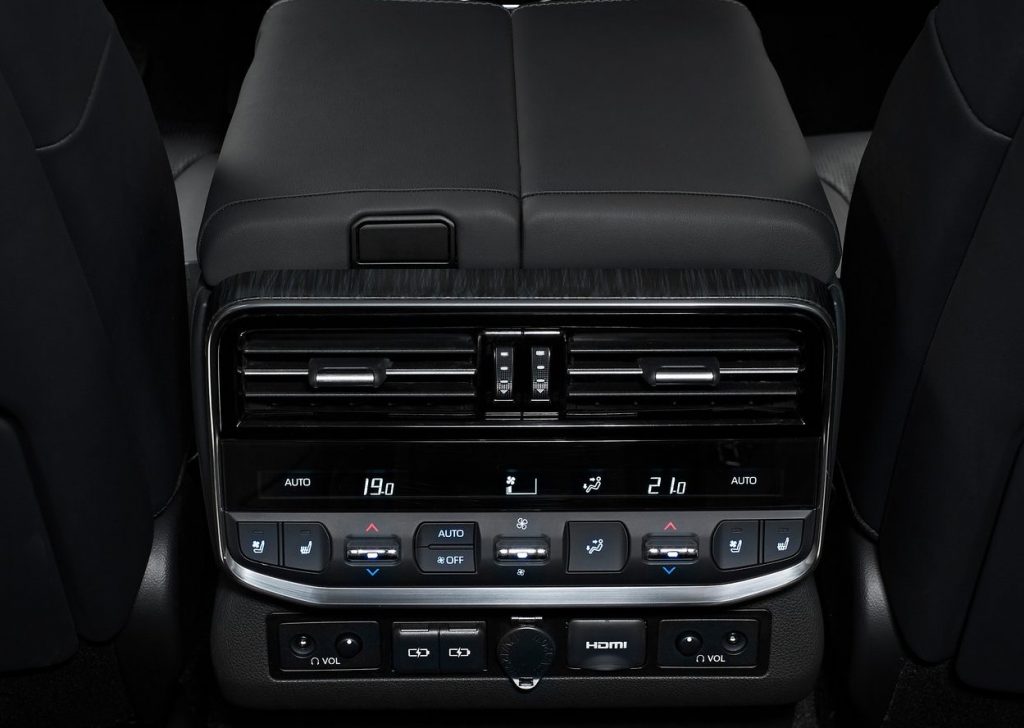 Such pragmatism is also most probably why the latest 300 Series retains roughly the same overall shape as the one that has gone before it, with Toyota themselves even stating its intention to 'pursue functional beauty in line with the Land Cruiser's heritage'. That said though, this new generation of SUV does gain a more imposing front end design with that distinct U-shaped air intake sitting beneath the large front grille, in addition to a slightly revised rear end aesthetic with some droopy-looking LED tail light clusters.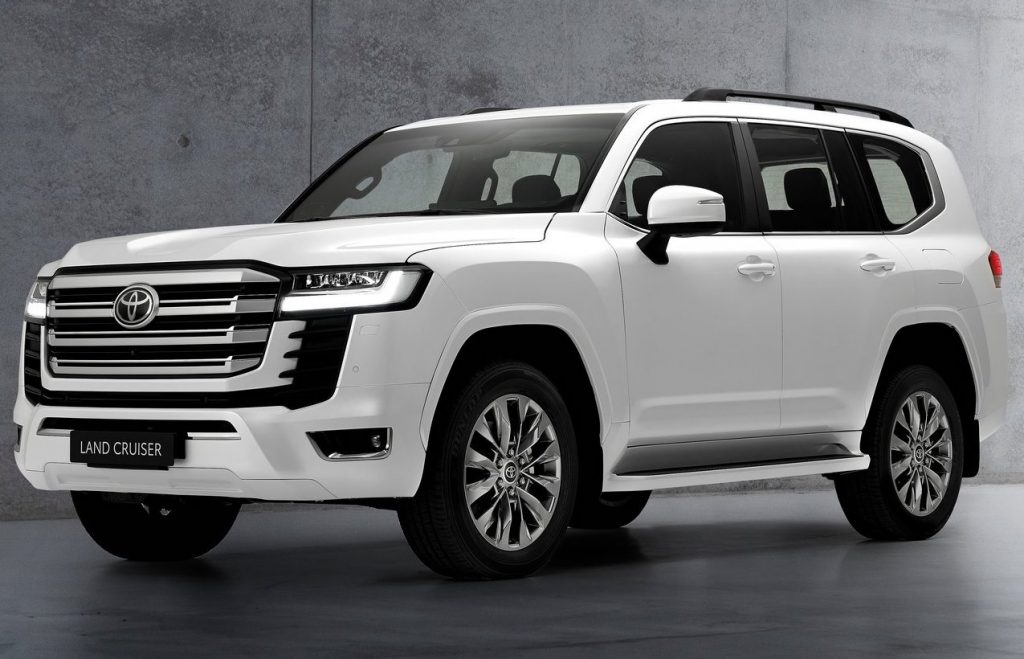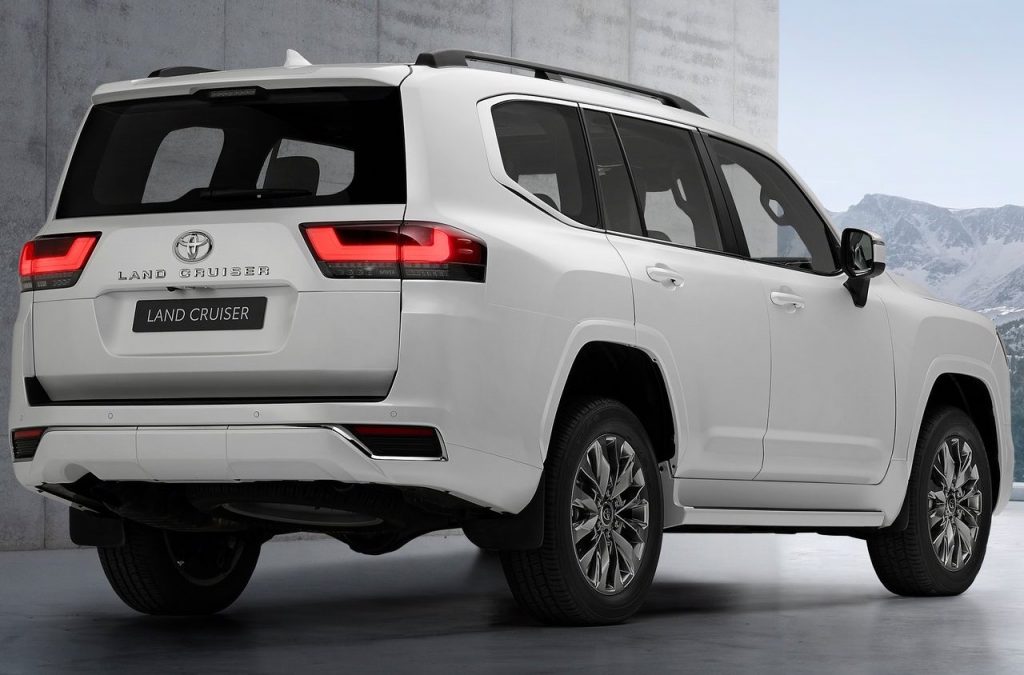 As for those who want an even more aggressive looking Land Cruiser on the other hand, there is now also the option of a GR Sport model. Official details on this particular sporty variant however are unfortunately thin on the ground at the present moment, with Toyota only announcing that it is set to arrive in selected markets later this year.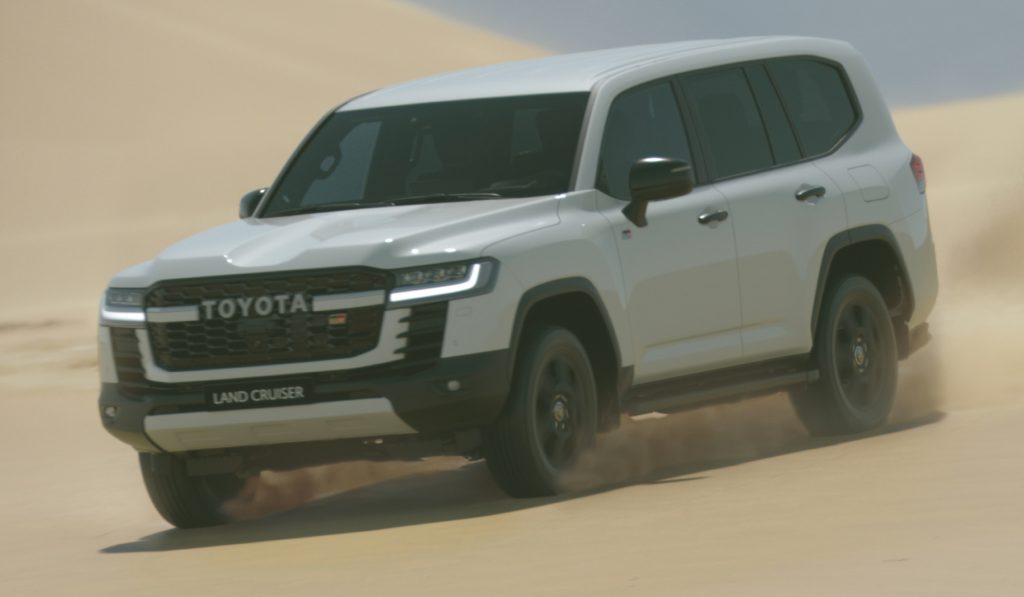 Speaking about its imminent arrival date, sales of new 300 Series Land Cruiser is set to begin in the summer of this year. So expect to see more than a few of these Toyota SUVs roaming around East Malaysia a short time after that.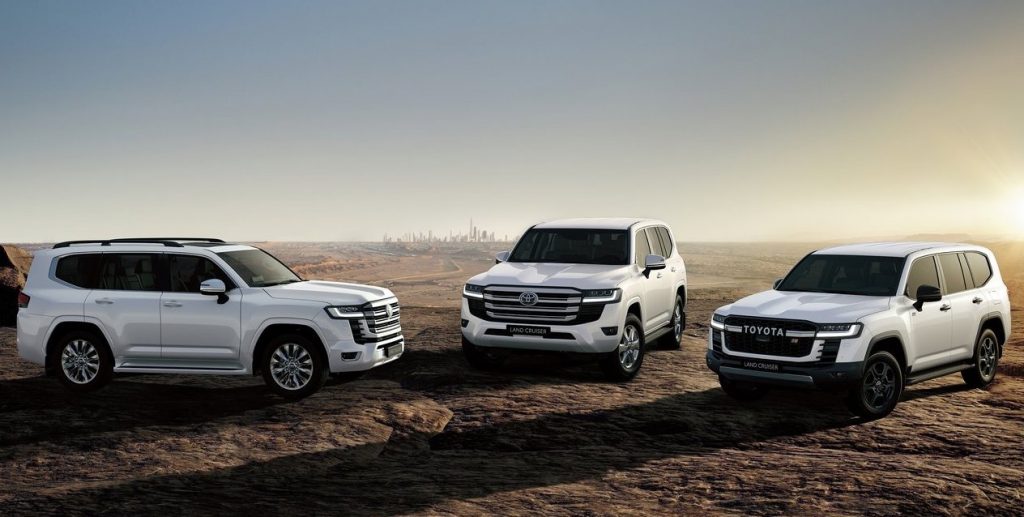 PRESS RELEASE: The Toyota Land Cruiser's status as an automotive legend is indisputable, with its heritage of achievement now spanning 70 years and more than 10 million sales across 170 countries and regions. Toyota's proud claim is that Land Cruiser is a vehicle that will "go anywhere and everywhere, and bring you back safe and well."
Toyota revealed an all-new Land Cruiser, presented in an online world premiere hosted in Dubai. The Land Cruiser (300 Series) is the first new Land Cruiser SW (station wagon) model since the release of the LC 200 in 2007 and takes its place as the new flagship of the SUV range. The changes it brings are unprecedented.
With new Land Cruiser 300, Toyota is further reinforcing its credentials for Quality, Durability and Reliability (QDR) together with improved off-road performance and on-road capability, to ensure drivers are at ease with any route they take.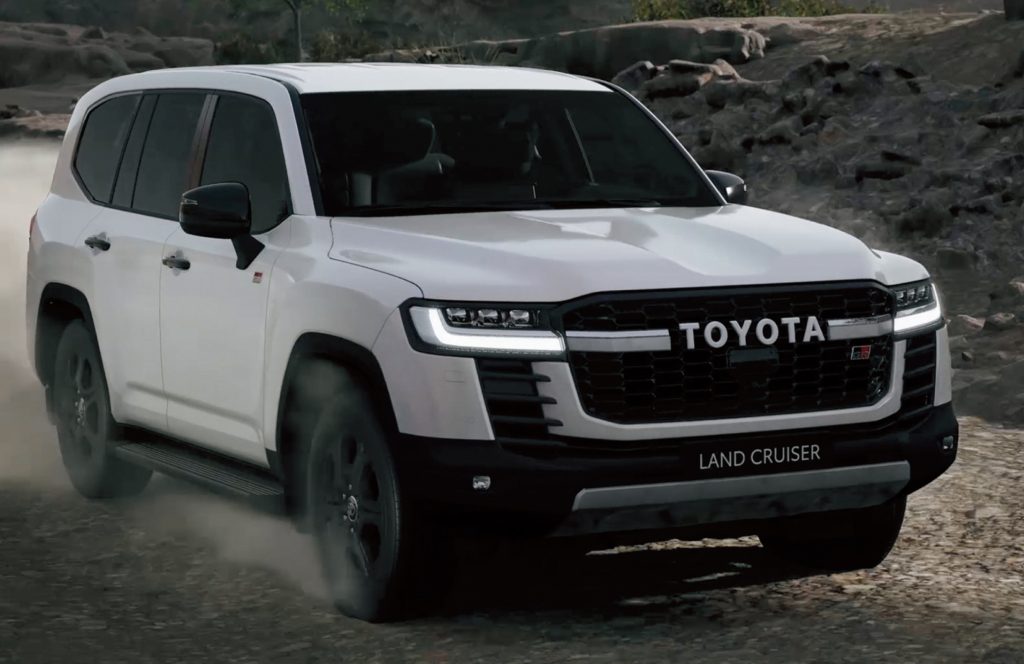 The engines, transmission and platform are all brand-new and engineered to deliver a leap forward in performance both on-road and in the toughest off-road environments. Innovations and improvements – including world-first technologies – have been delivered without compromising any aspect of Toyota Land Cruiser's ability, targeting performance that people can trust to carry them safely and securely, on and off-road.
With this objective in mind, Toyota has made first use of a new TNGA (Toyota New Global Architecture) platform, the first to be designed for a body-on-frame vehicle. The GA-F platform preserves exceptional off-road capability while bringing new benefits in terms of body rigidity, strength and dynamic balance and helping deliver improved on-road performance as well. It provides the basis for introducing new technologies, reducing weight, lowering the vehicle's centre of gravity, improving safety and enabling new designs for the exterior and interior.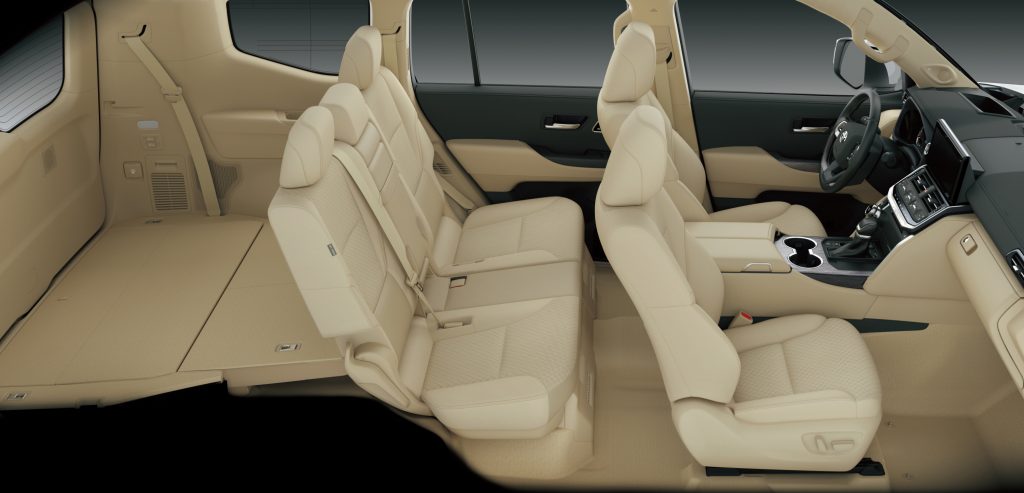 The frame itself was redesigned to save weight and improve its rigidity; overall the new Toyota Land Cruiser is 200 kg lighter than its predecessor. New suspension systems have also been introduced, while performance was tested to the limit by master drivers and drivers with experience of the gruelling Dakar Rally. The aim was to create an SUV that is not just highly capable, but is also easy for the driver to control, on and off-road.
Focus areas included tuning suspension performance to achieve optimum wheel articulation, keeping the tyres in contact with the ground on rough terrain, and improving road-holding with a world-first Electronic Kinetic Dynamic Suspension System (E-KDSS). The new Toyota Land Cruiser 300 is also the first Toyota to adopt a Multi-Terrain Monitor, which gives the driver a real-time view of the road surface beneath and immediately surrounding the vehicle and the position of the wheels. The Multi-Terrain Select system automatically judges the quality of the driving surface and adopts the most appropriate driving mode.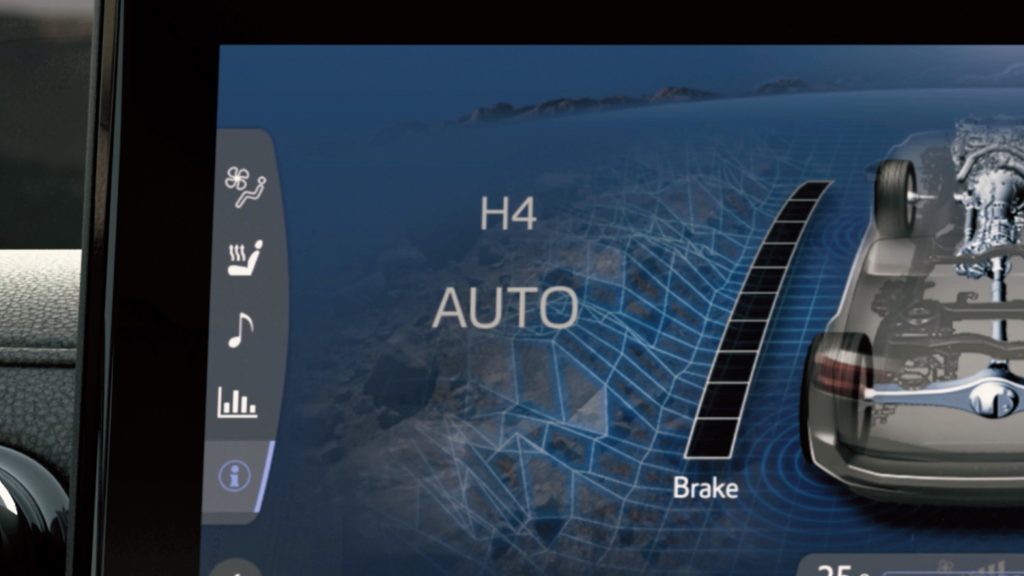 The advances in driving dynamics and handling are supported by new V6 twin-turbo engines – 3.5-litre petrol and 3.3-litre diesel – engineered for class-leading performance and driveability superior to a conventional V8. Both are available with a new 10-speed automatic transmission, a unit that contributes to a reduction in fuel consumption and CO2 emissions of around 10% compared to the current generation model.
The advances in engineering are matched by a new design that is faithful to the model's heritage and status, while expressing a new concept of "functional beauty." The Land Cruiser's powerful, clean lines communicate the SUV's great strength, together with greater sophistication and maturity. Inside, the cabin projects a higher level of sensory appeal in a space where the driver and passenger can feel comfortable and safe, regardless of how tough the driving environment is.
With the ability to place the vehicle precisely when driving off-road being a priority, the new Land Cruiser 300 preserves the dimensions of the current SW model, including overall length and width, the wheelbase and the departure and approach angles.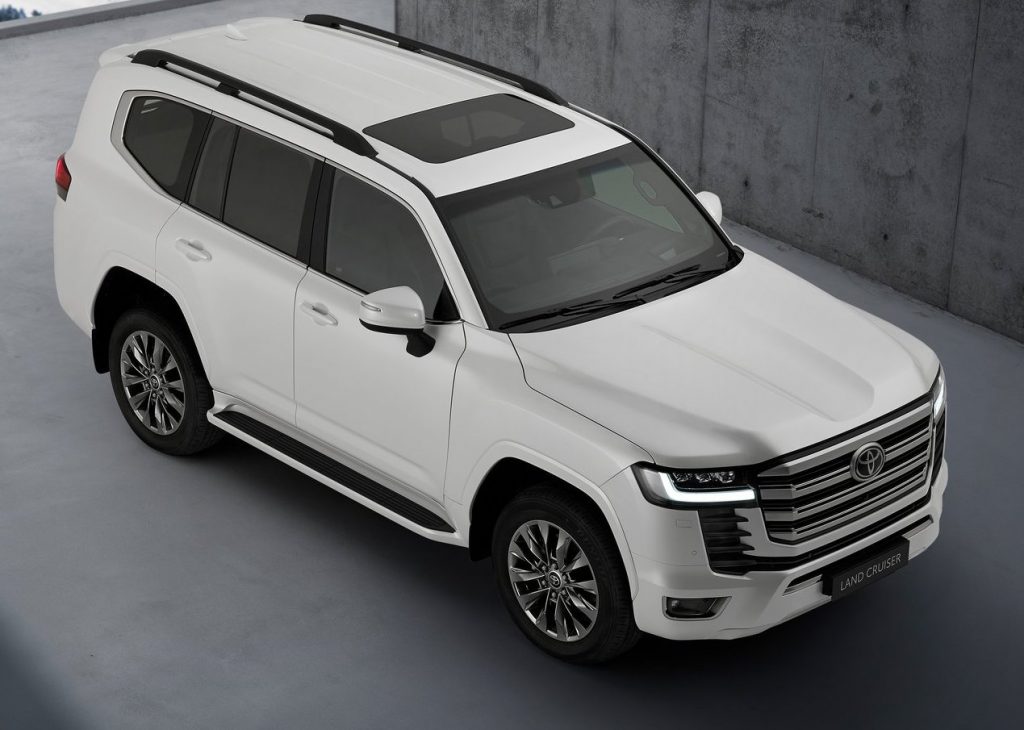 There are significant advances in safety, from the inherent robustness of the vehicle's construction and its sophisticated systems for secure driving in challenging conditions, to additional and upgraded active safety and driver assistance systems provided by second generation Toyota Safety Sense. The ability of the Pre-Collision System to help avoid an accident has been increased so it is now able to detect pedestrians (day and night-time) and bicycle riders (daytime) in the car's path. When turning at junctions, PCS can also recognise potential collision hazards with both oncoming traffic and pedestrians crossing the road into which the vehicle is heading. The new Toyota Land Cruiser 300 adopts a new Parking Support Brake, which recognises obstacles in front and behind the car when moving slowly in a car park and approaching vehicles and pedestrians when reversing out of a parking space.
Toyota will launch the new Land Cruiser from summer 2021.