Motorcycles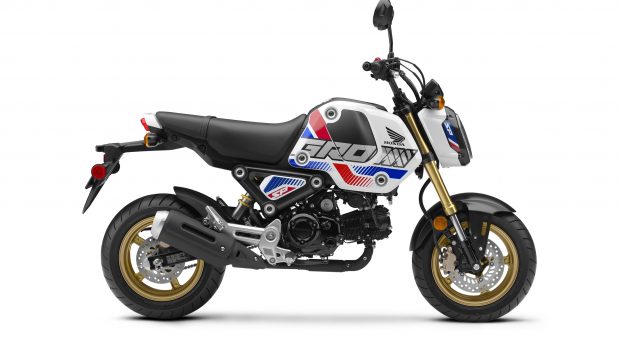 Published on March 4th, 2021 | by Joshua Chin
0
All New Honda Grom Mini Motorbike Lands In North America
Honda has extensively reworked its Grom miniMOTO for the 2022 model year. 
The little lovable Honda Grom has just received a rather large update. Initially launched in 2014 as the headline act to the Japanese automaker's new miniMOTO lineup, this third iteration motorbike has brought with it a revised engine, an extra gear ratio and even more customisation than its wildly popular predecessors. 
Starting with the oily bits first, the 125cc two-valve, overhead-cam, air-cooled single cylinder has been given a more than just a little tinker by Honda. Although outputting a similar power and torque figures as before at 9.65 hp and 10.5 Nm, this new engine now features an undersquare design with a narrower bore, longer stroke and higher compression ratio for better refinement, as well as a replaceable oil-filter and a two-piece exhaust downpipe and muffler setup that should make maintenance on these minibikes easier for owners.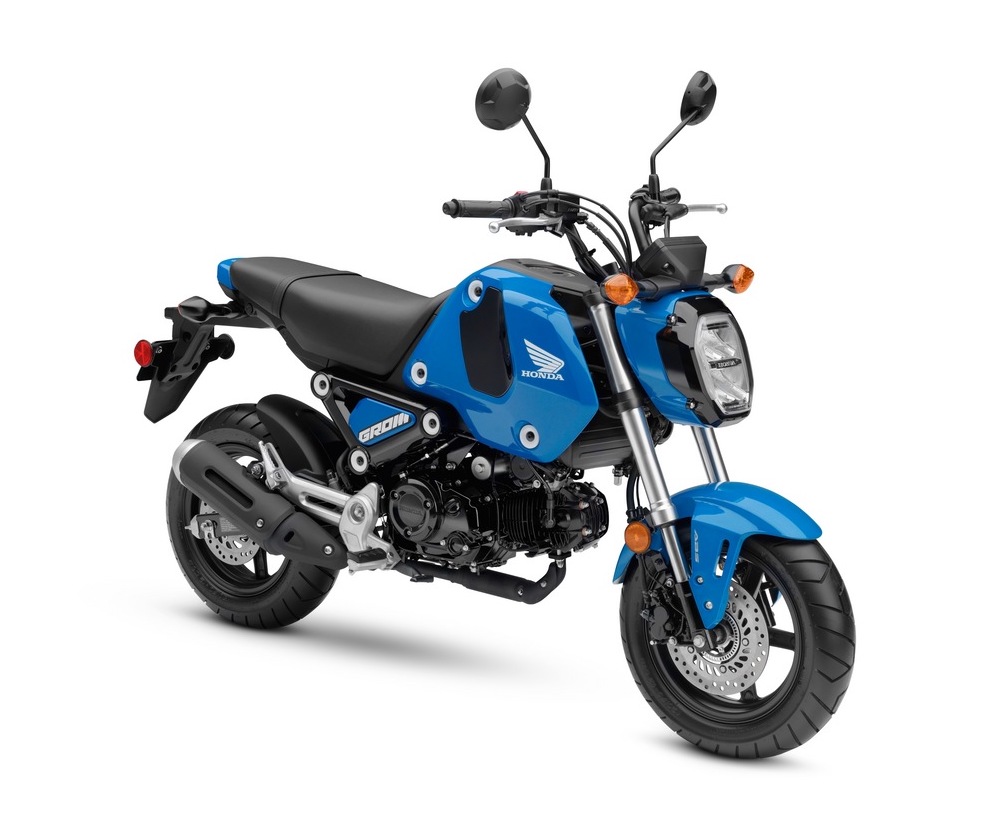 Having said that, what is perhaps bigger news on the mechanical front of this updated Grom would be the addition of a 5th forward gear. Furthermore, thanks to a higher 38-tooth final drive gear ratio, Honda claims for this minibike to now provide peppier acceleration, a higher top speed and significantly improved cruising ability. 
Speaking of cruising, this latest iteration Honda minibike adds an upgraded LCD digital instrument cluster, as well as an enlarged fuel tank which grew from 1.45 gallons (5.5 litres) to 1.59 gallons (6 litres). Additionally, the Grom now features a thicker seat padding too for better riding comfort, though the seat height still remains at the same 30-inches above the ground as its predecessor.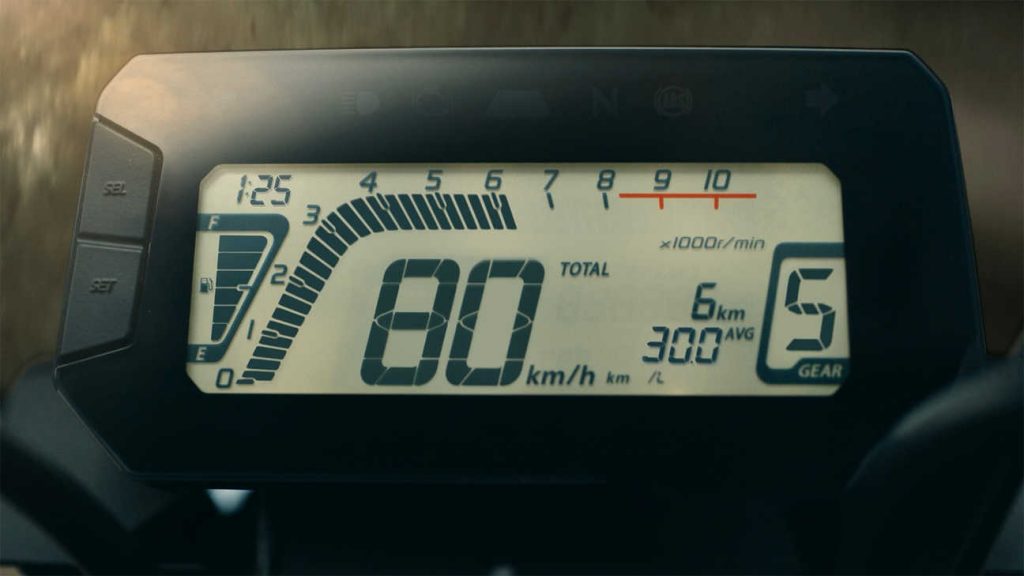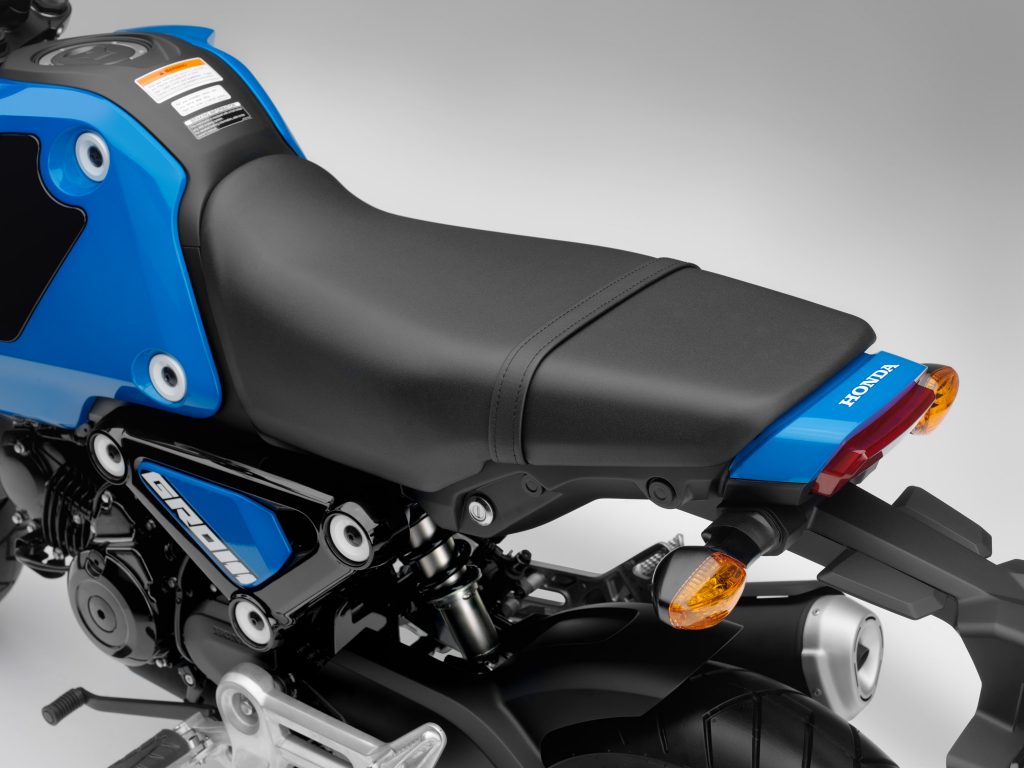 On the subject of comfort, the ride and handling responsibilities on the Grom still falls to the same 31 mm inverted fork up front and a single shock round the back. The brakes too are similarly unchanged from its predecessor with a dual-piston front caliper with 220 mm disc setup in the front, and a single-piston rear caliper with 190 mm disc at the rear. 
New though on this revamped Honda minibike is a revised (optional) ABS system that operates through an IMU (inertial measurement unit). Adding to that, the third generation Grom also gets a new 5-spoke pattern for its 12-inch cast alloy wheels.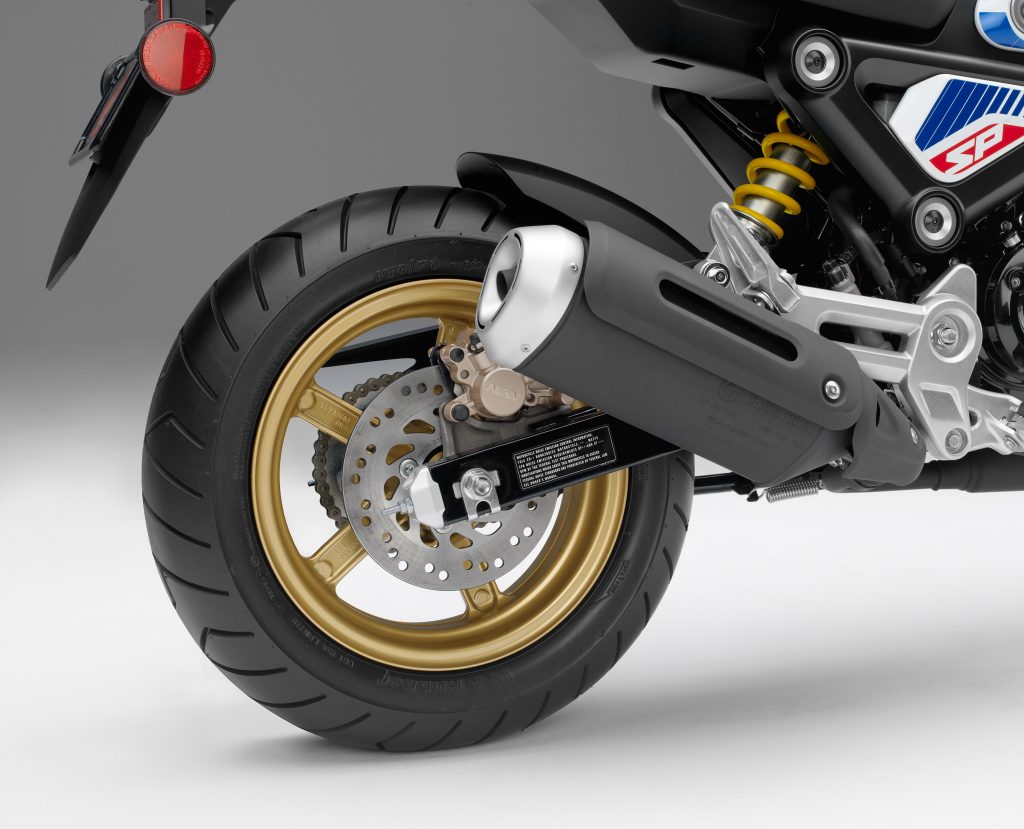 Moving onto the bodywork, the new Grom features an 'all-new, pared-down styling with straighter lines' as compared to its predecessors. More pertinent to owners though is perhaps the fact that the four main body panels on this new Honda minibike can now be easily bolted on (or off) the shrunken subframe to better facilitate further personalisation. 
As for other exterior highlights, all new Groms come as standard with a new LED headlight and blacked-out engine, exhaust, wheels and swing-arm. For those wanting to stand out a little bit more on their Honda minibike, there is a special SP colour option that brings with it added graphics, a yellow shock spring and a gold finish on the wheels, brake calipers and front fork.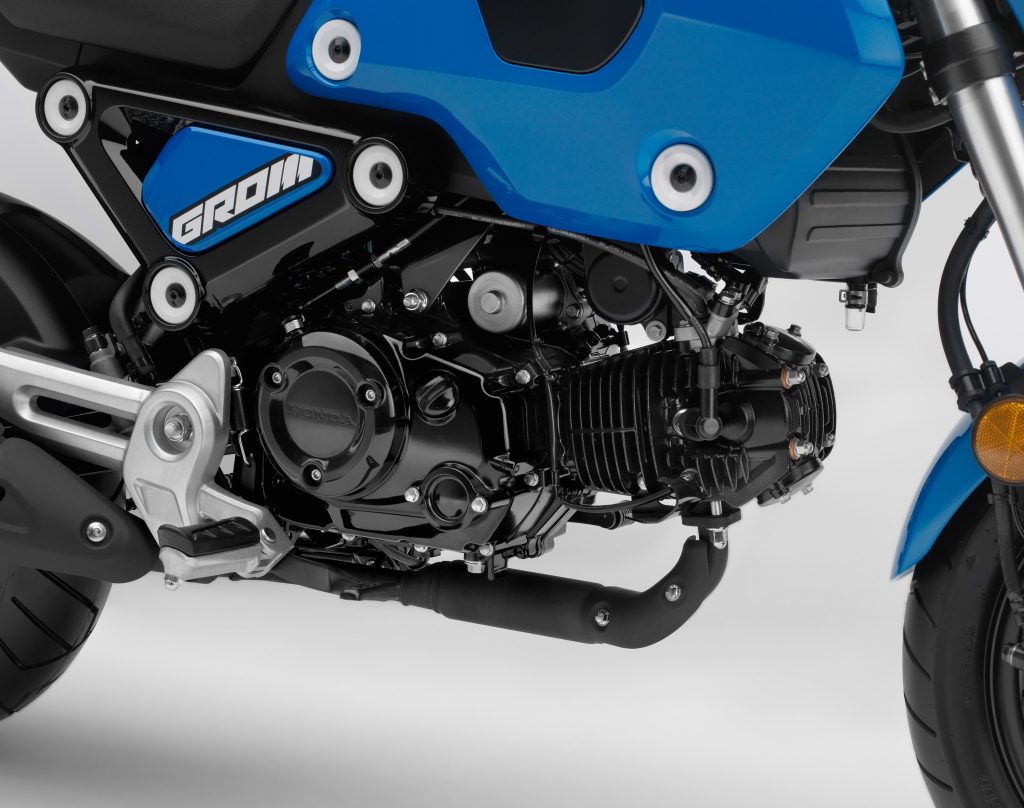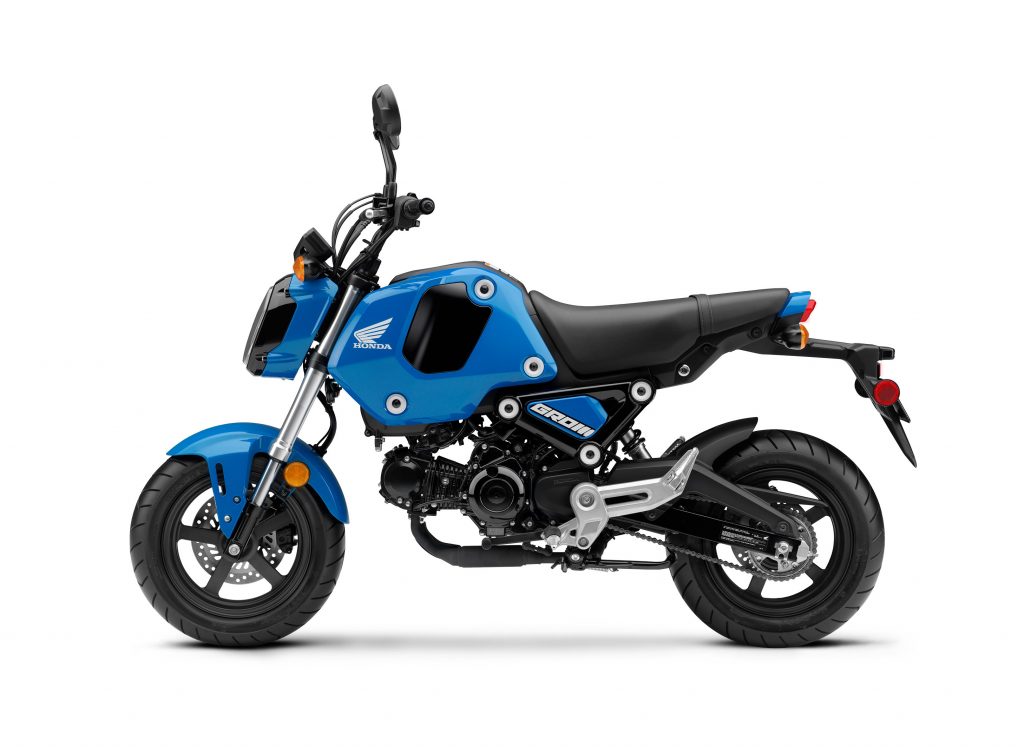 Introduced already in some markets last autumn, this new Grom is set to hit the North American Honda dealerships by May 2021 alongside the refreshed CB1000R and NC750X, as well as ADV150 scooter. Prices for this pint-sized motorbikes over there will start from $3,399 (RM 13,800) for the base model, rising to $3,499 (RM 14,200) for the special SP trim level, then to $3,599 (RM 14,600) for the variant with standard ABS. 
There has thus far been no official word yet on when or even whether this new Grom will arrive over here in Malaysia. Nevertheless, the Honda MSX 125 SF, a close relation to the outgoing iteration of the aforementioned miniMOTO, retails for RM 10,500 locally.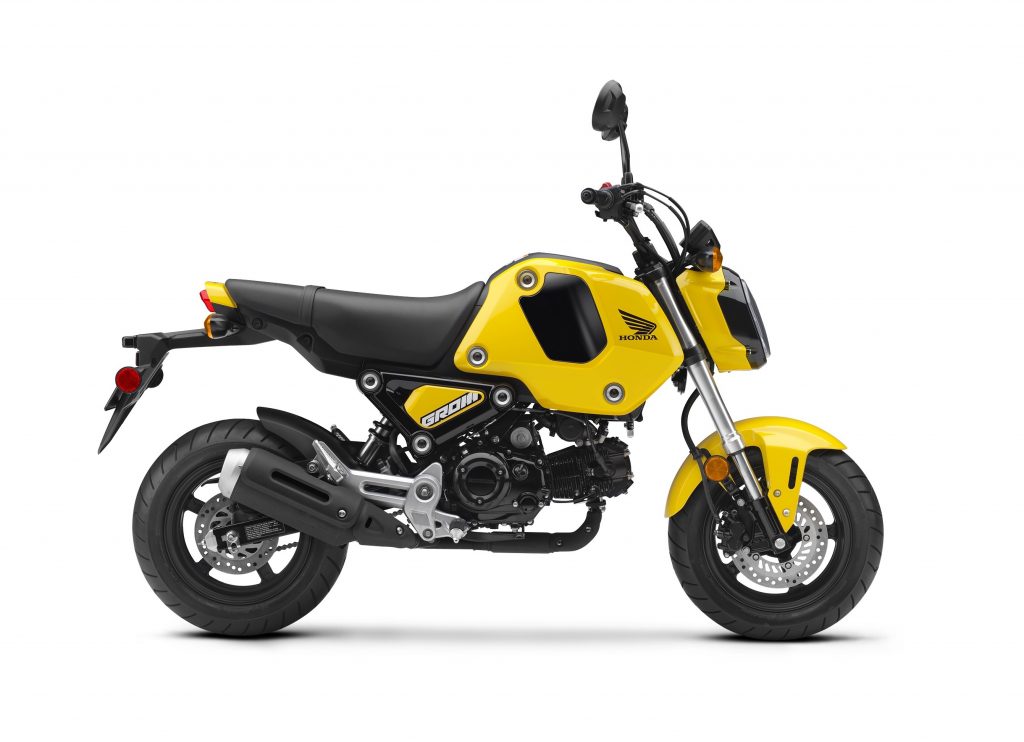 PRESS RELEASE: Honda's Grom—the undisputed King of Fun and the model that put the popular miniMOTO concept on the map—gets an extensive makeover for the 2022 model year with cool, modular styling and some comfort-focused updates.
Since its 2014 model-year introduction, the Grom has always been about enjoyment—an unintimidating option for new riders to learn with, an entertaining plaything for experienced riders and a customization platform for those looking for an amusing project. A cross-demographic army of enthusiasts have embraced the diminutive model with remarkable passion. With 750,000-plus units sold worldwide to date, the Grom has spawned a vibrant subculture of fun-seekers, serving as an inspiration and focal point for riding clubs and social-media groups, while also supporting a healthy aftermarket of accessory and performance parts. Eliciting laughs from those who ride it, thumbs-ups from fellow motorists and traffic-light smiles from pedestrians, the Grom is also a motorcycling evangelist, spreading positive powersports vibes wherever it goes.
The Grom's success has also served as the springboard for a trio of retro-themed miniMOTO siblings: the Monkey and Super Cub in model-year 2019 and the Trail 125 for model-year 2021.
Introduced in some markets last fall, the Grom's latest iteration is now coming to the U.S. market for model-year 2022, featuring striking new bodywork that facilitates customization, plus a peppy new engine, now with a fifth gear. Not lost in the redesign are the Grom's amazing gas mileage, low operating and maintenance costs, attention to detail and Honda's legendary reliability.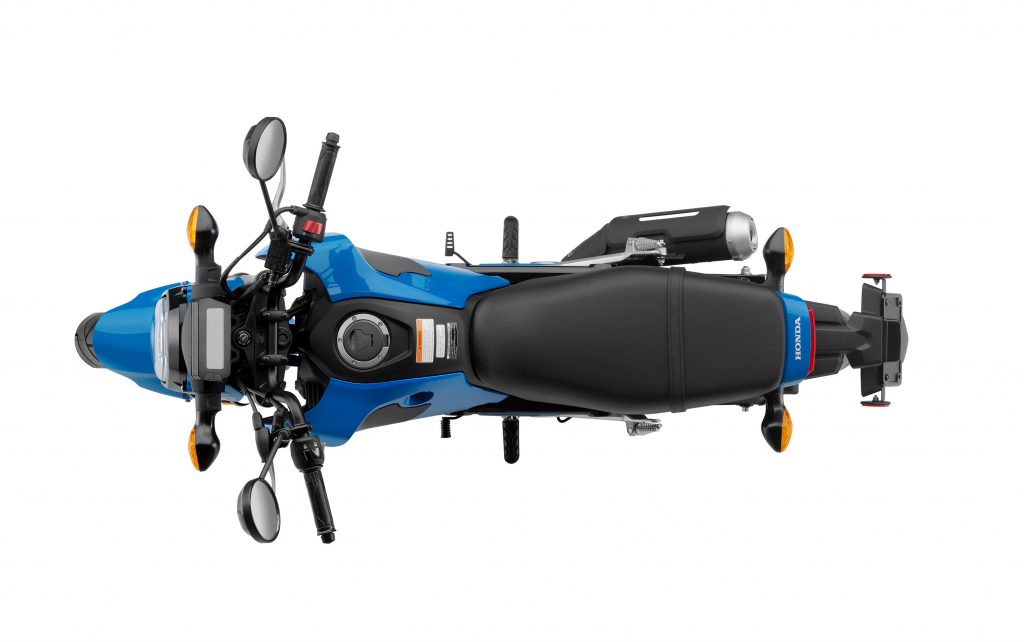 DESIGN / STYLING
Now in its third iteration, the Grom sports all-new, pared-down styling with straighter lines, a smaller subframe and thicker seat padding (seat height is still a low 30 inches). Best of all, the four main body panels quickly attach/detach, facilitating customization—a hallmark of Grom culture that is sure to be welcomed by customers eager to personalize their rides.
The 2022 Grom's minimalist aesthetic is enhanced with by its blacked-out engine, exhaust, wheels and swingarm, while a special SP version has a gold finish on the fork, wheels and brake calipers, plus a yellow shock spring.
Practical improvements include an increase in fuel capacity, from 1.45 gallons to 1.59 gallons. In addition, the upgraded LCD digital dash now has a gear-position indicator, alongside the speedometer, tachometer, twin trip meters, fuel gauge and clock.
The 2022 Grom is offered in Queen Bee Yellow, Matte Black Metallic and a special SP color option that has stylish graphics and a yellow shock spring, plus a gold finish for the wheels, brake calipers and fork. The ABS version is available in Candy Blue.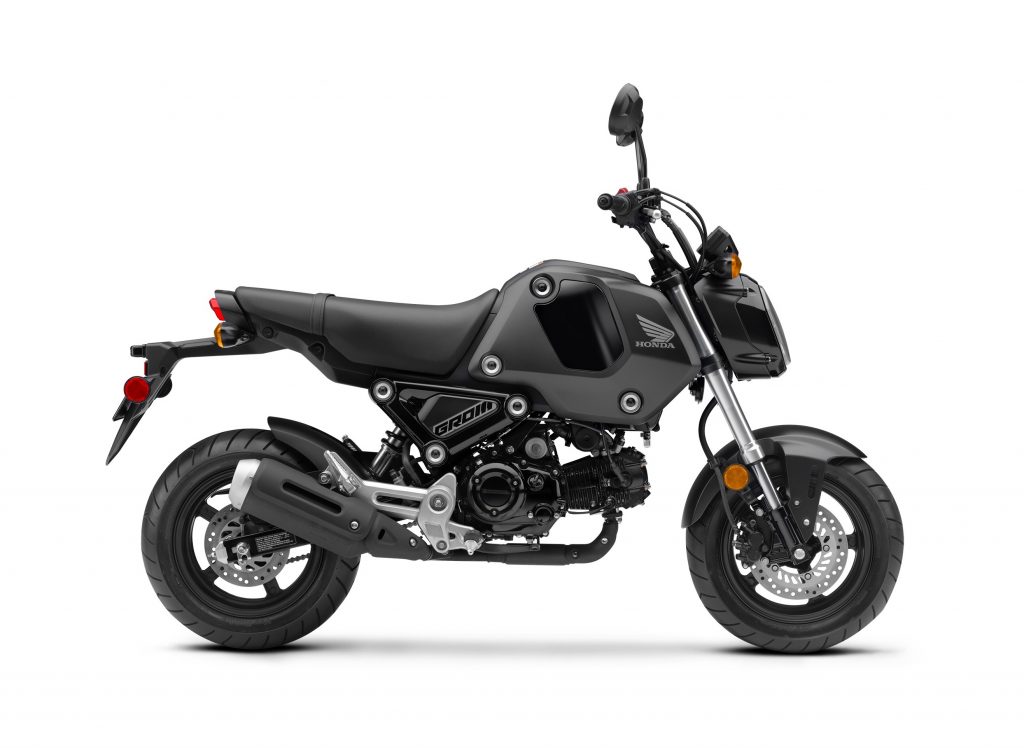 ENGINE / DRIVETRAIN
The Grom's updates are more than skin deep. The new engine is a modern design that includes—for the first time—a fifth gear for more comfortable cruising. Honda's engineers achieved this by specifying a wider spread of gear ratios and replacing the previous 34-tooth final-drive sprocket with a 38-tooth size. The changes not only provide peppy acceleration from low speeds, but increase top speed as well.
The 125cc two-valve, overhead-cam, air-cooled engine has a compression ratio of 10:1 (versus 9.3:1 with the previous model). This is achieved via an undersquare design, with a narrower bore and longer stroke than its predecessor—50.0 mm and 63.1 mm, compared to 52.4 mm and 57.9 mm with the previous engine.
State-of-the-art PGM-FI fuel injection assures optimal fuel delivery and highly efficient combustion. A large, 2.5-liter airbox houses a panel-type, wet-paper filter with a 10,000-mile life in normal riding conditions.
Many Grom owners prefer to do their own maintenance, and a welcome addition to the 2021 model is a replaceable oil filter, a practical upgrade from cleaning the previous model's oil spinner and screen.
Do-it-yourselfers will also appreciate the redesigned exhaust downpipe and muffler, which are now two separate parts for ease of replacement.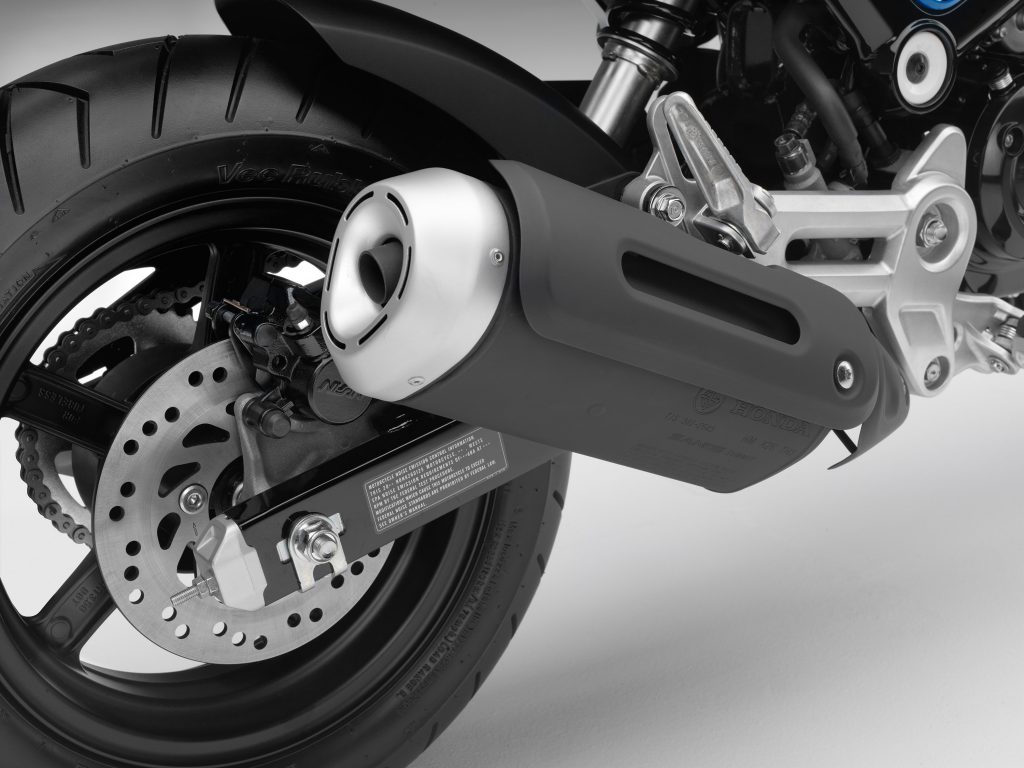 CHASSIS / SUSPENSION
The suspension remains unchanged with a 31 mm inverted fork and a single shock. The brakes feature a dual-piston front caliper with 220 mm disc, and a single-piston rear caliper with 190 mm disc. Wheels are a 12-inch cast design—a signature feature of the Grom—but the 2021 model boasts a new five-spoke pattern.
Of special note, the available revamped ABS system operates through an IMU (inertial measurement unit) that gives precise front-to-rear distribution of braking operation, depending on vehicle behavior.
COLORS
Grom: Queen Bee Yellow; Matte Black Metallic
Grom SP: Pearl White
Grom ABS: Candy Blue