Automotive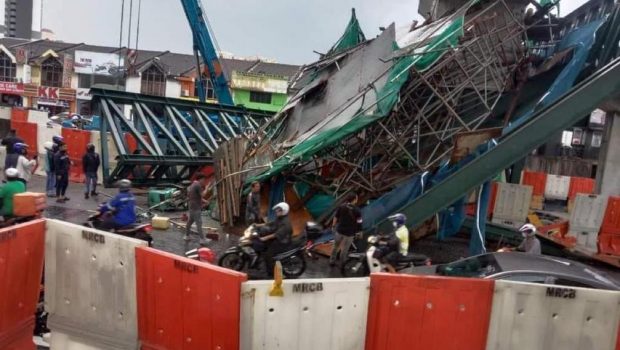 Published on March 4th, 2021 | by Joshua Chin
0
SUKE Highway Bridge Collapses Due To Trailer Collision
Five people were trapped in a van when the partly-built SUKE highway bridge collapsed above it. 
An overloaded trailer has reportedly been involved in an incident which caused a portion of partly-built bridge section of the Sungai Besi-Ulu Kelang Elevated Expressway (SUKE) to collapse, which has lead to 5 people in a van trapped beneath the rubble and heavy congestion in various parts of the city.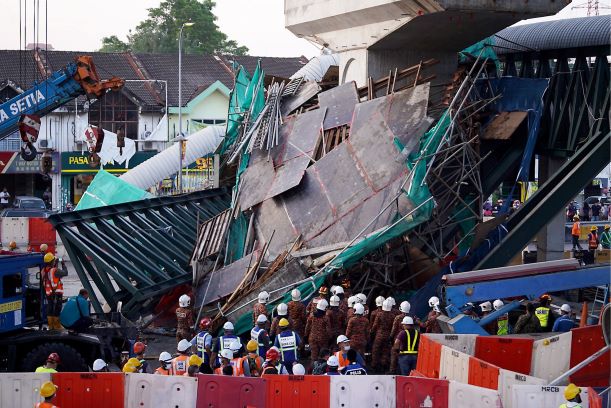 Occurring at the MRR2 highway near Bandar Tasik Selatan in the evening of the 3rd of March 2021, the trailer that was carrying an excavator had apparently inadvertently knocked into a portion of the scaffolding that belonged to the SUKE construction site. This therefore caused the bridge to collapse onto the flow of traffic below, which lead to the unfortunate incident whereby 5 people in a van became trapped underneath the collapsed portion of the bridge.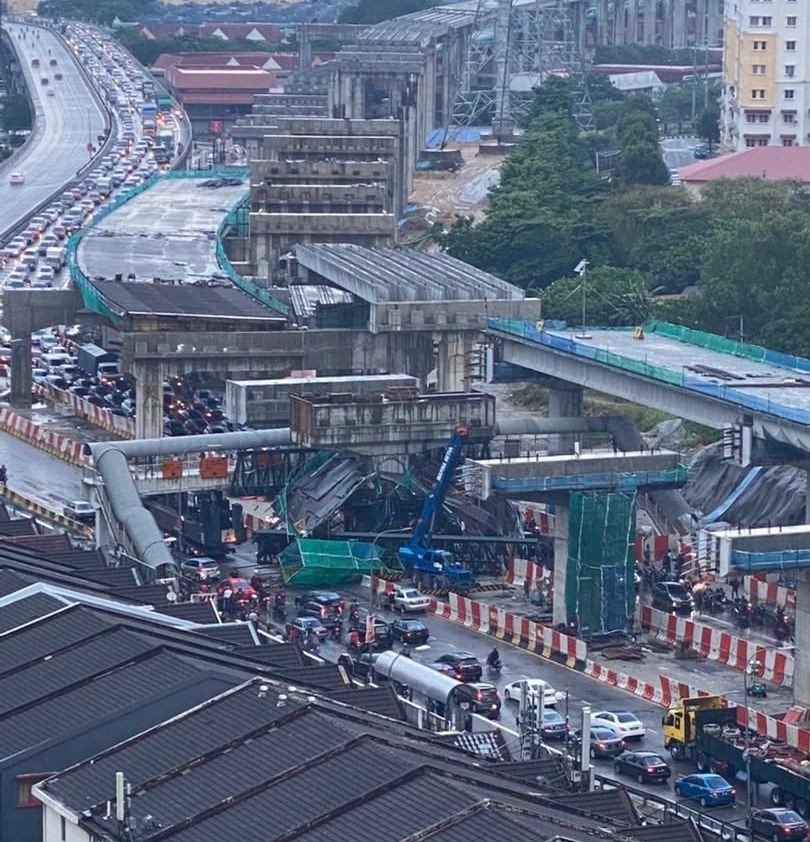 All 5 victims were successfully extracted from the crushed van by the City Fire and Rescue Department, with the last victim was rescued at around 9.30 p.m, three and a half hours after the initial distress call was received by the authorities. The rescue effort took 23 firemen, three fire engines and two emergency rescue service vehicles from the Jalan Hang Tuah, Tun Razak and Cheras fire stations.
Unfortunately however, 2 women occupants within the van had succumbed to their injuries and passed away as a result of this incident. The other three victims meanwhile sustained heavy injuries and were sent to HUKM for treatment.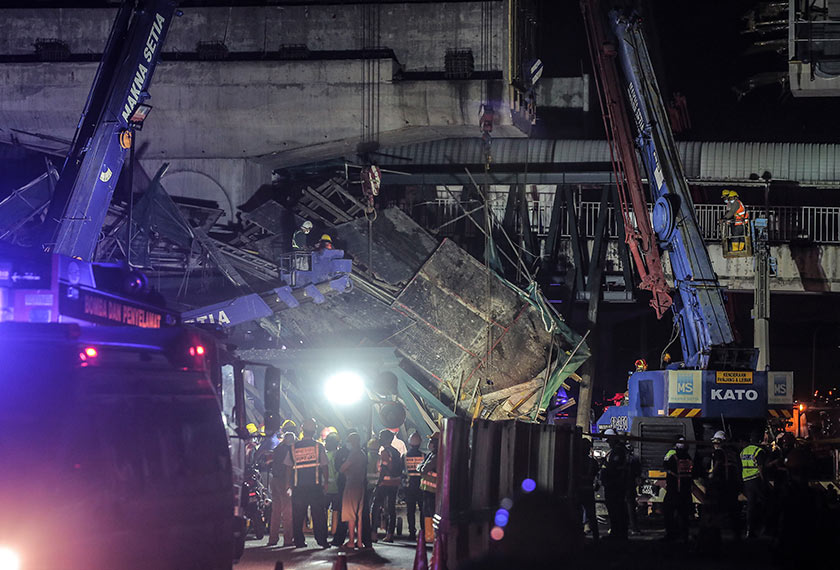 In a statement released by Projek Lintasan Sungai Besi-Ulu Klang Sdn. Bhd (PROLINTAS), the developers of SUKE, the 'trailer was a private vehicle and is not involved in or affiliated with the construction of the SUKE highway in any way'. The highway developers also added that 'rescuers from the Fire Department are on site to conduct an investigation. SUKE is currently extending all possible assistance and cooperation to relevant authorities to ensure public safety'.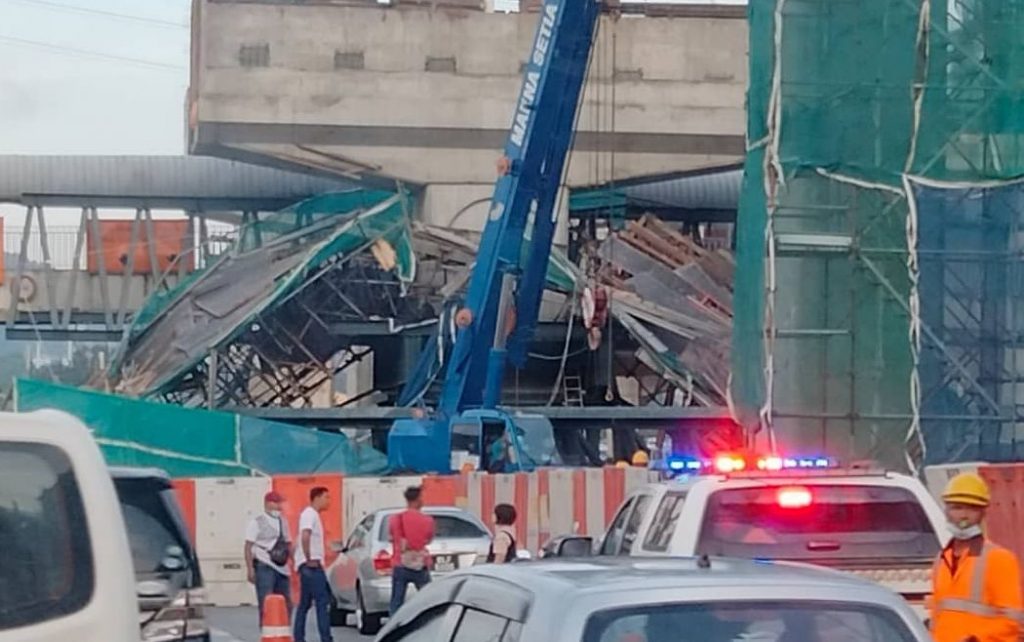 Now without wanting to open that can of worms regarding who exactly is responsible for the cause of this incident, it is nevertheless worth remembering that things falling off from overhead highway construction sites are not that uncommon. In fact, it was just a few months ago at nearly the same spot where a woman miraculously escaped with her life when a concrete parapet from the partly-built highway fell onto her Saga.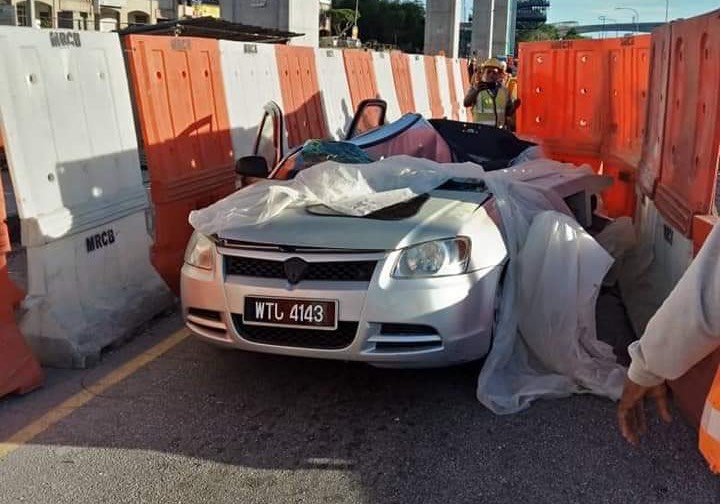 With more and more overhead development happening, especially the number of elevated highways popping up all over the Klang Valley, it could be said that this is now becoming a legitimate concern for the people living/driving below these construction sites. More frighteningly perhaps is that there is simply nothing we can do about it, but hope that these increasingly common incidents doesn't happen any more.