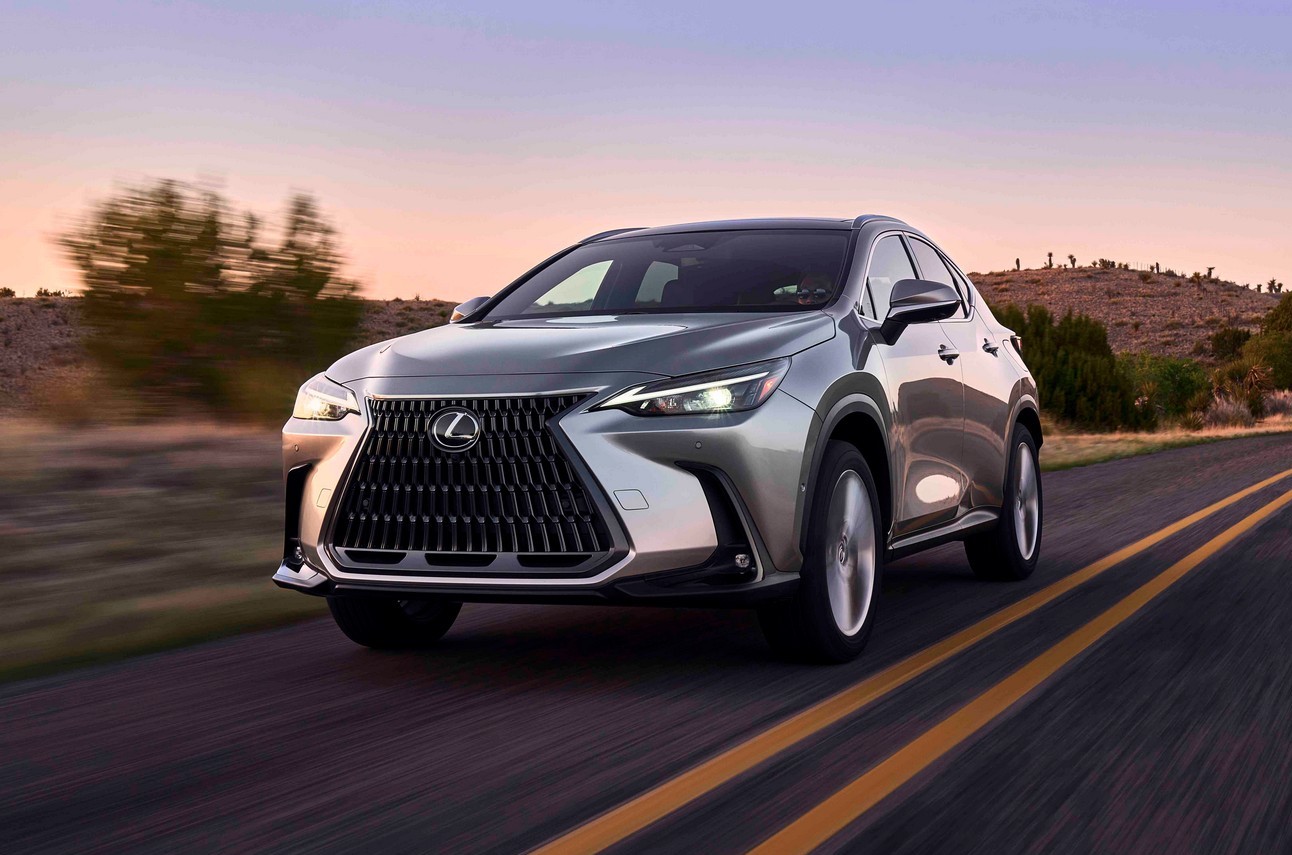 This new NX gains a revised exterior and interior, as well as a range of electrified engines. 
You've seen the teasers and you've seen the leaks, but now Lexus has recently finally officially revealed its next-gen NX. The second generation of the premium Japanese marque's second-best selling model in 2020, this new mid-sized crossover nets a fresh appearance, a host of electrified powertrains and a load of cool tech within its heavily revised interior.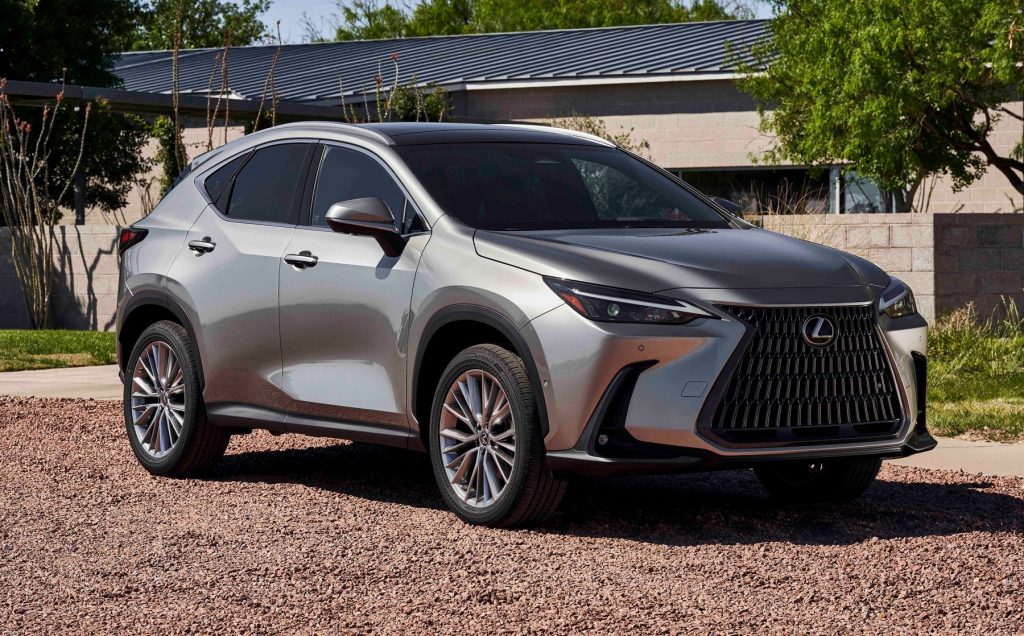 Starting first with what lies under the hood first, the new NX is to be available with an impressive selection of 7 different powertrains. The majority of which feature a naturally-aspirated 203 hp 2.5-litre four cylinder mated to an 8-speed automatic transmission driving the front wheels or all four wheels (NX 250) as its base, with the option of tacking on an electric motor at the rear powered by a conventional hybrid system (NX 350h) that is good for a combined power output of 239 hp. Or the choice of adding a motor on each axle by way of Lexus' first PHEV package (NX 450h+), which in turn claims to offer 58 km of all-electric range and a 0-100 km/h time of around 6 seconds.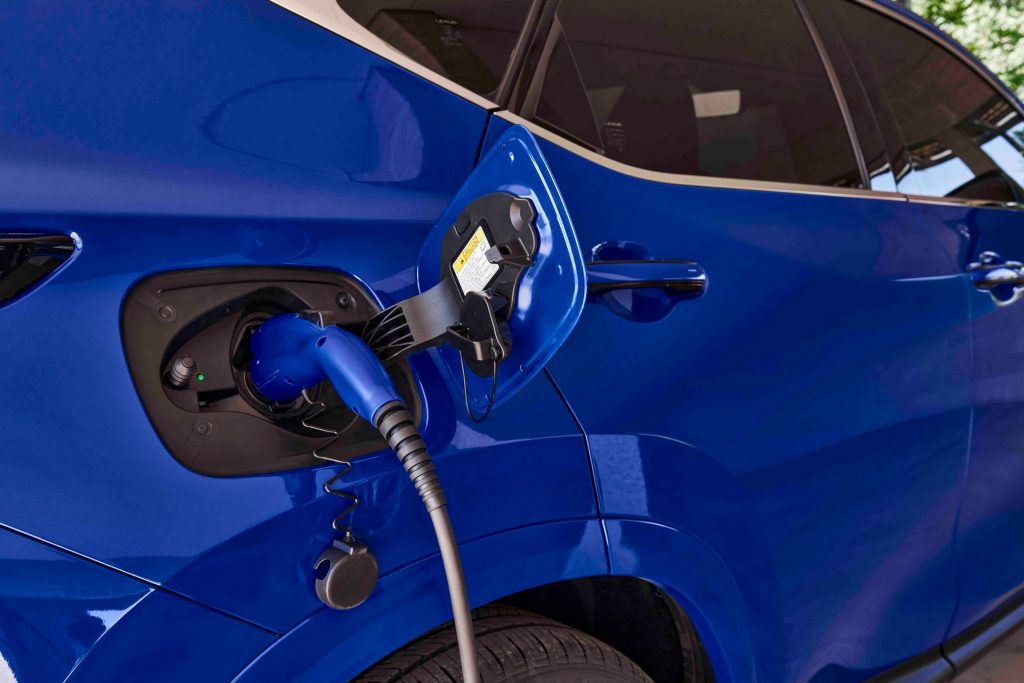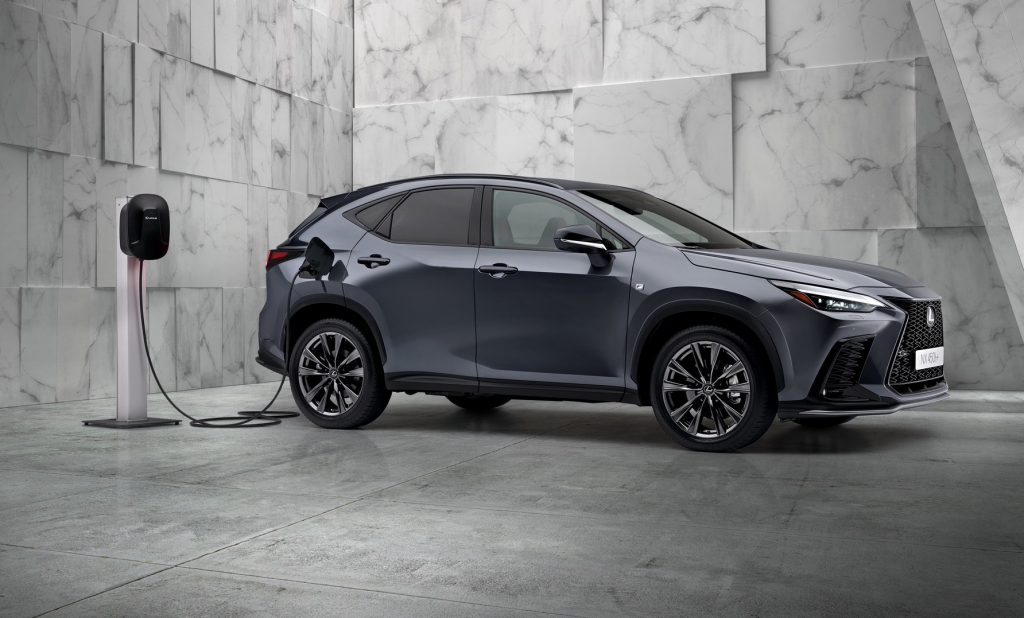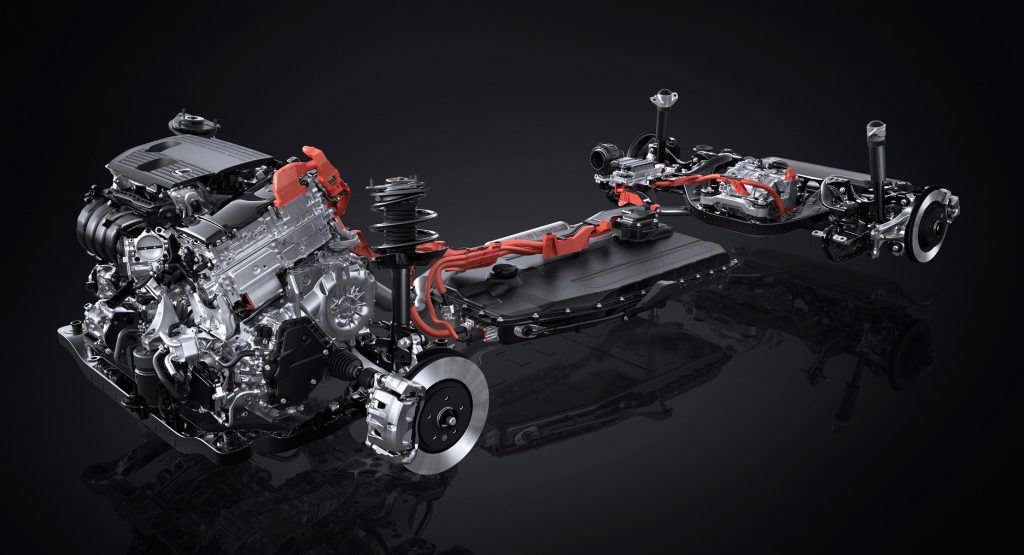 The power plant that piques the interest here most of all however is the 2.4-litre turbocharged four-pot found within the NX 350. A newly developed engine by Lexus featuring the automaker's centre-injection direct-injection system and is paired to a specially calibrated high-torque Direct Shift 8-speed automatic gearbox, this particular electronically-controlled full-time AWD drivetrain is good for a century sprint time of 6.8 seconds from the 375 hp and 350 Nm of torque on tap. 
Now moving onto the rest of the technical highlights under the skin meanwhile, the all-new NX rides on Toyota's TNGA-K platform that is shared between the likes of the Harrier and RAV4. Significantly lighter, stiffer, and featuring a lower centre of gravity than before, Lexus claims that the ride and handling of this next-gen mid-sized crossover is a significantly improved over the outgoing iteration.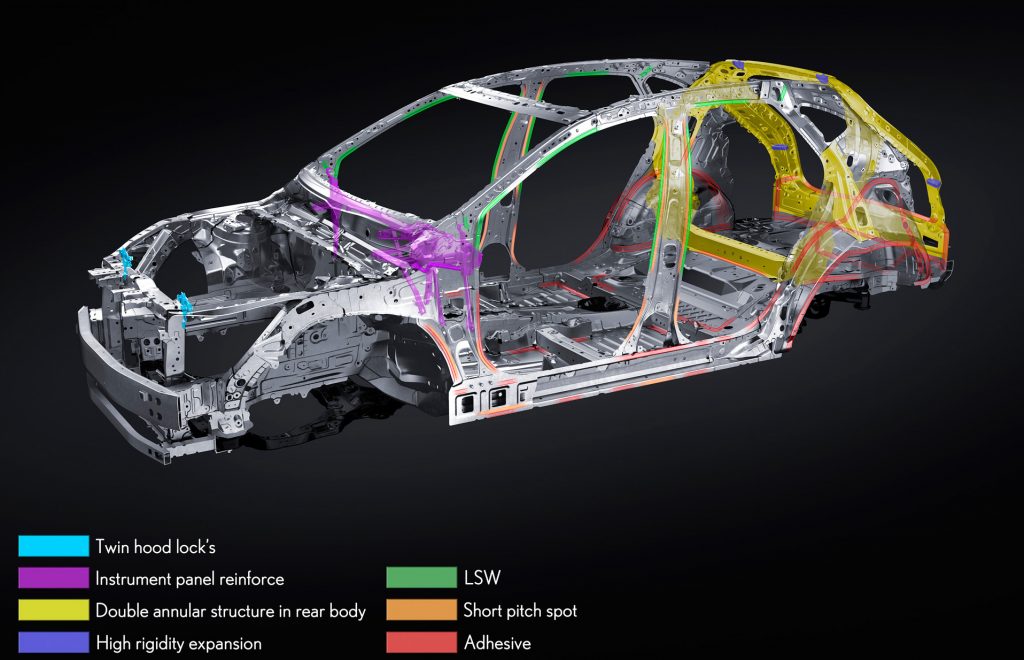 For those though who really want to rag their NX around, the F Sport package that is available on the NX 350 and NX 450h+ is perhaps the one to go for. That is because it brings with it active and adaptive variable suspension with performance dampers, not to mention a sportier overall aesthetic courtesy of various blacked-out exterior trimmings, 20-inch gloss black aluminium alloy wheels, in addition to sportier bumpers front and rear.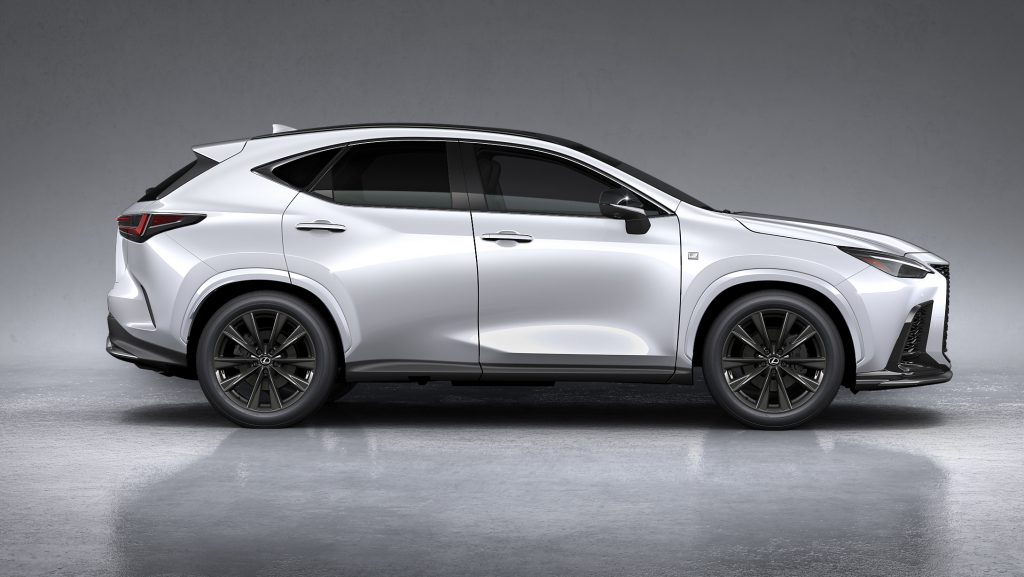 Continuing on the topic of overall aesthetics, the vanilla variety of the NX gains a fresher appearance over its predecessor too. The familiar spindle grille is still to be found on these next-gen Lexus crossovers, though this time its flanked by a sleeker single-piece LED headlight design with integrated DRLs that replaces twin-tiered units of old. 

A similar story of same-same but different looks-wise is to be repeated down the side and round the rear of the new NX also. With this latest iteration featuring a slightly sleeker silhouette with an extended bonnet for optimised aerodynamics, while a full-width light bar and 'Lexus' lettering that replaces the circular L emblem gives its rump a bolder appearance.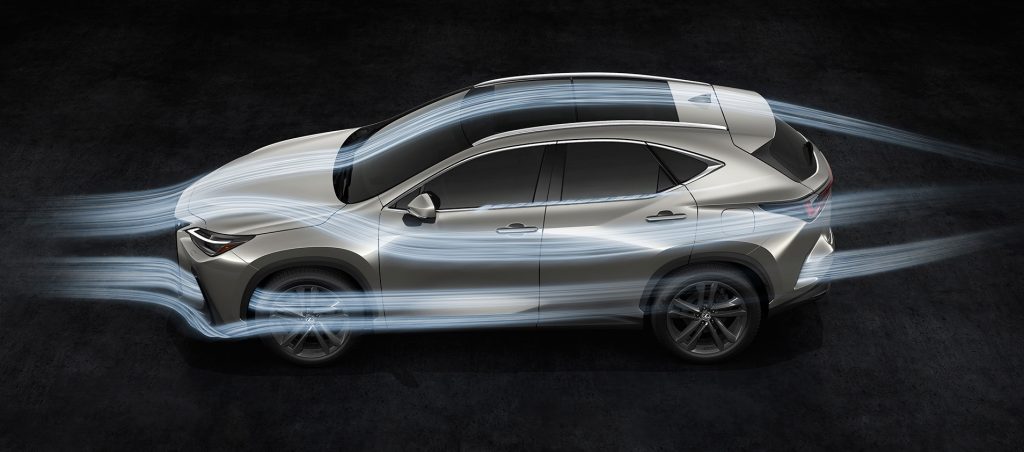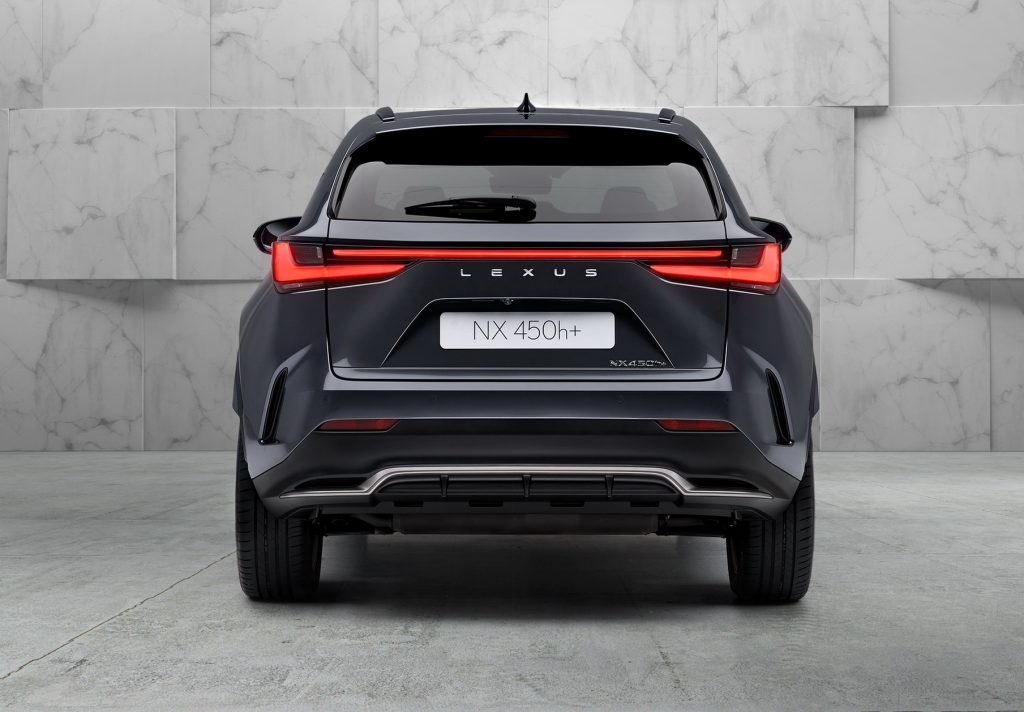 As for the interior of the next-gen NX, the completely reimagined cabin (that apparently incorporates the Tazuna concept) is headlined by a 7.0-inch digital instrument cluster and an all-new Lexus Interface 9.8-inch central infotainment display that can be optioned to a massive 14.0-inches. Though perhaps the more interesting tech highlights within would be the electronic door handles with the world's first Safe Exit Assist technology, which utilises the Blind Spot Monitor sensors to warn alighting occupants if and when there is an oncoming object in the path of the opening door.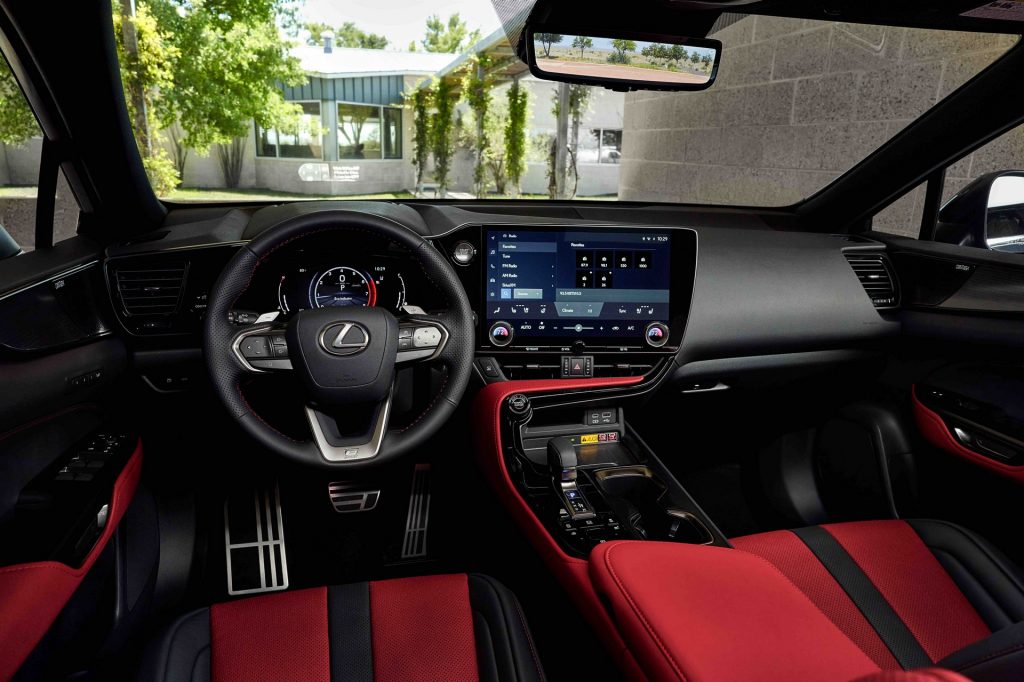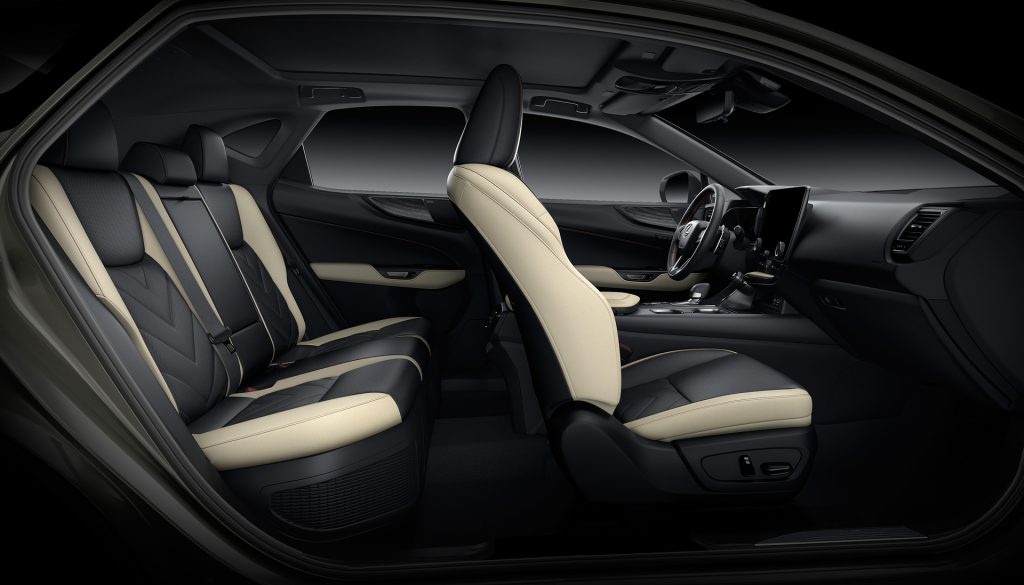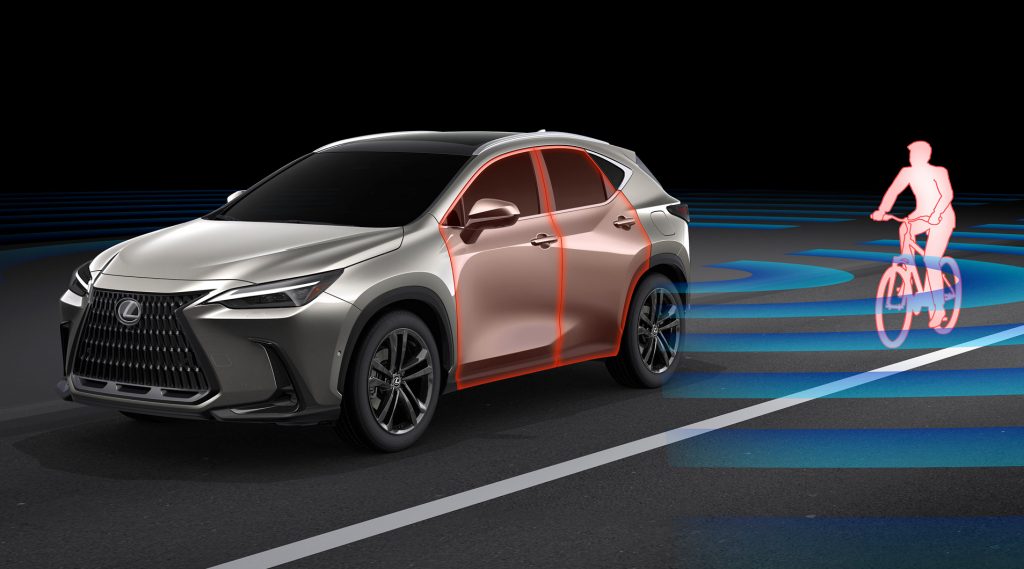 And while on the subject of safety tech, it would be remissed to mention that the new NX comes as standard with the Lexus Safety System+ 3.0 suite of active and passive driver aids. The highlights of which this time round includes an updated Pre-Collision System with Oncoming Vehicle Detection, Dynamic Radar Cruise Control with Curve Speed Management, and a Lexus-first 'Advanced Park' remote parking system.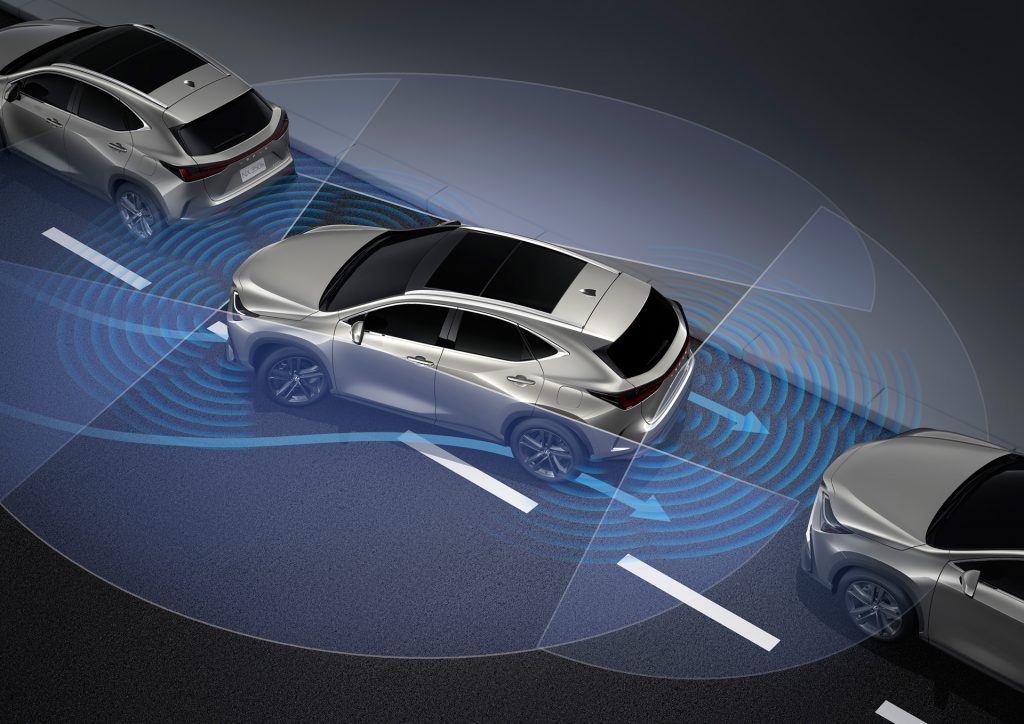 Set to officially go on sale later this year, Lexus has yet announced the official pricing of this new NX yet. Rest assured though that it will most likely cost around the same as its outgoing iteration when it eventually arrives in Malaysia, possibly as early as the beginning of next year.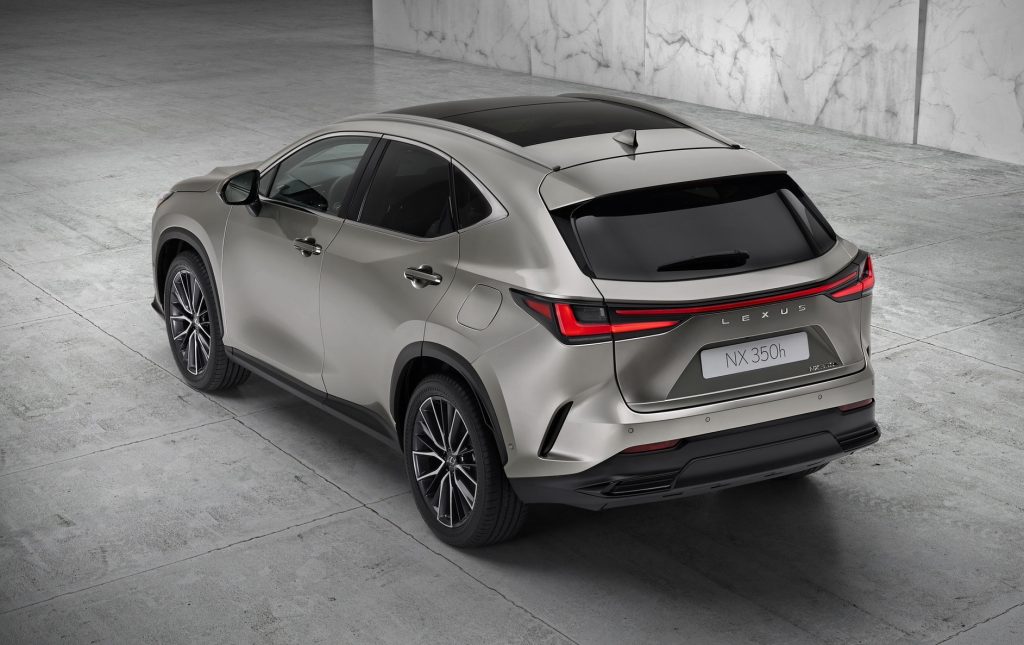 PRESS RELEASE: Lexus announced the world premiere of the all-new NX, the first model of Lexus' next-generation range. The NX, as well as the forthcoming model lineup, will better meet the diversifying needs and lifestyles of customers the world over, and in doing so, will promote the realization of a carbon-neutral society.
Since its establishment in 1989, Lexus has been committed to the spirit of innovation and has continued to take on the challenge of providing new technologies and values to its customers. With the launch of the first-generation RX in 1998, Lexus created a new category of luxury crossover SUV and has been a leader in the realm ever since. In 2014, Lexus launched the NX, based on the concept of "Premium Urban Sports Gear." Since then, the luxury crossover has been well-received by customers for its agile driving performance and powerful design. As of the end of April 2021, the NX has sold a cumulative total of approximately 1 million units in more than 90 countries and regions, and together with the RX, has grown to become a core global model for Lexus.
The new NX is the first model to introduce the next generation of Lexus and is based on the development concept of "Vital x Tech Gear." This concept combines vital dynamism (Vital) with advanced technology (Tech). The new NX features improved linear response thanks to the strengthening of the car's fundamentals, a design that attracts attention with athletic proportions, and many advanced, new technologies. Also, in order to establish the unique driving experience to be found in future electrified vehicles, Lexus focused on thoroughly improving driving control, aerodynamics, and weight reduction. In addition, based on the "Lexus Electrified" electrification vision, the new NX will be available as both HEV and―a Lexus first―PHEV, further accelerating the rollout of electrified vehicles. In addition, Lexus will respond to the diversifying needs of customers by offering a wide lineup of powertrains, including models powered by a 2.5-liter naturally-aspirated or a 2.4-liter turbocharged engines, among others.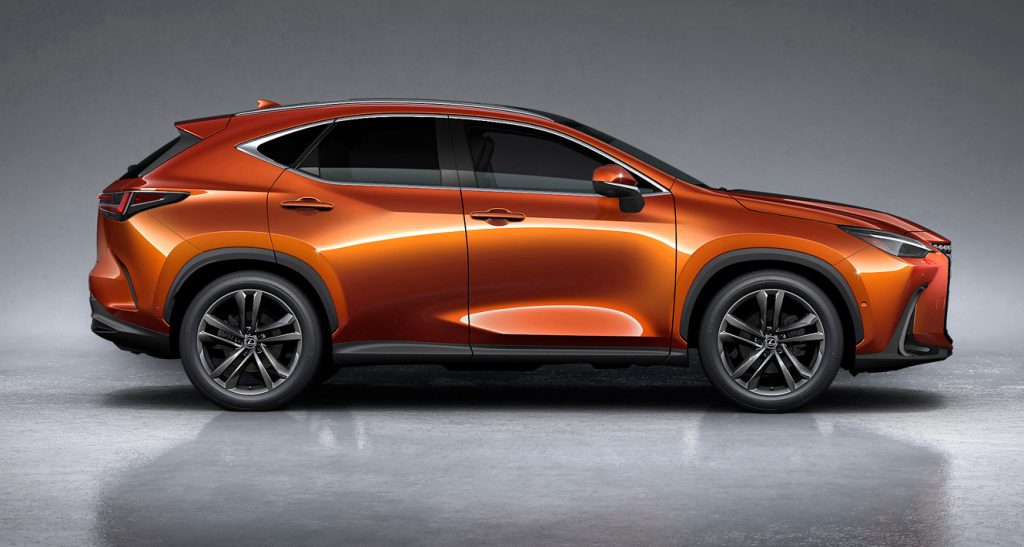 MAIN PRODUCT FEATURES OF THE ALL NEW NX
The NX adopts a variety of powertrains to meet the diversifying needs of customers and to contribute to a carbon-neutral society.
Available powertrains include Lexus' first PHEV, an HEV-equipped with high-capacity battery, a newly developed 2.4-liter inline four-cylinder turbocharged engine, and a 2.5-liter inline four-cylinder naturally-aspirated engine―all with high thermal efficiency.
All-wheel drive (AWD) is available on models equipped with PHEV and 2.4-liter turbo powertrains, whilst both AWD and front-wheel drive (FWD) are available on the models equipped with HEV and 2.5-liter naturally-aspirated powertrains.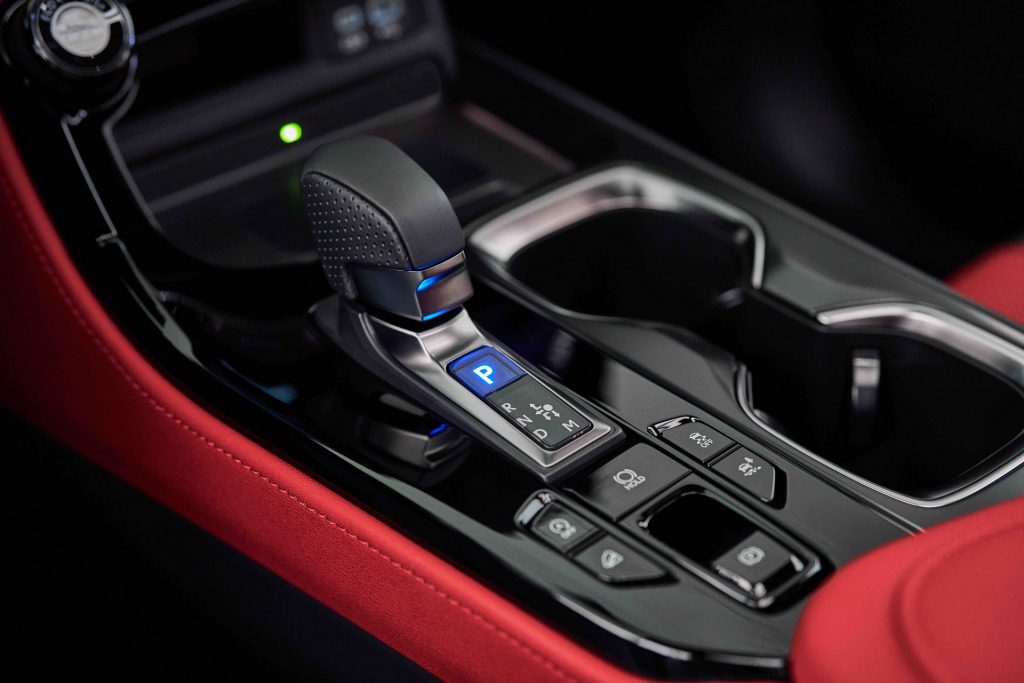 The evolution of Lexus' unique driving signature, focusing on the control of driving force to deliver a sense of stability, power, and security.
Lexus engineers have focused on developing a linear driving feel that possesses a direct steering communication between driver and vehicle. Extensive vehicle evaluation was carried out at the Toyota Technical Center Shimoyama, thus enhancing the "Lexus Driving Signature" and ensuring the NX faithfully responds to drivers' intentions.
Newly-developed, electronically-controlled full-time AWD has been adopted for the 2.4-liter turbocharged model.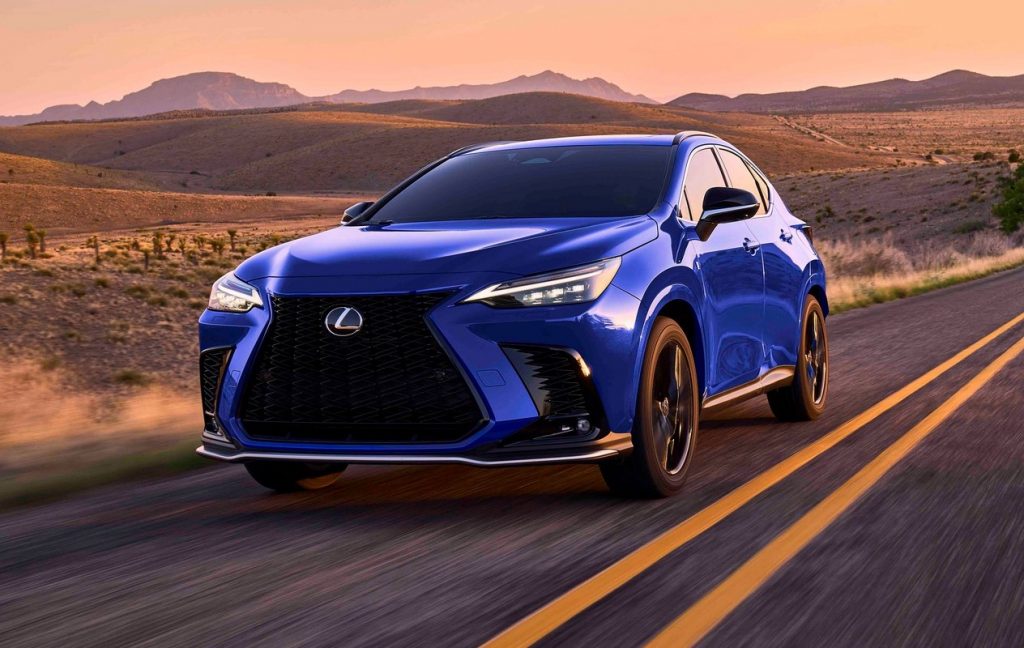 The next generation of Lexus design is rooted in athletic proportions and contributes to an impression of performance and function, reflecting the diversifying needs and lifestyles of global customers.
The NX displays elements of an evolved Lexus design language that pursues "Simplicity" rooted in technology and "Uniqueness" in proportions that contribute to a dynamic performance.
The NX's exterior design expresses a captivating form, modeling large surface units across a new, dynamic framework that has been realized through an all-new vehicle platform.
The NX's interior is the first to fully incorporate the Tazuna Concept, a cockpit concept that allows the driver to intuitively connect with the car and concentrate more on driving operations.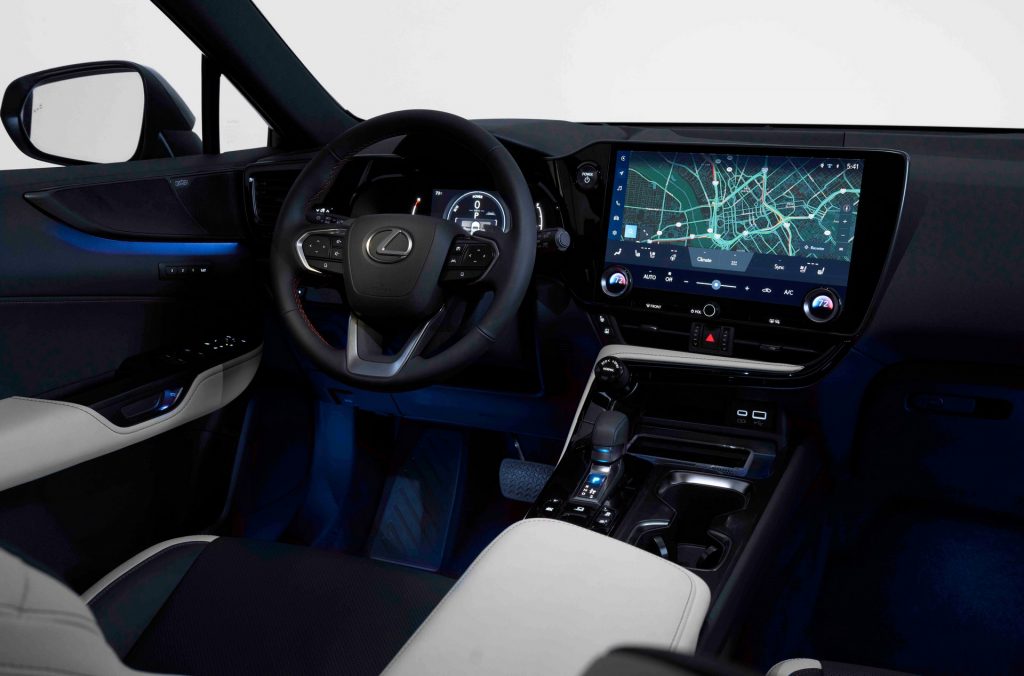 The NX adopts the latest preventive safety technologies, as well as advanced convenience technologies, as part of the luxury brand's human-centered approach.
The next-generation "Lexus Safety System +" delivers cutting-edge safety technology by seamlessly partnering with and supporting the driver at all times.
The Lexus-first e-latch system electronically controls the latching and unlatching of doors. This feature is combined with a blind spot monitor to provide a "safe exit assist function (with control door opening), a world-first feature that helps to prevent accidents caused by door operation when the vehicle is stopped.
A digital key that allows vehicle operation via smartphone.
The NX can be equipped with a Lexus-first "Advanced Park" system. The remote parking function enables remote control from outside the vehicle via a digital key and assists with parking in unfamiliar or confined spaces.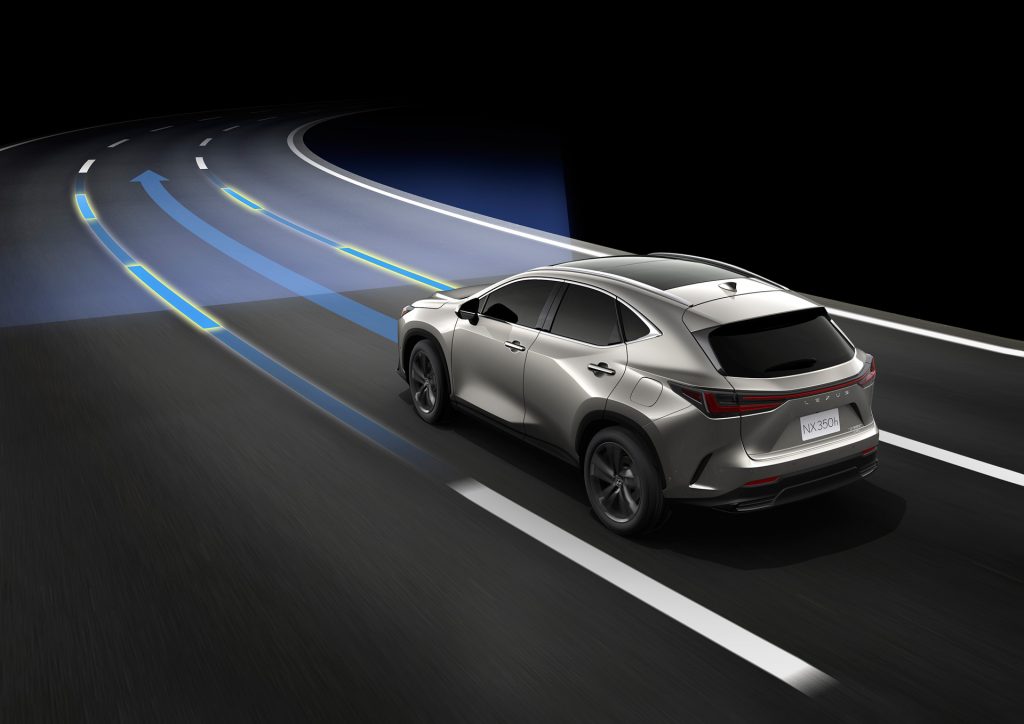 TAKEAKI KATO, CHIEF ENGINEER, LEXUS INTERNATIONAL:
"The development of the new NX was a series of new challenges for Lexus. We implemented "digital development" to ensure quality by evaluating the well thought-out design structure under various conditions using computer models to check productivity. In terms of driving, professional racing drivers conducted an evaluation test drive at the Shimoyama test course to thoroughly train the car's body structure and control the driving force to inherit and evolve the Lexus driving flavor.
The powertrain lineup is diverse, including Lexus' first PHEV, a newly developed 2.4-liter
turbocharged engine, and a newly developed electronically controlled full-time AWD, as well as a number of advanced technologies and a new generation of multimedia. The attractive design and performance of our products have been achieved through the cooperation of our suppliers and many innovations in production technology. Planning, development, production engineering, and manufacturing are connected online across national borders in a difficult environment such as limited mobility, and for the first time for Lexus, production will be carried out at three locations around the world. All of this has been done with the full force of our team working together for the smiles of our customers. We hope you will experience the challenge of the new generation of Lexus and the new NX that we, the development team, have poured our passion into delivering."