Automotive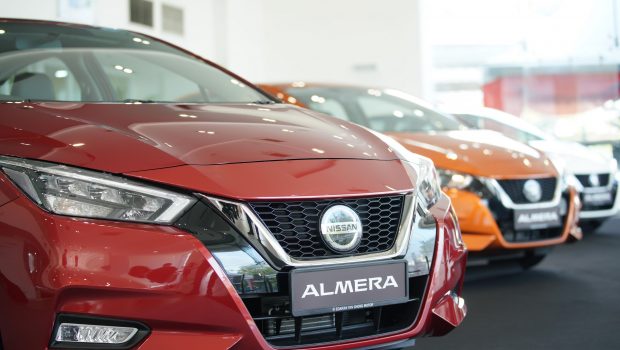 Published on September 25th, 2020 | by Joshua Chin
0
Nissan Almera Turbo Tech Specs Are Impressive
The new tech found within the upcoming Nissan Almera Turbo should be something to worry about for its rivals. 
Heading into the last quarter of this year, buyers looking to spend roughly RM 100k on a new car suddenly has a lot of options open to them. 
Not only has Proton brought out the long-awaited (and much-hyped) X50 compact crossover, but both Honda and Nissan has unveiled the latest iterations of its compact B-segment sedan in the form of the new Honda City and Nissan Almera respectively.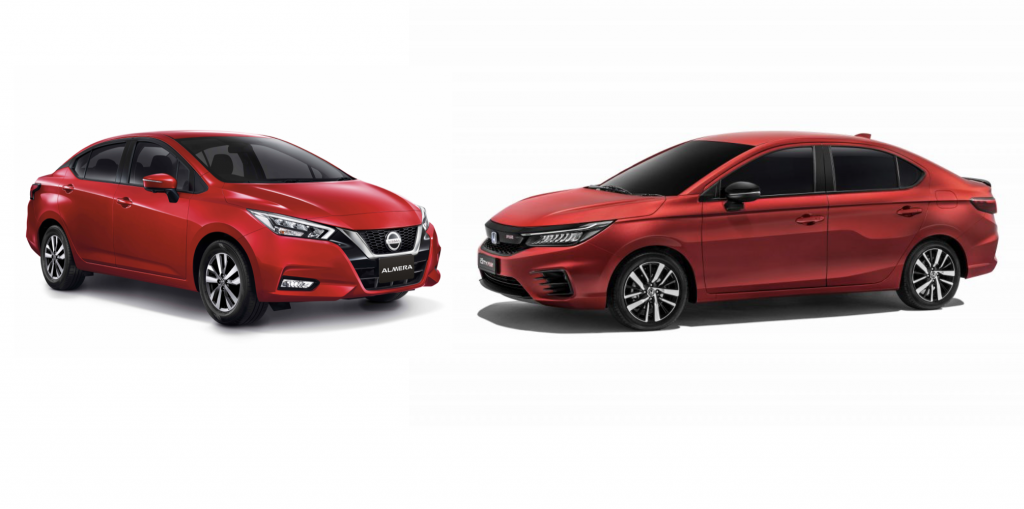 While before, buyers with the means will naturally gravitate to the Honda City, these two new offerings from both Proton and Nissan are taking aim at the traditional City buyers by significantly upping their game with their latest offerings. What was once considered a car to be bought because one can't quite afford the City, the new Almera Turbo has the capability to stand toe-to-toe with the City on its own merit. Thanks to the significantly improved technology and quality within it.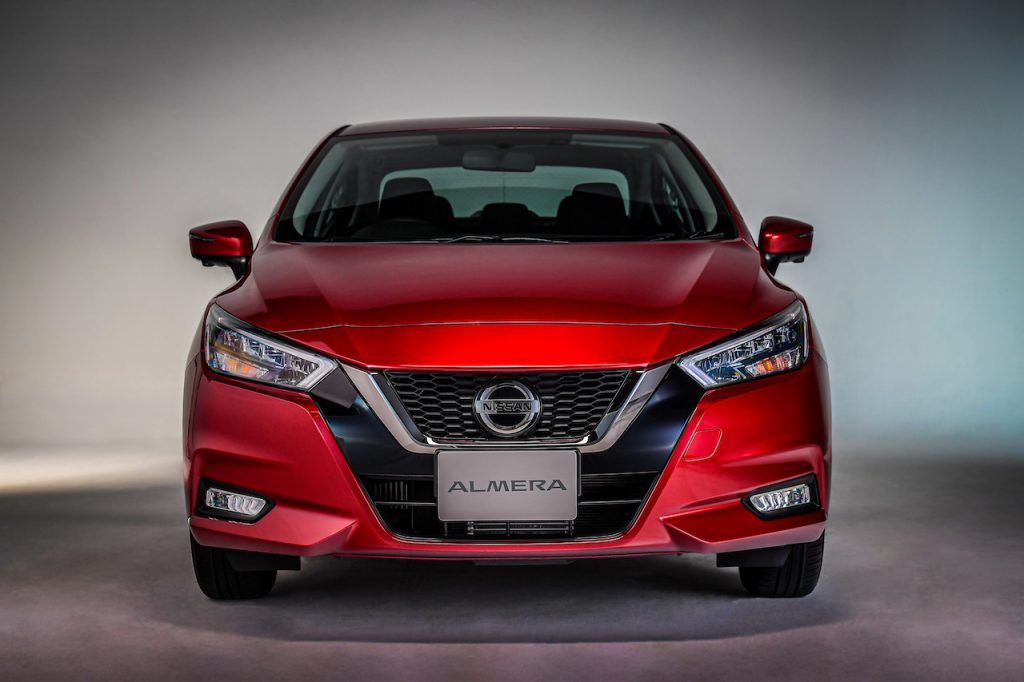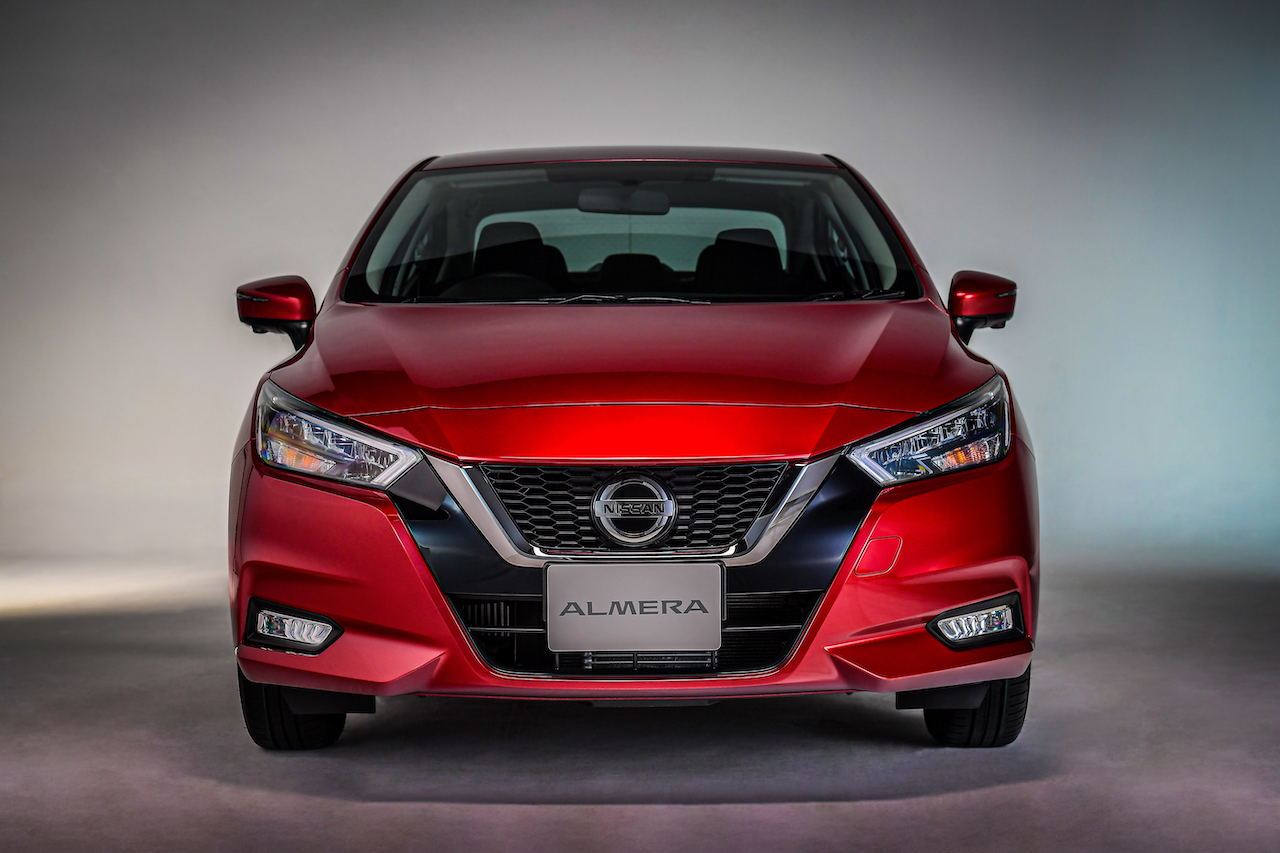 The headline news for the Almera Turbo would have been seen with part of its new name, 'Turbo'. All variants of the Almera launched here in Malaysia features an all-new 1.0 litre DOHC turbocharged three-cylinder engine. A small engine it might be, but it is packed full of technology. An electronic waste gate on the turbocharger reduces turbo lag, thus improving acceleration. Meanwhile an air intercooler system improves turbocharger performance.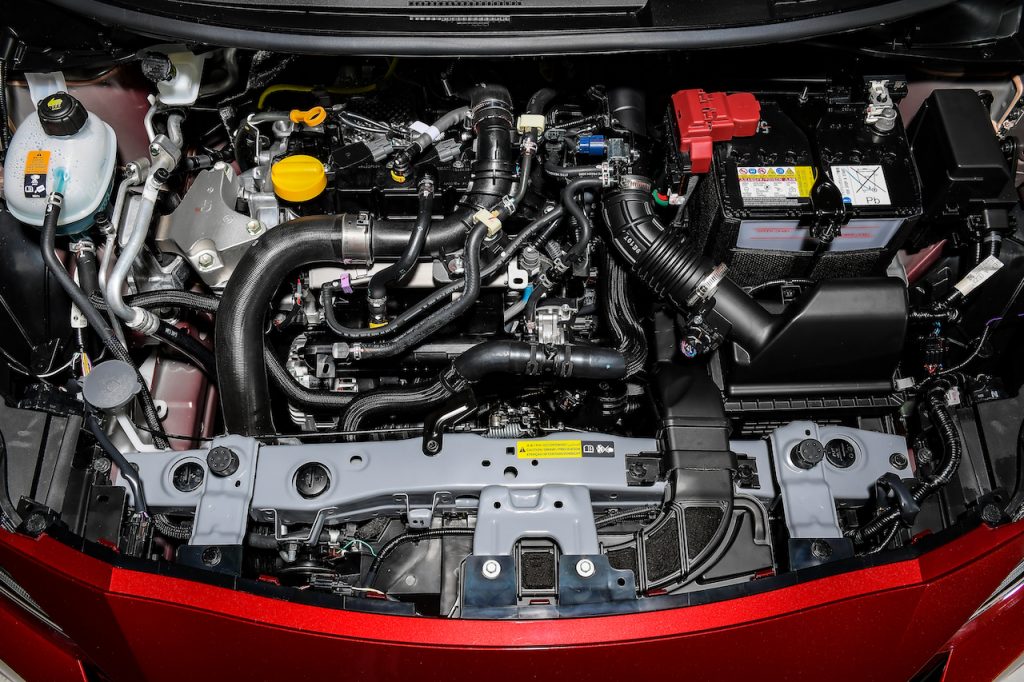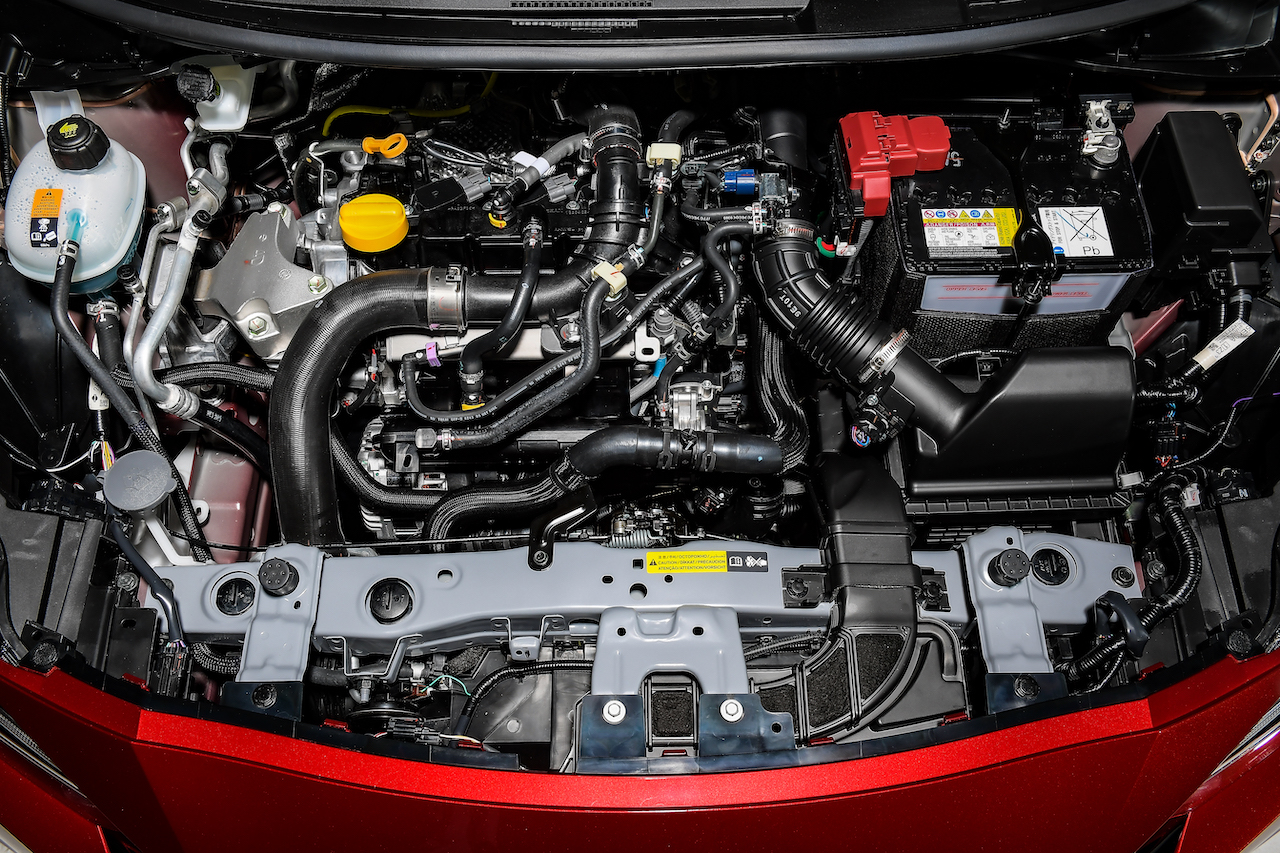 Furthermore, Nissan GT-R derived Mirror Bore Coating Technology that coats the internals of the new Almera's engine is said to improve engine efficiency. Yielding extra performance and fuel efficiency thanks to 'enhanced cooling performance and less engine knocking'. 
Perhaps the smallest engine in its class, this tiny power plant still produces an adequate 100 PS and a healthy 152 Nm of torque that kicks in at just 2,400 rpm. Although these power figures may not be as impressive as the revolutionary hybrid powertrain found in the City RS, but thanks to the loss of a cylinder this Almera could perhaps be as fuel efficient as the hybrid City. What more is that the Almera would not have any complicated hybrid tech that requires additional maintenance worries down the road.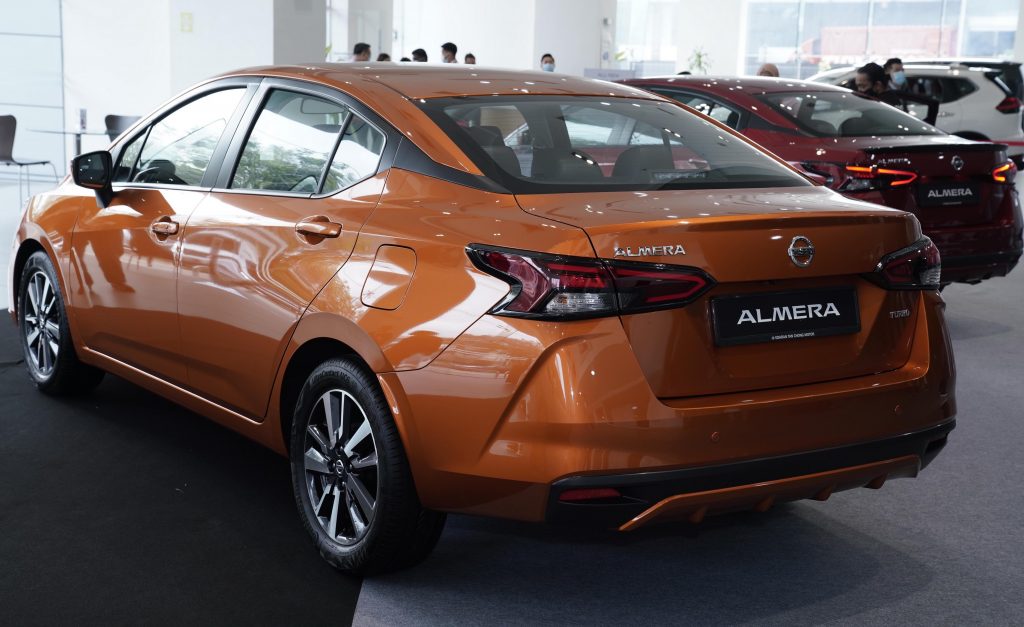 On the subject of fuel economy, the claimed 18.4 km/l that the Almera Turbo could supposedly achieve could also be attributed to the new XTronic CVT transmission, with D-Step Logic System. Said to provide an improved shift feel and better responsiveness, the D-Step Logic System is touted by Nissan to emulate the nature of a traditional automatic gearbox in a CVT, a feature for the keen driver perhaps. The addition of a sport mode that holds on to gears longer is also meant for drivers who desire a sportier driving dynamic out of their Almeras.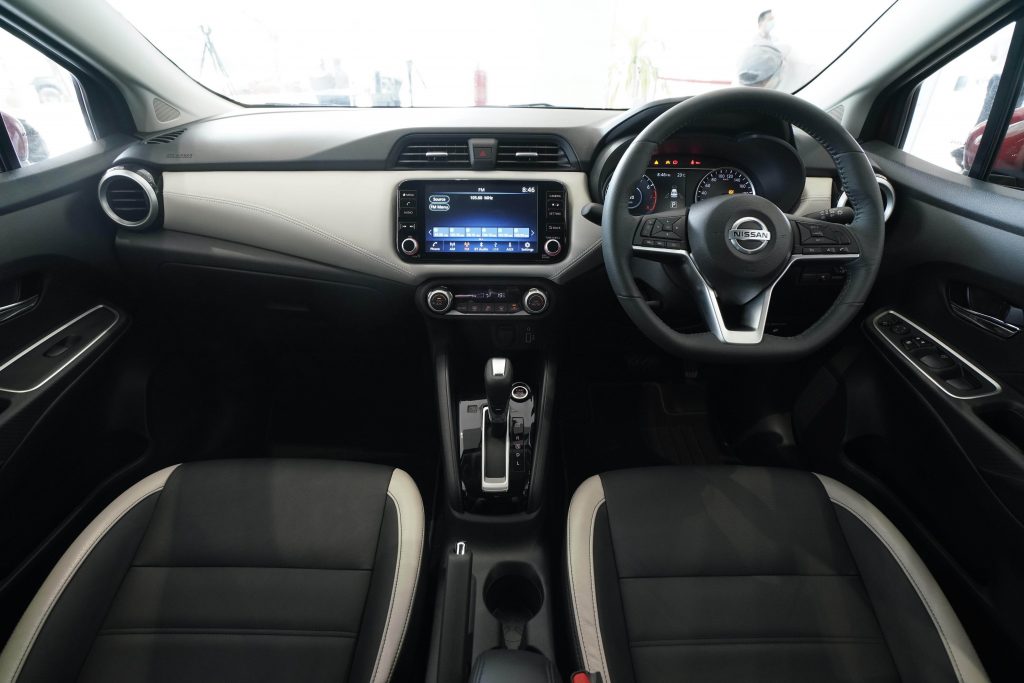 All this talk of keen driving however seems to run contrary to what is perhaps the Almera's target audience. At its heart, the Almera would probably be more suited to the sedate driver who emphasises comfort over performance. To that end, Nissan has improved the NVH of the Almera considerably. The new engine is now much more refined than the outgoing relic. It also sits on soft engine mountings to further improve NVH levels within the cabin.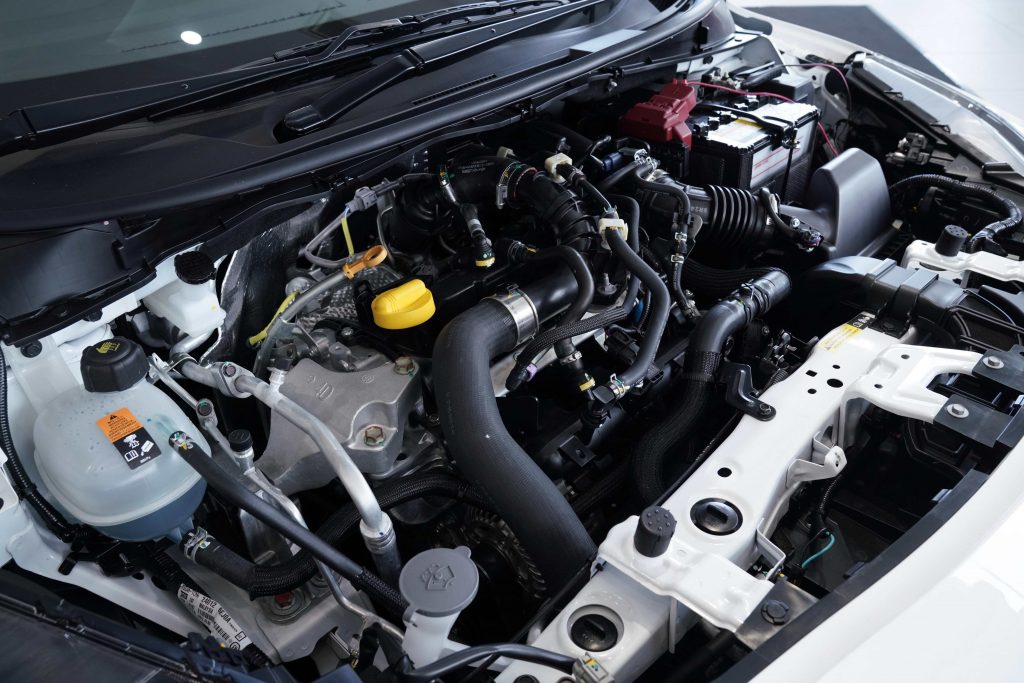 Aside from that, a whole host of other NVH improvements has been made to the Almera to ensure a more refined experience inside the cabin. The wing mirrors have been repositioned to reduce wind noise. Thicker glass, body side sealing and added insulation within the body cavities meanwhile help dampen road noise. Adding to that extensive list is Nissan's extremely comfortable zero-gravity seats and the Almera could well be the most comfortable car to ride in for the money.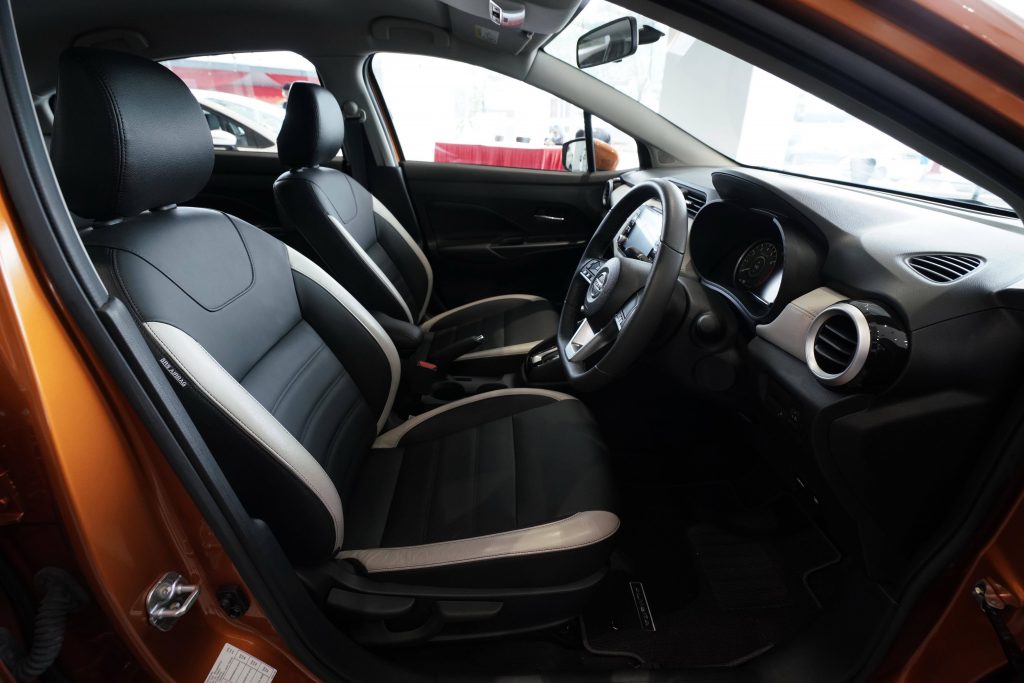 To those eager to experience this new Almera Turbo for themselves, exclusive dealer previews are happening this weekend (26th and 27th September). Furthermore, 15 iPhone SEs are up for grabs to anyone who test drives the Nissan Almera Turbo within this period.

PRESS RELEASE: The all-new Nissan Almera Turbo takes the popular B-sedan to a new level of refinement with fresh and exciting features not usually found in the segment. Not only its dynamic styling, attention to details and quality benchmarking, the all-new Almera Turbo also offers confidence-inspiring performance, making it a perfect modern sedan.
Standard on all three Nissan Almera Turbo variants is the all-new HR10DET 1.0 litre 12-Valves Dual Overhead Camshaft (DOHC), in-line 3-cylinder engine with Turbocharger, a high performance engine that offers an improved response with smoother pull-away, better in-gear acceleration and an output equivalent to a 1.5 litre engine.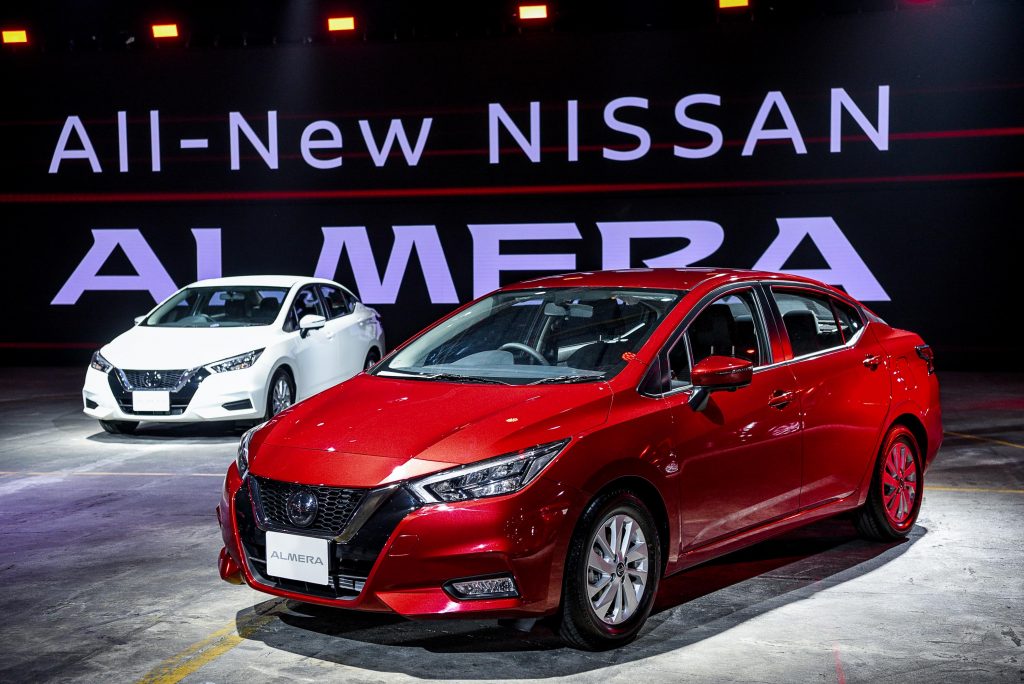 The 1.0 litre turbo engine in the all-new Nissan Almera Turbo unleashes a maximum power output of 100PS and high torque of 152Nm (flat torque) at a low 2,400 to 4,000 rpm. This means that the 1.0 litre turbo engine is able to achieve an early torque kick-in at 2,400rpm, and maintain its maximum torque until 4,000rpm, or more importantly with the constant torque available at an rpm range most operated in daily drives; overtaking has never been easier and less stressful.
This instant acceleration from the all-new 1.0 litre turbo engine is made possible thanks to the new Electronic Wastegate. Compared to the conventional mechanical wastegate, the electronic wastegate is equipped with a sensor that reads and controls the turbo compression, hence efficiently reduces turbo lag and provide instant acceleration.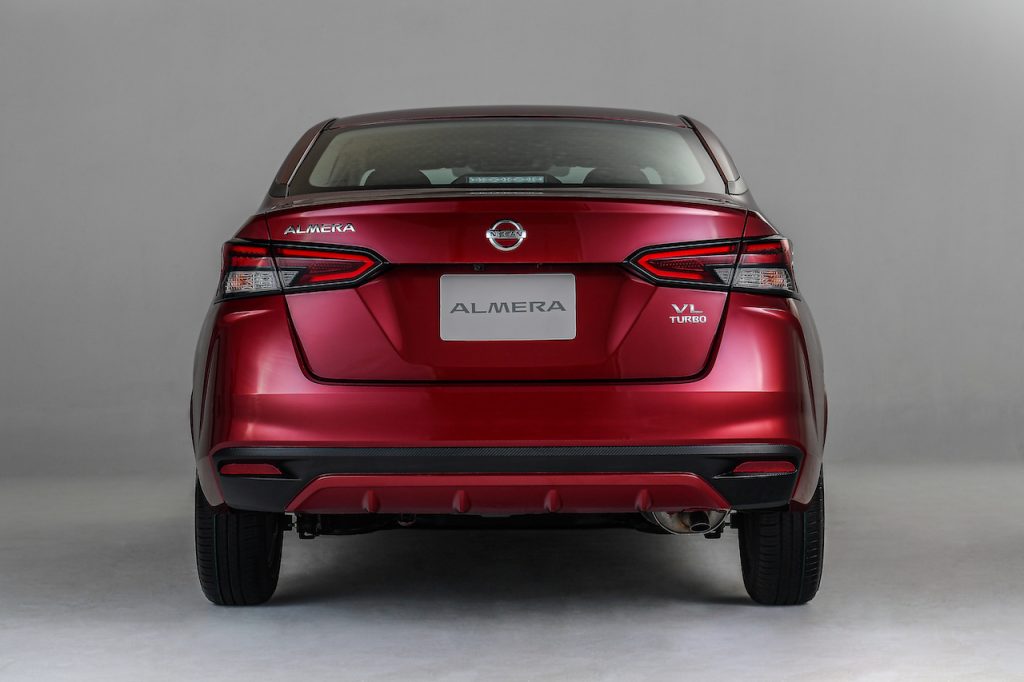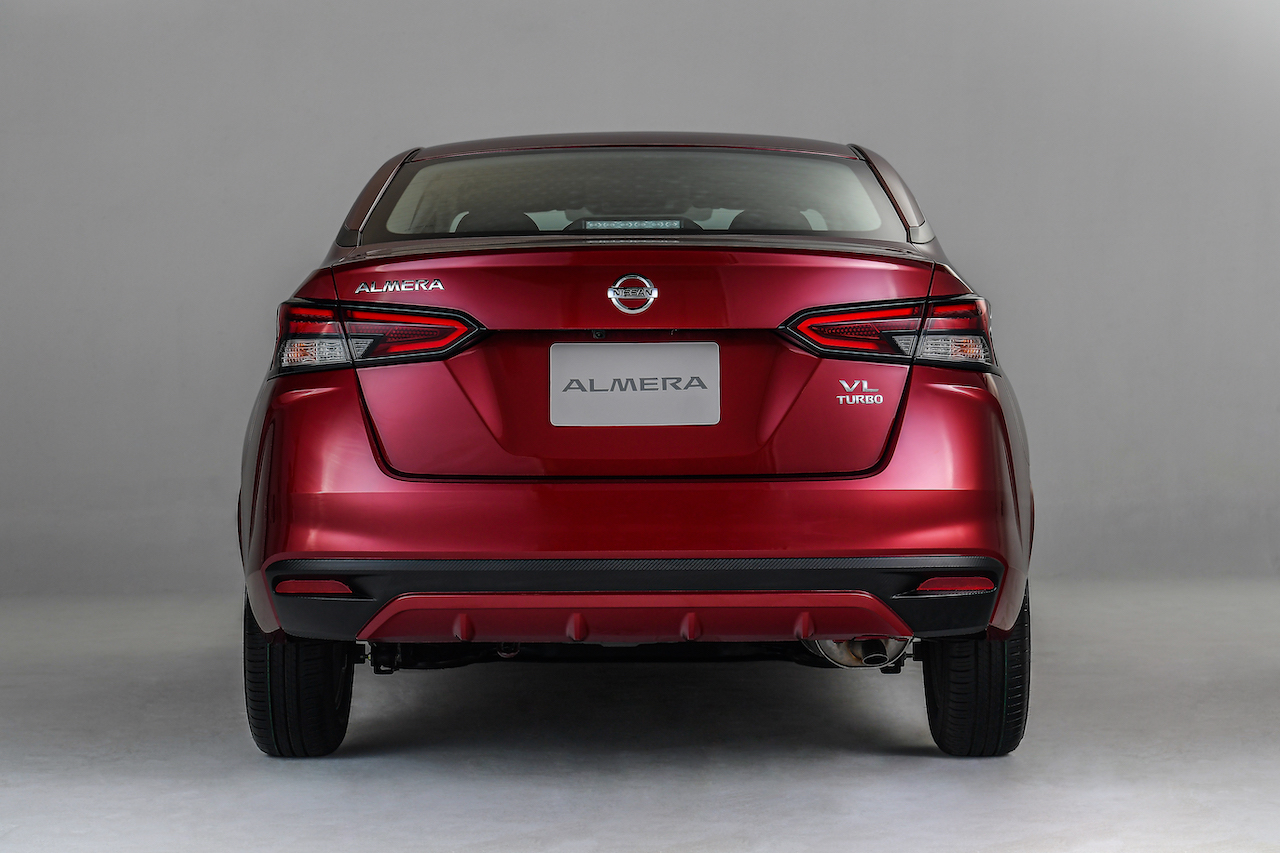 Another important and innovative technology in the all-new 1.0 litre turbo engine is the Mirror Bore Coating Technology that was adapted from the legendary Nissan GT-R. Mirror Bore Coating is a technology that raises energy efficiency by reducing the friction inside the engine. Rather than inserting a cylinder liner, the Mirror Bore Coating Technology sprays a molten iron onto the surface of the cylinder bore and forms an iron coating layer on the walls inside. By giving this a mirror-like finish, the drag that arises when the piston is operating can be reduced.
Compared to the normal 2mm thick cylinder liner in engines, the newly adapted technology produces 0.2mm mirror bore coating that is extremely thin and with better heat conduction. This results in an enhanced cooling performance and less engine knocking, thus the efficiency of the engine as a whole is improved. The advantages gained go towards increasing both fuel economy and engine power.
Removing the 2mm-thickness cylinder liner also realizes a lighter engine, and thus able to improve the fundamental performance of the engine without the need for other special devices.
The all-new 1.0 litre turbo HR10DET engine also adopt an Air Intercooler System to cool the air compressed by the turbocharger. The intercooler is placed at the front of the car where air flow can fully ventilate, especially when the car is in motion. 
"The all-new 1.0 litre turbo engine is designed to meet our customers' needs. It provides the highest level of fuel economy and performance, without compromising on engine reliability and durability. The CO2 emission has also significantly been reduced by 18% compared to its predecessor hence making the All-New Almera Turbo even more environmentally friendly," said Christopher Tan, Sales and Marketing Director of Edaran Tan Chong Motor Sdn Bhd.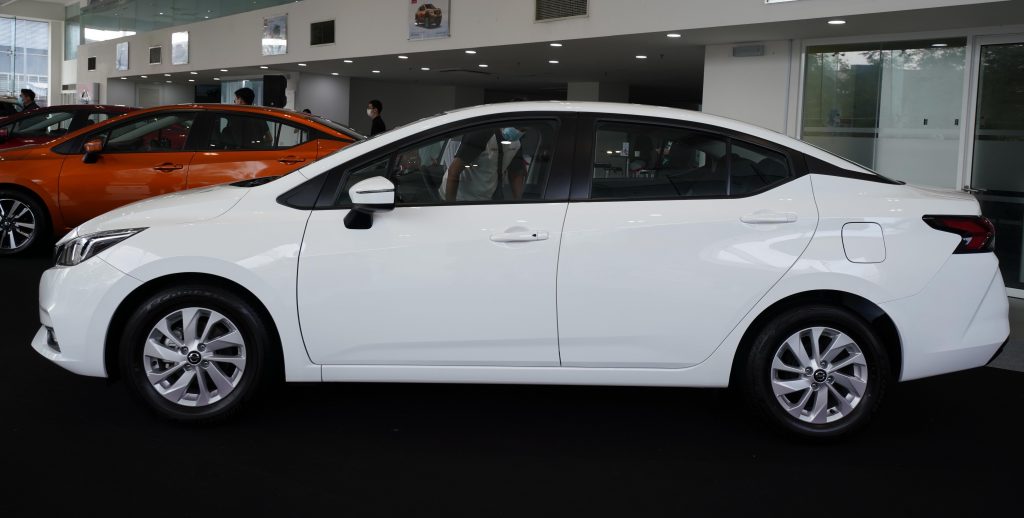 Apart from the all-new 1.0 litre turbo engine, the new powertrain comes with next generation XTRONIC CVT with D-Step Logic System for an improved shift feel and responsiveness, yet at the same time achieving a remarkable fuel economy of 18.4km/L* (5.4L/100km), equivalent to an estimated 650km in one full tank (35L).
The D-Step Logic System is computer software that uses dynamic inputs such as vehicle speed, accelerator pedal position and application speed to determine ideal gear ratios needed to provide smooth, constant acceleration. Drivers can feel the sensation of gear shifting like a conventional auto transmission but adds the flexibility and smoothness of a CVT. It is also equipped with Sport Mode driving which holds the gear longer for better acceleration performance and a sporty drive.
While performance and innovations are clearly the unique selling points in the all-new Nissan Almera Turbo, its noise, vibration and harshness (NVH) has also been considerably reduced by the improved powertrain. A unique soft engine mounting has been installed to dampen and reduce engine vibration.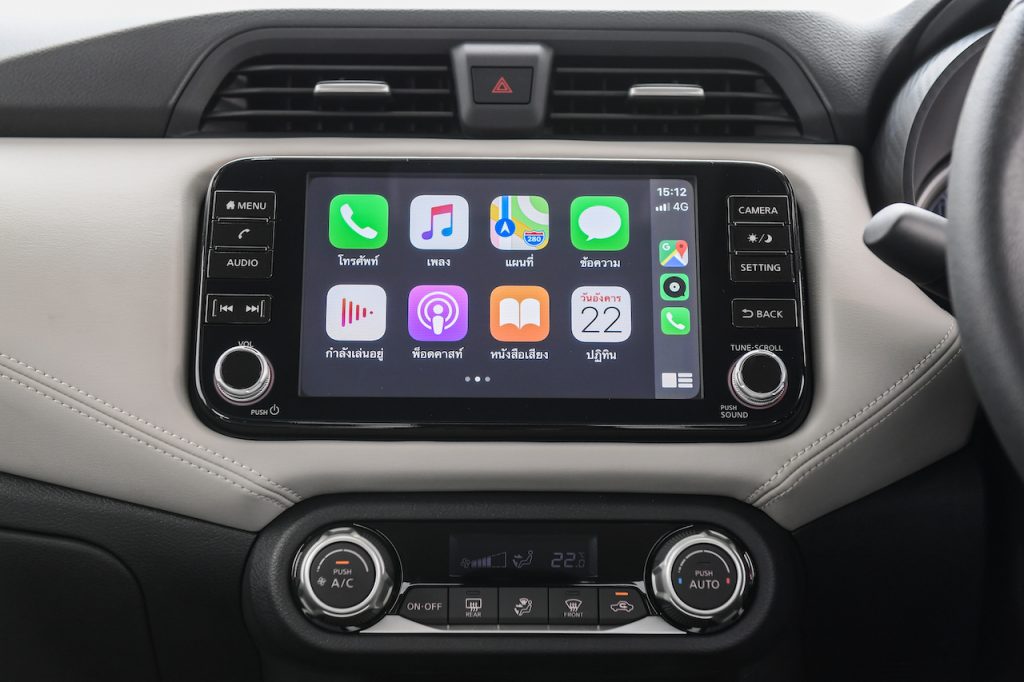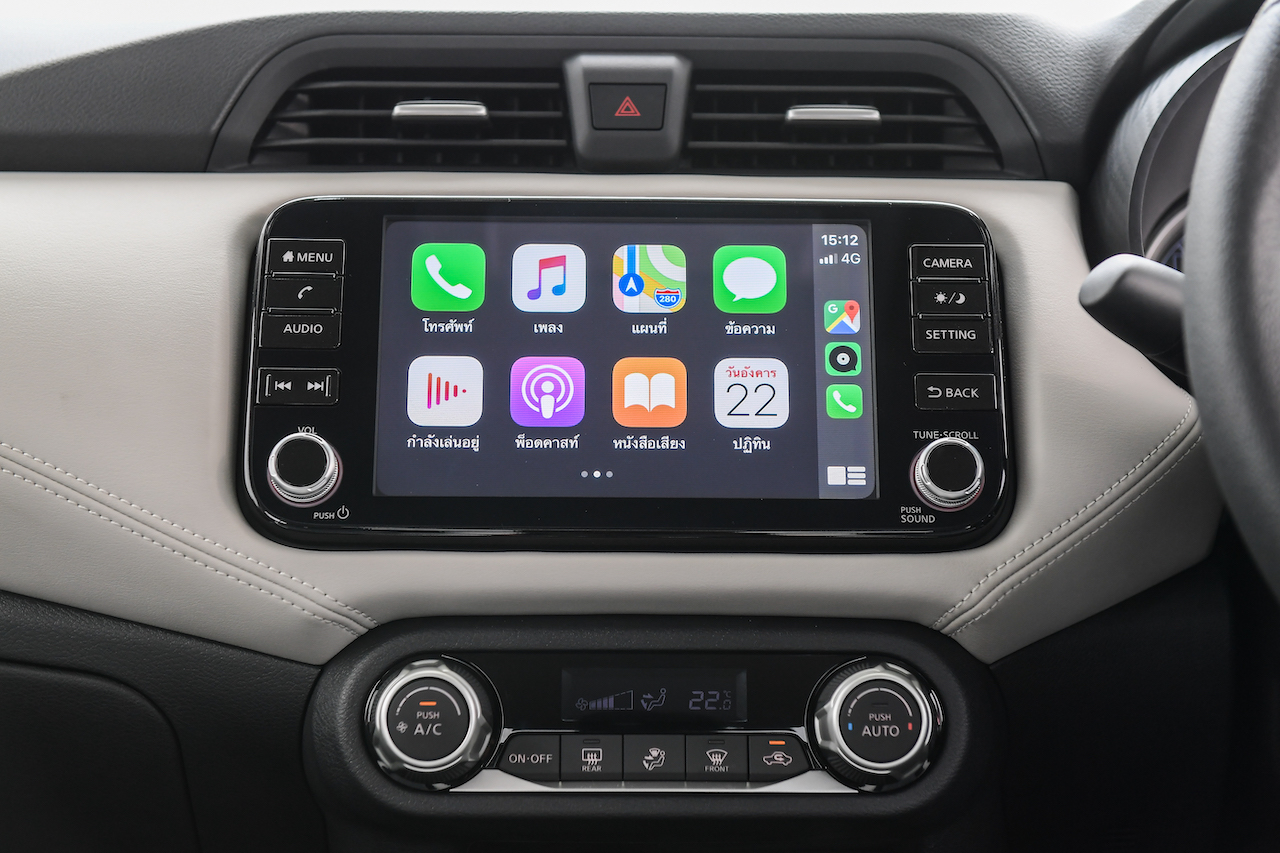 The side wing mirrors of the all-new Almera Turbo are re-positioned to reduce wind noise. Further improvements on the NVH level are noticeable through added insulation for all 4 doors, A-pillar, body side sealing and thickened door glass which helps to reduce road noise. All these refinements contributes to a quieter cabin altogether.
Members of public are invited to experience the All-New Nissan Almera Turbo Exclusive Preview at selected dealer showrooms nationwide on 26 & 27 September 2020 and stand a chance to win 15 iPhone SE (128GB) worth RM 2,199 each when you test drive the All-New Nissan Almera Turbo.