Automotive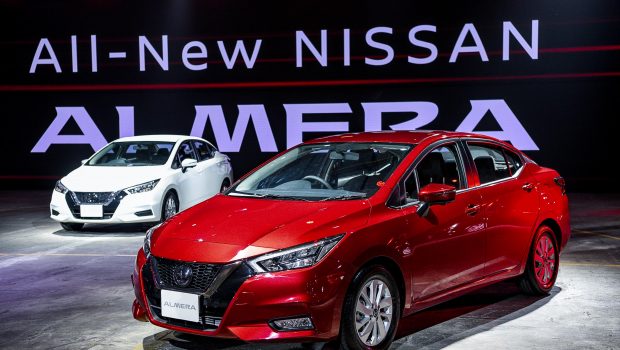 Published on December 11th, 2020 | by Joshua Chin
0
Nissan Almera Turbo Is Well Equipped With Safety Tech
Nissan has brought quite a lot of crucial safety tech to the table with its new Almera Turbo. 
Aside from the usual practicality, power and price concerns, safety is also among the top priority of many buyers when it comes to choosing a new car. Especially in today's increasingly tech-laden automobiles, it is to be expected then, that regardless of price point, a modicum of active safety should be expected for each new car to leave the dealerships. 
That however is simply not the case in Malaysia yet, because many new cars on the local market at least are still woefully short on any sort of active driver aids. This is especially true on new cars which costs less than RM 100k. 
Happily though, there are a few cars within this price range that does have an edge up on its competitors when it comes to this particular topic of active safety, with one of them being the recently launched Nissan Almera Turbo.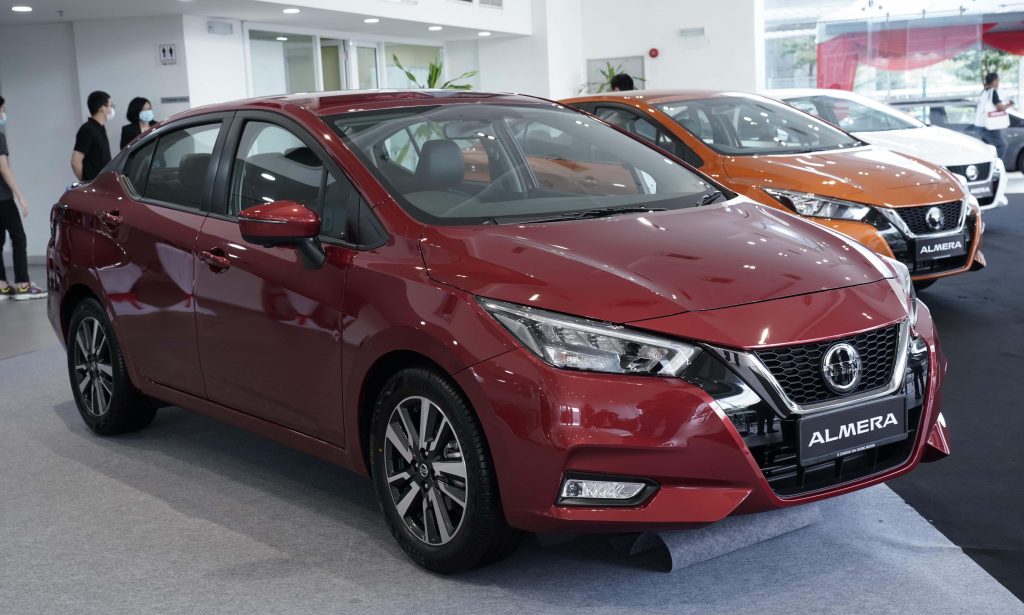 Kicking off the list of active safety tech featured within the Almera Turbo is the Intelligent Forward Collision Warning (IFCW) and Intelligent Forward Emergency Braking (IFEB) systems that are standard on all variants.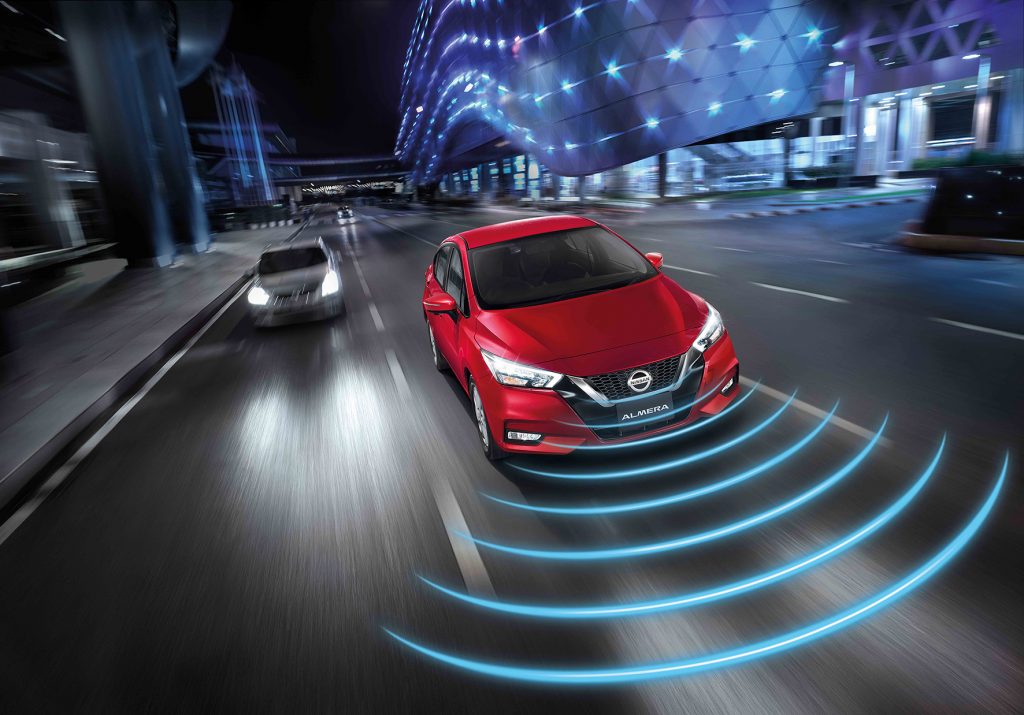 Working between speeds of 5 km/h and 80 km/h, the former system will issue an audible warning on the 7-inch Advance Drive Assist Display (ADAD) if the car senses an imminent frontal collision is to occur. If no action is taken by the driver then, the latter system will then automatically engage the brakes in the hopes of preventing the approaching crash.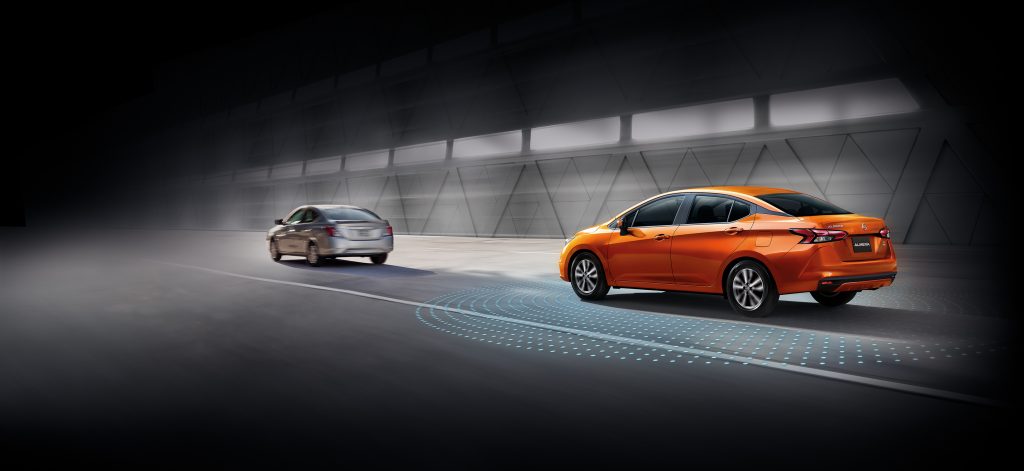 Coming as part of the Nissan Intelligent Mobility and Nissan Safety Shield 360 advanced safety technologies, available too on higher-end trim levels are Blind Spot Warning (BSW) and Rear Cross Traffic Alert (RCTA) systems. An Intelligent Around View Monitor (IAVM) with Intelligent Moving Object Detection (IMOD) 360º reversing camera is also standard on the upper variants within the Almera Turbo range to better aid in parking manoeuvres.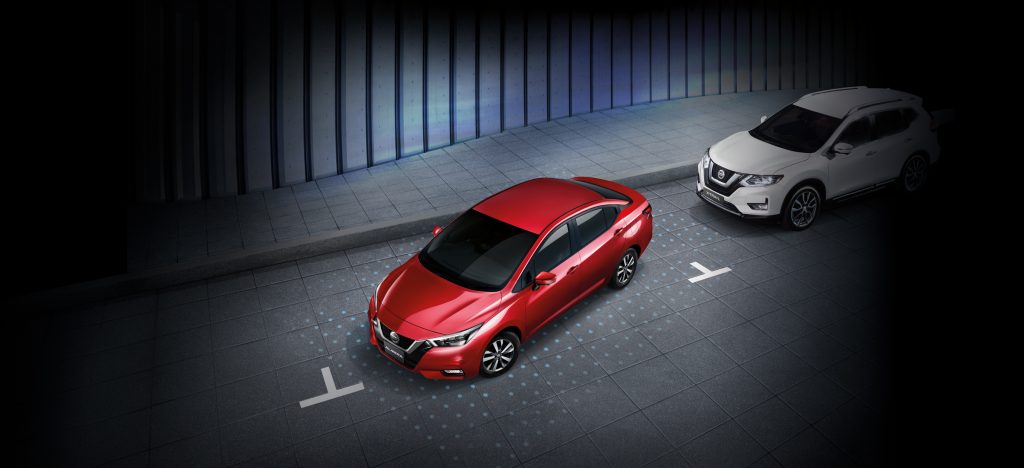 As for passive safety, all variants of the new Almera Turbo feature the usual safety acronyms like Anti-Lock Braking System (ABS) with Brake Assist (BA) and Electronic Braking Distribution (EBD), Vehicle Dynamic Control (VDC) with Traction Control (TC) and Hill Start Assist (HSA). Six SRS airbags are also present to cushion the blow in the event of the crash, though it is worth noting that the entry-level VL variant only features two of these potentially life-saving devices.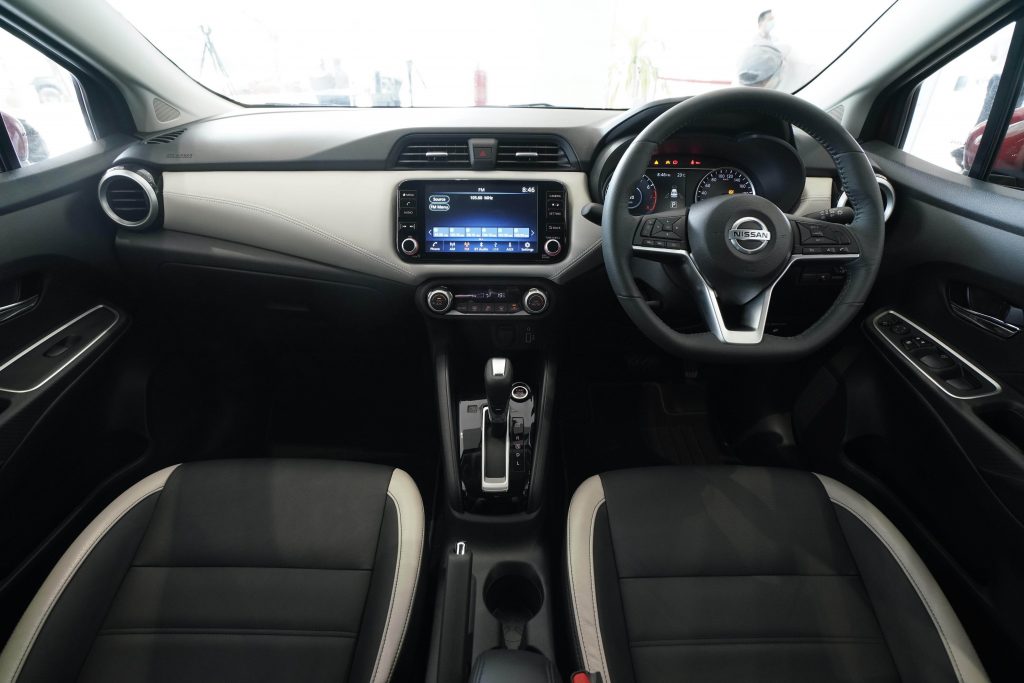 In summary then, while the old iteration of Nissan's challenger to the ever-popular Honda City and Toyota Vios was, frankly speaking, not the most desirable offering out there in the C-segment sedan market, this new Almera however looks to be a different story altogether.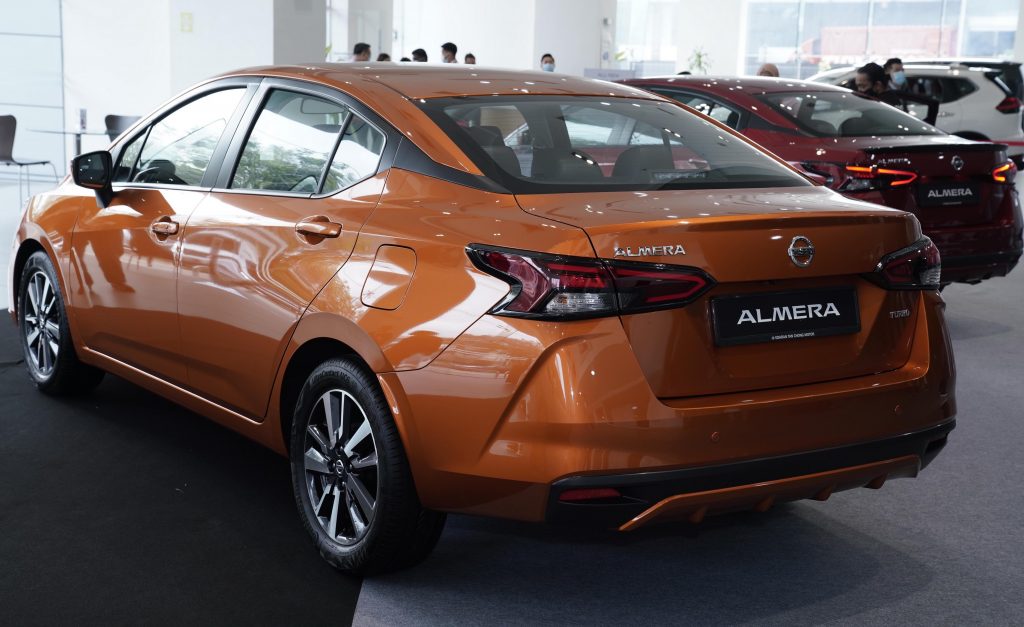 Judging from the spec sheet, it would appear that this new Almera will not only appeal to the boy-racer buyer interested in the equally-impressive tech specs of the 1.0 turbocharged three-cylinder engine under the hood, but also for the safety-conscious that is appreciative of the stellar number of active and passive safety features available on a car at this price point.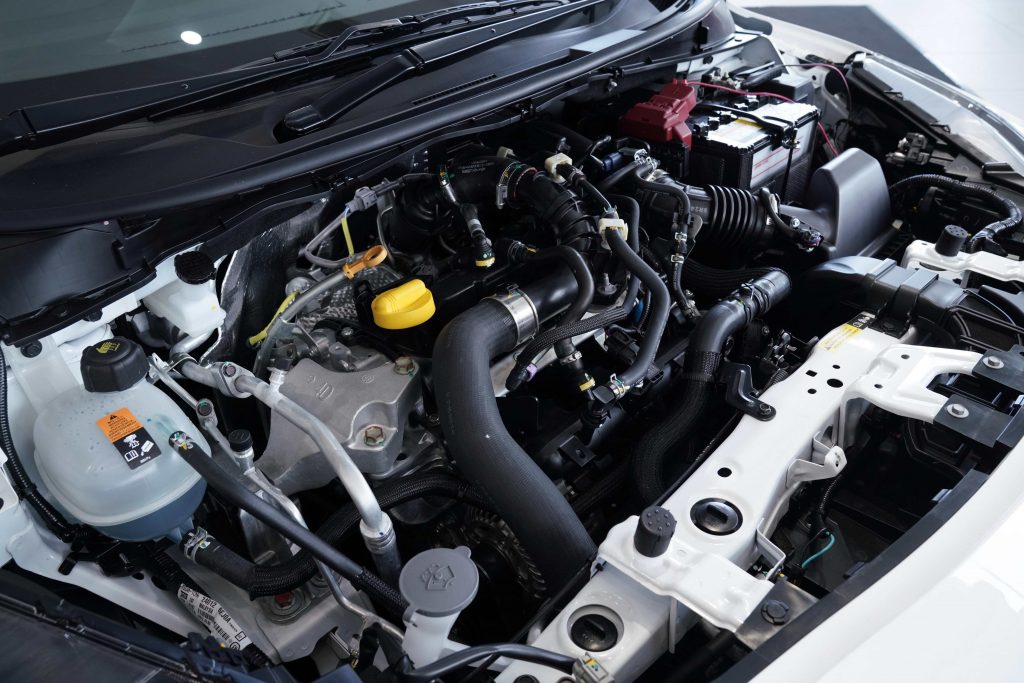 Speaking of price, the new Nissan Almera starts from RM 79,906 for the base VL variant, before rising to RM 87,715 and RM 91,310 for the VLP and VLT trim levels. All prices quoted here are the sales tax exempt prices, hence it is only valid till the 31st of December. All Almera Turbos sold comes with a 5 year unlimited milage warranty, not to mention 5 free alternate maintenance package which includes both parts and labour.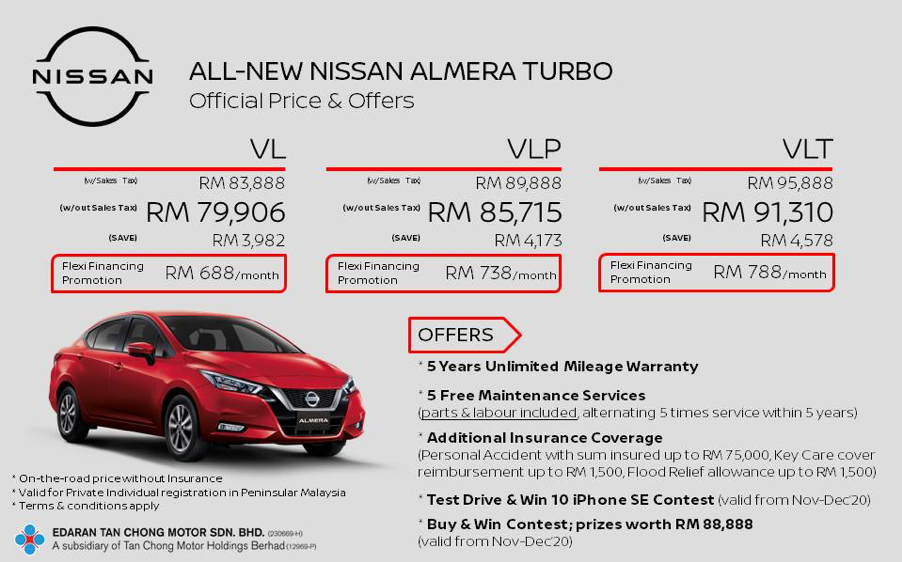 PRESS RELEASE: The all-new Nissan Almera Turbo incorporates a sleek, comfortable and spacious design that leaves a lasting first impression that drivers can be proud of, along with intelligent and advanced drive assist technologies that meet the needs of Nissan's valued customers, especially millennials and young families.
The important area where the all-new Nissan Almera Turbo stands out is its Nissan Intelligent Mobility and Safety Shield 360 technologies that provide front, side and rear safety monitoring and intervention. This exciting technology is a key component of Nissan's vision of how vehicles are driven, powered and integrated into society.
Standard on all three Nissan Almera Turbo variants are the Intelligent Forward Collision Warning (IFCW) and Intelligent Forward Emergency Braking (IFEB) systems. The Intelligent Forward Collision Warning monitors vehicle distance and speed between 5km/h to 80km/h, and alerts driver when the vehicle is too close to a vehicle ahead or a risk from frontal collision by flashing a warning with audible alert on the 7-inch Advance Drive Assist Display (ADAD). If the driver does not take any action, the Intelligent Forward Emergency Braking system will indicate an emergency stop sign and automatically engage the brakes to help avoid a frontal collision or lessen the severity of an impact. The vehicle will remain at a standstill for approximately 2 seconds before the brakes are released.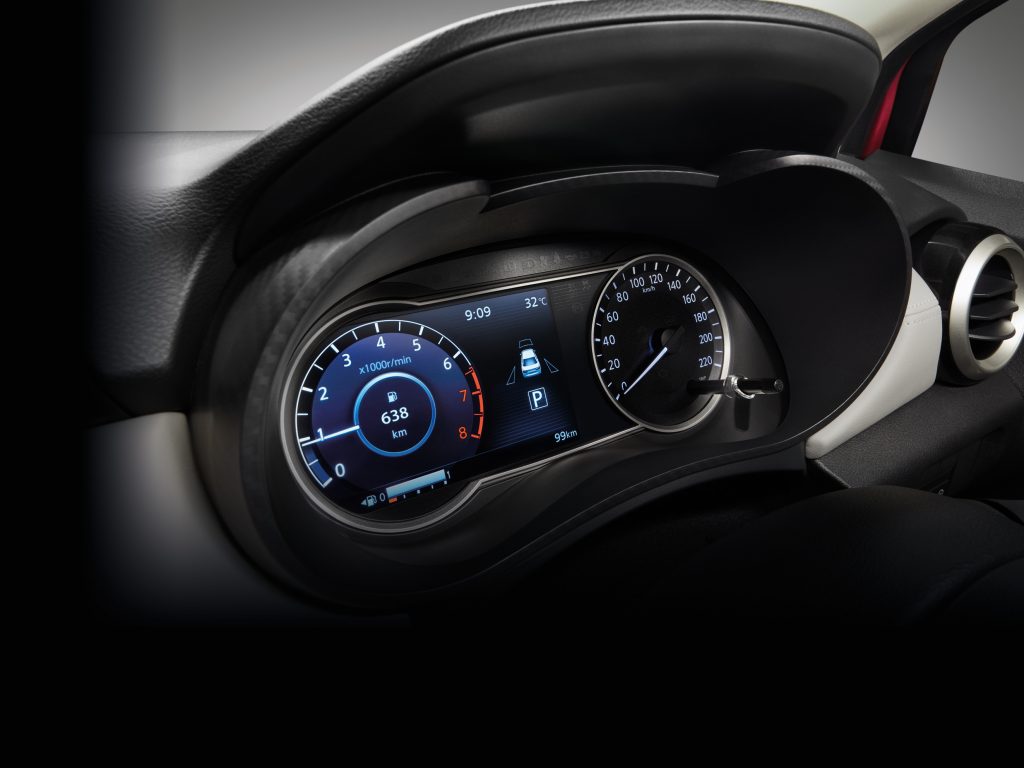 "The all-new Nissan Almera Turbo takes the popular B-sedan to a new level of refinement and enhancements not usually found in this segment. With the theme 'Challenge All Beliefs', the all-new Nissan Almera Turbo is not the Almera everyone knew before. It is completely redesigned to be energetic, provocative and engaging with its dynamic styling, confidence-inspiring performance and innovative technologies, that sets to challenge customers' beliefs on what modern sedans should be," said Christopher Tan, Sales and Marketing Director of Edaran Tan Chong Motor Sdn Bhd.
Other safety technologies available on the all-new Nissan Almera Turbo are the Blind Spot Warning (BSW) and Rear Cross Traffic Alert (RCTA) systems. At a driving speed approximately 32km/h and above, the Blind Spot Warning system helps keep an eye on blind spot areas at approximately 3 meters x 3 meters via radar sensors at the rear bumper, and alerts the driver of other vehicles in adjacent lanes when changing lanes. If the radar sensors detect a vehicle in the detection zone or blind spot area when the turn signal is activated, the system will chime twice and warning indicators on the ADAD and the side mirror surface will illuminate.
Additionally, the Rear Cross Traffic Alert system operates while the vehicle is reversing at speed less than 8km/h. The same rear radar sensors help to detect an approaching vehicle below 30km/h driving speed and warn the driver with an audible alert and indicator on the side mirror surface where the vehicle is approaching from.
The highly appreciated Intelligent Around View Monitor (IAVM) with Intelligent Moving Object Detection (IMOD) system that is featured on the Nissan X-Trail, Serena S-Hybrid and Navara, is now available on the all-new Nissan Almera Turbo too. Perfect during parking and manoeuvring tight spots, the Intelligent Around View Monitor system uses 4 cameras that provide a virtual 360° bird's-eye view of the vehicle, while the Intelligent Moving Object Detection helps to detect and alert the driver of moving objects surrounding the vehicle.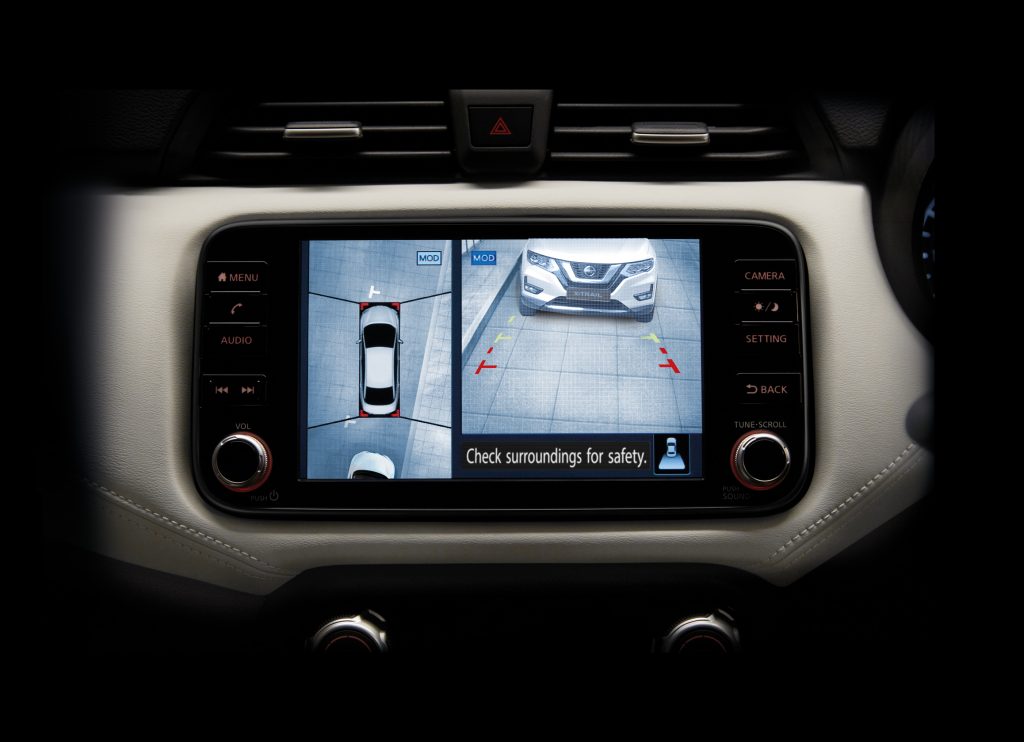 The all-new Nissan Almera Turbo is also packed with other various safety technologies that are always looking out for you by monitoring, responding and protecting you and your passengers, including:
ïVehicle Dynamic Control (VDC) with Traction Control (TC)
ïHill Start Assist (HSA)
ïAnti-Lock Braking System (ABS) with Brake Assist (BA)
ïElectronic Braking Distribution (EBD)
ï6 SRS Airbags (available on VLP and VLT variants only)
ïISOFIX with Top Tether (x2) Child Seat Restraint system
A 5-year unlimited mileage vehicle warranty comes standard on all Nissan Almera Turbo variants, along with free 5 times alternating maintenance service (parts and labour included) within 5 years.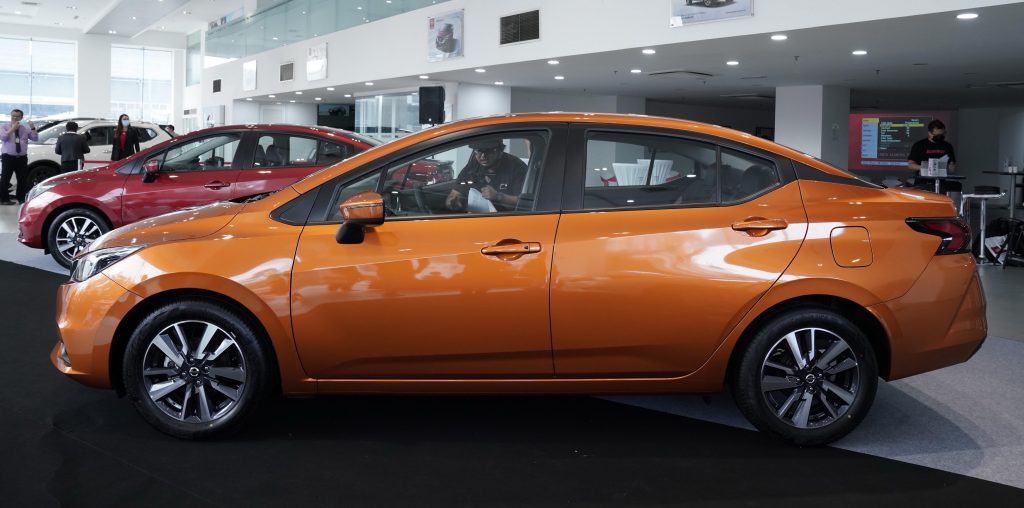 Nissan Test Drive Carnival
Members of public are invited to experience the all-new Nissan Almera Turbo at the nationwide Nissan Test Drive Carnival from 11th to 13th December. Customers may stand a chance to win 5 iPhone SE (128GB) worth RM 2,199 when they test drive the all-new Nissan Almera Turbo, and a chance to win prizes worth up to RM 88,888 in the Buy & Win Contest when they purchase and register the all-new Nissan Almera Turbo before 31st December 2020.
12th – 13th December

(10AM to 8PM)

Selangor
ETCM Petaling Jaya
03-7957 5940
Auto Dunia S/B (Batu Caves)
03-6189 3028
Wilayah Persekutuan
ETCM Melati Utama
03-4107 6698
ETCM Cheras Southgate
03-9222 1891
Kedah
ETCM Alor Setar (11-12 Dec)
04-733 9155
Penang
ETCM Butterworth
04-398 4588
Perak
ETCM Sitiawan (11-12 Dec)
05-692 4811
ETCM Teluk Intan
05-622 3994
Nikaijaya Resource (Ipoh)
05-253 1228
Negeri Sembilan
ETCM Seremban
06-761 3311
Seremban Victory Credit (S2)
06-720 2888
Johor
ETCM Segamat (11-12 Dec)
07-931 6899
ETCM Kluang
07-771 9668
Sincere Scope (Bukit Indah)
07-244 1383
Public Motor (Kulaijaya)
07-663 3877
Simpson Tan Auto (Skudai)
07-232 1199
W.E Motor (Mount Austin)
07-357 8698
Pahang
ETCM Kuantan
09-517 8628
Multiway Auto (Temerloh)
09-296 0133
Kelantan
ETCM Kota Bharu (11-13 Dec)
09-747 8645
Edaran Nuri KB (Pasir Tumboh)
09-765 9888
Terengganu
ETCM K.Terengganu (11-13 Dec)
09-622 2350
Edaran Nuri Kemaman (Chukai)
09-859 6288
Sabah
ETCM Kota Kinabalu
088-422 285
ETCM Sandakan
089-222 098
OTS Motor KK (Penampang)
088-217 989
Sarawak
ETCM Kuching
082-388 999
As a recap, ETCM earlier announced the price of the All-New Nissan Almera Turbo, with three different variants offered from:
Peninsular Malaysia (On-the-road price without Insurance, with Sales Tax Exemption):
VL variant: RM 79,906
VLP variant: RM 85,715
VLT variant: RM 91,310
ETCM is also offering a special hire purchase Flexi Financing Promotion as follows:
VL variant: from RM 688 monthly
VLP variant: from RM 738 monthly
VLT variant: from RM 788 monthly
Based on 90% loan amount, 9 years loan tenure and valid until 31 December 2020.
Customers who purchase their insurance for the all-new Nissan Almera Turbo with Tan Chong Insurance Business Stream (TCIBS) will get free Personal Accident (PA) coverage with sum insured up to RM75,000*, Key Care cover reimbursement up to RM 1,500* and Flood Relief allowance up to RM 1,500*.