Automotive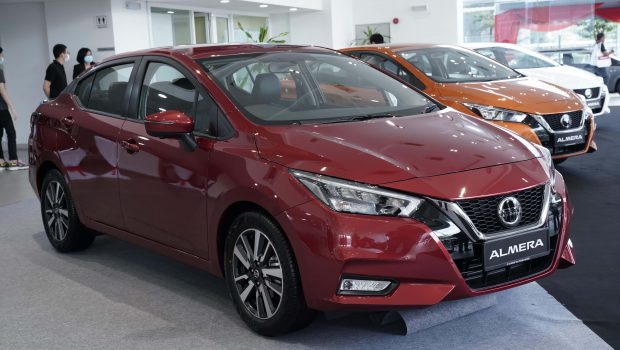 Published on September 5th, 2020 | by Joshua Chin
0
New Nissan Almera Turbo Launched, Bookings Open Today
Nissan's new compact sedan is finally a worthy rival to the City and Vios stalwarts. 
For many years, the Nissan Almera has languished in the shadows of the Honda City and Toyota Vios. Many of them were bought based on the price, and not much else. However all this seems to have changed with this new Nissan Almera Turbo launched today.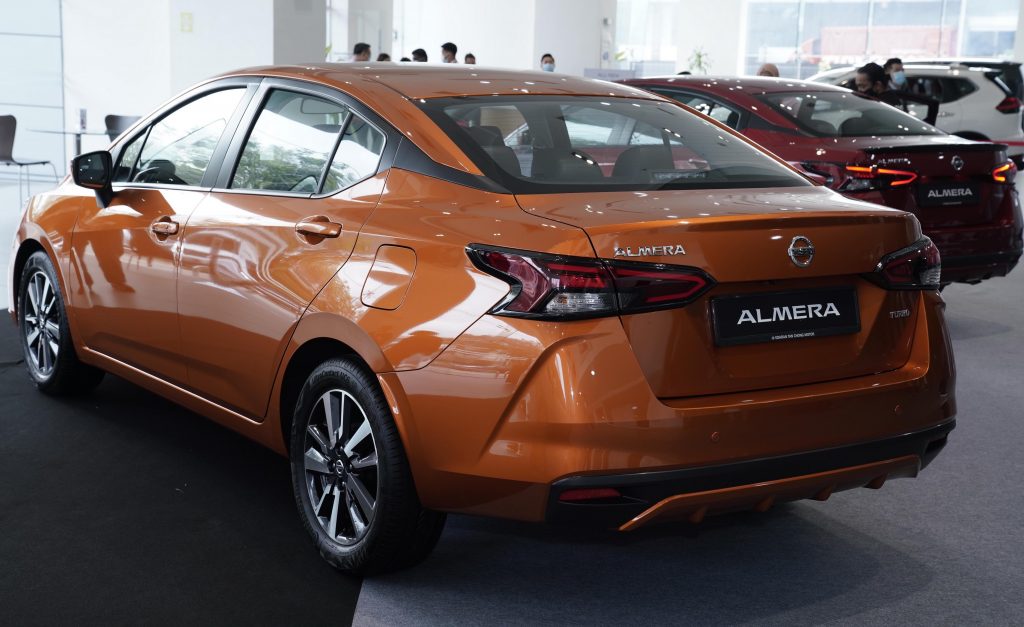 The headline news for the new Almera Turbo is perhaps the little 1.0 litre three cylinder under the hood. While some may think a puny 1.0 litre wouldn't be sufficient for a sedan this size, the little turbocharger nestling within it means that this tiny engine outputs 100 PS and a healthy 152 Nm of torque. Putting the Almera on par with its rivals, despite being a cylinder down.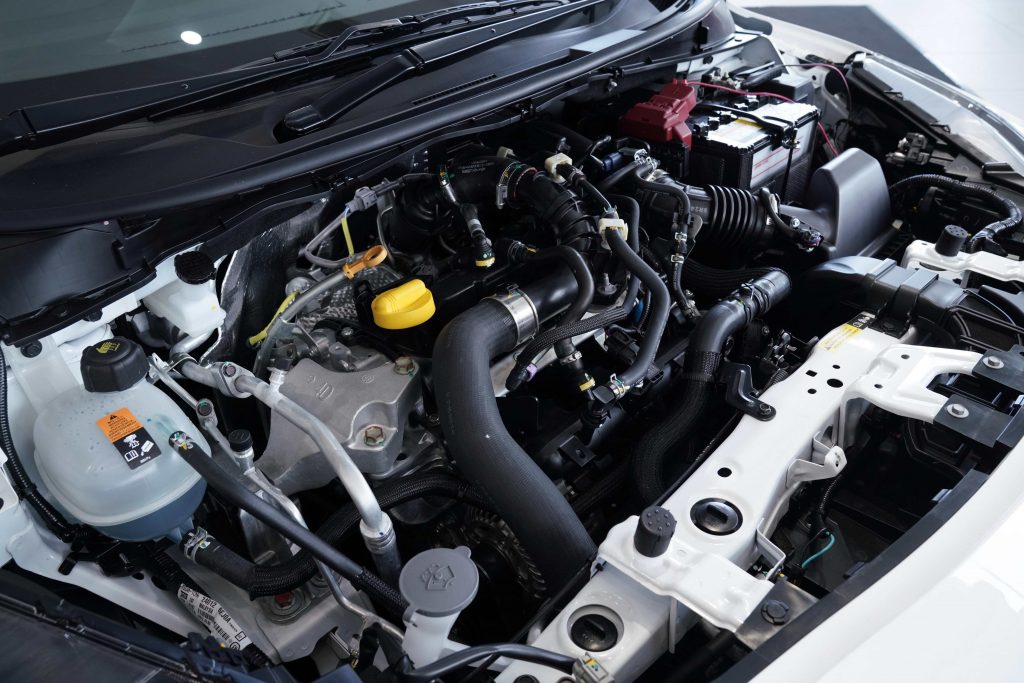 Losing a cylinder compared to its competitors does also have other benefits. Apart from a reduced servicing cost, a three cylinder undoubtably drinks less fuel. This is proven by the Almera's claimed fuel economy figure of 18.4 km/l. That being said, Nissan attributes some of the praise for this stellar fuel efficiency number to the GT-R derived Mirror Bore Coating Technology found on the engine internals, for which the Japanese car maker claims helps reduce friction and increases durability, thus 'making every drive economical and environmentally mindful.'
For all this talk about a downsized engine though, the dimensions of the new Almera seems to have gone the other way as the Almera has grown in size in almost every respect. Nissan touts that the new Almera has a trunk space of 482 litres, which translates to four golf bags. A useful information to those who golf in their Almeras. Slightly more useful information will be that all variants of the Almera will feature 60:40 split folding rear seats that make it easier to carry longer loads. 
While on the topic of the interior, the new Almera is a quantum leap compared to the cheap, tacky dashboard found on the current generation car. A padded leather-wrapped dashboard houses not only an 8 inch central touchscreen infotainment system with integrated Apple CarPlay, but also a full colour 7 inch semi-digital instrument cluster.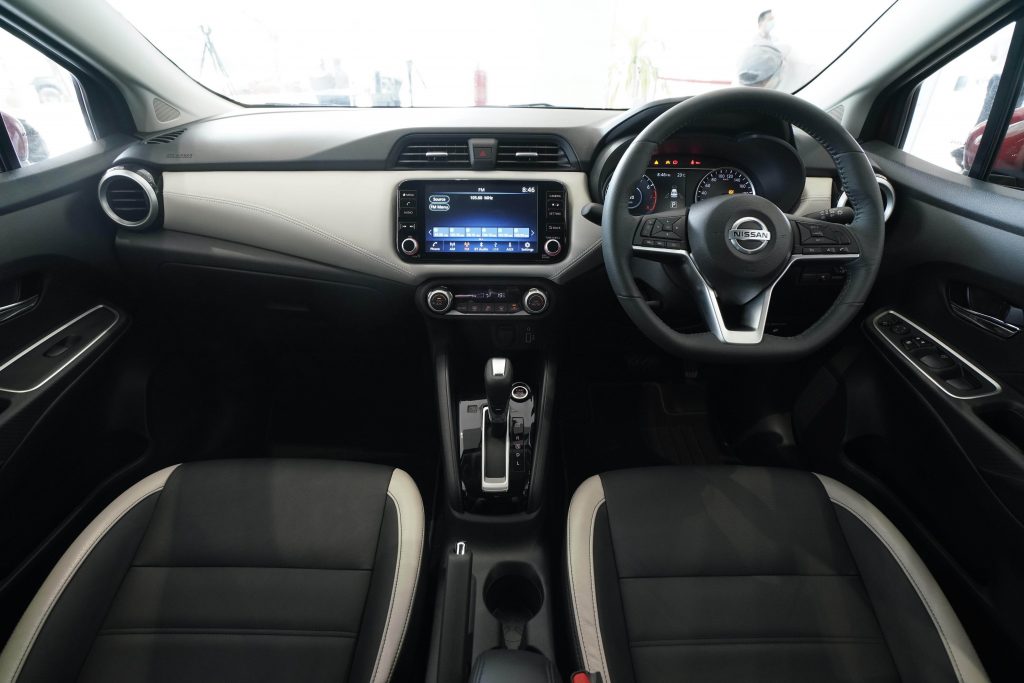 Comfort in the Almera is taken care of with automatic climate control and Nissan's famed zero-gravity seats, while a flat bottomed multi-function steering wheel adds a somewhat out-of-place sporty flair to this comfort oriented sedan.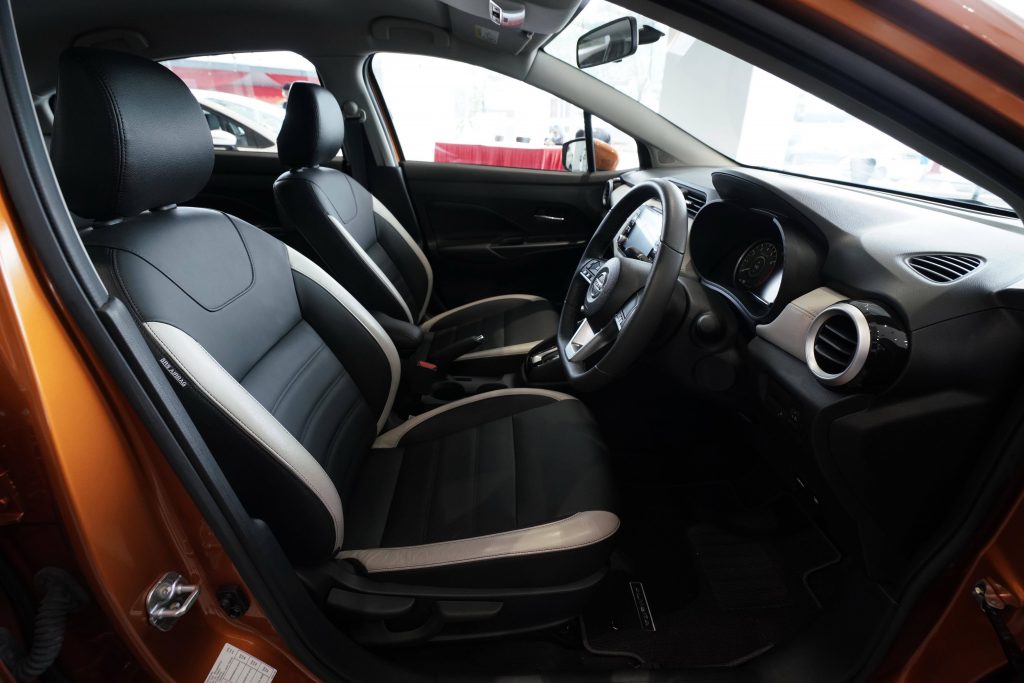 Moving back outside of the new Almera, the exterior too is giant step forward in the right direction for Nissan. Gone are the oddly shaped front and rear of the previous iteration, now replaced with a slightly more cohesive design topped off with Nissan's signature V-motion grill flanked by twin LED headlights.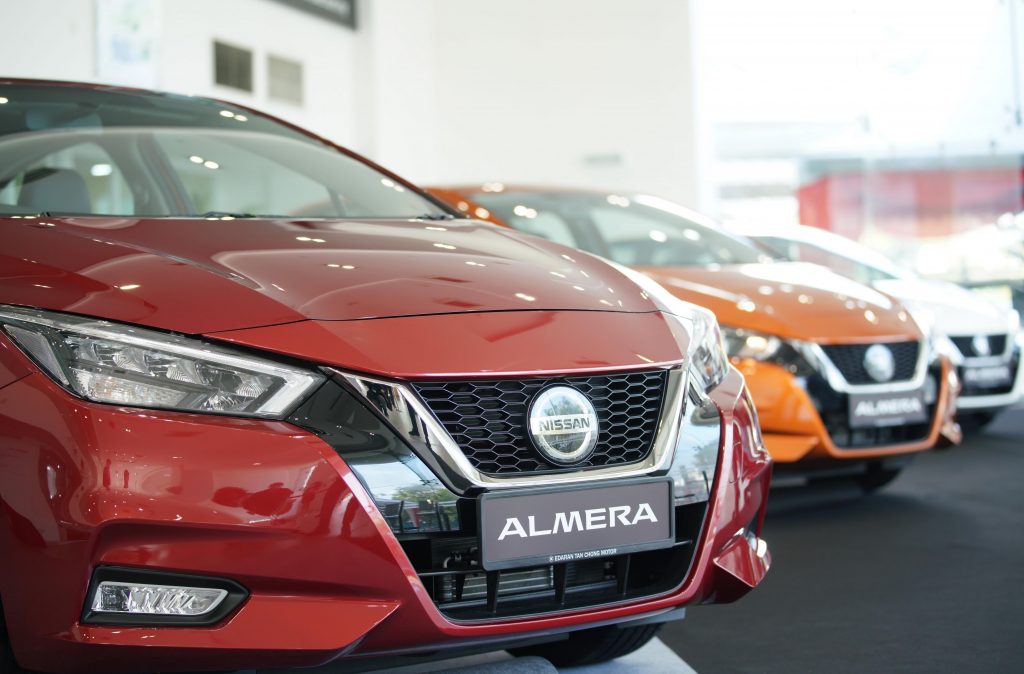 Some might call it boring and conservative, but many buyers in this segment are looking for exactly that. 
Speaking of prospective buyers, the full suite of safety features offered in this new Almera Turbo will probably be the biggest selling point of this Japanese sedan. All Almeras come as standard with a comprehensive suite of safety acronyms including Vehicle Dynamic Control (VDC), Traction Control System (TCS), Anti-lock Braking System (ABS), Brake Assist (BA), Electronic Brake Force Distribution (EBD) and Hill Start Assist (HSA), with the most important one being Intelligent Forward Collision Warning with Intelligent Forward Emergency Braking which is standard across the model range. 
However, spend a little bit more money on the higher-spec variants and that'll net you not only 4 additional airbags (bringing the total up to 6), but also Blind Spot Warning, Rear Cross Traffic Alert and a 360º camera which Nissan calls 'Intelligent Around View Monitor with Intelligent Moving Object Detection'.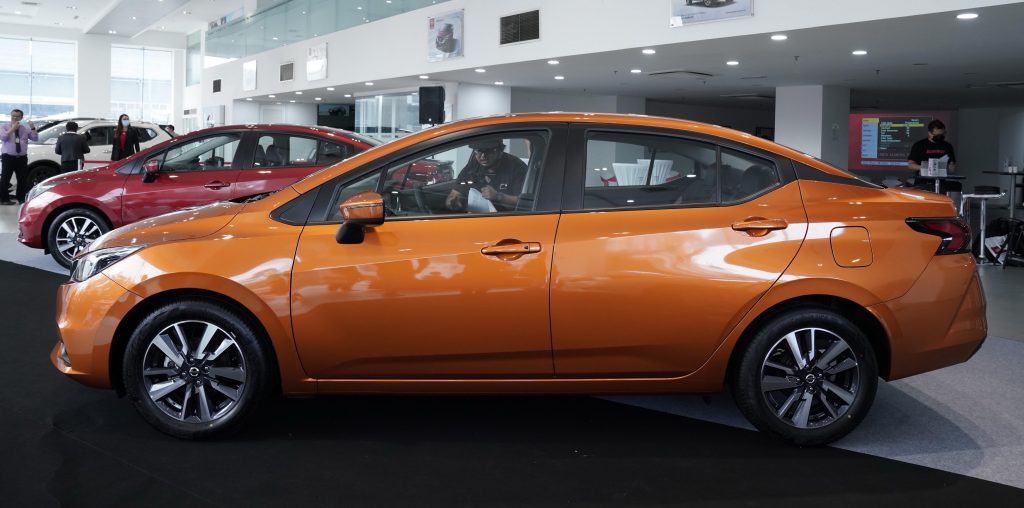 Edaran Tan Chong Motor (ETCM) believes that they are on to a winner with this new compact sedan, and it is easy to see why by just looking at the spec sheet of this very competent car. This long awaited local launch of Nissan's thoroughly revised second-generation Almera will hopefully turn Nissan's local fortunes around by bringing the fight straight to its well-established rivals.
Prices have yet to be officially announced yet, but indications suggest that the most anyone will pay for one of these should be around the RM90k mark. Although pricier than the outgoing model, this is certainly no longer a car that you buy just on its low price alone.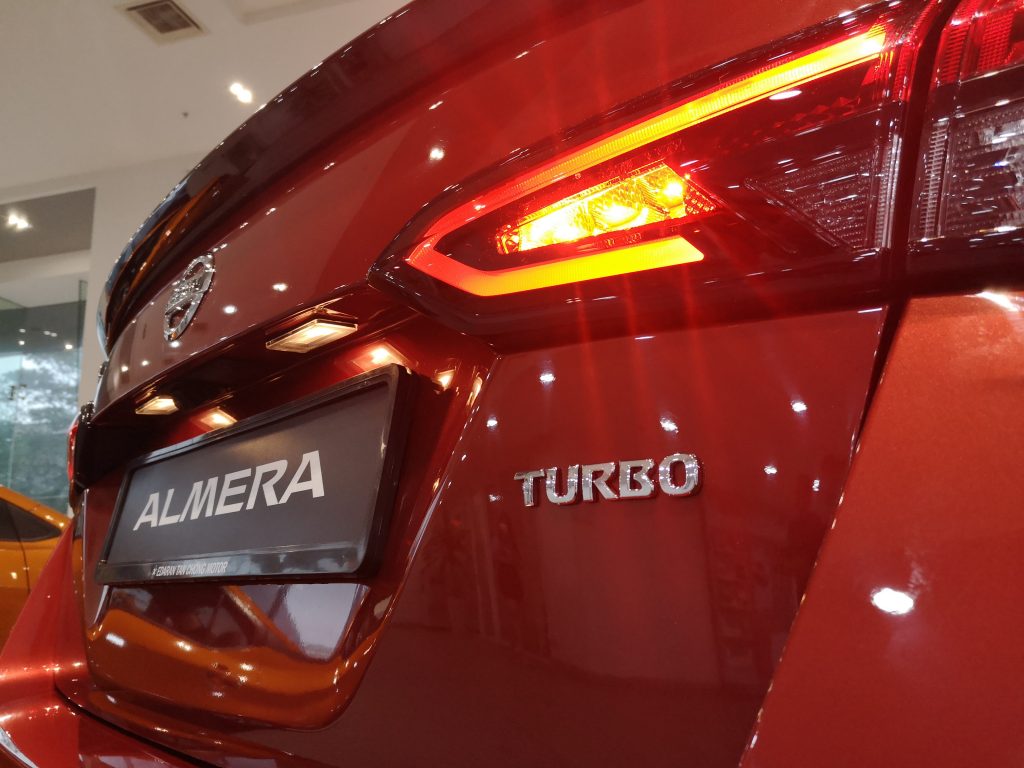 PRESS RELEASE: Edaran Tan Chong Motor (ETCM) has announced that the All-New Nissan Almera Turbo is now open for booking. 
The All-New Nissan Almera Turbo comes with an all-new 1.0 litre turbo engine paired with next generation XTRONIC CVT with D-Step Logic System and Sport mode delivering greater torque (152Nm) and remarkable fuel efficiency of 18.4km/L (NEDC R101) – equivalent to 650km driving range on a full tank (35L). 
The all-new 1.0 litre turbo engine also features a number of technical innovations. Drivers will feel the instant acceleration thanks to the electronic waste gate that improved the turbo compression by opening and closing the waste gate valve more efficiently thus reducing turbo lag. The engine comes with Mirror Bore Coating Technology adapted from the legendary Nissan GT-R, which helps to reduce friction between the piston ring and inner cylinder that contributes to increase durability, reduce wear & tear and heat management, making every drive economical and environmentally mindful. 
Apart from the innovative turbo engine, the All-New Nissan Almera Turbo comes with Nissan Intelligent Mobility and Nissan Safety Shield 360 advanced safety technologies to enhance driving confidence. Intelligent Forward Collision Warning (IFCW) and Intelligent Forward Emergency Braking (IFEB) are standard across all 3 variants while the top variant adds on Blind Spot Warning (BSW), Rear Cross Traffic Alert (RCTA) and Intelligent Around View Monitor (I-AVM) with Moving Object Detection (I-MOD). 
The new exterior design features the signature V-motion front grille and boomerang-shaped LED headlamps that flows across the front end to a sleek, low profile floating roof and signature rear LED tail-lamps creates an aerodynamic and cutting-edge presence, the All-New Nissan Almera Turbo is described as an energetic, provocative and confident sedan. 
The new exterior design also features longer, wider and lower dimensions while retaining the roomy interior space that Almera has always been appreciated for. Overall, it is 70mm longer, 45mm wider and 40mm lower compared to the first generation Almera, and made the All-New Nissan Almera Turbo look like the size of a C-sedan but sportier. Even the wheelbase has been lengthened by 20mm. 
On the inside, the latest 'Gliding Wing' instrument panel surrounded by touches of chrome, piano black and carbon-fibre pattern textures contributed to the premium interior ambience while a sporty flat bottom steering wheel, soft padded double stitching leather wrap dashboard, 8" advance touchscreen display audio and full colour 7" semi digital meter completes the package. 
The generous trunk space of 482L (VDA) is able to fit in 4 golf bags and now comes with lower and wider opening for easier access. Especially for the Malaysia market, standard on all variants of the All-New Nissan Almera Turbo are foldable 60:40 split back seats in case you need more cargo space or to carry extra-long items. 
The top 2 variants of the All-New Nissan Almera Turbo comes equipped with 6 SRS Airbags (2 Airbags on the standard variant). Other safety features include Vehicle Dynamic Control (VDC), Traction Control System (TCS), Anti-lock Braking System (ABS), Brake Assist (BA), Electronic Brake Force Distribution (EBD), Hill Start Assist (HSA), and Child Seat Retainer with Top Tether (ISOFIX x2) on all variants. 
With 6 dynamic exterior colours, 3 all-new – the Radiant Red, Monarch Orange, and Dark Metal Grey, while the ever popular Brilliant White, Diamond Black and Tungsten Silver are also available. 
All variants of the All-New Nissan Almera Turbo are certified Energy Efficient Vehicles (EEV), and comes with a 5-year Unlimited Mileage warranty with 5 times free maintenance service (parts & labour included). It is expected to launch in October 2020 and deliveries will begin.