Cars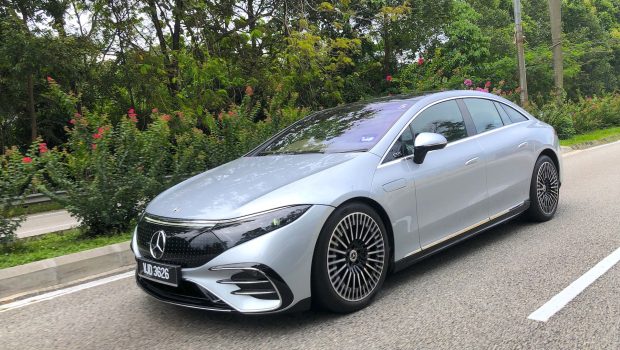 Published on November 1st, 2022 | by Hammer
0
Mercedes EQS 450+ Luxury Electric Car Drive Review
Did you know that the recently launched EQS is a full battery powered vehicle. It has no hybrid or petrol powered engine at all. Just a high density battery powering electric motors to deliver emission free motoring.
Meanwhile, the popular Mercedes-Benz S580 e which is a plug-in hybrid (PHEV) model equipped with a 3-litre inline 6 petrol engine continues to be sold side by side with the EQS in all Mercedes showrooms and it is still priced at RM698,744
The S-Class, S580e PHEV delivers 367 horsepower between 5,500rpm and 6,100rpm with 500Nm of torque. The electric motor is rated at 110kW and 440Nm of torque. It has a top speed of 250km/h and a 0-100km/h acceleration time of 5.2 seconds.
With a fully-charged battery, the S580e will deliver up to 100km of pure electric driving for the corporate tycoon or the new age millionaire that wants pure luxury fuel free driving.
However, the world is changing and now we are now test driving a full electric 'S-Class'. The EQS. This is large vehicle with no shortage of luxury appointments in its sumptuous cabin just like with the S-Class.
Let us explain more.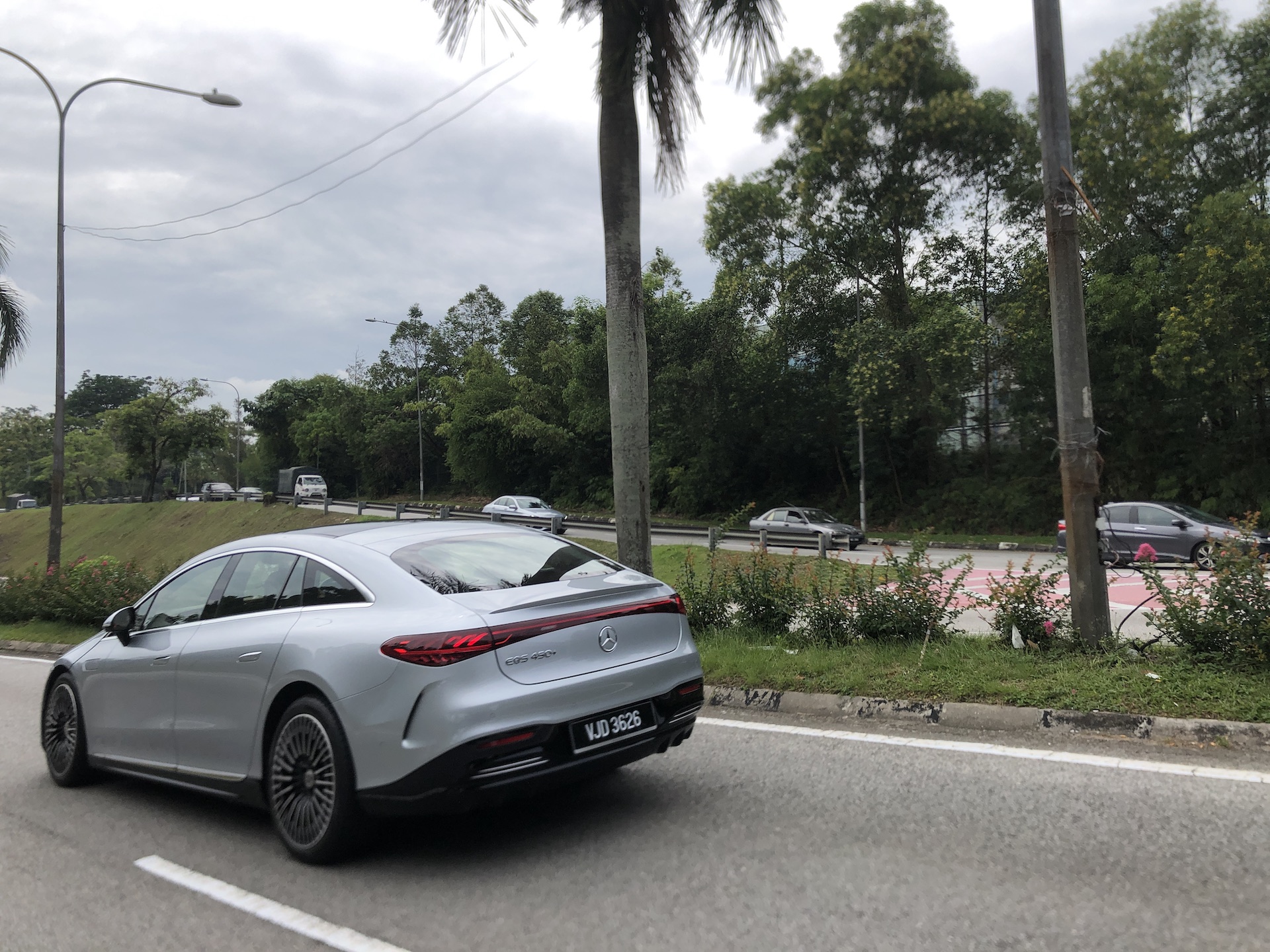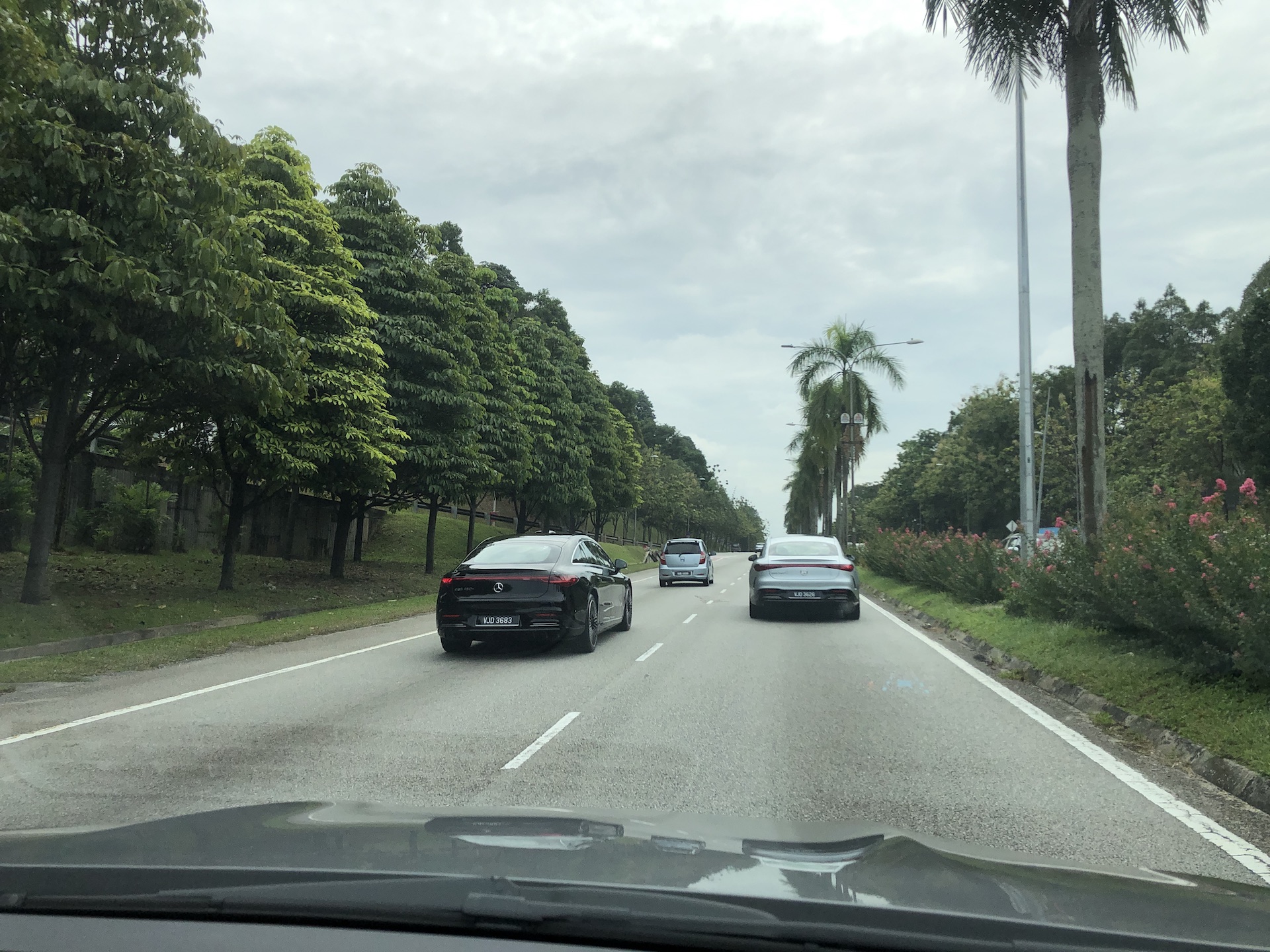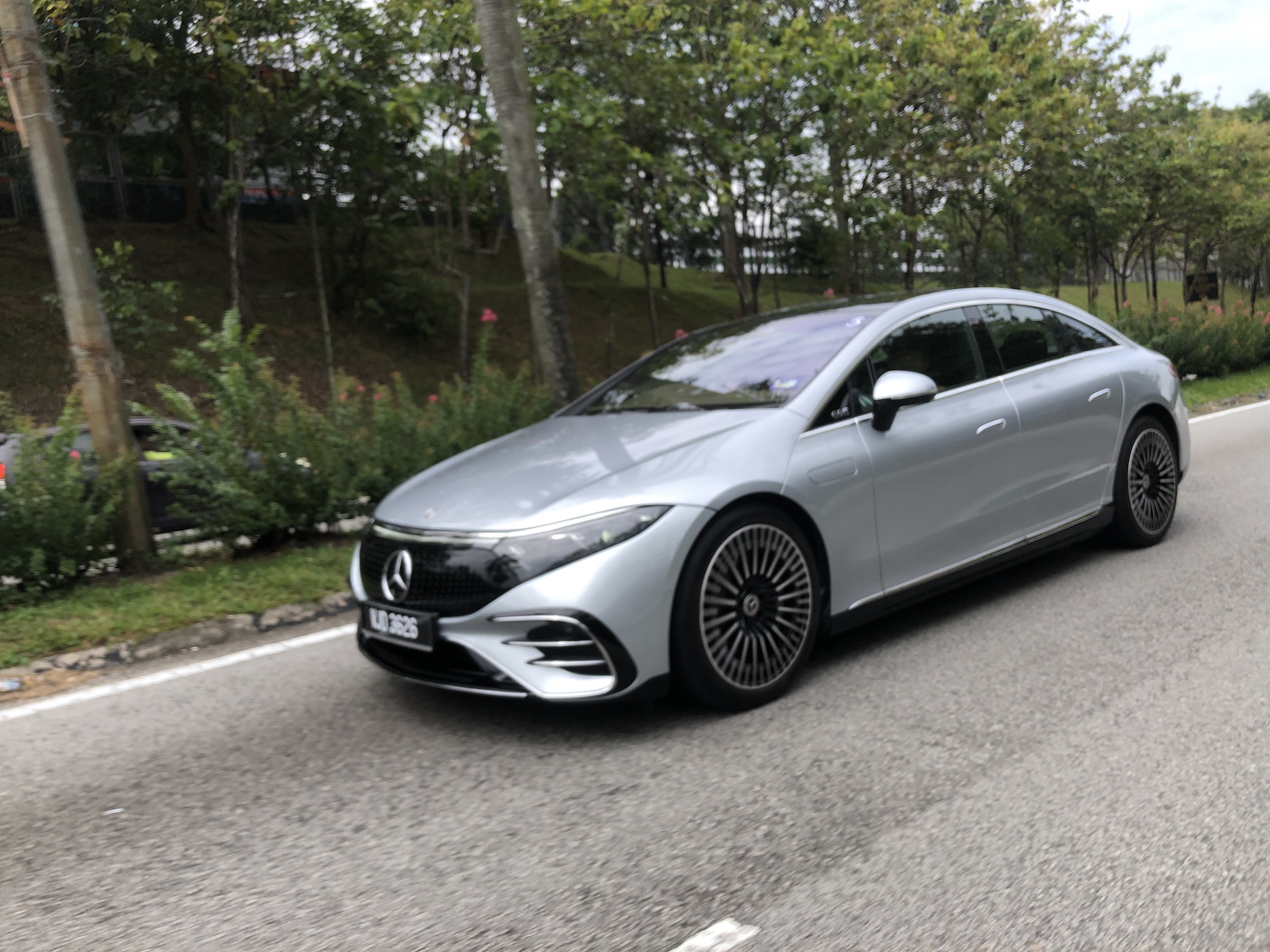 EQS Looks
The face of the EQS confirms its intentions of being all electric. The new nose design language works to maintain a familiar Mercedes-Benz design language with added streamlining. The eagle eyed headlamps and 'clean' curved center houses a large Benz badge.
From the sides this EQS looks more like Mercedes CLS with smoothen out lines. The rear has AMG GT finishing with a small rear glass area.
Interestingly, the EQS is very aerodynamic with a new Coefficient Drag (Cd) benchmark of 0.20, thus making the EQS the most aerodynamic production car in the world.
The familiar Benz twin tail-pipes are obviously missing and the 21-inch wheels look like they came from a F135 jet engine.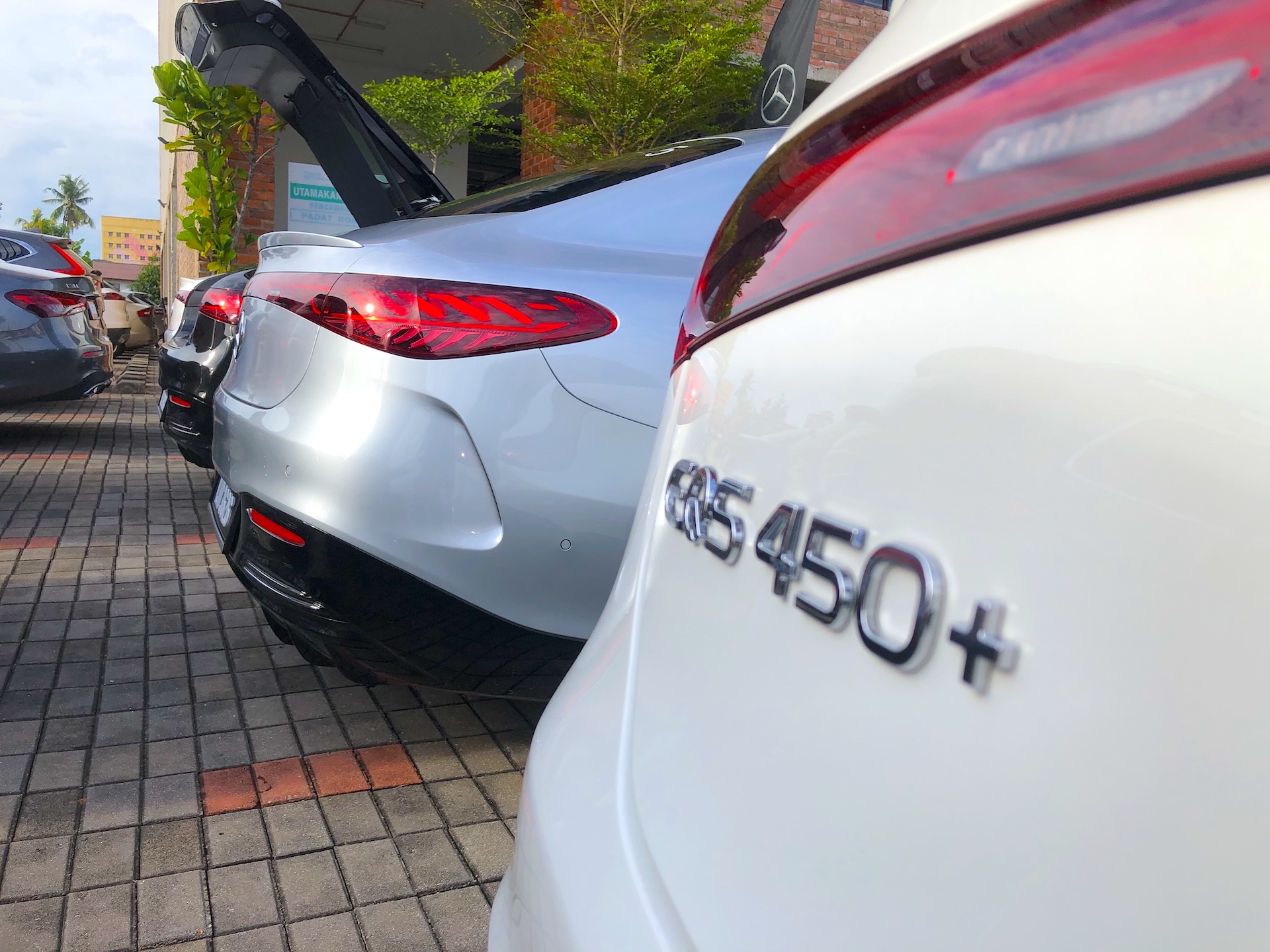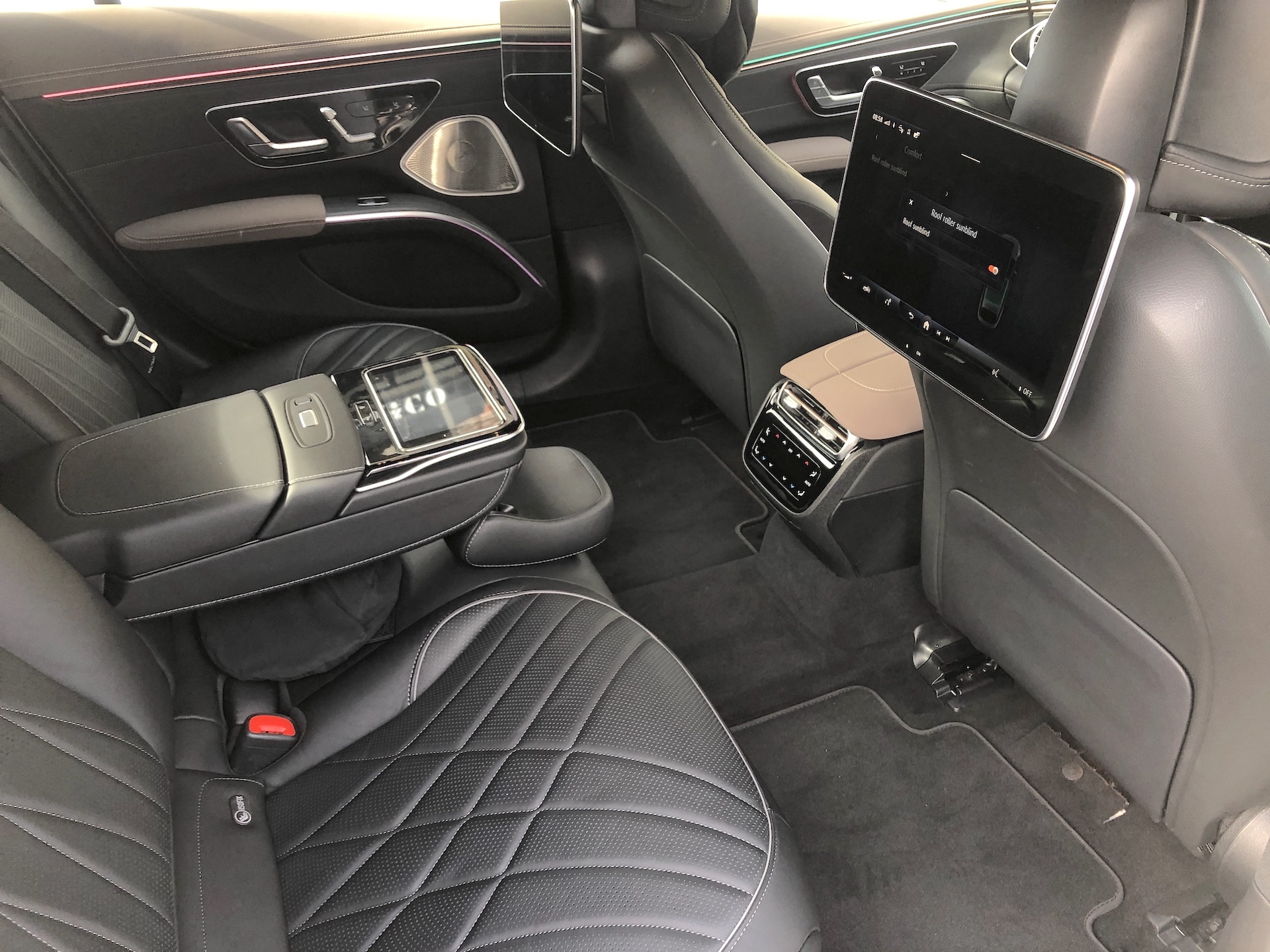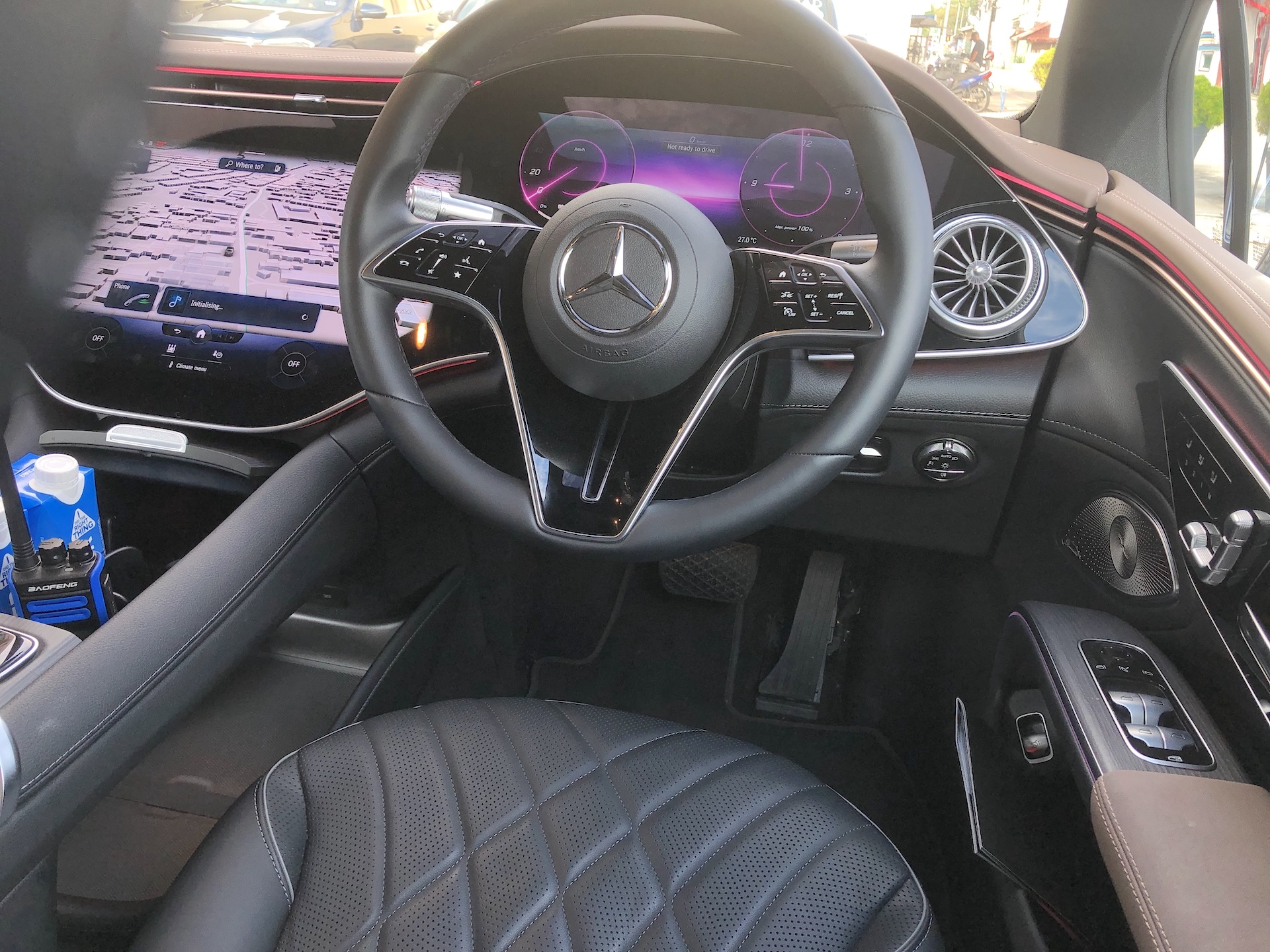 EQS Cabin
To get inside this EQS you need to wait for the flushed to the body door handles to retract out. It's a show piece. Get inside and you are greeted by the innovative MBUX Hyperscreen with three displays that merge seamlessly under one piece of glass to create a curved screen over 141 centimeters wide.
There is nappa leather covering the large well bolstered seats and even the top of the dashboard. You get a 12.3-inch driver display, plus the MBUX multimedia system with 12.8-inch OLED central display, complete Driving Assistance Package and the MBUX augmented navigation system.
The front passenger gets their own screen to mirror the same functions or just get differing information at their fingertips.
Adding on to the comfort is the Acoustic Comfort package and the adaptive rear compartment lighting with the interior Light package. Pull-out sun visors and an illuminated door sill panels with the Mercedes-Benz lettering adds to the elegance of the vehicle featuring heat-insulating, noise-insulating and infrared-reflecting laminated glass.
Rear seating is great for two passengers and if needed, a third rear passenger can sit in the middle.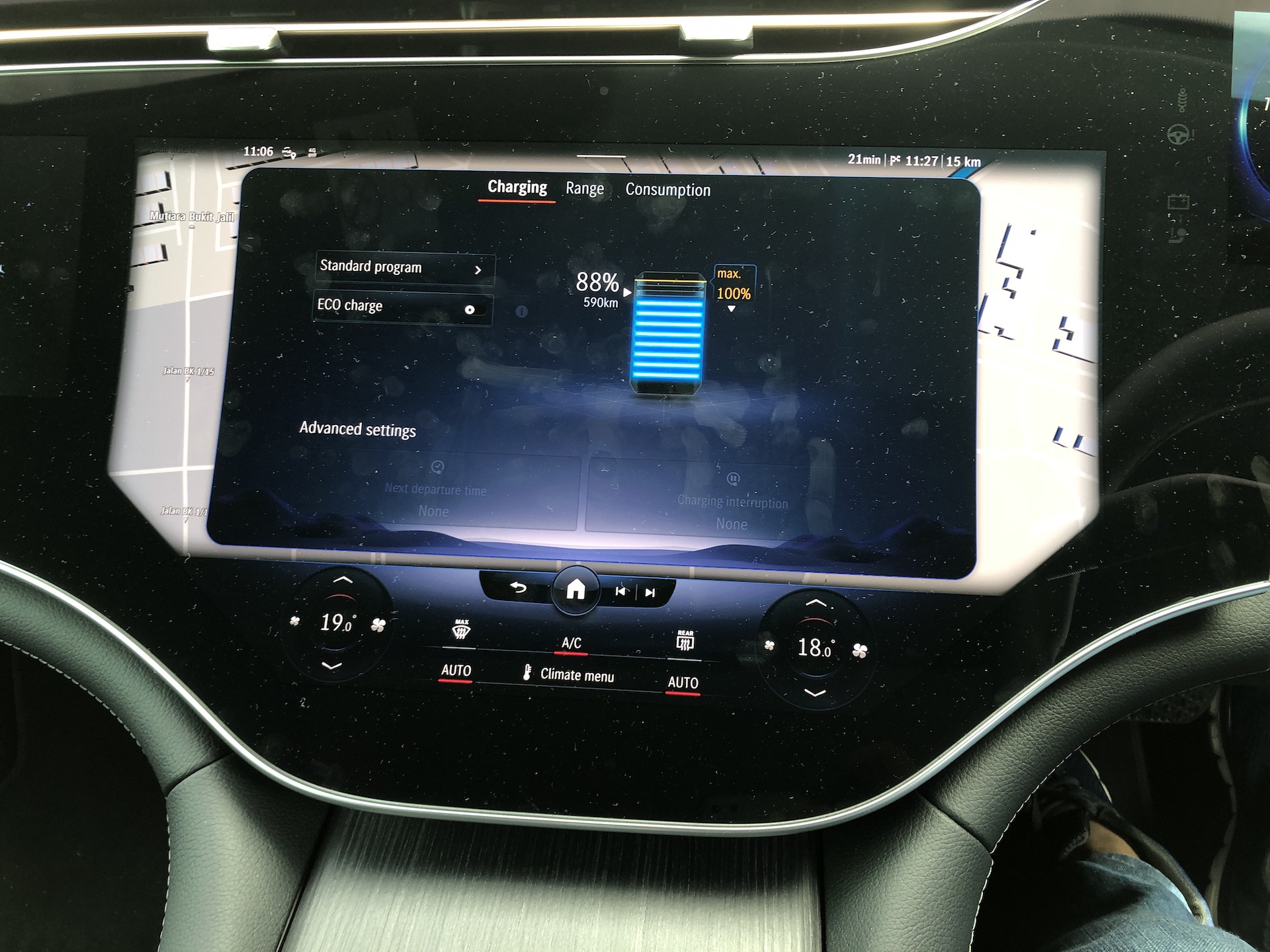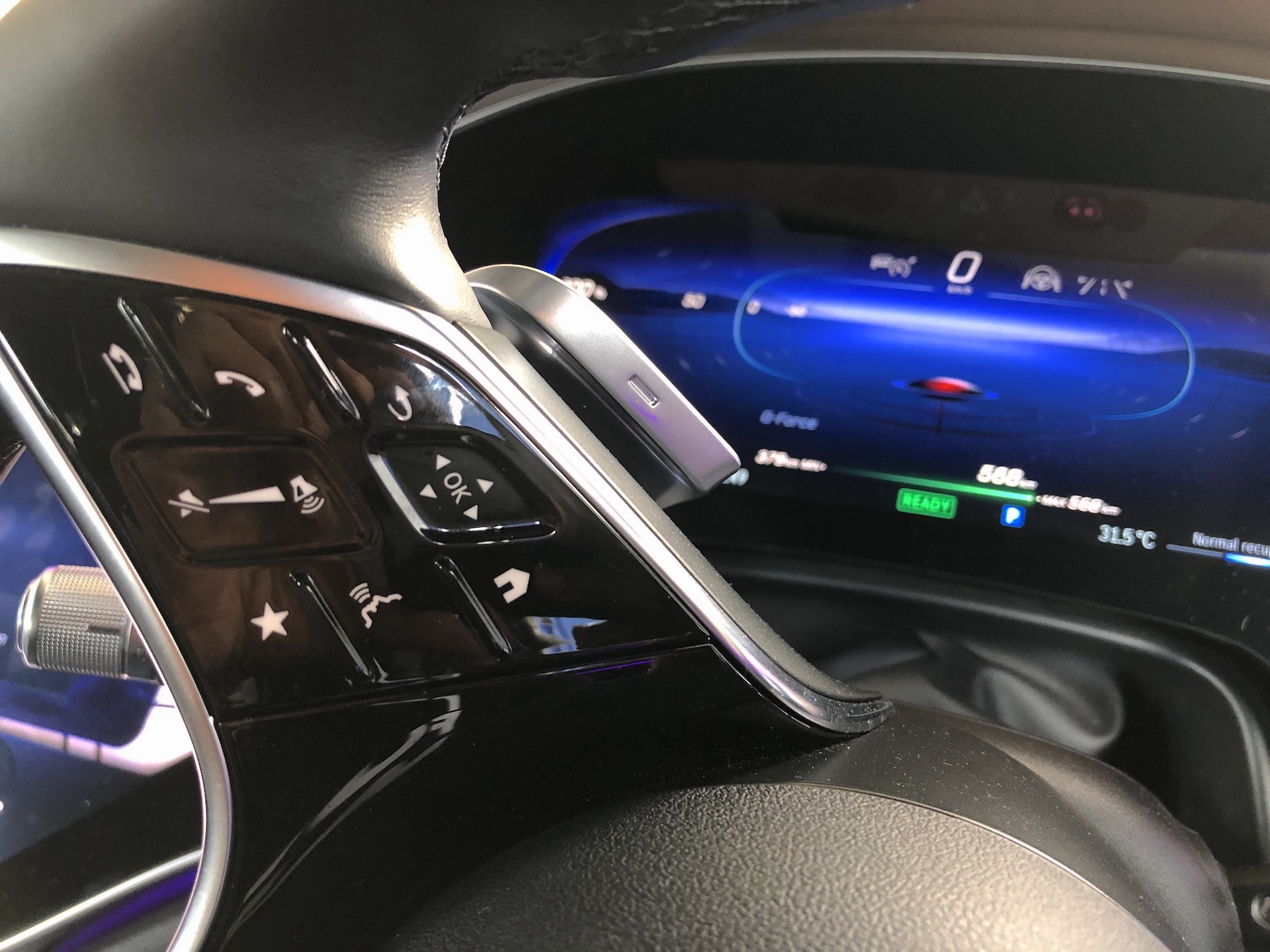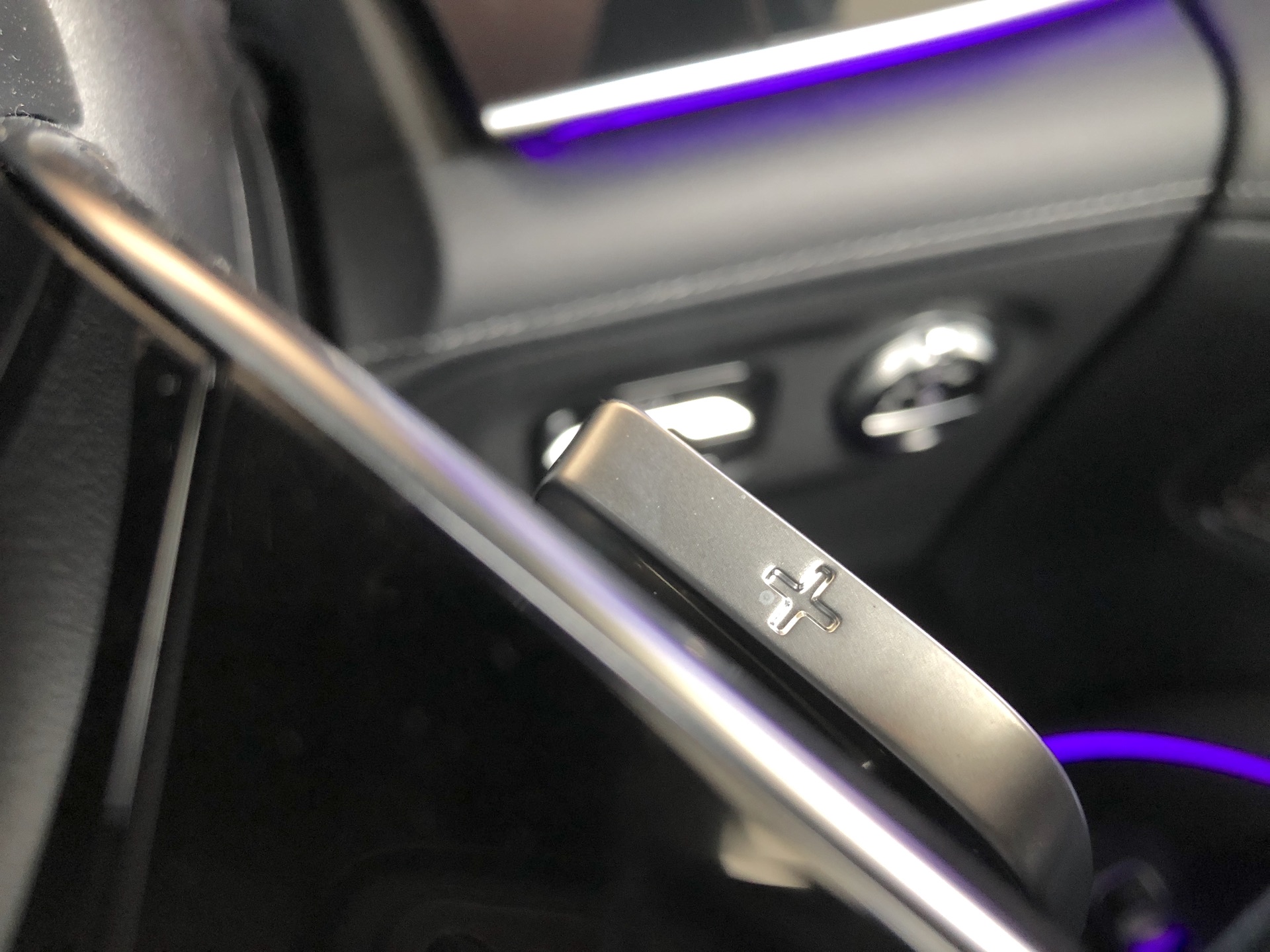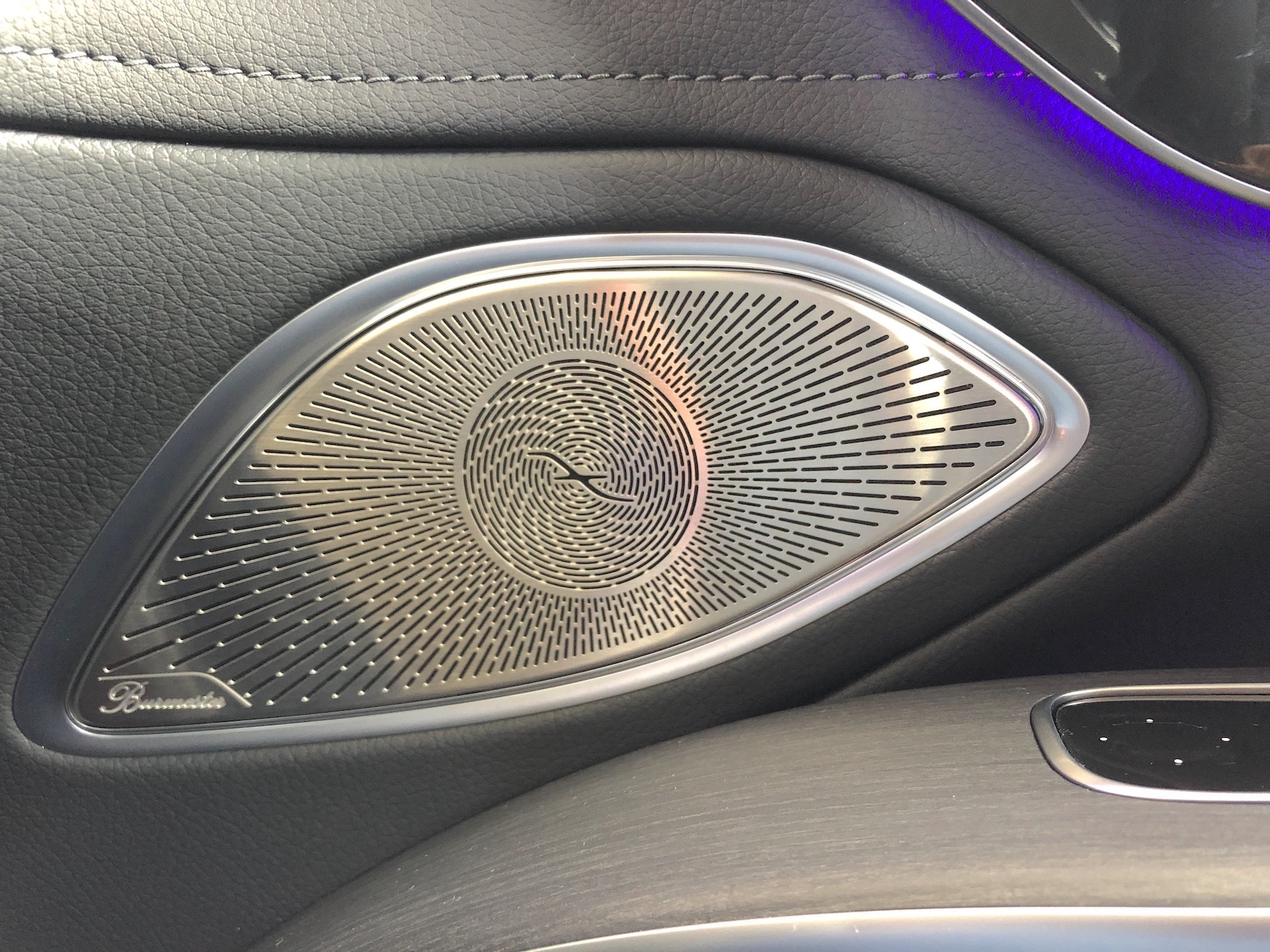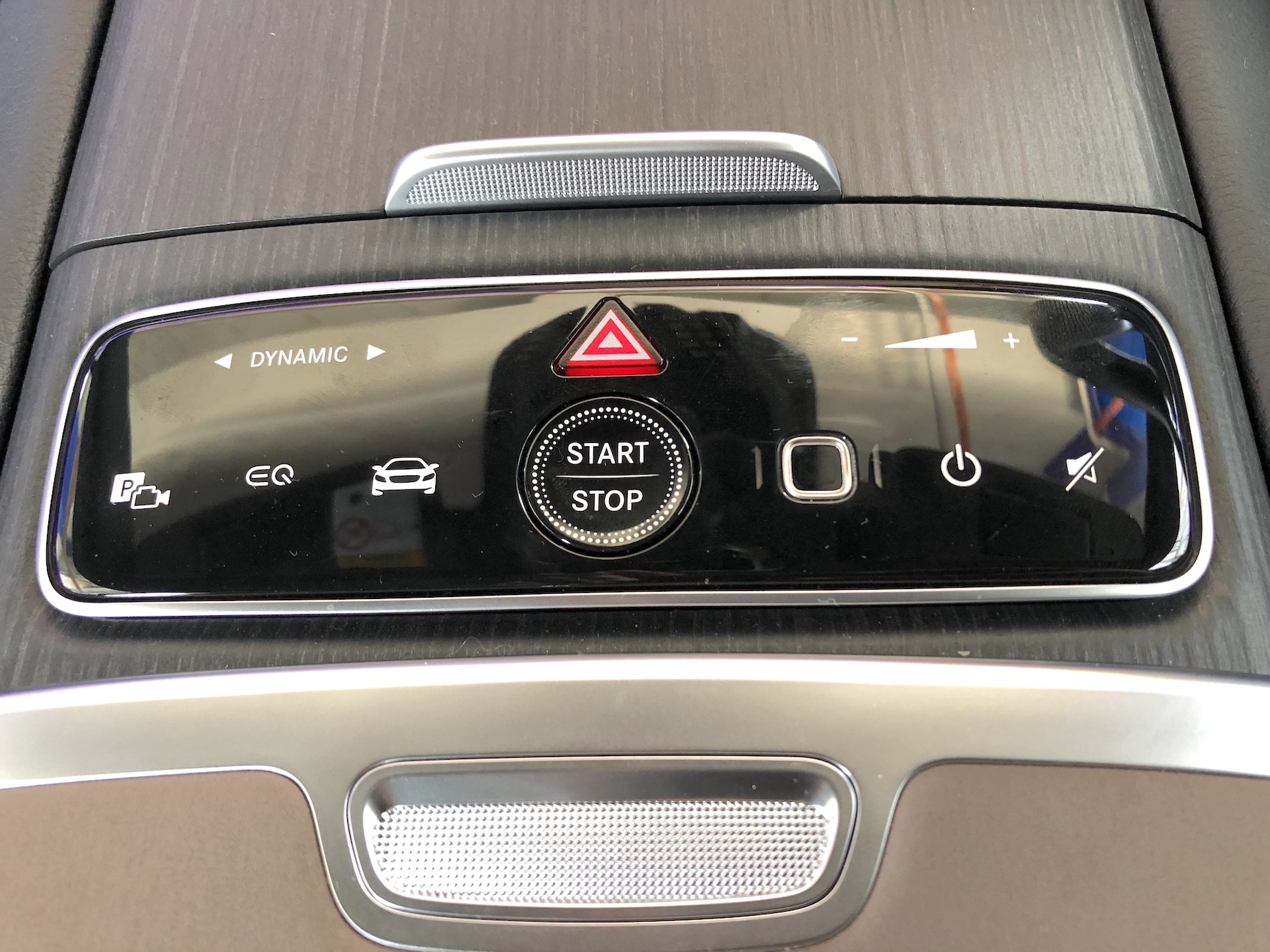 EQS Drive
This latest Mercedes electric car is equipped with a new generation battery system with higher battery density. This allows the driver to get a possible 782 kilometers of emission free driving in the best possible drive cycle. Reality is more like 650 to 700 kilometers and this is already very impressive which mean cross state driving will be easier.
Like the petrol powered S-Class, this EQS is very comfortable and quick on the throttle response. For a large and heavy vehicle, it glides along quietly in ECO mode. With SPORT mode on, it is more attentive to the driver's request and rides around corners like a sports sedan.
Steering feel is very good and all needed information can be accessed by your finger tips on the steering wheel.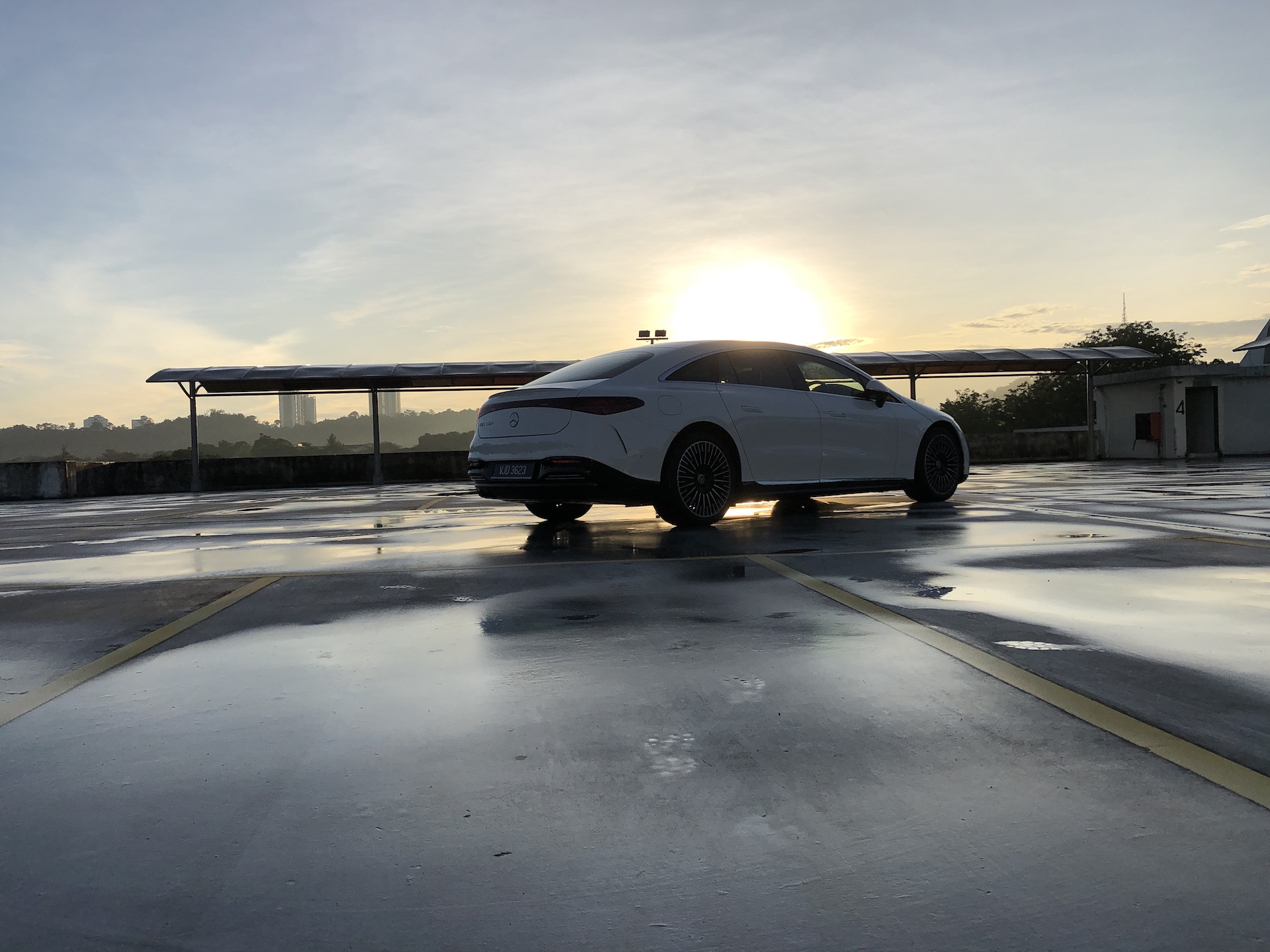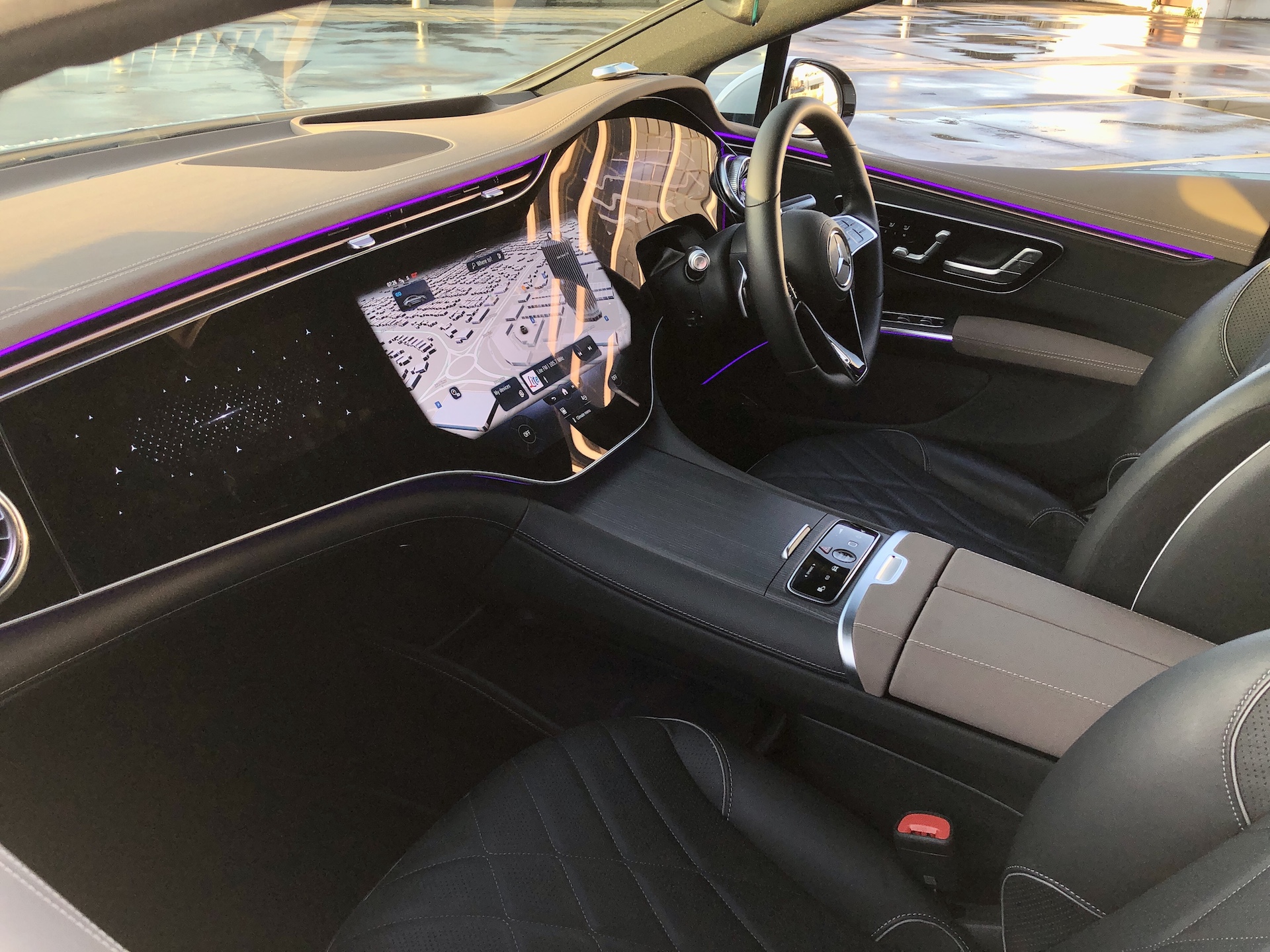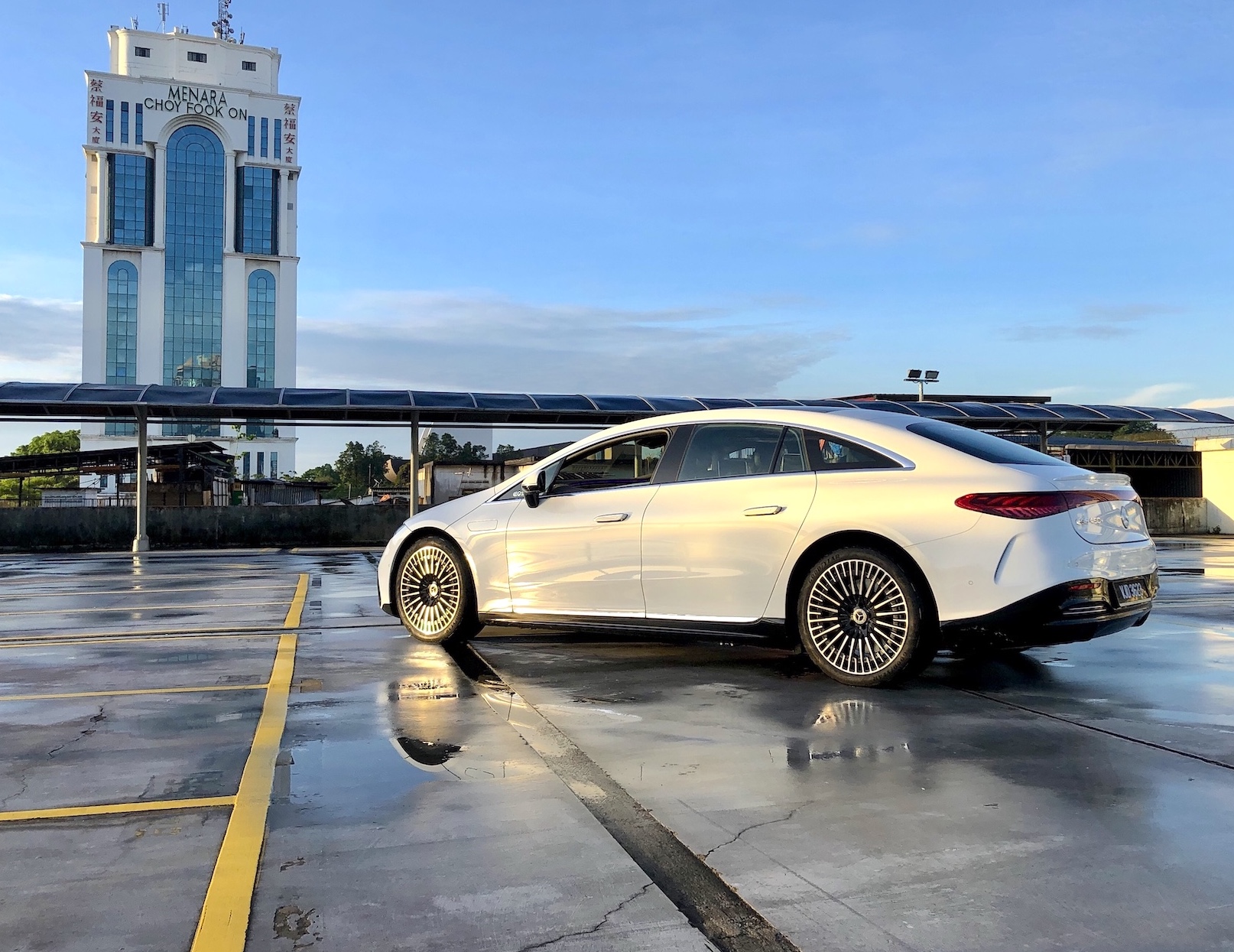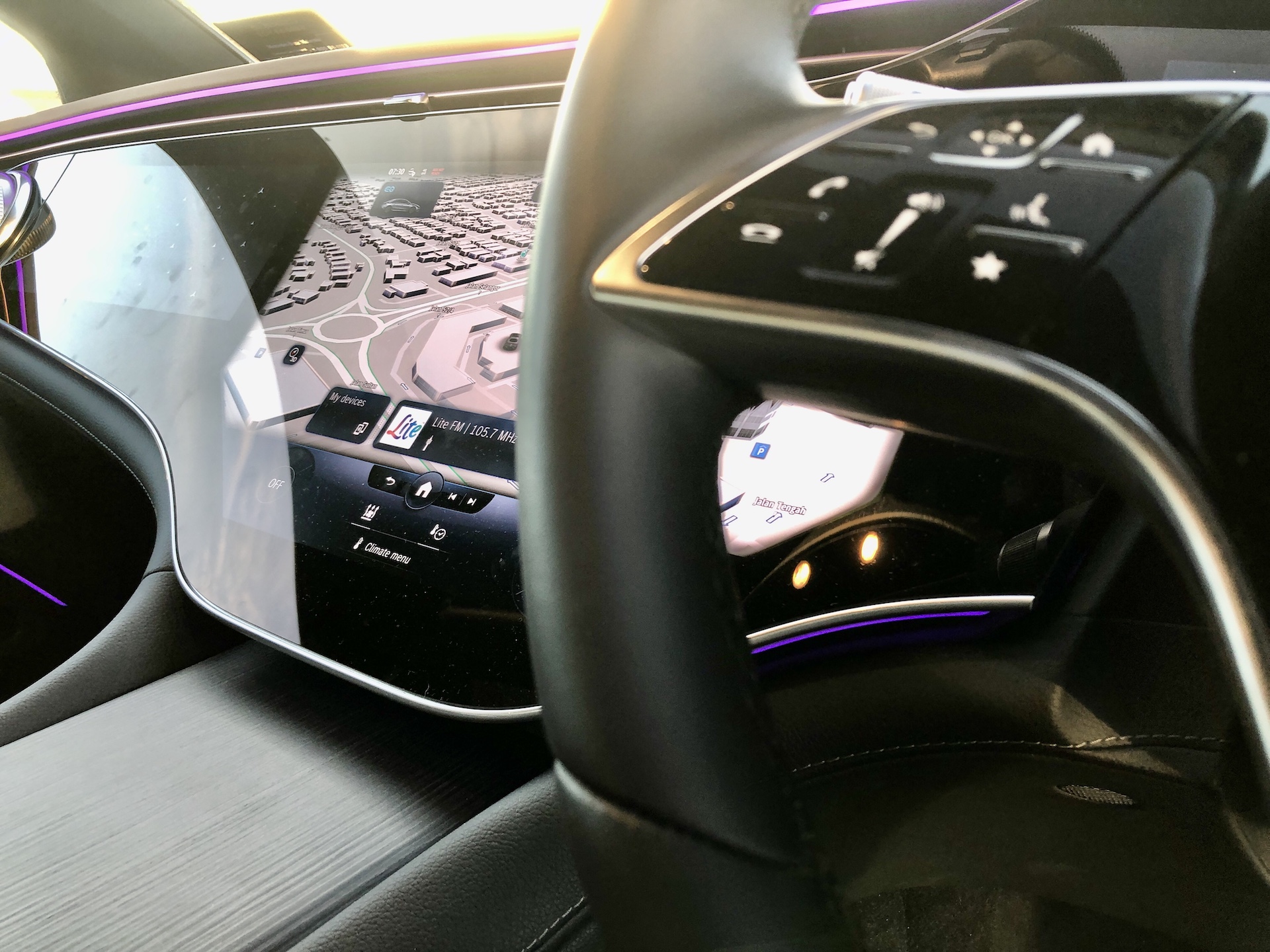 There is no powertrain noise until you accelerate hard and you hear the spinning electric motor which sounds like a 'land speeder' from Star Wars. Its volume is low and somehow you want to hear it more, especially when you have guests in your EQS.
The weight of 2.4 tonnes is felt when cruising on the open highway and you see the scenery rushing past as if you were riding in an electric train. Yes, it is better to be in the back of the EQS as comfort is high and almost Maybach like.
At its selling price of just RM698k (its tax free right now thanks to the Malaysian government initiative), there seems little reason to risk visiting a parallel car importer who will sell you a used unit with NO warranty and NO after sales.
We can already see the EQS on our roads and most seem to be chauffer driven. Well, company directors and corporations will find the EQS making more sense as the look towards their carbon footprint and the need to be a role model for their employees (whilst enjoying a luxury car with Rolls Royce NVH).
This Mercedes EQS is fully imported from Germany and comes with a four-year unlimited mileage warranty as standard and also has a 10-year or 250,000km warranty for the electric battery, whichever comes first, of course.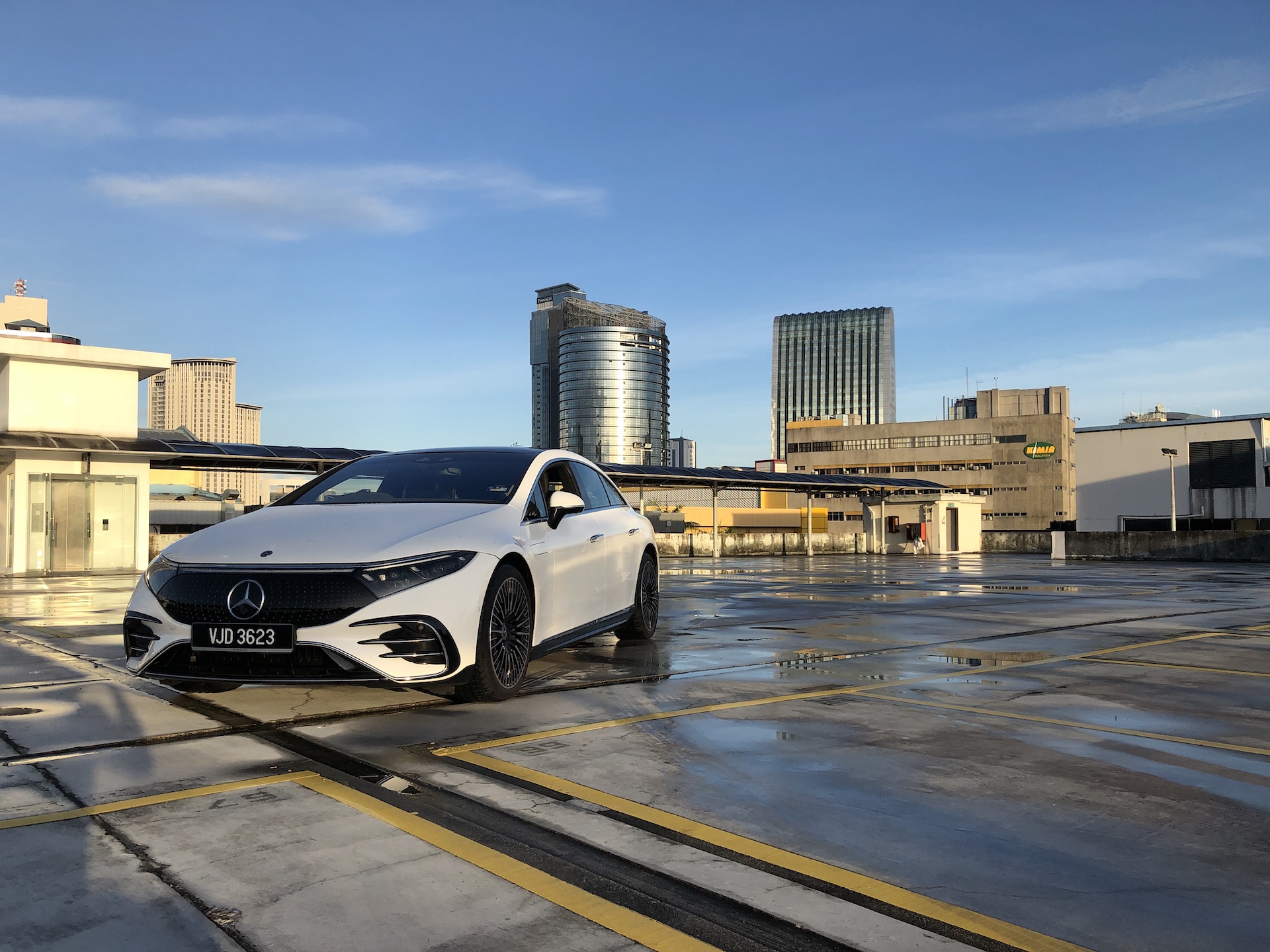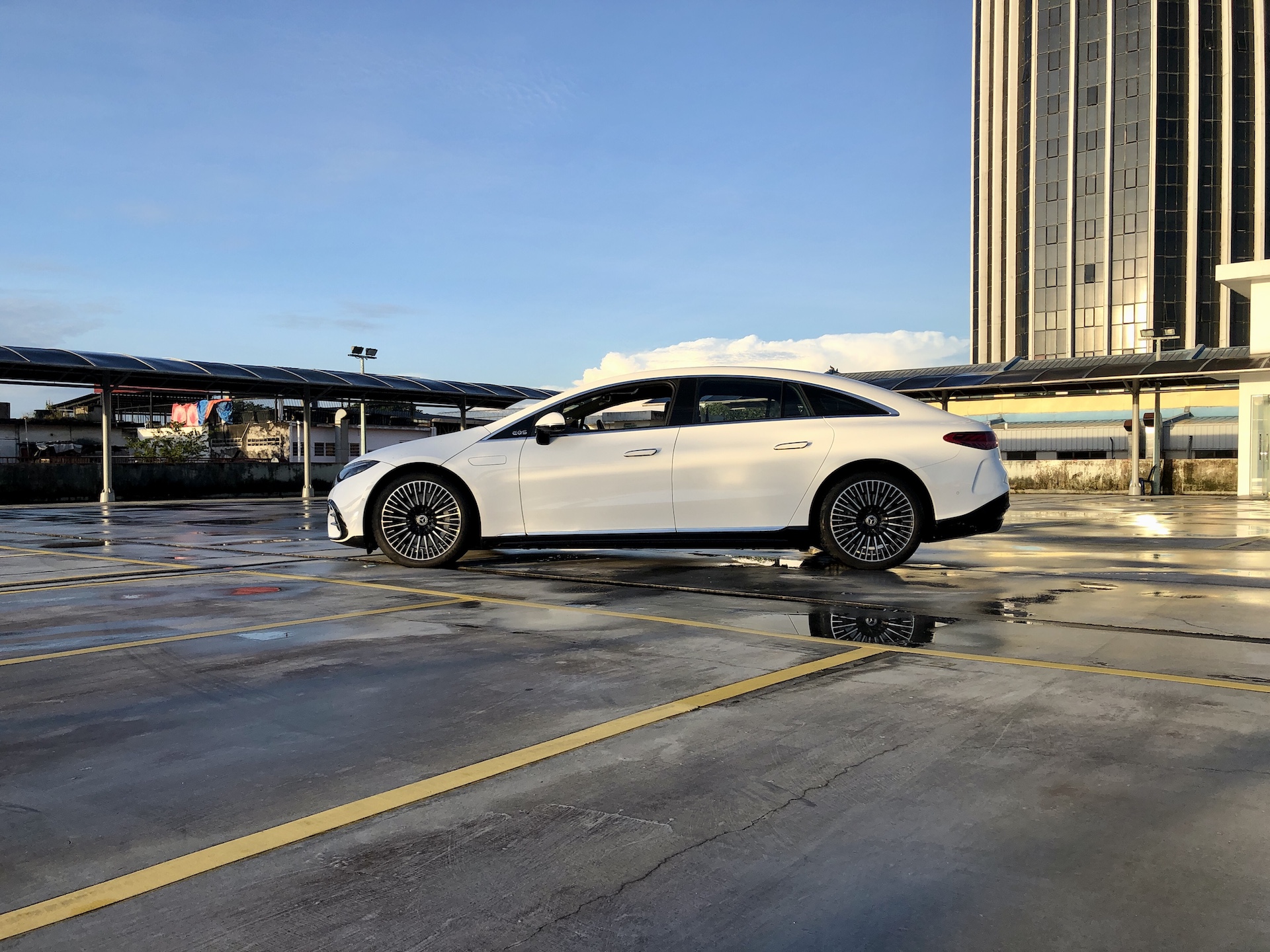 Mercedes-EQS 450+ Specification
Rated Output: 333hp
Rated Torque: 565 Nm
Acceleration 0-100 km/h: 6.2 sec
Top speed: 210 km/h
HV battery – usable energy content: 107.8 kWh
Electric. Range (WLTP): 631 – 782 km
Electric Consumption (WLTP): 19.8 – 15.7 kWh/100km
AC charging time 10%-100% SOC (11kW): 10 hrs
DC charging time 10%-80% SOC (200kW): 31 min
Selling Price: RM698,888