Automotive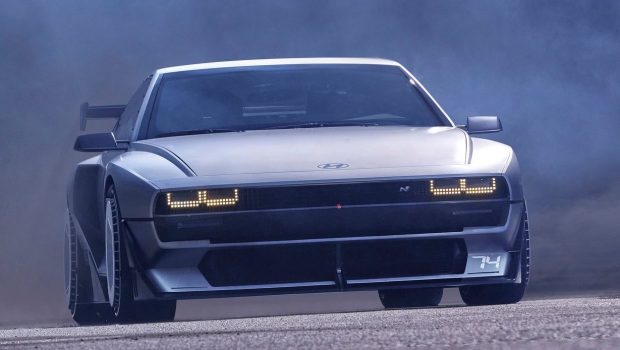 Published on July 16th, 2022 | by Joshua Chin
0
Hyundai's N Vision 74 Is A Retro-Futuristic H2 EV Supercar
Hyundai's stunning N Vision 74 shows exactly how its done to get everyone excited for an EV future. 
Who'd have thought that one day anyone will be lusting after a Hyundai supercar, but that day may soon come as the South Korean automaker has recently revealed what it thinks the future of high-performance might look like. And just from the pictures alone, it has to be said that the N Vision 74 is certainly something to behold.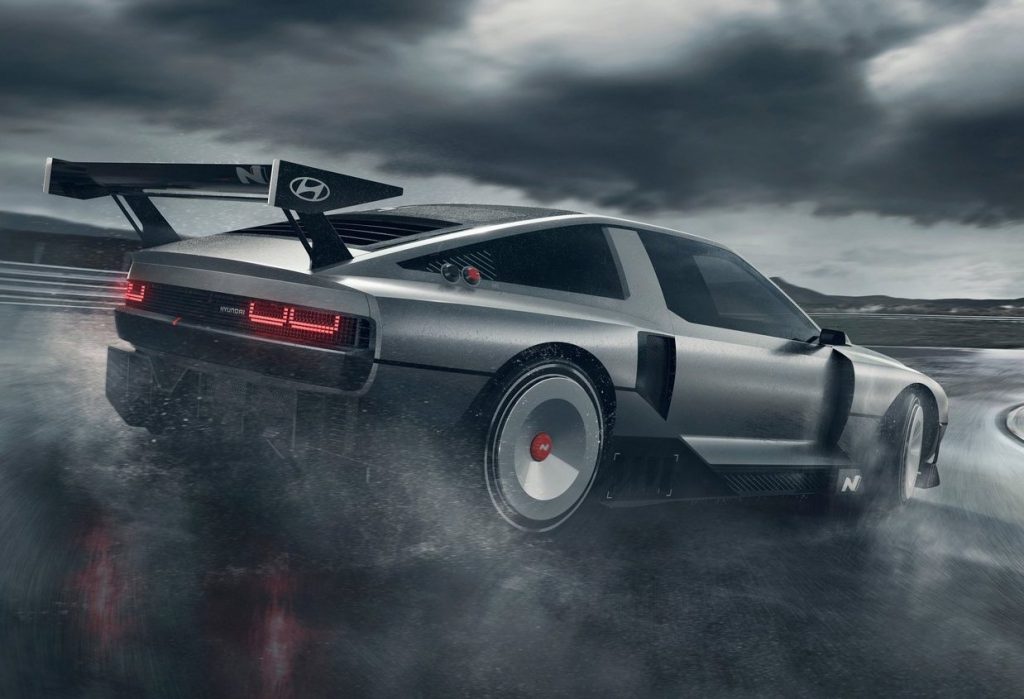 The car that caused a small media sensation when it was teased beneath the covers on Hyundai's N day announcement, it should be noted first and foremost that this retro-futuristic supercar is unfortunately not to be available for purchase at the local Hyundai dealership anytime soon. The N Vision 74 is however instead to be what Hyundai dubs as a 'high-performance hydrogen fuel cell hybrid rolling lab that underlines the company's leadership in sustainable performance technology', or in other words a concept car that may never see the light of day. 
That said, it is nevertheless worth giving this retro-futuristic concept a closer look, and its novel hydrogen hybrid powertrain should be the one bit of tech that warrants particular attention here.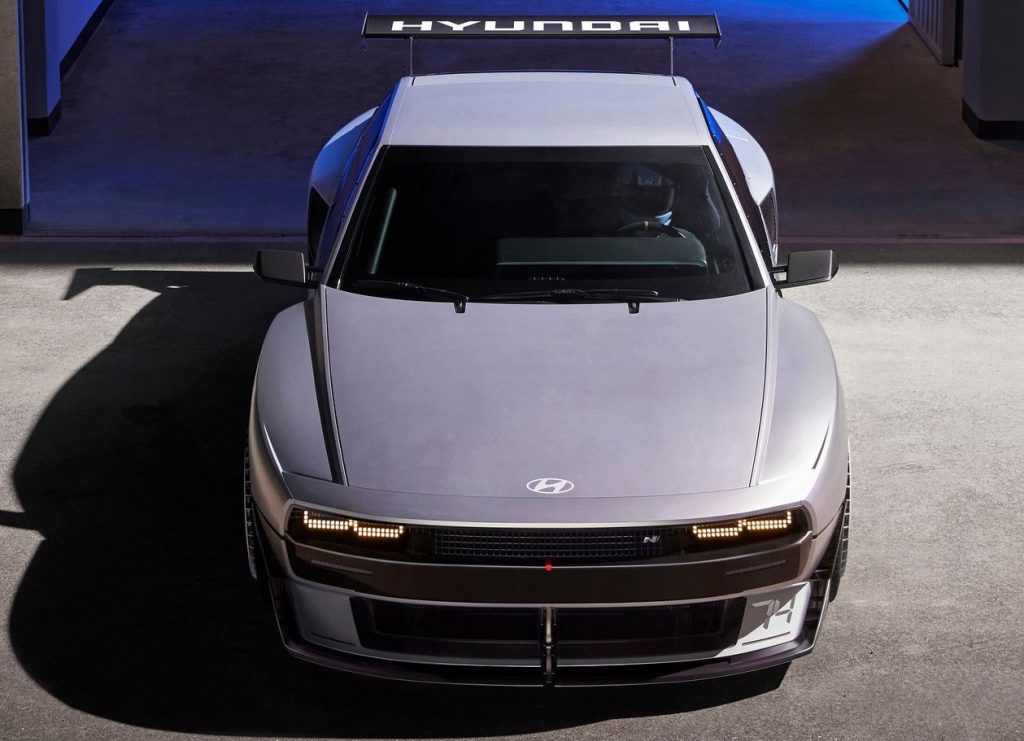 With Hyundai currently still being one of the few main backers of H2 tech within the automotive community, hearing that the N Vision 74 comes with a hydrogen fuel cell should not be all too surprising. It is however the hybrid part though of this powertrain equation that should pique interest, as this is one of the first times said hydrogen technology is integrated equally into a battery-electric propulsion system. 
Exactly how it all marries together however unfortunately is information party to only Hyundai currently, but what is nevertheless known is that the N Vision 76 features both a hydrogen fuel tank that can be refilled in five minutes and a 62.4 kWh battery pack capable of 800 V fast charging. Both these power sources too can apparently be used independently depending on driving condition while yielding a combined 600 km of driving range, though presumably not when it unleashes all of its 500 kW of available power and 900 Nm of torque from its twin rear-motor setup. 
And continuing a little more on the subject of those motors, Hyundai has stated how it has fine-tuned the logic system controlling said motors, which has hence enabled better torque vectoring to allow for a precise and responsive cornering experience. So it might not be too far-fetched to expect the N Vision 76 to be have a few supercars in its sights as potential rivals, if it ever makes it to production that is.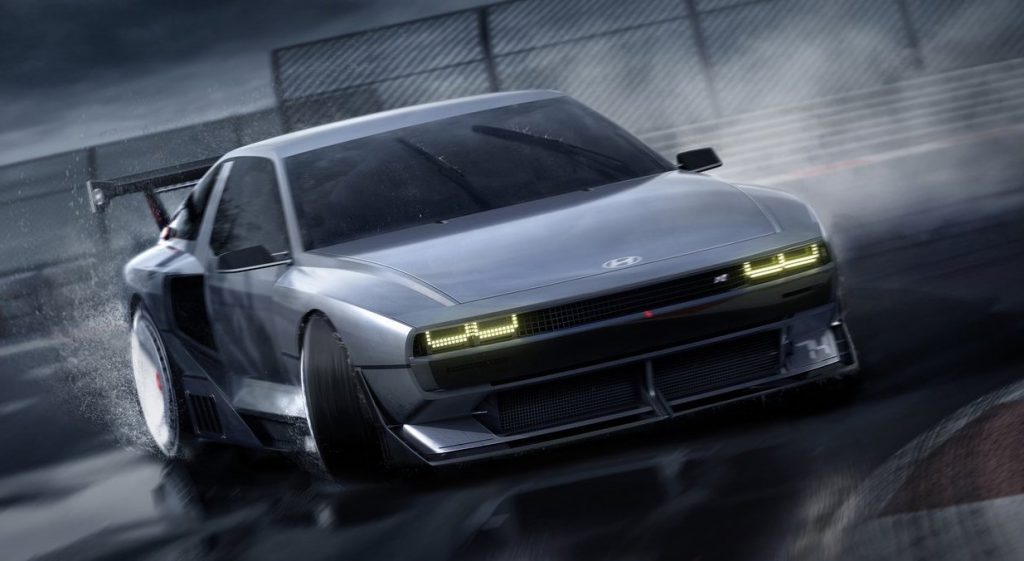 Just getting back to the styling though, the N Vision 76 does eschew the flowy lines adorning the current crop of supercars and opted instead for a more straight-edged, boxed-arched aesthetic, which does in turn rather make it look not too dissimilar to the rally-dominating Audi UR Quattro. With the IONIQ 5 being frequently dubbed as a lookalike to the Lancia Delta Integrale, one has to therefore wonder if someone at the Hyundai design department is a massive retro rally fanatic.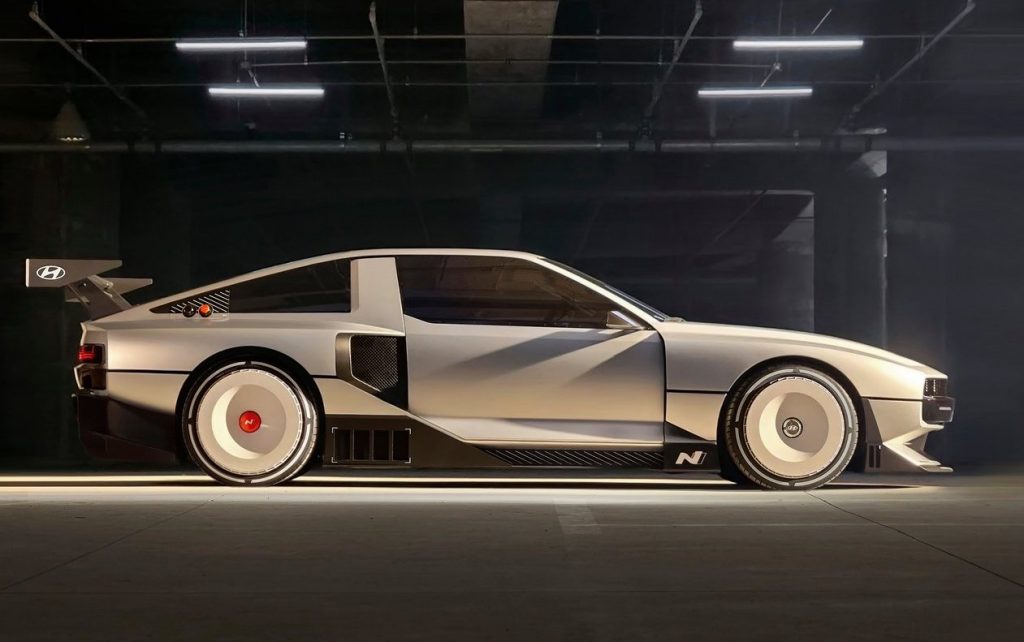 If taking Hyundai at their word however, the N Vision 74 is apparently an homage to the Pony Coupe concept. A Giorgetto Giugiaro design that was meant to be the South Korean automaker's first production sports car, the project was unfortunately canned in period and this is supposedly Hyundai's attempt of atonement to it. 
Then again, it will only be a full atonement if the N Vision 74 into actually goes into production. So Hyundai, what are you waiting for?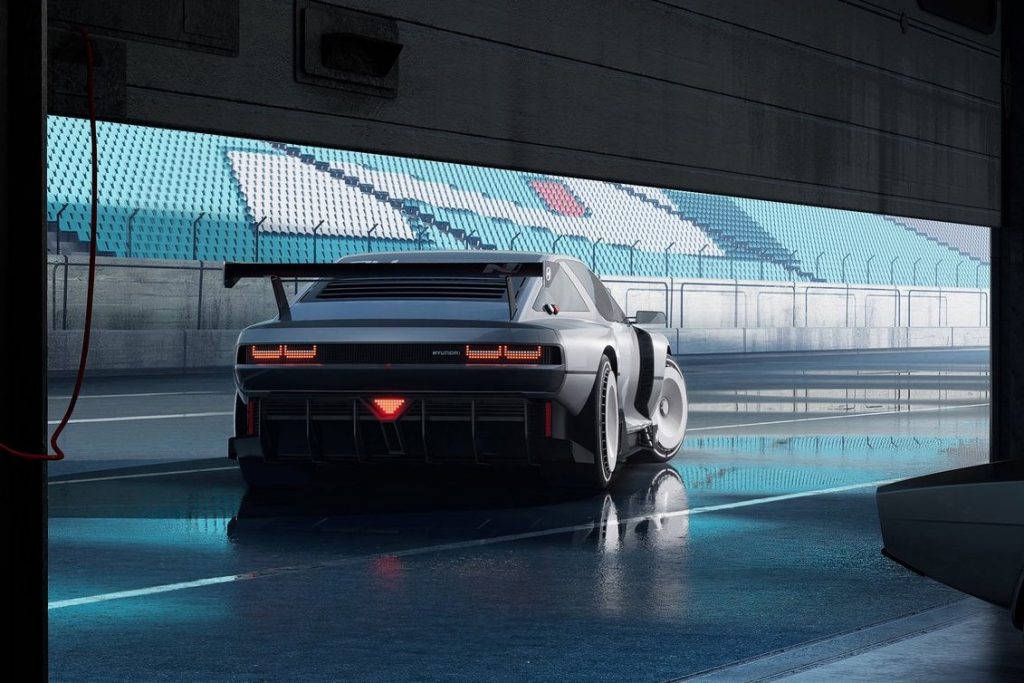 PRESS RELEASE: Inspired by Hyundai Motor's heritage, N Vision 74 is a high-performance hydrogen fuel cell hybrid rolling lab that underlines the company's leadership in sustainable performance technology. N Vision 74 is inspired by both technology and design, rooted in N's sustainable vision announced in 2015 and Hyundai's passion for high performance since 1974.
In terms of design, N Vision 74 pays an homage to the Hyundai Pony Coupe concept from 1974, which was developed by the legendary car designer Giorgetto Giugiaro. The concept was then built into prototypes for Hyundai's first production sports car. Although it could not reach production in the end, the daring attitude set the tone for the entire company.
N Vision 74 inherited the pure surface, the dynamic proportioned profile and the unique B pillar from the 1974 Pony Coupe concept. Hyundai's design heritage meets the electrification era with high performance to shape N Vision 74. In addition, Parametric Pixel lighting provides a futuristic flourish.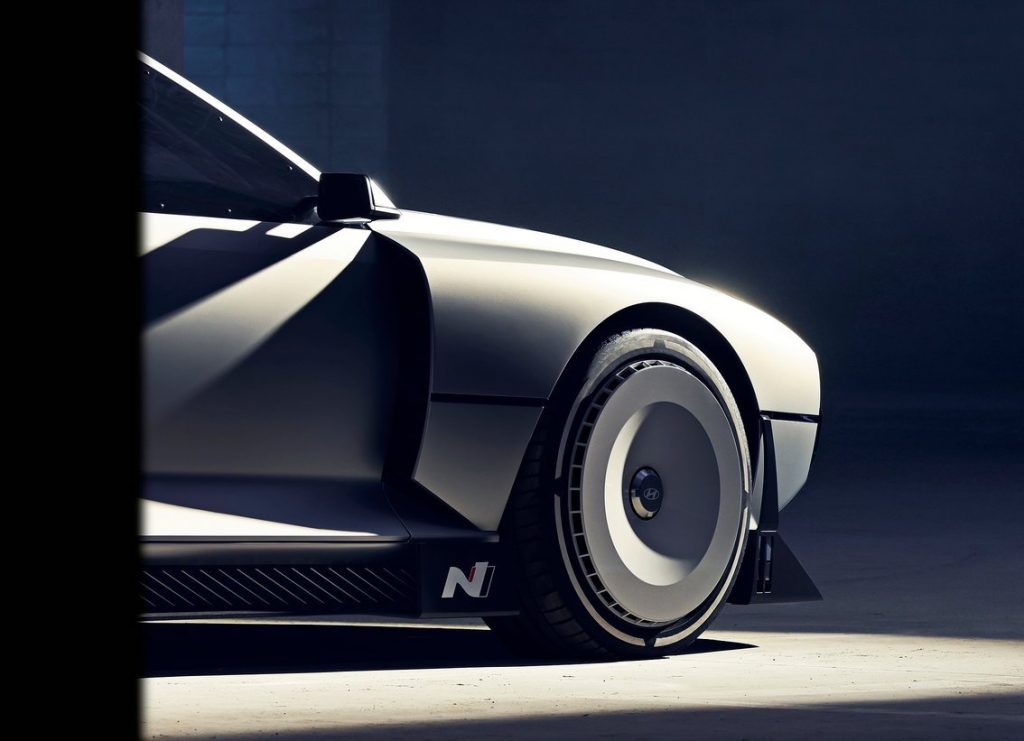 "N Vision 74's future-oriented design reflects the respect and appreciation we have for the dedication and passion that went into the Pony Coupe concept," said SangYup Lee, Executive Vice President and Head of Hyundai Design Center.
N Vision 74 elevates the daring attitude of the Pony Coupe concept into a future Hyundai design, while reinterpreting the interior as an entertaining space without losing the pure architecture of the Pony Coupe concept. It is equipped with a driver-centric cockpit with a blend of heritage elements and modern design, such as digital cluster and analogue buttons.
Measuring 4,952 mm long, 1,995 mm wide and 1,331 mm tall on a 2,905 mm wheelbase, it is the first high-performance rolling lab built on the most advanced hydrogen fuel cell system that Hyundai N has ever created. But this is not the first time for N to deal with fuel cell technology. N Vision 74 is also inspired by the concept car Hyundai N 2025 Vision Gran Turismo, which was unveiled in 2015 with the launch of N brand to envision the future of hydrogen-based high performance.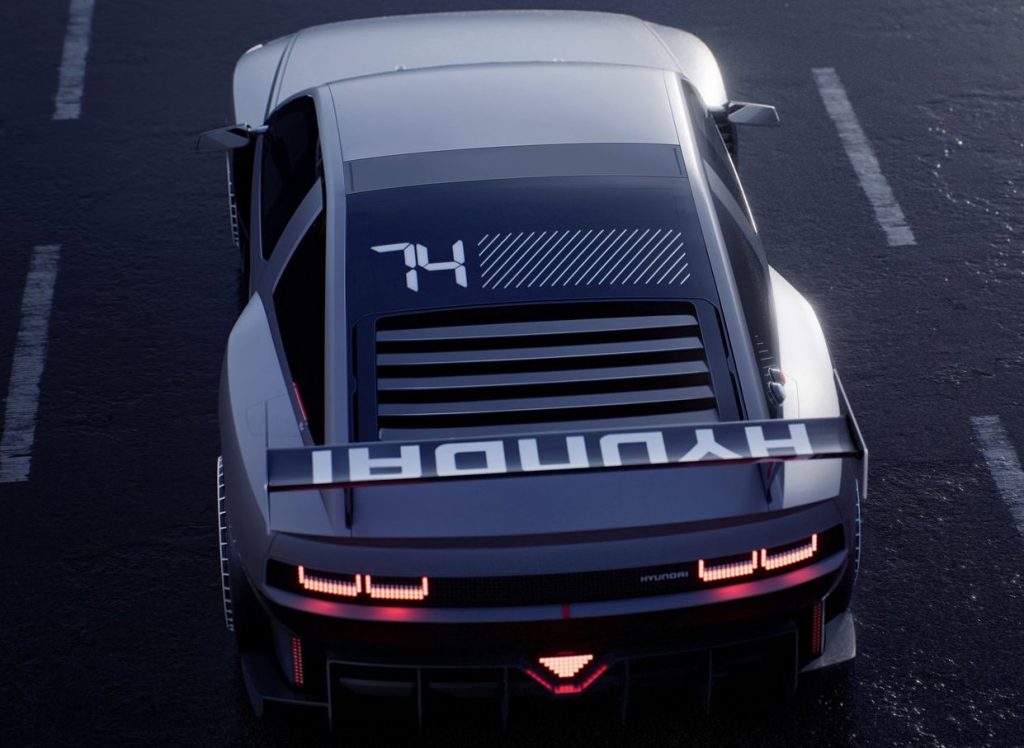 Just seven years later, Hyundai N is introducing N Vision 74, setting its sights even further by realizing its passion for 'fun to drive' and imagination. Hyundai's engineers developed a hybrid structure of a battery-electric in combination with an FCEV system, which is placed in an all-new layout. By having fuel cell system and battery-electric powering the N Vision 74 together, the cooling efficiency is improved, while the two different power sources can be used depending on different driving conditions. This fine-tuned logic system enables better torque vectoring by twin motors on the rear, allowing a precise and responsive cornering experience. Moreover, N Vision 74 explores the balance between the performance and cooling with a three-channel cooling system.
The high-performance technology is fully integrated into the design to fulfil the FCEV's heat management requirements. With such functional aesthetics, N Vision 74 explores the balance between state-of-the-art-technology and iconic design. Along with long-range and fast refueling capabilities, N Vision 74 guarantees driving fun with a sustainable power source via the application of cutting-edge technologies.