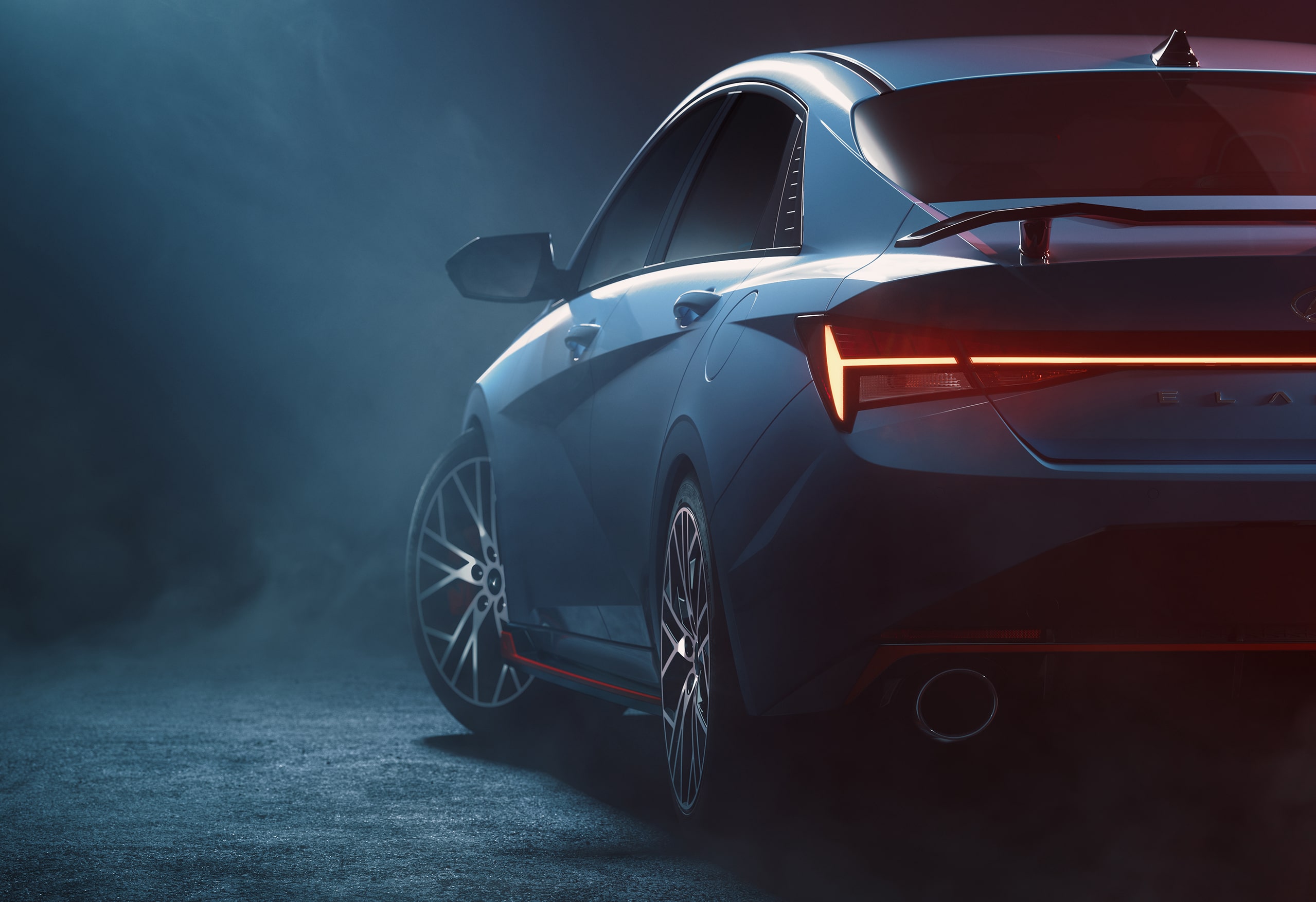 This hot new Hyundai sedan will sport a sporty N-exclusive rear spoiler. 
Hot on the heels of the launch of its Kona N, Hyundai has since recently revealed the first glimpses of its forthcoming Elantra N. The sixth addition to the South Korean automaker's full-fat high performance lineup, this is also incidentally the first sedan in the range to proudly sport the N name.
As it is just a first glimpse of before its official unveiling, details of the Elantra N are unfortunately rather skint at the moment. What is seen from the two official photos provided though is that this hot new Hyundai can be easily differentiated from its hum-drum counterparts by way of its N-exclusive rear spoiler perched atop its swoopy rear end.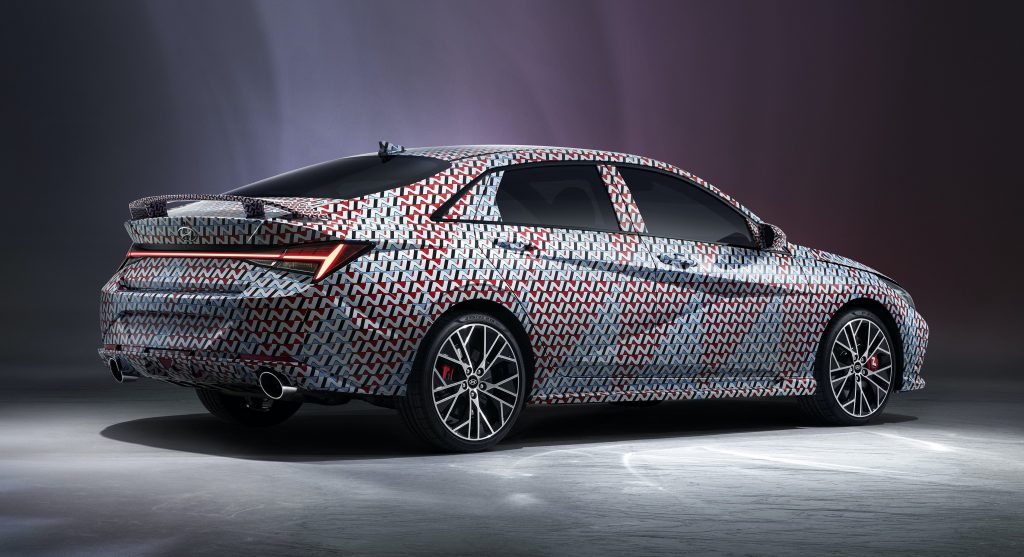 Speaking of the rear end, the teaser images also reveal that the Elantra N will feature a pair of rather huge big-bore circular tailpipes. Further accentuated by its new bold black trim beneath the rear bumper, Hyundai touts that it further underlines the Elantra N's sporty credentials. 
Its sporty aesthetic enhancements are not just limited to the rear however, as down the side of the Elantra N nets some red-accented N-dedicated side sill extensions, in addition to a set of custom sporty-looking alloys wrapped in Michelin Pilot Sport 4S tyres. Some larger N-branded brakes are to be spotted hiding behind those wheels too, along with what looks to be a lowered ride height from its stock siblings.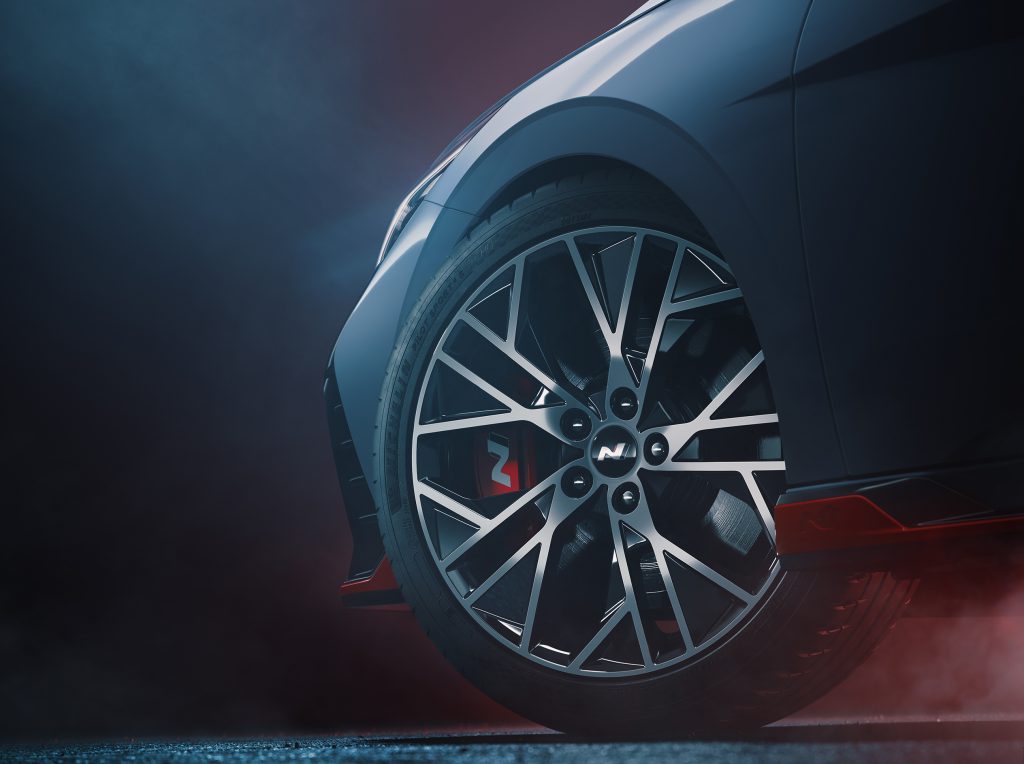 Now moving round the front meanwhile, it is still hard to discern properly from these teasers as to what exactly has been done over here yet. Though it is reasonable to expect that this hot sedan will follow the traditional N model and feature a slightly more aggressive fascia that standard, with flashes of red to complement the signature Performance Blue exterior hue.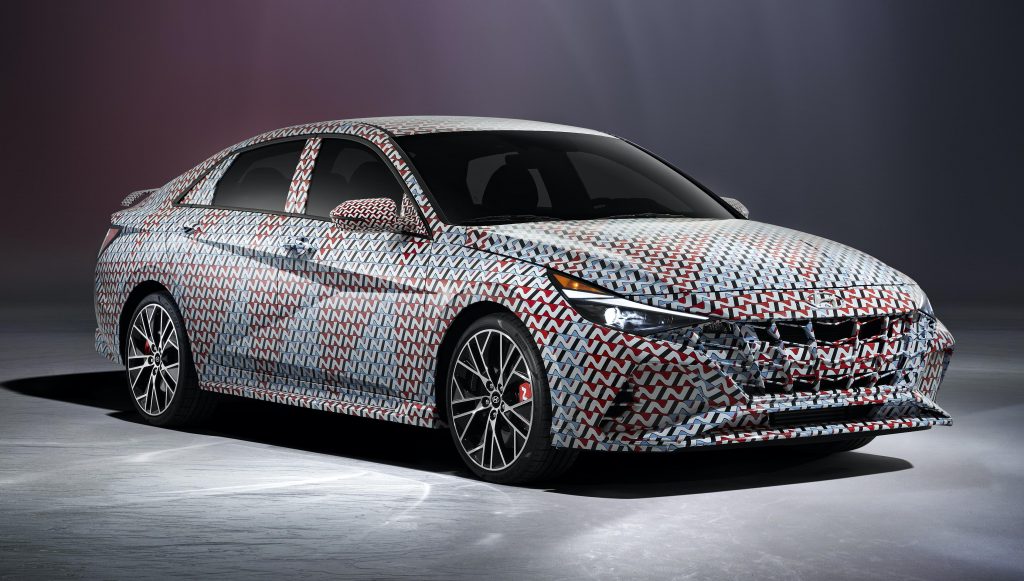 In terms what lies under its sporty hood on the other hand, it is widely assumed that the Elantra N will feature the same 2.0-litre turbocharged Smartsteam four-cylinder as in the Kona N and i30 N. Packing a reasonable 280 PS and 392 Nm of torque, drive is expected to be sent exclusively through the front wheels by way of an 8-speed N dual-clutch transmission, or possibly also the option of a six-speed manual gearbox. 
Being a true-blue N too, Hyundai will undoubtably throw in all the performance goodies like the N Grin Control System drive mode selector as seen in the rest of the lineup. Its cabin too would likely be suitably tarted up with sporty trimmings to befit its racy nature. 
Hyundai has yet to reveal an exact date as to when the Elantra N will be unveiled, with the South Korean automaker only announcing that more details will be revealed in the coming weeks. Seeing that its quite a complete teaser already however, it really shouldn't be too long till its official reveal.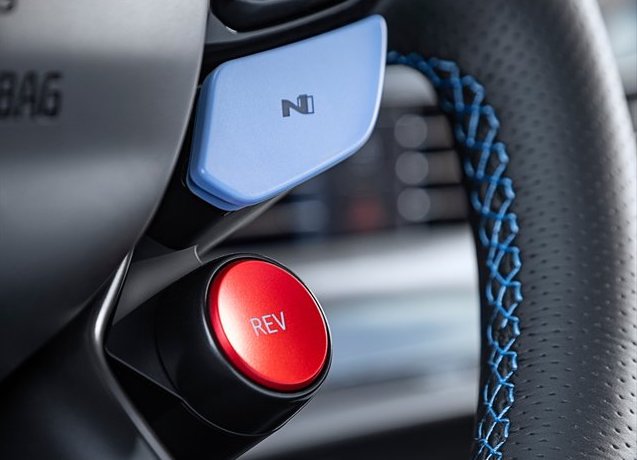 PRESS RELEASE: Hyundai Motor Company today revealed the first glimpse of Elantra N (sold as Avante N in South Korea), the latest addition to its high-performance N range. This is Hyundai Motors' sixth N brand model, following the unveiling of Kona N in April this year.
Elantra N is the high-performance variant of the all-new Elantra model launched in April 2020, distinguishable by its 'Parametric Dynamics' design theme that imparts a look of sophisticated sportiness. Hyundai N designers took cues from the curves and lines of a sculpture to give the car a powerful and athletic stance.
"Elantra N is a high-performance sedan that reveals the sportier side of our exceptional all-new Elantra through exciting N brand enhancements," said Till Wartenberg, Vice President of N brand Management & Motorsport sub-division at Hyundai Motor Company. "We designed it to be a race proven sportscar with dynamic driving capabilities and style that performance enthusiasts love. I can't wait to unveil Elantra N, an outstanding addition to the N brand lineup that offers pulse-pounding performance. Stay tuned for the digital world premiere."
Elantra N's racecar look can be seen in the bright red N dedicated side sills that not only help boost performance by better channeling airflow, but also create the effect of a lowered chassis. Complimenting the overall exterior styling is a distinctive N-exclusive rear spoiler that counteracts lift by preventing airflow from tumbling over the rear edge, which increases driving stability at high speeds. Additionally, the bold black trim beneath the rear bumper and its dual single exhaust creates a different look from the standard model, further underlining the Elantra N's sporty credentials.
With the introduction of Elantra N, Hyundai Motor now offers a wider range of Elantra models—including the all-new standard Elantra and Elantra Hybrid—for discerning customers to choose.
Hyundai Motor will reveal more details about Elantra N in the coming weeks.