Motorcycles
GRACSHAW LAUNCHES JAPAN EDITION MOTORCYCLE HELMET
Six visually-stunning designs from GRACSHAW inspired by the Land of the Rising Sun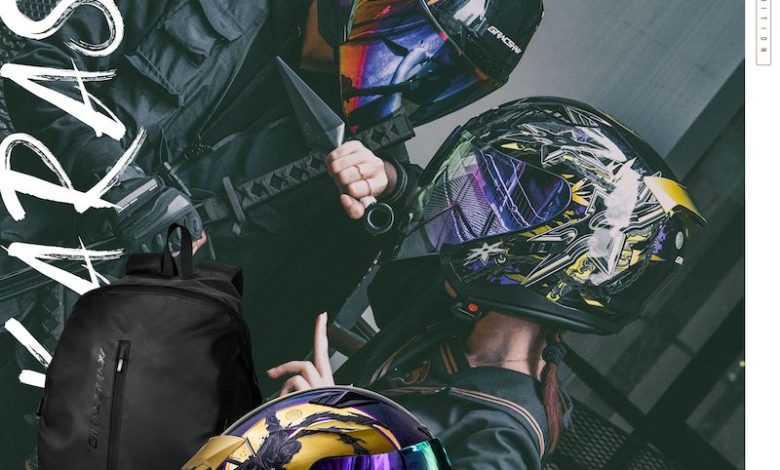 Gracshaw, a Malaysian motorcycle helmet brand, proudly presents its visually-stunning Japan Edition helmets, inspired by Japanese culture. Discover the unique designs, features, and the vision behind this exciting range.
Gracshaw, a leading Malaysian motorcycle helmet brand under Double Site Marketing Sdn Bhd, is thrilled to announce the official launch of its highly anticipated Japan Edition motorcycle helmets.
Combining Japanese-inspired aesthetics with superior quality, these helmets made their debut at the recent Terengganu Bike Week 2023, captivating biking enthusiasts with their striking designs and innovative features.
Read on to explore the distinctive elements of the Gracshaw Japan Edition, designed to cater to riders seeking style, comfort, and uncompromising safety.
Visually-Stunning Designs
The Gracshaw Japan Edition showcases six unique helmet designs, each infused with captivating Japanese influences. From the elegant Kurita and Tsuru to the vibrant Japop and Tengu, riders can express their individuality with these thoughtfully crafted helmets.
The Oda and Karasu designs pay homage to Japanese historical chronicles, adding a touch of timeless sophistication. These visually-stunning helmets are bound to turn heads on the road while reflecting the rider's personal style.
Quality and Versatility
Available as open face, double visor helmets based on the popular Gracshaw Gennex model, the Japan Edition prioritizes both safety and functionality. Each helmet is designed to provide a snug and comfortable fit, ensuring maximum protection during rides.
Priced at RM420, the helmets offer exceptional value for money. As an added bonus, every purchase includes an exclusive backpack, providing convenience and protection when not in use.
Proudly Malaysian-Made
Farizan bin Md Akir, from the Marketing Division of Double Site Marketing, emphasizes that the Gracshaw Japan Edition helmets are proudly Malaysian-made.
Designed in Penang and manufactured in Jitra, Kedah, these helmets reflect the dedication and craftsmanship of local talent. Gracshaw's commitment to quality and style shines through, creating a unique and authentic Malaysian product that meets international standards.
A Vision of Safety and Style
Gracshaw understands the importance of wearing a high-quality helmet that not only meets legal requirements but also enhances the rider's overall experience. The Japan Edition helmets represent the brand's vision to provide headwear that combines safety, comfort, and style.
With meticulous attention to detail and an eight-month development process, Gracshaw has created helmets that cater to the sophisticated and fashion-conscious riders, elevating their riding experience to new heights.
Looking Ahead:
The launch of the Gracshaw Japan Edition marks an important milestone for the brand. With its deep-rooted Japanese cultural influences, the range is expected to captivate Malaysian riders who have grown up with Japanese icons, motifs, and characters.
Gracshaw aims to expand its presence beyond Malaysia and plans to export to other Southeast Asian markets by next year, further establishing itself as a prominent player in the region.
Conclusion:
The Gracshaw Japan Edition motorcycle helmets bring together the best of Japanese-inspired design, safety, and comfort. Crafted with passion and precision, these helmets offer riders a unique opportunity to express their individuality while ensuring uncompromising protection on the road.
With their captivating designs and commitment to quality, Gracshaw continues to redefine the motorcycle helmet experience.
Strap on a Gracshaw Japan Edition helmet, and embark on your riding adventures with style, confidence, and peace of mind
Intriguing Folk Tales
The Kurita (クリタ) takes design cues from a popular Japanese fable and highlights the giant octopus, one of the sea monsters sent to recover the sacred jewel stolen from the Palace of the Dragon King by a pearl diver, Princess Tamatori. Other design elements include the katana sword, pearl, waves and flowers.
The Tsuru 鶴 (つる) design features the red-crowned crane, one of the rarest in the world.  It is widely regarded as a symbol of luck, longevity and fidelity. In Japan, this crane is known as the tanchōzuru and is said to live up to 1,000 years.
Cranes are said to grant favours in return for acts of sacrifice, as in Tsuru no Ongaeshi (crane's return of a favour).
POP Culture
Those who grew up with Japanese popular art will find the anime and manga-inspired Japop (ジャポップ) design appealing.
The fun combination of traditional elements such as fish and animals with dinosaurs and the popular manga character Astro Boy is certain to make this a conversation piece.
Meanwhile, those who prefer a more mysterious theme would like the Tengu 天狗 (てんぐ) design.
The main character is the Tengu, a mischievous supernatural being from Japanese folklore that is supposed to have awesome wind controlling power.  With his red face, long nose, robes and wings, the tengu is not to be messed with as he can cause chaos.
Historical chronicles
The Oda 織田 (おだ) design pays tribute to Nobunaga Oda, a fearless Japanese warlord from the Sengoku period. The head of the powerful Oda clan, he waged war against other feudal lords and manage to unify Japan in the 1560s.
The Battle of Okehazama is regarded as one of the most significant turning points in Japanese history with Oda defeating an army 10 times the size of his own. Key design elements include a katana-wielding Oda wearing a fearsome mask, his silhouette on a horse against a rising sun and the spider lily.
Lastly, the Karasu (カラス) design features weapons associated with ninjas such as the shuriken, kunai and kusarigama. Legendary ninja Hattori Hanzo who served the Tokugawa clan with distinction, was credited with saving the life of Tokugawa Ieyasu, a shogun who went on to rule a united Japan.
Hanzo commanded a 200-men strong unit of ninja warriors and was claimed to have various supernatural abilities that made him invincible.
Gracshaw Japanese Edition helmets can be purchased online at https://shop.gracshaw.com, the Gracshaw Official Store on Shopee https://shopee.com.my/gracshaw.os and through its Facebook page https://www.facebook.com/gracshaw. For more information on Gracshaw's complete portfolio of products and list of dealers, please go to www.gracshaw.com.