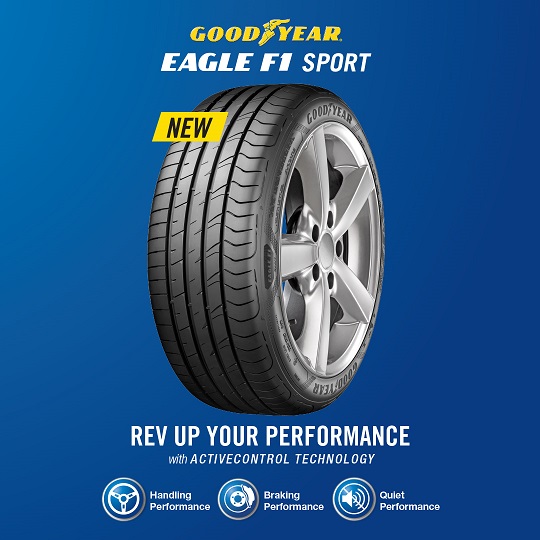 A new range of affordable Goodyear performance tyres has been launched locally. 
Goodyear Malaysia has recently debut its new Eagle F1 Sport range of Ultra-High Performance (UHP) tyres locally. First unveiled in Thailand earlier this year, this mid-range performance tyre is set to succeed the outgoing Eagle F1 Directional 5.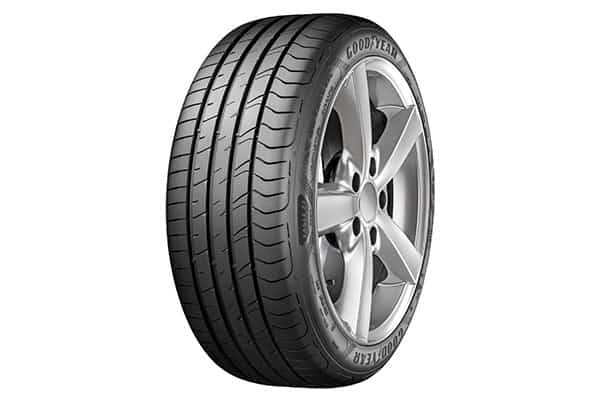 Said to be the 'fun sports tyre option' that is ideal for 'the aspiring racing enthusiast', the new Eagle F1 Sport range of tyres promises precise and responsive handling, quieter running and superior braking performance. To back these claims up then, Goodyear is touting several technologies that are incorporated within this performance tyre.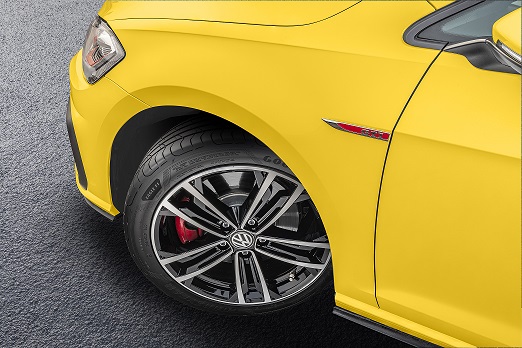 The first of such integrated tech within the Eagle F1 Sport range is Goodyear's Active Control Technology. Designed to maximise shoulder contact patch and increase tyre stiffness, it supposedly offers enhanced cornering stability and steering precision, which thereby leads to better handling performance on the road.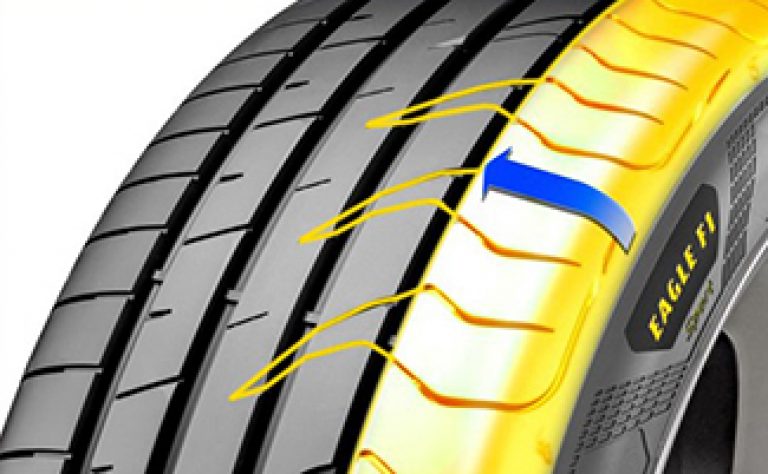 On the braking front meanwhile, these new tyres also feature Goodyear's DynamicBraking Technology. A combination of the American tyre manufacturer's signature Eagle Claw thread pattern and a high silica thread compound, shorter braking distances are claimed for this new tyre in both dry and wet road conditions.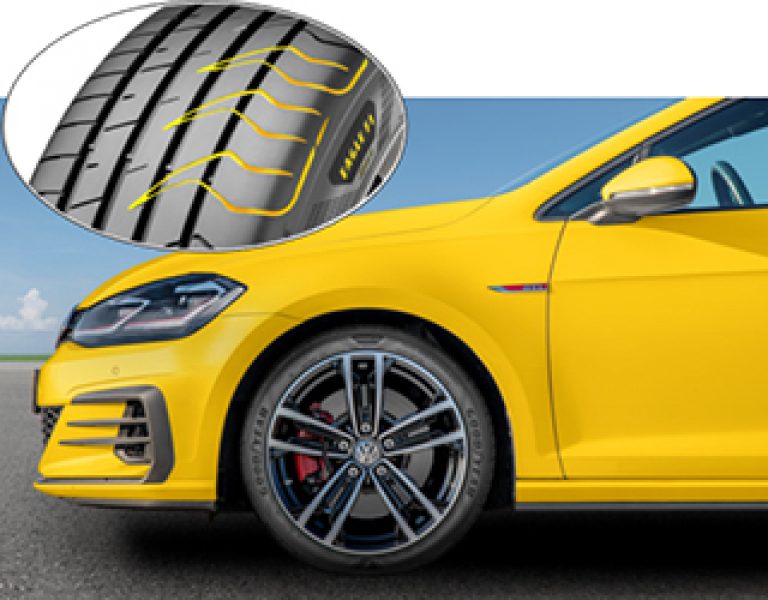 Speaking of the the Eagle Claw thread pattern, this closed pattern design with narrow lateral grooves and an adjusted sipe geometry design has been touted to reduce tyre noise too. The inclusion of rubber noise barrier strips between the ply and liner also goes some way into provide a quieter and smoother ride on these high performance Goodyear tyres.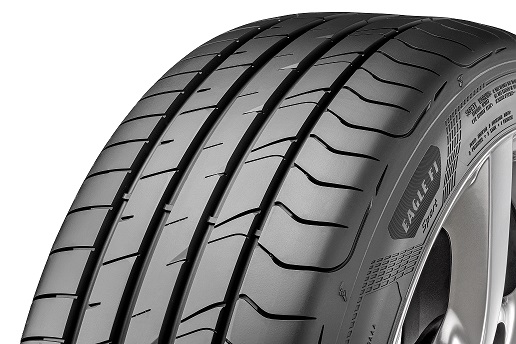 For added peace of mind while out on the road, these Goodyear F1 Sport range of tyres feature come standard with a wide Rim Flange Protector to provide some protection for both the tyre and rim from any accidental curb damage. 
Costing from RM 294 to RM 678 per tyre, 22 sizes of these Goodyear Eagle F1 Sport UHP tyres are currently available at all Goodyear AutoCare Centres nationwide. Ranging from 16 to 18 inches in diameter, the full list of available sizes are to be found in the table below: 
Available sizes
195/50R16 84V
215/45R18 93W
205/45R16 87W
225/40R18 92Y
205/50R16 91W
225/45R18 95W
205/55R16 91W
235/40R18 95W
205/45R17 88W
235/45R18 98W
215/45R17 91Y
245/40R18 93Y
215/50R17 91W
255/35R18 94W
215/55R17 94V
265/35R18 97W
225/45R17 94W
225/50R17 98W
225/55R17 101W
235/45R17 94W
245/40R17 95W
245/45R17 95Y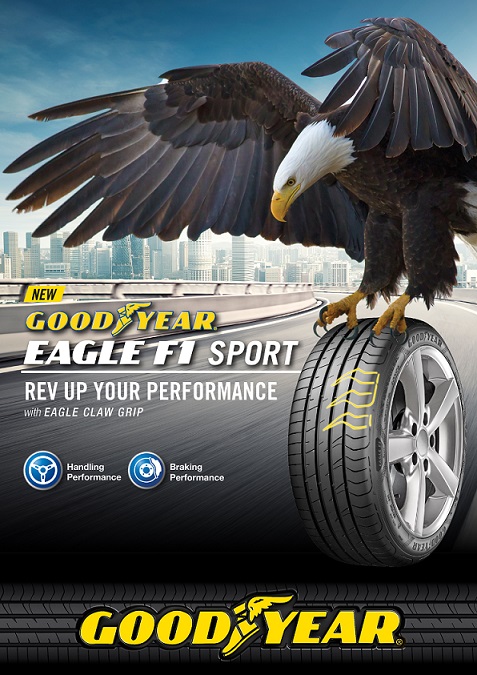 PRESS RELEASE: Following the unveiling of the Eagle F1 series last year, Goodyear Malaysia has now strengthened its range of Ultra-High Performance (UHP) tyres with yet another tyre range developed to offer superb grip, in both dry and wet road conditions.
Known as the Eagle F1 Sport, this is a fun sports tyre option with good handling and braking performance for the aspiring racing enthusiast. It is available in up to 22 sizes ranging from 16 to 18 inches and can be fit on mid-level sporty vehicles, to sporty sedan vehicles. Providing a sportier and fun driving experience, this tyre can elevate the everyday drive and bring out the best of the vehicle, giving it a chance to perform at its peak.
The Eagle F1 Sport tyre is one of the more affordable high-performance tyres in the Goodyear Eagle F1 series. This tyre is ideal for performance car owners who are looking to enjoy the maximum driving performance out of their vehicles, as well as sport passenger car owners who would like to make their everyday drive much more exciting, as it provides improved handling and braking performance. For the driving enthusiasts and aficionados, the Eagle F1 Sport is also an ideal tyre option for upsizing, as it is specially designed to increase steering response, improve dry handling, enhance cornering abilities and also give the vehicle a more aggressive appearance. This mid-range sport tyre combines Goodyear's innovative technology on the race tracks with the durability and comfort of road tyres to offer excellent handling and braking performance under different weather conditions.
Alex Ng, Managing Director of Goodyear Malaysia said: "The Eagle F1 range is the embodiment of Goodyear's long history of involvement in the racing arena. With the introduction of the Eagle F1 Sport, we aim to continuously uphold Goodyear's manufacturing quality and technological capabilities of our research and development team, by providing more high performance tyre options for the day-to-day road user, at competitive prices for Malaysians."
Precise and Responsive Handling
As with all tyres that are part of the Goodyear UHP family, the Eagle F1 Sport features a signature Eagle Claw tread design that comes with stronger shoulder blocks. Equipped with ActiveControl Technology, the shoulder contact patch of the tyre is maximised and its stiffness is increased to improve the cornering stability and steering precision when negotiating bends and corners. 
Quieter Performance
Leveraging on this unique tread design, this tyre also comes with noise barrier strips, which are made of rubber and placed between the ply and liner to provide a quieter and smoother ride. This design is enhanced by the availability of narrower lateral grooves on the tyre to further reduce vibrations and road noise for a comfortable ride.
Superior Braking Performance
Supplementing the handling precision of the Eagle F1 Sport is Goodyear's DynamicBraking Technology. The combination of the Eagle Claw tread and high silica loaded tread compound with upgraded polymer matrix enhances braking capabilities on both wet and dry surfaces. Furthermore, an improved cavity shape provides a wider footprint for better contact and pressure distribution.
To top it off, wide rim flange protectors are available on all sizes of the Eagle F1 Sport, which helps protect the tyres and its rims from accidental curb damages while manoeuvring and parking, for added peace-of-mind. 
Eagle F1, Born for Racing
For 65 years, Goodyear remains the exclusive tyre supplier of The National Association for Stock Car Auto Racing (NASCAR) in America. This is in fact one of the longest-running supplier relationship formed in the history of not only racing but within the sports industry as a whole. Goodyear is also the first tyre company to win 368 Grand Prix races in 1998 and has achieved 14 overall wins for the 24 Hours of Le Mans since 1966. Goodyear has also developed a new range of tyres for the FIA World Endurance Championship (WEC), one of the biggest racing events in the world, being the official tyre sponsors for 3 major racing teams. 
"Goodyear is no stranger to the importance of tyres and the art of performance. With the Eagle F1 range, our consumers should expect to experience our cutting-edge technology catered for performance on the racetracks, fitted right on their everyday cars for city road driving. As we continue to innovate and develop cutting-edge tyre technology for motorsports, consumers can expect for more powerful and resilient products to be coming up in the future," Ng concluded.
The Goodyear Eagle F1 Sport is now available at all Goodyear AutoCare centres across Malaysia, retailing between RM294 to RM678 per tyre. 
For more information, customers can visit Goodyear Malaysia's Eagle F1 landing page at https://www.goodyear.com.my/eagle-f1/.