Automotive
News
Geely Vision Starburst Shows Off Its Future Design Direction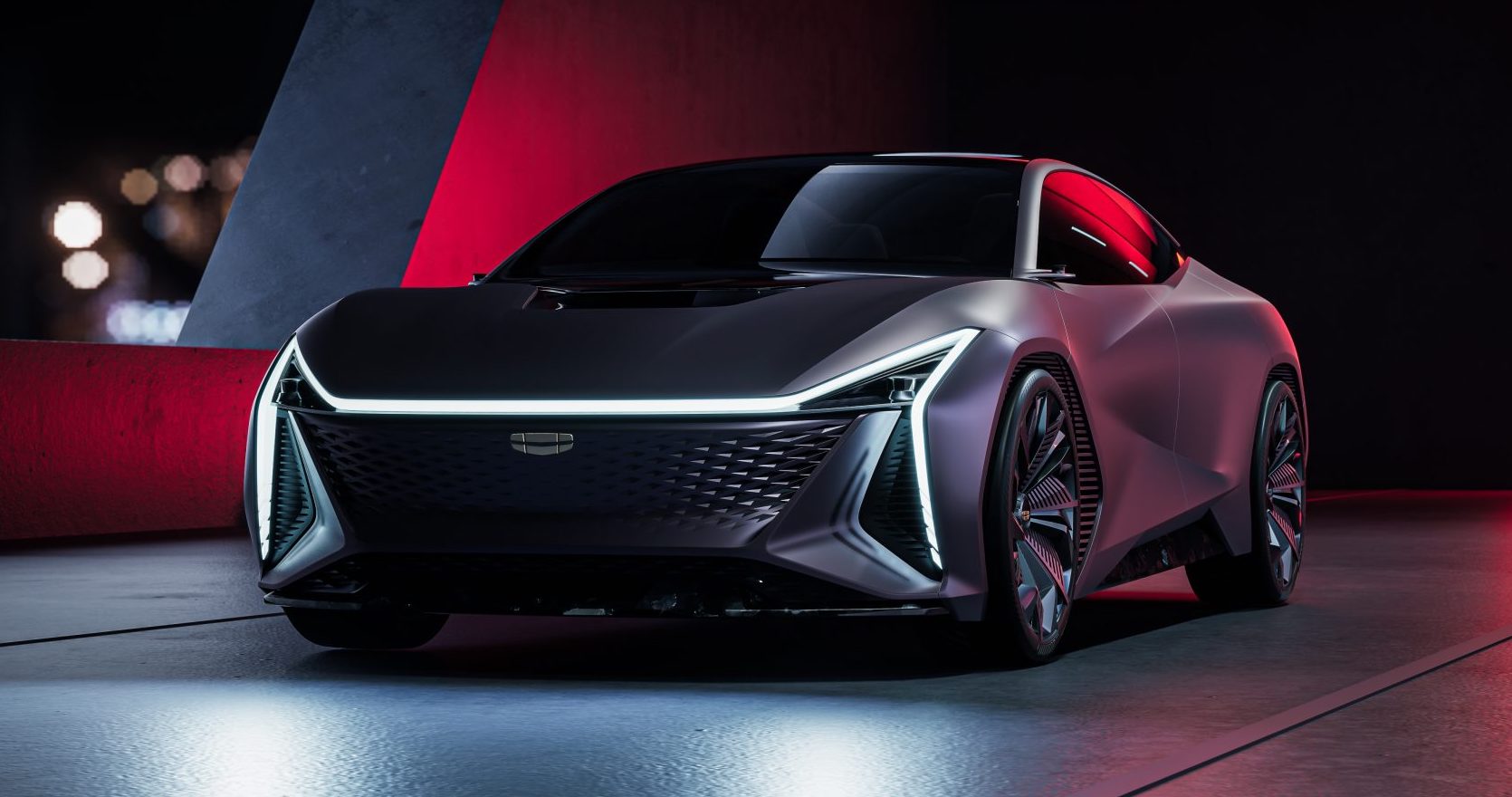 This new concept car hints at what all future Geely models could look like.  
Geely has recently revealed a snazzy new concept car that previews its new Vision Starburst design direction. Touted by the Chinese automaker to be 'a new and alternative expression' of its existing Expanding Cosmos design philosophy, it has been said that various aesthetic elements seen here will soon be making its way into the company's future model lineup.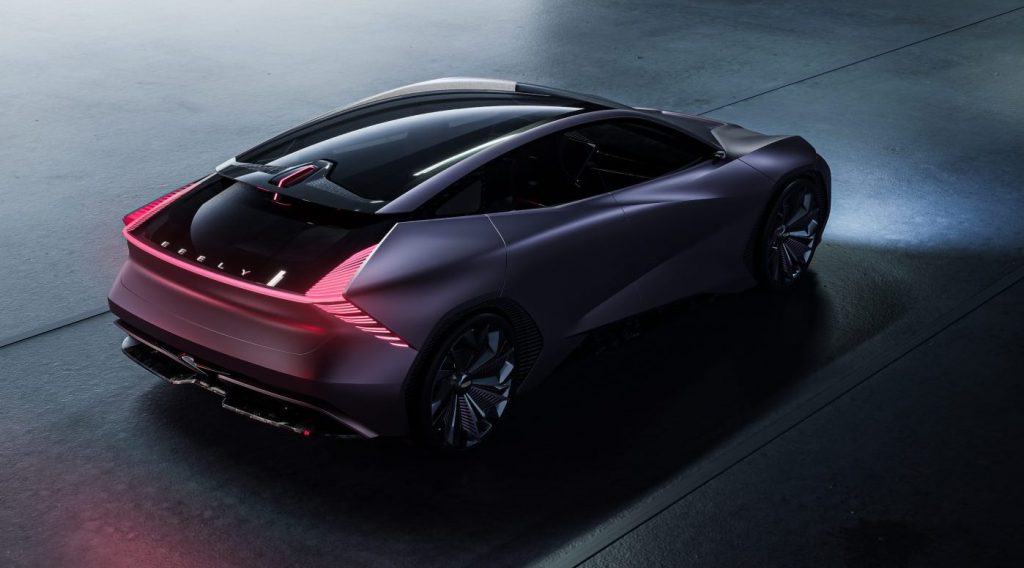 While Geely has peppered the lengthy press release down below with flowery design mumbo-jumbo that only they themselves could possibly comprehend, what the Vision Starburst means for the layman is that the next raft of cars from the Chinese automaker will feature a more futuristic, bolder yet sleeker design than the outgoing lineup. Predictably too there is also a boat-load of space-age tech thrown in with this concept car, though it remains to be seen if most (or any) of these ever make it into production.
Now delving deeper into the design details of this concept car and kicking things off at the front first, the Vision Starburst features a massive-yet-closed-off front grille with a new parabolic pattern flanked by slim air intakes on either side of it. All of that is then surrounded by a light strip forming the shape of an M up front, which not dissimilar to the face that was previously seen on the Modern A (or Cadillac Lyriq) EV.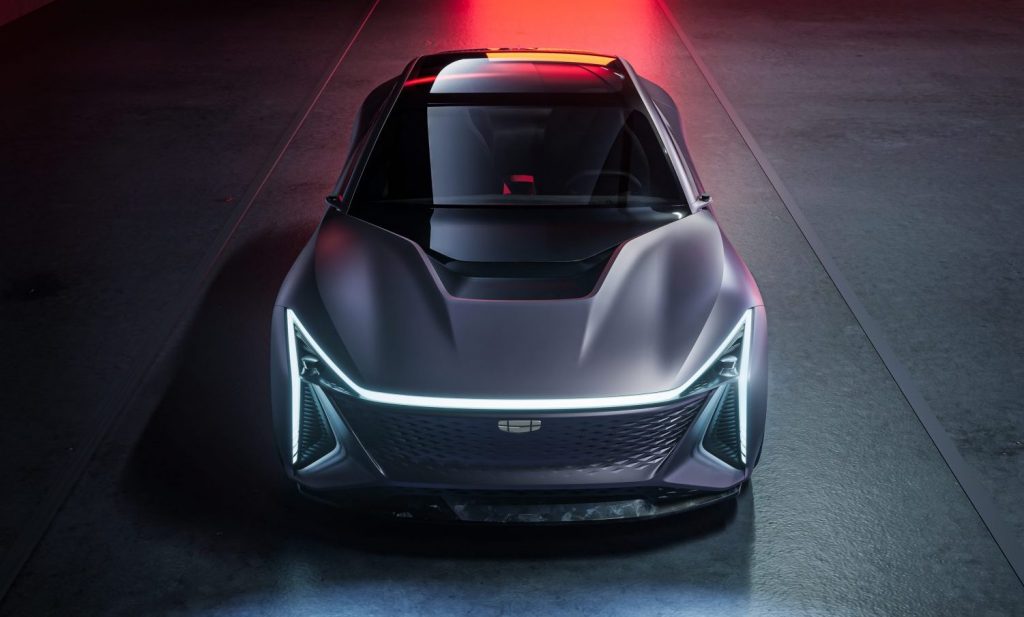 Moving further down its sleek sides meanwhile, the highly-creased profile of this four-door fastback concept car is accentuated by futuristic illuminated wheel arches encasing its massive wheels and camera stalks in place of traditional wing mirrors. A feature that will most likely be seeing production in future Geely products, the same could not be said however for the Starburst Vision's suicide-style butterfly doors that open up to reveal a snazzy pillar-less cabin within.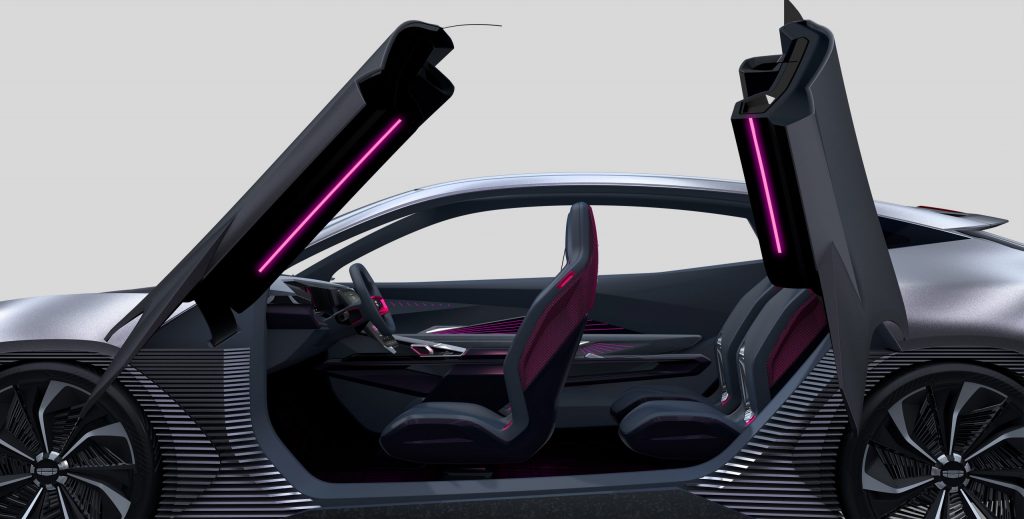 More on the cabin a little bit later though, as its shapely rear warrants some discussion too. Looking like a futuristic cross between the Volvo C40 and the Zeekr 001 — both incidentally products under the larger Geely umbrella — the spotlight round the squat rump of the Vision Starburst concept is shared between its full-width LED rear light bar with boomerang-shaped clusters on either end, and its large chrome-tipped integrated rear diffuser that looks to feature a pair of active flaps presumably for further aerodynamic efficiency gains.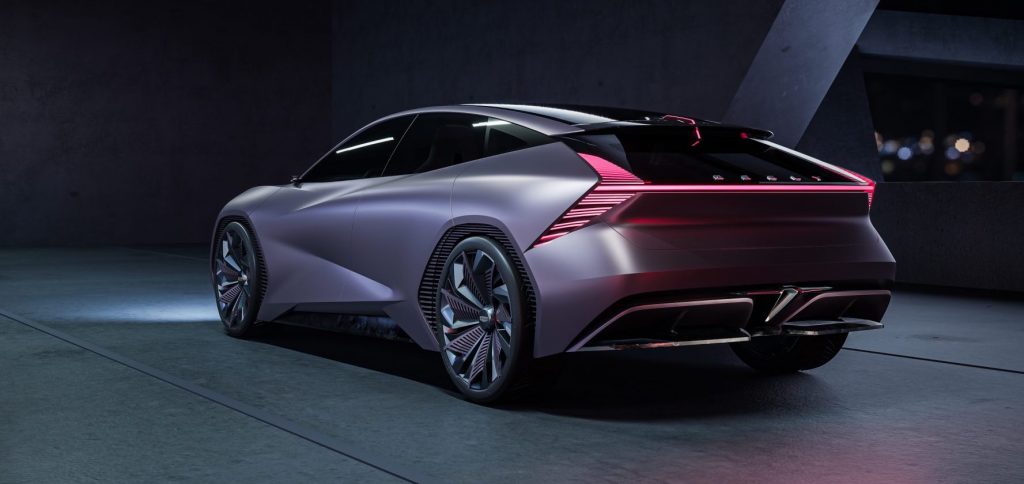 Getting back to the interior of the Vision Starburst, Geely has put a significant amount of effort into its lighting system within. Such is evidenced by the Cosmic Ray light strips featured, which apparently are there to help 'unify interior and exterior design'.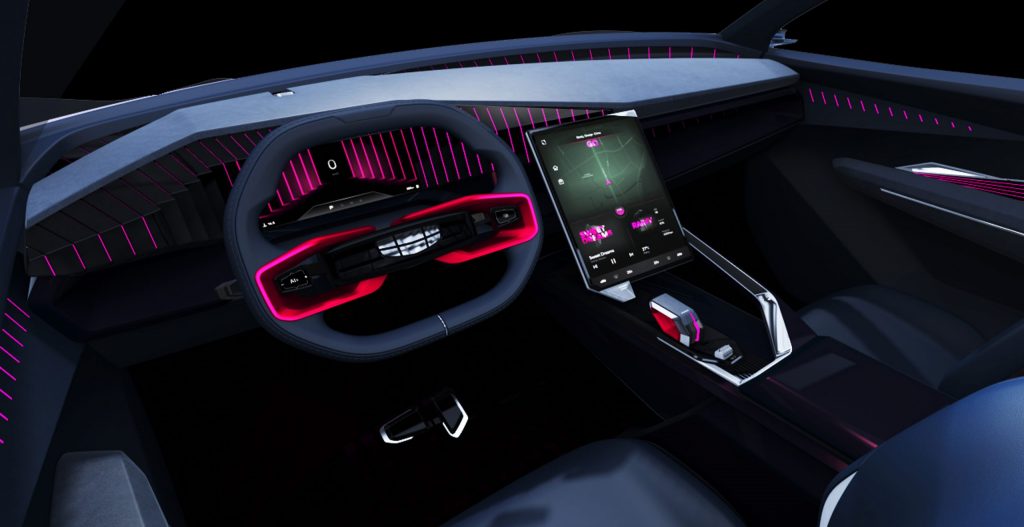 Different lighting effects on both the outside and inside have also been touted by Geely when the Vision Starburst is in different states, like while charging, in motion and parking. Perhaps the lighting touch however of this concept car would be the simple four lines of light that illuminates to display different gear settings on its hollow transmission selector, that sits atop the floating centre console just beneath the angled portrait central touchscreen.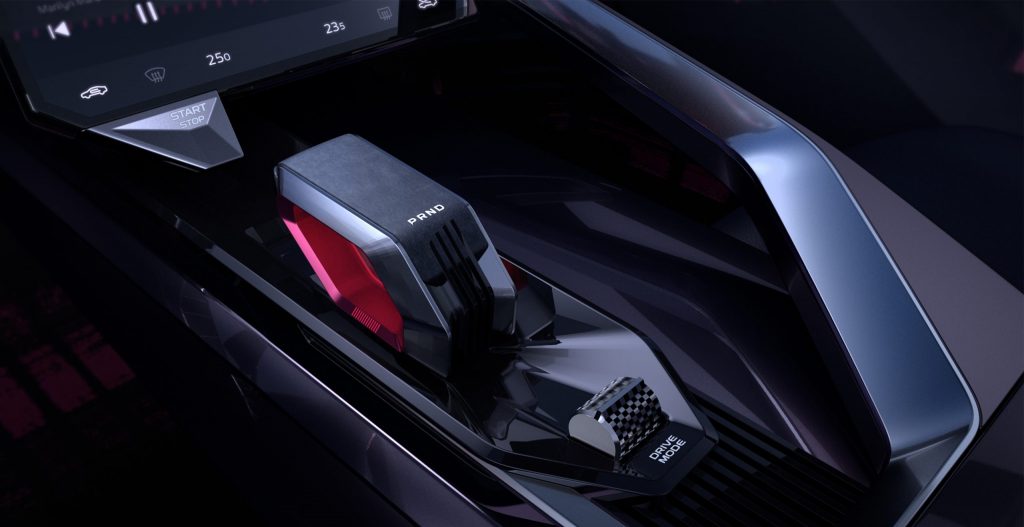 This being a concept car, further details regarding its technical details are still an unknown. And it will remain an unknown, as Geely has already stated that the concept car seen here will never see production. As mentioned way up top however, some of these design cues will be incorporated into the automaker's upcoming product lineup. So prepare then for some striking-looking Proton models that are to come in the (far) future.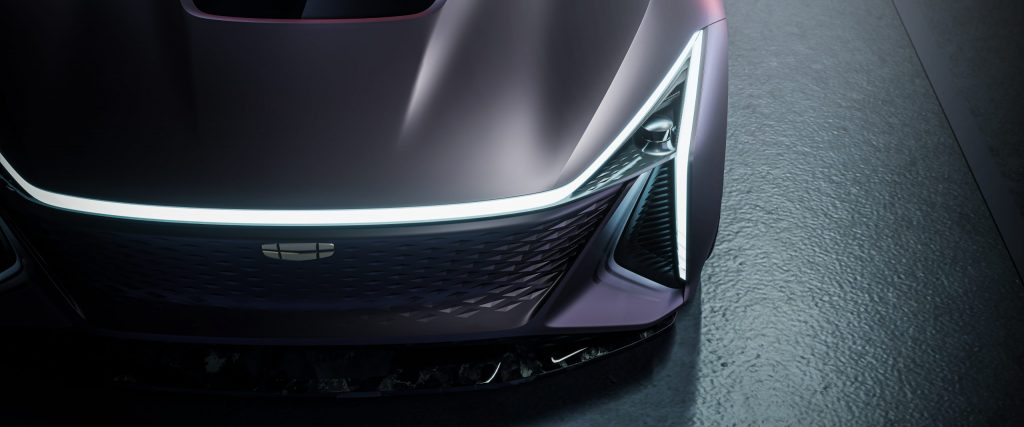 PRESS RELEASE: Geely Design Shanghai presented a new design vision derived from Geely's "Expanding Cosmos" design philosophy that pushes the boundaries of technology and innovation in the new digital age. Vision Starburst examines a new and alternative expression of the "Expanding Cosmos" design philosophy which Geely Auto is using as a design board for future models. 
Vice President of Geely Design Shanghai, Guy Burgoyne, said at the unveiling event, "The Expanding Cosmos philosophy serves as a constant inspiration for our designers to discover a new and holistic design language that satisfies our ever-expanding and increasingly-diverse range of customers. In search for this DNA in the new digital age, we have pushed the boundaries of technology and innovation. Like the birth of a new star, the ideas from our talented team of global designers combined, fused, and erupted, resulting in the birth of a new design expression, a new vision, our Vision Starburst."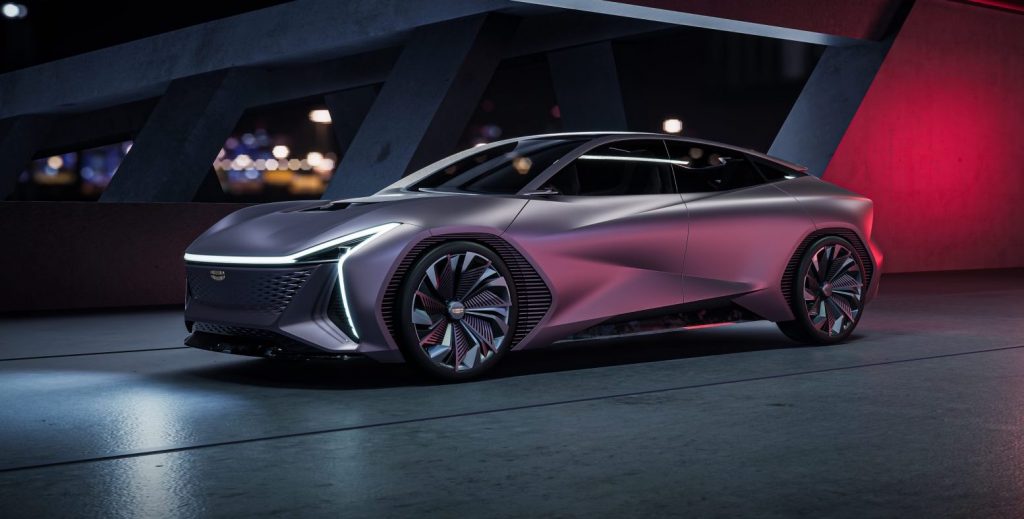 The inspiration for Vision Starburst comes from the stellar phenomena where brilliant nebulas and magnificent elements come together, merging, fusing and finally bursting into new stars. Every new design concept is the result of the combination, fusion, and eruption of different ideas which become new star products that enrich the market.
In Vision Starburst, Geely Shanghai designers cooperated throughout the design process to create unity between exterior and interior, colour and materials, as well as car and user. In the conceptual design form, bursting energy and constant outward tension result in a twisted profile with curved surfaces that appear to rotate and stretch. In its details, the design takes inspiration from stellar rays and waves in the folding and crossing of lines and surfaces.
The most visually striking aspect of Vision Starburst starts at the sight of the front grille and air intake vents. The front grille has dramatically changed from previous Geely Auto designs; Vision Starburst's sharp and unique new parabolic pattern, in combination with the new lighting design, creates an effect which echoes the theme of energy releasing from a Starburst. The concept that headlamps are the eyes of a vehicle has also been overturned as Geely designers imagine future vehicles seen through high-tech sensors. The whole vehicle visually extends from the center towards the sides, up and down, giving the front face of the vehicle a more powerful and three-dimensional aura.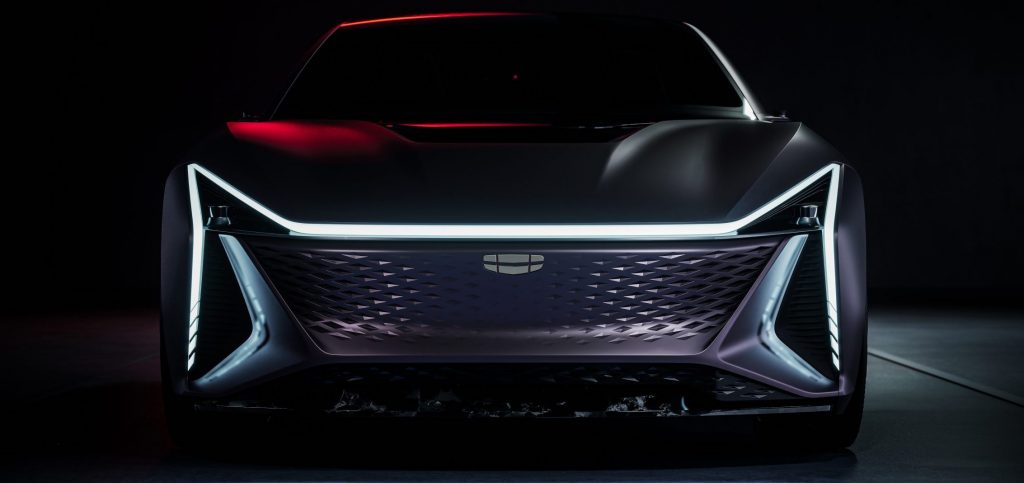 The Vision Starburst's waistline, door panels intertwine and integrate, sharp lines make for bold shapes while hiding a hint of the concept's grand vision of infinity.
Turning inside, the interior door panels are also designed to match the characteristics of the exterior. "Cosmic Ray" light strips help to unify interior and exterior design. On top of the floating centre console, the shifter takes on an aerodynamic geometric shape that's hollow. Four lines of light illuminate to display different gear settings.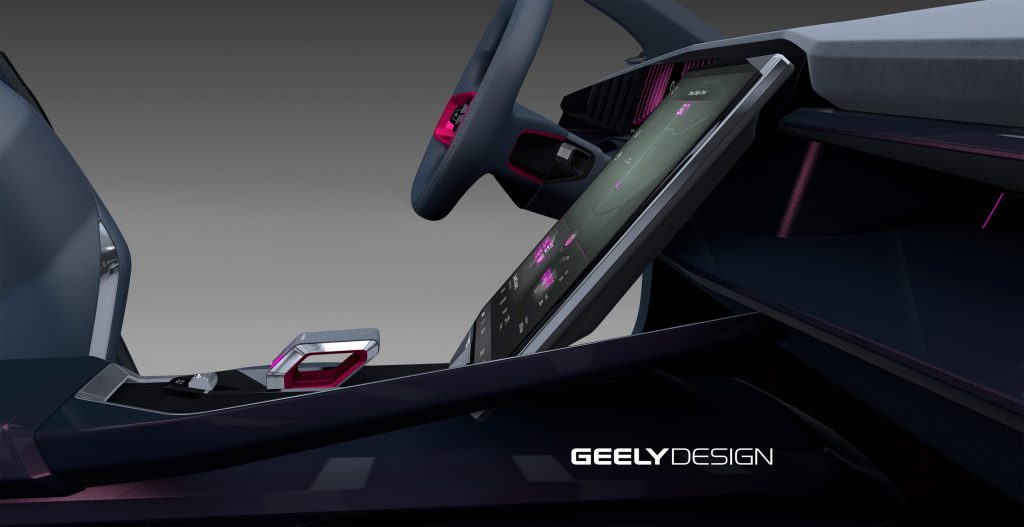 Instruments in Vision Starburst meld with the ambient light on the dash and door panels to create a borderless visual experience, a seemingly boundless intelligent space with the user at its centre. Borderless instruments and seamless information transmission also redefines the way users interact with vehicles. Designers of Vision Starburst imagine the whole vehicle being capable of conveying vehicle and road information, increasing safety and bringing to life a whole new sensory experience for users.
The concepts of showcasing advanced technology and mobility have been applied to the illuminated wheel arches. Different lighting effects will highlight Vision Starburst while in different states, for example while charging, in motion, parking, etc. Holistic HMI inside and out is one of the major design focuses of the Vision Starburst concept. Like the exterior, the interior ambient lighting, sound, and atmosphere also change depending on the state of the vehicle, conveying information to the users in a whole new manner. The lighting interaction from the outside in, gives users a sense of speed and a new driving experience.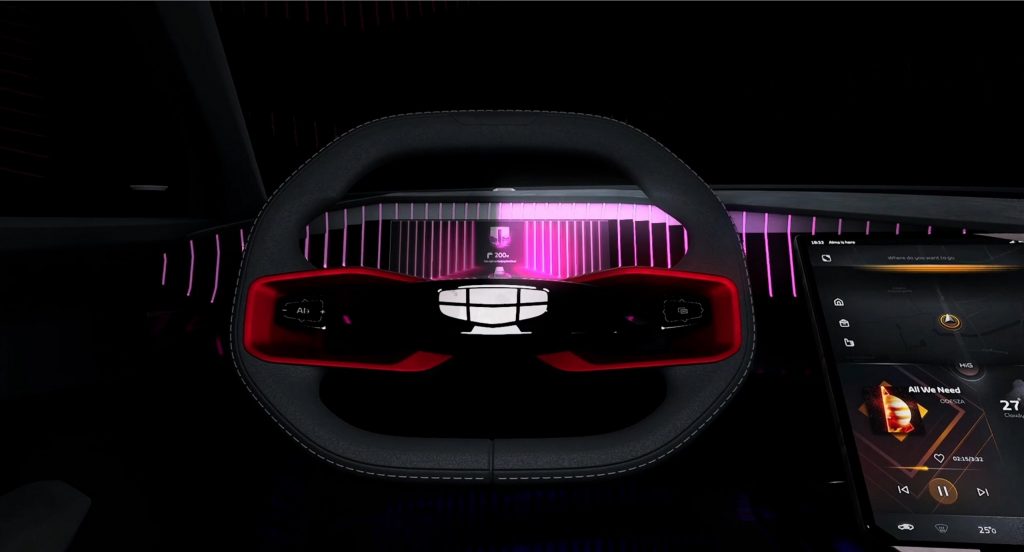 Geely Design's commitment to pushing the boundary of design never ceases. Vision Starburst is a new direction for Geely's "Expanding Cosmos", an alternative train of thought that challenges many traditional notions of human-vehicle behavior. Although the Vision Starburst concept itself will not be made into a production vehicle, many aspects of the new design language will be taken and applied to future Geely Auto models.