Automotive
News
BMW Malaysia introduces their fully electric BMW i4 eDrive40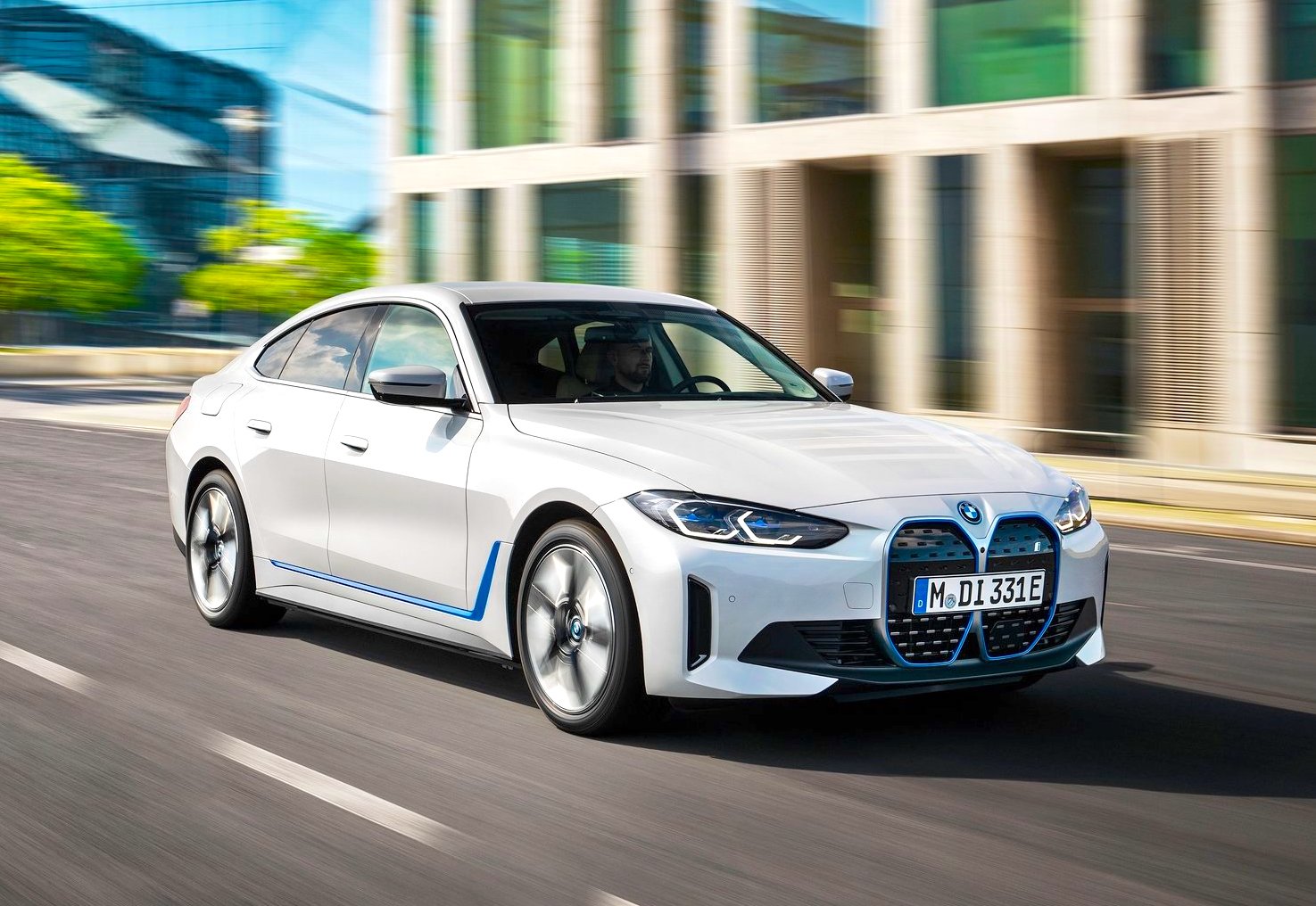 BMW has recently introduced their first-ever fully electric BMW i4 eDrive40 in Malaysia. It is one of three brand new BMW models that are coming to the local car market. These new models were officially unveiled at NEXTGen Malaysia which was an event on sustainability and electromobility by BMW Malaysia. These new electric cars released by BMW are further strengthening their strong lineup of local electric vehicles.
The new BMW i4 eDrive40 has a maximum power output of 340PS and torque of 430Nm with its highly efficient current-excited synchronous motors. With its 83.9 kWh battery can as far as 590km (WLTP) on a single charge.
It supports up to 200kW DC fast-charging, which when taken advantage of can charge the car is around 30 minutes. However, with the 11kW AC charger the car comes with, it will take more than 8 hours for a full charge.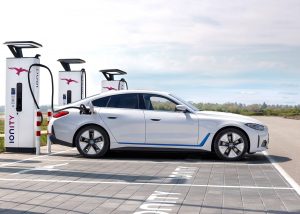 In terms of driving efficiency, the combined electric power consumption results in a 19.1-16.1 kWh per 100km based on the WLTP cycle. When going from 0-100km/h, the i4 eDrive40 can reach the end in 5.7 seconds peaking at its top speed of 190km/h.
The Gran Coupe has a very attractive design with smooth curves all around the car. The wheels have an aerodynamic design that is exclusive to itself that is built with lightweight aluminum for extended electric range. In the front, you'll find a very distinctive grille that is equipped with discreet cameras and sensors for driver assisting systems.
In the cabin, you'll find a 12.3-inch information display paired with a 14.9-inch control display, all in a single-piece glass surface that's curved towards the driver seat. On this screen, the driver can take advantage of the new BMW Operating System 8, complemented with a Head-Up Display. Controls and buttons have been minimized whilst he newly upgraded BMW Intelligent Personal Assistant has more natural visuals now.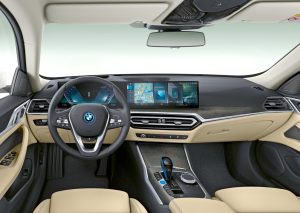 It comes with various driving assisting systems that include, Lane Change Warning, Crossing-traffic Warning at the rear, Rear Collision Warning, Lane Departure Warning with active lane return, Front Collision Warning with brake intervention, Rear Collision Prevention as well as the manual Speed Limit Assist and Speed Limit Info.
What's more, the inside features the Harman Kardon surround system, with 16 speakers spread throughout the car with a digital seven-channel amplifier.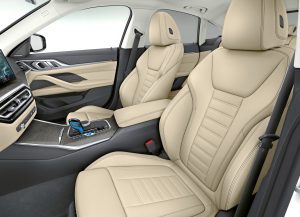 Other notable features include Active Cruise Control with Stop&Go function, Steering and Lane Control Assistant, Emergency Stop Assistant, automatic Speed Limit Assist, Lane Change Assistant, Lane Keeping Assistant with active side collision protection, Crossing-traffic Warning, Evasion Assistant, Crossroads Warning, Steering and Lane Control Assistant with active lane guidance, traffic light recognition and Wrong-way Warning.
For parking, drivers can take advantage of the Park Assist function which helps with reversing from tight angles. The Parking Assistance Plus allows drivers to use the Remote 3D View paired with the Surround View System for safe exiting or entering.
With the new fully electric BMW i4 eDrive40, maintenance cost is low. With an exhaust system not required, brake strain reduced due to motors helping, no oil changes, 8-Year/160,000 km Battery Warranty (whichever comes first), owners have much less to worry about when it comes to servicing.