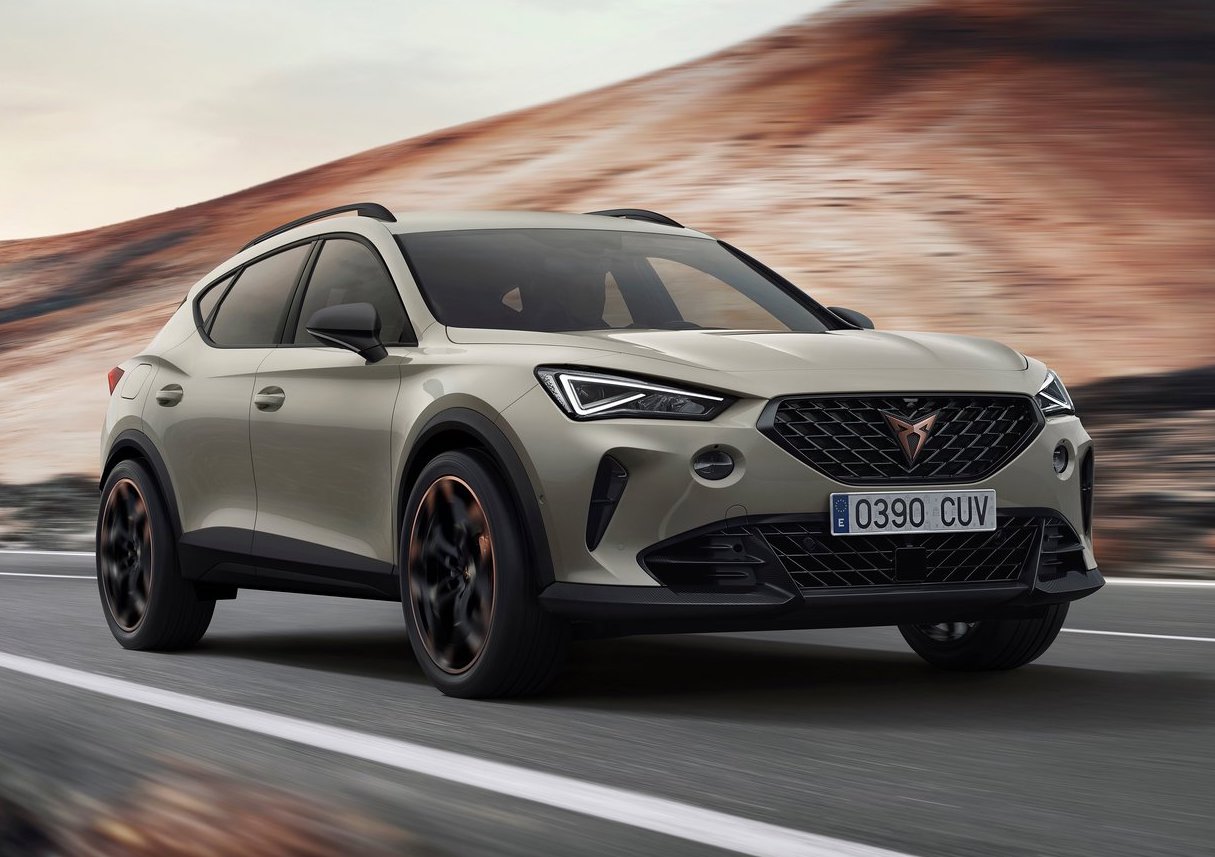 It may be just an Audi in a sharp Spanish suit, but the Formentor VZ5 still packs a mighty 385 hp punch. 
Cupra has recently lifted the covers off its new Formentor VZ5 performance crossover. An even more souped up variant of the sole model in its current lineup, this new top-tier sporty model was produced as the brand's third birthday present to itself.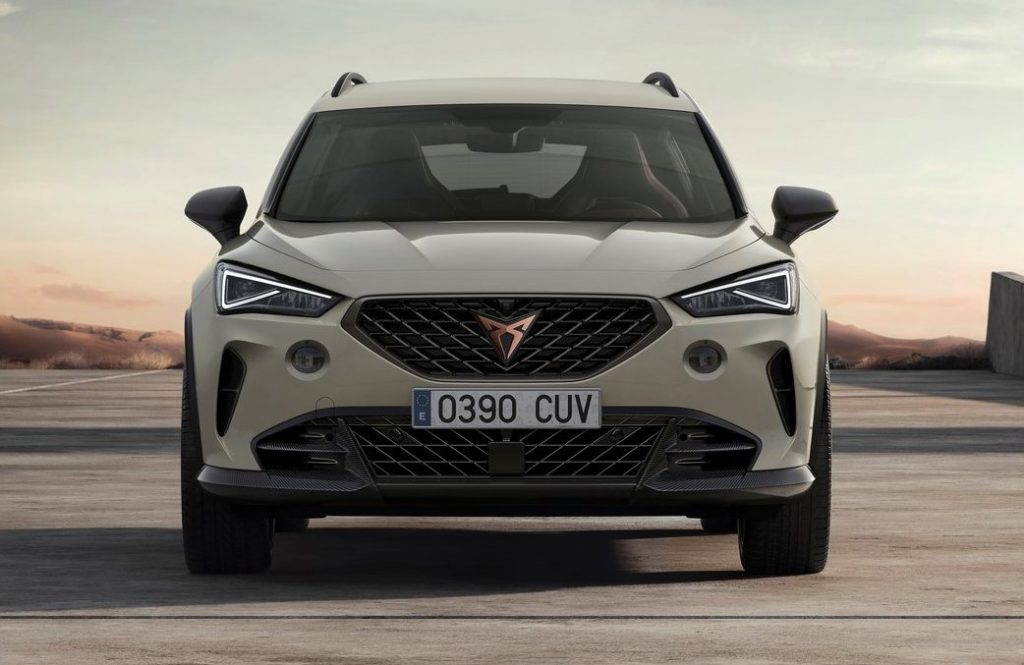 Now to those who have yet to hear of this relatively new marque, they are essentially the performance offshoot of Seat, which in itself is a Spanish automaker within the larger Volkswagen Group. So it shouldn't come as a surprise then that the turbocharged five-pot power plant under the hood of this new VZ5 then may have a four-ringed signature beneath all the angular Cupra badging. 
In fact, packing a mighty 385 hp and 480 Nm of torque which is then sent to all four wheels via a familiar 7-speed dual clutch transmission, this sporty Spanish crossover could be thought off as basically an Audi RSQ3 in crisp Spanish suit. Then again though, this is no bad thing, as it means the VZ5 can romp to 100 km/h from a standstill in a healthy 4.2 seconds, and still have enough muscle to touch its electronically-limited top speed of 250 km/h (155 mph).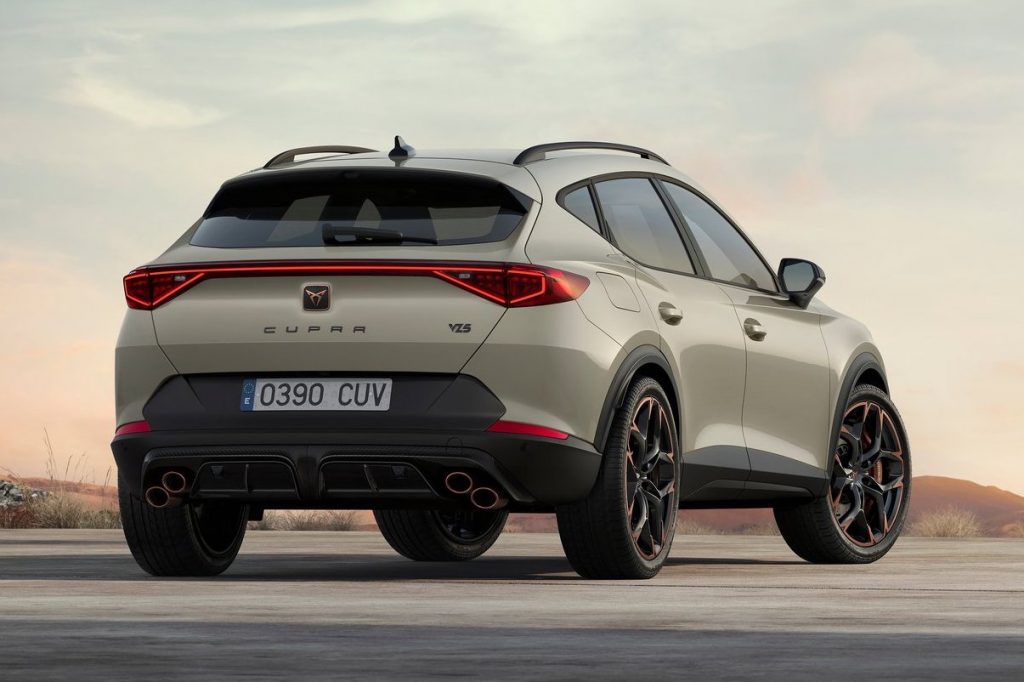 Aside from just straight line performance, the sportiest of the Formentor lineup should also hold its own around corners as suspension responsibilities are taken care off by the standard fitment of the VW Group's rather good adaptive dampers. Dubbed Adaptive Chassis Control (ACC) in the Cupra, the overall ride height of this performance VZ5 has been lowered by some 10 mm over the standard car and comes with 15 levels of damping adjustment as to get the suspension dialled in just right for the road ahead. 
Moving onto its brakes, this is perhaps what really sets this particular Cupra apart from its German brethren. Developed by Akebono, the same Japanese company made the brakes for the McLaren P1, stopping power for the VZ5 comes from a beefy six-piston calliper arrangement biting onto massive 18-inch disks.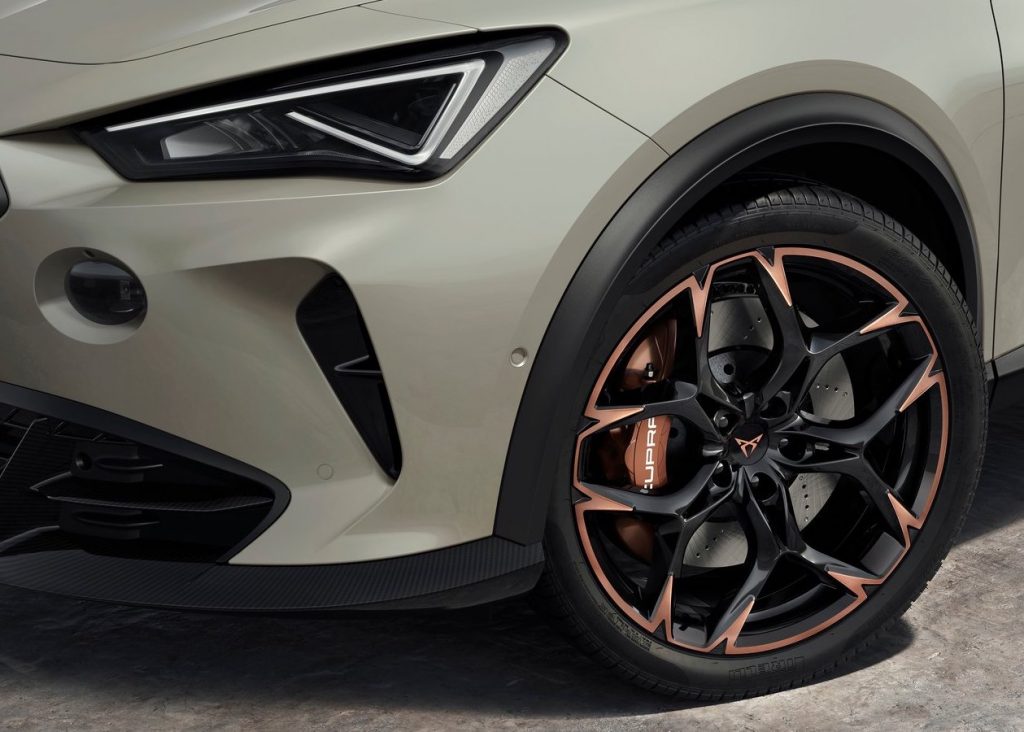 As for what those massive brakes are stopping, it would be the equally massive, and equally copper-coloured, 20-inch wheels that sit within the flared wheel arches of this Cupra. Other exterior enhancements made to this sporty Spanish crossover includes bronze tipped quad-stacked exhaust pipes, a revised front bonnet and bumper, a carbon fibre splitter and diffuser, as well as the 'Taiga Grey' exterior hue which is only to be found on these VZ5 Formentors.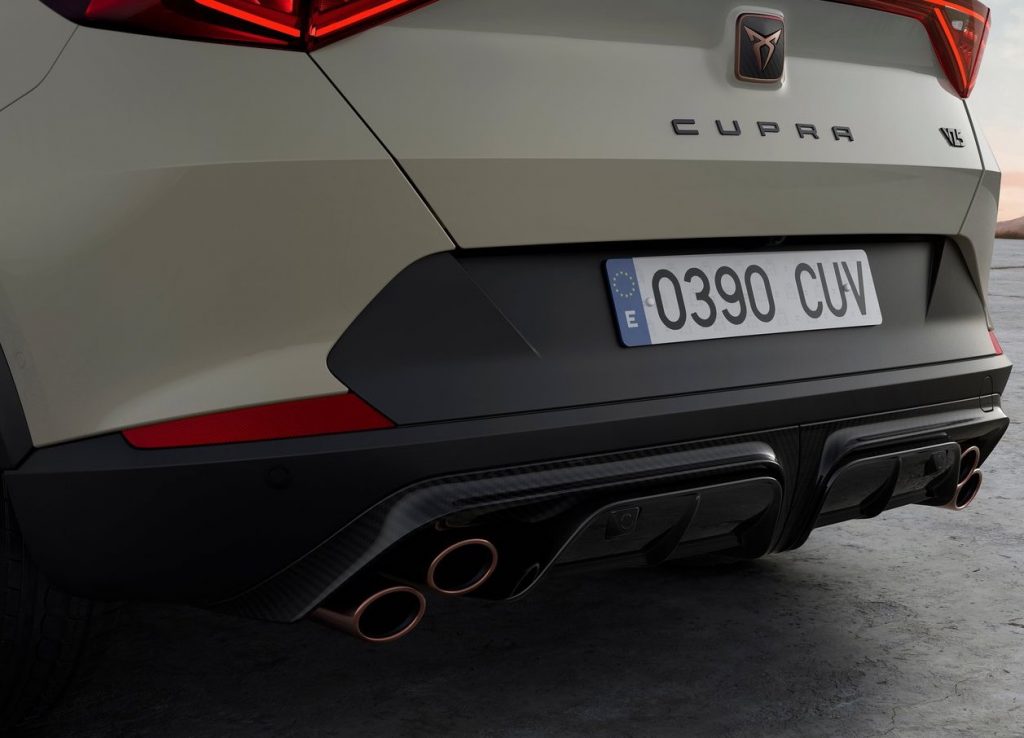 Stepping inside, new CUPBucket leather sports seats make its debut on the VZ5. This is in addition to an exclusive sports steering wheel and various other trim pieces that are finished in the same signature Cupra copper colour.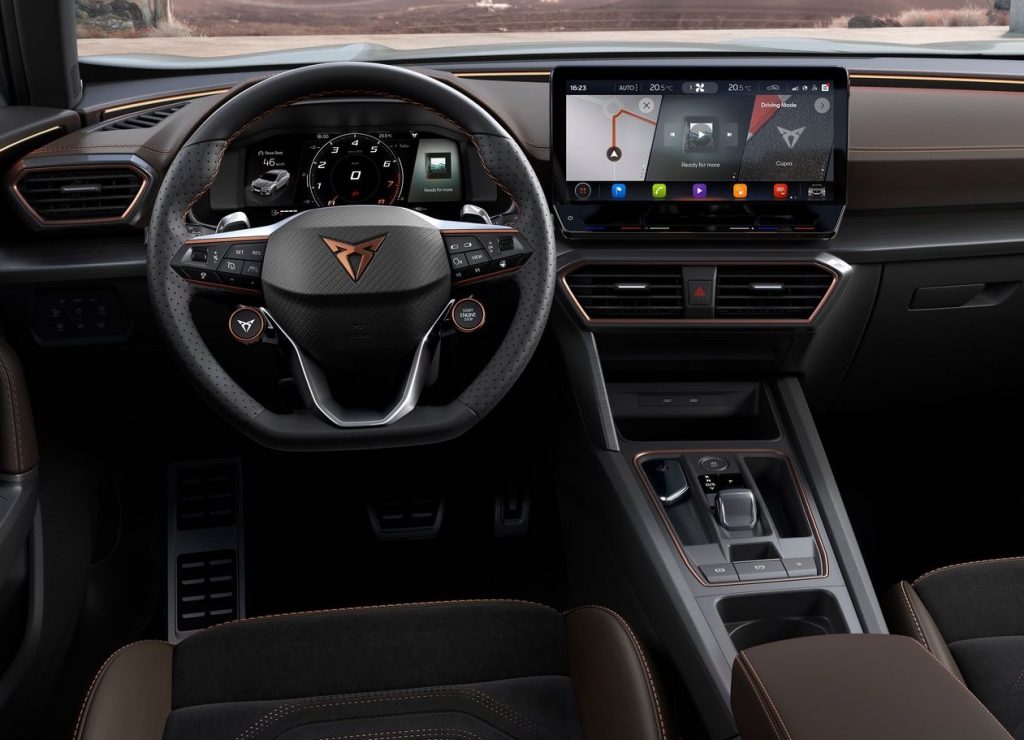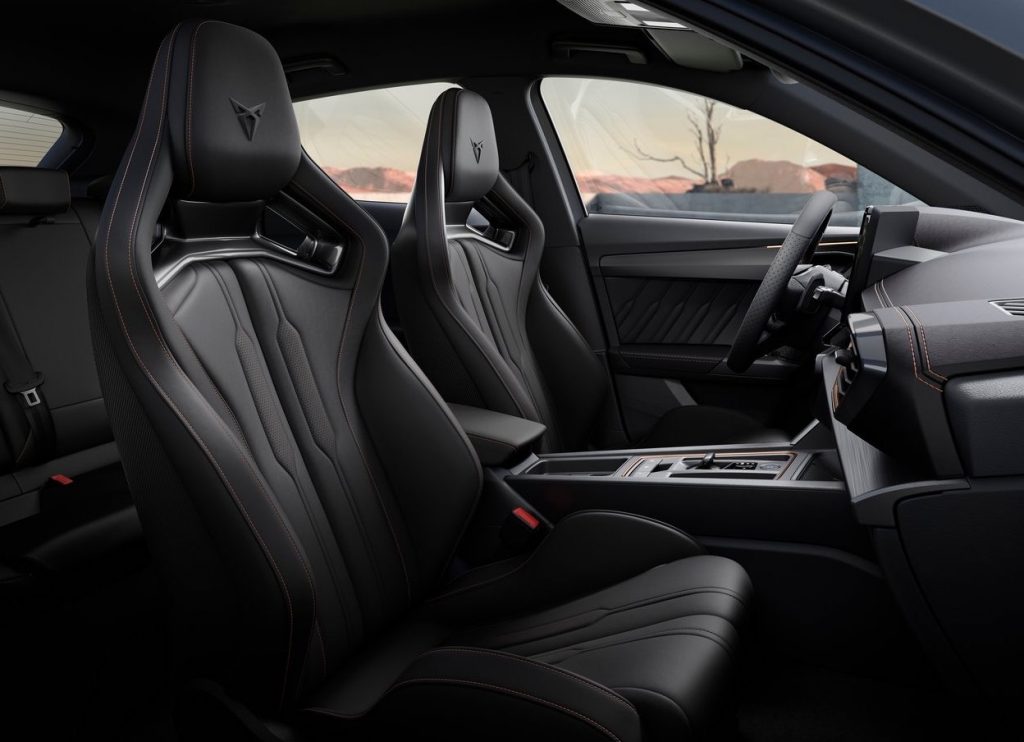 On the subject of exclusive, the Formentor VZ5 will certainly be that, as only 7,000 of these performance Spanish crossovers will ever be made, and all of which will be in left-hand drive form. Prices have yet to be officially confirmed by Cupra, but European deliveries will begin in the last quarter of the year.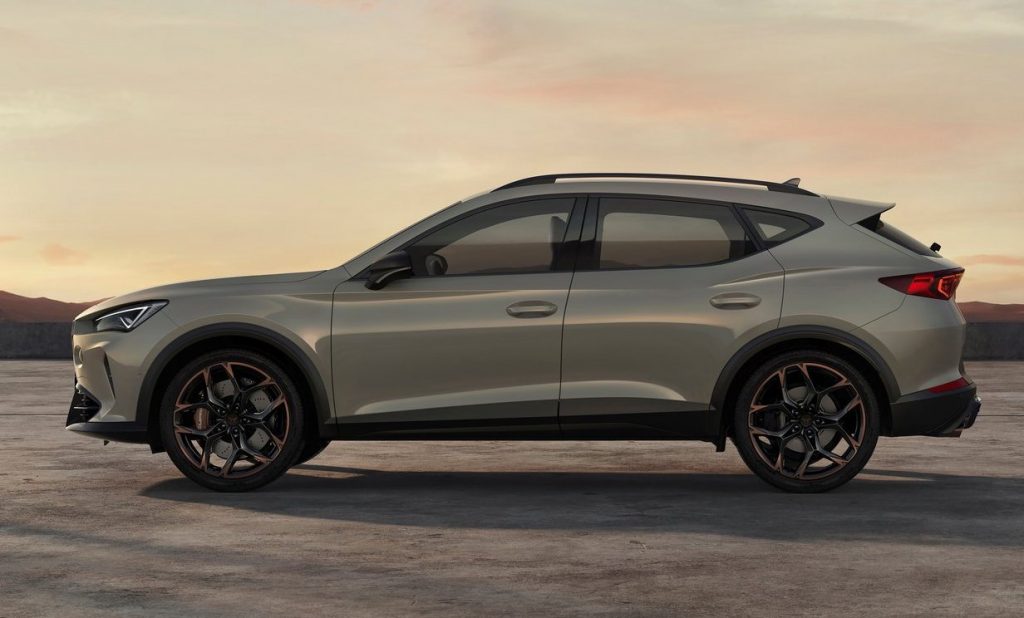 PRESS RELEASE: The CUPRA Formentor, the first vehicle uniquely developed for brand, is now being taken beyond limits with the World Premiere of the CUPRA Formentor VZ5 on behalf of CUPRA's 3rd anniversary.
Bringing a five-cylinder heart to the high-performance CUV, even greater dynamic ability and an even more sophisticated and exclusive experience, the CUPRA Formentor VZ5 is destined to bring an even more unique proposal to the market.
The CUPRA Formentor is already the manifesto of CUPRA's DNA, designed and engineered to offer an iconic model that mixes innovation and an intuitive and dynamic driving experience. The Formentor VZ5 takes these attributes beyond limits.
"As we celebrate CUPRA's 3rd anniversary the Formentor VZ5 marks the occasion by using the highly acclaimed five-cylinder petrol engine, mixing its high performance with an even more sophisticated exterior design to mark the vehicle as the maximum expression of combustion performance for car enthusiasts," said Wayne Griffiths, President of CUPRA and SEAT.
The CUPRA Formentor VZ5's sporty stature, rear-weighted visual emphasis and accentuated bonnet length, underscore its dynamic proportions, and beneath the sculpted form factor is the five-cylinder 2.5 litre TSI engine that delivers 390PS (287kW) and 480Nm of torque. An engine that maximises excitement behind the wheel.
It's the perfect vehicle to help CUPRA mark its 3rd anniversary as a stand-alone brand in its own right, and continues the work, dedication and impulse to create vehicles that deliver CUPRA DNA, in vehicles that offer a diversity making them equally desirable whether you're an enthusiast or want to drive them every day in all scenarios.