Uncategorized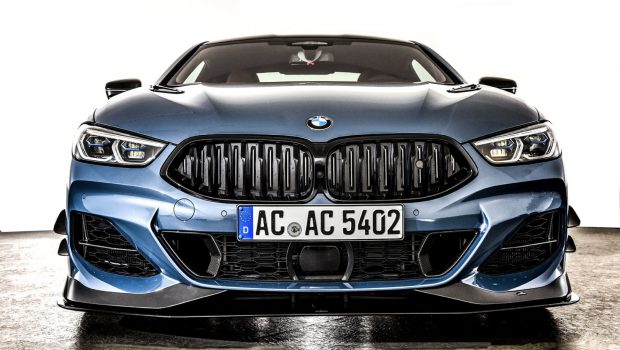 Published on November 27th, 2018 | by Hammer
0
BMW 8-Series Coupe gets AC Schnitzer makover
AC Schnitzer are always at the forefront when it comes to putting their own performance spin on Bimmer models. At the Essen Motor Show 2018, they're showing what they can do with the new BMW 8-Series Coupe.
In terms of power, the 4.4-litre V8 in the M850i model will go from 523hp to 591hp and from 750Nm to 850Nm of torque.
The 3-litre I6 diesel in the 840d will go from 315hp to 374hp and from 680Nm to 780Nm of torque.
Upgrade List
Exhaust:
AC Schnitzer silencer with valve control incl. 2
"Carbon Sport" tailpipes each side in right/left combination, Ø 105 mm
AC Schnitzer silencer (export version) with valve control incl. 2 "Carbon Sport" tailpipes each side in right / left combination, Ø 105 mm
Suspension:
AC Schnitzer spring kit, lowering: front approx. 20 – 25 mm / rear: approx. 10 – 15 mm compared to the standard suspension
Exterior:
AC Schnitzer carbon bonnet vents
AC Schnitzer carbon front spoiler elements AC Schnitzer front splitter
AC Schnitzer carbon front side wings
AC Schnitzer carbon cover für air breather
AC Schnitzer carbon side skirts
AC Schnitzer carbon "Racing" rear wing (export version)
AC Schnitzer carbon rear diffuser
AC Schnitzer carbon rear diffuser with brake light (export version)
Interior:
AC Schnitzer shifting paddles, set AC Schnitzer aluminium pedals
AC Schnitzer aluminium foot rest AC Schnitzer key holder
Wheel/Tyre sets:
AC1 Lightweight Forged Wheels BiColor silver/anthracite or anthracite in 21 inch
AC3 Lightweight Forged Wheels BiColor silver/anthracite or anthracite/silver front: 9,0J x 20″ with tyres 245/35 R20 rear: 10,0J x 20" with tyres 275/30 R20
AC1 Lightweight Forged Wheels BiColor or Anthracite front: 9,0J x 20″ with tyres 245/35 R20 rear: 10,0J x 20" with tyres 275/30 R20