Used cars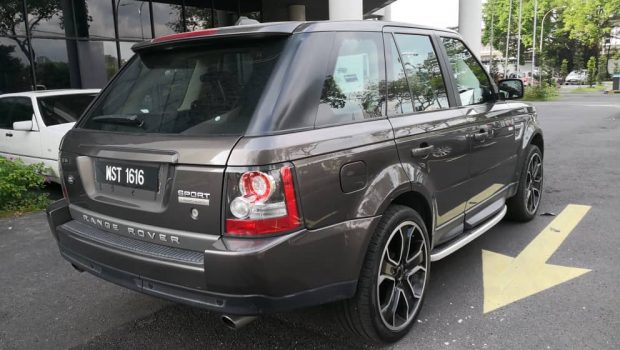 Published on December 1st, 2018 | by Hammer
0
12 year old Range Rover Sport for RM88k?
Yes, this is correct. You can today own this sporty luxury SUV from just RM88k thanks to the wonders of depreciation. Land Rover calls this Ranger Rover their 'sports tourer'. This reflects its ability effortlessly to cover long journeys quickly and comfortably, and yet also to deliver sharp handling and exhilarating performance. Its on-road prowess is complemented by class-leading off-road capability.
This top-line version uses a 390 bhp Jaguar-derived supercharged V8 engine and has a top speed of 225 km/h, electronically limited. It is the fastest and best-accelerating vehicle that Land Rover has ever made.
Derived from the renowned engine used in Jaguar performance models, it has been specially developed for Land Rover needs. Maximum torque is 550 Nm and power and torque are fed, full-time, to all four wheels through a ZF 6-speed 'intelligent shift' automatic gearbox. The transmission features sport programming and Land Rover's Command Shift™, which offers manual control of gear changes. Low range is electronically selectable 'on the move', for tough off-roading.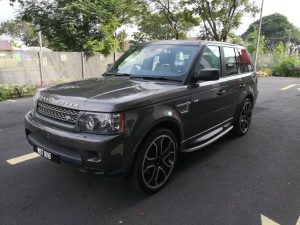 To reinforce the vehicle's sporty character, and improve agility, the wheelbase is 14 cm shorter. The fully independent, air-sprung suspension has also been tuned for exhilarating on-road performance. Minimum body-roll and maximum driver feedback were priorities. Double wishbone suspension front and rear – as typically featured on the world's leading sports cars – is used.
A new Land Rover technology, Dynamic Response, further reduces roll and improves handling. This computer-controlled active anti-roll system senses cornering forces and then acts to reduce lean. It's one of the key reasons why this powerful SUV has the agility and handling of a much smaller sporty vehicle. It is standard on the supercharged model, and optional on other versions.
In keeping with its "driver's pedigree", much work on the chassis tuning of the Range Rover Sport was undertaken at the Nürburgring race circuit in Germany, in addition to the extensive and rigorous on-road and off-road Land Rover development programme. On the supercharged version, four-piston race-bred Brembo front brakes help give superb braking ability.
In addition to its inspiring on-road performance, the Range Rover Sport is exceptionally competent across all terrains, from packed snow to boulders. Land Rover's highly effective new Terrain Response™ system is standard on all models. It allows the driver to choose one of five terrain settings via a pop-up rotary control on the centre console. Terrain Response then automatically selects (or guides the driver to select) the most appropriate settings for the vehicle's many advanced electronic controls and traction aids – including ride height, engine torque response, Hill Descent Control, electronic traction control and transmission settings.
The Range Rover Sport is one of the most aerodynamic of all SUVs. Although packed with recognisable Range Rover cues, it is stylistically different in many ways. The windscreen is more steeply raked, the roofline is lower and sloped, the glass is flush fitting, the characteristic Range Rover bonnet castellations have been smoothed away and the vehicle sits lower.
The Range Rover Sport has five doors, with a single-piece rear aluminium tailgate that includes an opening rear glass for easy access.
Despite its comparative lowness, it is still a roomy SUV, offering space and comfort for five people. Premium materials – including leather, wood and metallic finishes – are used extensively. The cockpit is designed around the driver, and is more enveloping than other Land Rovers. The high and sweeping centre console helps the driver reach across to the controls, rather than down to them. The seats are sporty and supportive.
Now 12 years later, this luxury SUV still looks very much like its 2018 siblings and so for the untrained eye it's a NEW luxury Range Rover that costs in excess of RM600k. Buying one today is quite easy as it resale values are low….buy the ownership experience in terms of maintenance can be high for the uninformed. This is after all a British luxury product and parts and servicing costs are not low. Still, for its asking price today at RM88,000 you will be hard pressed to ignore the value of luxury motoring and might be keen to part with your savings to drive this daily.
For more information please contact :
Azmi – 012-2877477
Skantha – 012-3796671
Range Rover Sport 4.2 Supercharged V8 Specifications
Registered – 2009
Manufactured – 2006
Engine – 4196cc
Power – 390bhp
Torque -550Nm
Top Speed – 225km/h
0-100km/h – 7.6 seconds
Mileage – 54,000km
Asking Price RM88,000 NETT