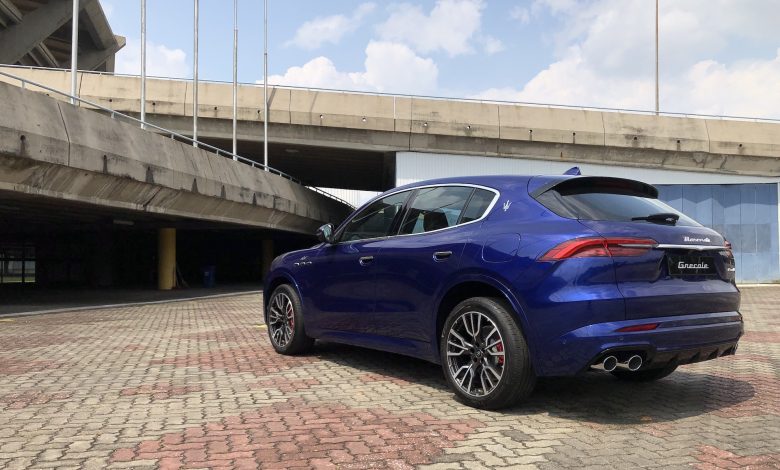 In March this year, Naza Italia launched for sale this all new Maserati premium sports SUV, the Grecale. This all new Maserati SUV is slightly smaller when compared to the Maserati Levante SUV which arrived in Malaysia in August 2016 for just below RM900k.
There was a diesel and also a turbocharged petrol version on offer and sales were encouraging over the last 7 years.
Now with the Grecale, Maserati has a new target market, the Malaysian looking to buy a Porsche Macan or a Mercedes GLC 43 AMG sports SUV which is in the same size and price range.
We present you with 8 compelling reasons why the Maserati Grecale should be at the top of your automotive wish list.
Striking Italian Design:
The Maserati Grecale boasts an unmistakable Italian design that embodies elegance, sophistication, and sportiness. With its sleek lines, muscular proportions, and attention to detail, the Grecale commands attention wherever it goes. Maserati's iconic trident logo proudly adorns the front grille, solidifying its heritage and exclusivity.
Exhilarating Performance:
Prepare to be enthralled by the Grecale's exhilarating performance. Maserati is known for its dynamic driving experiences, and the Grecale will be no exception. Equipped with a powerful 2.0L turbocharged mild hybrid engine, it delivers impressive hot hatch like acceleration, precise handling, and a composed ride that will leave you craving for more.
This Maserati Grecale GT engine makes 300hp and 450Nm of torque which pushes the car to 100km/h from a standstill in just 5.6 seconds on to an impressive 240km/h top speed.
Luxurious Interior:
Step inside the Grecale, and you will find a haven of luxury and refinement. Maserati's meticulous craftsmanship is evident in every detail, from the premium materials to the exquisite finishes. The cabin offers a spacious and comfortable environment, ensuring a pleasurable driving experience for both the driver and passengers.
Cutting-Edge Technology:
Stay connected and entertained with the state-of-the-art technology found in the Grecale. The classic Maserati clock face is now digital. The central infotainment system is also broken down into two screens, a 12.3-inch central screen on top for infotainment and an 8.8-inch unit below it for additional controls allowing you to access your favorite apps and multimedia effortlessly.
Intelligent Safety Features:
Maserati prioritizes your safety and peace of mind. The Grecale is expected to come equipped with a suite of intelligent safety features designed to protect you and your passengers on every journey. From advanced driver-assistance systems to robust safety structures, Maserati has your well-being covered.
Uncompromising Versatility:
The Grecale combines the practicality of an SUV with the elegance of a luxury vehicle. Whether you're embarking on a weekend adventure or running daily errands, the Grecale's versatility makes it an ideal companion. Its spacious cargo area and flexible seating configurations ensure you have ample room for all your belongings.
Unparalleled Brand Heritage:
Maserati is synonymous with luxury, performance, and a rich history. Owning a Grecale allows you to be part of the exclusive Maserati family, joining the ranks of automotive enthusiasts who appreciate the brand's unrivaled heritage and uncompromising commitment to craftsmanship.
Unforgettable Driving Experience:
Ultimately, the Maserati Grecale promises an unforgettable driving experience. Every moment behind the wheel will be a celebration of power, luxury, and emotion. From the enticing exhaust note to the precise handling, the Grecale is designed to ignite your passion for driving.
This Maserati Grecale GT hybrid is priced from just RM598,000 inclusive of local duties and taxes.