Automotive
The PV444 Was The Car That Shaped Volvo Into What It Is Today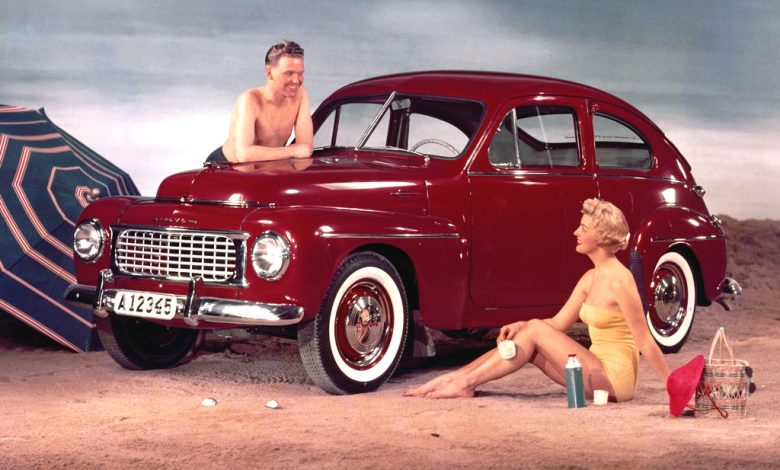 The PV444 is the most influential Volvo that few have ever heard of. 
When thinking of Volvo, most will likely imagine a safe and reliable box on wheels. This is after all the automaker that built its brand on a safe and sensible image, with innovations such as the three-point seat belt and cars like the 240 to its name. 
Though while the 240 may very well be the one model that truly defined in the minds of most what Volvo is as a car company even to this day, its key qualities of reliability and practicality actually was cemented long before the aforementioned blocky icon came onto the scene. Qualities that were incidentally first exhibited by the PV444, a Volvo that unfortunately not many remember these days already.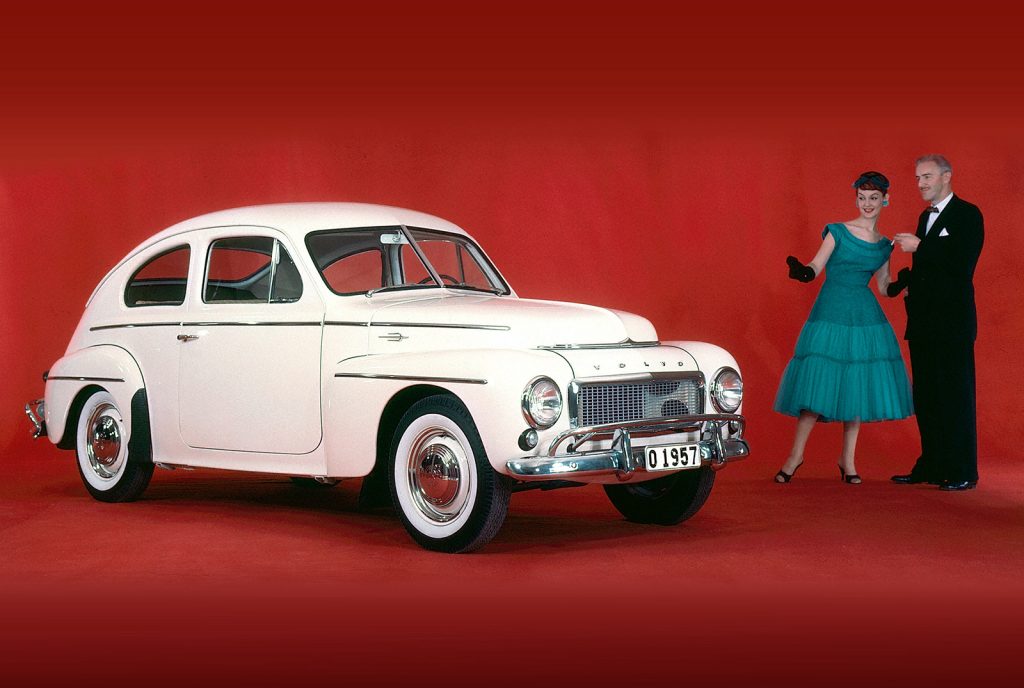 Now the fact that most might not have heard of this particular Volvo could simply be down to its age, as the PV444 was after all a product that came right after World War 2. In fact, launched in 1944, this particular model was actually envisioned by its maker to be a people's car: a smaller, cheaper and fuel-efficient people-mover to put the Swedish people on wheels in an era of renewed peace and prosperity.
And rather incidentally, this Swedish people's car does share the tiniest of links with its German equivalent. That is as the PV444 was in no small part influenced by a little-known but rather technically advanced (for the time) 1939 Hanomag Autobahn. This 1.3 L aerodynamically-styled sedan served as the basis for Volvo to develop its first-ever monocoque chassis for use in the PV544, in addition to being a stylistic influence as well.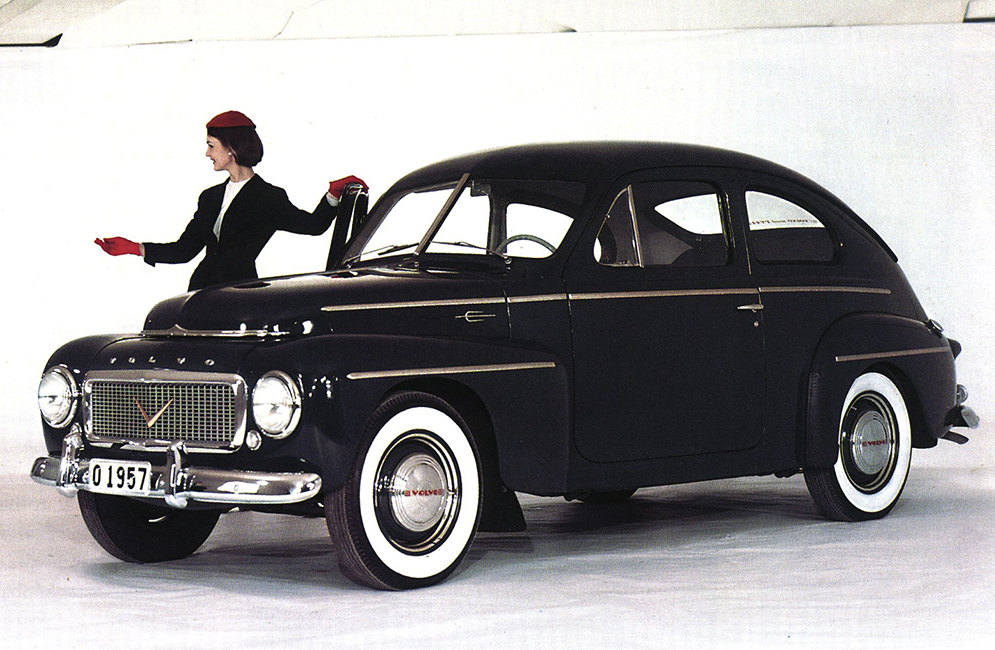 Volvo also followed a similar route as the aforementioned Hanomag in terms of propulsion too, with the earliest models to roll off its Gothenburg production line in 1947 outputting only a modest 40 hp from its B4B four-cylinder. Though the only thing longer than the time it took the early PV444s to get to its quoted top speed of 125 km/h was to be the waiting lists for it, as this Swedish people's car soon became a hit within its home market. 
This however was only to be the start of the PV444 story, as being the car that really set production moving at post-war Volvo was but only one of this model's claim to fame. That is because the PV444 has a bigger legacy in cementing the Swedish automaker's rugged and reliable image, not to mention its surprisingly sporty image too. And this all began when Volvo decided in 1956 to stick a more potent twin-carbed B14A 1.4-litre four-cylinder under its hood.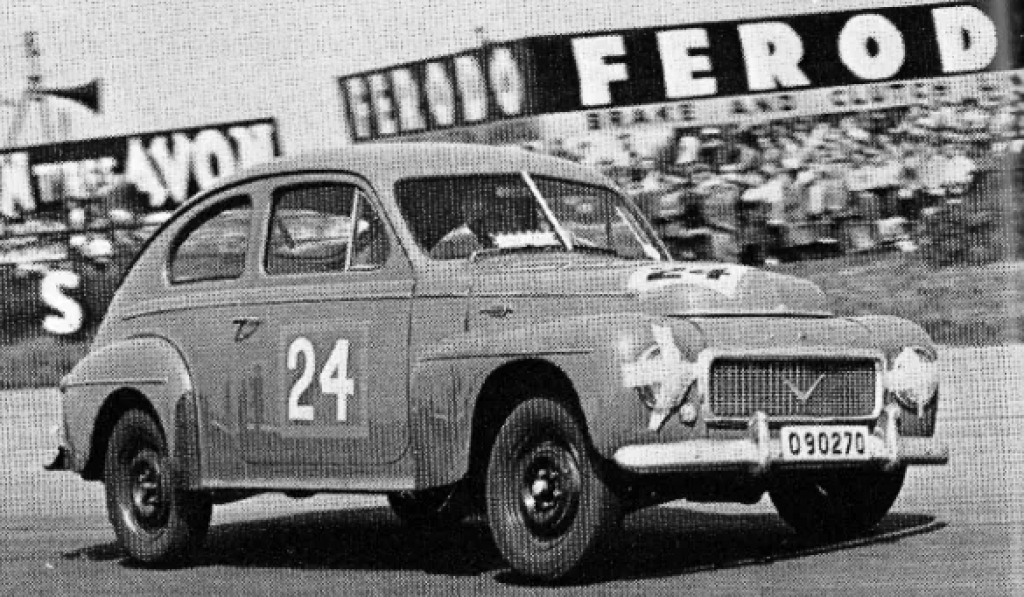 Outputting a much healthier 70 horsepower this time around, the PV444's rugged qualities began to poke through as it became a rather competent rally car back in its homeland. Though funnily enough, it was on the circuits of the US in the American SCCA class that this humble Volvo really kickstarted the Swedish automaker's surprisingly sporty image. 
The PV444 was actually the first Volvo to ever make it into North America. And rather unfortunately, having been in production for over a decade already by the time it arrived over there in 1956, the PV444 was not exactly the freshest model on the block.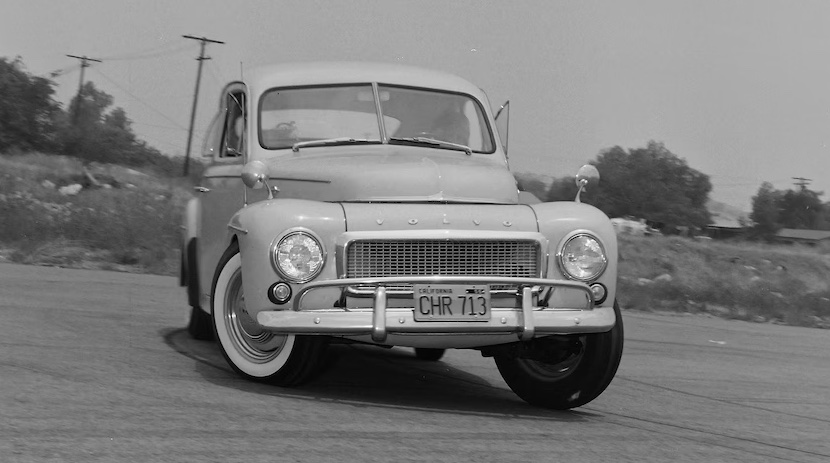 Its fastback design (which dated back to the 1939 Hanomag) for instance was already to be considered way out of date by the 50s, and its diminutive size (relative to the other yank tanks of the time) didn't help sales. But the first few American customers in Southern California and Texas who decided to take a chance of the Volvo soon fell for its rugged construction and excellent material quality, not to mention too its decent fuel economy that was often half that of its equivalent 
What more too is that courtesy of a new 85 hp B16 power plant, the PV444 became a properly spunky sports sedan that could both haul kids and arse at the same time. In fact, the PV444 had such become a beloved institution in Sweden and abroad that when Volvo launched the 122 Amazon in 1958, the Swedish automaker simply gave the PV444 a mild update and continued selling it as the PV544 alongside what was originally meant to be its replacement.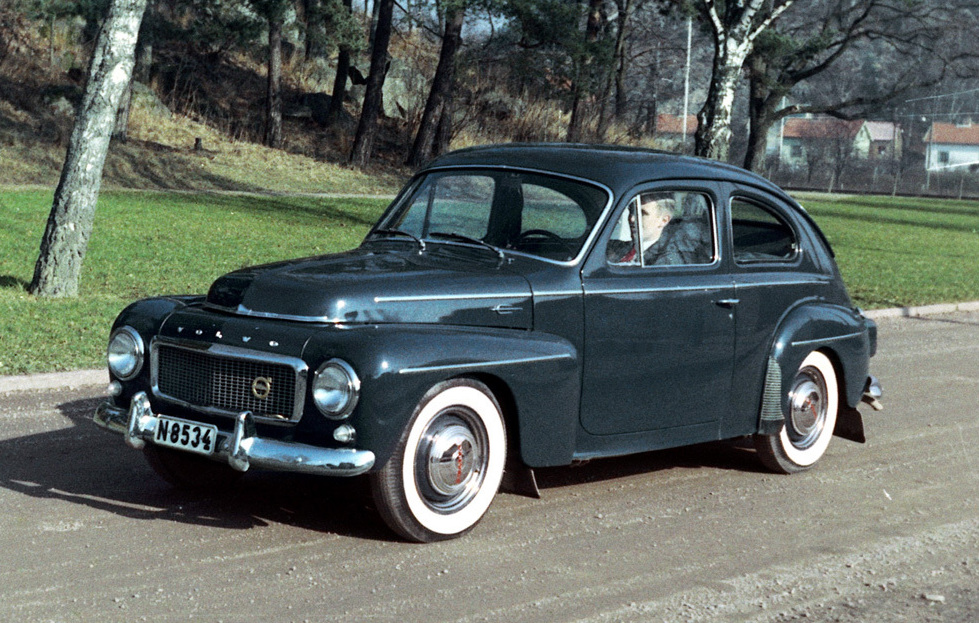 Changes to the PV544 from the PV444 included a single-piece windshield in place of a double-paned unit, as well as a new four-speed transmission to complement a new 1.8-litre B18 engine (the first of Volvo's iconic Red block engine series). The Swedish automaker had also squeezed another seat into the rear bench of this two-door hunchback, not to mention too adding some sort of Y-shaped belt to the front seats. 
Yes, the PV544 was indeed the first-ever car to be fitted with three-point seatbelts. An invention of Volvo's which the automaker is frequently fond of reminding everyone was premiered on this very model back in 1959. Though kickstarting Volvo's entire image of safety is impressively not all the PV544 has to its name, as its Duett variant was incidentally also the first-ever Volvo estate.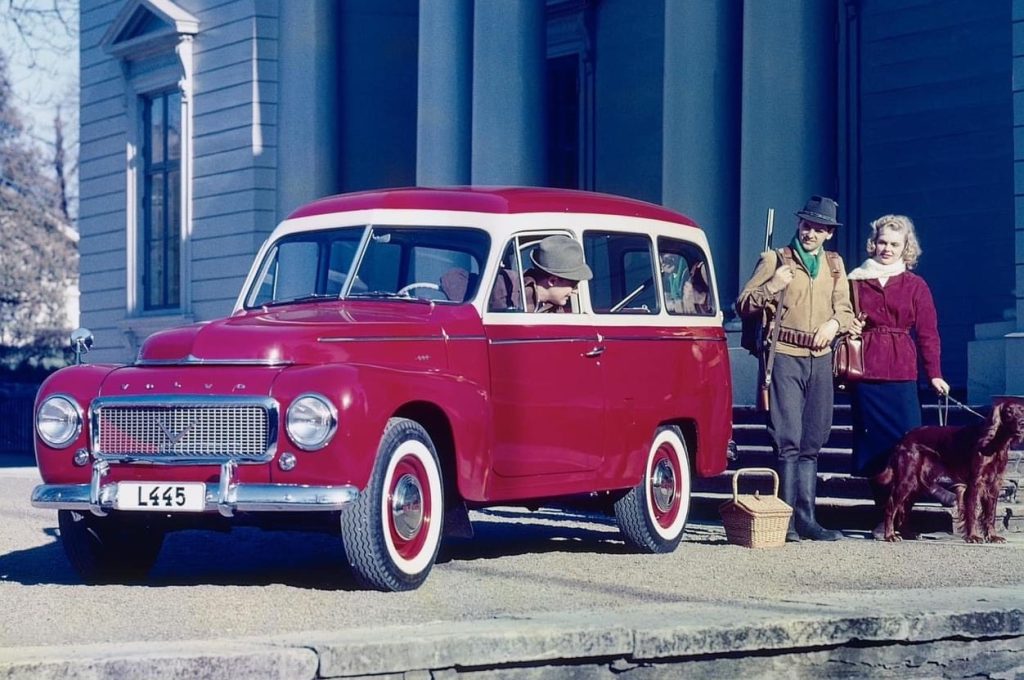 Exactly 440,000 units of PV444 and its 544 update were built from 1947 to 1965, in both Gothenburg and also the automaker's first international production plant in Nova Scotia. During its 18-year run, the car had so endeared itself to its owners that Volvo ran self-deprecating advertisements in late 1965 and early 1966 imploring PV owners to not be angry with the company for ending production. 
It is however not hard to see from the various virtues of the PV444 as to why owners will be disappointed to see it go. And it is not too difficult to trace where the current influence of this iconic Volvo in the automaker's current products. It is however rather unfortunate to think that many in this day and age will not have even heard of this model, but now at least you know. So next time when you think of Volvo, hopefully a brick is not all that you will see…