Automotive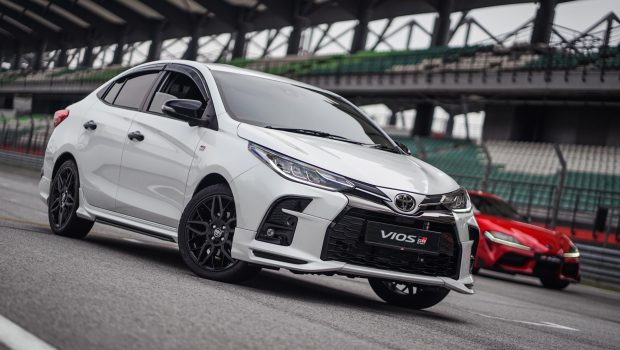 Published on December 18th, 2020 | by Joshua Chin
0
Toyota Vios GR-S Arrives In Malaysia, RM 97.5k
This warmed up Toyota Vios features a bit more than the usual aesthetics enhancements. 
Aside from the regular facelift Vios that was launched recently, Toyota has also introduced a warmed up version of its compact sedan in the form of the Vios GR-S. Short for Gazoo Racing Sport, this locally-engineered performance model goes alongside the GR Supra and the newly-launched GR Yaris in the Japanese automaker's performance lineup in Malaysia.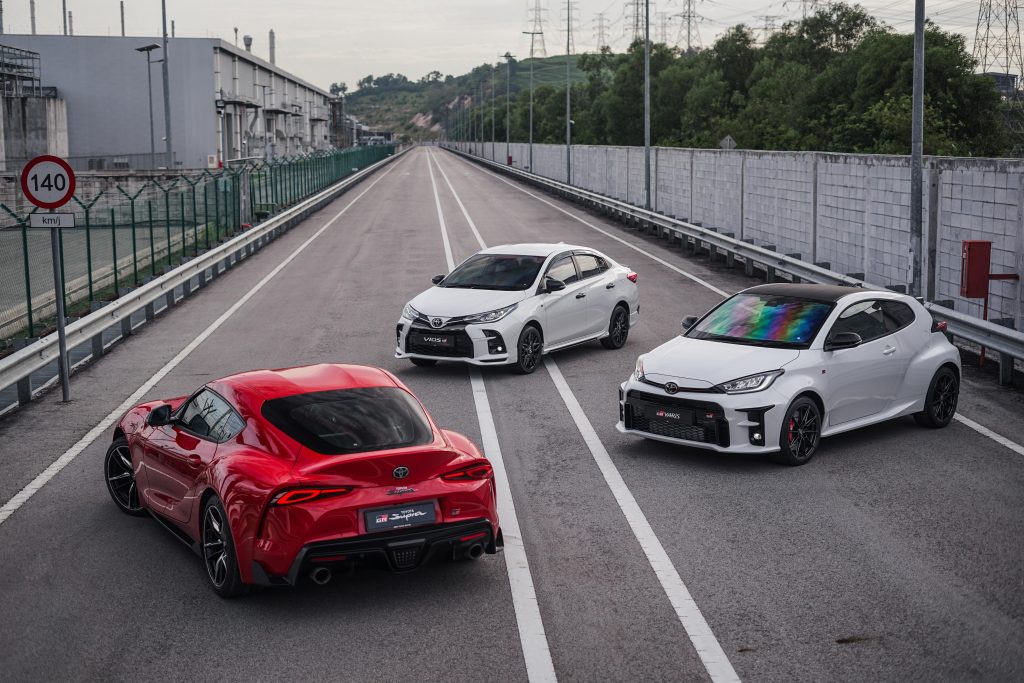 Now to those thinking that you're getting GR Yaris mechanicals in a (much-cheaper) Vios package, you'll perhaps be sorely disappointed as this new GR-S flavour of Vios still retains the same 1.5 litre 2NR-FE dual-VVTI naturally aspirated four cylinder that is rated at not a particularly racey 107 hp and 140 Nm of torque. 
Then again, to those who are thinking that this is just a performance aesthetics package for the Vios, much like an AMG Line Mercedes or an M Sport BMW, that's not quite it either. That is because this warmed-up Japanese sedan does feature some mild performance enhancements over its hum-drum counterparts.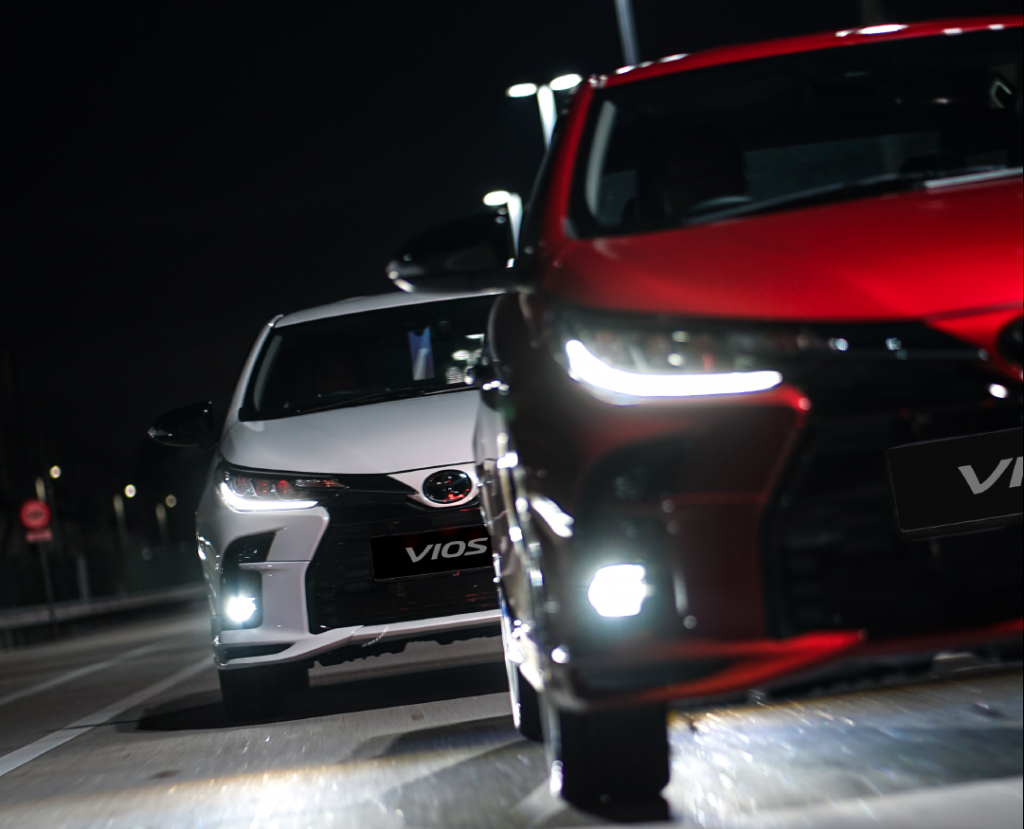 Chief among which is that while the engine remains the same, the 7-speed Continuously Variable Transmission now gains an extra 3 ratios, bringing the total number of (virtual) gears up to 10. Activated via the selectable sports mode or through the steering mounted paddle shifters, this increased number of ratios apparently "allows the car to be driven at the optimum power band and keeps it spirited throughout the rpm", according to GR Ambassador and two-time Vios Challenge champion Tengku Djan.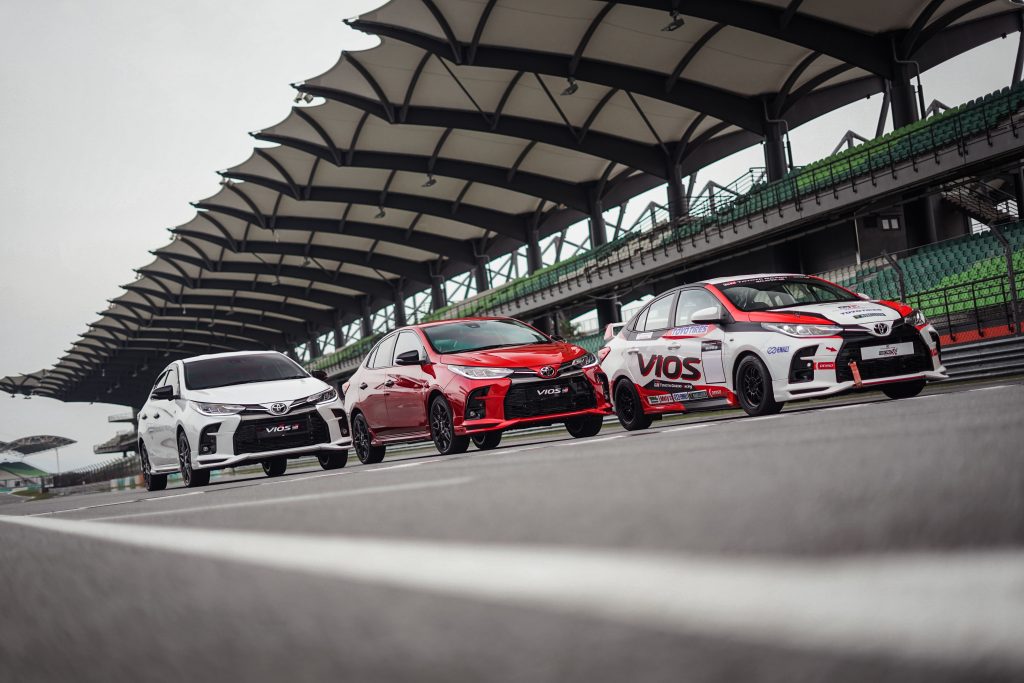 Moreover this GR-S Vios, which is supposedly inspired by the Vios Challenge race cars of the TGR Festival Vios Challenge racing series, also gains a sports-tuned suspension. For which if the marketing blurb is to be believed, increases both the high speed handling prowess of this compact sedan, as well as comfort. Adding to the skepticism on the 'increased comfort' front are the new black multi-spoke 17-inch alloy wheels, that are incidentally wrapped in 205/45R17 low profile tyres.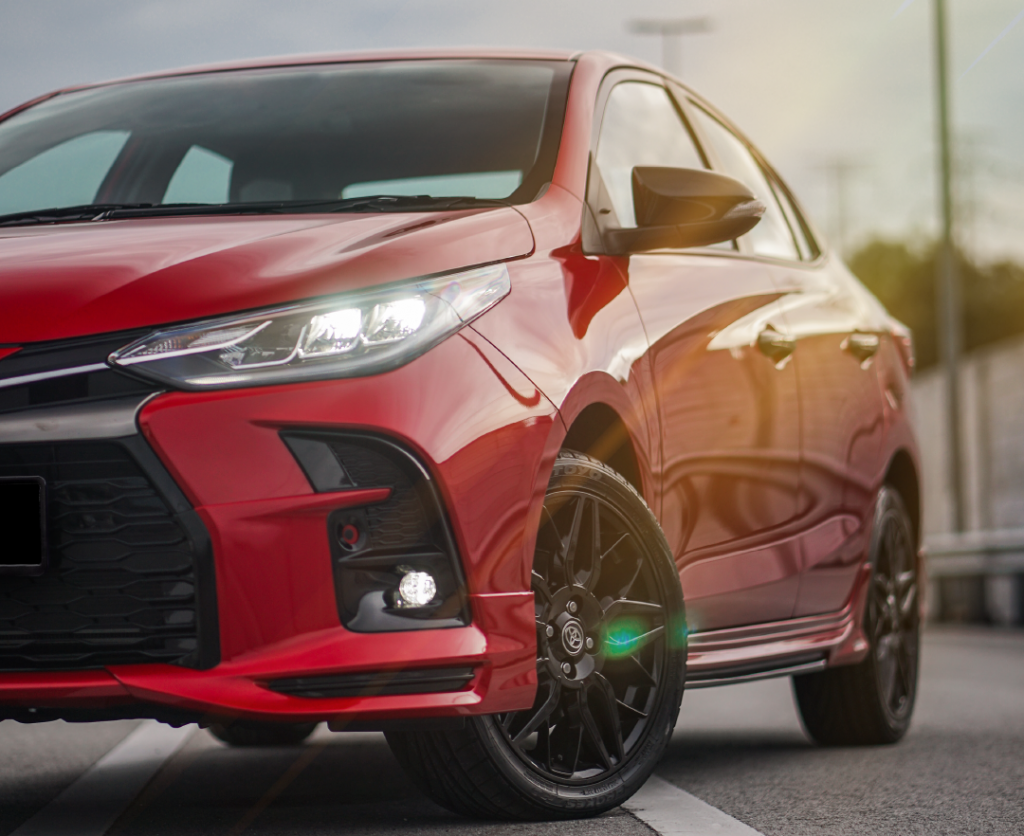 Going back to the topic of aesthetic enhancements, the Vios GR-S does gain a few new distinguishing features over its regular Vios cousins, on both the exterior and the interior. 
Starting with the outside and up the front, the GR-S Vios gains a more agressively-styled front bumper which supposedly resembles the front of the GR Yaris. Continuing down the side, this warmed up Toyota features blacked out side mirrors and some sportier side skirts.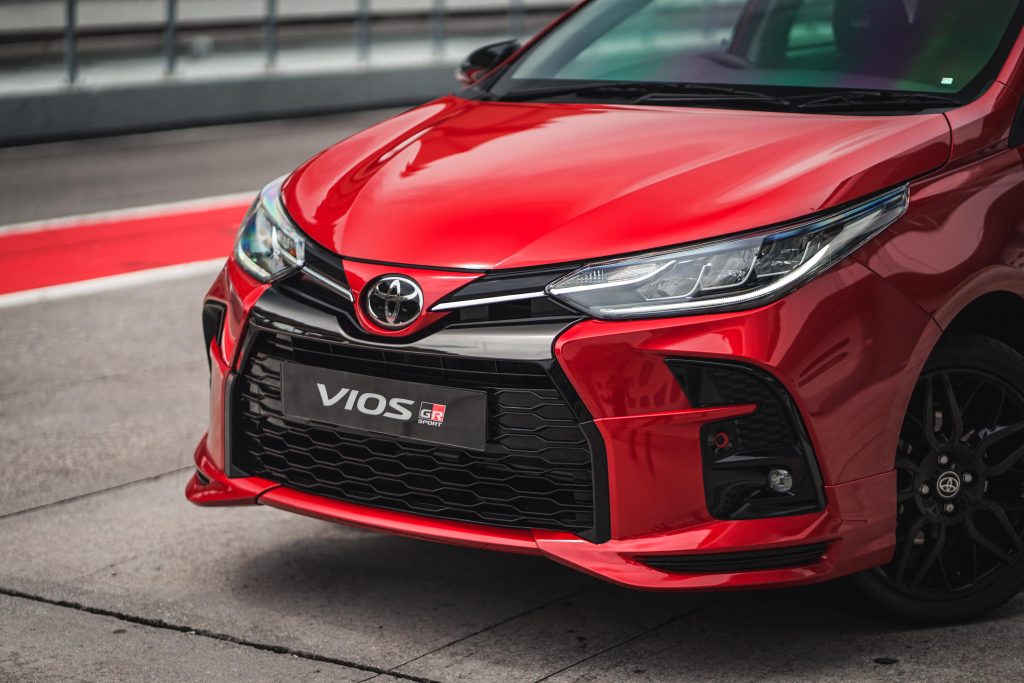 Moving round the back meanwhile, the aerokit brings with it a new rear bumper with an exposed diffuser, as well as a black boot spoiler that doesn't look too well integrated with the rest of the car.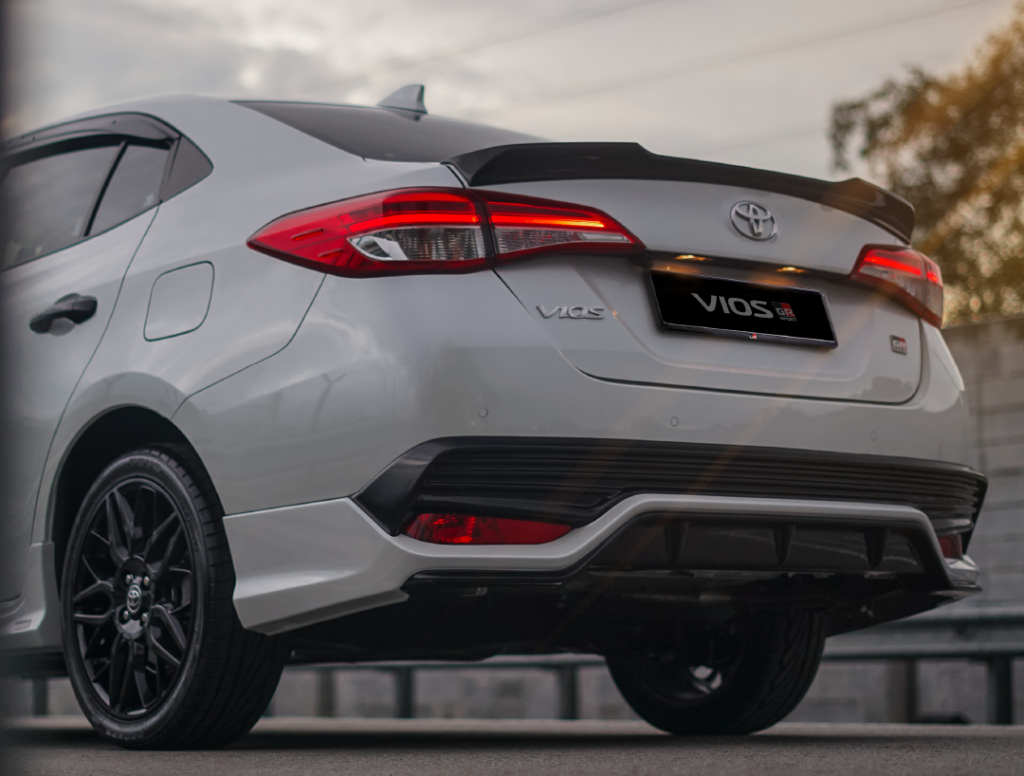 Stepping inside, more GR-S exclusive bits are to be found. These include suede and leather-wrapped black sports seats with contrasting red stitching and embossed GR logo on the head rests, a three spoke multi-function leather steering wheel, a leather shift lever knob, and GR embossed floor carpets. 
Within the instrument cluster, a red Optitron meter panel with red needles signifies that this is no ordinary Vios. Upon pressing the GR labelled starter button, there is also a special GR animation that plays on the 4.2-inch Multi-Information Display to further reaffirm this fact. 
Available exclusively in either Platinum White Pearl and Red Mica Metallic, the Vios GR-S is priced at RM 97,500 (inclusive of sales tax). In other words, it is an additional RM 7,700 on top the normal top-spec post-facelift Vios.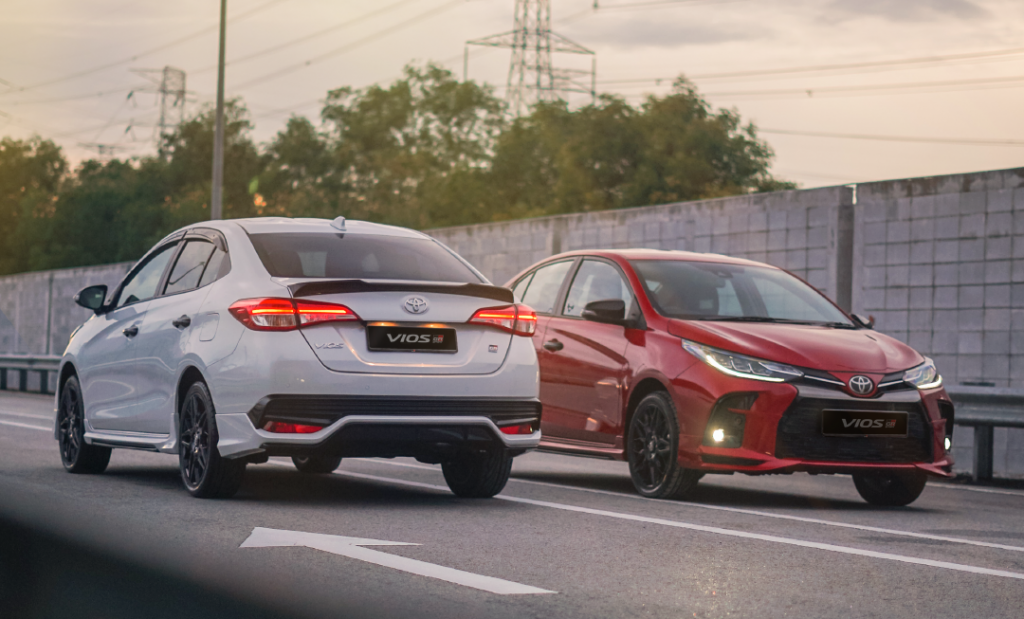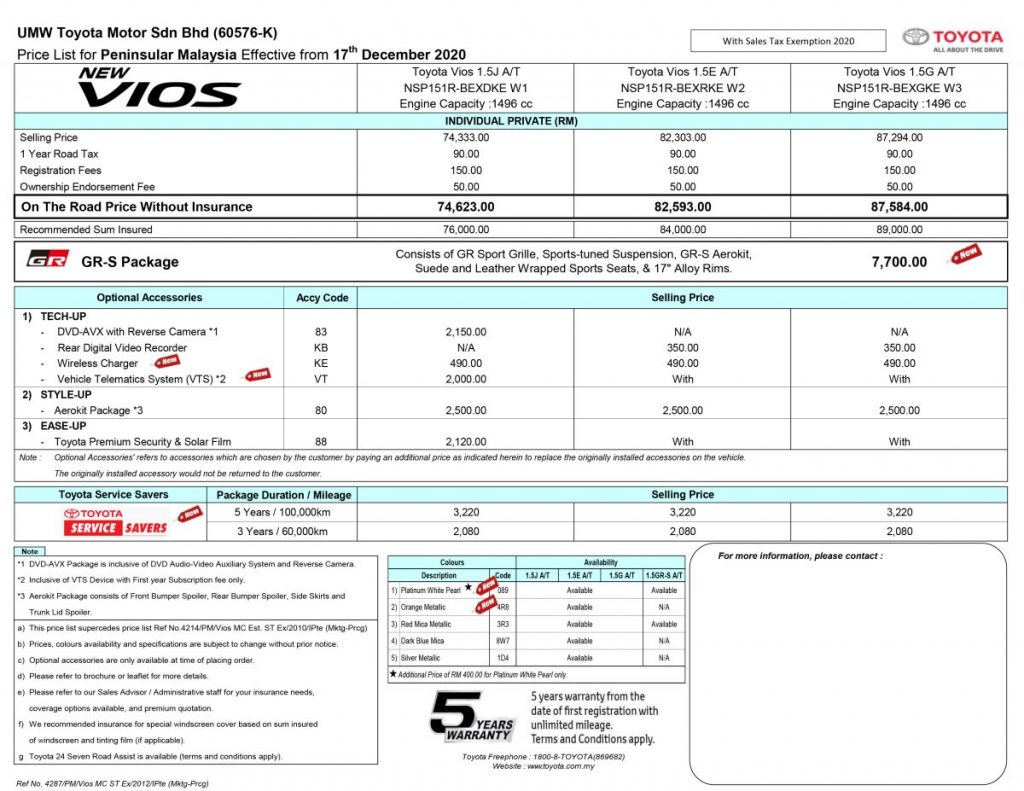 The question(s) to ask now though regarding the launch of this new warmed-up Vios is whether it is actually worth the additional outlay for no additional performance, and perhaps more importantly, how will it fare against the all-new City RS that is due to arrive early next year.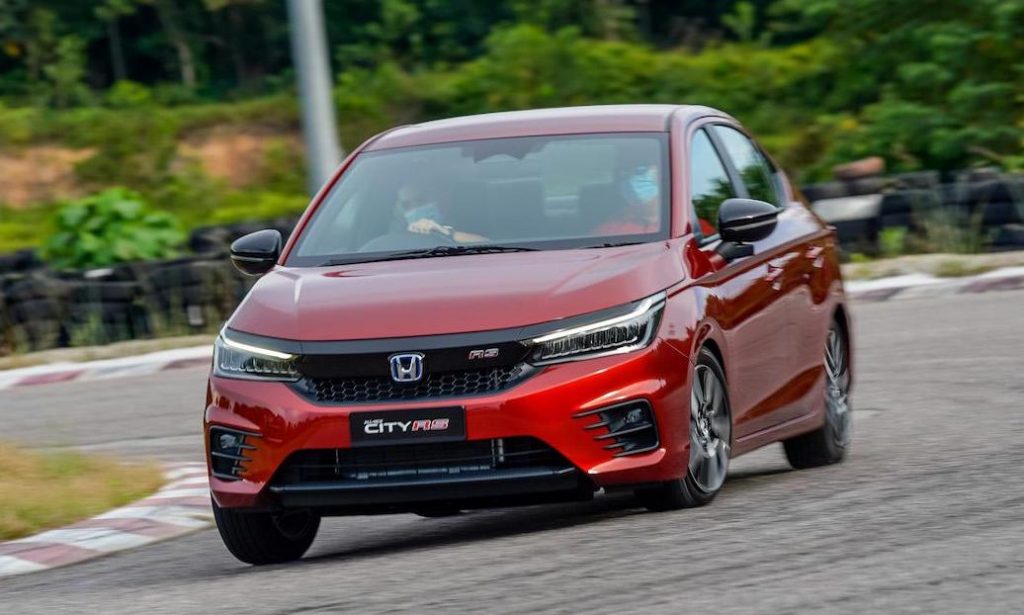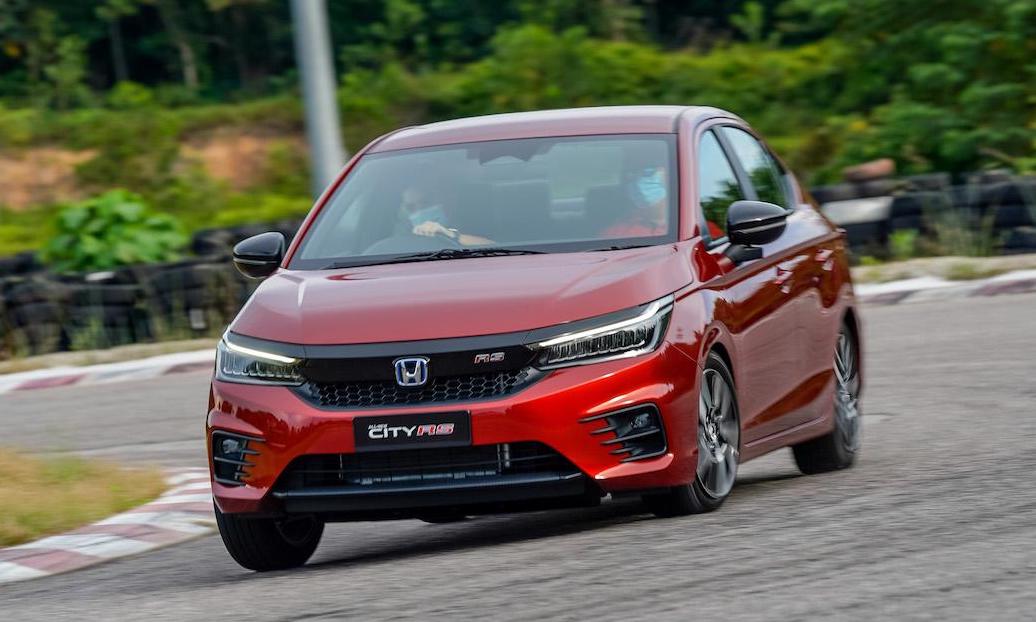 PRESS RELEASE: Raised on the racing track, UMW Toyota Sdn Bhd today unveiled the world first premier of Vios GR-S, the very first locally-engineered model to proudly wear the Gazoo Racing Sport badge since the introduction of the GR Supra and the newly-launched GR Yaris. 
Projecting a distinct attitude and athleticism, befitting of the GR badge, the Vios has become synonymous with motorsports locally and developed as a tribute to, and drawing enormous experience and technical knowledge from three seasons of UMW Toyota Motor Sdn Bhd successfully establishing the Vios Challenge into a premier street racing series in Malaysia.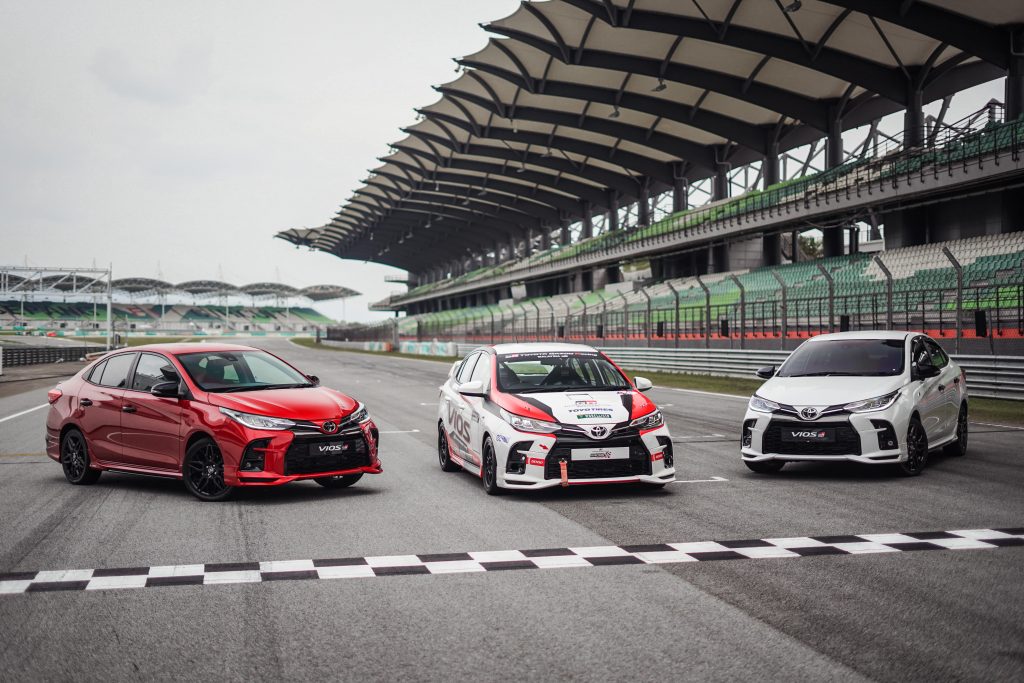 The first ever GR Sport model to be produced by UMW Toyota Motor Sdn Bhd at its advanced manufacturing facility in Bukit Raja, Klang. 
Distinguished by the exclusivity of the GR Sport badge, the Vios GR-S sports an aggressive aerokit that comprises of a sculpted front bumper reminiscent of the GR Yaris, rear bumper fitted with a diffuser, a blacked out boot spoiler, side skirts and blacked out side mirrors. The car also projects a more powerful stance with bespoked and blacked-out 17" inch alloy wheels wrapped with 205/45R17 low profile tyres.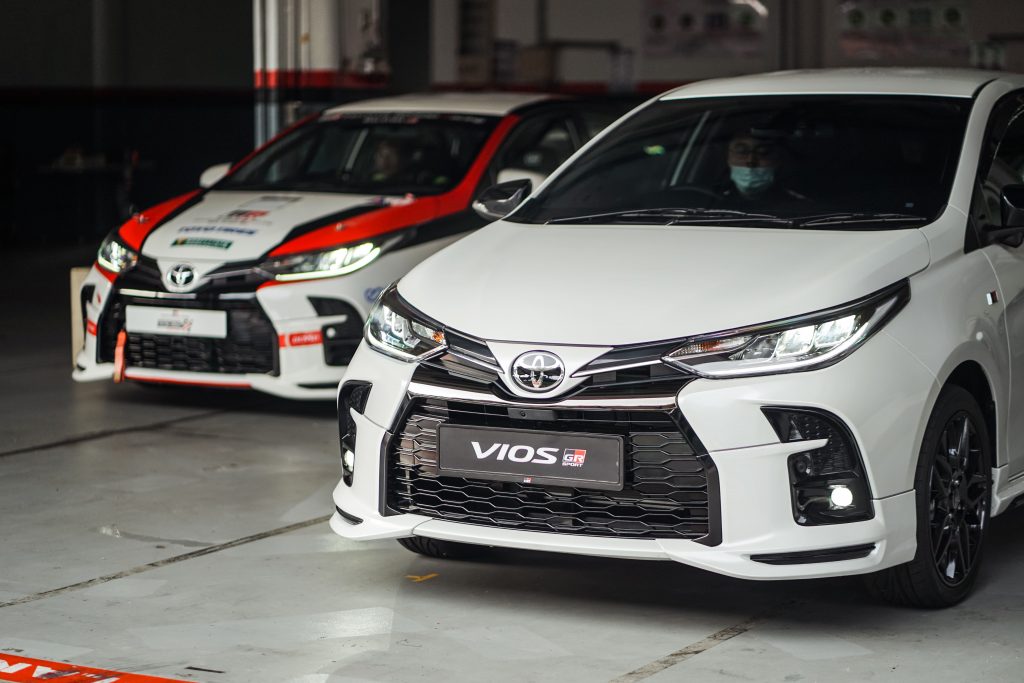 Engineered with sports-tuned suspension for both increased handling and confidence in high speed as well as comfort, Vios GR-S is fitted with a 10-speed Continuously Variable Transmission (CVT) activated via sports mode and using the steering mounted paddle shifters, offering a more spirited drive, a better start up and quicker acceleration through tight corners. This new configuration allows the car to be more responsive by sustaining higher RPM range for better throttle response especially for overtaking and re-acceleration.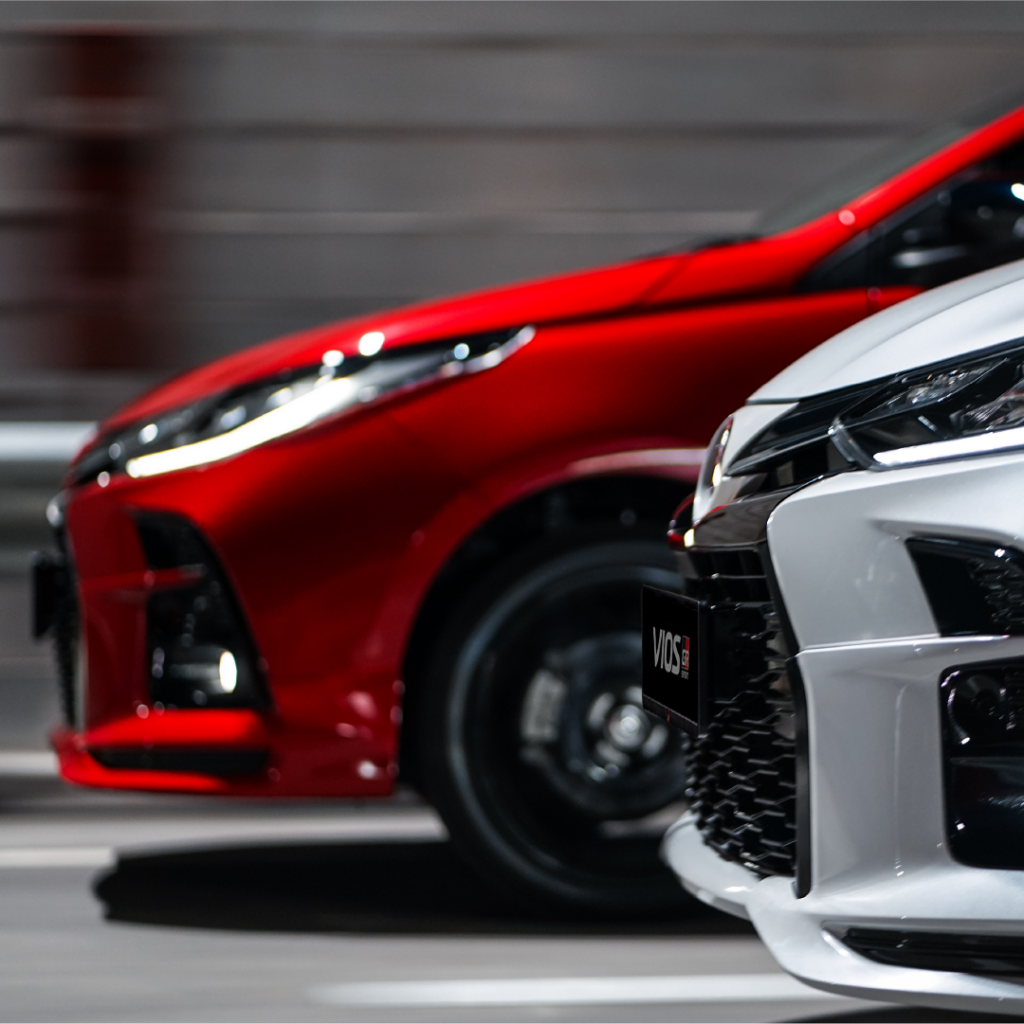 The Vios GR-S also sports greater individualism in the interior detailed by black with red stitching suede and leather wrapped sports seats, embossed GR logo on the head rests, a three-spoke leather steering wheel, leather shift lever knob, and GR embossed floor carpets. A GR logo on the push start button let's you know you're driving a thoroughbred Vios, and this is further reaffirmed by the red Optitron meter panel with red needles, and GR animation on the 4.2" inch Multi- Information Display. 
The Vios GR-S is only available in two signature colours: Platinum White Pearl and Red Mica Metallic.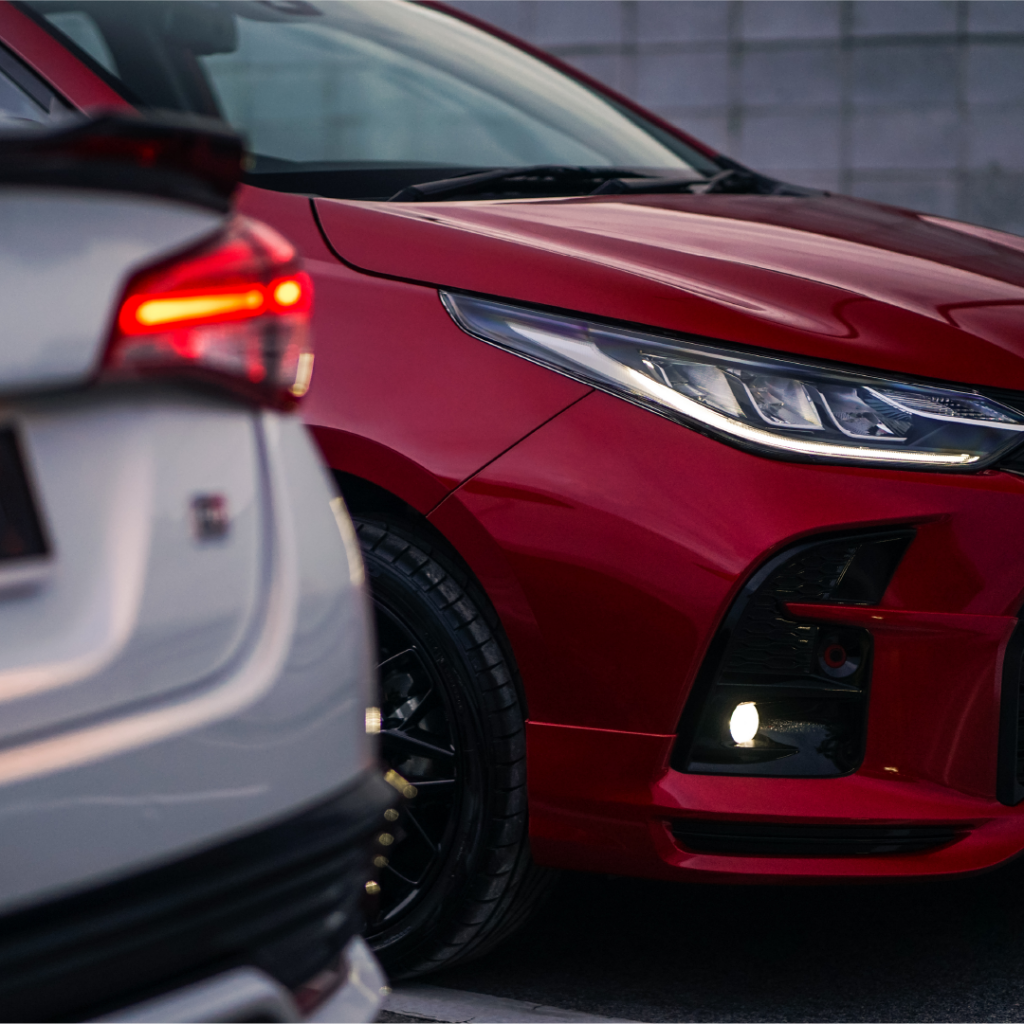 "This is a very special model for several reasons: it was developed locally, it was inspired by the success of the Vios Challenge, and above all it had to meet with all the criteria of what the GR brand represents before becoming truly worthy of being bestowed with a GR badge," said UMW Toyota Motor Sdn Bhd Deputy Chairman and Gazoo Racing Malaysia Chief Motorsport Officer Akio Takeyama. 
"Gazoo Racing is a global direction, one that underlines Toyota's aspiration to push the limits via its involvement in motorsports, and this is translated into building better products and shaping the strength, capability and creativity of its workforce. This is a philosophy we embrace in our business domestically, and now with models like the Vios GR-S, GR Supra and newly-launched GR Yaris, UMW Toyota Motor has a strong product mix locally to establish an even bigger footprint in the performance car market and in Malaysian motorsports."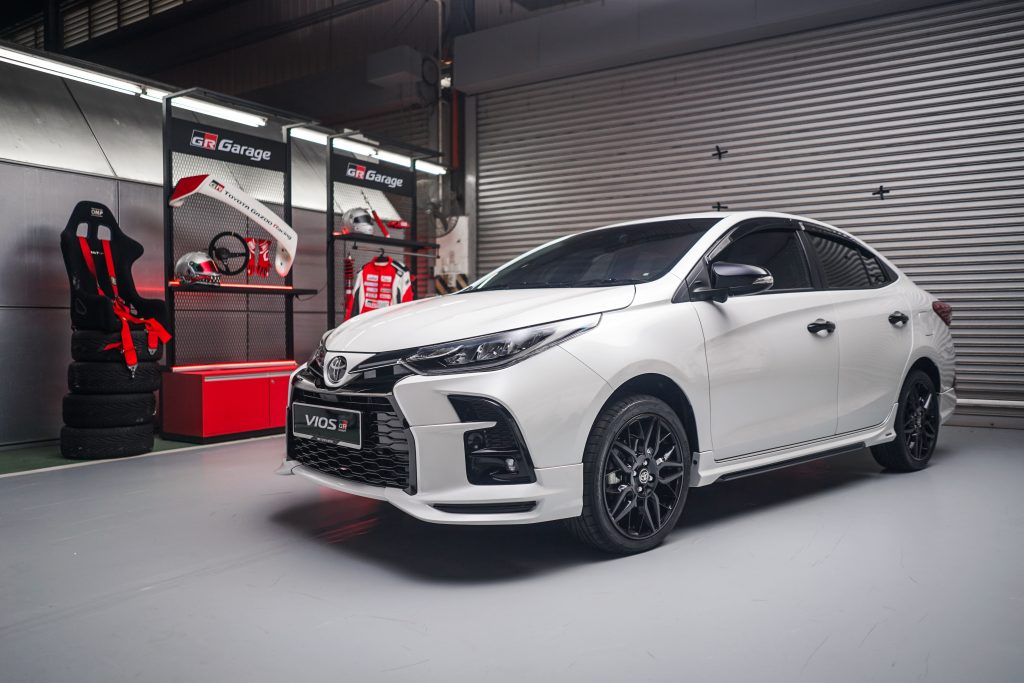 First launched in January 2019, the latest generation Vios has evolved into a popular-selling entry- level sedan, enjoying a sterling record of reliability, practicality and being a value for money proposition on the road. It has also withstood the punishing conditions of motor-racing throughout the region via the Vios Challenge series in Malaysia, Thailand and the Philippines.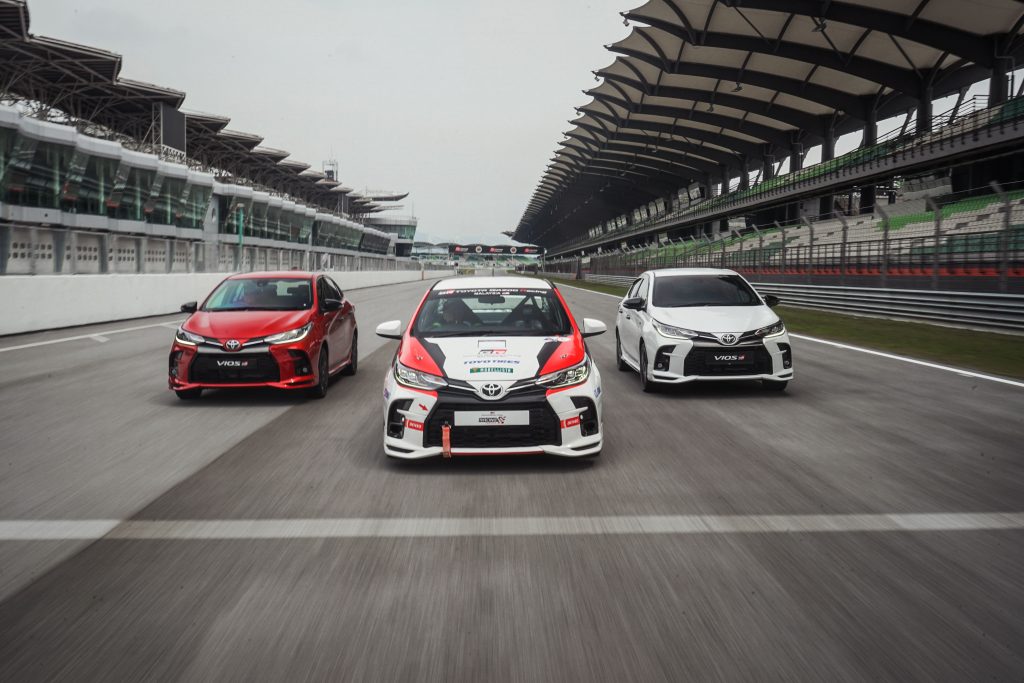 "What Toyota has done with the Vios GR-S is to take it to another level. It is not the run-of-the-mill special edition cars produced in Malaysia that normally focuses only on body kits, wheels and tyres, and interior enhancements. The Vios GR-S was developed to incorporate the essence of Gazoo Racing with the focus on developing a car with exceptional driving pleasure at a particular price point. A lot of thought went into the developing a car that is worthy of wearing the GR badge, and for the price, you are actually getting a lot of car," said the GR Ambassador and two-time Vios Challenge champion Tengku Djan Ley Tengku Mahaleel.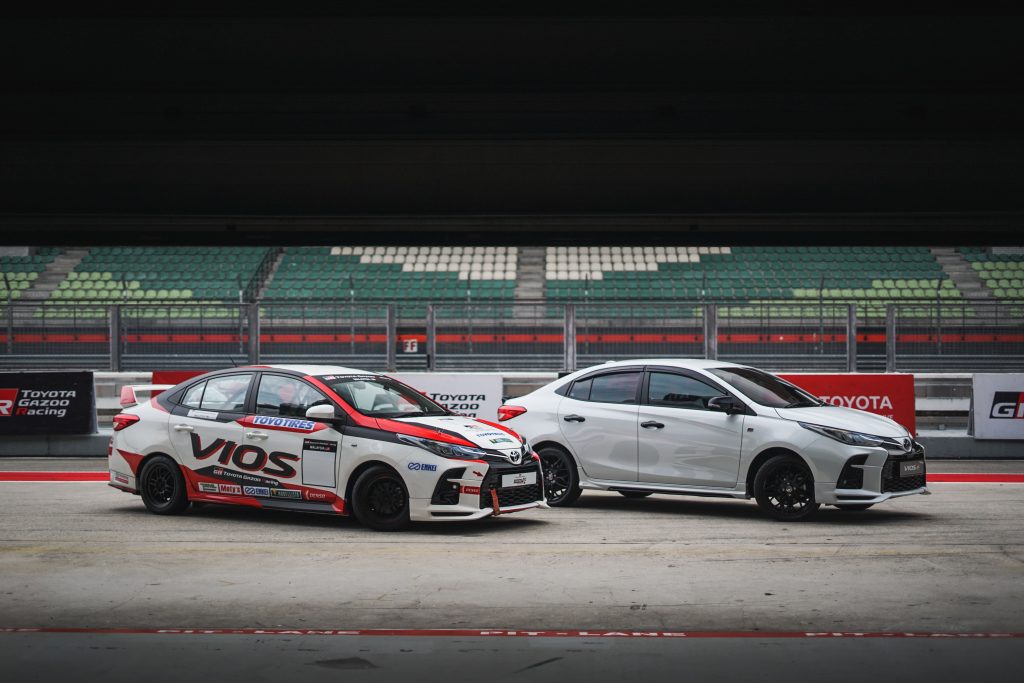 Tengku Djan added that while the Vios GR-S is not a direct descendent of the Vios Challenge race cars, a wealth of race experience and technical knowledge have been indirectly injected into the car. 
"It is a shadow of the actual Vios Challenge race car. It's a refined version of the race car. The Vios GR-S is not just about outright performance or purely handling, but more importantly, it is a car that is able to deliver great driving enjoyment and pleasure.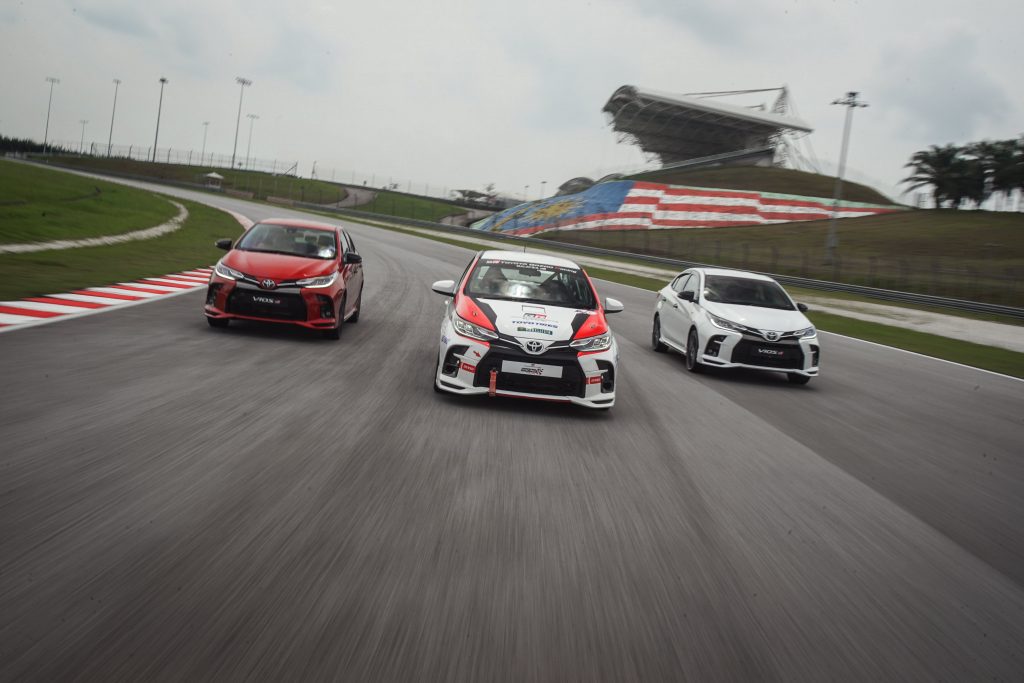 "It's a car with a lot of character, it's a lot more engaging, and has better steering feedback. The availability of a 10-speed CVT transmission may sound too much, but for a 1.5-litre, it allows the car to be driven at the optimum power band and keeps it spirited throughout the rpm." 
The Vios GR-S is available exclusively at all GR Garage outlets and Toyota dealers participating in the Vios Challenge. For more details, log on to our website at www.toyota.com.my.