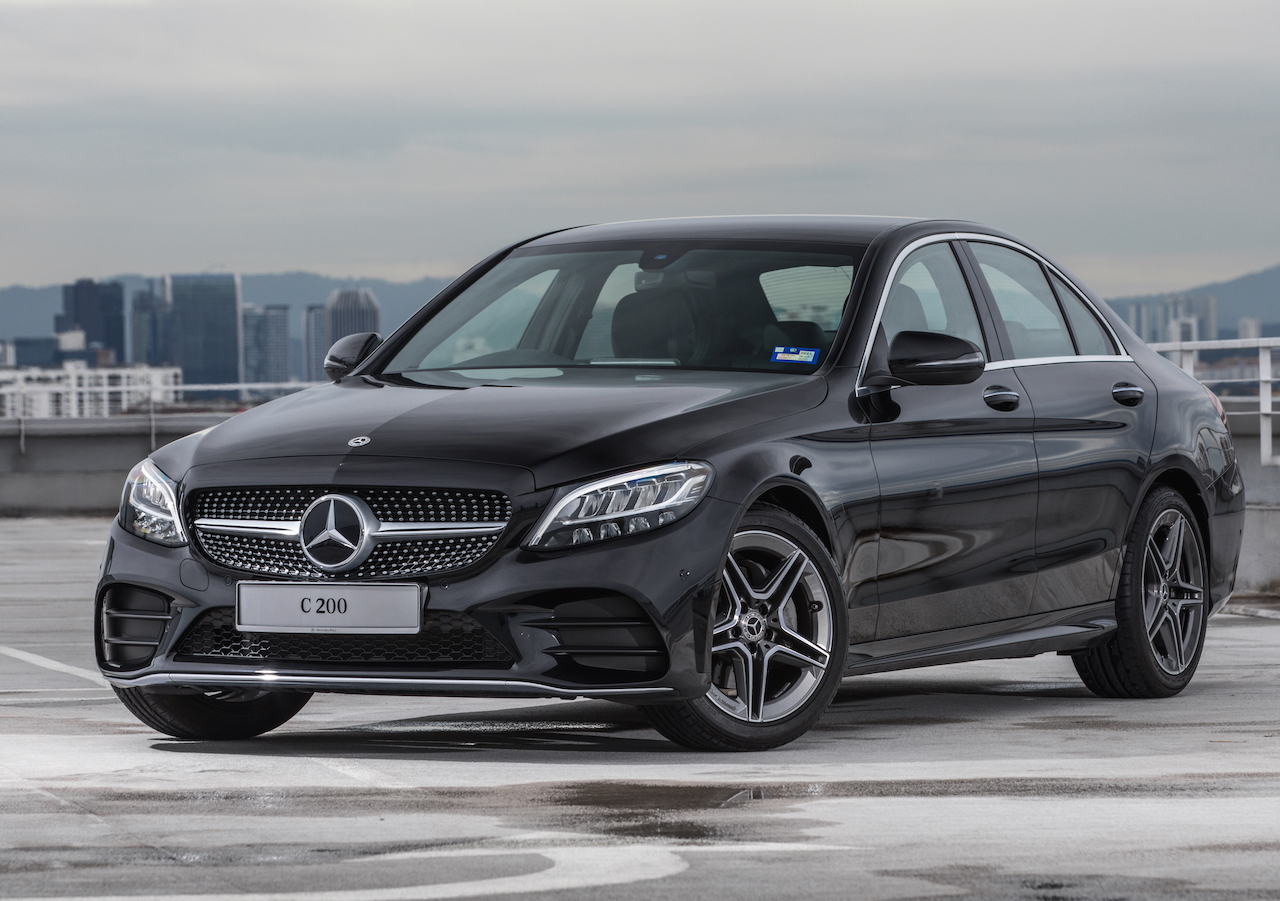 Mercedes Benz is playing musical chairs with their base variant C-Class. 
Perhaps sensing opposition from the new G20 BMW 320i, Mercedes Malaysia has unveiled its new entry level Mercedes Benz C-Class, the Mercedes Benz C200 AMG Line.
Priced at RM251,587.39 while the sales tax incentive is in effect, it is no secret that this new C-class variant aims its sights squarely on its similarly priced Bavarian base trim competitor.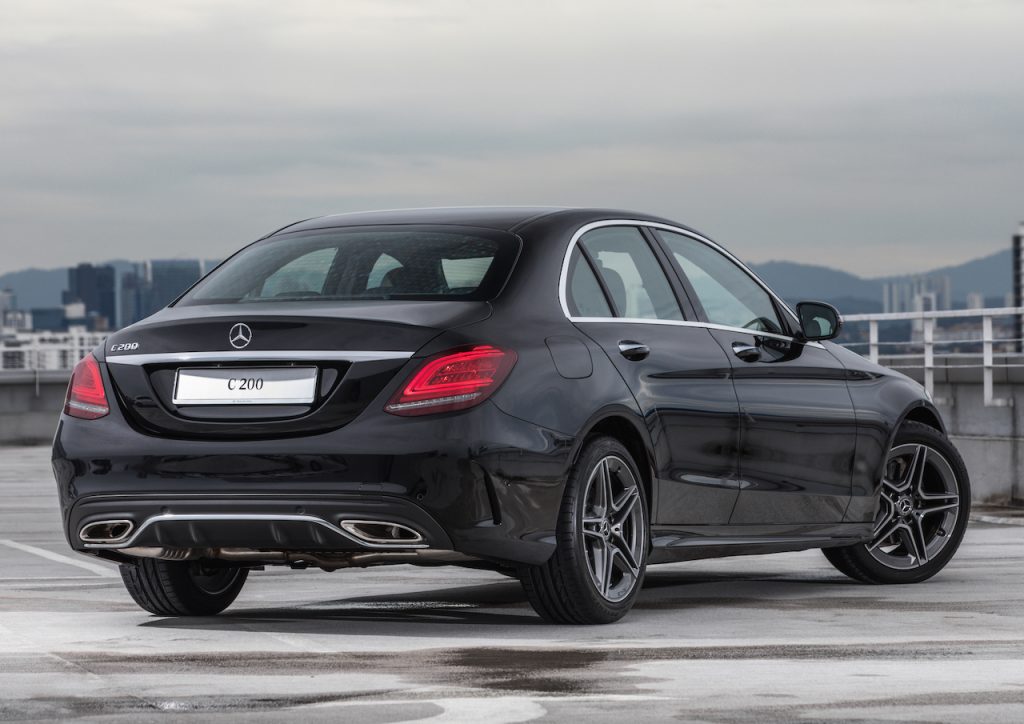 Now, keen followers of the goings-on in Mercedes Malaysia would point out that there was a C 200 AMG Line before this that looks nearly identical to this, and you would be right. 
The C 200 AMG Line in question was the pre-facelift variant. When the C-class received its mid-cycle facelift, the C 200 AMG Line was dropped, in favour of the facelifted C 200 Avantgarde trim being the new entry point to the C-class range. 
However, from what could only be Mercedes trying to confuse their customers, they brought the facelifted C 200 AMG Line back again, while simultaneously dropping the C 200 Avantgarde variant. Confused yet?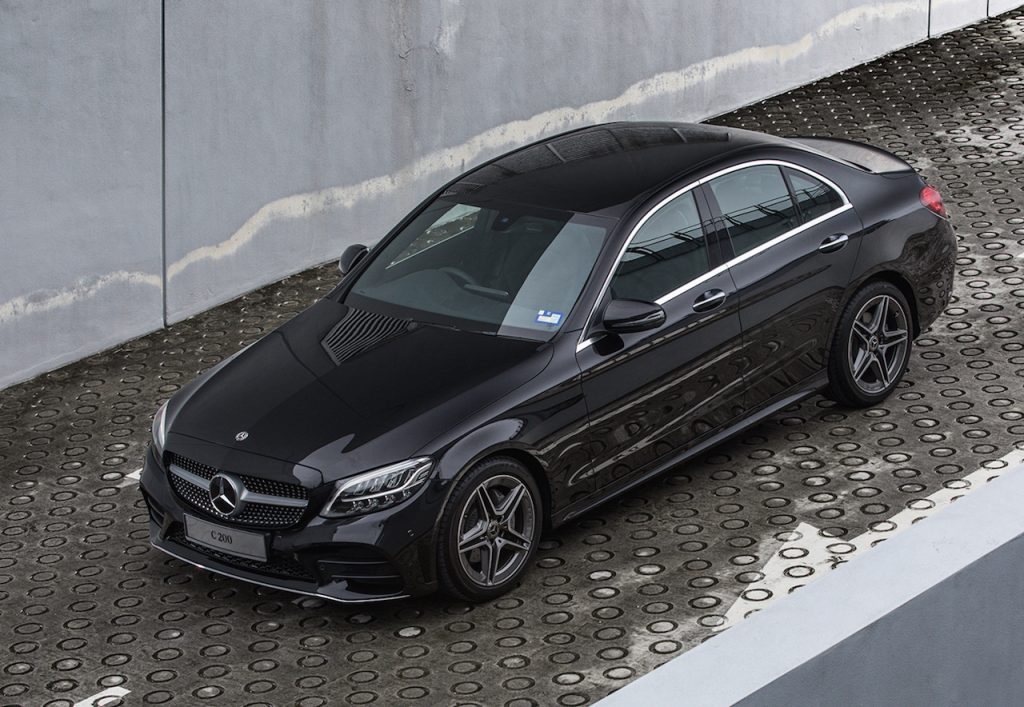 The talking point about this new C 200 AMG Line is the engine, which on the face of it seems to have grown in size from a 1.5 litre turbo mill to a 2.0 unit. But the 1.5 litre turbo unit with the innovative EQ Boost 48 volt mild hybrid starter-generator system was found in the facelifted Avantgarde trim.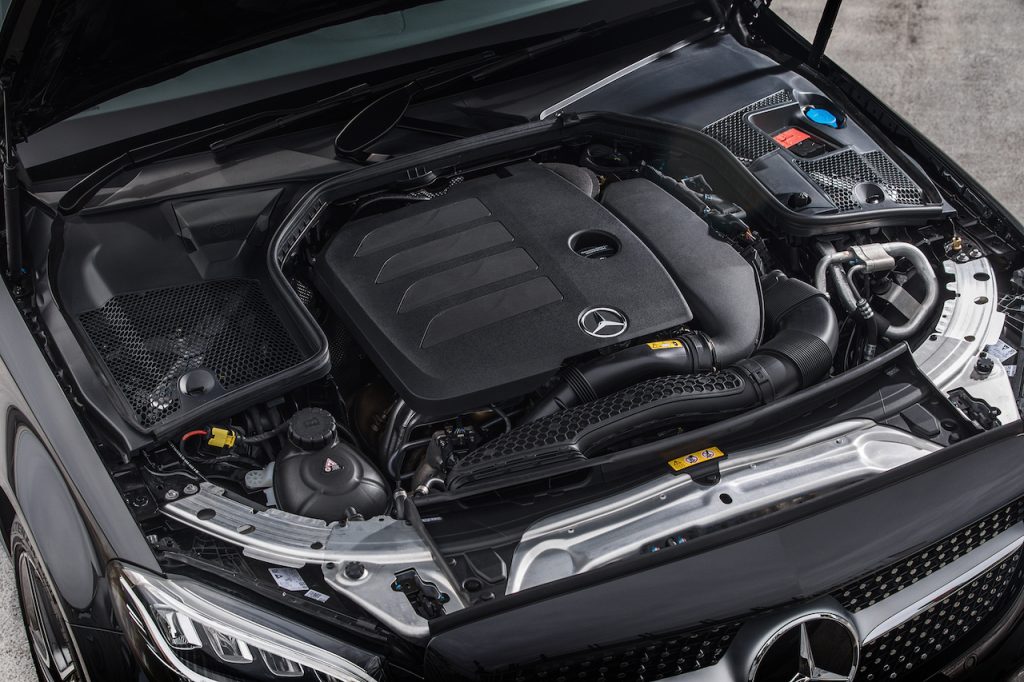 The original pre-facelift AMG Line originally had a 2.0 litre turbocharged four cylinder. It's just that in this post-facelift example, the power has been bumped up by 20 hp to 204 hp and 300 Nm of torque. Incidentally, no prizes for guessing that this is slightly higher than the non-turbocharged 320i, even if it does have the same engine configuration. 0 – 100 km/h is despatched in just 7.1 seconds and onwards to a highly illegal top speed of 250 kmh.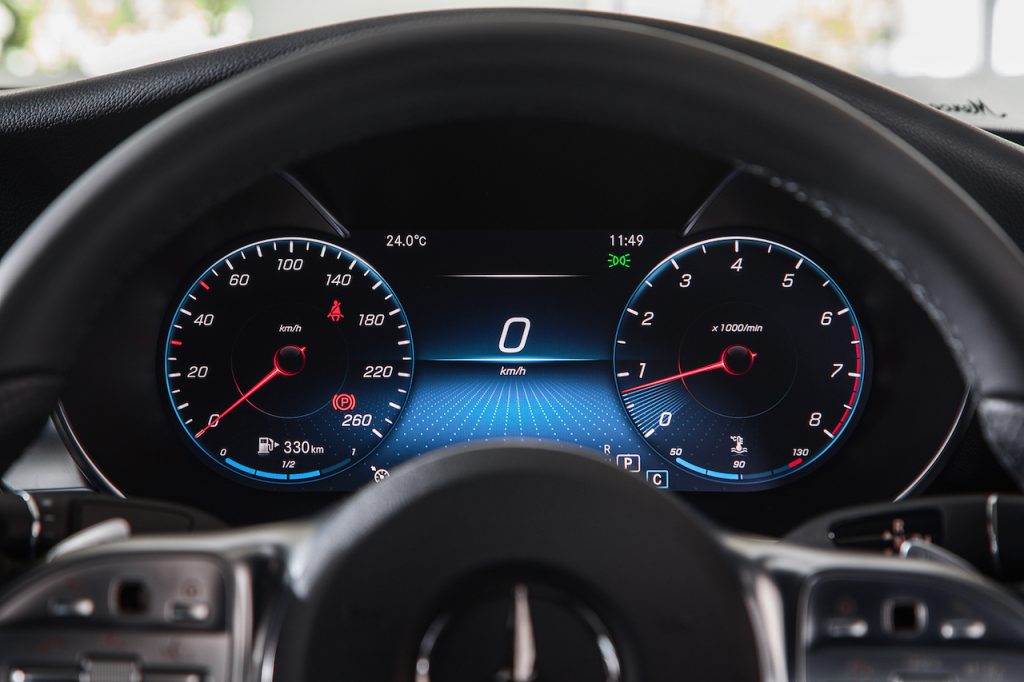 Perhaps in an effort to woo the younger buyer away from its Bavarian rival, Mercedes Malaysia has thrown everything including the kitchen sink at the new C200 AMG Line. The AMG Line package that is standard on this model is chock full of blingy bits that perfectly suit the young, and the young at heart. 
On the outside, these blingy bits include new diamond front grille and an AMG-lite bodykit, because this ain't no full-fat AMG. The AMG Line also includes exclusive 18-inch AMG 5-spoke alloys with sports suspension, just to emphasise the sporty nature of the C200.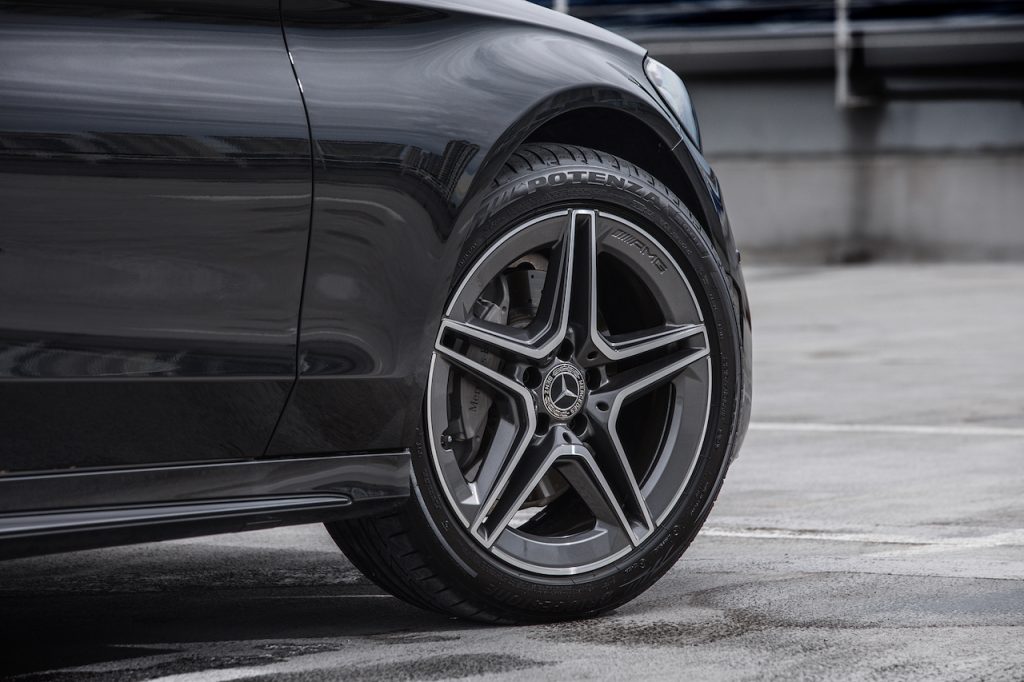 The AMG Line treatment continues on the inside with ARTICO leather upholstery, galvanised steering wheel gearshift paddles and AMG sports pedals. As with the prior C200 AMG Line, this new facelifted model also comes with the usual active safety features like Active Brake Assist, PRE-SAFE and Blind Spot Assist. This new facelift also brings with it Mercedes me connect, Mercedes' phone app that allows owners to fiddle with their C-class on their phones.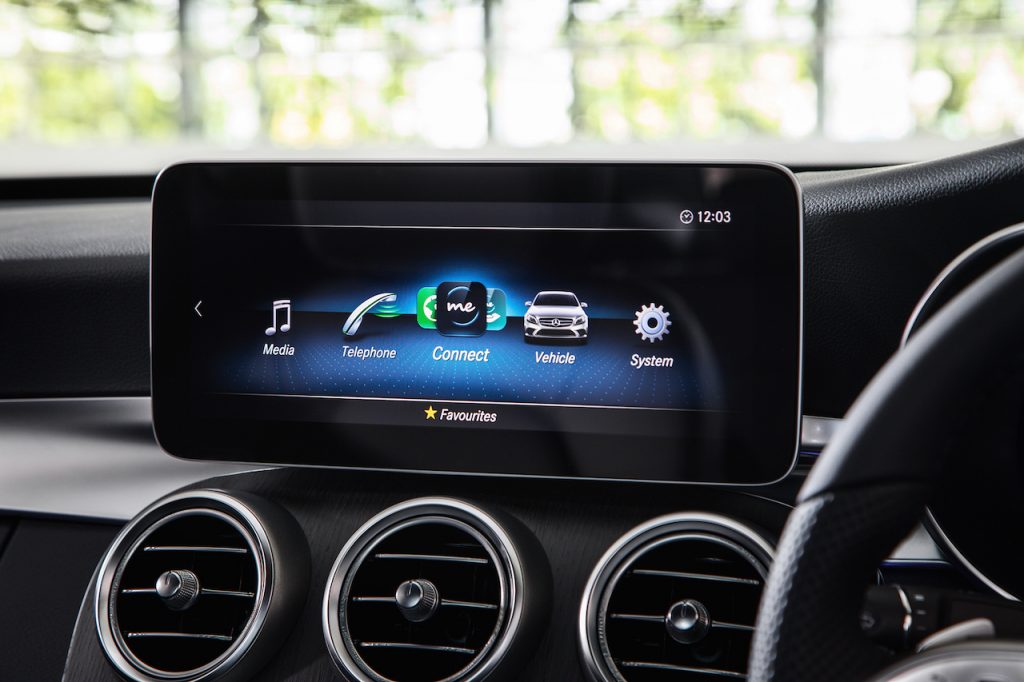 No matter how many accessories are offered though, there is no hiding the fact that this is already a 5 year old interior. The car itself has also been around for a while. And with spy shots of the all-new 2021 C-class slowly trickling out of Stuggart, one can only wonder if this is a ploy to get rid of the remaining stock of current generation C-class.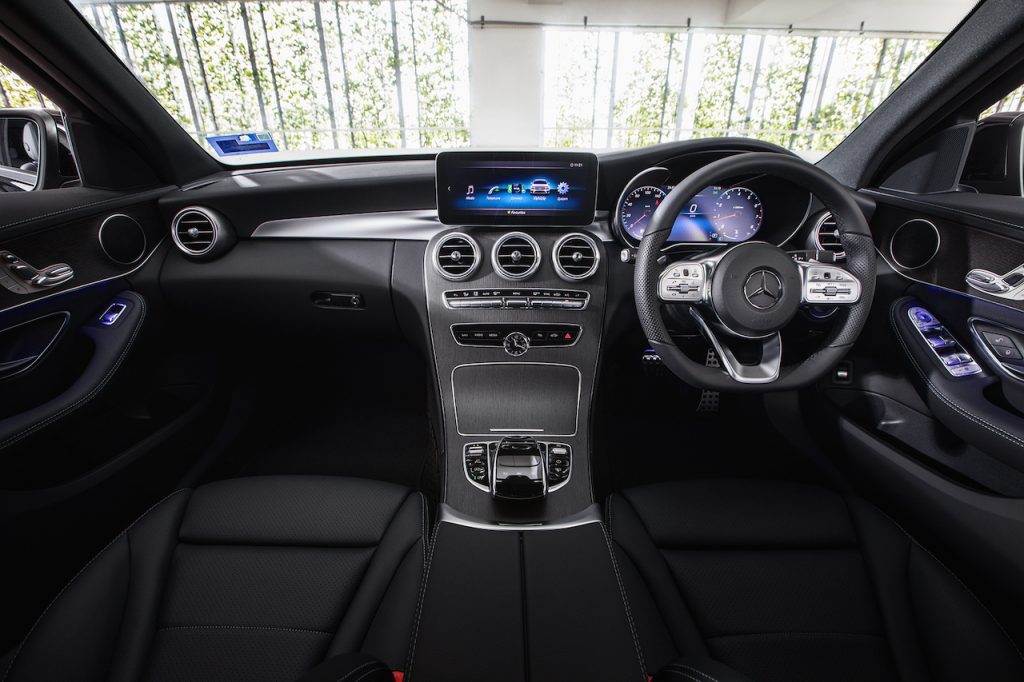 More information regarding the C 200 AMG Line can be found in the press release below: 
Mercedes-Benz C 200 AMG Line is now equipped with the 2.0-litre 4-cylinder turbocharged petrol engine, sports suspension, AMG Line package and Mercedes me connect. 
Mercedes-Benz Malaysia today announces the availability of a modified C-Class variant, the Mercedes-Benz C 200 with AMG Line.
Mercedes-Benz C 200 AMG Line is equipped with the new 2.0-litre 4-cylinder turbocharged petrol engine that produces more power with an output of 150 kW (204 hp) and 300 Nm of torque. The C 200 AMG Line accelerates from 0 – 100 km/h in just 7.1 seconds and has an impressive top speed of 250 km/h.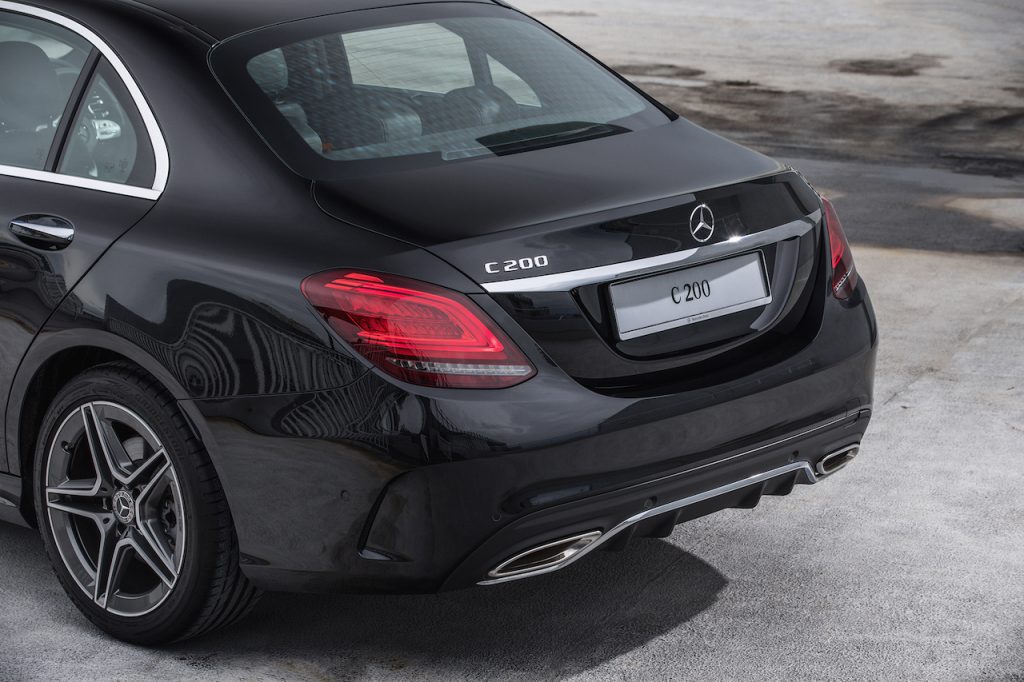 The new C 200 AMG Line comes with a commanding sportiness and exclusive touch. The appearance of the AMG Line exterior underscored the sporty and expressive character with the new diamond radiator grille integrated with the Mercedes star and pins in chrome, the AMG front apron with sporty air intake and chrome trim element and the AMG diffuser-look rear apron with insert in black. New with the C 200 is the 18-inch AMG 5-spoke light-alloy wheels to enhance the sporty appearance.
On the inside, the C 200 AMG Line also comes with the AMG Line interior. The numerous highlights of the AMG Line include the ARTICO leather upholstery, galvanised steering wheel gearshift paddles and AMG sports pedals.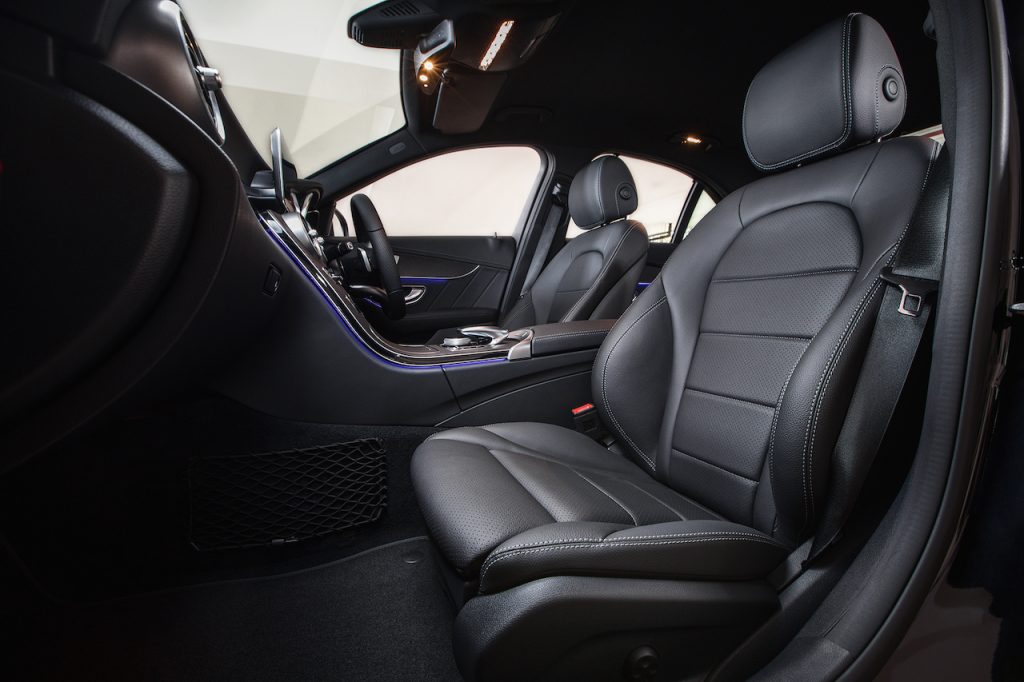 Like its predecessor, safety features in the new C 200 includes the Active Brake Assist, PRE-SAFE and Blind Spot Assist. The Active Brake Assist system contributes towards minimising the danger of a rear-end collision and mitigating the consequences of an accident. The Mercedes-Benz PRE-SAFE system, on the other hand, works to prepare and protect passengers before an accident happens. The system is able to sense when an unavoidable collision is about to happen and prepares the passengers by tightening the front seat belts, adjusting front head restraints and it even closes opened windows. The Blind Spot Assist works as an electronic look over your shoulder. A red triangle in the side mirror lights up when a vehicle is detected in the blind spot. If the driver fails to notice the red triangle and indicates to change lanes, the system emits a warning signal sound. It is active from a speed of 30km/h and up to the vehicle's maximum speed.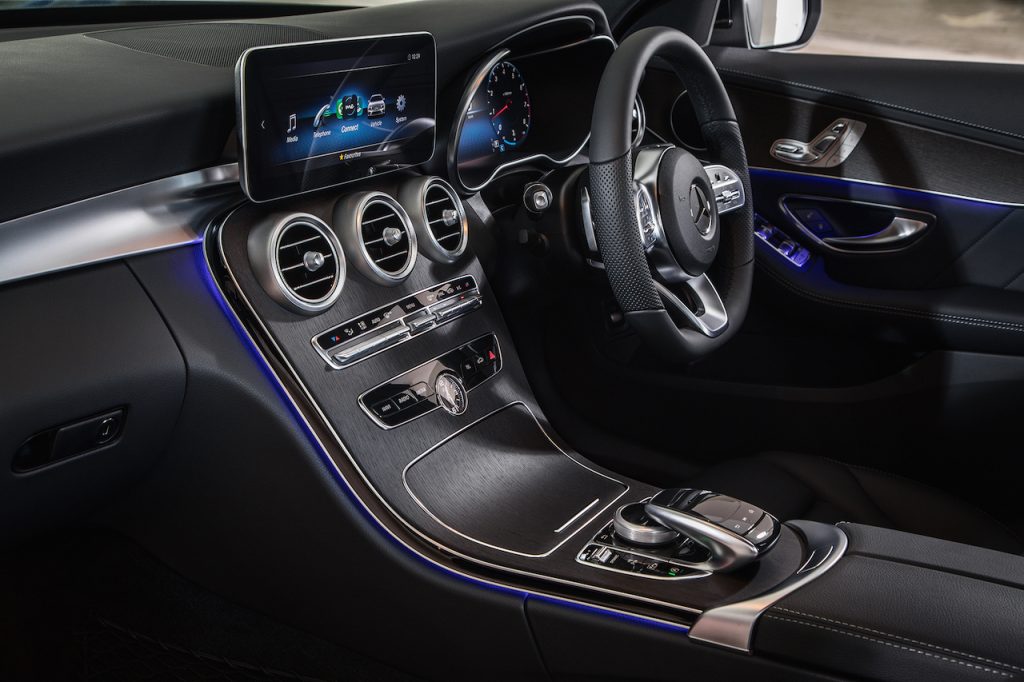 The new C 200 AMG Line is now equipped with Mercedes me connect, the newest generation of connectivity that helps Mercedes-Benz owners to stay connected and in sync with their vehicles. 
The connected car service is made to make the lives of Mercedes-Benz owners easier and at ease, whether it is unlocking their car, starting the engine remotely, getting customer support or simply checking their fuel level.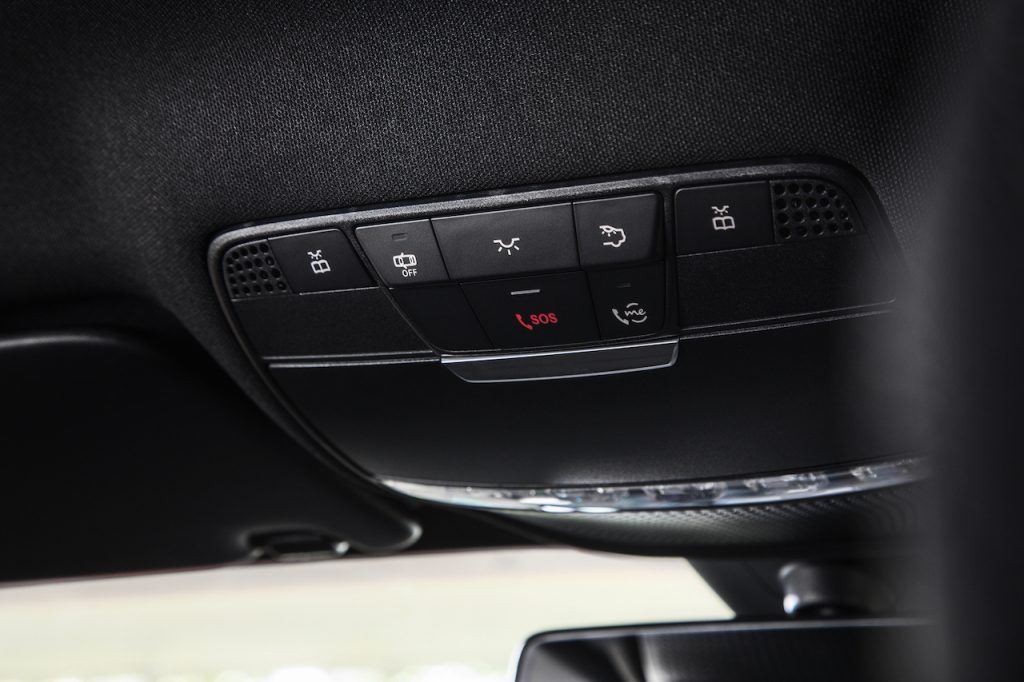 Other features of the Mercedes me connect includes Mercedes–Benz emergency call system (E-call), remote vehicle diagnostics, pre-entry climate control, predictive navigation, and parked vehicle locator.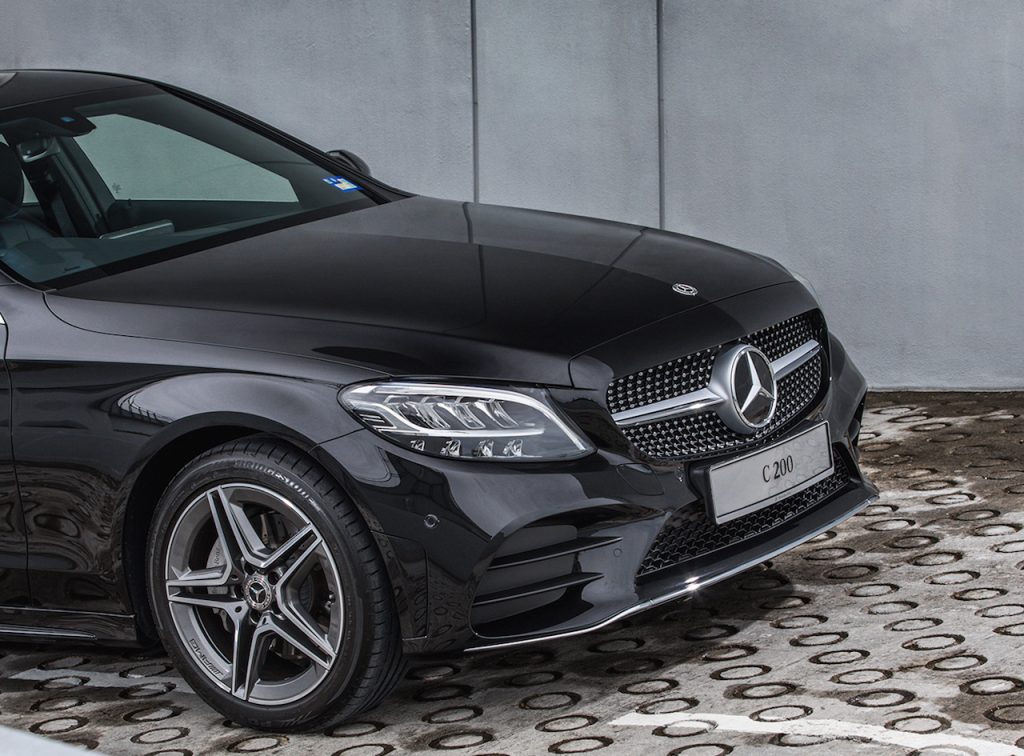 To enjoy the services, users are required to register and set up their personal Mercedes me account at https://www.mercedes-benz.com.my/mercedes-me or via the Mercedes me app, available for iOS or Android. Authorized Mercedes-Benz dealers will then pair the Mercedes me account to the vehicle and to further activate the services.
Never stop improving, so does our financing.
Our financing is tailored to give you exceptional values and care you could never ever get from the rest! Enjoy lower monthly instalments, flexible end of agreement options, a guaranteed future value of your car and a MobilityPlus replacement car programme*.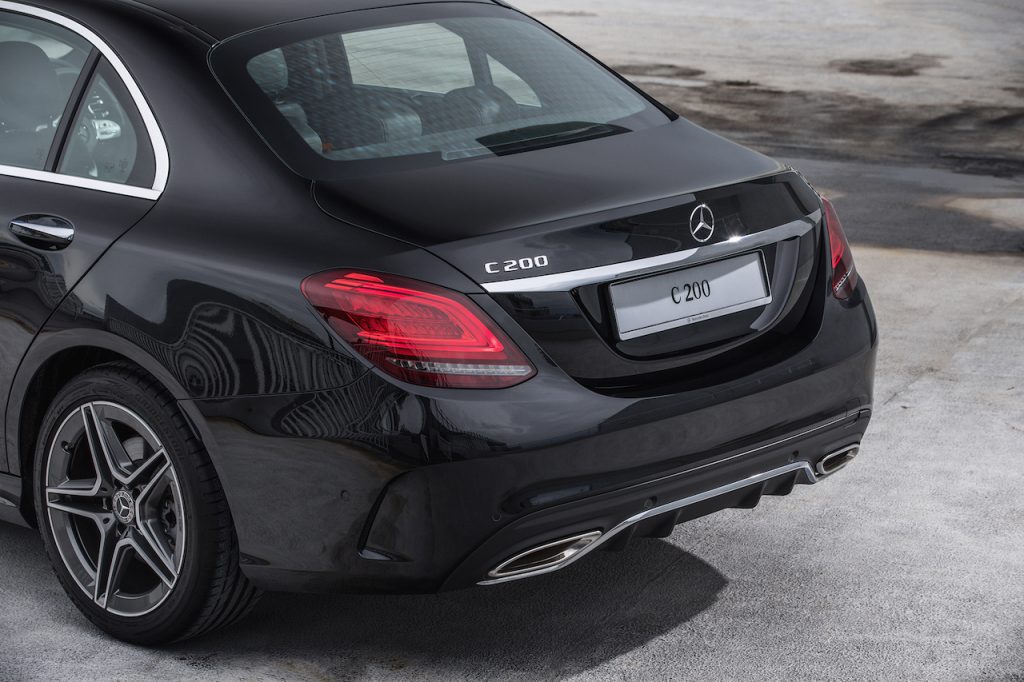 The EaseProtect Financing starts from RM2,988** per month and comes with Comprehensive Motor Insurance along with Tyre & Rim Insurance for the first year of ownership. Perfectly tailored for the individual who seeks value, unrivalled benefits and peace of mind at the wheel.
For more details call 1-800-88-1133 or speak to a Finance and Insurance Executive at your nearest Mercedes-Benz Autohaus.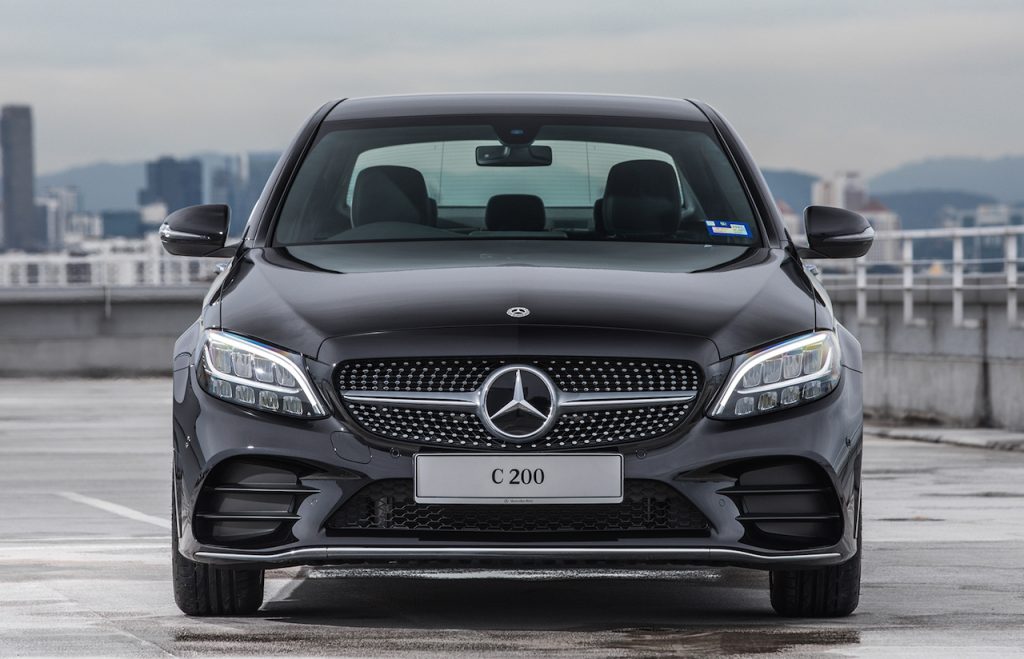 *A guaranteed Mercedes-Benz replacement car when yours is sent for service and maintenance, warranty claims, or accident repairs for 48 hours or more.
**Monthly instalment above is calculated based on 5 years tenure and down payment of approximately 20%. Terms and conditions apply.