Automotive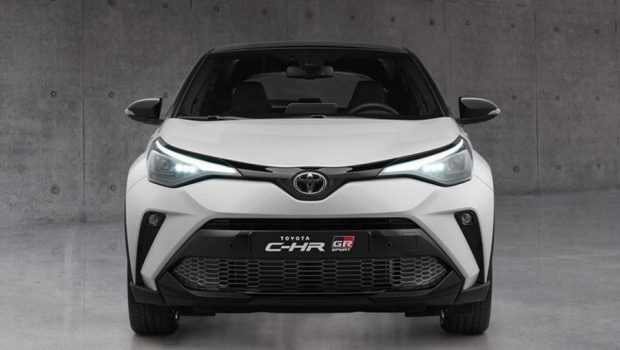 Published on November 10th, 2020 | by Joshua Chin
0
Toyota C-HR Gains A Sporty Looking GR Sport Variant
The GR Sport add-ons to the Toyota C-HR are mostly aesthetics, but there are some performance enhancements too. 
After the launch of Toyota's Gazoo Racing (GR) performance division, it was inevitable to see the Japanese automaker follow the trend set by many other marques and add a sporty aesthetic trim level to its normal range of cars. 
We've seen Mercedes do it with its AMG Line, BMW with its M Sport models and even Hyundai got in with the action by announcing sporty-looking N Line trim levels for its lineup. Therefore, it should come as no surprise to anyone to see Toyota gracing its C-HR compact crossover with a GR Sport sporty looking variant.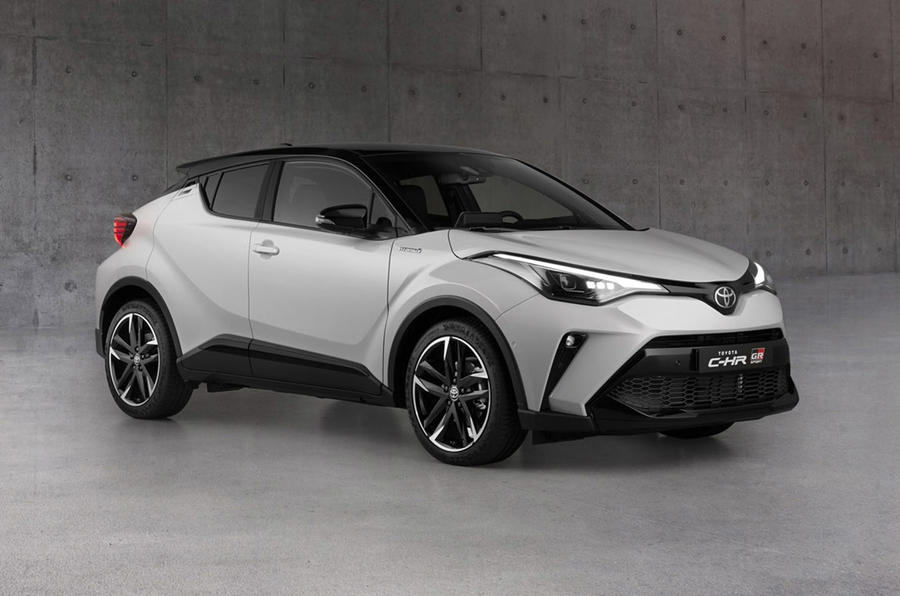 The second model within the global Toyota lineup to obtain a GR Sport trim level, following from the Corolla GR Sport, modifications done to this particular variant is mainly limited to aesthetic add-ons on the exterior and interior of this already sharply styled SUV.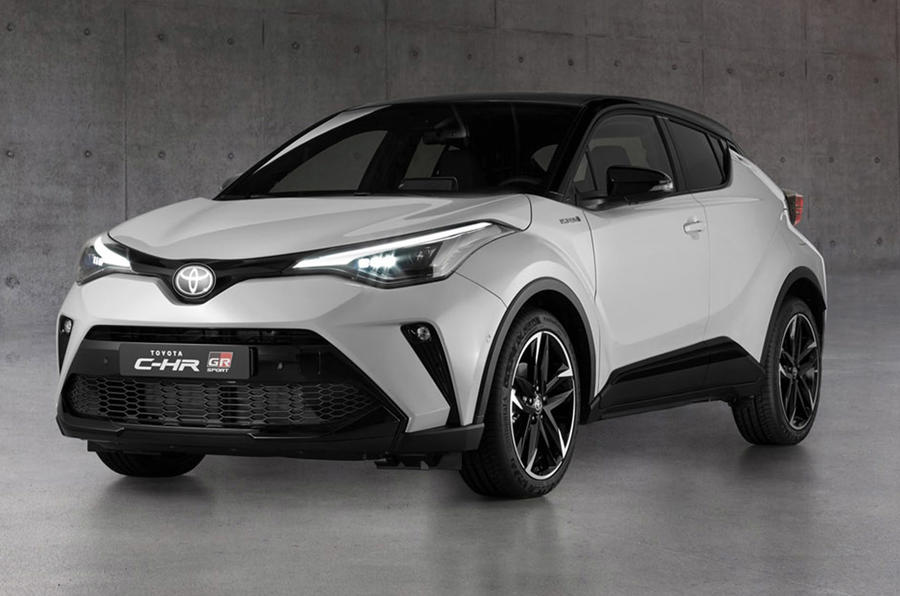 On the outside, the C-HR GR sport gains a sharper, more purposeful front end with the addition of a whole lot of black trim. These include a blacked out emblem and headlight surrounds. Piano black centre bumpers and fog lamp surrounds are also present, as is a dark chrome front grille. Completing the aesthetic enhancements up front is a more aggressive front spoiler.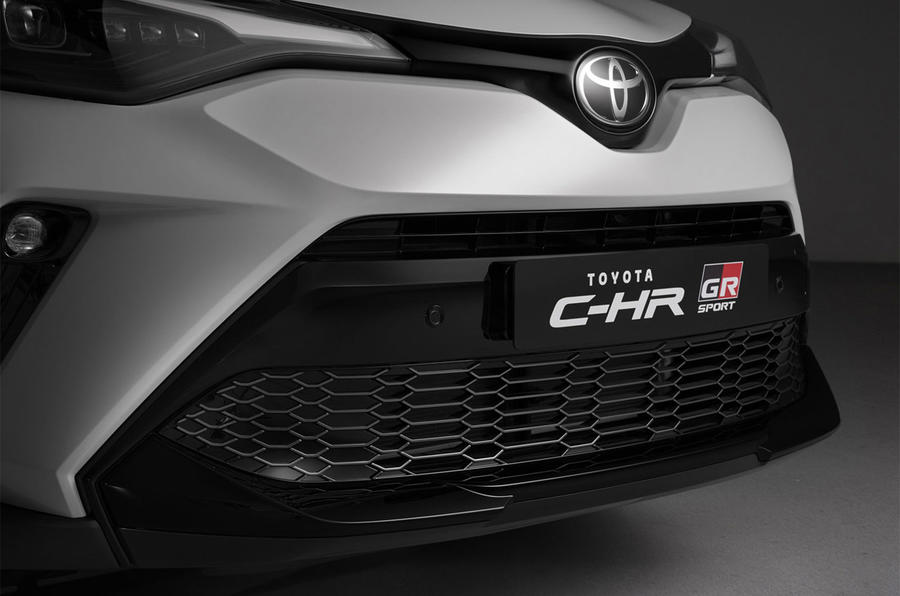 Moving round the side, the black theme continues with piano black door moulding inserts which complement two-tone paint scheme and the 19 inch mostly-black bespoke alloy wheels. Round the back of the C-HR GR Sport meanwhile is yet another blacked out Toyota badge, piano black reflector surrounds, custom 'under-bumper trim garnish' and of course, the obligatory GR sport logo that is proudly displayed on the tailgate.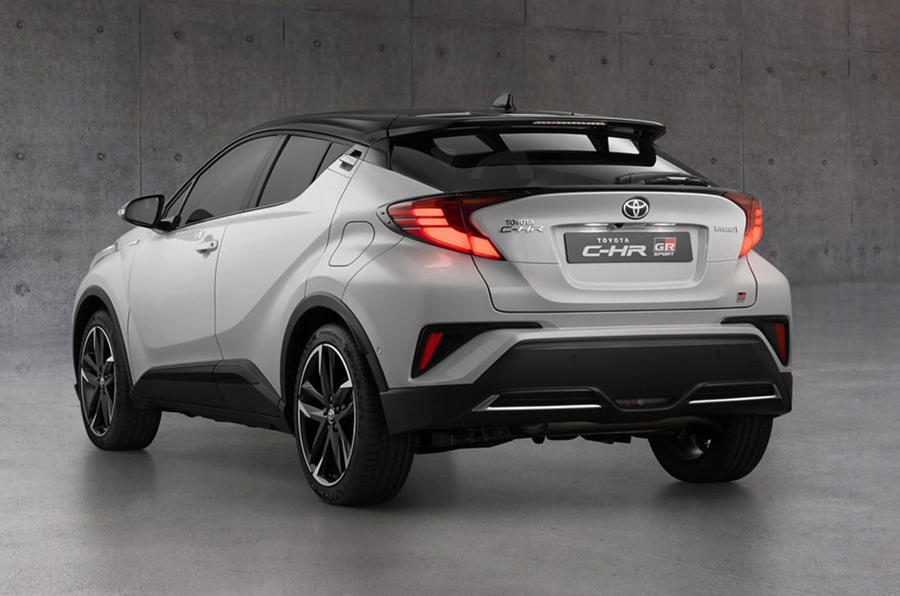 Stepping inside this sporty looking Toyota, the usual C-HR interior is jazzed up with a new Cool Silver cabin finish, which is made available with a choice of either alcantara-trimmed leather or all-fabric seat upholstery. Both of which incidentally features GR-inspired red and grey stitching, for that additional performance aesthetic.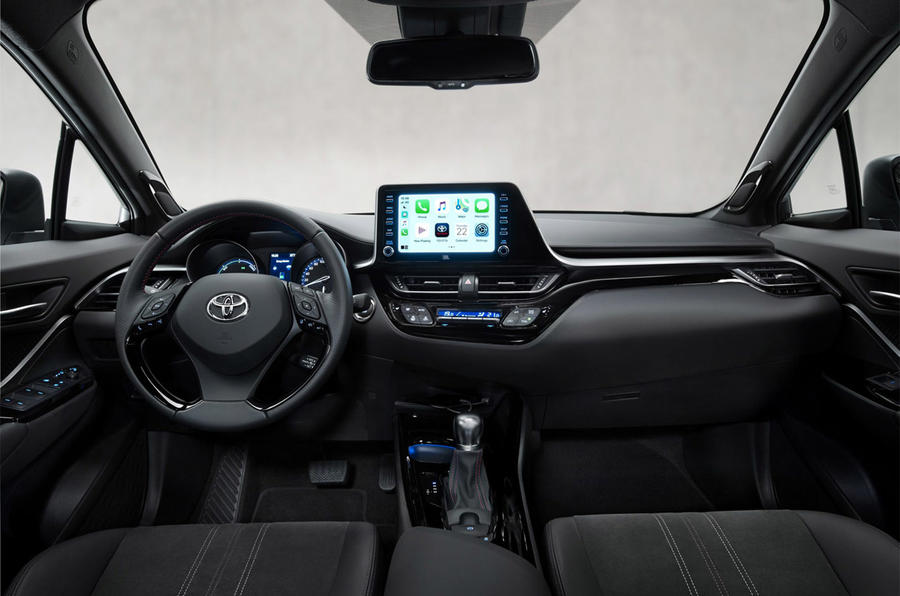 Continuing on the red theme on the inside, red stitching is also present on the rim of the perforated leather steering wheel, as well as the gear shift gaiter. Other sporty add-ons within the cabin include GR branded kick plates, a GR-branded start-stop button and a custom GR start-up animation on the TFT display.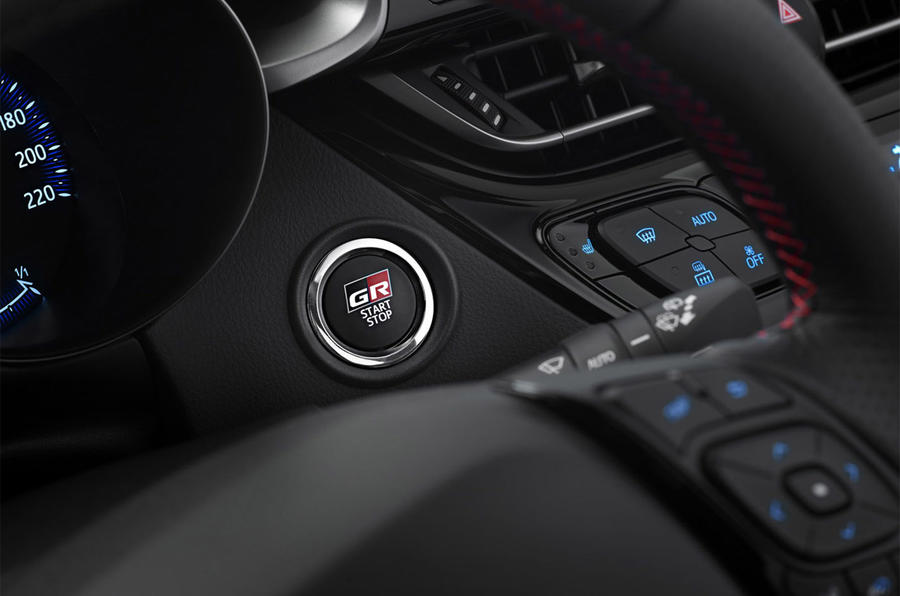 On the topic of tech, the C-HR GR Sport still retains all the features one might find on the non-sporty looking variants of this Japanese crossover. Therefore this particular C-HR still comes as standard with the usual kit such as the auto-fold door mirrors, privacy glass and keyless entry.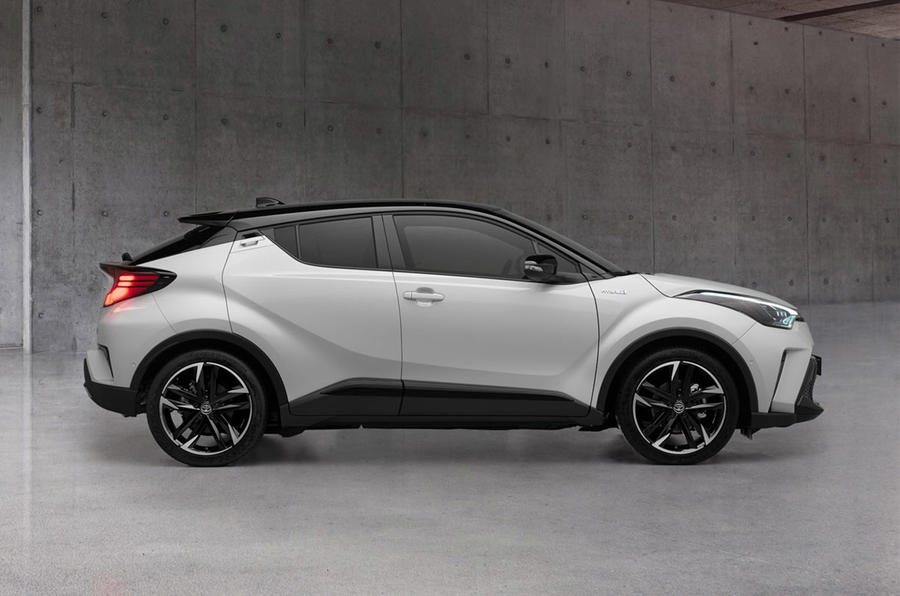 For 2021 too, the C-HR adds an enhanced version of the Toyota Safety Sense active safety suite, which brings along with it Emergency Steering Assist (ESA), Lane Trace Assist (LTA) and Full Range Adaptive Cruise Control (ACC) with Road Sign Assist to the numerous other active driver aids already standard before.  Strangely however, minor things like power operated heated front seats are still an optional extra, not to mention the JBL hifi system.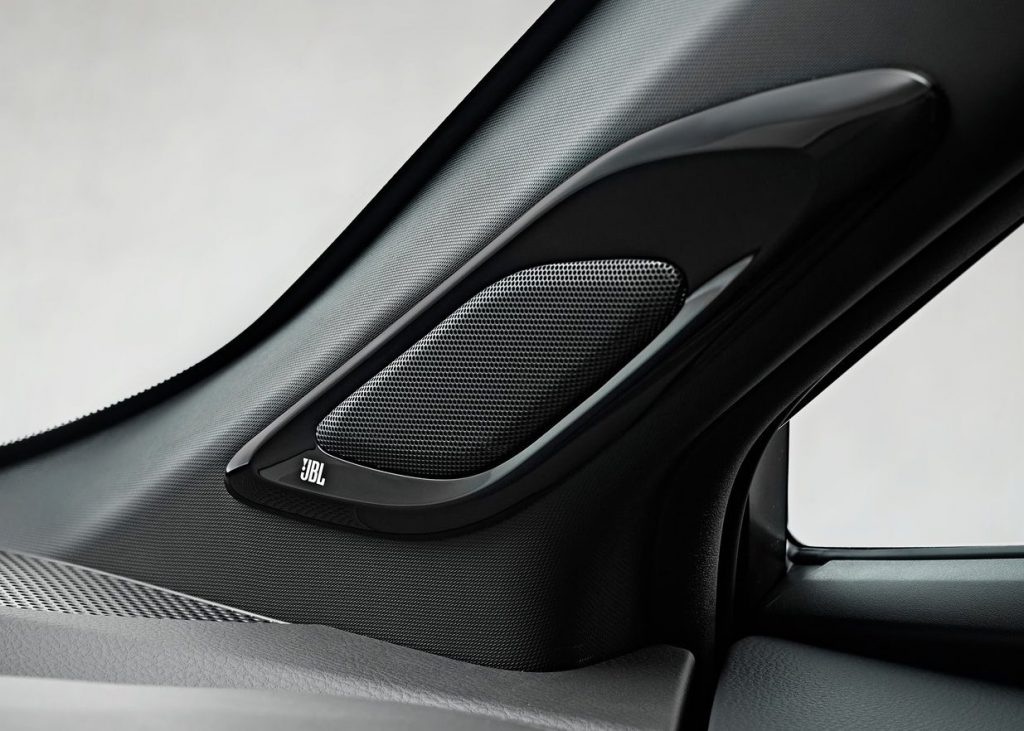 Moving onto the topic of performance, as emphasised before the GR Sport is nothing but a sporty-looking trim level of the C-HR, therefore nothing has been changed about its standard range of petrol or hybrid powertrains. Though that didn't stop Toyota from fiddling around with the ride and handling, as the C-HR GR Sport now features stiffer springs and dampers, in addition to some additional steering tweaks.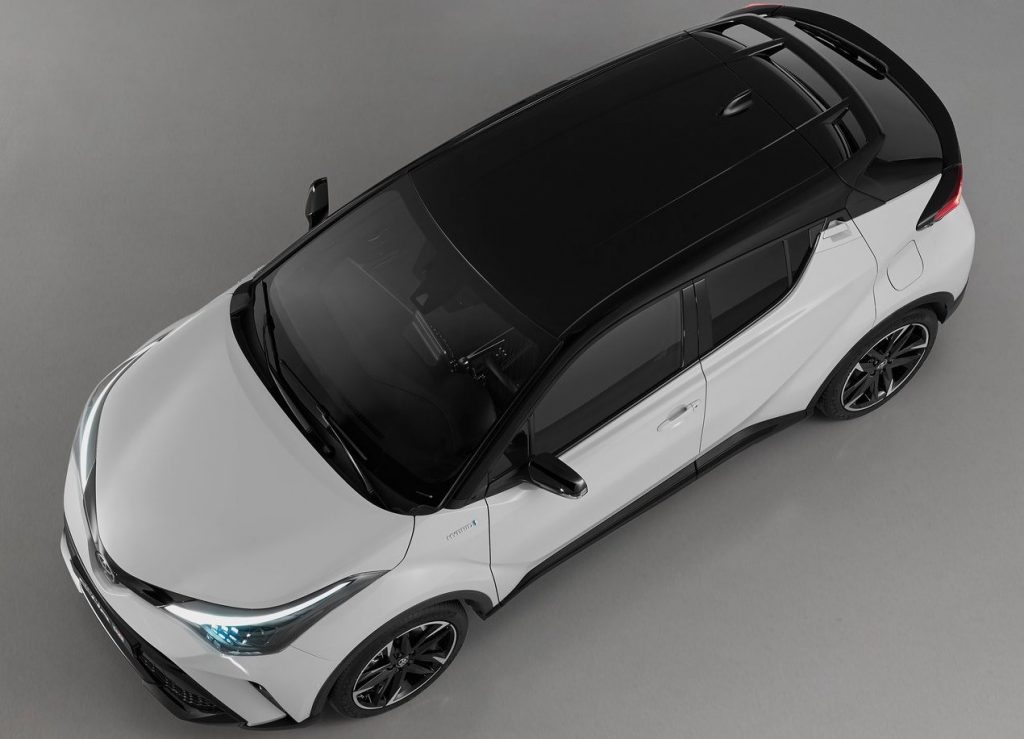 New Continental Premium Contact 6 tires too have been added, which according to Toyota 'increases front axle grip levels and cornering stiffness, resulting in improved yaw resistance and less understeer when subjected to the same G-force'.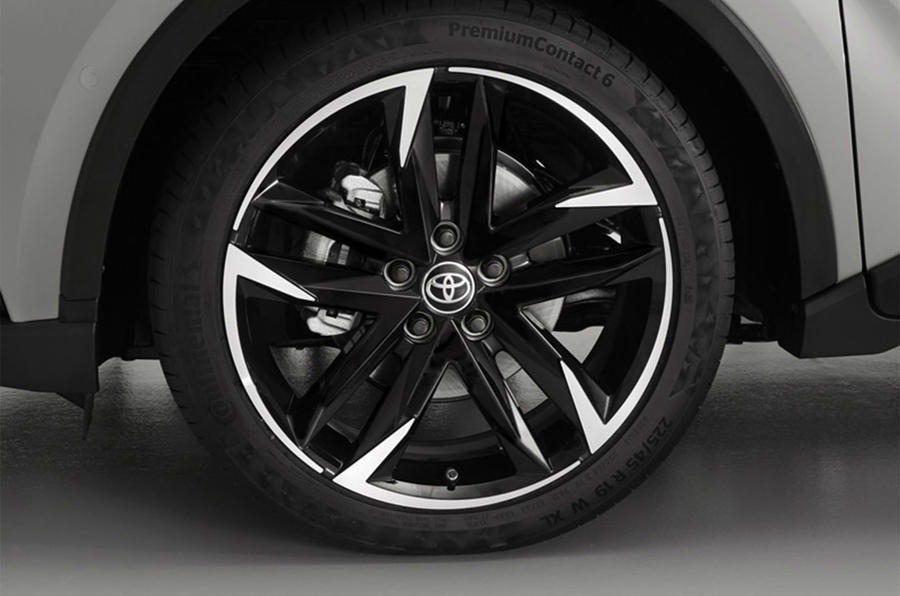 Thus far, no word yet on the price of this sporty looking Japanese crossover. More details should be available soon however, seeing as it is poised to enter the market early next year.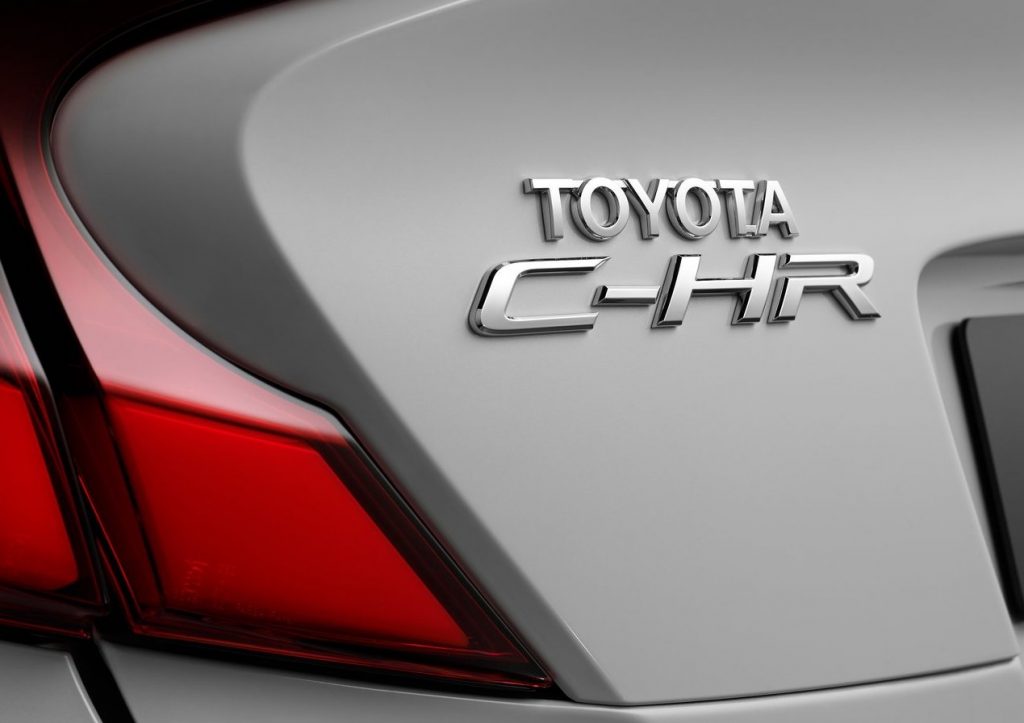 PRESS RELEASE: With the introduction of a new GR SPORT model, and new colour and trim choices for the C-HIC grade, the 2021 Toyota C-HR line-up brings greater refinement, exclusivity and prestige to the striking design language and outstanding dynamic performance that has already awarded the company's C-SUV segment iconic status within the Toyota model range.
Launched in 2016 and positioned as a dynamic crossover combining extravagant looks with the handling prowess to match – yet delivering segment-best emissions performance – the first Toyota C-HR had a powerful impact on the C-SUV segment.
In its first year, the C-HR sold 120,000 units in Europe, instantly achieving a 10% share of the segment. This success story has continued and today, equipped with a segment-unique choice of 1.8 litre, 122 hp or 2.0 litre, 184 hp hybrid powertrains, the CH-R is driven by more than 400,000 Europeans.
Inspired by Toyota's performance-focused GR models and the livery colours of TOYOTA GAZOO Racing, the new GR SPORT adds sharper exterior and interior styling to the C-HR's already striking appearance.
Bringing greater elegance and exclusivity to the 2021 C-HIC grade, exterior and interior colour and trim upgrades include new bi-tone colour combinations, 18″ alloy wheels and two-tone leather upholstery.
Finally, the entire 2021 C-HR model range is equipped with an updated version of Toyota Safety Sense which incorporates a number of new active safety features, making the C-HR every bit as safe as it is engaging to drive.
C-HR GR SPORT
Exterior
The bespoke frontal treatment of the GR SPORT includes a Black emblem background and headlamp housings, a Piano Black finish to the centre bumper and fog lamp surrounds, a dark chrome grille and a new, more aggressively styled front spoiler.
To the side, Piano Black door moulding inserts are complimented by a model-unique 19″ alloy wheel design. And the rear features a Black emblem background, Piano Black reflector surrounds, a bespoke under-bumper trim garnish and the GR SPORT logo.
The GR SPORT is available in a choice of nine exclusive bi-tone colour schemes, including a new, model-unique Dynamic Grey finish with a black roof.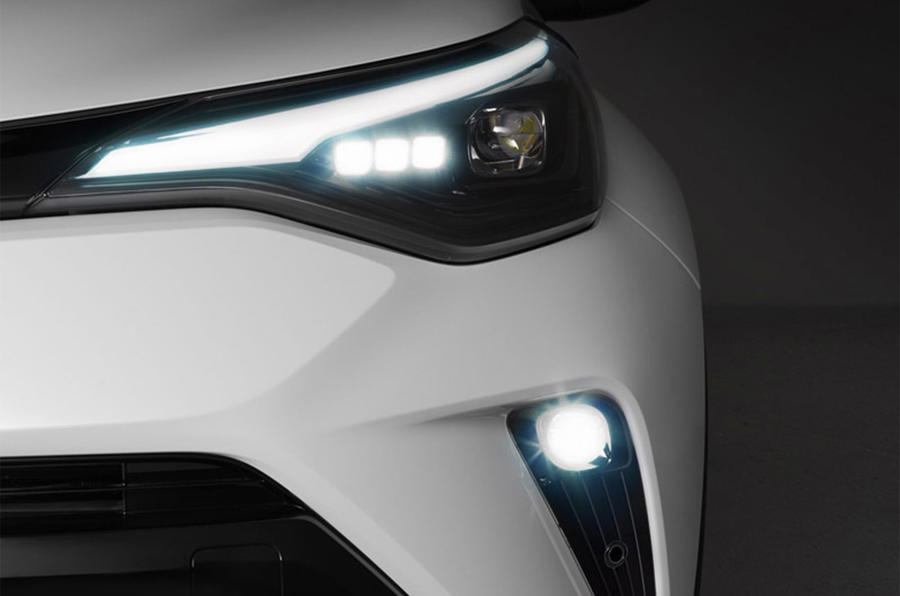 Interior
On board, the GR SPORT features a new Cool Silver cabin finish and a choice of alcantara-trimmed leather or all-fabric seat upholstery, both enhanced by a GR-inspired Red and Grey stitching theme.
Further bespoke elements include a perforated leather steering wheel rim, red stitching accents to both the wheel rim and the gear lever gaiter, model unique scuff plates, the GR SPORT logo, a GR stop/start button and a GR start-up animation in the driver's instrument binnacle TFT screen.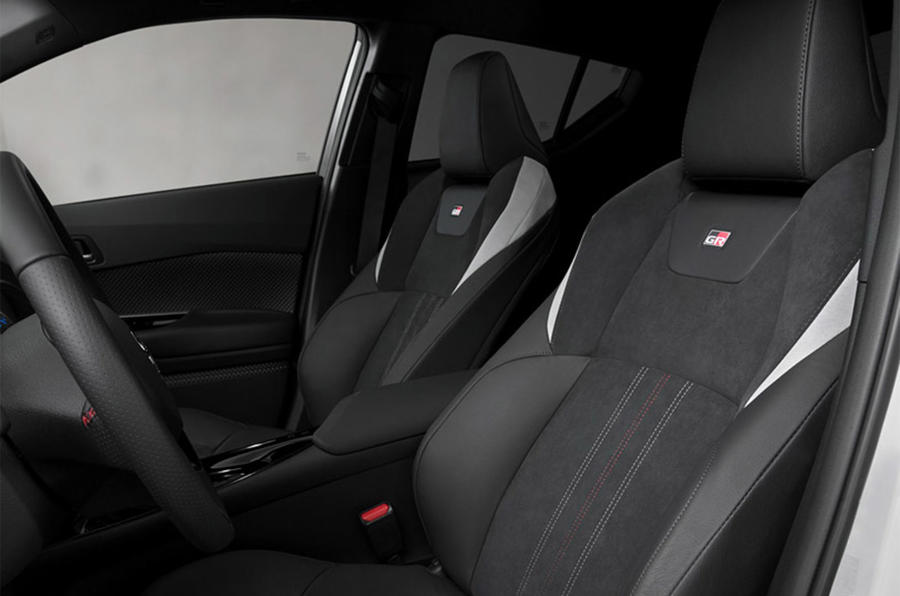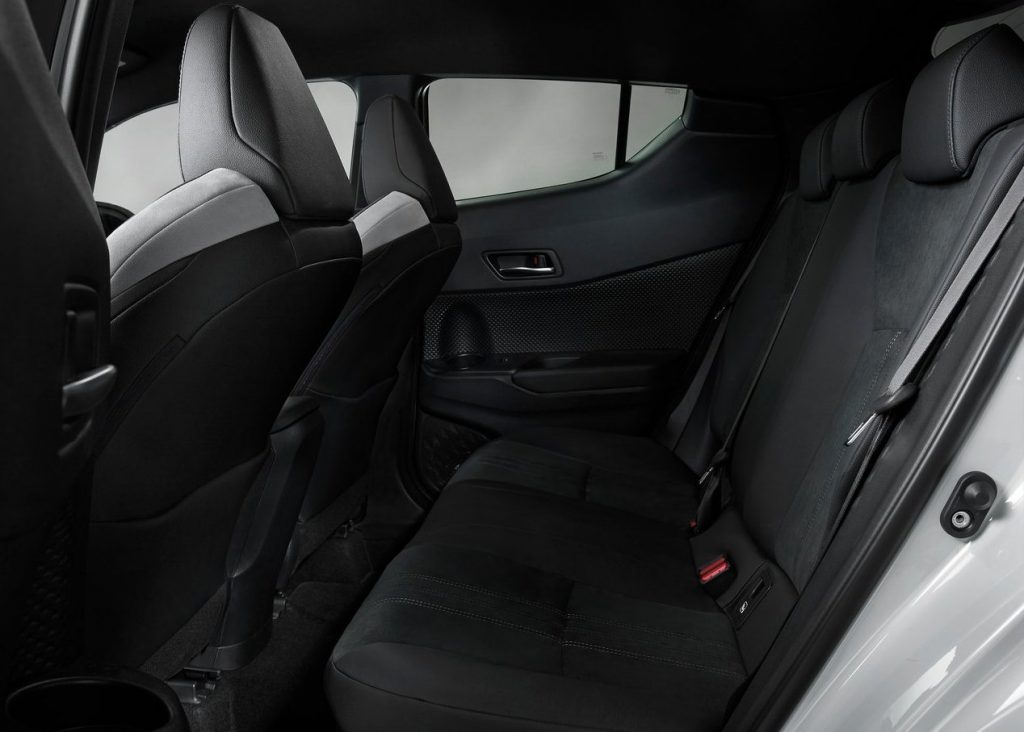 Equipment Specification
The GR SPORT's comprehensive equipment specification also includes privacy glass, smart entry, LED high beam headlamps and auto-fold door mirrors, whilst the main options list includes power operation and heating to the front seats and an outstanding JBL audio system.
Driving Dynamics
Model-bespoke tyres and suspension system and steering tuning have been designed to perceptibly improve the GR SPORT's dynamic behaviour whilst retaining the ride comfort levels of the rest of the C-HR model range.
A premium tyre, the new 19″ Continental Premium Contact 6 (225/45) increases front axle grip levels and cornering stiffness, resulting in improved yaw resistance and less understeer when subjected to the same G-force. The new tyre is lighter than the current 18″ fitting yet offers the same rolling resistance and similar vehicle CO2 emissions.
ENHANCED TOYOTA SAFETY SENSE SYSTEMS
The 2021 C-HR model range is equipped with the latest version of Toyota Safety Sense – a set of active safety technologies designed to help prevent or mitigate collisions across a wide range of traffic situations.
Several new features have been added to the Pre-Collision System (PCS). They include Emergency Steering Assist (ESA) linked to daytime pedestrian and Intersection Turn Assistance.
Intersection Turn Assistance provides a warning and automatic braking if the driver turns left or right in front of an oncoming vehicle in the opposite lane, or a pedestrian crossing the road from the opposite direction after the turning.
In addition, the 2021 C-HR further benefits from Lane Trace Assist (LTA) system that helps to keep you on track and centred in the lane and if it judges that there is a risk of the vehicle's deviating from its lane, it will apply force to the steering in order to assist the driver in avoiding lane departure.
Additional new driver support and safety enhancing systems include Full Range Adaptive Cruise Control (ACC), combined with Road Sign Assist into Intelligent Adaptive Cruise Control, which allow to easily adapt the cruising speed to match speed as shown by traffic signs.
Sales of the 2021 new C-HR GR SPORT will begin from January 2021.